As an Amazon Influencer, we earn from qualifying purchases you might make if you click any of the links on this page.
Updated July 19, 2023
Best Baofeng Radios Reviews (Updated 2023)
What is the best Baofeng radio?
Whether you want to upgrade to the latest version or you are a newbie starting your Ham experience, wondering which is the best Baofend radio is one dilemma that you may face.
Simply because Baofeng radios are a popular choice for both amateur and commercial users.
Unfortunately, the search is never easy. With lots of options and inadequate information to guide you, it's easy to go round in circles.
So, which is the best Baofeng radio In 2023?
Best Baofeng Radios – Our Top Three Picks!
Baofeng UV-S9 Plus – Best Analog Ham Radio
BaoFeng BF-F8HP – Runner Up
Baofeng DM-1701 – Best DMR Radio
The best Baofeng radio is the BF-F8HP which is also one of the best handheld ham radios . It's a powerful Baofeng radio with a lot of features at an affordable price.
Why Baofeng Radio?
Baofeng is a company with a proven record in making world-class radio communication equipment, mainly VHF and UHF walkie-talkie. It was founded in 2001.
Since 2012, Baofeng radios have passed the FCC certification and the European ROHS certification, paving the way for large-scale entry into the US & Europe markets.
Baofeng radios are the real deal because of the level of investment in R&D, production, sales and after-sales service.
Occasionally, they release improved versions of their radios giving users the pleasure of using the latest and most advanced Ham radios in the market.
But that's not all. Baofeng radios are awesome for;
Affordability- acquiring a Baofeng radio will not leave a hole in a pocket. The prices are a great bargain and you get a lifetime value.
Multiple-use – They are versatile and can be used both for amateur and commercial use. You only need to get the right licensing.
Ease of Operation—They are simple to operate even for starters. The package comes with a detailed user manual that is easy to follow.
Powerful – They boast of output power of up to 8 watts. They also run on powerful batteries that are durable and never drains easily. You get more time to use the radio even in remote areas.
Flexible: Their radios have channels as low as 2.5KHz, CTCSS and DCS tones, can either be PC or manually programmed, operate in both VHF and UHF frequencies.
You're assured of getting real value with guaranteed performance and warranty.
Top 9 Best BaoFeng Radios Reviews
Pros
Attractive pricing
USB charging with dock charging alternative
Improved build quality
RF output at 1, 4, and 8W
Bigger, more powerful battery
Decent instruction manual
Convenient programming via CHIRP.
Cons
The receiver can struggle with noise
Bad antenna
Baofeng UV-S9 Plus is our top choice for the brand's best analog ham radio. Conventionally, this spot would belong to the Baofeng UV-5R or its variants like the BF-F8HP.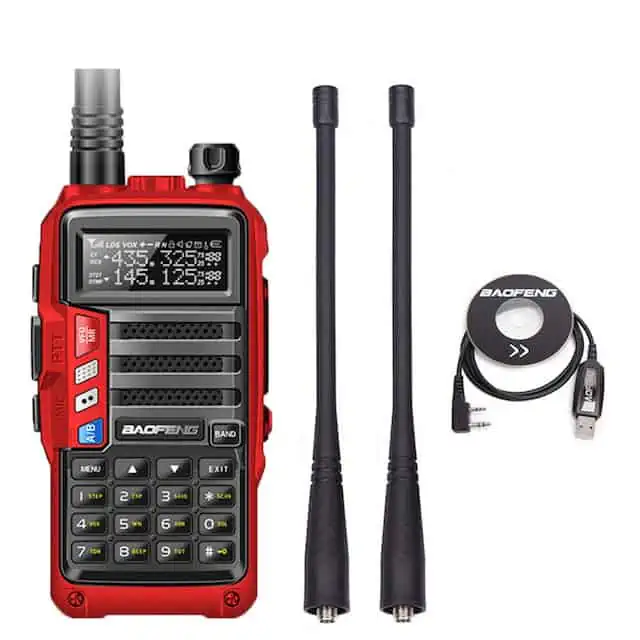 However, the company has been making attempts to go beyond the UV-5R in this space, so we have the UV-S9 Plus, which is an excellent budget ham radio in its own right.
At first glance, it is clear that the Baofeng UV-S9 Plus has a more refined appearance as compared to the UV-5R. Baofeng UV-S9 Plus is slightly larger and supports charging via a desktop charger or a USB charger. It also gets a more advanced chipset.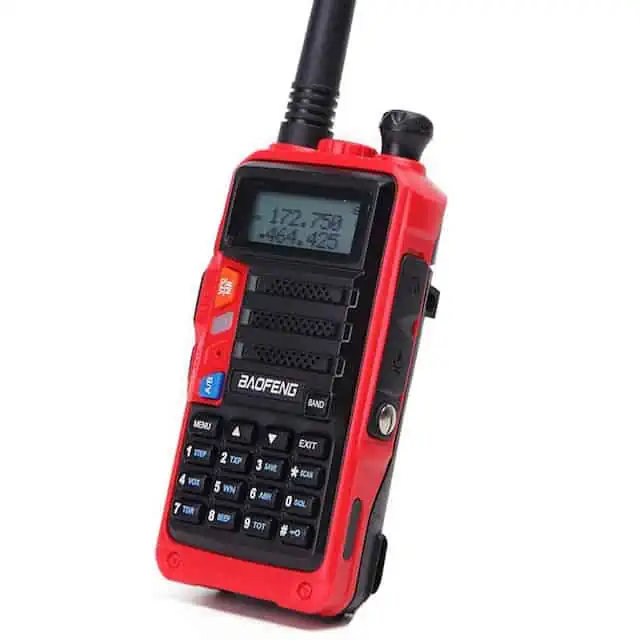 It runs off a 2200 mAh Li-ion battery as compared to 1800 mAh battery that powers the UV-5R8W. Though both these radios have a maximum output power of 8W, the UV-S9 Plus gets more battery.
The battery and charging for the UV-S9 Plus are worth talking about in a bit more detail. While conventional handheld radios have so far stayed on the line of requiring a desktop charger, Baofeng UV-S9 Plus adds the option of using a USB charger.
Having two charging methods is important. The USB charger is very convenient and almost ubiquitous in the modern world. The spot for the charger's pin is placed right above the battery in the radio's back.
Baofeng has made this battery removable, so it's possible to use multiple batteries with relative ease. On the downside, the new 2200 mAh battery can be a bit more difficult to find, though its availability has significantly improved.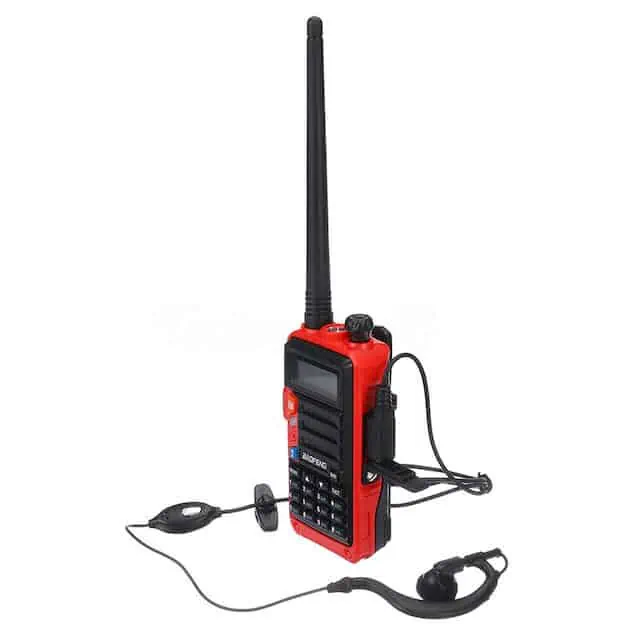 Interestingly, the included manual is different from what I'd have called "classic Baofeng." The manual is well-written, can be understood, and is useful. It's not perfect, but it is a huge improvement over how Baofeng manuals used to look. It also includes tables for the 50 CTCSS and 104 DCS codes for the radio.
One thing that hasn't changed is the antenna. Baofeng is still using a very basic antenna. If you want a quick performance boost from this radio, get a new antenna!
The radio uses the classic 2-pin port for the headset. The included headset with the package is fairly basic and it might be worth purchasing a different one.
Some notable features and aspects of the radio are that it's programmable via CHIRP, can receive broadcast FM, and includes an LED flashlight and emergency alarm.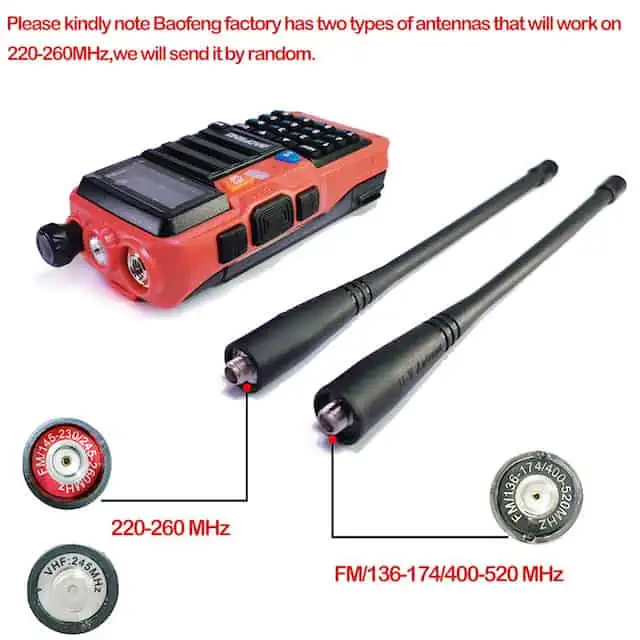 This dual band radio can transmit with RF power at 1, 4, or 8W. Occasionally, there is confusion believing that this is a tri-band radio. However, the UV-S9 Tri-Band is a different model.
As for the RF power output, the radio is only "somewhat consistent" and the actual output can depend on individual units. For example, some units might offer the max RF output at 5W instead of 8W, while others could output 10W. A few manage to stay at 8W.
To be fair, problems like these can be expected from super-cheap radios like this one.
Overall, Baofeng UV-S9 Plus is a good handheld ham radio. Though price remains its most attractive feature, the device has evolved to be a decent HT.
Our Rating
Value for Money: 9/10
Audio Clarity: 7.5/10
Battery and Charging: 9/10
Programming: 9/10
Overall Rating: 8.6/10
Here's Another Powerful Baofeng Option:
Pros
BF-F8HP Operates on a 3rd generation technology which increases its performance stats.
Operated on high-frequency ranges which enhances functionality.
BF-F8HP features 3 power levels that you can set to your preference.
Powerful mAh battery for more run time.
It's made of sturdy material hence durable.
User-friendly with comprehensive operating instructions and a belt clip
Very Competitive Price
Cons
For easy programming on PC, you need an FTDI programming cable which is not part of the package.
Baofeng BF-F8HP is the best Baofeng radio. It's an improved version of the UV-5R model with a maximum power output of 8w. It's a very user-friendly radio with detailed operating instructions that make it a great option for beginners. It comes with a powerful 2000mAh battery and it's very well priced.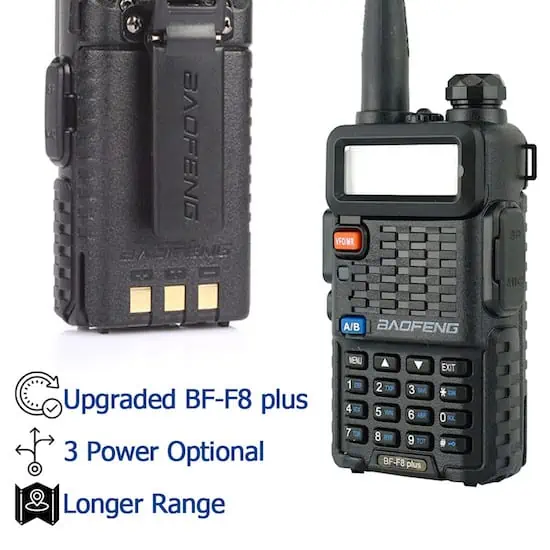 It is a handheld dual band radio that's designed in the USA and operates on a new chipset technology.
You can rest assured BF-F8HP exhibits the highest transmission power. It features 3 power setting levels that you can choose from depending on your preference. These include low which sustains a power of 1 watt, med sustains 4 or 5 watts and high which you can use for 7 or 8 watts.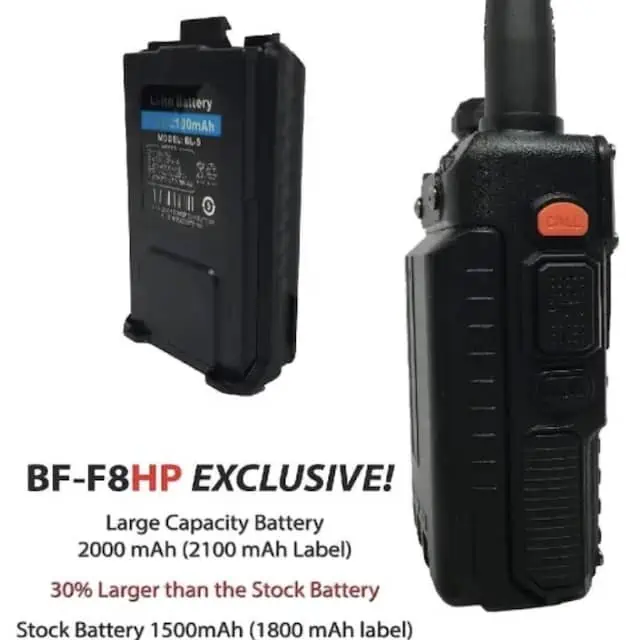 BF-F8HP radio features a 7-inch dual band antenna that's adequately powerful to capture and to transmit frequencies. This improves its overall performance index and enables you to get clear signals.
BF-F8HP Features/Specs
Output: 8 Watt Max
Speaker Output: 700mw
Frequency Range (MHz): VHF (136-174), UHF (400-520)
Push-to-Talk: Single
Display: Tri-Color
Usage: Amateur
Battery: 2000mAh
It has a tri-color display that you can customize to your liking for easy operation and navigation.
For increased efficiency, it operates on high-frequency ranges. These include; 65-108 MHz for commercial FM reception, VHF of 136-174 MHz, and 400-520 MHz. Also, these apply both in reception and transmission.

Another big plus is its 2000mah battery which is more than enough for most users and lasts up to 24h at 5watts power.
But there's more…
BF-F8HP is made with all types of users in mind. So, whether you're experienced or a newbie, this radio is made with you in mind. And it comes with a detailed manual that you can use as a reference.
Moreover, you will have access to customer support and help should you have an issue that needs to be addressed urgently.
Baofeng BF-F8HP is frequently bought together with:
BTECH PC03 FTDI Genuine USB Programming Cable. No Driver Issues, no old drivers needed, just plug and play
BaoFeng, BTECH BL-5L 3800mAh Li-ion Battery Pack. Baofeng standard 2000mah battery is decent but with this battery you can easily double the time you can use it before you have to charge it again.
Authentic Genuine Nagoya NA-771 15.6-Inch Whip VHF/UHF (144/430Mhz) to extend its range. This is a must for outdoor and camping usage.
Our Rating
Value for Money: 8.5/10
Range: 8/10
Reliability: 8/10
Functionality: 8/10
Programming: 6.5/10
Battery and Charging: 8.7/10
Extras: 8/10
Overall Rating: 8/10
Check out our review of the Baofeng BF-F8+ Tri-Band
Pros
Attractive pricing
Powerful 2200 mAh lithium battery
Easy switching from analog to digital modes
RF output at 1, 2, and 5W
Decent instruction manual
Clear Tx and Rx.
Cons
Limited space for contacts
Doesn't work well with other codeplugs like those from TYT.
Baofeng DM-1701 is our choice for the brand's best DMR. It has the most consistent performance and availability amongst Baofeng's DMR offerings.
The company has made other forays into the DMR segment, with the Baofeng UV-5R themed DM-5R, but that was unsuccessful. The newer iteration to this line, Baofeng RD-5R has input from Radioddity as well and looks promising. However, there are still a few kinks to work out there.
All that brings us back to the Baofeng DM-1701, which has been fairly reliable and stable.
If you look at the TFT color display, the menus, and the features, Baofeng DM-1701 seems very similar to the TYT MD-UV380. The Baofeng radio has a significantly larger form factor and a different design.
Besides, even though there are similarities between the menus and the programming software for both radios, they don't appear to be cross-compatible. For example, you wouldn't be able to use a codeplug from the MD-UV380 and move it seamlessly to the Baofeng DM-1701.
The similarity of interfaces probably comes down to the fact that the DM-1701 is sold by Radioddity, which also maintains its software. Radioddity was also involved with the MD-UV380.
One of the effects of this overly-complicated family tree is that the Baofeng DM-1701 is compatible with Open GD77. If you prefer this approach to DMR, the 1701 is a good companion.
Even though it's squarely in the budget DMR category, the radio has quite a few features. It's quick and easy to program the radio through the included programming cable. Usually, it is better to use a programming cable since the radio has room for 3,000 channels, 10,000 digital talk groups and 120,000 contacts.
A bigger contact memory is desirable to have the ever-growing contact list for DMR, but the available option is good enough and can handle the popular options. Users can also add to the list manually, or even program the radio directly from the panel.
Baofeng DM-1701 allows manual programming and is full panel programmable. One downside of computer programming is that the software is only available for Windows; Mac and Linux aren't supported.
As a DMR device, it is compatible with Tier I and Tier II making it very capable at communication. It switches between analog and digital modes easily. When in conventional analog mode, the radio works on the 2m and 70cm bands (136-174 MHz and 400-470 MHz).
Its RF output is at 1W, 2W, and 5W. That's good enough and allows a good range of communication, assuming there's a DMR repeater within range. Power comes from a 2200 mAh Li-ion battery, which is more than sufficient to allow a decent use time for the radio.
Overall, Baofeng DM-1701 is a decent DMR radio, with good features and an attractive price tag.
Our Ratings
Value for Money: 9/10
Audio Clarity: 8/10
Battery and Charging: 8/10
Programming: 8/10
Overall Rating: 8.25/10
Want More DMR Options? Check This: Best DMR Radios
Pros
Attractive pricing
Waterproof
Decent instruction manual
Good build quality
GMRS repeater capable
NOAA weather channels and weather alerts
Clear Tx and Rx.
Cons
Programming cable needs to be held in place
Switching antennas can be difficult
Baofeng UV-9G is a solid GMRS radio, and one of the better built Baofeng radios in general. This is a fully waterproof radio, rated at IP67 so it can survive being submerged in water.
Waterproofing is a wonderful quality when you want to take the radio outdoors. And since this is a handheld unit, it's not a leap to imagine that it will find use outdoors. So, whether it's exposed to heavy rain or even an accidental drop in the water, there's a good chance the radio is going to come out unscathed.
Additionally, the general build quality of the casing is pretty good. The reason I'm fixated on the build quality and waterproofing here is because this is a cost-efficient radio. This is one of those radios that you like not just for the affordable price tag, but for the actual features on offer.
On that note, there has been a general trend of improvement in their offerings from Baofeng. Product manuals for Baofeng radios have generally been criticized for being barely readable. That is changing too.
The manual with the Baofeng UV-9G is fairly helpful, easily understandable, and they even include screenshots to make things easier. Someone could still hunt for grammatical errors there, but that's really not the point.
The build quality is pretty good for use outdoors, including camping and hiking. It's also easy to operate and has good audio quality.
Baofeng UV-9G GMRS radio comes pre-programmed with the frequencies and channels needed. In the earlier versions of the radio, GMRS channels were set to narrowband and had pre-assigned CTCSS tones.
One of the (unintended) consequences of this approach was that users would have poor Tx and Rx experience. Additionally, the radios would only work with the same model (or radios with same tones) out of the box.
Baofeng has now fixed this issue. The CTCSS tones and narrowband are no longer pre-programmed. To be clear, it was always possible to change these manually through the programming software. Yet, it's undeniably troublesome and time-consuming. With these issues gone, the radio is pretty much good to go right out of the box.
Speaking of programming, Baofeng includes the cable in the box. That's a very useful move since buying the cable separately is often troublesome. The cable goes to the right side of the radio, connecting at the same port as the headset.
This port is protected by a cover attached with a screw to maintain waterproofing.
UV-9G is programmable through the company's own software available on their website, but that works only for Windows. Thankfully, it's also programmable through CHIRP.
Notable features include split tones, VOX, easy RF power switching (max 5W), GMRS repeater capable, FM radio (receive), 11 NOAA weather channels receive, and NOAA weather alerts.
Power comes from a 1500 mAh Li-ion battery.
Overall, Baofeng UV-9G is a feature-rich GMRS radio with good build quality and great value for money.
Our Ratings
Value for Money: 10/10
Audio Clarity: 8/10
Battery and Charging: 8/10
Programming: 8.5/10
Overall Rating: 8.6/10
Curious About More GMRS Models? Check These:
Pros
Attractive pricing
Simple controls
Easy to use.
Cons
Must be programmed before use
Programming cable not included in the box
Poor quality instruction manual.
Baofeng BF-888S is perhaps one of the most dependable and cost-efficient FRS radios available.
As far as appearance goes, this is a straightforward FRS handheld radio. There is no screen and there are only a few buttons.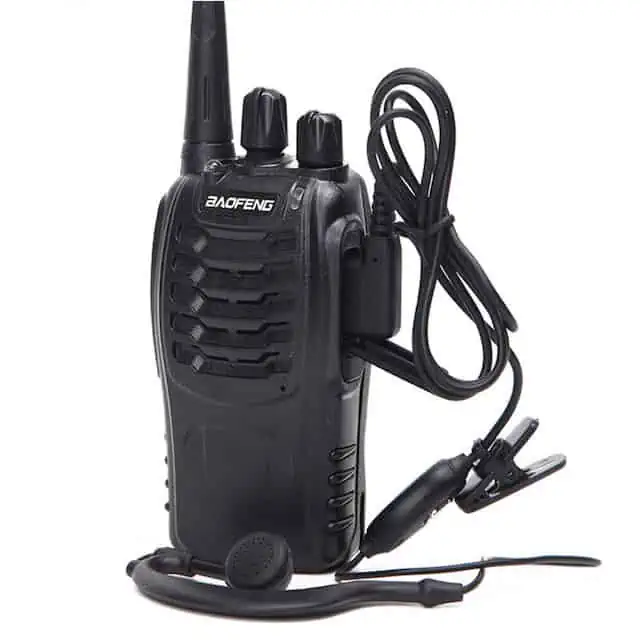 Instead, the face of the radio is dominated by a speaker. To its right side is a big PTT button, followed by two orange buttons for the function key and monitor button.
On its left side is a rubber flap that makes way for two-pin connectors, like those used for the speaker or microphone.
Most of the controls go to the top of the radio, which holds two knobs, the flashlight, and the antenna. Moving one of the knobs handles volume and also works for power on/off. The other knob handles switching channels.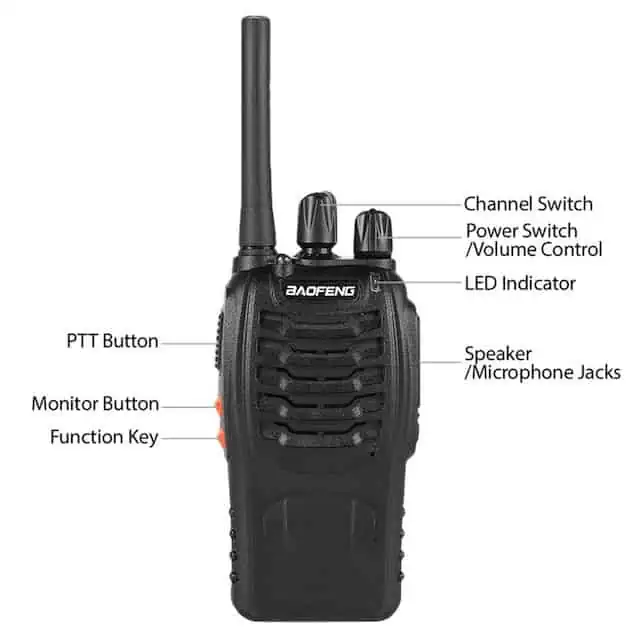 But, if there's no screen, how do you know what channel you're on? Baofeng BF-888S has voice prompts that announce the channel the radio is on. It also announces when the radio is turned off/on. Similarly, a low-battery alarm sounds when it's time to charge the device.
Another thing worth noting is that the Baofeng BF-888S is a fairly small device. Its dimensions are 115 (H)×60 (L)×33 (W)mm without the antenna. Basically, the radio is about 4.5 inches tall.
Being small and lightweight has its uses. BF-888S is easy to use for children. While the lack of a screen can feel troubling, the presence of the voice prompts more than makes up for it.
Similarly, adults with health issues can also use this FRS radio with relative ease. It also includes an alarm function, which can come in handy in several scenarios.
Now that we've considered these good parts, let's talk about the not-so-good parts.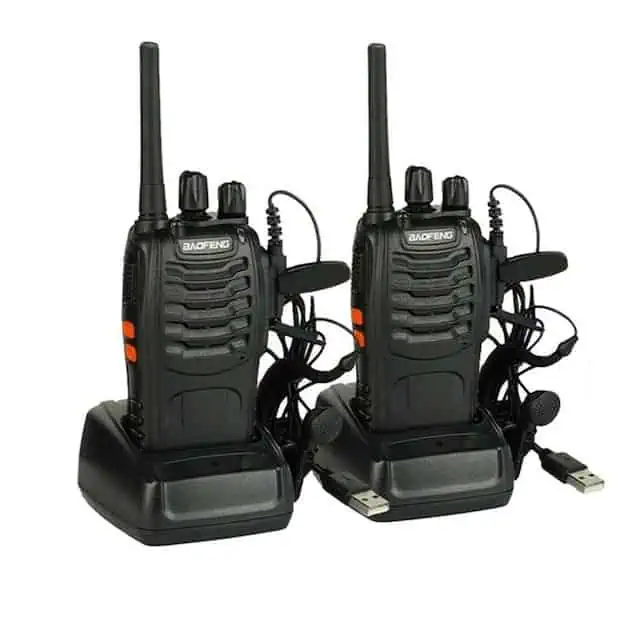 You will want to buy a programming cable with this two-way radio and program it using CHIRP before using it. That's also useful to set the CTCSS/DCS tones.
For whatever reason, there are units with pre-programmed channels that they aren't supposed to transmit on. Baofeng has also some trouble here, where a lot of their documentation says that the radio transmits at (less than) 5W. Their FCC filing, on the other hand, mentions that the power output stays at 2W or lower, making it fit for FRS.
Power comes from a 1500 mAh Li-ion battery. Baofeng says that the battery can last about 8 hours of normal use. Charging it with the included dock takes about five hours.
As an FRS radio, Baofeng BF-888S has a range of roughly a mile, but it can vary, depending on environmental conditions. In many places, covering a city block might be a feat in itself!
Overall, this is a straightforward FRS radio that's lightweight and easy to use by anyone, including children. However, it is a good idea to program the radio using CHIRP before using it, just to be sure that it stays on legal channels and frequencies.
Our Ratings
Value for Money: 8.5/10
Audio Clarity: 8/10
Battery and Charging: 8/10
Programming: 7.5/10
Overall Rating: 8/10
Looking for Something for Your Home or Office? Check These:

6. Baofeng G11S – Best Ham Radio For Beginners
Pros
Attractive pricing
USB-C charging
It's Repeater capable
Easy to program
And good battery backup.
Cons
There is No water protection rating
No programming cable in the box
Pre-programmed privacy codes make it difficult to communicate with non-Baofeng G11S radios.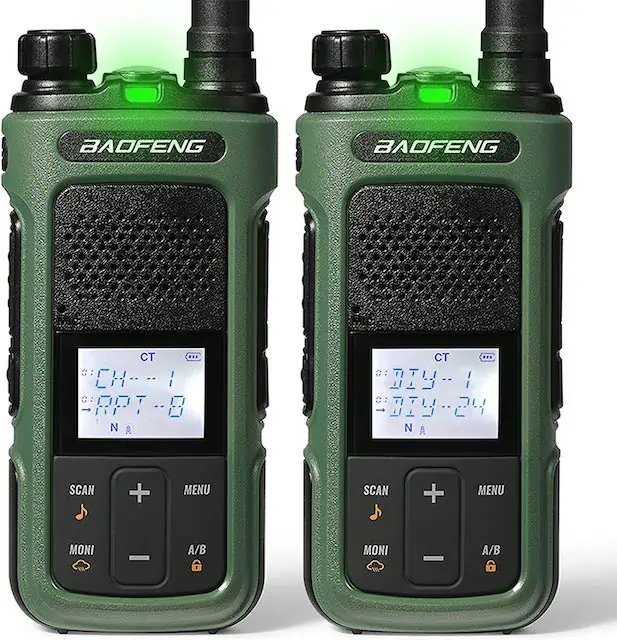 Baofeng G11 GMRS radio is a relatively new model. Well, it's been around for more than a year, but in the world of GMRS radios, models can stay on for several years. But there are benefits to new models too.
This one has an updated look to fit modern aesthetics better. It feels like a new, fresh design, even if the classic features and functions remain the same as older GMRS radios.
There's a tiny screen at the front that shows the battery, channels in use, and other similar info. This screen is backlit and works well in the dark as well as in the sun. Towards the side of the radio, you'll see the large PTT button. A small button finds a place a little above the PTT button. This button handles the LED flashlight, which is at the top of the radio.
G11S is a pre-programmed radio. It's ready to use right out of the box and doesn't need programming. However, should you feel the need for programming, it will work by attaching a standard K-plug cable. The programming cable isn't a part of the box and will have to be purchased separately.
Interestingly, while the Baofeng G11 GMRS is compatible with software like CHIRP, it isn't as readily found there. For many people, choosing the Retevis RB27 does the trick. That makes me think that these are both the same radio.
If you look at the Retevis RB27, it pretty much has the same form factor and features as the Baofeng G11S. It appears they just use a different color scheme!
Apart from the GMRS channels, the radio can also receive FM and 11 NOAA weather channels. It's quite fun and easy to use.
Speaking of weather, one huge negative that stares us in the face here is the lack of any water resistance rating on the radio. As such, it's best to assume that there's no water-resistance here, and the radio could be in danger even with a light rain shower.
Handhelds are supposed to go outdoors, so this lack of water protection is a bit annoying. I suppose if you are taking this radio outdoors, keep tabs on those NOAA weather channels to see if there are any chances of rain!
Power from the radio comes from a 1500 mAh Li-ion battery. Charging the battery happens through a USB-C cable, which is included in the box. The availability of the USB-C cable and Li-ion battery ensures that the radio is quick to charge.
Besides, Li-ion batteries show much better performance than NiMH batteries that have traditionally powered radios.
Another useful feature here is that this radio is repeater capable. It offers 24 DIY GMRS repeater channels and four groups of repeating frequencies. These can come in very handy for several applications and even provide the radio with a greater range where necessary.
Other notable features include VOX, switching between narrowband and wideband, 10 selectable call alerts, channel monitor, and channel scan.
Overall, Baofeng G11S is a feature-rich GMRS radio that comes with an attractive and affordable price tag. It's relatively easy to use and has an acceptable voice and Tx capability.
Our Ratings
Features: 8/10
Reliability: 8/10
Value for Money: 9/10
Audio Clarity: 7.5/10
Display: 8/10
Overall Rating: 8.5/10

7. BaoFeng UV-5R – Best Budget Baofeng Radio
Pros
The radio is easy to use.
Controlled power consumption.
It comes with a standby battery.
The radio is sturdy and durable.
Cons
Its reach out range is dependent on the battery power level.
Therefore, with low power, you will have a limited reach.
Can only scan at 3 frequencies every second
Not good for those who are searching for a high-end radio
Baofeng UV-5R is a handheld and dual band two way radio that is pocket friendly.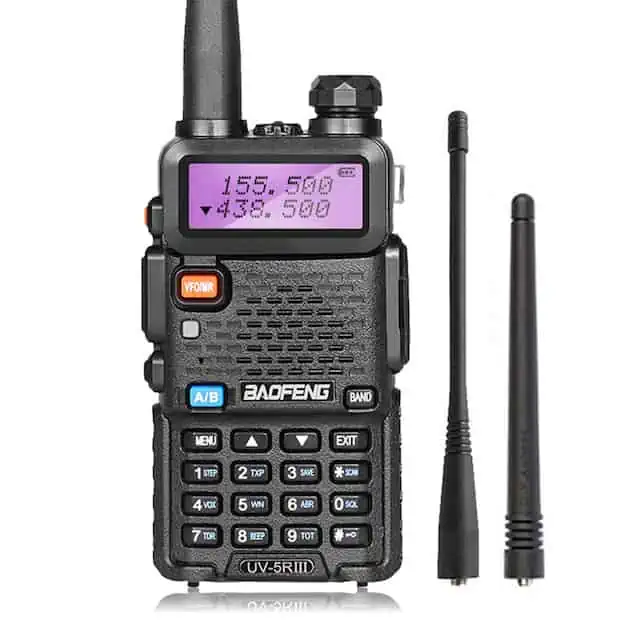 UV-5R covers a frequency of up to 520 MHz which allows you to access multiple frequencies.
It features a long powerful TIDRADIO 771 antenna that ensures you access to all the possible frequencies for easy communication. The last thing you want is a breaking channel and this antenna takes care of that.
Baofeng UV-5R operates on squelch technology that is reliable and effective in voice commanding. With this, you're guaranteed a clear sound even in a noisy environment.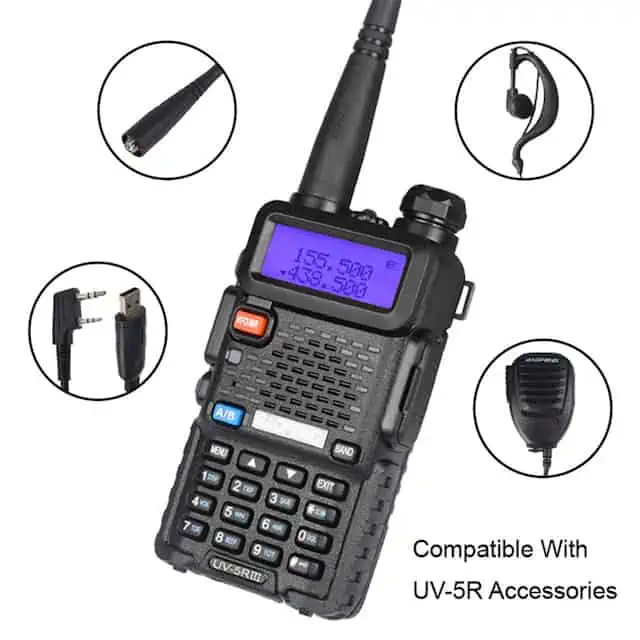 This technology cleanses the wave frequency to give you a stellar and clear sound. Therefore, this will make communication easy even in areas with poor signals.
It has 128 channels that provide adequate room where you can save the frequencies that you frequently use.
For easy access, you can program the radio according to your specifications. The radio comes with a programming cable that you can use on a computer with the radio. However, you need to have a programming software installed on that computer.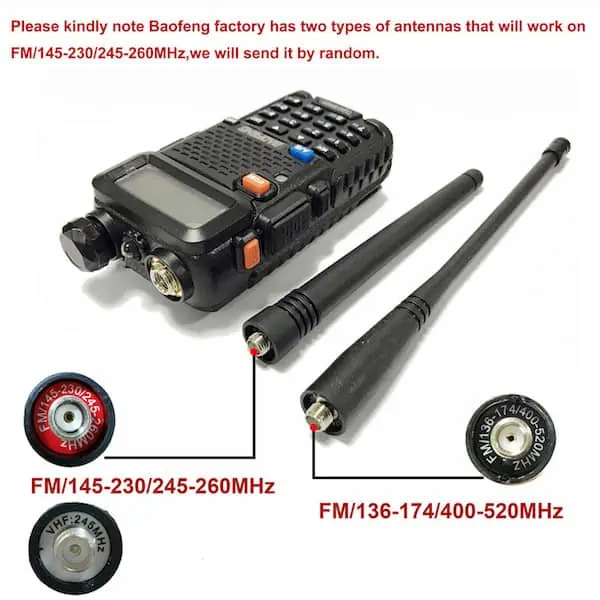 Features/Specs
Output: 4-5 Watt Max
Speaker Output: 700mw
Frequency Range (mhz): VHF (136-174), UHF (400-520)
FM Radio: 65MHz-108MHz
Push-to-Talk: Single
Display: Tri-Color
Usage: Amatuer
Additionally, it's possible to reject irrelevant calls with this radio. This will enable you to stay focused and only take important calls.
It comes with a standby battery that you can use when you have drained power out of the primary battery. This will save you time that you'd otherwise use waiting for the only battery to fully charge.
Also, it has a power-saving function that enables you to use power sparingly. This is important when you're in a remote place where power access is a challenge. Thus, you can stay active for long with this function.
Our Rating:
Price: 10/10
Range: 7.5/10
Reliability: 7.5/10
Functionality: 7/10
Durability: 7/10
Programming: 6.5/10
Battery: 8/10
Extras: 7.5/10
Overall Rating: 7.6/10
Check out our review of Best Long Range Two Way Radios
Pros
Guaranteed high performance.
It comes with a user manual that is easy to follow.
Operates on tri-power mode and setting.
Made of sturdy cover that is durable.
Cons
You have to buy programming software separately.
GT-3 TP Mark III is an upgrade from GT-3 Mark II and it operates on tri-power mode.
This implies that it has up to three power settings that you can tap on depending on your preference.
Its highest power level is 8 watts, a mid-power level of 4 watts, and a low power level setting of 1 watt.
This feature makes the radio reliable and versatile when it comes to power usage.
Features/Specs
Output:8 Watt Max
Frequency Range:VHF: 136-174 MHz (RX/TX), UHF: 400-520 MHz (RX/TX).
128 Channels, 50 CTCSS and 104 DCS
FM radio: 65-108 MHz (RX Only)
Busy Channel Lock "BCLO"
VOX (Hands-free Talk)
Usage: Commercial
It has a wide frequency transmission and reception range. By covering a wide area, you can effectively communicate with others over an 11 km radius.
It has a drop-resistant hard shell cover that protects the radio from damages in case it falls down. This also contributes to its agility hence you will find the radio durable.
And when the signals are poor, you will still get quality sound. The radio has an AGV switch that you can use to cancel noise whenever you have poor signal strength.
Our Rating:
Price: 8.7/10
Range: 8/10
Reliability: 7.5/10
Functionality: 7.5/10
Durability: 7.5/10
Programming: 6.5/10
Battery: 8/10
Extras: 7.5/10
Overall Rating: 7.7/10
Trying to Keep Your Radios Charged on the Go? Check These:
Pros
Has multiple channels
Has a battery power-saving mode
Easy to use
Powerful radio-5watts
Cons
The charging mode is not the best
Alphanumeric programming only possible via the software
This model is a pact, economical 2-meter, and 440 MHz amateur radio device. It has a one of a kind 65 to 108 MHz VHF reception band that has the periodic FM transmission band.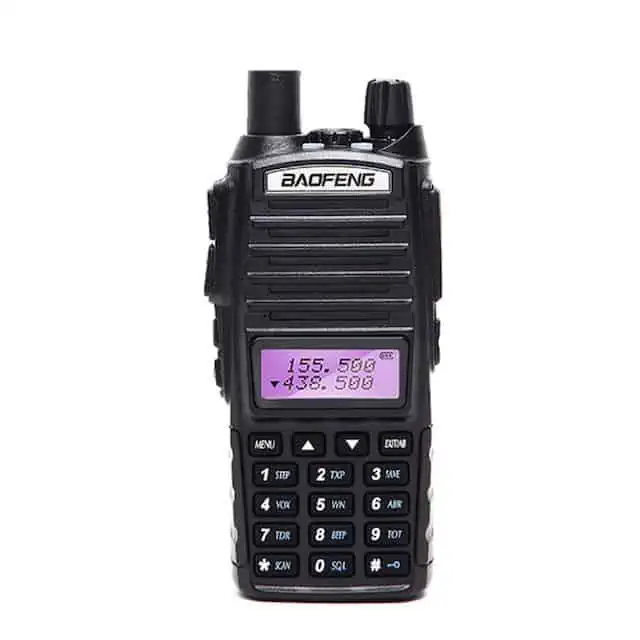 It has a double watch and dual reception and it gives you up to 128 channels when you purchase this portable ham radio. It's among the most economical of BaoFeng ham radio.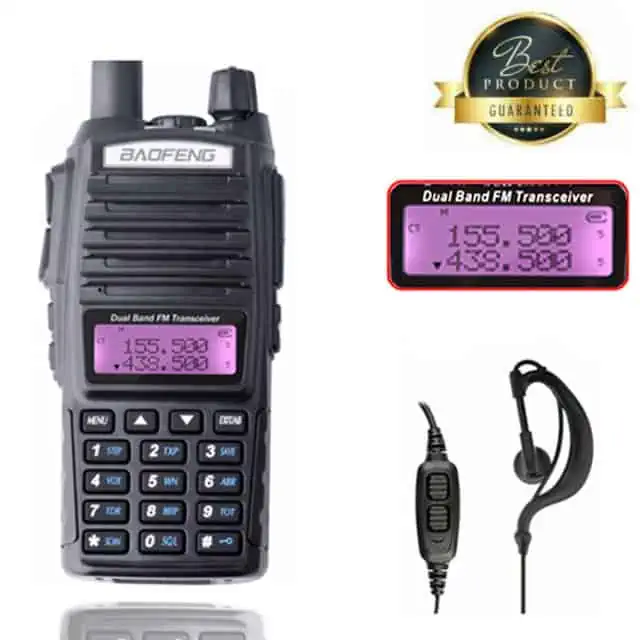 Features/Specs:
Output: 5 Watt Max
Speaker Output: 1 Watt
Frequency Range (mhz): VHF (136-174), UHF (400-520)
Push-to-Talk: Single, Dual, or Both: Both
Display: Tri-Color
The best thing about this radio is that it alerts you when the battery is low and also shows the amount of charge left in the battery. When you compare former BaoFeng radios with this new model, the latter has a louder 1-Watt speaker, a much stronger case with large buttons, and a recently made chipset.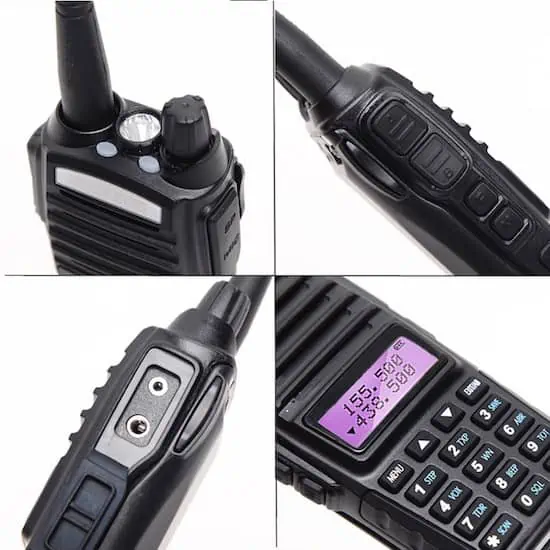 It also has a circuit board that extends the range, performance of the former BaoFeng chipsets, and accuracy. Some of the pros and cons are outlined below. Let's take a look!
Our Rating:
Price: 8.1/10
Range: 7.9/10
Reliability: 7.5/10
Functionality: 7.5/10
Durability: 7.5/10
Programming: 6.5/10
Battery: 8/10
Extras: 7.5/10
Overall Rating: 7.6/10

Taking Your BaoFeng Radio Out on the Water? Check This Out:
---
Best BaoFeng Radios Buying Guide
According to our review the clear winner is the Baofeng UV-S9 Plus. Nevertheless prior to making a buying decision for the best Baofeng ham radio, you need to be aware of what to consider.
There are multiple radios in the market and without the right knowledge, you're likely to mess.
The good news is that I have compiled a list of considerations that you should flip over before opening your wallet. Here are several factors you need to look out for when buying a BaoFeng Radio.
1. Power Usage
More wattage means more powerful signal and a longer radio range. For long-distance uses, wattage is crucial as it plays a big role when two appliances are far apart.
You should possibly purchase a higher wattage radio if those are the conditions under which you're using a radio.
The average power output for the best radio should be 4 watts. However, one with more power output is recommended.
This is important because your radio efficiency depends on this. Also, you need to check that your battery power is powerful and can support the radio.
A high power battery will enable you to use the radio for long before a recharge becomes necessary.
2. Range of frequency
First of all, check the frequency range you need for your radio. You will find that BaoFeng designs are generally mono, double and 3-band radios that support 3 frequency modes: VHF, FM, and UHF.
UHF vs. VHF
This is crucial in any radio. There's more to be told about the differences between Ultra-High Frequency and Very High Frequency (UHF and VHF), but we will make it simplified for you.
In general, UHF radios do well inside a building, while VHF is best suited outdoors. This is because UHF waves can pass through obstructions; on the contrary, VHF waves need open distances for transmission.
3. Noise Control
At times, dealing with noise and poor signal reception is inevitable. However, if this goes on, you're likely to have compromised audio quality.
The only way to take care of this is to have a radio that can cancel unnecessary noise so that you only get quality signals.
4. Speaker Output Power
The speaker goes a long way in ensuring you hear every word regardless of the environmental conditions.
This implies that a high power speaker remains useful even in a noisy environment.
Therefore, you need to check the power of the speaker before you purchase the radio. 700 mW is the minimum speaker power that's recommended.
5. Radio Antenna
Antenna power is important if you want to transmit or receive signals over long distances.
Therefore, check the power of the antenna as it has a direct correlation with the efficiency of the radio.
6. Durability
This will determine how long you get to use your radio. Therefore, check that the radio has a sturdy cover that is resistant to damages in case it falls.
7. Programming
BaoFeng radios are commonly used for programming. They offer you the option of setting various transmission frequencies like weather tracking, law enforcement and many other departments that provide help in an emergency.
8. Model and Display
You will most probably come across troublesome situations outdoors at night. If you use a ham radio with indistinct light, it can be difficult. Therefore, look for the display option for the backlight. Furthermore, BaoFeng has several designs with a large 3-color display.
With a well-built metal housing, the radio is robust enough to endure breakage and destruction. It should be waterproof so that it continues working in conditions such as floods and rain.
Conclusion
That's it with the best Baofeng handheld radio reviews. Choosing the best Baofeng models shouldn't be a daunting task anymore.
By following this guide, you can rest assured that you'll be at ease choosing the one that fits your needs.