Top 3 Best Fishing Kayaks In 2023
Searching for the best fishing kayak?
Embark on an adventure with us as we dive into the world of fishing kayaks. We've navigated the vast sea of options, tested the waters, and are ready to share our findings. From stability and comfort to storage and durability, we've scrutinized every detail.
Are you ready to discover the perfect vessel for your angling adventures? Join us as we reveal the top fishing kayaks that offer the best value for your money.
Our Top Picks
Perception Outlaw Fishing Kayak – Our Top Choice
Old Town Sportsman 120 Fishing Kayak – Best Premium Fishing Kayak
Intex Excursion Pro Kayak — Best Budget Fishing Kayak
Why Should You Trust Us?
At WhollyOutdoor, we're not just enthusiasts; we're experts in all things outdoors. Our founder, Paul Dudley, has a deep-seated passion for outdoor activities, particularly fishing and ham radios. This passion fuels our dedication to providing you with the most accurate, objective, and honest reviews.
Since our inception in 2018, we've been committed to educating our readers and helping them make informed decisions. We don't just skim the surface; we dive deep into the details, testing and scrutinizing every product we review. We're here to guide you through the vast sea of outdoor products, and we take this responsibility seriously. Trust us to steer you in the right direction.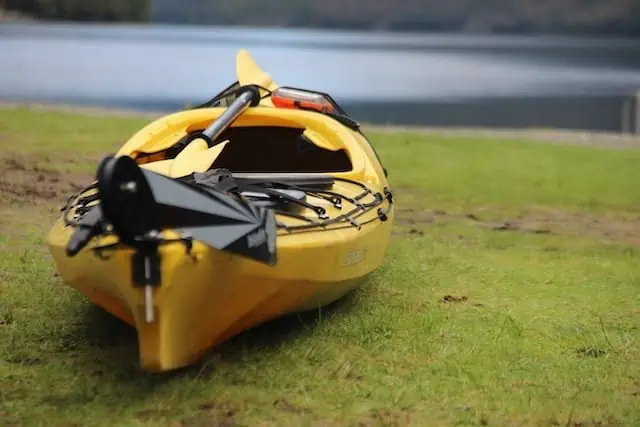 How We Choose the Best Fishing Kayak
Choosing the best fishing kayaks isn't a task we take lightly at WhollyOutdoor. Our selection process is meticulous and thorough, ensuring that we provide you with the most reliable and accurate recommendations. Here's a glimpse into our process:
Research: We start by casting a wide net, gathering information on all the latest and most popular fishing kayaks on the market. We scour manufacturer websites, read customer reviews, and stay updated on the latest industry trends.
Criteria Selection: We then identify the key factors that make a fishing kayak stand out. These include stability, comfort, storage capacity, build quality, and price. We also consider additional features like the ease of attachment for accessories and the kayak's suitability for different water conditions.
Kayak Testing: Whenever possible, we get our hands on the kayaks for some real-world testing. Our team, led by our founder Paul Dudley, takes each kayak out on the water to assess its performance firsthand.
Comparison: We compare each kayak against our set criteria, ranking them based on their performance. We also consider the feedback from other users and experts in the field.
Selection: Finally, we select the top performers, those that offer the best balance of features, quality, and price. We ensure that our top picks cater to a range of needs and budgets, from the premium choice to the best budget option.
Our goal is to provide you with a comprehensive guide that helps you make an informed decision when choosing the best fishing kayak for your needs. We're committed to transparency and honesty in our reviews, and we hope our dedication shines through in our recommendations.
Best Fishing Kayak Reviews
Pros
robust and reliable build
excellent stability
spacious design
easy attachment of accessories
comfortable, adjustable, removable seat
Cons
The higher seating position means the kayak is slower than conventional ones
Lacks footrests
The seat is fixed in a high position
Perception Outlaw Fishing Kayak is a top choice that's brimming with features and sports a reasonable price tag. This kayak is built from Polyethylene, a robust material that can withstand a good deal of wear and tear. This sturdy frame not only ensures the kayak's longevity but also sets the stage for the features that make it a fan favorite.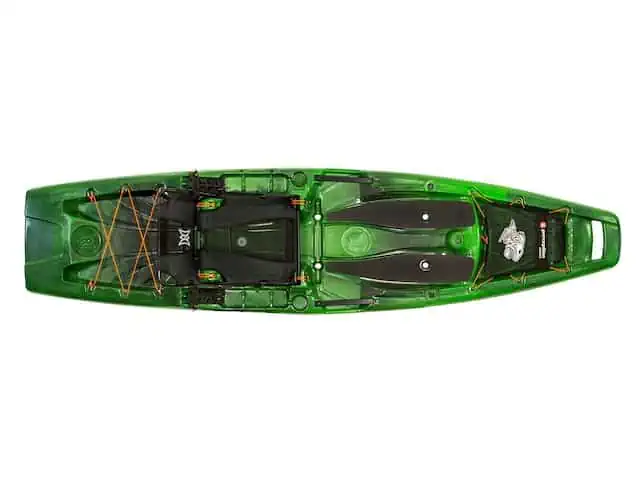 One of the key attributes of the Perception Outlaw is its impressive stability. It manages weight and balance with ease, so there's no fear of capsizing while you're casting your line. Non-slip traction pads near the seat even allow you to stand up while fishing, a testament to its stability.
Now, let's talk about the seat. It's raised 5 inches above the deck with supports, positioning you higher than most traditional kayaks. The seat itself is a spacious and supportive mesh chair, reminiscent of a standard camp chair. And the best part? It's foldable and removable, so you can even use it as a camp chair when you're not on the water.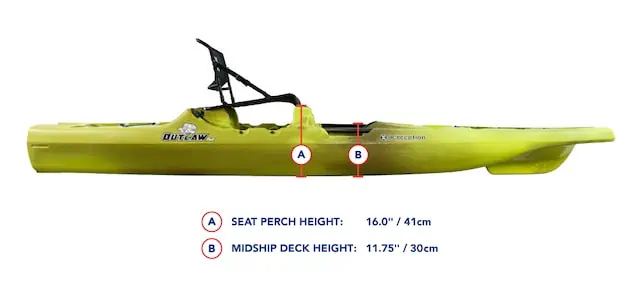 Interestingly, the Outlaw Kayak gives you the option to remove the seat entirely. Several attachment points secure the seat in place, and when the seat is removed, they can accommodate other accessories. Perception suggests this opens up enough space for their saddle bag or cooler accessories. However, these accessories are sold separately. The kayak only comes with the seat. You could also make room for a standard 35L cooler.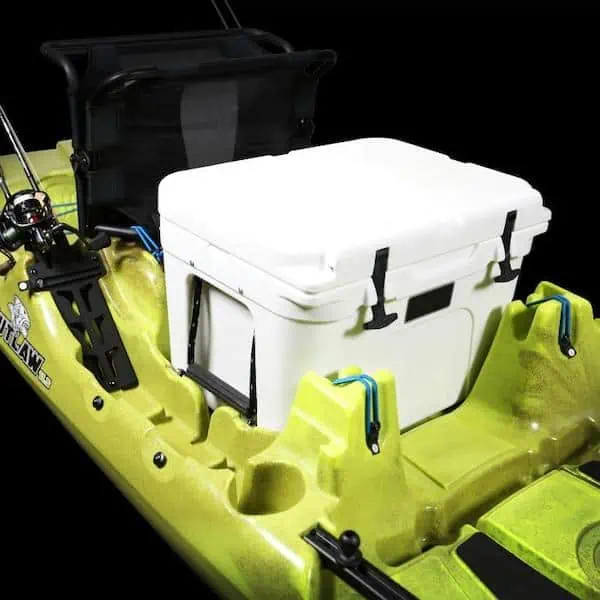 For your convenience, molded-in cup holders are within easy reach of the seat, so you can stay hydrated or enjoy a beverage while relaxing on the kayak. There's also ample storage in the bow and stern tankwell to comfortably carry your gear.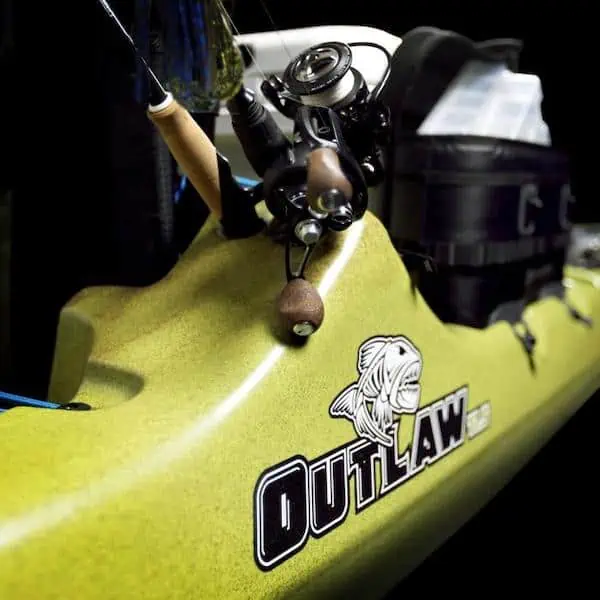 Interested in New Fishing Gear? Check These Out:
Pros
Sturdy and dependable build
Remarkable stability
Spacious design
Large storage options
Comfortable, adjustable, removable seat
Cons
Dry storage struggles to stay "dry"
Price tag is relatively high
Now, I know what you're thinking when we are talking about the Old Town Sportsman 120 Fishing Kayak. The price tag on this one might make you do a double-take. But trust me, the features and qualities of this kayak more than justify the cost.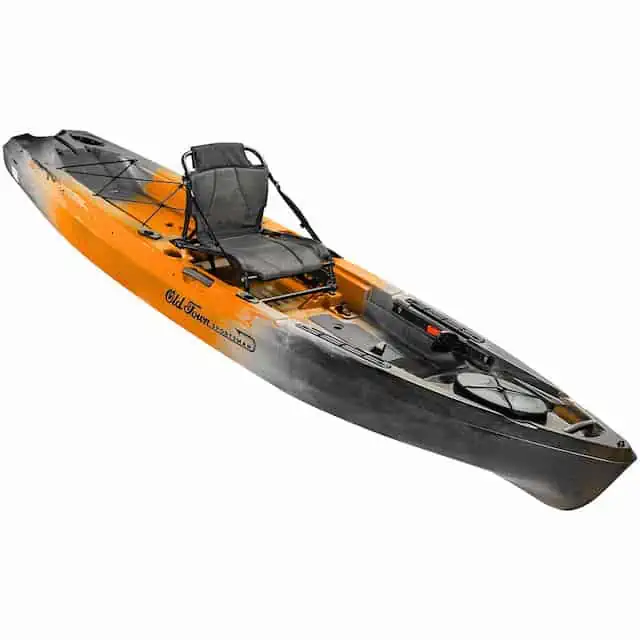 First off, let's talk about the build. The hull of this kayak is made from polyethylene, a rugged and tough material that promises durability. This isn't just a kayak; it's an investment that's built to last.
One of the standout features of this kayak is its stability. It has an "ultra-stable DoubleU" hull that keeps it steady even with significant movement from the user. You can stand up on the deck without worrying about it tipping over. And with a maximum weight capacity of 500 pounds, this kayak offers plenty of flexibility for the user.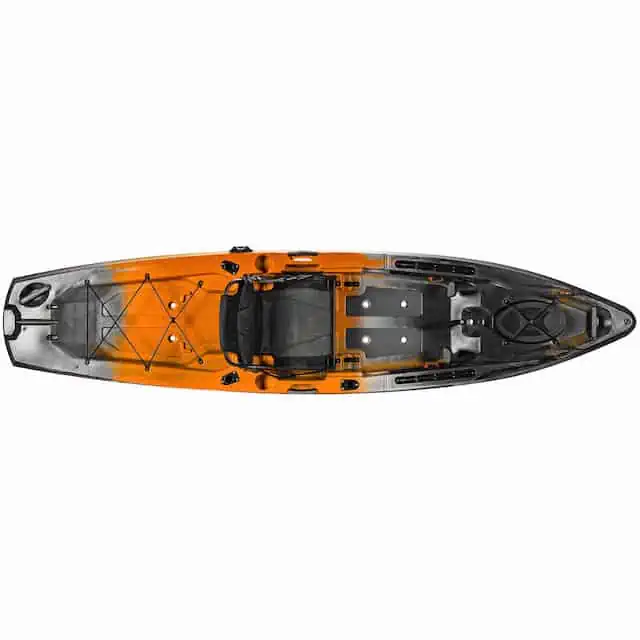 Now, let's talk about comfort. The seat is surprisingly comfortable for its appearance. It's made from a dual-layer Textilene, which is not only comfortable but also resistant to damage from UV rays. The seat is wide and offers slight adjustment in its sitting position for better comfort. And the best part? It's removable for storage and transportation.
Storage is another area where this kayak shines. It has a stern tank with plenty of room for storage, and it also includes a sealed dry storage area in the bow. These two storage options can handle most of your angling needs.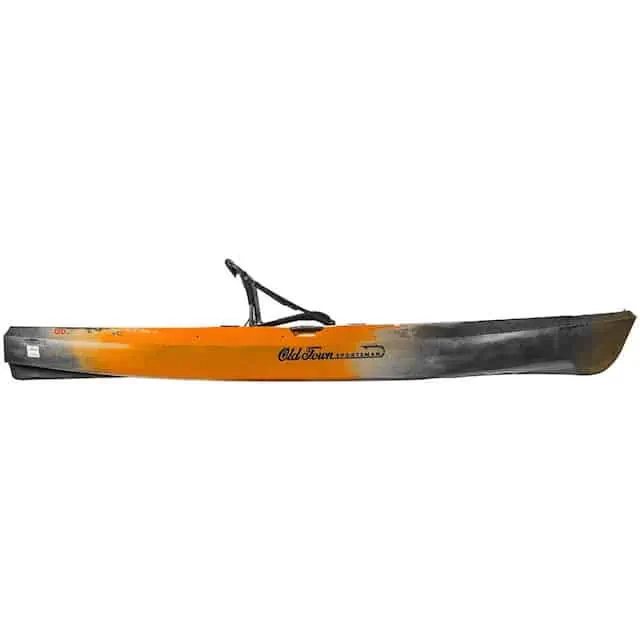 Despite its size, this kayak has remarkable maneuverability. You can take it to a narrow river and follow the flow without a problem. Other notable features include a universal transducer mount, tracks on the forward hull for easy accessory mounting/removal, and rod holders.
Pros
Attractive pricing
Big range of accessories
Robust carry bag
Ease of inflation and carrying
Option for two seats or a single seat
Separate skegs for shallow and deep waters
Cons
Questionable longevity
Relatively small paddle blades are something to keep in mind
The Intex Excursion Pro Kayak is a budget-friendly option that's making waves in the fishing kayak scene. Now, when I say budget-friendly, I mean it. This kayak is priced significantly lower than its competitors, but don't let that fool you. It's packed with some pretty impressive features.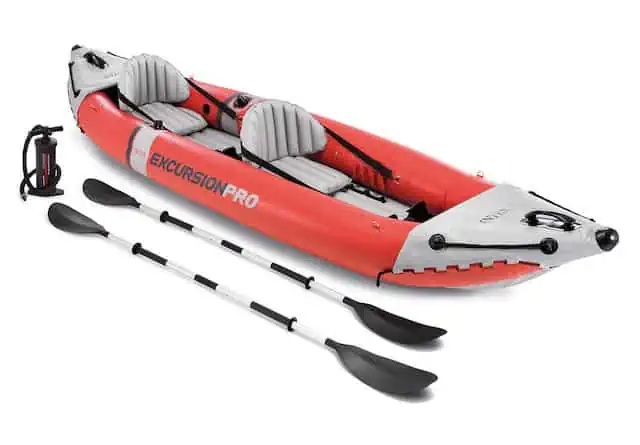 First off, let's talk about the build. The Excursion Pro is made with a polyester core and a laminate PVC exterior. This combo makes it lightweight yet sturdy. And to add to that sturdiness, Intex uses high-pressure inflation for extra rigidity. This isn't your typical budget boat, folks. It's got a solid build, and it feels more robust than many other budget options out there.
When it comes to accessories Intex has thrown in a bunch of goodies with this kayak. You get a repair kit, valve key, paddles, air pump and fishing rod holders. They've even included a skeg for both shallow and deep waters, which is a step up from the usual single skeg that most kayaks come with.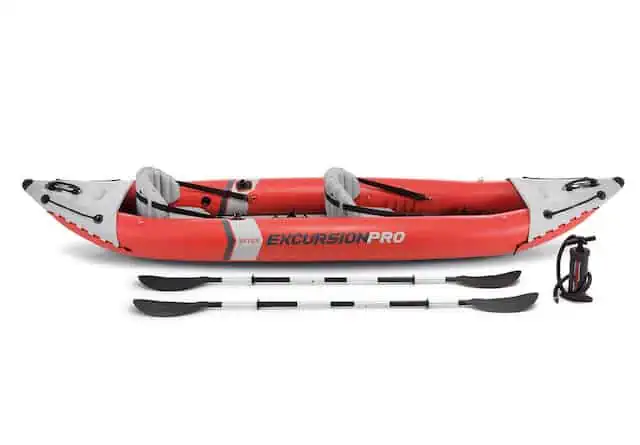 One of the standout features of this kayak is its variable seating. Technically, it's a two-seater, but with a bit of adjustment, you can turn it into a single-seater. The seats are inflatable, and they come with pads for higher seating. The foot braces are also adjustable, making it easy to paddle in either mode.
Now, I have to mention that inflatable kayaks generally don't have great directional stability. The Excursion Pro tries to tackle this issue by adding a fin, but there seems to be a quality control issue. Some users have reported that the fin holder isn't attached straight to the kayak, which can cause more problems with directional stability.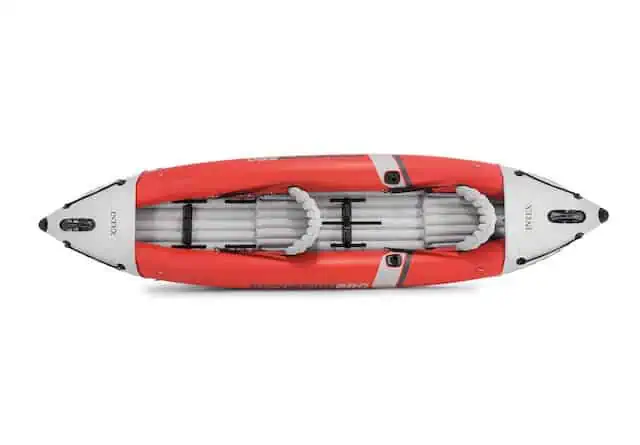 But overall, if you're on a tight budget, this kayak does its job pretty well. Just keep in mind that it's a cheap PVC kayak, so its durability and longevity might be questionable.
Frequently Asked Questions (FAQs)
What is the best fishing kayak on the market? The best fishing kayak on the market, according to our research and testing, is the Perception Outlaw Fishing Kayak. It offers a robust build, excellent stability, and comes at a reasonable price.
What should I look for when buying a fishing kayak? When buying a fishing kayak, you should look for key factors such as stability, comfort, storage capacity, build quality, and price. Additional features like accessory compatibility and suitability for different water conditions are also important.
Are expensive fishing kayaks worth it? Expensive fishing kayaks can be worth it if they offer more features and higher build quality. However, it's essential to consider your specific needs and budget. A less expensive kayak may serve you just as well.
Is it better to have a sit-on-top or sit-in fishing kayak? Sit-on-top kayaks are generally more stable and easier to get in and out of, making them a popular choice for fishing. However, sit-in kayaks can offer better protection from the elements.
Can I use a regular kayak for fishing? While you can use a regular kayak for fishing, fishing kayaks come with features like rod holders and more storage space that make the fishing experience more convenient.
How stable should a fishing kayak be? A fishing kayak should be stable enough to allow you to move around, cast your line, and reel in fish without fear of capsizing.
What size fishing kayak do I need? The size of the fishing kayak you need depends on your needs. Larger kayaks offer more storage and stability but can be harder to transport. Smaller kayaks are easier to maneuver and transport but may lack storage space.
Are inflatable fishing kayaks any good? Inflatable fishing kayaks can be a great budget-friendly option. They're easy to transport and store, but they may not be as durable or stable as hard-shell kayaks.
How much should I spend on a fishing kayak? The amount you should spend on a fishing kayak depends on your budget and needs. You can find decent fishing kayaks for a few hundred dollars, but higher-end models can cost over a thousand.
Can I stand up in a fishing kayak? Yes, some fishing kayaks are stable enough to allow you to stand while fishing. This feature is often highlighted in the kayak's product description.