As an Amazon Influencer, we earn from qualifying purchases you might make if you click any of the links on this page.
Best Fish Finder for Kayak (Updated 2022)
What is the best fish finder for a kayak?
This is a common dilemma for most anglers especially beginners. If you are also wondering the same, you are in the right place. Our review of the best fish finder for kayak will help you choose the one that suits your fishing style and environment.
Comparison Table-Best Kayak Fish Finders
Image
Product & Features
Check Price
Garmin Striker 4 Built-in GPS
Display Size: 3.5 inch
Waterproof rating: IPX7
Frequency: Traditional: 50/77/200 kHz CHIRP (mid and high)
Transmit Power: 200 W (RMS)
Max Depth: 1,600 ft freshwater & 750 ft saltwater


Check Price

(Best fish finder for the money)
9.8* Rating
Garmin Striker Plus 5cv
Waterproof rating: IPX7
Frequency: Traditional: Traditional: 50/77/200 kHz CHIRP (mid and high) ClearVü 260/455/800 kHz
Transmit Power: 500 W (RMS)
Max Depth: 2,300 ft freshwater & 1,100 ft saltwater
Integrated GPS & Mark Waypoints
Check Price

(Best Fishfinder GPS Combo under $300)
LUCKY Handheld Fish Finder
Sonar Frequency: 200Khz
Max Depth: 328ft
Cable Length: 25ft
Display: Blue LED Back lighting
Check Price

(Best Budget Fish Finder under $50)
Humminbird 1 HELIX 7 CHIRP MDI
CHIRP Frequencies: Full Mode (150-220 kHz), Narrow Mode (180-240 kHz), Wide Mode (140-200 kHz)
Sonar Frequencies: 50/83/200/455 kHz
Sonar Depth: 1,200 ft (standard transducer), 3,500 ft (optional 50 kHz)
Depth-Down Imaging: 350 ft (455 kHz), 125 ft (MEGA)
Check Price
Venterior VT-FF001
Display: TN/Anti-UV LCD display
Backlighting: Green LED
Depth Range : Max: 100m (328ft)
Sensor Beam Angle: 45 degrees
Sonar Frequency: 200Khz
Check Price
HawkEye Fishtrax 1C
Max Depth: 240 ft (75 m)
Transducer Cable Length: 15 ft (4.5 m)
Transducer Frequency: Dual ~ 200/83 kHz
Transducer Beam Angle: Dual ~ 14/26 Degrees
Check Price
iBobber Wireless Bluetooth

10+ hrs battery life
Max depth: 135 feet deep
GPS spot tagging with interactive map
Fish & strike alarms
Compatible with Google Watch and iWatch
Check Price
Lowrance HOOK2 4X

Display Type: WVGA Color TFT LCD
Frequency: Wide-Angle 200 kHz
Maximum Depth: 500 Feet (152m)
Type: Fishfinder/Chartplotter Combo
Waterproof rating: IPx7
GPS:Internal high-sensitivity WAAS + EGNOS + MSAS
Check Price
10 Best Fish Finders for Kayak 2020
Features/Specs
Display Size: 3.5 inch
Waterproof rating: IPX7
Frequency: Traditional: 50/77/200 kHz CHIRP (mid and high)
Transmit Power: 200 W (RMS)
Max Depth: 1,600 ft freshwater & 750 ft saltwater
This is arguably the best portable fish finder in the market and also the best pick on a budget. This makes it perfect for kayaks and canoes. It comes with a portable kit and a sealed rechargeable battery with a charger. The best part is that its portability feature does not compromise its quality.
Quality: It displays some of the clearest, near-photographic images showing details of the objects on display. This is made possible because of its high-frequency sonar, known as CHIRP SONAR. This feature enables the kayak fishfinder to give a wide range of information with a better target separation.
Waypoint map: For a better experience in navigating and marking various locations underwater, you can rely on the waypoint map, which is also useful to find your way back easily and faster.
In addition, the Garmin Striker 4 built-in GPS fish finder, has a high sensitivity GPS when locating your current location more precisely and accurately. It also has the capability of displaying speed, which helps to make sure that you are traveling at the right speed. It is suitable for ice fishing due to its built-in flasher.
If you are not satisfied with the picture quality, the Garmin allows room for improvement as you can upgrade the CHIRP technology for better images. No wonder it's a favorite for the best fish finder for Kayak and also the best fish finder for the money
Main features:-
Display Size : Available in 3.5 , 5 and 7 inch display sizes
Display Type :HVGA color
Sonar :CHIRP
Frequency :Traditional (50/77/200 kHz), CHIRP (mid/high)
Max Depth :1,600′ (FW), 750′ (SW)
Power Output :200W (RMS)
Transducer :Dual-Beam
Split screen zoom
Integrated GPS
Check the detailed Garmin Striker 4 review here.
Pros
Affordable with high-end features
It has CHIRP 2D sonar and CHIRP transducer
The backlit allows clear reading of the LCD screen in direct sunlight or in the dark
It is IPX waterproof
It is easy to install and mount on a kayak
Reliable battery life
Easy to set waypoints and return to them
Cons
Screen size is small
Does not have a Micro SD card reader
Lacks latitude and longitude information
*Check out our review of Lowrance Vs Humminbird Vs Garmin
With the Garmin Striker 5cv, tracking fish has never been easier. This is a great unit for freshwater use but can also be used in coastal waters as a result of its powerful CHIRP sonar. This unit features:
Built-in flasher: Ideal for those occasions when you're engaged in stationary fishing or ice-fishing. The built-in flasher will show the depth of fish as they swim into the sonar beam, the bottom, whether it is solid or muddy and your jig or weighted bait. The flasher will also show whether the fish is moving toward or away from it and how high your jig is being lifted and dropped.
Waterproof: Rated as IPX7, this unit can withstand incidental water exposure such as rain, snow or splashes.
High definition display: The unit has a 5-inch display, WVGA color, a pixel matrix of 800H x 480V, and adjustable LED backlight. This offers clear, focused images for both sonar and charts and excellent readability even in bright sunlight.
Clarity of chirp:The Garmin striker 5cv has ClearVu CHIRP technology and traditional CHIRP sonar. Instead of sending just 1 single frequency, CHIRP technology sends a continuous sweep of frequencies, ranging from low to high, then interprets them individually upon their return. Since the frequencies provide a wider range of information, CHIRP sonar technology can create crisper fish arches with a greater level of clarity.
High sensitivity internal GPS: Garmin Striker 5cv is the best fishfinder GPS combo for its price. Through the high GPS sensitivity of this unit, the GPS system can calculate the speed of your boat and show the coordinates for your location and waypoints.
Pros
Great sonar features
For all its advanced featutres, the price is great
A portable kit and easy to install
Waterproof
Built-in, high-sensitivity GPS
LED backlight for better readability in direct sunlight
Smooth Scaling depth-range adjustments
Includes built-in flasher
Speed data displayed directly on the screen
Cons
No photo image of fish
No microSD card reader
No unit cover
This fish finder is a popular choice for many anglers. It is the perfect choice if you want to have a complete in-depth view of everything going on in the water underneath. It shows the measurement of the water depth beneath you and also locates fish, sand, weeds, and rocks underwater.
This portable fish finder is perfect for people who fish on a kayak or any other non-motorized vessel. It is compact and ideal for those who want to fish in diverse ways, from ice to sea to shore fishing.
It has numerous diverse options that you can use to adapt it to your requirements. It is equipped with 5 diverse sensitivity modes, a battery saver, a fish alarm, and a rear light mode that help you to alter the device to suit your needs.
Depth readout: It has a detector range of a 45°cone underwater with a detection depth range of 3ft(1m) to 328ft (100m) below fishing sonar transducer.
Features
It detects and indicates the depth of water and the location of the fish
Has a detachable transducer
Can get to a total depth of 328 feet
Has a low power consumption
Has a fish alarm
Pros
It's affordable
Gives more accurate fish location and depth
Simple to set up and use it
You can strap on the neck
Cons
May stop working if exposed to rain
Not suitable for cold environments
Features/Specs
CHIRP Frequencies: Full Mode (150-220 kHz), Narrow Mode (180-240 kHz), Wide Mode (140-200 kHz)
Sonar Frequencies: 50/83/200/455 kHz
Sonar Depth: 1,200 ft (standard transducer), 3,500 ft (optional 50 kHz)
Depth-Down Imaging: 350 ft (455 kHz), 125 ft (MEGA)
CHIRP – Imaging : MEGA DI (1075-1150 kHz), 455 kHz (440-500 kHz)
The Helix 7 Chirp is a powerful fishfinder with several significant improvements from its predecessor, the Helix 7 Si GPS, including the CHIRP sonar technology and the AutoChart Live feature. The new features justify the slightly higher price.
This kayak fish finder has been enhanced for viewing during the day. It uses 2D pulse sonar with SwitchFire technology designed by Humminbird to distinguish between the bottommost part, fish, and structure. The differences between Humminbird and high-end designs are instantly obvious.
The Helix 7 is Humminbird's present flagship fish finder and the leader with a 7-inch color WVGA display.
Features:-
Brilliant 7″ screen display with 1,500-nit brightness
800×480 resolution
Down Imaging down to 250′
CHIRP sonar
SwitchFire Sonar
1,500′-deep sonar capability
Built-in GPS
Capacity for 2,500 waypoints, 45 routes, and 50 tracks
Single card slot
Compatible with several cartographies
Built-in AutoChart Live
Pros
Quality Images
The display provides multiple viewing options
The MDI provides complete underwater view
Complete navigational and chart-plotting functionality courtesy of in-built GPS
Cons
Has few pre-installed maps
Non-touchscreen
Not compatible with bluetooth
Features/Specs
Display: TN/Anti-UV LCD display
Backlighting: Green LED
Depth Range : Max: 100m (328ft)
Sensor Beam Angle: 45 degrees
Sonar Frequency: 200Khz
This fish finder is ideal for smaller boats like a kayak. Although it doesn't have a decorative LED screen, you have the portability necessary to get the work done. It can detect fish and give you an indication of the water depth.
This fish finder precisely fits in the palm of your hand and can be attached with floats, on a pole, or mounted onto the vessel's haul. Experts state that this fish finder performs as designed and gives the user the pliability of using it in smaller boats.
This device is also known for accuracy and offering users a lot of visibility even in the darkest conditions. This fish finder is the perfect size for a kayak.
However, it also offers so much concerning visibility and preciseness. Although no screen is included, your smartphone does the task perfectly.
It has 5 settings and another that permits you to set the fish size. You can also see underwater patches that have weeds and rocks in a grayscale.
Features
It's supplied with a transducer
Has adjustable brightness level
It's powered by 4 AAA batteries
Can reach up to a total depth of 328 feet
Has a fish alarm
Pros
It's small and, therefore, portable
Great value for the money
Has a long battery life. You can, therefore, relish long fishing hours
Cons
Features/Specs
Operating Temp: 0~160°F (-18~71 °c)
Max Depth: 240 ft (75 m)
Transducer Cable Length: 15 ft (4.5 m)
Transducer Frequency: Dual ~ 200/83 kHz
Transducer Beam Angle: Dual ~ 14/26 Degrees
The HawkEye Fishtrax 1c is one of the hawkeye portable fish finders popular among the more experienced fishermen. Its portability is an instant attraction. It boasts of a high definition fishing capability, including a color HD view.
It operates on two frequencies namely; 83kHz and 200kHz. It also features a dual beam intelligent sonar.
The HawkEye has a few alarms including the fish alarm signal and the water temperature. These sensors come in handy and make work easier for the fisherman. With the help of the fish alarm, the angler is able to identify the areas with a potential catch.
The water temperature sensor helps to anticipate the kind of organisms that may be found in a particular area of the water body. Different organisms thrive in various temperatures. The interpretation of this kind of results may require some expertise on the side of the user with some prior knowledge.
Main features
A color HD view
Fish alarm
Water temperature signal
Fish depth identifier
Dual beam intelligent sonar
Operates on two frequencies; 200kHz and 83kHz
Features/Specs
Sonar-Standard:Down Imaging, Dual Beam
Sonar-Coverage: 28°, 16°, & 74° @ -10dB
Sonar-Frequencies: 200/455/455 kHz
Depth-Sonar: 600 ft
Depth-Down Imaging: 320 ft
This Hummingbird kayak fish finder is an easy to use fish locator. Though relatively small, it boasts of features that make it one of the most sought after kayak depth finders on the market.
The technology: The technology used by this fish locator is something worth writing about. It uses sonar technology like most kayak depth finders; what sets this locator apart from the rest is its dual beam capability. One beam operating at 455kHz whereas the other at 200kHz. The former being more effective when focusing on a specific area, especially the area beneath the boat, and the latter giving a more general view. It also boasts of Down Imaging at 600 ft.
The display: This Humminbird fish finder features a 256 color 320×240 resolution but a relatively small display of 3.5 inches. It may have the dual-beam capability but cannot display the results simultaneously. In other words, it has no split-screen capability.
Various objects, however, are displayed using different colors, for instance, an object portrayed by a blue color represents a weak signal, whereas that portrayed by the color orange represents a stronger signal. This means the object with color orange is closer.
Alarms and Temperature
This fish locator has a temperature sensor to determine the ideal conditions in the water. This sensor does not have an alarm. However, it has a depth sensor that has an alarm that goes off once it detects a potential load of fish.
In addition to these features, this Humminbird portable fish finder boasts of a fish ID technology that displays fish location and makes use of fish icons to enable easy interpretation of the results by an amateur.
Main features
Dual beam capability. Covers 200kHz and 450kHz
Displays one frequency at a time
Down imaging at 600 feet
Depth capability at 320 feet
Functional depth alarm
Functional temperature gauge
No GPS
No maps
Features/Specs
LED beacon
10+ hrs battery life
Max depth: 135 feet deep
Waterbed and structure contour mapping
GPS spot tagging with interactive map
Fish & strike alarms
Compatible with Google Watch and iWatch
Some of its features are as follows.
Portable: If you are looking for one of the best portable depth fish finder and also a kayak fish finder with a stylish design and the lightest in the market at the moment, then you should get yourself an iBobber.
It is a pretty cool device with wireless capability and can sync with an app that can be installed for free on your smartphone. The best part of its sync feature is it can sync with a phone or tablet up to 100 feet away.
Superior battery life: If you are exploring in areas where there is no available power source, no need to worry as it is equipped with a battery that can last a total of ten hours and is rechargeable. In addition, this smart fish finder has an indicator that shows the charge status every minute.
Display: Its small size, however, should not fool you. As far as the iBobber is concerned, size does not really matter. The images are at their best in terms of quality. On the display, you will see fish icons symbolizing the presence of fish.
In case you are wondering how you are going to distinguish between different sizes of fish, this device has color-coded the fish by size making it easier. Not only that, but you will also be able to get a detailed view of the valley and the hills that are underwater. How's that for quality!
Additional features
One of the additional features of this device is the strike alarm. Also known as the fish alarm. Its work is basically to alert you, the user, once you come across a potential catch. It has a depth capability of 135 feet equipped with a water thermometer and a GPS locator. For a device as small as the iBobber, it is impressive to possess all these features.
This fish locator will no doubt enhance your fishing experience all through the year.
Main Features
Comes with;-
USB Charger
Carrying pouch
Product guide
Great graphics
Strike alarm
GPS locator
10 hrs battery life
Features/Specs
Display Type: WVGA Color TFT LCD
Frequency: Wide-Angle 200 kHz
Maximum Depth: 500 Feet (152m)
Type: Fishfinder/Chartplotter Combo
Waterproof rating: IPx7
GPS:Internal high-sensitivity WAAS + EGNOS + MSAS
There's no denying that this fish finder takes a portion of your budget. It's worth the cost; however, it's only if you have that cash to spend. You can choose a smaller size which will amazingly save you lots of money if you don't require a large HD display.
This 4-inch Hook 2 display is similar to a 7-inch fish finder in that it'll display all information. You'll still have ample room to view your maps, sonar pictures, and your preferred charts.
However, you'll find that you augment regularly. This 4-inch Lowrance device is pre-installed with all the maps the same with the 7-inch and can also download other higher comprehensive maps.
Even if it's a bit smaller, it's still a pro-level device. It can also be shared with other Lowrance devices. In that case, this is ideal for a small bass vessel, while the bigger unit is more suitable for larger boats.
Features
Has a Bullet Skimmer Transducer
It has a menu that looks like those in smartphones and an automatically tuned sonar
Has a wide coverage angle
Can be used up to a depth of 260 feet
Has IPX7 water-resistant protection
Pros
It's compact and simple to use
Can be connected to smartphones
It produces great picture quality
Has a user-friendly interface
Cons
The LCD screen is too small for you to relish all its features
It doesn't have GPS
What is a Fish Finder?
Fish finder is an instrument used to locate fish underwater using sonar technology. They run beneath the water to map shapes and identify objects that are found underwater like fish and rocks. The technology of these devices then creates a picture on the display screen of everything it finds. These cameras use sonar technology to identify objects and then translate the picture using a visual representation. The sonar puts out signals and when the signal hits an object it bounces back to the fish finder.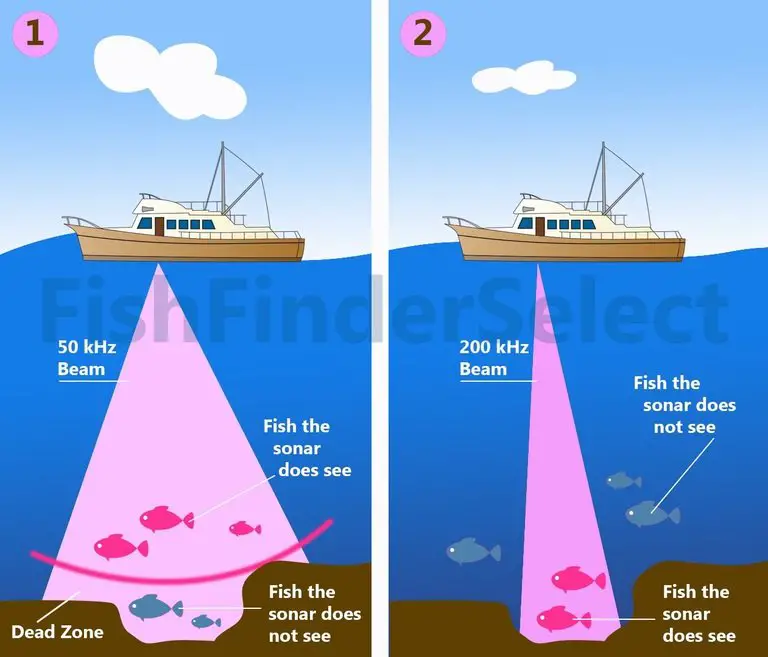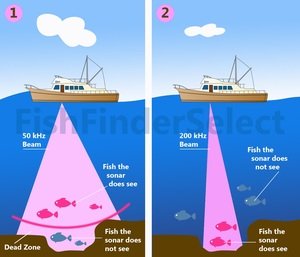 Most fish finders are portable; however, they require mounting to your kayak or boat. They are also waterproof, so if you happen to get water on it, you will not damage the delicate electronics inside. It used to be that all fishfinder GPS units were black and white, however today you will find some color units. Despite that, almost all units will include a sonar, which is what is needed to spot the fish.
Fish finders are not as costly as the other navigational equipment. The price range is anything between $99.00 to $899, depending on what brand you pick. Though fish finders may not always be perfect each and every time, their range and accuracy level will most likely reduce your fishing time by about 50%. So picking the best fish finder for kayak that suits your style will save you a great deal of time and effort.
Before I get to some of the best depth finder for kayaks in the market, briefly, I'll go through some of the factors to consider when getting this device for fishing on your Kayak.
Buyer's Guide – Best Kayak Fish Finder
Power
A Fish finder power is measured in Wattage. The greater the Wattage, the faster your fish finder displays the readings. A high level of power can also go deeper.
Frequency
The higher the frequency, the more detail you get to see on screen. Fishfinders with high frequencies work best in shallow water, whereas those with low frequency are more productive in deep water.
Screen resolution
This refers to the number of pixels the screen displays. The higher the number of pixels, the clearer the view as displayed on the screen. A higher screen resolution enables the angler to get a better idea of the objects in the water. It will make it easier to distinguish fish from other objects.
Screen size
This, of course, goes hand in hand with the screen resolution. Having a large screen size increases the level of detail you would like on your display. In other words, with bigger screen size, you get to enjoy an HD display.
Color or black and white screen
Color screens are much better. They are more enjoyable to look at with beautiful images illustrating various objects in the water. Needless to say, they are more detailed compared to their black and white counterparts.
However, it does depend on the budget. Color screens are a bit expensive, hence you can go with black and white if you do not have enough cash for a color screen. They are relatively accurate, though.
Fixed vs portable fish finders
A fixed fish finder is much more suitable for a boat that you own. A portable is handy if you have rented the vessel. It takes up less space and is a bit more expensive. However, it is a small price to pay for the convenience brought by a portable fish finder.
GPS enabled
It is advisable to purchase a fish finder with a working GPS. This is very useful especially if you are exploring areas that you are not familiar with. In case you get lost, a good GPS system makes the difference. A canoe fish finder with no GPS works as well if the angler has prior knowledge of the river, sea or lake and its contours.
Frequently Asked Questions (FAQ)
What does a fish finder do?
A fish finder helps to locate fish underwater using sonar technology. A frequency is transmitted and when it strikes something such as a fish, it is reflected back and display information like the size, composition, and shape of the object.
What's the Best portable fish finder?
Garmin STRIKER 4 Portable. It's lowly priced, light, has an integrated GPS, great display screen, in-built flashers and can be upgraded to CHIRP technology for better images.
What is a Chirp Sonar?
CHIRP is an acronym for Compressed High-Intensity Radiated Pulse and unlike standard sonar sends continuous sweep of frequencies ranging from low to high, then interprets the returning frequencies individually to provide a much wider range of information, clearer, and high-resolution images.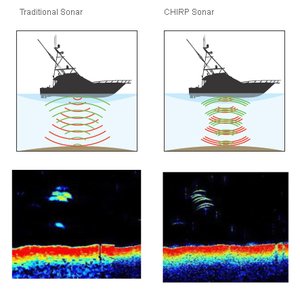 Which CHIRP frequencies should I use?
Chirp uses 3 frequencies:
High CHIRP (150-240 kHz) which is best for depths less than 600′ for inland and freshwater to identify game fish near the bottom structure. It provides more refined details for small objects.
Medium CHIRP (80-160kHz). It is also best for depths less than 600′ and displays a wider coverage area, showing larger fish arches but provides less detail than high CHIRP for smaller objects.
Low CHIRP (below 80 kHz) is used for deep waters with amazing depth performance of up to 10,000′ and marks targets at all depths in the water column
What is a Chartplotter fish finder?
A chart plotter fish finder is a unit with inbuilt chart plotting and fish finding functions. The chartplotter integrates GPS data with the capability to display electronic charts/maps.
Related Posts