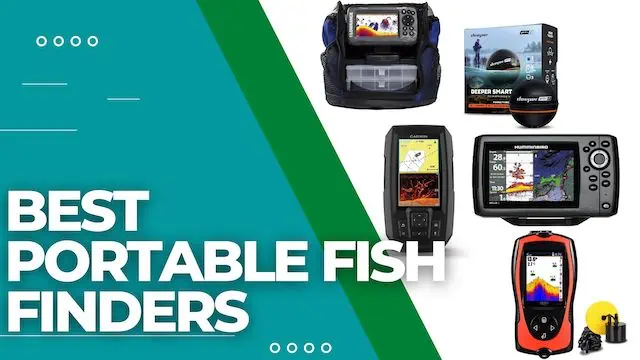 Best Portable Fish Finders
Finding the best portable fish finders on the market should not be a difficult task. However, there are so many options available that it could be overwhelming. To make it simpler for you, we have put together a list of the five best portable fish finders. The options may be overwhelming, but our top five list will make it so much easier!
The research we have done on brands, models, and the various options available has been consolidated into this incredible list. It ranges from high-quality budget options, to premium models, and even our editor's choice. Read on to find the best fit for you and your fish finding needs!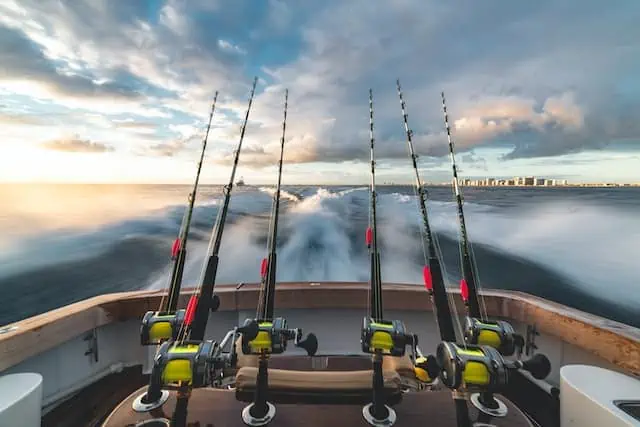 Pros
Full-featured portability kit
Clear screen with clear and bright display
High-sensitivity GPS
Transducer works with CHIRP and CHIRP ClearVü
And good price point.
Cons
Vivid palettes can feel like an unnecessary add-on
And purchasing additional accessories needed for portability.
When all you want is a quality portable fish finder, Garmin Striker 4 series is tough to beat. It's a nice blend of quality, value, and features in a compact and portable package.
Its general appearance has something of a candybar mobile phone look, though it's thicker and needs to connect to a 12V power outlet. Though the unit is usually mounted vertically, users can also set it up to be horizontal.
On that note, it's worth noting that much like its competitors in Humminbird and Lowrance, Garmin Striker Vivid 4 is not an explicitly portable fish finder. You will need Garmin's portable kit to make that change. While the kit is available as a standalone, it's usually a better deal to buy the fish finder and kit together.
The kit includes proper mounting for the fish finder, a sealed rechargeable battery, cable management for the transducer, and a suction cup mount for the transducer.
The control head for the Garmin Striker Vivid 4cv features a 4.3-inch display followed by a few buttons. Sometimes, you'll also find this called a 3.5-inch screen, since that's the length of the display. Easy for anyone of any age to read it.
However, displays are conventionally measured on the diagonal. In this case, that's 4.3-inch. Besides, the screen size is partially responsible for the nomenclature of this device as part of the Garmin Striker 4 series.
The bright display is easy to read. Despite its small size, it shows a wealth of information. In fact, you'll often find the display used as a split-screen to show two different aspects of the fish finder.
When in fish finder mode, the screen displays the scan results. You can use it to see the presence of fish, bottom contour, vegetation, and more. In this mode, the top left of the display shows the depth and temperature. The bottom left of the display shows the transducer settings and frequency.
If used with split-screen, the information maintains its position but shifts to the confines of the split display.
With the vivid series, users can also set specific color schemes to represent the screen and information displayed. These color schemes include Caribbean, lava, rusted steel, aqua, ice blue, moss, and floodlight.
The presence of these color schemes/palettes is the only difference between Garmin Striker Vivid vs Garmin Striker conventional models.
Even with just a handful of buttons, the Garmin Striker 4 is remarkably easy to operate. Accessing menus, changing settings, and even naming waypoints is quick and convenient.
Speaking of waypoints, they're easy to set up and name, thanks to the built-in high-sensitivity GPS. Since it's a Garmin product, it's only natural that we expect the best from its GPS.
Setting waypoints makes navigation easier, whether you use it to mark the presence of fish or obstacles. It is possible to share waypoints with other devices that show STRIKER and echoMAP™ combos. Add contours mapping to the mix and you've got a very decent setup for a fish finder.
The transducer included with the fish finder works with CHIRP (77/200 kHz) and CHIRP ClearVü (455/800 kHz).
Its specs, pricing, and features make the Garmin Striker Vivid 4cv an excellent portable fish finder that's worth your time and money.
Our Ratings
Features: 9/10
Value for Money: 9.5/10
Screen Clarity: 8/10
Scan Clarity: 9/10
Overall Rating: 9/10
Pros
Full-featured portability kit
Widescreen with clear and bright display
Built-in GPS and maps
Dual spectrum Chirp 2D sonar
And detailed guides and instruction manuals.
Cons
The control head is barely water-resistant
Helix 5 series has no network compatibility (available Helix 7 onwards)
And purchasing additional accessories is necessary for ice fishing and similar.
Humminbird has been making all the right moves with its fish finders. Apart from doing their work as fish finders, the models include several options that cater to user preferences. While I like this approach, it's undeniable that it gets confusing very fast.
Helix 5 series, which also happens to be our choice for the best premium portable fish finder, is a good example of the confusing variety of options. There's a choice between G2 and G3 options, GPS, and sonar technologies (Chirp, DualBeam PLUS Sonar, Down Imaging).
And when you want to go portable, you'll want something that supports the portable kit, which includes portable mounts for the fish finder and transducer, and a 9A battery.
All things considered, my choice here is the Humminbird Helix 5 Chirp GPS G3 PT Portable Fish Finder, part number 411680-1. G3 is an objectively better upgrade over the Helix 5 G2, though G2 isn't something to look down upon.
Also, the portable kit adds good value if you want a portable fish finder, but with a better quality. In this setup, the control head mounts inside the portable bag, which keeps it stable but unattached to the boat. 
Similarly, the transducer uses a suction cup transducer mount and options like a tie-down strap to keep it in place. Batteries, chargers, and mounts are available in the kit for a full portable experience.
Humminbird's instruction manuals on this approach are interesting, to say the least. They're detailed and useful but it would be preferable for the guide to complete the whole process seamlessly. Instead, we have individual chapters, like the installation guide for the transducer, but with reminders to see other guides to complete more steps.
The control head of the unit features a 5-inch widescreen horizontally-mounted display with button controls on its side. The controls are straightforward, and most operations can be performed directly at the touch of a button.
Even though there's limited real estate on the screen, it manages to show two display modes with clarity. Users can add or remove details, while also watching for water depth, temperature, turbulence, and more.
The dual spectrum Chirp 2D sonar does a remarkable job at finding and identifying fish. You can also mark the fish depending on size and see how the lure is working. The dual spectrum works at finding fish at multiple frequencies. Where necessary, you can also see which frequency detected the fish.
Since this fish finder has GPS built-in, you can use it to set waypoints, and circle back as necessary. If you want maps, the device has Humminbird Basemap and AutoChart Live built-in. It's also compatible with Humminbird and Navionics premium fishing charts.
There's a microSD card slot in the fish finder, where you can place a card with the stored maps for easier and quick access.
Overall, Humminbird Helix 5 Chirp GPS G3 PT Fish Finder is a remarkable option with a good range of features, portability, and the ability to expand its functions further.
Our Ratings
Features: 9/10
Value for Money: 8.5/10
Screen Clarity: 9/10
Scan Clarity: 9/10
Overall Rating: 9.5/10
Pros
Attractive pricing
Easily portable
Ready to use for any season
Easy to use
And good screen visibility even in the sun.
Cons
The unit is barely water-resistant
And transducer cord length may struggle with onshore fishing.
If you're on a budget and want a simple fish finder for occasional use, LUCKY Portable Fish Finder can be a decent choice.
There is nothing flashy about this device. In a world where amateur portable fish finders can easily run costs more than a thousand bucks, this portable fish finder sits in the sub $100 range.
Even with its low price tag, this kayak fish finder tries to do a lot of things. As you can imagine, most of these features are not top-of-the-line. Yet, Lucky manages to get them all together, working in a way to get the job done.
The main unit of this fish finder features a 2.4-inch TFT color LCD screen, followed by a few control buttons. Though small, the screen is adequately bright and capable of displaying relevant information.
It will display the underwater contour, depth, and temperature with relative ease. You can also see fish depth and fish size on the screen. The size is categorized as small, middle, and big. While this is important and interesting information to have, the sizing information can often be a hit or miss.
Sensitivity adjustments for the fish finder go all the way from 1 to 10. Higher sensitivity requires more processing power, which might push the battery to deplete faster. If you're on clear waters, try keeping the sensitivity low, like somewhere around 3.
There is bound to be some trial and error here, which though annoying, is inevitable.
The other important component of this portable fish finder is the transducer. It has a 26 feet wire and can be cast with a fishing rod or hands. Alternatively, you can safely attach it to the base of the kayak. Once in action, the depth finder can work for a range of 2.3 ft to 328 ft.
The transducer doesn't work all that well if the speed is beyond 5mph. That naturally puts the best use scenario for a lake, while fishing from the shore or a slow-moving kayak. Ice fishing is possible as well.
Obviously, the transducer is waterproof, and though the main unit claims a "waterproof design", its water protection rating is IPX4.
Considering the rating, the unit is splashproof. It can handle minor splashes of water, maybe even a light shower. But should it ever fall into water or face heavy rain, its goose will be cooked.
Lucky Portable Fish Finder faces some competition from the Deeper Start. The latter benefits from better brand recognition and a more robust build. Both devices are in the same price category, though Deeper Start is the more expensive one.
While Deeper does better on the specs, including scanning and clarity, it doesn't include a console. It works through a smartphone app, which means getting a call could disrupt fishing. Also, though it has a higher castable range, Deeper's reliance on WiFi may not feel as attractive as the wired connection on Lucky.
Overall, the portable fish finder from Lucky is a decent unit that shines on its pricing. Its performance as a fish finder is adequate, if not impressive.
Our Ratings
Features: 7/10
Value for Money: 9.5/10
Screen Clarity: 8/10
Scan Clarity: 7/10
Overall Rating: 7.5/10
Pros
Attractive pricing
Wide angle sonar
Ready to use for any season
And HOOK² series works with a variety of displays and transducers.
Cons
Lack of proper documentation makes it difficult to set up
No maps with the GPS version on 4X.
And confusing set of options and customizations during purchase.
Lowrance Hook2, or HOOK² (to be exact) is a decently priced and weirdly named fish finder. Perhaps it's the budget pricing, but it feels like this fish finder didn't get the same love from the brand as its higher-priced siblings.
That probably explains why this fish finder has been denied a proper manual or guidebook. The included manual isn't very useful. Most users find themselves relying on setup videos on YouTube and other platforms to get the HOOK² 4x working.
However, if you know what you're getting and how to set it up, this fish finder promises to be a decent choice.
This system makes use of autotuning sonar technology. This technology allows automatic adjustment of sonar settings with changes in water conditions. While a promising system, this also has the potential of being a problem point. This mode can feel inconsistent and jumbled on the small 4-inch screen of the portable fish finder.
The key strengths of the Hook2 are the transducers and displays it can use. The Bullet Transducer works with the small 4-inch display. With this setup, HOOK² works best as a fish finder-only device, though easily portable.
If you have a model with GPS, there's a possibility for a basic GPS plotter as well. It doesn't show maps or contours but will allow setting waypoints and coordinates.
Though a basic setup, it allows use of a wide-angle Broadband Sounder, giving the system relatively higher range than several conventional options. CHIRP capabilities too come in quite handy.
Things get a bit more advanced if you choose to get a bigger display with more room to show information. Lowrance offers this model in five screen sizes, going all the way from the basic 4-inch to a 12-inch display.
With larger displays, you can work with more advanced transducers like the split-shot or triple-shot. Larger displays have more room to show and manage information, so these transducers can come into play.
Yet, the 4-inch (4X) HOOK² is not without merit. The high-resolution SolarMax display is good and remains visible even when under direct sunlight. There might be occasional need for putting a hand on the display for shade and a better view, but it generally remains clear.
One interesting thing about the HOOK² 4X is that it mounts horizontally. Most devices in this range, like the Garmin Striker 4 prefer to have a vertical screen, even if a horizontal mount is possible. The horizontal placement allows Lowrance HOOK² to better manage its wider sonar beam on the display.
Hook2 also comes ready to use for any season. So whether you prefer ice fishing or are out kayaking, this fish finder and transducer will be ready for action.
Once in the water, it shows the water conditions like temperature and depth. The fish finder will also show whether the ground is hard or soft, or if there are any obstacles in the path.
Overall, HOOK² 4X is a decent and well-priced portable fish finder, but bogged down by the lack of proper documentation and guides from Lowrance.
Our Ratings
Features: 7.5/10
Value for Money: 8/10
Screen Clarity: 9/10
Scan Clarity: 7/10
Overall Rating: 8/10
Pros
Easy to use
Accurate scanning
Good battery life
Versatile device is usable for different kinds of fishing
And app use makes it easy to make maps, access data, and store it in the cloud.
Cons
The wireless connectivity over WiFi can be flaky
Occasionally glitches when uploading scans to the cloud
And it can struggle with fast currents.
Deeper PRO+ 2 Smart Sonar works as a portable and straightforward fish finder while behaving
as a transducer. There is no explicit control head or display here. Instead, the smart sonar
offloads those duties to a very powerful computer all of us carry in our pockets – the
smartphone!
The device is a sphere with a 2.5 inch diameter. It weighs about 3.2 oz and requires a minimum depth of 6 inches to work. The body is made from ABS plastic and has titanium inserts.
The titanium inserts present hooks where users can tie a fishing line or something similar to launch this portable fish finder in the water. And equally important, retrieve it!
So how do you view the information gathered by this fish finder? While most fish finders use their own screens, Deeper chooses to let your phone do the work. It works with the FishFinder app, which is available for Android and iOS.
Since this fishfinder is wireless, it connects to the smartphone app by creating an ad hoc WiFi network. Once the phone connects to this network, the app receives all relevant fishing data.
And there's a wealth of information in here. The smart sonar uses three beam angles for a thorough look under the water. Depending on your preferences and beam angle, you could use this device to mark the location of a school of fish or even a single fish.
The scan resolution on the device is accurate and it shows up very nicely on the phone screen (or on a tablet). Most modern phones have displays more than capable of showing fish finder data.
Apart from the location of the fish, this information can include GPS coordinates, bottom contour, differentiate between vegetation and fish, water depth, temperature, etc. The app also enables users to make notes or save data and maps to the app.
GPS data can depend on the sonar. Deeper includes GPS in the plus (+) models, while the others don't get GPS.
There are small but notable differences between the Deeper Pro+ and Deeper Pro+ 2. The newer model is slightly lighter at 3.2 oz than the 3.5 oz Pro+. It also gets a more significant 9 hour battery backup and features improved connectivity.
The most important change is that the Pro+ 2 uses three beams, while the previous models used two. Newer devices can get target separation down to just 0.4-inches (1cm), while the older models offer 1-inch.
Overall, Deeper Pro+ 2 is a remarkable fish finder that works easily with many fishing preferences. You could use it for ice fishing, boat fishing, shore fishing, and even night fishing.
Our Ratings
Features: 8/10
Value for Money: 8/10
Screen Clarity: NA
Scan Clarity: 9/10
Overall Rating: 8.5/10