Updated July 18, 2023
11 Best GMRS Radios – Reviews (updated 2023)
What is the best GMRS radio?
This a critical yet daunting question. Before delving deeper into this, it's important to understand what a GMRS radio is in the first place.
GMRS stands for General Mobile Radio Service– a land mobile radio service that uses the Frequency Modulation (FM) and the Ultra-high frequency (UHF).
So which is the best GMRS radio? The best GMRS radio for 2023?
Besides, it's mainly used for two-way communications and ideal for short distances. Finding the best GMRS radio can be a frustrating experience.
The right GMRS radio has a record for excellent performance– quality audio, wide-coverage, ease of use, durable battery power– and yet doesn't break your budget.
In this GMRS guide, I have compiled a list of the best GMRS Radios that you can choose from.
So, let's get started!
Top 3 GMRS Radios In A Glimpse
Wouxun KG-905G – Our Choice
Midland GXT1000VP4 – Best Value In Package
BTECH GMRS-PRO – Best Premium
Comparison Table
Rank
Radio Name
Award/Title
Pros
Cons
1
Wouxun KG-905G
Our Choice
– Excellent build quality
– High-quality signal handling
– IP66 dustproof and waterproof
– 2600 mAh Li-ion battery
– Expensive
2
Midland GXT1000VP4
Best Value In Package
– Covers a wide range
– Suitable for hunting
– Waterproof and durable
– Long-lasting rechargeable AA batteries
– Can't change to an aftermarket antenna
3
BTECH GMRS-PRO
Best Premium
– Good audio quality
– IP67 waterproofing
– Digital GMRS with texting and data
– Built-in GPS
– Works best with similar model radios
– Difficult to attach belt clip
– High price
– Battery issues
4
Midland MicroMobile MXT275
Best Overall GMRS Mobile Radio
– Attractive price
– Small size
– Good sound quality
– USB C port
– Difficult interface navigation
– Flimsy antenna cable
5
Midland MXT575
Best Premium GMRS Mobile Radio
– Ease of use
– Clear audio transmit and receive
– USB-C charging option
– Complex for its repeater functions
– Lacks some features
6
BAOFENG G11S GMRS
Best Budget Handheld GMRS Radio
– Attractive pricing
– USB-C charging
– Repeater capable
– Easy to program
– No water protection
– No programming cable
– Pre-programmed privacy codes issues
Best GMRS Radios Reviews
Pros
Excellent build quality
High-quality radio with exceptional signal handling
Superheterodyne radio
Easy navigation through menus
IP66 dustproof and waterproof (water-resistant)
Convenient programming
The 2600 mAh Li-ion battery.
Cons
Quality is the mantra that guides the path of the Wouxun KG-905G Professional GMRS Two Way Radio. The word "professional" here relates to the build and performance of the radio. You won't need a business license for the KG-905G, it means that it was built with professional and business quality as key factors, though meant for general use.
You get a sense of the build quality as soon as you hold the radio in your hand. It appears to have some heft and feels good in the hands. The overall build quality also becomes apparent in this situation.
There is something to like about the simplicity of this radio. Though feature-rich, it isn't crowded with buttons. Only four buttons show up on the face of the radio. Its side has a large PTT button, followed by two smaller programmable buttons.
The screen is a small LCD, though it's bright and clear. The text and information on the screen remain clearly visible. It might occasionally struggle in bright sunlight, but generally works great outdoors without a problem.
Wouxun KG-905G works on the GMRS spectrum. It also includes 8 GMRS repeater channels. Their presence allows the possibility of greater range for the radio, beyond its own transmission power. Of course, this assumes a suitable repeater is available.
Users can also set up 16 groups for 256 custom channels. This specific feature becomes available through PC programming. You can also use the same software to assign functions for the programmable buttons on the side of the radio.
Programming for the Wouxun KG-905G hasn't yet made it to CHIRP. Therefore, you'll have to use the company's proprietary software to handle these tasks. The manufacturer's attention to detail, which is the hallmark of this radio, is also clearly visible in the software. Its programming is convenient and easy to handle.
One factor that puts the signal quality of this radio beyond its competition, is its use of a superheterodyne receiver. Most GMRS HT devices use a homodyne receiver.
Using the superheterodyne receiver is a huge benefit for the overall signal quality and voice clarity. When you use squelch with this radio, the sophisticated technology and circuits come into action and make the signal better.
Using the squelch function shows a change even in cheaper radios. However, the quality of the change and its transition are entirely different. Moving squelch on the Wouxun KG-905G seems so much more natural and intuitive.
While we're on intuitiveness, it's worth mentioning the menu and settings of this radio. They're all very clearly laid out. Even a beginner would likely find their desired settings without any trouble.
You may have noticed that I like pretty much everything about this GMRS radio, making it our top choice as the best handheld GMRS radio. It's not entirely free of problems. To be specific, the price is a consideration with this radio.
An average low-cost handheld GMRS radio is capable of meeting most requirements of a conventional user. While the Wouxun will outperform much of its competition on multiple points, it isn't possible to ignore pricing as a factor.
However, if your primary concern is the quality of the radio, Wouxun KG-950G is an excellent choice. Oh, and did you know the pronunciation of the Chinese word Wouxun is "o-shun"? That's our fun little fact for the day!
Our Ratings
Features: 9.5/10
Reliability: 9/10
Value for Money: 8/10
Audio Clarity: 9.5/10
Display: 8.5/10
Overall Rating: 9.5/10
Curious About More GMRS Models? Check These:
Pros
Covers a wide range for effective communication.
Suitable for hunting activities.
The radio is made of sturdy material, is waterproof and durable.
Long-lasting rechargeable AA batteries.
Cons
It's not possible to change to an aftermarket antenna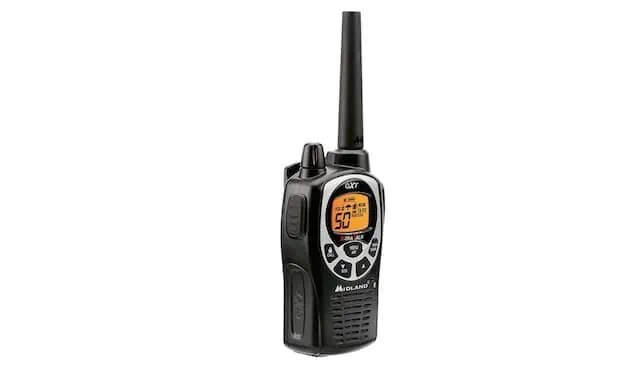 Features Summary:
NOAA weather scan and alert.

Multiple power settings.

Operates on an Extreme range of 36 miles.

Hands-free call operations.

22 channels.

142 privacy codes.
Midland – GXT1000VP4 is the best GMRS radio. It's a two-way radio and can cover a range of up to 36 miles. It's very durable, made of sturdy material, waterproof and it's a great option for hunting activities. With unique features that set this radio apart from the competition and a reasonable price.
It comes in two various options, the two options are 3 packs and a pair pack.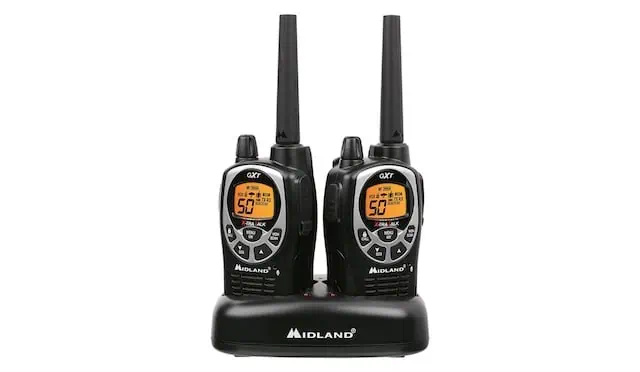 This allows you to get more than one radio at an affordable price and according to your preference and test. Besides, it's also good for radio use and compatibility.
The radio can cover up to three range categories. 36 miles is the widest and you can experience this in jungles or areas with no construction works.
The other ranges are medium-range and short-range. While medium-range makes it easy to communicate in areas with a mild obstruction, short-range will enable you to communicate in densely populated urban settings.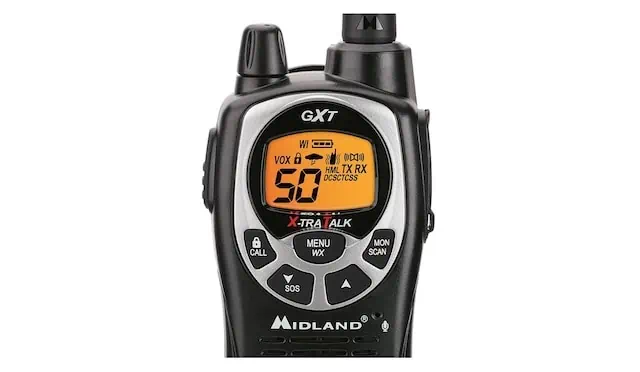 This feature alone makes the radio versatile and you can use it efficiently in any area regardless of the level of obstructions.
Besides, the radio is waterproof thus you won't need to worry if you accidentally bring it into contact with water.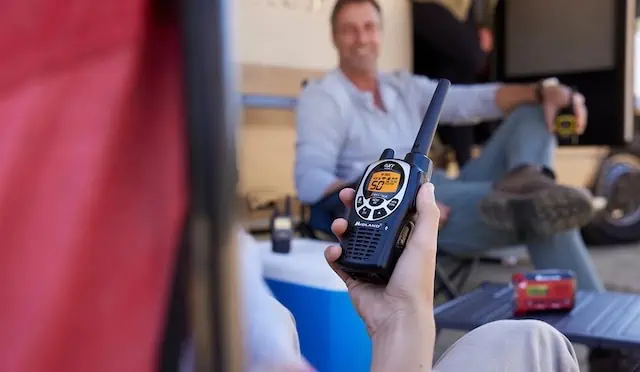 Being water-resistant, you can engage in water sports or hiking without fear of water damage on your radio.
Moreover, you can use the radio during hunting escapades. It features 5 animal call alerts that you can use to signal animals such as Turkeys, Crows, Cougar, Wolf, and Ducks.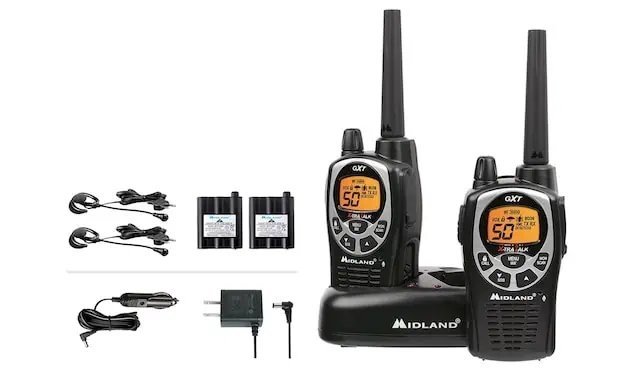 And what makes it more suitable for hunters is the mossy oak camouflage pattern in pair pack-black/mossy oak option.
Our Ratings
Reliability: 8.5/10
Range: 8/10
Value for Money: 7.5/10
Battery: 8/10
Extras: 7.5/10
Functionality: 8.5/10
Overall Rating: 8.1/10
*Check out our review of the Best DMR Radios
Pros
Good audio quality
IP67 waterproofing
Digital GMRS with texting and data
Built-in GPS
Large, color screen
The companion app is useful and easy to handle
Easy firmware updates
Easy programming through the radio and app.
Cons
Works best with similar model radios
Difficult to attach the belt clip (even with included screws and screwdriver)
High price tag
Battery has trouble keeping up with radio features.
If you want a new age GMRS radio, BTECH GMRS-PRO is a great pick. This GMRS radio is capable of digital data transmission and thus it has some very exciting features. It also has some regulatory aspects where it deviates from general GMRS radios, so they're worth a look too.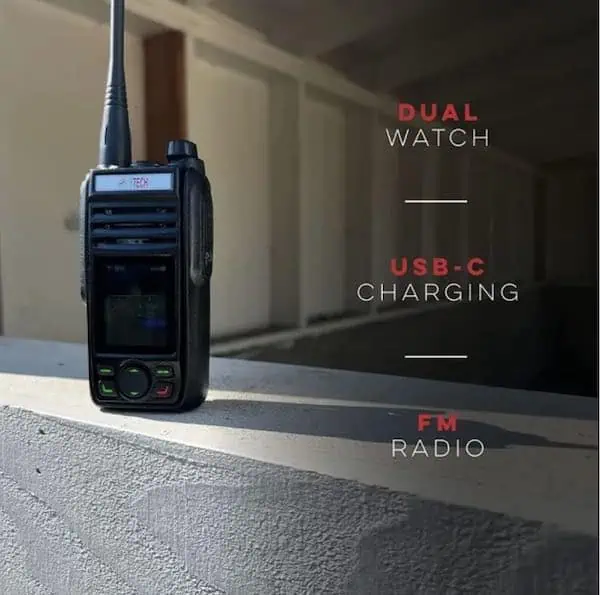 Before we go to the regulatory points, let's talk about this GMRS radio.
The first thing you'll notice about the radio is probably the large screen at its front. This is a color screen that shows information like the GMRS channels, transmit power, battery, and date and time. Depending on how you set it up, it can also show a digital compass, elevation, and GPS directions. Of course, the menu and texts also show up on this screen.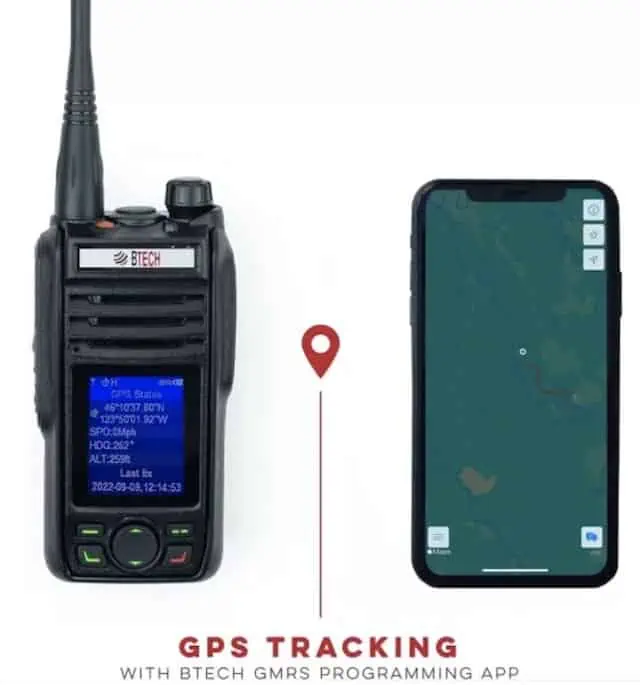 BTECH GMRS PRO comes with a companion app that's available for iOS and Android. Once you have the app installed on the smartphone, the GMRS radio and smartphone can connect and pair via Bluetooth.
The app is important here. A lot of the radio's functions are handled by this app or work with it. This includes settings, texting, setting up frequencies and groups, customizing buttons, and a lot more. Even firmware updates for the handheld radio are pushed through the app.
You can handle much of the programming requirements of the radio on the radio itself. However, it's much easier and convenient to do these via the app. Currently, it's not possible to program this radio with CHIRP or similar software. It's unclear if this option will be available in the future. That part is handled by the app, and it does so magnificently.
As you can guess, I like the app. It's clean, easy to use, and handles the features of the radio without a hitch. It's possible to download maps for offline use with the app, in case you're traveling somewhere with questionable network connectivity.
It's worth pointing out that the maps won't show up on the radio's screen, though its built-in GPS will show directions. To view maps, you will have to rely on the smartphone app.
The GMRS radio is very responsive to changes made through the app. Likewise, the app is quick to pick up on changes made through the radio. For example, if you change the frequency or group through the app, the radio will respond quickly. Similarly, if you change the frequency or group on the radio, the change will reflect in the app quickly.
There are six channel banks on the radio, each with 30 channels. The first channel bank is already filled with conventional GMRS frequencies and related channels. Users can customize the others to fit their own requirements.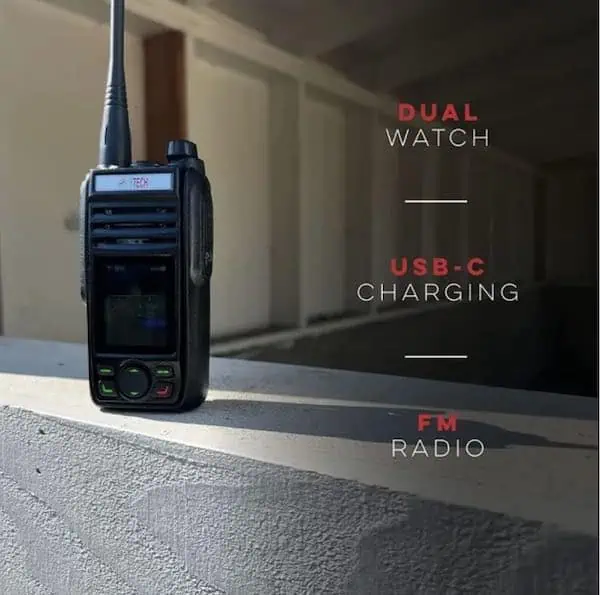 Interestingly, there is no roger beep here. Instead, the radio transmits a burst of data, which radio speakers pick up as noise (think old-school internet modems). In a way, this functions as roger beep.
Users can send texts through the radio (using GMRS data), even when there is no cellular network. Of course, this requires that the receiving radio be in the range of data communication. Conventionally, the data transmission range is lower than voice range.
Other notable features of this radio include IP67 waterproofing, USB-C charging, belt clip with screws, and a 2600 mAh battery. Thanks to USB-C compatibility, the radio is quick to charge. However, the 2600 mAh battery struggles to keep up with the GPS, Bluetooth, large screen, and conventional radio use. You might find it draining rather quickly.
The FCC requires that GMRS radios with digital functions have fixed and integrated antennas. Additionally, when using GMRS for texts, you can't send several texts in a row. If you do, the app will ask you to wait and stop sending texts.
Overall, this is a fun and feature-rich radio. However, it works best with similar radios. So, if you intend to buy this radio, it makes sense if your friends/family, or people close by use it too.
Our Ratings
Features: 9.5/10
Reliability: 9/10
Value for Money: 8.5/10
Audio Clarity: 9/10
Display: 9.5/10
Overall Rating: 9.5/10
Check These Other Ham Radio Options:
Pros
Attractive price point
Small size of the radio
Good sound quality
Loud speakers on the mic and radio
USB C port.
Cons
Its interface is difficult to navigate
The antenna cable feels flimsy.
Midland MicroMobile MXT275 is an entry-level GMRS mobile radio. Don't let the "entry-level" tag excite any prejudice – it's our choice for a reason! This is a capable GMRS radio that's easy to use for newbies. Experienced users can find more advanced settings in the menu and tap into greater capabilities of this radio.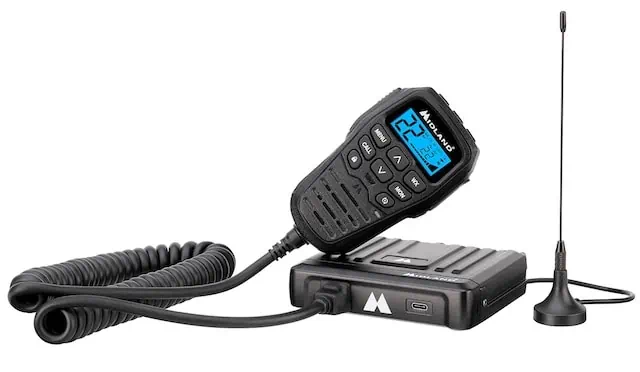 However, it lacks some of the complexity and features you'd see in the more sophisticated radios. For most users, this will be barely noticeable, and this radio will work fine without trouble. This balance of cost and features plays a big role in making this radio our top choice.
Using the MicroMobile Radio
There are no controls on the Midland MicroMobile MXT275. It has a speaker, an antenna connector, outlet for external speakers, a USB-C outlet to charge mobile devices, and microphone jack. The microphone connects using an RJ45 jack and has all the buttons and controls.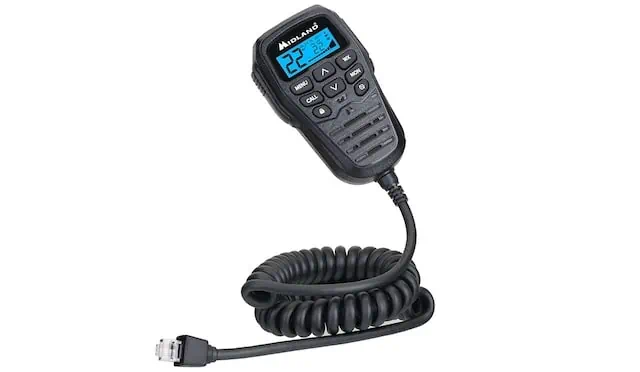 This setup means you can pretty much stash the radio anywhere in the vehicle, as long as the microphone remains accessible. Many suggested installations show the radio on the dash, though there's no need for that.
Stashing it at the side of a seat or under the dash could work too. You could connect the Midland MXT275 to the wiring of the car, or simply to a 12V output like the lighter. This setup also means that you can easily remove the radio and move it to another car or stash it at home.
Design and Features
Appearance and basic features of Midland MXT275 are very similar to the Midland MXT575, which is the company's top offering for this lineup. But there are major differences here. MXT575 puts out a full 50W of output power, compared to the 15W on MXT275.
The controls of this GMRS mobile radio are all on the microphone. A small LCD on the radio shows pertinent information like the channel, signal strength, etc.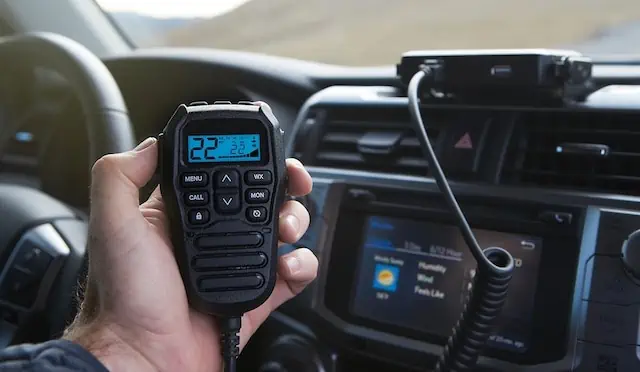 It is possible to change the color of the backlight according to your preference. However, you can't change the brightness, though it shouldn't be a problem, considering the display is fairly small.
Midland's microphone feels pretty good in the hand. It fits comfortably and all the buttons remain within reach. Though the mic is part of a unit priced towards the entry level, it doesn't feel cheap. The construction looks good and the mic's weight feels good in the hands.
Now let's get to some of the basic and standard details of the radio.
Power and Range
This radio transmits on 15 GMRS channels, skipping seven channels where the FCC doesn't allow mobile radios to transmit. However, considering it works with 142 privacy codes, you won't have much trouble finding the right channel for communication.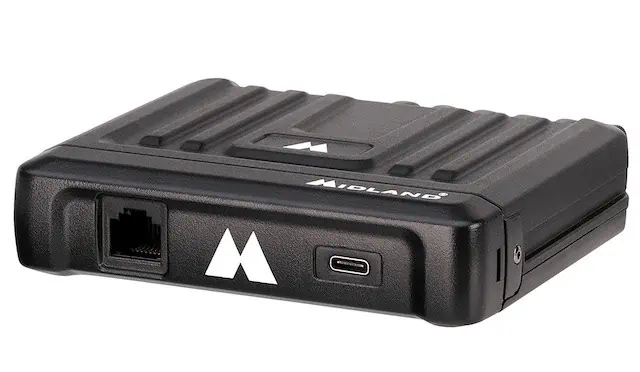 It transmits at a maximum power of 15 W. A magnetic-mount antenna is included, which attaches to the radio through a rather flimsy-looking cable, though it works fine.
Midland claims a range of 50 miles on this GMRS mobile radio, which is a bit of a stretch, though it's substantially more than handheld radios. It could possibly qualify as a long-range option. It can reliably hit around 8-10 miles on most terrains, going higher in more suitable circumstances.
Other notable features on the Midland MXT275 include roger beep, NOAA weather channel receiving, and repeater capable with eight repeater channels.
Our Ratings
Functionality: 8/10
Reliability: 8.5/10
Value for Money: 9/10
Overall Rating: 8/10
CB Radios Come in All Shapes and Sizes. Check These:
5. Midland – MXT575 – Best Premium GMRS Mobile Radio
Pros
Ease of use
Clear audio transmit and receive
USB-C charging option for external devices
Speakers on the mic and radio.
Cons
Complex for its repeater capable functions
Lacks a few additional features
Released in the summer of 2022, Midland MXT575 is one of the most talked about GMRS mobile radio models for the year. There is a good reason for it. This is quite a capable radio and impressively simple to use!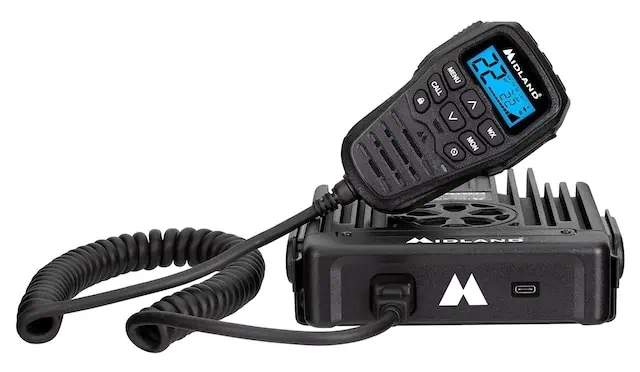 The radio is fairly simple. All you see on its face are two ports, one for the RJ45 microphone connector, the other is a USB-C outlet to charge your mobile phone or other devices. The back of the radio has an antenna connector, power cable, and an outlet for external speakers. Pretty clean, right?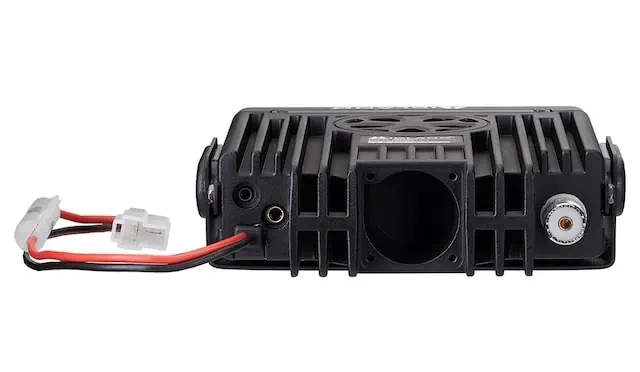 Though there's an outlet for external speakers, there's a good chance you won't need it with this radio. There's a fairly powerful speaker on the radio, another loud and clear speaker on the microphone. It's possible to use both these speakers at once or individually.
Since there is no display on the radio, you can place the Midland MXT575 pretty much anywhere in the vehicle. Well, it does need to hook up to the power supply. The 12V cigarette lighter spot won't work for this powerful radio. Connectors and cable necessary for this are included in the package.
Microphone Controls
So how do you control a radio that has no buttons or display? Through the microphone!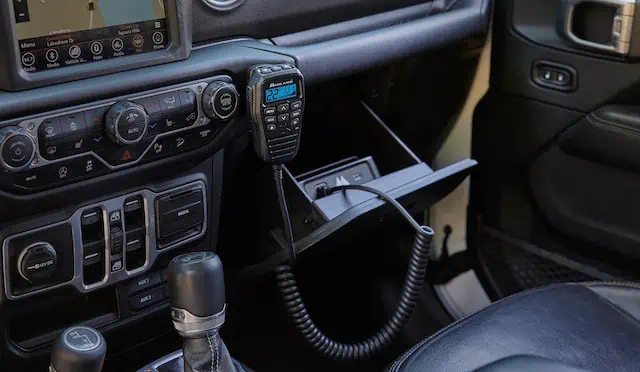 A small display on the microphone shows the relevant details. Users can switch the display backlight on or off. It's also possible to pick the backlight color from a selection of seven colors.
The buttons on the mic make it possible to control the radio. Though it is a powerful radio, it's not inundated by buttons and controls.
As the microphone is the one handling most of the work, Midland seems to have given it good attention. It has some weight and feels good in your hands. The buttons are easy to reach, press, and manage.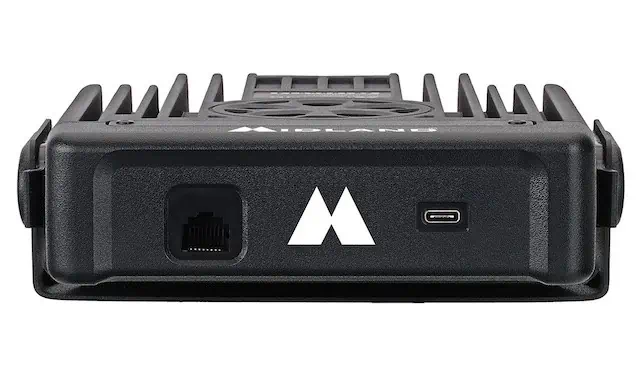 Range and Details
The maximum transmit power for this radio is 50W, which is also the maximum allowed by the FCC for GMRS. When connected to the right antenna, this can give you an impressive range and clarity.
Midland includes a magnetic antenna in the box, along with the cable. You can simply place it on the roof of the vehicle. In this case, the metallic roof of the car also works as the ground plane.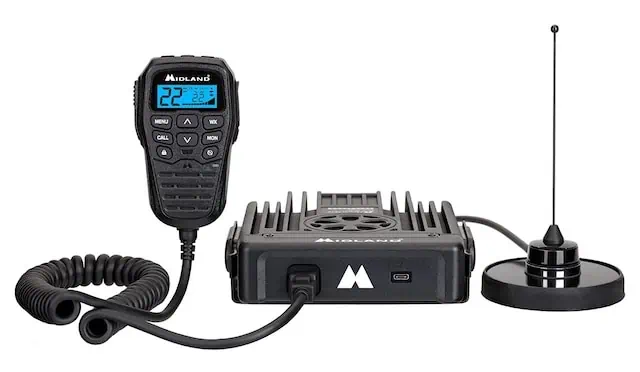 In case the roof of the car is non-magnetic, there's an adhesive plate in the box. Paste this plate on the roof and then put the antenna on it.
Midland MXT575 is a twin of another offering from the company, the MXT500. The key difference here is that the controls and display of the MXT500 are on the main unit, while the microphone is plain. Conversely, it's the microphone that holds all the controls on the MXT575.
Other notable features of this wideband GMRS mobile radio include roger beep, NOAA weather scan and alerts, repeater capable, and nine repeater channels.
Though simple to use, this is a powerful radio with clear audio Tx and Rx, good range, and ease of use.
Our Ratings
Functionality: 8.5/10
Reliability: 9.5/10
Value for Money: 8/10
Overall Rating: 9/10
Check out our review of Best Long Range Two Way Radios
6. BAOFENG G11S GMRS – Best Budget Handheld GMRS Radio
Pros
Attractive pricing
USB-C charging
It's Repeater capable
Easy to program
Good battery backup.
Cons
There is No water protection rating
No programming cable in the box
Pre-programmed privacy codes make it difficult to communicate with non-Baofeng G11S radios.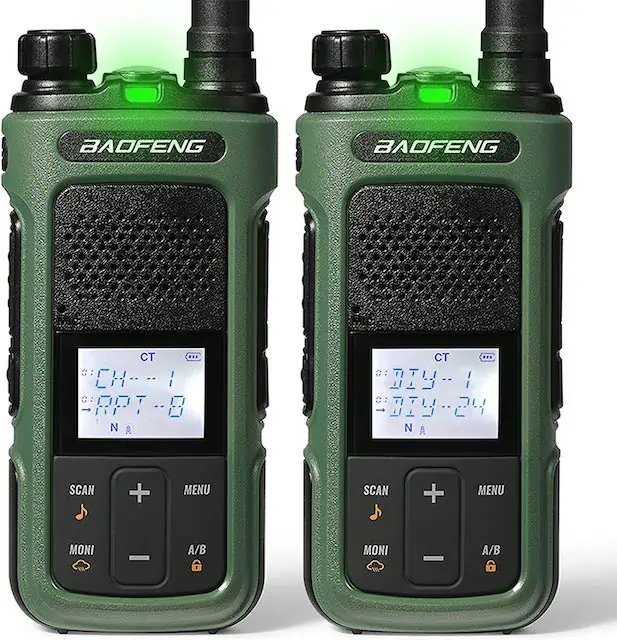 Baofeng G11 GMRS radio is a relatively new model. Well, it's been around for more than a year, but in the world of GMRS radios, models can stay on for several years. But there are benefits to new models too.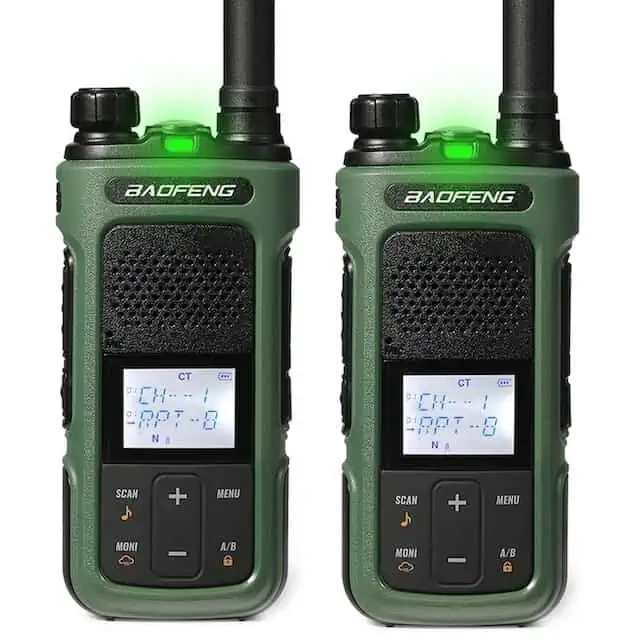 This one has an updated look to fit modern aesthetics better. It feels like a new, fresh design, even if the classic features and functions remain the same as older GMRS radios.
There's a tiny screen at the front that shows the battery, channels in use, and other similar info. This screen is backlit and works well in the dark as well as in the sun. Towards the side of the radio, you'll see the large PTT button. A small button finds a place a little above the PTT button. This button handles the LED flashlight, which is at the top of the radio.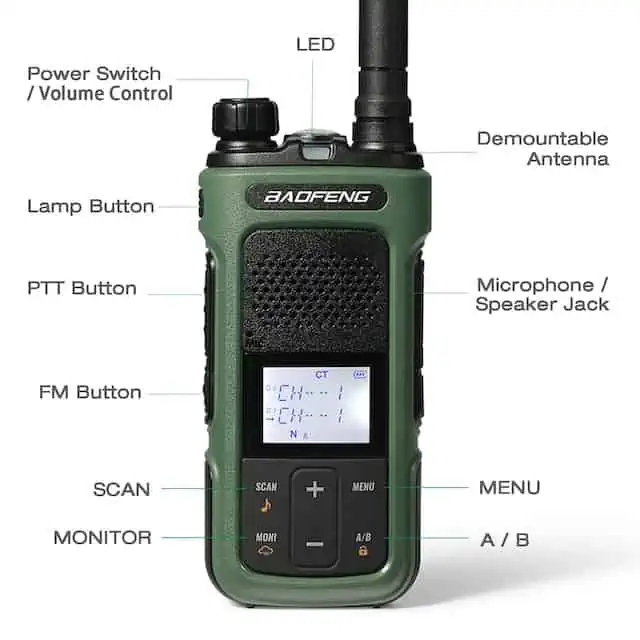 G11S is a pre-programmed radio. It's ready to use right out of the box and doesn't need programming. However, should you feel the need for programming, it will work by attaching a standard K-plug cable. The programming cable isn't a part of the box and will have to be purchased separately.
Interestingly, while the Baofeng G11 GMRS is compatible with software like CHIRP, it isn't as readily found there. For many people, choosing the Retevis RB27 does the trick. That makes me think that these are both the same radio.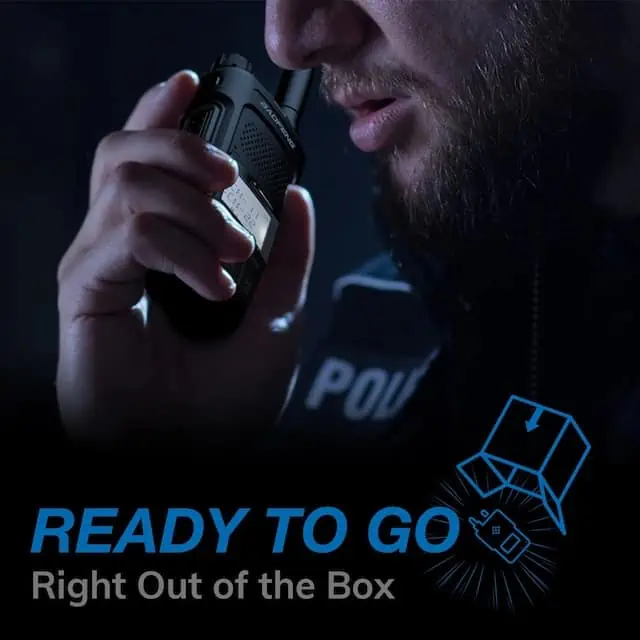 If you look at the Retevis RB27, it pretty much has the same form factor and features as the Baofeng G11S. It appears they just use a different color scheme!
Apart from the GMRS channels, the radio can also receive FM and 11 NOAA weather channels. It's quite fun and easy to use.
Speaking of weather, one huge negative that stares us in the face here is the lack of any water resistance rating on the radio. As such, it's best to assume that there's no water-resistance here, and the radio could be in danger even with a light rain shower.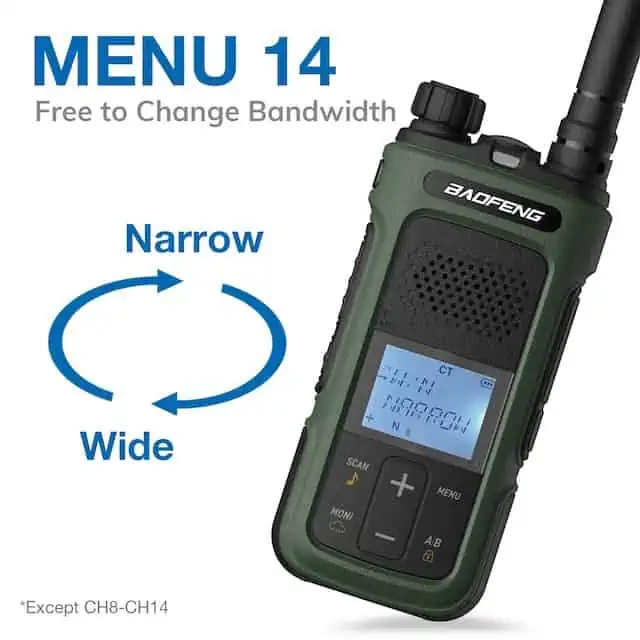 Handhelds are supposed to go outdoors, so this lack of water protection is a bit annoying. I suppose if you are taking this radio outdoors, keep tabs on those NOAA weather channels to see if there are any chances of rain!
Power from the radio comes from a 1500 mAh Li-ion battery. Charging the battery happens through a USB-C cable, which is included in the box. The availability of the USB-C cable and Li-ion battery ensures that the radio is quick to charge.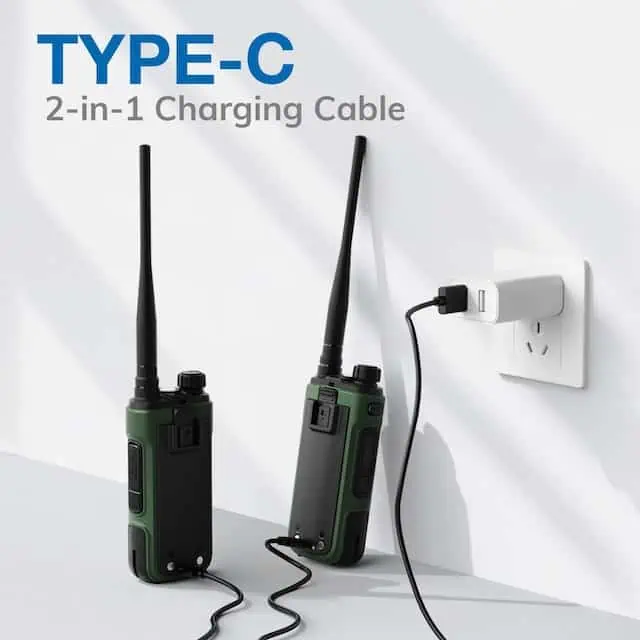 Besides, Li-ion batteries show much better performance than NiMH batteries that have traditionally powered radios.
Another useful feature here is that this radio is repeater capable. It offers 24 DIY GMRS repeater channels and four groups of repeating frequencies. These can come in very handy for several applications and even provide the radio with a greater range where necessary.
Other notable features include VOX, switching between narrowband and wideband, 10 selectable call alerts, channel monitor, and channel scan.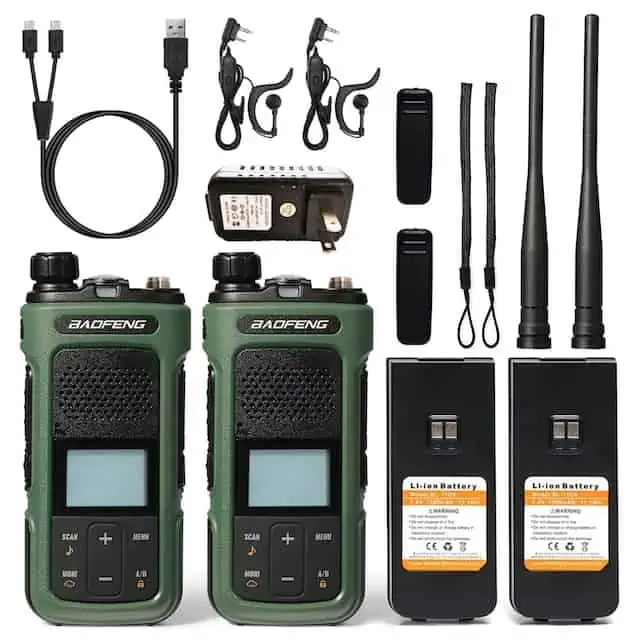 Overall, Baofeng G11S is a feature-rich GMRS radio that comes with an attractive and affordable price tag. It's relatively easy to use and has an acceptable voice and Tx capability.
Our Ratings
Features: 8/10
Reliability: 8/10
Value for Money: 9/10
Audio Clarity: 7.5/10
Display: 8/10
Overall Rating: 8.5/10
Ready for More Outdoor Fun with Your Radio? Check These:
Pros
Attractive price point
Small size of the radio
Good sound quality.
Cons
No antenna in the package
The manual isn't helpful
Needs programming before using it.
Radioddity DB20-G Mobile Radio is an entry-level budget radio with pretty interesting features. It's a compact radio, with its length and width being roughly the size of a smartphone. Although its front is obviously thicker, given the need for accommodating several functions and features.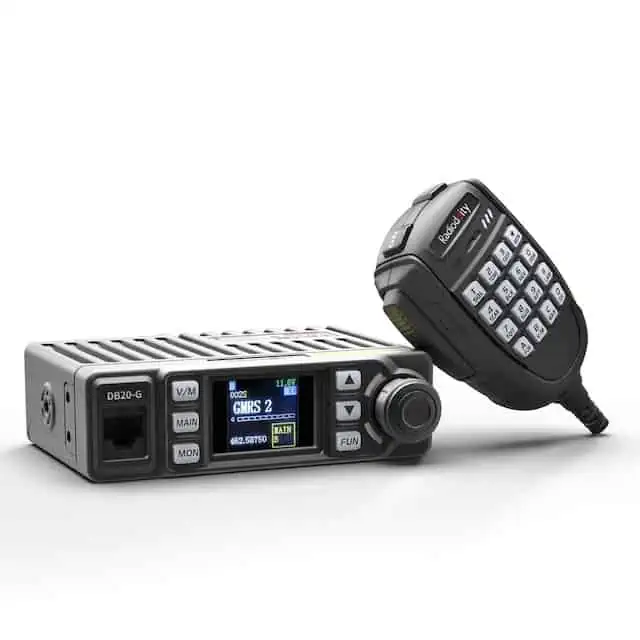 A prominent part on the face of the radio is its display, flanked by three buttons each on the left and right. To the extreme left is an RJ45 jack for the microphone, while on its right is a knob for managing the volume.
The buttons on the radio are fairly standard, though the "fun" button is quick to catch the eye. This is the function button, which is usually labeled as "func" or "function". I suppose calling it fun works too, even if it's probably not what a user would expect!
Given the presence of the display and buttons on the main body, you'll want to install this GMRS mobile radio somewhere in clear view and with easy access.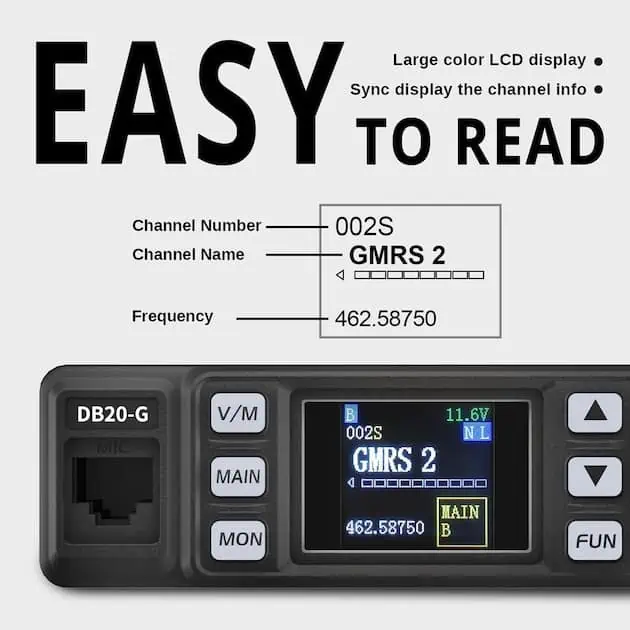 Power and Advantages
Power for this radio can come through a 12V source and it includes an adapter to connect to the cigarette lighter plug in the car.
Apart from channel information, the display also shows the received voltage. It's a good way to keep an eye on the expected power output of the radio and your vehicle's battery health.
Another advantage of this setup is that you could car hop with the radio and put it in any vehicle of your choice.
Radioddity DB20-G Mobile Radio officially claims 20W transmit power. In most cases, you'll see it hanging around 15W, though that's not something to look down upon. Even the manual says that the radio maxes at 18W.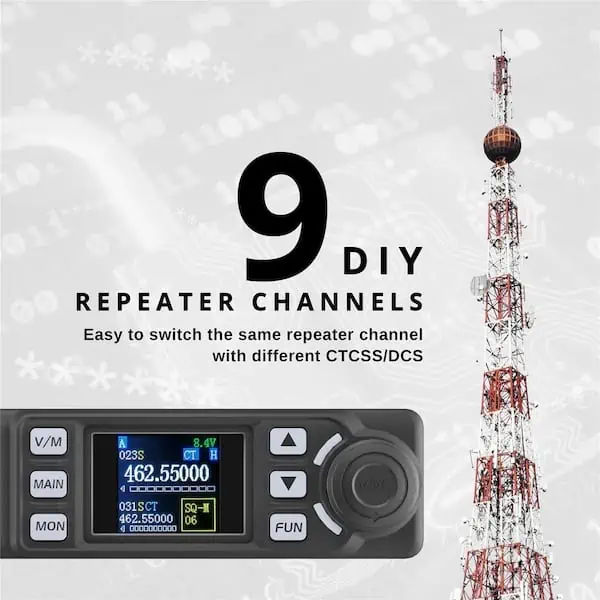 On the other hand, the manual is poorly written and difficult to comprehend, so it's not surprising that the labeling and manual don't get along. But we don't buy GMRS mobile radio brands for the manuals!
Up Against Competitors
You can expect a range of around 8-10 miles on most terrains. Of course, the GMRS range can increase or decrease depending on local and environmental factors.
Radioddity DB20-G's more expensive and better-known competitor, the Midland MicroMobile MXT275 appears to have a slightly better build quality. The slide-in mount for the Midland radio is another positive.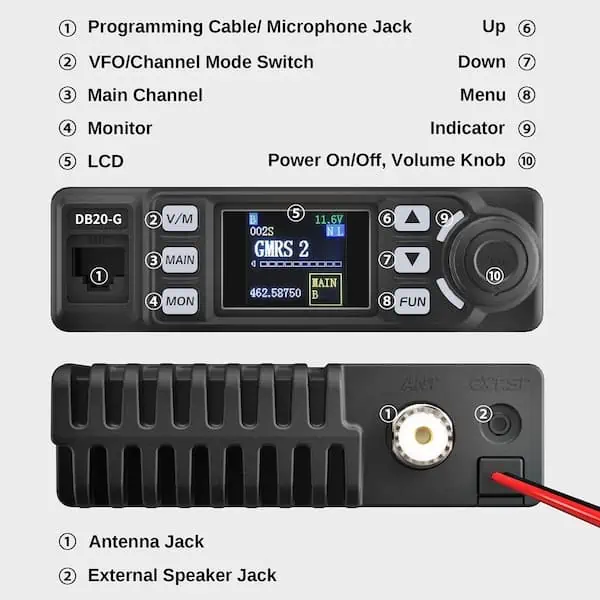 Another difference is the presence of a display and buttons on DB20-G's main body, while the Midland radio skips it. One aspect that both these radios agree on is putting most of the controls on the microphone.
This radio has a capable microphone with many buttons and controls. You can manage several functions of the radio using the mic. It feels good in the hands, though the general build quality could be better.
There's no antenna in the box. You'll have to purchase one separately. It does include a programming cable, which is useful since you need to program the radio before using it. This is not a plug-and-play model, which is a big disadvantage.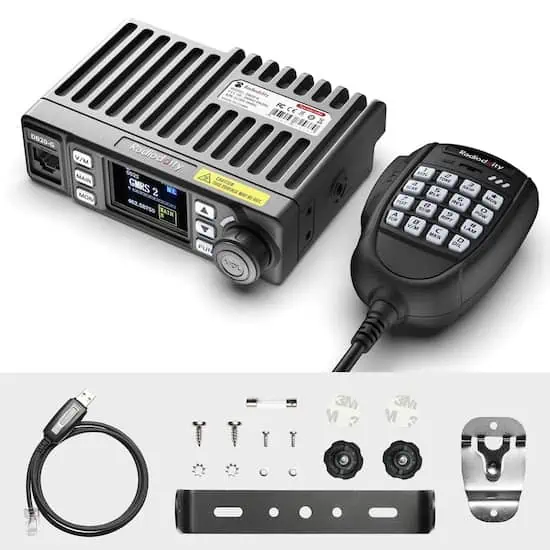 Radioddity DB20-G is a decent radio for the price, with good audio clarity and range. However, its power claims are inflated, it doesn't include an antenna, and needs programming before use. Like other Radioddity models, it's great for a budget radio You will need an FCC license to use this radio.
Our Ratings
Functionality: 7/10
Reliability: 8/10
Value for Money: 9/10
Overall Rating: 8/10
Looking for Sustainable Power Sources to Power Your Radios? Check This:
Pros
Attractive price point
Clear display with customizable colors and information
Narrowband and wideband switching
Easy management of transmit power
Good sound quality.
Cons
No antenna in the package
Design and construction look cheap near the knobs
The versatile and powerful BTECH Mobile GMRS-50X1 is something to look at. BTECH (BaofengTech) is known for making cheap radios. This one isn't so much on the cheap side. It's more of a value for money deal for a GMRS mobile radio.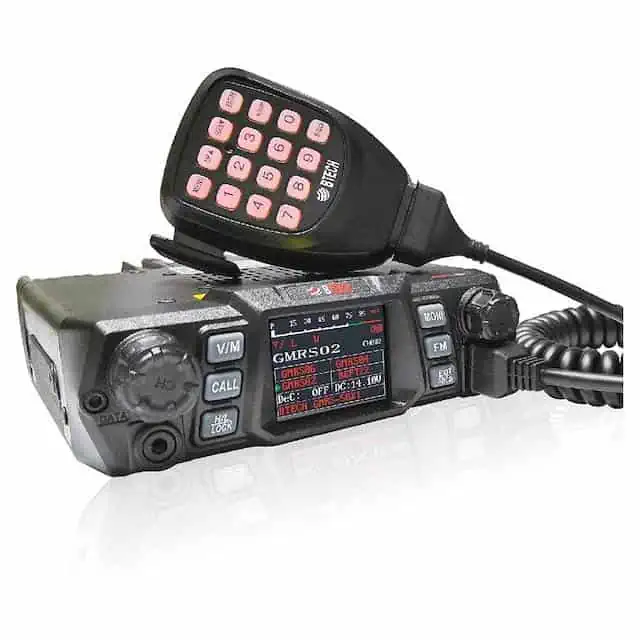 This is a feature-rich GMRS radio and there is indeed a lot going on here. So, let's try to unpack it one step at a time.
At first glance, its appearance is fairly standard. There's a display at the center, flanked by six buttons (three on each side), and one knob at each side.
If you've used Baofeng or BTECH radios before, the buttons will be immediately familiar. The buttons are very much the same as what you'd see on a Baofeng UV-5R and similar radios. The channel knob/dial is to the left and on the right side, you'll find the volume knob. Right below this knob is room for an RJ45 connector, where the microphone connects with this radio.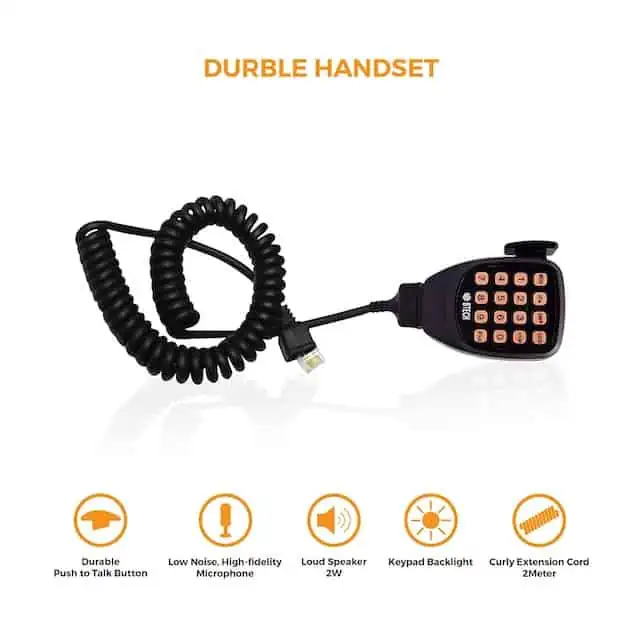 Design and Details
BTECH Mobile GMRS-50X1 is fairly compact. The dimensions are about 5.5-inch length and 6.7-inch depth and 1.6-inch height. It will fit into most vehicles without trouble. Ideally, you want it somewhere clearly visible, so you can read the display.
And the display is pretty interesting. There are several lines on this display. At its top, you can see the transmit power, then there's a line with information on transmit/receive capability, voltage, and a couple other functions.
A 2×2 table follows this line. Each cell in this table shows frequency and channel name. The line at the bottom shows customizable text. Users can customize the color of each line to suit their preferences.
Pretty much every aspect of this radio is programmable through CHIRP. Again, much of the interface is very similar to conventional Baofeng radios. Users can access most of the features through the microphone, though programming might be a more convenient option.
Extras and Channel Selection
You will need to buy a programming cable separately since it's not included in the box. On that note, you'll also have to buy an antenna before you can get this GMRS radio to work.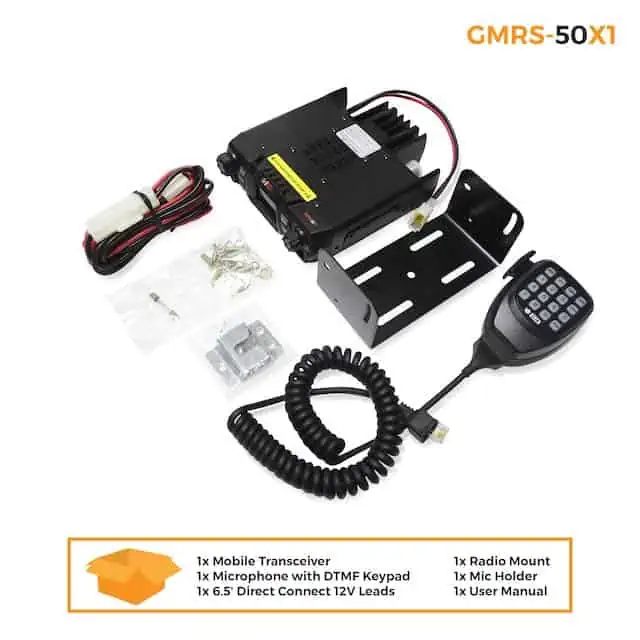 Working through the microphone is convenient too. It has most buttons for controlling the radio and feels comfortable to hold. Its oversized PTT button is unmistakable.
BTECH Mobile GMRS-50X1 has max output power at 50W. That's the maximum the FCC will allow a GMRS radio to go. Of course, you don't want to run it on max power all the time, so the radio includes options to transmit at low, medium, and high power.
The radio works with all GMRS channels. Of course, it doesn't transmit on the seven low-power channels reserved by the FCC for handhelds.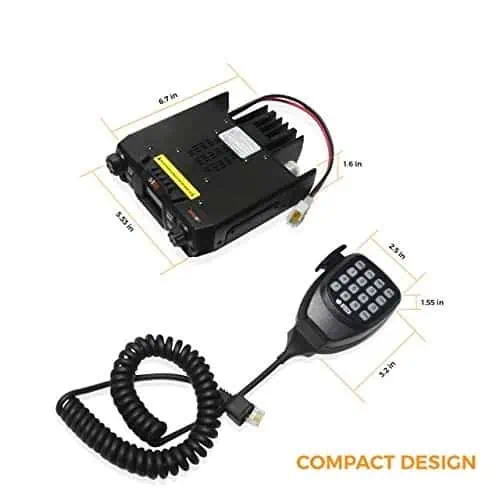 Other notable features on the GMRS-50X1 include privacy codes, repeater channels, narrowband and wideband switch, quad standby, NOAA weather channels, FM radio (receive) mode, and alphanumeric channel storage.
Our Ratings
Functionality: 9/10
Reliability: 8/10
Value for Money: 9/10
Overall Rating: 8.5/10
Looking For More Outdoor Radio Options? Check These Out:
Pros
Noise-canceling and impressive audio quality
Rugged build and design
Micro USB charging
Powerful 3000 mAh battery
Easy programming.
Cons
No programming cable in the box
Pre-programmed privacy codes make it difficult to communicate with non-compatible radios.
Want a no-nonsense GMRS radio with a good battery backup? Radioddity GM-N1 GMRS Radio has things handled for you. This is a straightforward device with no screen and a rather limited set of buttons. The idea here is simplicity, after all, the radio is more focused on ease of use and voice quality.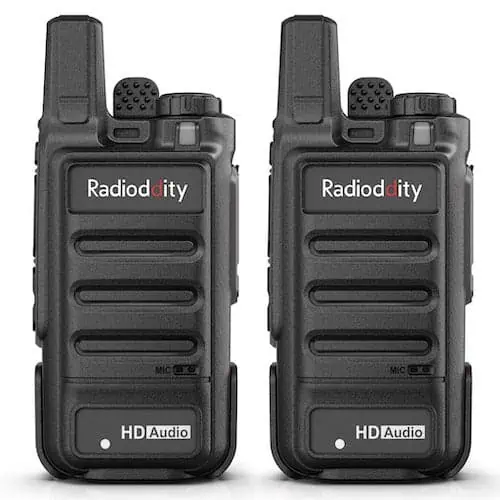 To keep the voice quality at its best, the radio uses an AI NC chip, which improves audio quality while also reducing background noise. So, if you're traveling in a noisy car, the radio will remove much of the noise before transmitting. Similarly, when you receive a transmission, it enhances the signal for better audio quality.
Interestingly, the noise-canceling feature isn't always active. Users can manually activate it by pressing a small button located right above the PTT button. The noise canceling function button can also serve as the menu button when necessary.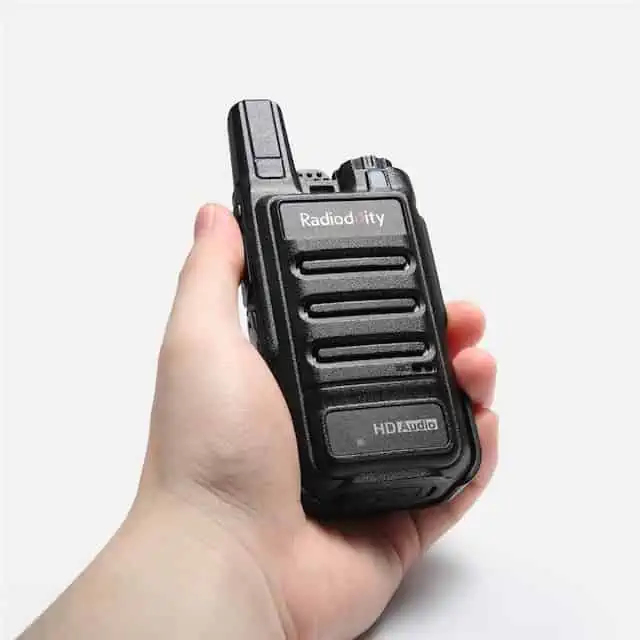 Having noise cancellation active only when necessary is a way to save power. It is reasonable to assume that the user won't always be in a noisy setting. So, the radio conserves battery by running the noise cancellation only when necessary.
Since there is no screen, Radioddity makes the function of the GM-N1 easier. It's pre-programmed and ready to work right out of the box. It's programmed with privacy tones, so it won't work with all radios from different brands right out of the box.
However, it will work with other Radioddity radios and other similarly programmed radios like the Baofeng G11S, Baofeng UV-5X, Retevis RB27, and others.
Users can change the privacy tones and other options of the radio with programming. Radioddity GM-N1 is not compatible with CHIRP, so you'll have to use the company's proprietary software. While I would have preferred CHIRP, Radioddity CPS is easy to use and makes programming easy.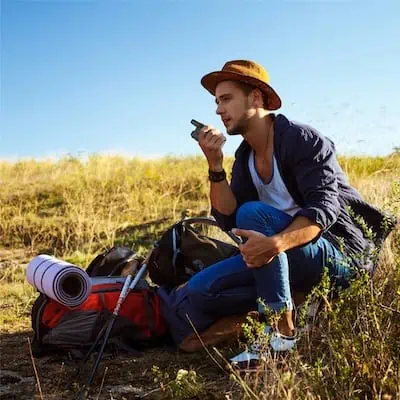 Should you decide to go this route, you'll have to buy a separate programming cable since it's not included in the box. This radio uses the normal K-type two pin programming cable.
Another highlighted feature of this radio is its battery. This unit holds a 3000 mAh Li-ion battery. Since it doesn't have to expend its energy on running a display, the battery can focus on running the radio.
Radioddity claims that the battery can last for five days. That's actually the standby time. In a real-world setting, the battery can survive almost 2 days of normal use. Either way, this is an impressive number. Not many radios would claim a battery backup as impressive as this.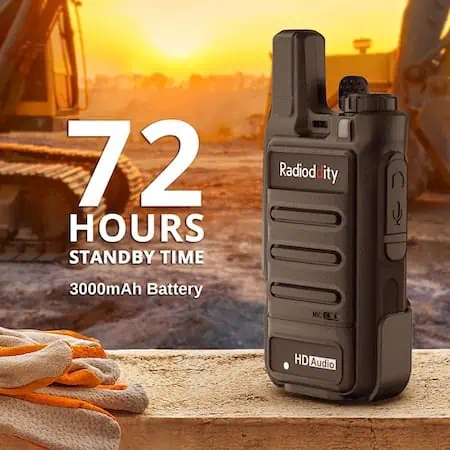 Most handheld GMRS radios aim for the full 5W power output they're allowed. Radioddity GM-N1 is content with an output power of 3W. This has a small effect on range, but it's not a huge detriment. In a normal setting, you can still expect this radio to hit about a mile or thereabouts.
If there are GMRS repeaters available, the range can increase substantially. This unit is repeater capable and handles communication without a hitch.
Overall, the Radioddity GM-N1 is a handheld GMRS radio with a rugged build, solid battery, good battery life, impressive audio quality, and an excellent noise canceling system.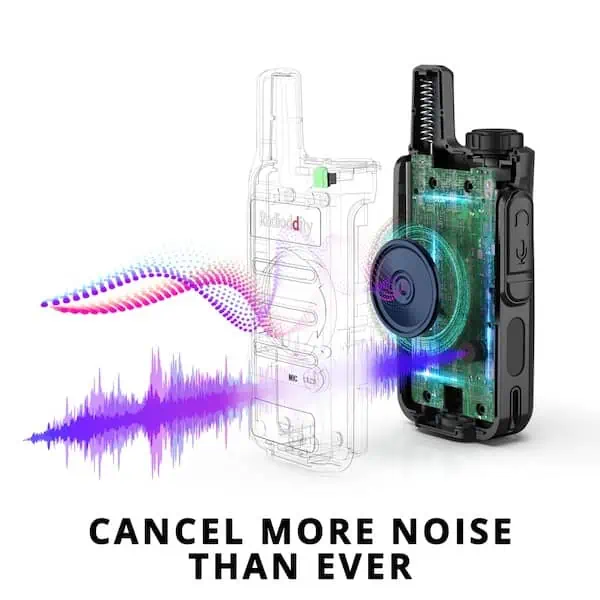 Our Ratings
Features: 8/10
Reliability: 9/10
Value for Money: 9/10
Audio Clarity: 9.5/10
Display: N/A
Overall Rating: 9.5/10
Curious About Other Radioddity Models? Check Them Out In These Reviews:
Pros
It covers a wide range.

It's easy to set up and use.
Weather updates help you to plan in advance.
Cons
Best use and results are only limited to Midland radio equipment and operators.
This is a micro mobile two-way radio with the ability to transmit three times the usual range covered by handheld GMRS radio. It covers up to three categories of ranges depending on the level of obstruction.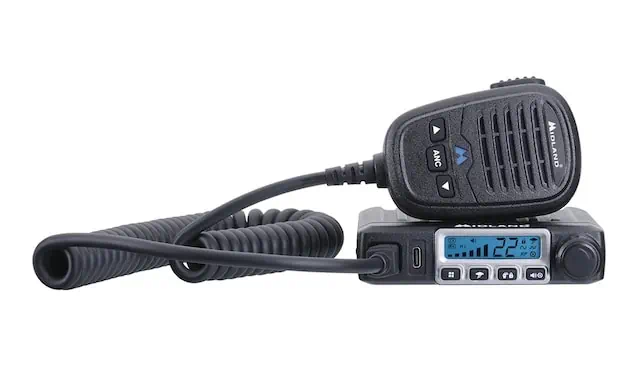 These are; obstructed especially in built-up urban settlements, the ideal which extends into the suburbs and maximum range that extends into the rural areas.
Within the urban settlements, the range varies between 5-10 miles. While within the ideal setting, the range varies between 10-15 miles.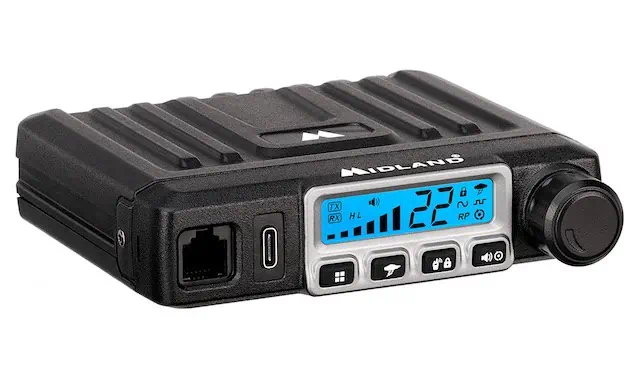 The maximum range covers up to 50 miles so that you communicate easily with other mobile radio users.
This radio is ideal for road trips, farm use, over landing, and off-roading. More importantly, it is easy to install in almost all vehicles.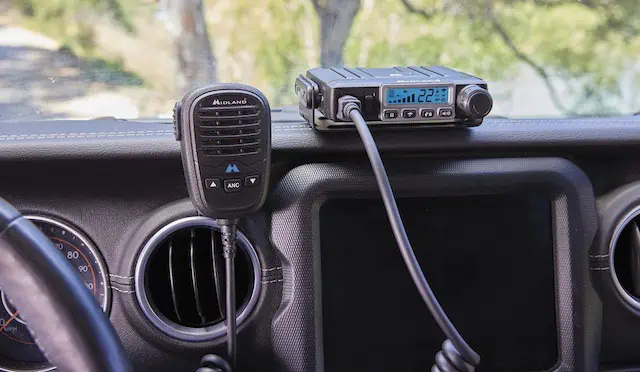 Also, it works on optimum power output of 15 watts. This is adequate for the effective running of operations so that you get the best service out of the radio.
That said…its NOAA weather updates come in handy when you need to schedule your errands. By alerting you of oncoming storms or weather hazards, you are able to plan in advance.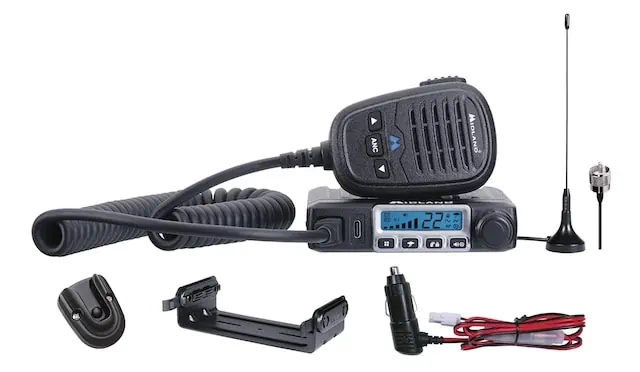 You are also able to avoid possible harsh weather-related inconveniences.
Pros
The radio has an inbuilt flashlight.
Waterproof hence not susceptible to water damages.
Covers a wide range.
Offers emergency alerts.
Allows hands-free calls
Cons
Does not run on standard CB channels
This is a Vox function enabled two-way radio with exceptional abilities to cover long ranges. The radio can cover up to 37 miles thereby allowing you to communicate with many people across a wide range.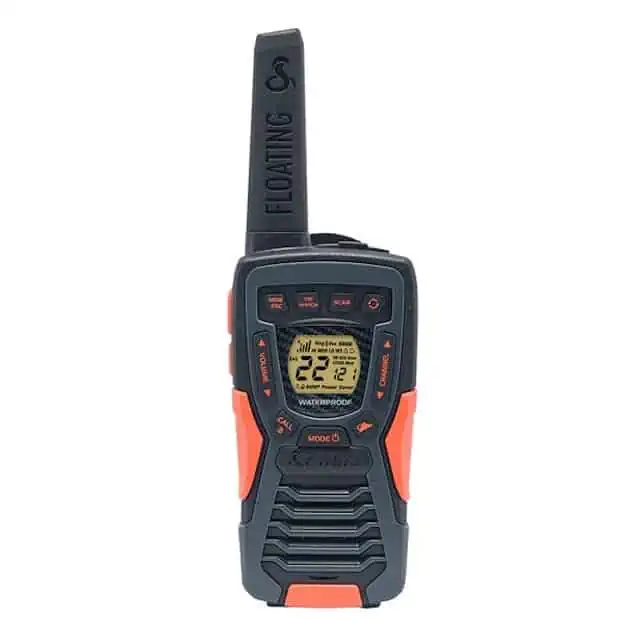 That said, the radio can support up to 2662 channels and an additional 121 privacy codes. This enables you to have secure calls with minimal interferences by avoiding interruptions when making or receiving calls.
Besides, the radio has an inbuilt NOAA radio receiver and alert. This receiver scans the prevailing weather conditions and warns you of an impending storm.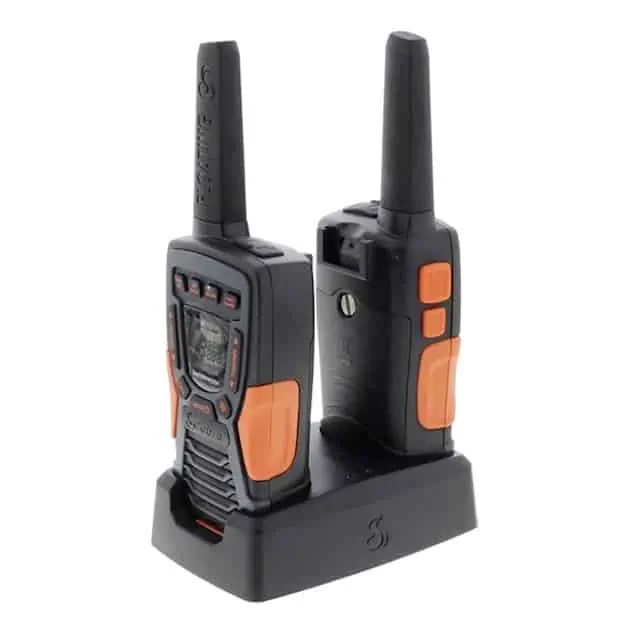 Also, you can use the receiver as an alert for other kinds of emergencies when they come up. These alerts and warnings are meant to keep you updated so that you take prompt action where necessary.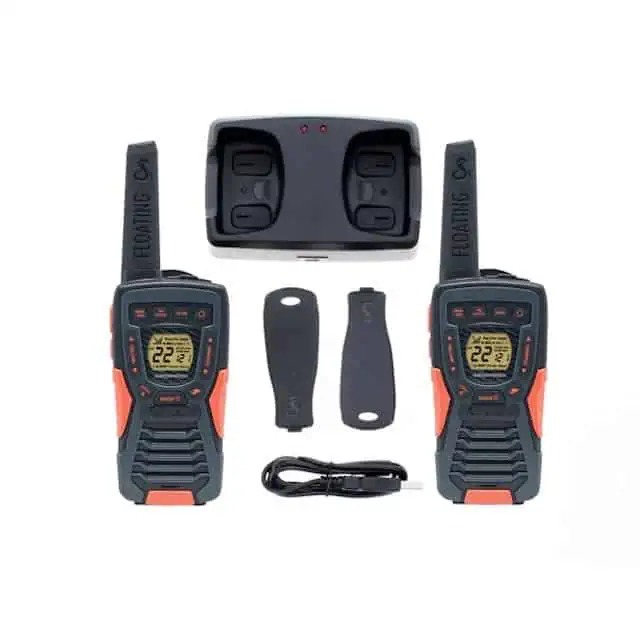 This radio runs on the Vox (voice-activated transmission) system which makes it easy for you to have hands-free calls.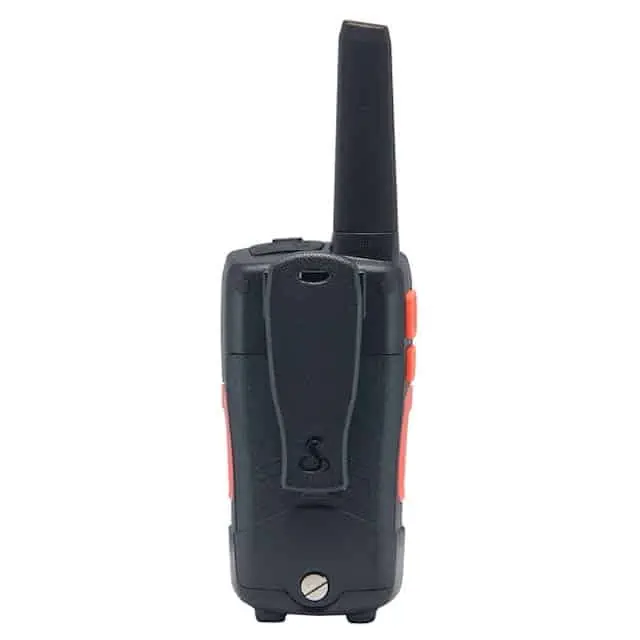 With Vox, the radio can detect a user's voice, hence, you won't need to press any buttons to receive the call. If you have other concurrent tasks, you can use your hands to handle them. This will help to increase your efficiency.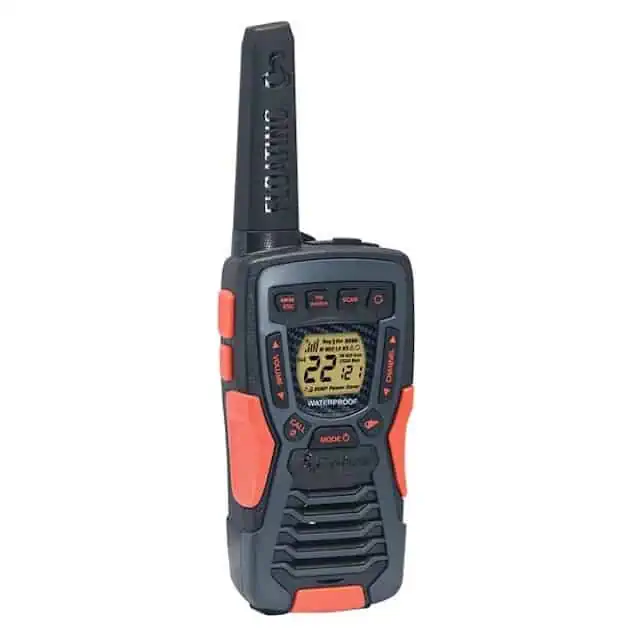 Furthermore, the radio is waterproof. And what's more amazing is that it can float on water. If it was to fall into the water, it will not only be retrievable, but you will also get it undamaged.
Our Ratings
Reliability: 8.5/10
Range: 8/10
Value for Money: 7.5/10
Battery: 8/10
Extras: 7.5/10
Functionality: 8.5/10
Overall Rating: 8.1/10
Looking to Get On the Water with Your Waterproof Radio? Check These:
Buyers' Guide
1. What is GMRS radio
General mobile radio service is a two-way voice and short data messaging communication radio. Besides, it can also support GPS location information.
The radio uses channels found around 462-467 MHz and works well for short-distance communication. Mostly, GMRS is used with handheld radios, mobile radios, and repeater systems.
2. GMRS Licensing
You will need a license from FCC to operate GMRS systems. A license remains valid for 10 years after which you will need to make a renewal.
Any person that's 18 years old and above qualifies to apply for a license. However, you don't qualify if you're a representative of a foreign government.
3. GMRS Range and Frequency
GMRS systems are designed for short-distance voice and short data communication. However, this is usually influenced by obstacles such as buildings, trees, and other metal objects.
GMRS systems operate on channels found 462-467MHz frequency range.
4. GMRS Vs FRS
GMRS and FRS systems are typically similar radio systems. Both have a handheld, mobile, and base radios. Also, both radio systems operate around the same frequencies range of 462 and 467 MHz.
What to Consider
Before making a buying decision, you need a checklist of factors to consider so that you make an informed buying decision.
Below, I have compiled a list of the main considerations you need to check when looking for GMRS Radio systems.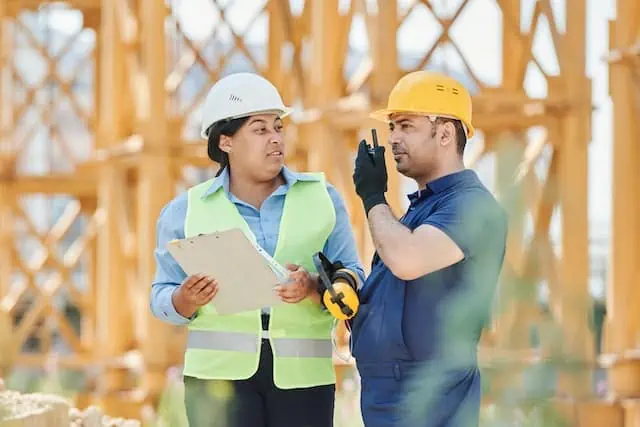 1. Range
Range determines the furthest your radio can reach during communication. But this is not a stand-alone feature as other factors influence it. Some of these include obstructions such as concrete, wood, and metal.
You need a radio with a wide range coverage that is optimal to where the target users are. If they are within an urban environment, then 1-5 miles will be ok.
However, if they are in the suburbs or rural areas, you need a powerful radio that can transmit over long ranges of up to 50 miles.
2. Power
Power output determines the efficiency of the radio. Therefore, the higher the power, the better your radio is likely to perform. The opposite is true for lower power.
But what's more important is determining firsthand what purpose you need the radio for. Normally, handheld and mobile radios require low power wattage compared to base radios.
Base radios stations require up to 50 watts due to the nature of their work. Handheld and mobile radios are mainly used for recreation purposes hence a wattage of 1-2 is enough for them.
Also, the higher the wattage, the bigger the radio is likely to be. If you need a radio that is convenient to carry around, then definitely it should run on low power wattage.
However, base radios are huge in size, are heavy in weight, and require high power wattage. To determine the right power outage for you, you need to know why you need the radio.
3. Privacy/Interference Eliminator Codes
Channels are easily available in busy areas. This implies that it only takes a short time before your channel list is completely filled with channels.
However, you can't always be sure of the quality of signals in these channels. Plus, in shared channels, you need to have a guarantee of your privacy.
This is where interference eliminator codes come in. with the aid of CTCSS –Continuous Tone coded Squelch System– and CDCSS– continuous Digital Code Squelch System– you can still use privacy codes to communicate via a busy channel.
Also, CTCSS and CDCSS will help you to sieve out unwanted noise in the main channel. However, it doesn't take away all of it as you will still hear some unwanted chatter sounds in the background.
4. Compatibility
It's possible to use two radios if they operate in the same frequencies and similar channels. You can program these radios so that they work in collaboration.
However, to achieve this, first, you must ensure the radios are of the same brand. Also, they need to share similar features. The best way to make this happen is by buying radios that are in pairs or packs of three or more.
5. Size
This depends on the purpose you need the radio for. Also, you need to know that handheld, mobile, and base radios vary in size and weight and each serves different purposes.
Handheld radios are small in size, lightweight, and used by users who are always in the move and in the field. That explains why they need to be lightweight and small in size for the convenience of carrying them.
Mobile radios are mostly used in vehicles. To use one, you need to find the one that can fit properly in your radio stereo space. It needs to be neither big nor small, but the perfect shape and size.
6. Channel Scanning
To communicate with others, you need to find the right channels. And the best way to achieve that is through channel scanning.
The perfect radio should be able to scan the relevant channels that are used by your various Talk groups. This is the only sure way to keep in touch with friends and family or even workmates.
Scanning also helps you to find out any free channels that you can occupy with your talk group. Afterward, you can freely engage in uninterrupted communication amongst yourselves.
7. Voice Activated Function (VOX)
This function lets you have hands free communications. Once you speak directly facing the radio, it begins to broadcast automatically.
This function is necessary if your hands are engaged with some other stuff. At such a point, its hands-free calls that are convenient so that you're not interrupted.
When driving, you require little to no interruptions for maximum concentration on the road. You need to acquire a radio with VOX function enabled to help you with hands-free calls.
8. NOAA Weather Alerts
Bad weather, storms, and other acts of god can interfere with your normal schedule. The best way to stay safe is by getting prior updates so that you re-plan or reschedule yourself.
These occurrences are likely to mess you up. You need a radio with NOAA function so that you get weather updates and other necessary alerts within your vicinity.
9. Global Position System (GPS)
GPS function enables you to find out your location data such as latitude, longitude, and altitude. You are also able to know the exact place name.
This is important when you're out hiking or when you have a team to supervise at work. Therefore, apart from voice and message communication, the right radio should also give you location data.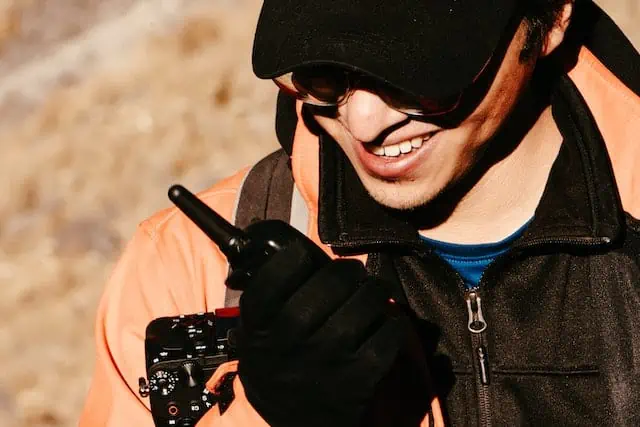 Final Verdict
General Mobile Radio Services are two-way radio systems that are ideal for short-distance communications.
The best way to enjoy these benefits is to acquire the best handheld GMRS radio or the best GMRS mobile radio.
However, to make an informed buying decision, you need to have a checklist of considerations for a GMRS radio. That's where this guide comes in handy.
Finding the best GMRS radio shouldn't be a frustrating endeavor. Today, by reading and following this guide, you're in a better place to find your favorite GMRS radio.