Best Waterproof Ham Radios In 2023
Searching for the best waterproof ham radios?
For every Ham radio enthusiast, there's a hunt—a hunt for that perfect gear that not only resonates with your frequency but also stands tall against nature's unpredictability. And if you're keen on exploring the great outdoors without worrying about sudden downpours, a waterproof ham radio is your best ally.
As someone who's spent countless hours on the airwaves, I can tell you, it's not just about getting any waterproof radio; it's about getting the best one. But, with so many options on the market, how do you choose the one that truly fits the bill?
In today's post, we're diving deep into the world of waterproof ham radios, giving you a comprehensive look at top-notch radios that won't let you down—whether you're caught in a torrential rain or simply taking it on a rugged hike. From premium options to those friendly on the pocket, we've covered them all. And trust me, you don't want to miss out on these insights.
Curious about the best contenders? Dive right in to find out!
Our Top Picks
Ailunce HD1 – Editor's Choice
Yaesu FT-5DR – Best Premium Waterproof Ham Radio
Baofeng UV-9R Pro – Best Budget Waterproof Ham Radio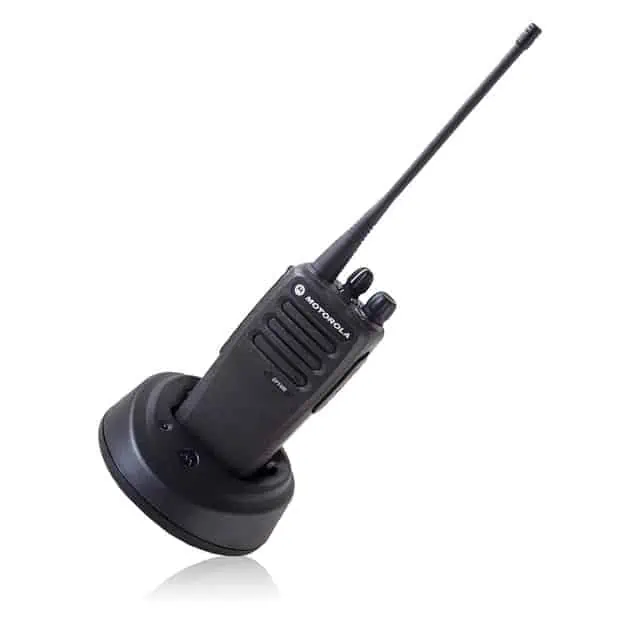 Why Should You Trust Us?
At WhollyOutdoor, our core tenets have always been objectivity, honesty, and education. Since our inception in 2018, we've poured countless hours into researching, testing, and analyzing products, ensuring that we present you with well-informed and unbiased opinions.
Our editor, Paul Dudley, a passionate ham radio enthusiast and outdoor aficionado, leads the charge, ensuring every piece resonates with authenticity. Over the years, our dedication has grown, but our mission remains unchanged: to provide you with the best, most trustworthy reviews in the outdoor niche.
With WhollyOutdoor, you're not just reading a review—you're gaining insight from a seasoned expert who genuinely cares.
Check out our review of the Best Long Range Two Way Radios
How We Choose the Best Waterproof Ham Radios
Choosing the best waterproof ham radios is no mere feat, especially in a rapidly evolving market like 2023. Here at WhollyOutdoor, our evaluation process is rigorous and thorough to ensure we recommend only the crème de la crème.
Research & Market Analysis: We begin by scouting the market for the latest releases and the most talked-about models. This involves reading forums, attending trade shows, and engaging with manufacturers to be on top of the current trends.
Features & Specifications: A good ham radio isn't just about being waterproof. We consider essential features like frequency range, battery life, ease of use, and durability. This ensures the radios we recommend are not only waterproof but also top performers in other aspects.
User Reviews & Feedback: The real-world experience of users provides invaluable insights. By analyzing customer reviews, we gauge the long-term performance and reliability of each model.
Hands-On Testing: Where possible, our dedicated team, led by Paul Dudley, personally tests selected models in various conditions. Whether it's a fishing trip or a rainy hiking adventure, we make sure these radios stand up to the challenge.
Value for Money: We recognize the importance of getting the best bang for your buck. So, while we do consider premium models, we also ensure that every recommended radio offers excellent value in terms of features and performance for its price point.
Durability & Warranty: A solid warranty and the build quality of the radio play crucial roles in our selection process. After all, what's a good waterproof radio if it can't stand the test of time?
By the end of this meticulous process, we come up with a list that we're proud to present. For your convenience, we've summarized our top picks in a user-friendly table below, highlighting the key features of each model to help you make an informed decision.
Looking into more Ham Radio Radios? Check These:
Comparison Table
Feature/Criteria
Ailunce HD1
Yaesu FT-5DR
Baofeng UV-9R Pro
Award
Editor's Choice
Best Premium Waterproof Ham Radio
Best Budget Waterproof Ham Radio
PROS
– Decent battery life
– Ideal for outdoor activities
– Durable and waterproof
– GPS function for user location
– Loud and clear voice quality
– Uses same battery & accessories as other Yaesu models
– C4FM digital communication
– IPX7 waterproofing
– Clear and crisp display
– Attractive pricing
– IP67 waterproof
– 2800 mAh battery
– Good build quality
– Works with CHIRP
– Transmit power at 8W, 5W, and 1W.
CONS
GPS functions only set via computer software
– Larger & bulkier than previous fusion radios
– Learning curve required
– Tricky belt clip
– Two battery variants can be confusing (USB-C, and cradle only)
Channels, Contacts, Zones
3000 channels, 200,000 contacts, 256 zones
–
–
Battery Capacity & Type
–
2200 mAh Li-ion
2800 mAh Li-ion
Waterproofing
Yes
IPX7
IP67
Maximum Output Power
– (Not mentioned in given details)
5W
8W
Digital Systems Supported
Digital & Analog
C4FM with APRS
–
Other Notable Features
– High definition color LCD
– Almost independent of computer programming
– Send/receive text messages
– Dual-band VHF and UHF
– Better voice clarity, works better with Bluetooth
– Memory card for data & updates
– Upgrade to UV-5R with new chipset & bigger battery
– Improved casing & waterproofing
Best Waterproof Ham Radios Reviews
PROS
Decent battery life
Ideal for outdoor agilities
The radio is durable and waterproof.
You can use the GPS function to find out the exact location of other users.
CONS
Its GPS functions can only be set via computer software.
Ailunce HD1 is a dual-band VHF UHF DMR ham radio that is specifically designed for amateur use. However, you can use it for commercial purposes, especially on construction sites or any other work that requires supervision.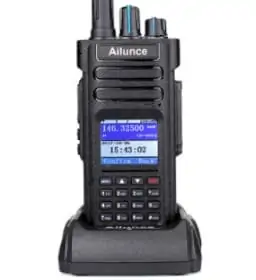 The radio features a high definition and color LCD and a full numeric keyboard that is also soft and easy on your hands. The display is user-friendly, and it's easy to see the operations at a glance. Moreover, even in bright light, the display will still function well.
Amazingly, this radio is almost independent of computer programming. This implies that you can carry out most of the radio settings through the keypad.
More importantly, the radio is easy to learn and to operate even for first-timers. You only need a few hours to learn the ropes.
With this radio, you can engage in sending and receiving text messages. However, the operations limit you to a maximum of 144 characters and 50 lines.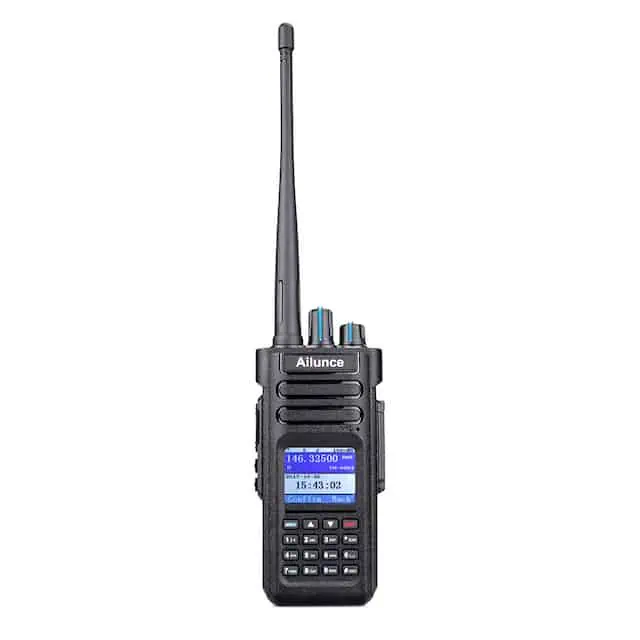 The radio supports both digital and analog systems and you can switch to any of these at any time depending on personal preference.
This DMR radio allows double contacts therefore, you can have one-to-one calls, one-to-many calls, and many-to-many calls.
Ailunce HD1 stands its ground against tougher components like the AnyTone AT-D878UVII. Or better yet, the latter's more recent avatar, the AnyTone AT-D878UVII Plus. On the surface, the AnyTone radio is a good option with several interesting features.
AnyTone AT-D878UVII Plus gets a 500,000 contact list over the 200,000 on Ailunce HD1, 7W output power and an included Bluetooth PTT switch. Though it is front panel programmable, AnyTone AT-D878UVII Plus is a bit tougher to manage than the Ailunce HD1.
Also, its enhanced features come with a significantly higher price point as compared to the HD1. So while it does have some interesting features, it doesn't quite manage to outcompete Ailunce HD1 in a price to value comparison.
Besides, it supports 3000 channels, 200,000 contacts, and can operate in 256 zones. Therefore, this radio offers you limitless options and opportunities and it's certainly one of the best DMR radios. Overall this is the best overall Waterproof Handheld DMR Radio.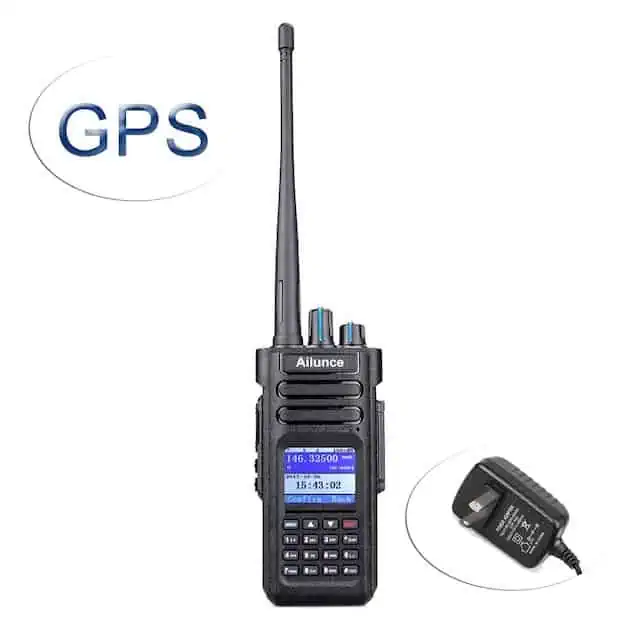 Check This for More DMR Options:
2. Yaesu FT-5DR – Best Premium Waterproof Ham Radio
PROS
Voice quality is loud and clear.
Uses the same battery and accessories as other models in Yaesu's fusion series.
Works with C4FM digital communication.
Has IPX7 waterproofing.
Display is clear and crisp.
CONS
Larger and bulkier than previous fusion radios.
Has a learning curve, even for people well-acquainted with the use of ham radios.
Yaesu FT5DR is a competent addition to the company's fusion radio lineup. The dual-band ham radio can work with VHF and UHF bands, with the capability to listen to two frequencies simultaneously.

There are two independent receivers to work on these frequencies. Two LED indicators above the display present visual feedback for the working of the A Band and B Band.
As you look at the Yaesu FT5DR, it's impossible not to draw parallels with the lower model, the Yaesu FT3DR. Both radios have a similar design, features, and general functions.
It's often said that Yaesu developed the FT5DR because the global chip shortage made it difficult to source the parts for the 3DR.
Thankfully, rather than throwing together a radio with what was available, Yaesu took the time to make improvements on the radio. Yaesu FT5DR has better voice clarity, works better with Bluetooth, and a relatively cleaner look.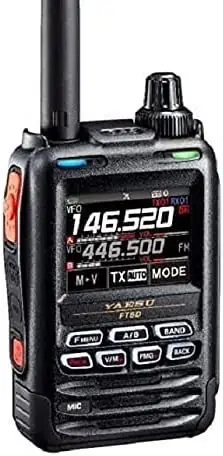 It is slightly larger and bulkier than the FT3DR, but the 5DR has a cleaner profile. This is especially visible with the buttons on the side of the radios. The FT3DR has something of a bulge with the buttons, while the 5DR is sleeker. It's a small change but it works very well for the aesthetics.
Differences aside, both these radios belong to the fusion lineup and share overlapping features. Related accessories, including the battery, are compatible between these models.
Speaking of the battery, while the 2200 mAh Li-ion battery looks sufficient, it's a good idea to get another battery pack. The charging times can be painfully long and it's usually better to
swap batteries rather than waiting around for the pack to charge.
Though the battery takes its sweet time charging, it does a good job when it is in action. The battery can last a day even when transmitting at the maximum 5W output RF power. The 5W
output is fairly standard for handheld ham radios like the FT5DR and this radio seems to handle it beautifully.
The received audio also appears better and louder due to the use of a powerful 1W speaker. A key feature of the FT5DR is its implementation of digital communication, where it's worth comparing this radio to its close competitor, the Icom ID 52A.
Icom's offering is slightly longer and bulkier than the FT5DR, though it maintains a similar overall form. A quick difference between the two is that the Yaesu ham radio has a touchscreen, while Icom 52 does not.
The bigger question in choosing between these ham radios is whether you want fusion or D-STAR. Yaesu's implementation of the digital amateur radio employs C4FM communication withAPRS (Automatic Packet Reporting System). Icom uses D-STAR to accomplish the same.

This means both these ham radios transmit and receive data for information like GPS coordinates, texts, and images. However, the APRS with Yaesu's implementation generally works better than Icom's D-STAR. Yaesu's use of C4FM also provides excellent features like Automatic Mode Select (AMS), Digital Group ID (DG-ID), and Smart Navigation.
When using features like Smart Navigation, users can track their location or route and save it to a micro SD memory card. Similarly, you could use the micro SD card to store pictures you intend to send or receive.
A lot of data can go into the memory card. Yaesu FT5DR will also accept software updates through its micro SD card.
Since so many features find their place in this expensive package, we expect it to be strong and rugged. The FT5DR doesn't disappoint on these points. The ham radio has an impressive build quality.
It's rated IPX7, which means it's waterproof and can spend a few minutes submerged without being damaged.
Though it does a lot of things right, this radio is not without its flaws. An important one is the learning curve for using this. If you haven't used a fusion radio before, it will take a while to get used to this ham radio.
Our Ratings
Functionality: 9.5
Reliability: 9
Value for Money: 9
Battery: 9
Overall Rating: 9.5
Looking for Sustainable Power Sources to Power Your Radios? Check This:
3. Baofeng UV-9R Pro – Best Budget Waterproof Ham Radio
PROS
Attractive pricing
Rated IP67 waterproof
Powerful 2800 mAh battery
Good build quality
Works with CHIRP
Transmit power at 8W, 5W, and 1W.
CONS
The belt clip might need some time getting used to
Two battery variants on the same model can be confusing (USB-C, and cradle only)
Output Tx isn't consistent and can vary between radios and batches.
Baofeng likes to present the UV-9R Pro as an upgrade to the ever-popular Baofeng UV-5R. Although, this isn't the only contender for that spot from Baofeng's stable. The company has several models lined up as UV-5R upgrades, including the Baofeng UV-S9 Plus.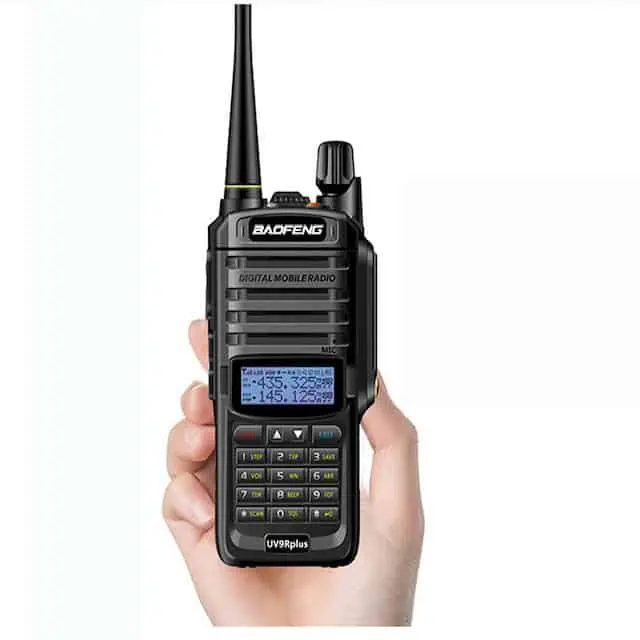 Of course, all these upgrades have something more to offer than the UV-5R. In the case of Baofeng UV-9R Pro, the upgrade is a newer chipset, body, and a bigger battery. However, the overall operation and feel of the system is very much like the UV-5R.
One of the most important upgrades this radio has received is a new body and casing. It's taller and a bit heftier than the UV-5R. But then it also looks and feels the part of a better-quality build.
The better quality of the casing allows the Baofeng UV-9R Pro to be fully waterproof. The radio is rated IP67, which means it can handle being submerged in water for a depth of up to one meter, for up to 30 minutes. Obviously, this also means that it can withstand being exposed to heavy rain for a while.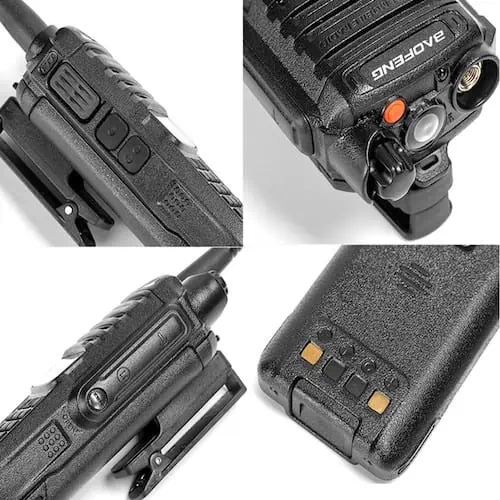 Besides, there is a visual charm to better casing quality and color options.
Since it has a bigger body, the device can now hold a bigger battery. It comes equipped with a 2800 mAh Li-ion battery. Interestingly, there are two variations of the battery. One is a plain model that goes into a dock for charging and takes its sweet time sitting there. The second style is a battery that includes a USB Type C port and is relatively quick to charge.
Right above the battery compartment at the back is a connector for the belt clip. Baofeng isn't using the classic belt clip here, but a new design. It works well enough but can take some time to get used to.
The mic connector is located on the side, it has a rubber cover over it and closes nicely to remain waterproof. You get an adapter with this connector here, to attach a K-type microphone. It increases the length of the cable, which can be fairly convenient in some cases. The overall Tx quality remains consistent despite the addition of the adapter.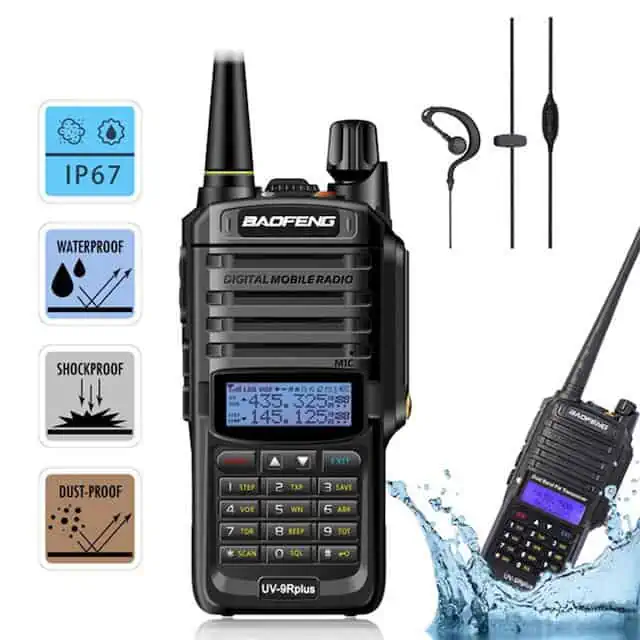 With all the other improvements, there is an improvement in the Tx power as well. Baofeng UV-9R Pro has maximum power output at 8W, and it also offers mid and low-power options at 5W and 1W.
At the top of the radio is a Nagoya-style antenna, which looks and performs better than the rubber ducky generally seen on Baofeng radios.
Overall, this is an excellent dual-band HT with attractive pricing, good features, and good waterproofing.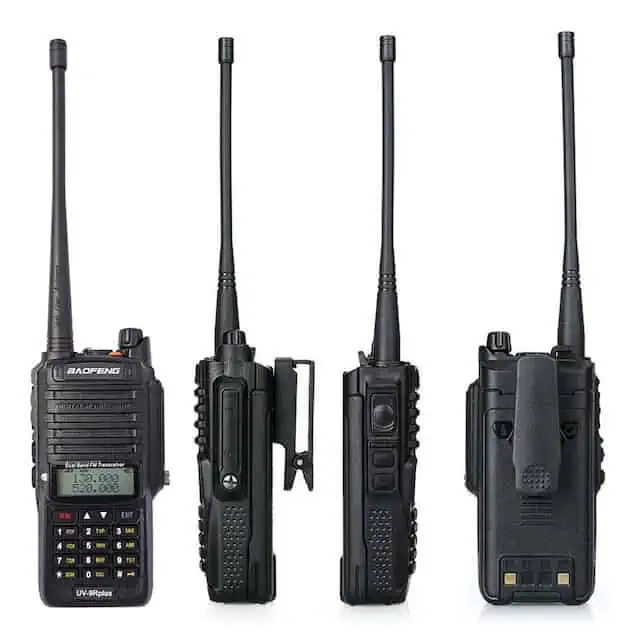 Our Ratings
Features: 8/10
Reliability: 7.5/10
Value for Money: 9/10
Audio Clarity: 7/10
Overall Rating: 8/10
Check This:
Frequently Asked Questions (FAQs)
Can a waterproof ham radio be fully submerged in water?
While many waterproof ham radios are designed to handle rain or accidental splashes, not all can be fully submerged. Always check the IP (Ingress Protection) rating. For instance, IP68-rated devices can be submerged in water, typically up to 1.5m for 30 minutes.
How does saltwater affect waterproof ham radios?
Saltwater can be corrosive. While a waterproof ham radio can handle freshwater, prolonged exposure to saltwater can damage its components. Always rinse the device with fresh water after exposure to saltwater.
Is the battery life of waterproof ham radios shorter than regular ones?
Not necessarily. The battery life depends on the model and usage. Some waterproof radios might even have longer battery life due to their rugged build catering to outdoor enthusiasts.
Can I use waterproof ham radios for diving?
Most waterproof ham radios aren't designed for deep diving. Check the maximum depth and duration specifications. For diving purposes, specialized equipment is recommended.
Does cold weather impact the waterproofing of ham radios?
Waterproofing is typically unaffected by cold temperatures. However, extreme cold can affect battery performance and overall device functionality.
Are all antennas on waterproof ham radios also waterproof?
While the main unit is waterproof, antennas might not always be. Ensure both the device and its antenna are waterproof, especially if you expect heavy exposure to water.
What maintenance is needed for waterproof ham radios after exposure to water?
It's advisable to dry off the radio after exposure, ensuring no water remains in ports or crevices. For saltwater exposure, a quick rinse with fresh water can prevent corrosion.
How do I test the waterproof claim of my new ham radio?
While it might be tempting, it's not recommended to intentionally submerge your radio to test its waterproofing. Instead, rely on the manufacturer's ratings and customer reviews for assurance.
Are waterproof ham radios bulkier than non-waterproof models?
Though some waterproof models are built rugged and might be slightly bulkier, many modern designs offer slim profiles without compromising on waterproof capabilities.
Do waterproof features increase the cost of ham radios significantly?
While waterproofing can add to the cost, the price difference is often justified by the added protection and durability. With a range of options available, it's possible to find a waterproof ham radio that fits your budget.