Top 3 Best Portable Ham Radio Antennas In 2023
Are you on the hunt for the best portable ham radio antenna?
Well, look no further! In this blog post, we'll dive deep into the top three portable ham radio antennas currently available, catering to all budgets and preferences.
We'll explore everything from affordability to performance, ensuring you can find the perfect antenna to complement your handheld radio. So whether you're a budget-conscious user, a premium enthusiast, or someone seeking the ultimate combination of value and performance, there's an antenna in our lineup designed just for you!
Our Top 3 Picks
Nagoya NA-771 – Our Top Choice
Diamond SRH77CA – Best Premium Portable Ham Radio Antenna
Bingfu Dual Band Foldable Antenna – Best Budget Portable Ham Radio Antenna
Why Should You Trust Us?
At WhollyOutdoor, we pride ourselves on our commitment to providing the most accurate and comprehensive reviews for all things outdoors. Our founder and editor, Paul Dudley, is a passionate outdoor enthusiast with a particular interest in ham radios and fishing. His expertise and passion drive our mission to provide honest, objective, and educational content.
Our reviews are based on thorough research, hands-on testing, and real-world experience. We believe in transparency and honesty, which is why we always disclose our evaluation process. We are not affiliated with any manufacturers, so our recommendations are always unbiased and based on the product's merit.
We understand the importance of trust, especially when it comes to product recommendations. That's why we strive to ensure that our reviews are reliable, comprehensive, and up-to-date. We are here to help you make informed decisions, and we take this responsibility very seriously. So, when we say a product is the best, we truly mean it.
How We Chose the Best Portable Ham Radio Antennas
We evaluated several key factors to pick the best portable ham radio antennas. First, we considered the price as it's crucial to select an antenna that suits your budget. Next, we assessed performance, looking at transmission, reception, and frequency ranges.
We also considered build quality and durability, as a sturdy and long-lasting antenna is essential for outdoor enthusiasts and those who use their radios frequently.
In addition, we evaluated compatibility with various handheld radio models, ensuring that our top picks cater to a wide range of users. Lastly, we considered customer reviews, as firsthand experiences offer invaluable insights into an antenna's real-world performance.
Armed with this information, let's see which are the top three portable ham radio antennas, ranked for their performance, build quality, and value for money.
Best Portable Ham Radio Antennas Reviews
Pros
Easy to connect with HT
Offers noticeable improvement in Tx and Rx
Good build quality
Plenty of options to suit HT and individual needs.
Cons
Retractable antennas are more convenient than conventional whips for handheld transceivers
Finding genuine Nagoya antennas can be difficult
Nagoya antennas have long been renowned for their aftermarket offerings. These antennas have withstood the test of time and consistently outperform stock antennas, providing a measurable boost in ham radio performance.
The Nagoya NA-771 is particularly well-suited for budget-friendly handheld transceivers like Baofeng, BTECH, Retevis, or similar brands, but even premium handheld transceivers like Yaesu can benefit from using it.
It features an SMA female connector, making it compatible with Kenwood and Baofeng radios. For radios with different connectors, consider a model with an SMA male connector. An extended antenna cover is desirable for the NA-771's connector, as it offers protection.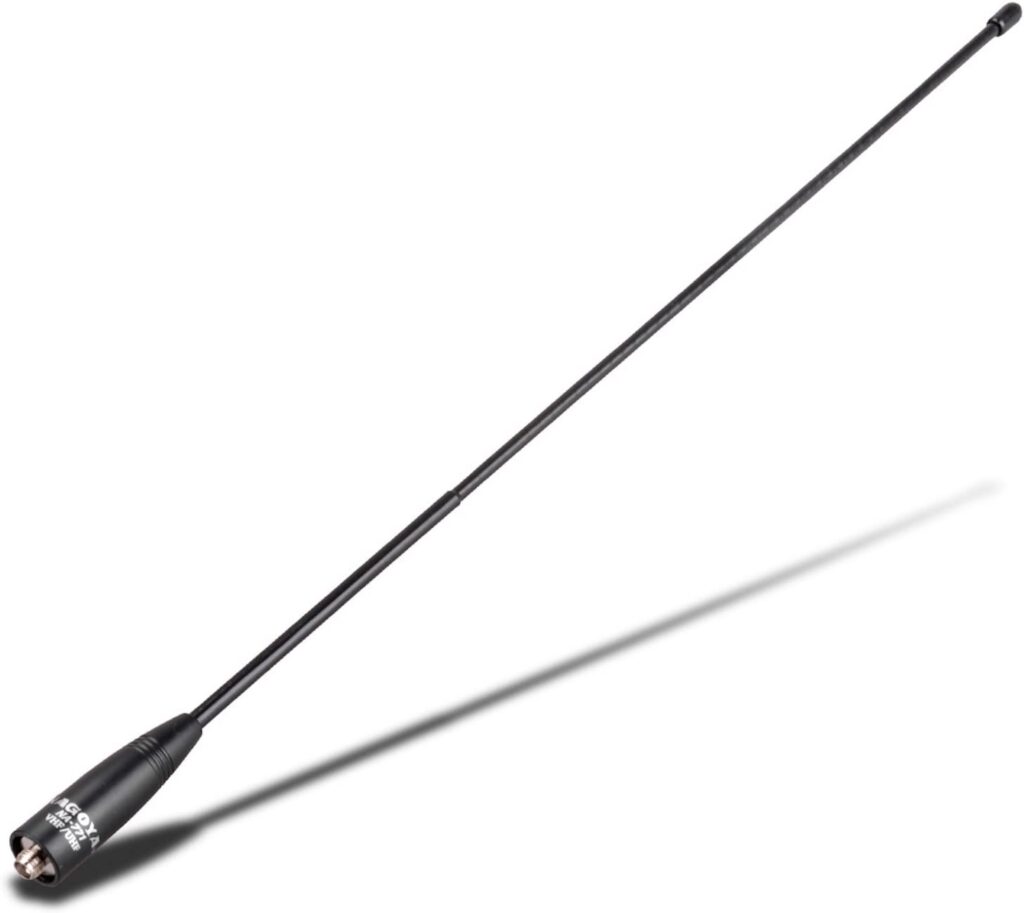 The antenna's 15.6-inch length allows for a quarter-wave whip on the 144 MHz band and a half-wave on the 440 MHz band. This length, however, can be cumbersome for users who carry their handheld transceivers on belt clips. In this case, the Nagoya NA-771R, a retractable version of the antenna, is worth considering. The 771R can be reduced to just 4.25 inches when necessary.
Nagoya NA-771 antennas boast excellent quality control and construction. The flexible and soft design ensures durability, even during rough use or accidents.
With a 50 Ohm impedance and optimal VSWR of less than 1.5, the NA-771's average gain compared to stock antennas is 2.5 dB. The maximum power output is 10W, which is adequate for most handheld radio users.
Furthermore, like Diamond antennas, Nagoya antennas often have counterfeit counterparts on the market. To avoid purchasing a knockoff, buy from trusted outlets.
In summary, the Nagoya NA-771 is an outstanding radio antenna for compatible handheld transceivers. It generally offers significantly better performance than stock antennas.
2. Diamond SRH77CA – Best Premium Portable Ham Radio Antenna
Pros
Easy to connect with handheld transceivers
Offers noticeable improvement in Tx and Rx
Excellent quality.
Cons
Retractable antennas are more convenient than conventional whips for handheld transceivers
Difficult to find genuine Diamond antennas.
Diamond and Nagoya antennas have long been top choices for enhancing handheld transceiver performance. Typically, Diamond antennas outperform Nagoya models, albeit at a premium price. Both brands usually surpass stock antennas in performance.
The Diamond SRH77CA is ideal for handheld transceivers with a male SMA connector, such as Yaesu radios. For radios with a female SMA connector like most Baofeng models, the Diamond SRJ77CA is the better choice. Apart from connector compatibility, both antennas are identical.
The antenna receives frequencies from 120 MHz to 900 MHz and performs optimally on the 144 MHz and 440 MHz bands for transmission. Its 15.6-inch length serves as a quarter-wave or half-wave setup, significantly improving transmission and reception capabilities.

Diamond antennas boast superior build quality and rigorous quality control compared to most aftermarket options. The low-impedance design, combined with heavy-duty air-wound base coils, minimizes RF losses and enhances performance.
Designed to be flexible and soft, this tall antenna is less prone to accidental damage or breakage. Diamond antennas are so durable that users are more likely to lose them than break them.
While the Diamond SRH77CA can function as a scanner, its capabilities shine brightest on a dual-band handheld transceiver. With a maximum power output of 10W, it's suitable for most handheld radios.
Although Diamond antennas are more expensive than Nagoya models, their exceptional performance justifies the price. One significant issue with Diamond antennas is the abundance of counterfeit products on the market. It's essential to buy from trusted sellers to ensure you're getting a genuine product.
In conclusion, the Diamond SRH77CA is a high-quality and effective antenna for compatible handheld transceivers. It's likely to provide a noticeable gain in performance for most handheld radios.
Pros
Affordable price
Foldable antenna offers good length for Tx and Rx.
Cons
No clear performance advantage over stock antennas
Can be unwieldy and difficult to manage at full length
The Bingfu Dual Band Foldable Antenna is our top pick for budget-conscious users. Featuring a reverse SMA (SMA female) connector, this antenna is compatible with most Baofeng, Kenwood, and similar radios.
Although Bingfu markets it as a "tactical" antenna, implying military-grade quality, it's essential to note that this term d doesn't necessarily guarantee enhanced durability or quality.
This antenna is ideal for those seeking a quick and easy replacement rather than a significant performance boost.
Nonetheless, the Bingfu Dual Band Foldable Antenna is no slouch. As a dual-band antenna, it effectively operates on the 2m and 70 cm bands, offering reliable transmission and reception.
With a fully extended length of 42.5 inches, this antenna boasts impressive reach on the dual-band. When transmitting, it's best to keep the antenna extended; however, you can keep it folded or extended when merely receiving signals.
Bingfu claims a VSWR of less than 2dB and a gain of 3.5 dB for this antenna, but these figures might not be entirely accurate. The antenna can handle a maximum power of 8W, which is suitable for most handheld ham radios.
Its unique length is both a strength and a weakness, as it can become unwieldy on a handheld radio. Even when folded, it feels heavy and unbalanced.
In summary, the Bingfu Dual Band Foldable Antenna is an excellent choice if you're seeking a budget-friendly or quick replacement antenna. Its length may provide some advantages, but it could also be challenging to manage.
Frequently Asked Questions (FAQs)
What is a portable ham radio antenna? A portable ham radio antenna is a device that enhances the transmission and reception capabilities of a handheld ham radio. It's designed to be compact and lightweight for easy transport and use in various locations.
Why do I need a portable ham radio antenna? A portable antenna can significantly improve your ham radio's performance, especially in remote areas where signal strength may be weak. It can also provide a wider range of frequencies for better communication.
Are all portable ham radio antennas compatible with all radios? Not necessarily. Compatibility depends on the type of connector the antenna uses. Some antennas use an SMA female connector, while others use an SMA male connector. Always check the antenna's specifications to ensure it's compatible with your radio.
How do I install a portable ham radio antenna? Installation is usually straightforward. Most antennas simply screw onto the radio's existing antenna port. Always refer to the manufacturer's instructions for specific installation guidelines.
What is the range of a portable ham radio antenna? The range can vary significantly depending on the antenna's design, the frequency used, and the surrounding environment. Some high-quality antennas can provide a range of several miles.
Does the length of the antenna matter? Yes, the length of the antenna can affect its performance. Longer antennas can often provide better reception and transmission, but they can also be more cumbersome to carry around.
What is the difference between a dual-band and a single-band antenna? A dual-band antenna can operate on two different frequency bands (typically 2m and 70cm), while a single-band antenna operates on only one frequency band. Dual-band antennas offer more versatility.
Are portable ham radio antennas durable? Durability can vary between different models. Some antennas are designed to be rugged and withstand harsh outdoor conditions, while others may be more delicate. Always check the build quality and reviews before purchasing.
Can I use a portable ham radio antenna for other purposes? While primarily designed for ham radios, some antennas can also be used for other applications, such as scanning or monitoring different frequencies. Always check the antenna's specifications to see what it's capable of.
What should I look for when buying a portable ham radio antenna? Consider factors like compatibility with your radio, frequency range, build quality, price, and reviews from other users. It's also beneficial if the antenna is easy to install and use.