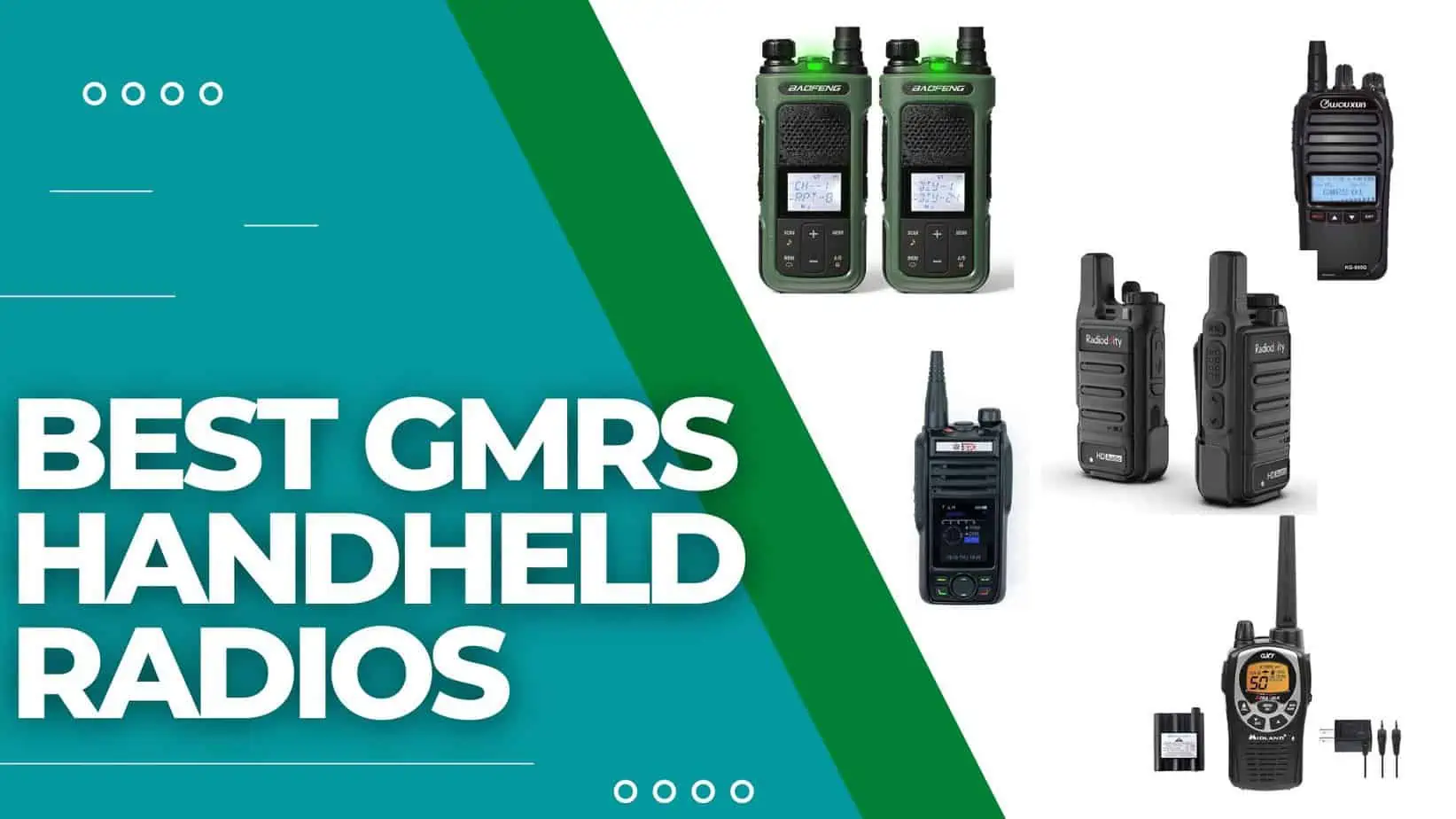 Top 5 Best GMRS Handheld Radios In 2023
Looking for the Best GMRS Handheld Radios?
When it comes to finding the best GMRS handheld radios there are more than a few models that you can choose from. But scouring the internet for reviews and feedback on each and every brand can be incredibly time consuming. But don't worry! We've done all the hard work for you.
We have tested and reviewed some of the best models on the market and brought you the five best options. Taking into account features, reliability, display and audio clarity, we take our top picks seriously.
No matter what you're looking for, these picks have what you want. From a great value package, to the most premium choices. Read on to find your next GMRS handheld radio!
Pros
Excellent build quality
High-quality radio with exceptional signal handling
Superheterodyne radio
Easy navigation through menus
IP66 dustproof and waterproof (water-resistant)
Convenient programming
And the 2600 mAh Li-ion battery.
Cons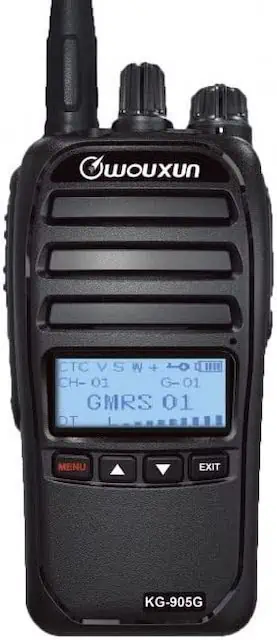 Quality is the mantra that guides the path of the Wouxun KG-905G Professional GMRS Two Way Radio. The word "professional" here relates to the build and performance of the radio. You won't need a business license for the KG-905G, it means that it was built with professional and business quality as key factors, though meant for general use.
You get a sense of the build quality as soon as you hold the radio in your hand. It appears to have some heft and feels good in the hands. The overall build quality also becomes apparent in this situation.
There is something to like about the simplicity of this radio. Though feature-rich, it isn't crowded with buttons. Only four buttons show up on the face of the radio. Its side has a large PTT button, followed by two smaller programmable buttons.
The screen is a small LCD, though it's bright and clear. The text and information on the screen remain clearly visible. It might occasionally struggle in bright sunlight, but generally works great outdoors without a problem.
Wouxun KG-905G works on the GMRS spectrum. It also includes 8 GMRS repeater channels. Their presence allows the possibility of greater range for the radio, beyond its own transmission power. Of course, this assumes a suitable repeater is available.
Users can also set up 16 groups for 256 custom channels. This specific feature becomes available through PC programming. You can also use the same software to assign functions for the programmable buttons on the side of the radio.
Programming for the Wouxun KG-905G hasn't yet made it to CHIRP. Therefore, you'll have to use the company's proprietary software to handle these tasks. The manufacturer's attention to detail, which is the hallmark of this radio, is also clearly visible in the software. Its programming is convenient and easy to handle.
One factor that puts the signal quality of this radio beyond its competition, is its use of a superheterodyne receiver. Most GMRS HT devices use a homodyne receiver.
Using the superheterodyne receiver is a huge benefit for the overall signal quality and voice clarity. When you use squelch with this radio, the sophisticated technology and circuits come into action and make the signal better.
Using the squelch function shows a change even in cheaper radios. However, the quality of the change and its transition are entirely different. Moving squelch on the Wouxun KG-905G seems so much more natural and intuitive.
While we're on intuitiveness, it's worth mentioning the menu and settings of this radio. They're all very clearly laid out. Even a beginner would likely find their desired settings without any trouble.
You may have noticed that I like pretty much everything about this GMRS radio, making it our top choice as the best handheld GMRS radio. It's not entirely free of problems. To be specific, the price is a consideration with this radio.
An average low-cost handheld GMRS radio is capable of meeting most requirements of a conventional user. While the Wouxun will outperform much of its competition on multiple points, it isn't possible to ignore pricing as a factor.
However, if your primary concern is the quality of the radio, Wouxun KG-950G is an excellent choice. Oh, and did you know the pronunciation of the Chinese word Wouxun is "o-shun"? That's our fun little fact for the day!
Our Ratings
Features: 9.5/10
Reliability: 9/10
Value for Money: 8/10
Audio Clarity: 9.5/10
Display: 8.5/10
Overall Rating: 9.5/10
Pros
Good audio quality
IP67 waterproofing
Digital GMRS with texting and data
Built-in GPS
Large, color screen
The companion app is useful and easy to handle
Easy firmware updates
Easy programming through the radio and app.
Cons
Works best with similar model radios
Difficult to attach the belt clip (even with included screws and screwdriver)
High price tag
Battery has trouble keeping up with radio features.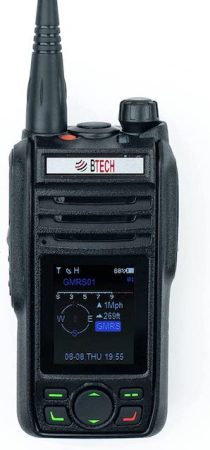 If you want a new age GMRS radio, BTECH GMRS-PRO is a great pick. This GMRS radio is capable of digital data transmission and thus it has some very exciting features. It also has some regulatory aspects where it deviates from general GMRS radios, so they're worth a look too.
Before we go to the regulatory points, let's talk about this GMRS radio.
The first thing you'll notice about the radio is probably the large screen at its front. This is a color screen that shows information like the GMRS channels, transmit power, battery, and date and time. Depending on how you set it up, it can also show a digital compass, elevation, and GPS directions. Of course, the menu and texts also show up on this screen.
BTECH GMRS PRO comes with a companion app that's available for iOS and Android. Once you have the app installed on the smartphone, the GMRS radio and smartphone can connect and pair via Bluetooth.
The app is important here. A lot of the radio's functions are handled by this app or work with it. This includes settings, texting, setting up frequencies and groups, customizing buttons, and a lot more. Even firmware updates for the handheld radio are pushed through the app.
You can handle much of the programming requirements of the radio on the radio itself. However, it's much easier and convenient to do these via the app. Currently, it's not possible to program this radio with CHIRP or similar software. It's unclear if this option will be available in the future. That part is handled by the app, and it does so magnificently.
As you can guess, I like the app. It's clean, easy to use, and handles the features of the radio without a hitch. It's possible to download maps for offline use with the app, in case you're traveling somewhere with questionable network connectivity.
It's worth pointing out that the maps won't show up on the radio's screen, though its built-in GPS will show directions. To view maps, you will have to rely on the smartphone app.
The GMRS radio is very responsive to changes made through the app. Likewise, the app is quick to pick up on changes made through the radio. For example, if you change the frequency or group through the app, the radio will respond quickly. Similarly, if you change the frequency or group on the radio, the change will reflect in the app quickly.
There are six channel banks on the radio, each with 30 channels. The first channel bank is already filled with conventional GMRS frequencies and related channels. Users can customize the others to fit their own requirements.
Interestingly, there is no roger beep here. Instead, the radio transmits a burst of data, which radio speakers pick up as noise (think old-school internet modems). In a way, this functions as roger beep.
Users can send texts through the radio (using GMRS data), even when there is no cellular network. Of course, this requires that the receiving radio be in the range of data communication. Conventionally, the data transmission range is lower than voice range.
Other notable features of this radio include IP67 waterproofing, USB-C charging, belt clip with screws, and a 2600 mAh battery. Thanks to USB-C compatibility, the radio is quick to charge. However, the 2600 mAh battery struggles to keep up with the GPS, Bluetooth, large screen, and conventional radio use. You might find it draining rather quickly.
The FCC requires that GMRS radios with digital functions have fixed and integrated antennas. Additionally, when using GMRS for texts, you can't send several texts in a row. If you do, the app will ask you to wait and stop sending texts.
Overall, this is a fun and feature-rich radio. However, it works best with similar radios. So, if you intend to buy this radio, it makes sense if your friends/family, or people close by use it too.
Our Ratings
Features: 9.5/10
Reliability: 9/10
Value for Money: 8.5/10
Audio Clarity: 9/10
Display: 9.5/10
Overall Rating: 9.5/10
Number 3. BAOFENG G11S GMRS – Best Budget Handheld GMRS Radio
Pros
Attractive pricing
USB-C charging
It's Repeater capable
Easy to program
And good battery backup.
Cons
There is No water protection rating
No programming cable in the box
Pre-programmed privacy codes make it difficult to communicate with non-Baofeng G11S radios.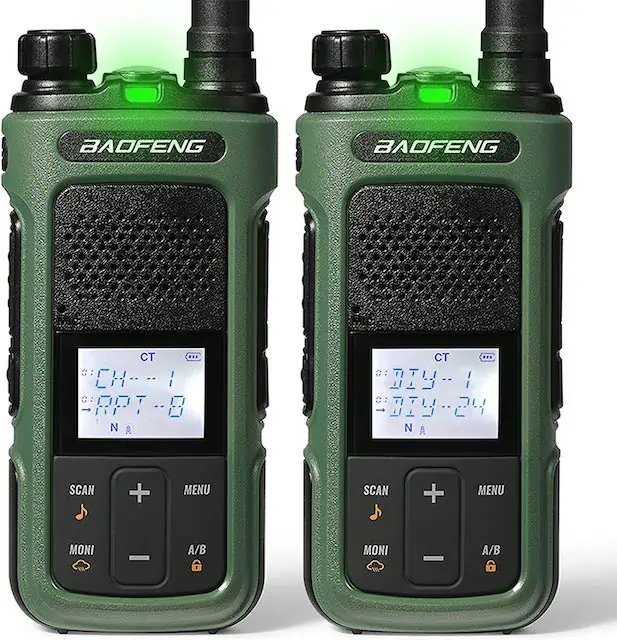 Baofeng G11 GMRS radio is a relatively new model. Well, it's been around for more than a year, but in the world of GMRS radios, models can stay on for several years. But there are benefits to new models too.
This one has an updated look to fit modern aesthetics better. It feels like a new, fresh design, even if the classic features and functions remain the same as older GMRS radios.
There's a tiny screen at the front that shows the battery, channels in use, and other similar info. This screen is backlit and works well in the dark as well as in the sun. Towards the side of the radio, you'll see the large PTT button. A small button finds a place a little above the PTT button. This button handles the LED flashlight, which is at the top of the radio.
G11S is a pre-programmed radio. It's ready to use right out of the box and doesn't need programming. However, should you feel the need for programming, it will work by attaching a standard K-plug cable. The programming cable isn't a part of the box and will have to be purchased separately.
Interestingly, while the Baofeng G11 GMRS is compatible with software like CHIRP, it isn't as readily found there. For many people, choosing the Retevis RB27 does the trick. That makes me think that these are both the same radio.
If you look at the Retevis RB27, it pretty much has the same form factor and features as the Baofeng G11S. It appears they just use a different color scheme!
Apart from the GMRS channels, the radio can also receive FM and 11 NOAA weather channels. It's quite fun and easy to use.
Speaking of weather, one huge negative that stares us in the face here is the lack of any water resistance rating on the radio. As such, it's best to assume that there's no water-resistance here, and the radio could be in danger even with a light rain shower.
Handhelds are supposed to go outdoors, so this lack of water protection is a bit annoying. I suppose if you are taking this radio outdoors, keep tabs on those NOAA weather channels to see if there are any chances of rain!
Power from the radio comes from a 1500 mAh Li-ion battery. Charging the battery happens through a USB-C cable, which is included in the box. The availability of the USB-C cable and Li-ion battery ensures that the radio is quick to charge.
Besides, Li-ion batteries show much better performance than NiMH batteries that have traditionally powered radios.
Another useful feature here is that this radio is repeater capable. It offers 24 DIY GMRS repeater channels and four groups of repeating frequencies. These can come in very handy for several applications and even provide the radio with a greater range where necessary.
Other notable features include VOX, switching between narrowband and wideband, 10 selectable call alerts, channel monitor, and channel scan.
Overall, Baofeng G11S is a feature-rich GMRS radio that comes with an attractive and affordable price tag. It's relatively easy to use and has an acceptable voice and Tx capability.
Our Ratings
Features: 8/10
Reliability: 8/10
Value for Money: 9/10
Audio Clarity: 7.5/10
Display: 8/10
Overall Rating: 8.5/10
Pros
Noise-canceling and impressive audio quality
Rugged build and design
Micro USB charging
Powerful 3000 mAh battery
Easy programming.
On the downside…
No programming cable in the box
Pre-programmed privacy codes make it difficult to communicate with non-compatible radios.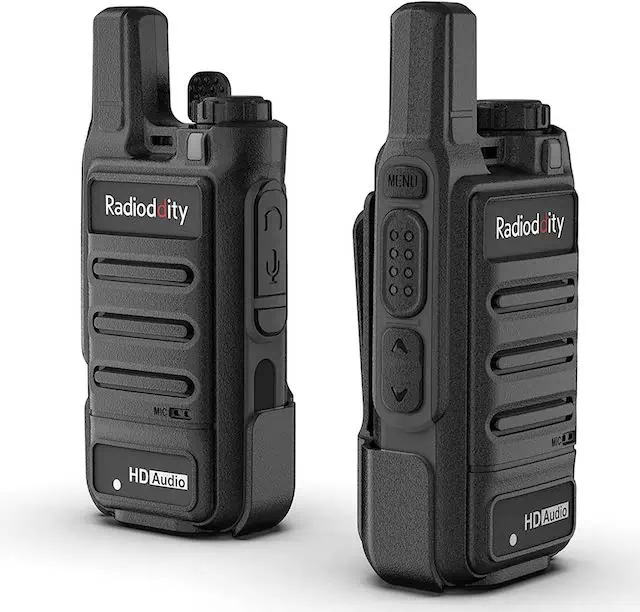 Want a no-nonsense GMRS radio with a good battery backup? Radioddity GM-N1 GMRS Radio has things handled for you. This is a straightforward device with no screen and a rather limited set of buttons. The idea here is simplicity, after all, the radio is more focused on ease of use and voice quality.
To keep the voice quality at its best, the radio uses an AI NC chip, which improves audio quality while also reducing background noise. So, if you're traveling in a noisy car, the radio will remove much of the noise before transmitting. Similarly, when you receive a transmission, it enhances the signal for better audio quality.
Interestingly, the noise-canceling feature isn't always active. Users can manually activate it by pressing a small button located right above the PTT button. The noise canceling function button can also serve as the menu button when necessary.
Having noise cancellation active only when necessary is a way to save power. It is reasonable to assume that the user won't always be in a noisy setting. So, the radio conserves battery by running the noise cancellation only when necessary.
Since there is no screen, Radioddity makes the function of the GM-N1 easier. It's pre-programmed and ready to work right out of the box. It's programmed with privacy tones, so it won't work with all radios from different brands right out of the box.
However, it will work with other Radioddity radios and other similarly programmed radios like the Baofeng G11S, Baofeng UV-5X, Retevis RB27, and others.
Users can change the privacy tones and other options of the radio with programming. Radioddity GM-N1 is not compatible with CHIRP, so you'll have to use the company's proprietary software. While I would have preferred CHIRP, Radioddity CPS is easy to use and makes programming easy.
Should you decide to go this route, you'll have to buy a separate programming cable since it's not included in the box. This radio uses the normal K-type two pin programming cable.
Another highlighted feature of this radio is its battery. This unit holds a 3000 mAh Li-ion battery. Since it doesn't have to expend its energy on running a display, the battery can focus on running the radio.
Radioddity claims that the battery can last for five days. That's actually the standby time. In a real-world setting, the battery can survive almost 2 days of normal use. Either way, this is an impressive number. Not many radios would claim a battery backup as impressive as this.
Most handheld GMRS radios aim for the full 5W power output they're allowed. Radioddity GM-N1 is content with an output power of 3W. This has a small effect on range, but it's not a huge detriment. In a normal setting, you can still expect this radio to hit about a mile or thereabouts.
If there are GMRS repeaters available, the range can increase substantially. This unit is repeater capable and handles communication without a hitch.
Overall, the Radioddity GM-N1 is a handheld GMRS radio with a rugged build, solid battery, good battery life, impressive audio quality, and an excellent noise canceling system.
Our Ratings
Features: 8/10
Reliability: 9/10
Value for Money: 9/10
Audio Clarity: 9.5/10
Display: N/A
Overall Rating: 9.5/10
Pros
Crisp audio quality
Several useful and desirable features
Relative ease of use (after initial setup)
Multiple options to charge battery and power radio
Backlit display
Decent range.
Cons
It is old and is beginning to show its age
Very limited and tiny display
Battery takes a long time to charge
Included headset is terrible.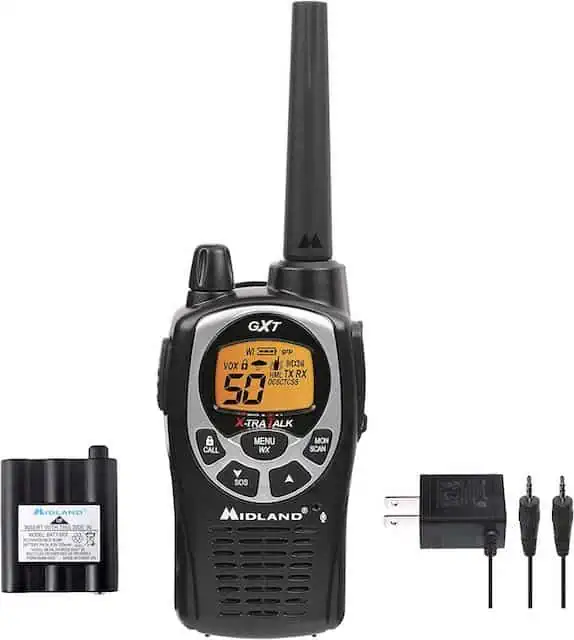 Midland GXT1000VP4 GMRS radio is an old workhorse in the world of GMRS handheld radios. It is beginning to show its age, but it remains a solid choice as a GMRS radio. Beginners and advanced users too can find plenty of uses for this two-way radio.
It's available in a few color options, including a camo print, which should go well for those who intend to use this radio on a hunting trip.
There are a variety of charging options, which make this radio suitable for several purposes. It's possible to use a wall charger, a car charger, or a charging cradle. If you prefer, it's also possible to use four AA batteries for powering the radio.
Midland often includes these additional options in its bundles, which adds to the convenience and cost-effectiveness over purchasing these separately.
The default battery for this radio is a 700 mAh NiMH pack. For the first charge, it's best to leave it on for a day (24 hours). Subsequent charges can take as much as 12 hours.
Given these charging times, it might be better to keep multiple battery packs or AA batteries, should you want to use the radio for longer times.
While charging is an aspect where the radio displays its age, it is most annoyingly evident with the display. Midland GXT1000VP4 has a small screen that has very limited options to display. You can see the channel number and some relevant information, but using the menu is a nightmare.
Midland uses cryptic abbreviations for the menu, which would be unintelligible to the average user. The key to this puzzle is the manual supplied with the radio.
Though dealing with the menu is annoying, most users won't need to delve in there much after the initial setup. Things become easier from this point forward.
The buttons on the radio are large, well-spaced, and easy to manage. They have a good tactile feel and work well even if you're using gloves.
Communication and voice clarity are the most important parts of any radio. Midland GXT1000VP4 does very well on these areas. The transmit and receive voice quality is clear and free of disturbance.
Unfortunately, the same cannot be said about the default boom mic headset with this radio. The audio quality of the headset leaves much to be desired.
Other notable features include eVOX with nine sensitivity levels, vibrate alert modes, five animal call alerts, 142 privacy codes, and NOAA weather channels scan and alert.
The claimed range is 36 miles, but in practical use, expect it to be slightly above one mile. It's rated JIS4 for waterproofing, which means the radio is splashproof and can handle light rain showers without facing damage.
Overall, Midland GXT1000VP4 is a good choice for a GMRS handheld radio. A decent range, pricing, and features help its cause, but it's not the right fit for users who may want some specific advanced features.
Our Ratings
Features: 9/10
Reliability: 9/10
Value for Money: 8.5/10
Audio Clarity: 9/10
Display: 7/10
Overall Rating: 9/10