Updated July 18, 2023
Not sure which is the right ham radio base station to buy? The best ham radio base station in 2023?
The best ham radio base station is the Yaesu Original FT-450D. Its compact size and rich features make it stand out from the rest base stations.
Our Top 3 Picks
Yaesu FT-891 – Our Top Choice
Kenwood Original TS-590SG – Best Premium
Xiegu G90 – Best Budget
10 Best Ham Radio Base Stations Reviews
Pros
IF DSP ensures effective QRM rejection
100 watts for reliable and solid performance
Ultra-compact design allows for increased portability
Large LCD enables better viewing
Cons
It has a complex menu, which can be confusing for some operators
Can get super-loud at 100W
The FT-891 comes packed with numerous useful features and functions, making it a great purchase for the money. Moreover, this device can be used as a mobile or base station.
To begin with, this unit boasts a rugged, die cast construction that makes it incredibly durable. At 17 x 9 x 5 inches in dimensions, the FT-891 is smaller than the FT-857, making it the perfect option for desktop mounting.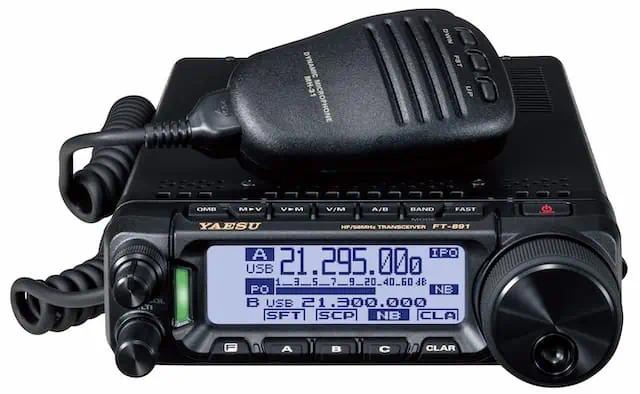 Besides its outstanding build-quality, this device features a power output of 100 Watts and can cover HF bands. In addition, the unit can operate on all bands that range from 6 meters to 160 meters.
Key Features
Large LCD for enhanced viewing
Compact and lightweight design for portability
Features a triple conversion receiver for improved versatility
Supports CW, AM, USB, and LSB operating modes
For improved versatility, this device comes with a triple conversion receiver, meaning you can tune it within the 30 KHz and 56 MHz range. It also can run on several other modes such as CW, AM, USB, and LSB.
Other handy features include a noise blanker, a large LCD display and backlight keys plus display for convenient night time operation.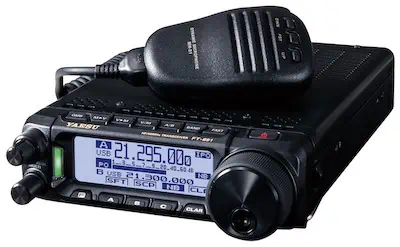 On the downside the complex menu, can take you some time to get used to. It also gets noisy at 100W, but can be quieter when operating below 50W.
Yaesu FT-891 Specification
Transmit Output Power: 100 Watts
Modes of Emission: A1A, AM, LSB, USB, FM
Impedance: 50 Ohms
Operating Temperature Range: -10 °C to +50 °C
Want More Portable and Base Ham Radio Options? Check These:
Pros
Premium build quality
Good ergonomics for easy use of the transceiver
Connects seamlessly with a computer for digital modes
The transceiver can be remote-controlled through a computer
Excellent cooling system
Cons
The high price tag can be a discouragement
The received audio quality could be better and easier to manage.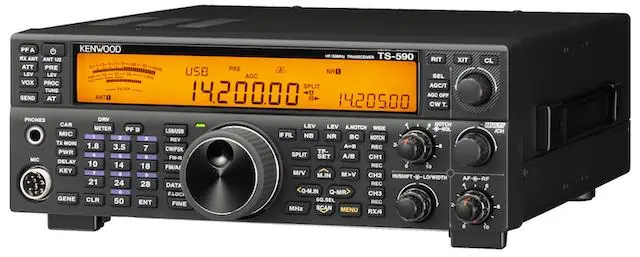 Kenwood TS-590SG is a big old HF radio with amazing features. It's amongst the heaviest entry-level HF transceivers and focuses on performance and high-level response. Kenwood launched the TS-590S back in 2010. The transceiver has since seen a model update, which is available in the form of the TS-590SG.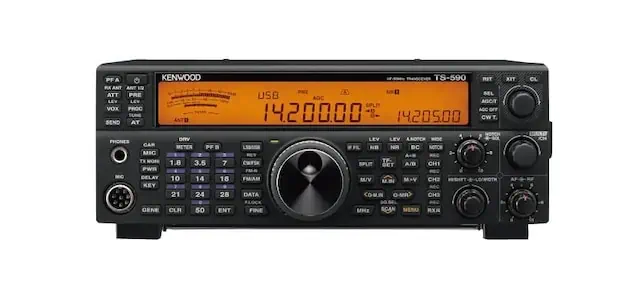 This transceiver looks and feels the part of a premium, high-quality radio. All those buttons on this radio might feel intimidating at first, but if you know your way around HF radios, you'll find they're intuitive and make using this radio very easy.
Pretty much any function or feature of this radio can be accessed with the single press of a button or by turning a knob. This makes for a quick and efficient way to go about these things.
Holding Up to Competition
Kenwood TS-590SG is often compared to other famous HF radios in its general range, like the ICOM IC7300. However, keep in mind that though both these transceivers fit into the same niche, they take on a very different approach.
For example, while the IC7300 is apparently easier to operate thanks to its touchscreen LCD, it can also be the more complicated option! Many features and settings on the IC7300 require multiple taps, going through several menus, and finding the right setting.
Conversely, everything the TS-590SG has to offer is available as buttons or knobs at its front. The Kenwood radio is also significantly more expensive and heavier than IC7300.
Kenwood has chosen to walk the path of a simple display on the 590SG. There's no bright LCD with a band scope and similar features. Yet, this radio doesn't lack any features. You can handle almost all HF radio needs with this one.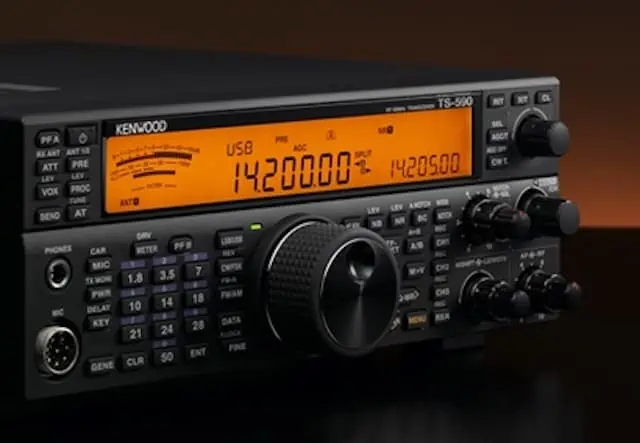 Using This Radio
There is something of a learning curve with this transceiver, but it isn't overly complex or difficult. Yet, it also has enough room should you want to explore further or experiment with the Kenwood TS-590SG.
Another interesting feature here is digital connectivity. There's a USB port on the radio to make that happen and you can connect it to your computer. And just like that, digital functions and SDR become available.
It works seamlessly with Kenwood's software control app or other software like DXLab Suite. Kenwood's included software is a treat here. It mimics the operations of the transceiver and has a great response. The remote IP control and VOIP capabilities of the radio are pretty good, as is the software handling it.
The front of the radio is dominated by numerous buttons, knobs, and a bright display. It is possible to change the backlight color of the display to suit your needs. The display color starts with amber and can pass through 10 steps to reach green. Each "step" is an intermediate color for the display.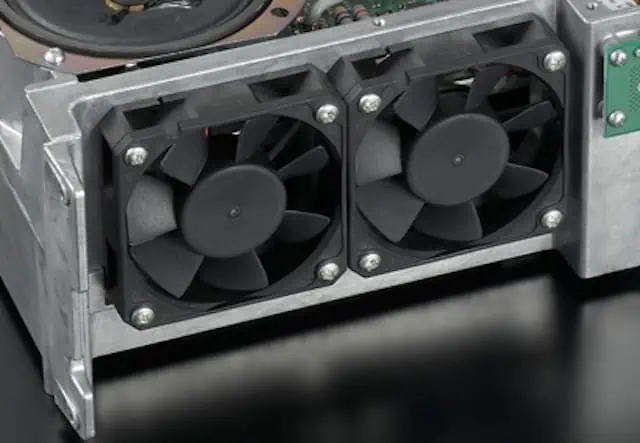 Overall Stats
Apart from all the buttons and knobs, the front connector also has room for a 6.3mm phone jack and a mic connector.
Overall, this is a remarkable transceiver with good audio receive, excellent transmit audio, easy digital connectivity, and top-notch ergonomics. Its price might give you pause, but if you can afford it, Kenwood TS-590SG is worth every penny spent.
Our Ratings
Functionality: 9.5/10
Reliability: 9.5/10
Value for Money: 9/10
Overall Rating: 9.5/10
Want More HF Options? Check This: The Best HF Radios
Pros
Compact size and portability
Attractive price point
The front panel is removable
The built-in antenna auto tuner is very effective
Overall feature-rich radio.
Cons
The maximum output power is 20W
There is no backlight for the control buttons or knobs.
Xiegu G90 HF Radio isn't just a cheap HF radio that you buy solely for the price. The G90 has enough capabilities to stand its own ground. The price tag is the cherry on top of all that this radio has to offer.
The compact unit measures 1.77-inch (L) x 4.72-inch (W) and has a depth of 8.26-inch. That alone will give you plenty of flexibility to install or place this radio where you want it, but Xiegu goes the extra mile here.
It has four extension handles that can screw into the sides of the radio (front and back). Additionally, the front panel (face plate) is detachable. The radio comes with a DB9 cable to make this possible. All these features and capabilities bode well for the convenience of installing this radio.
Look and Build
The front of the Xiegu G90 HF Radio has a few buttons and a few knobs, but it's dominated by the large color display. This LCD shows plenty of information like frequency, volume, signal, standing wave, and more. It even has a waterfall to display the frequencies.
However, this isn't a touchscreen and not nearly as advanced as the displays you'd see on ICOM IC7300 or Yaesu FTDX10. Then again, these models cost almost two to three times more than the Xiegu G90.
While the display on the radio is crisp and bright, the lighting doesn't extend to other buttons or knobs. None of the controls are backlit, which I think is a huge oversight. Better visibility of the controls is important for a portable radio, which might easily find itself in low-light conditions.
Transmission and Antenna
Another factor where Xiegu G90 HF Radio lags behind many of its competitors is transmit power. This radio tops out at 20W, though other HF radios generally prefer to have a max transmit power of 100W. Although for a unit that has portability in mind, the 20W output is pretty decent.
Though it might be lacking in a few aspects, Xiegu doesn't feel like it misses out on a lot. I like that a lot of functions for the radio can be handled with the included microphone. Apart from the conventional buttons, the microphone has a few dedicated function buttons and two configurable buttons.
You can adjust the built-in antenna tuner for the radio completely through the microphone. Speaking of the built-in tuner, Xiegu's tuner appears to be a very impressive one. Many users find it absolutely fun. The tuner will work with anything metal and use it as a decent antenna.
Well, there's bound to be some loss if you don't use a proper antenna, but still, the built-in auto tuner deserves appreciation.
Interfaces and Overall Impression
On the left side of the radio, you'll find room for two interfaces. One of these is the standard 3.5mm audio jack where you can attach the headphone of your choice. Alternatively, you could also attach your choice of speakers here for better, clear audio.
The other spot is for the "self-defining interface". Simply put, you can use this spot for firmware updates or for connecting this radio to a computer.
Overall, this is an excellent radio that punches above its weight. While it falls into the budget category, Xiegu G90 HF Radio isn't a cheap pick. Rather, it's a cost-effective and feature-rich option.
Our Ratings
Functionality: 8/10
Reliability: 8.5/10
Value for Money: 9/10
Overall Rating: 9/10
Want to See More CB Options? Check These:
Pros
Offers unmatched convenience with its useful controllers
Great power output on CW, AM, SSB, and FM
Has great transmit audio
It has easy to program emergency channels for enhanced safety
The external jack allows easy connection to loud speakers
Backlight LCD for convenient use at night or in dark places
Cons
The display could focus more on frequencies instead of channel numbers
The receiver could be made more powerful
Key Features
Supports AM, FM, LCB, USB, and CW operating modes
Automatic Noise Limiter block impulse and static noise
CW filter improves clarity
Multi-functional LCD display
VOX functionality for hands-free operation
User-programmable emergency channels 1 and 2
An upgraded version of the popular President Lincoln II, the President Lincoln II Plus comes loaded with advanced features including a 12 meter band for enhanced performance and better user experience.
While the President Lincoln II Plus shares a lot in similarity with its predecessor, it includes several upgraded features. Except the addition of the 12-meter band, it boasts HF output power 35W PEP SSB and an improved 35W FM.
In addition to the SSB mode, this unit also provides AM, FM, and CW modes giving you more choices to choose from. You may also like that this device provides DCS code and CTCSS tone options, allowing you to use 10m repeaters.
Another standout feature is the Automatic Noise Limiter, which helps block out static and impulse noise peaks and Noise Blanker filters that helps keep pulse-type noises minimal. There is also the HI-CUT filter, which helps eliminate interferences.
The President Lincoln II Plus also features SWR meter and S-meter on the display, which come handy when tuning up antennas. It also comes with voltage protection and SWR protection settings for convenience.
The base ham radio has 6 memory channels, allowing you to easily store your favorite channels and you get two programmable memory banks where you can set emergency frequencies for quick access.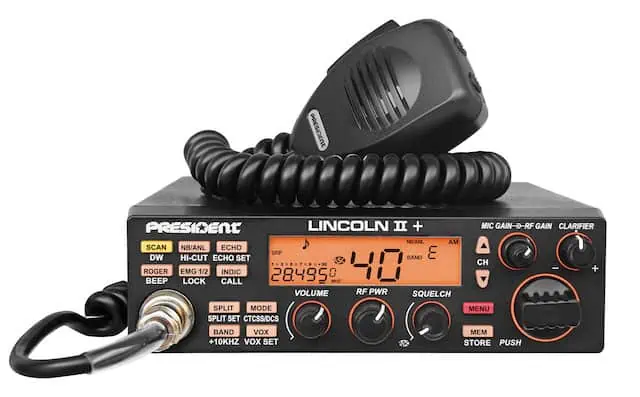 Also, it offers a VOX function, which allows you to conveniently operate this device hands-free using your voice. You won't face issues with sound clarity when using this unit, thanks to external loudspeaker jack that lets you make the sound louder.
Other cool features of this device include the user-friendly controllers such as menu function key, volume adjustment and ON/OFF, rotary switch and many more. These controllers offer unmatched convenience when it comes to operating the device.
However, one of the downsides is that the menus can be too complicated such that some users may find it a challenge to navigate. Also the screen tends to display the channel numbers instead of the frequencies, which might hide a lot of details.
Overall, the President Lincoln II Plus is worth buying considering its great transmit audio, outstanding signal sensitivity, multiple noise filters, and increased versatility.
President Lincoln II Plus Operation Manual
President Lincoln II Plus Specifications
Transmit Output Power: 50 Watts
Modulation modes: AM, FM, USB, LSB and CW
Antenna Impedance : 50 ohms
Frequency allowance : +/- 300 Hz
Maximum audio power: 3 W
Display :LCD multifunction
Check out our review of Best Long Range Two Way Radios
Pros
Rugged and compact for increased durability and portability
Spectrum scope works to identify signal locations in real-time
The waterfall display allows easy hunting of weak signals
Outstanding performance
It has a range of color display for the ultimate visual experience
Cons
Expensive
There are lots of knobs on display, making it complicated to operate
It can be quite a challenge to program
Key Features
3 kHz roofing filter for improved performance
Inbuilt 3.5" touch screen for enhanced operation and visibility
Multi-color waterfall display to view the strength of the signals
Multi-functional LCD display
Compact and lightweight for portability
Features a modern 32-bit Digital Signal Processing System
If you're looking for a compact and rugged, full-featured ham radio base station and money isn't a problem, you can't go wrong with the Yaesu Original FT-991A.
Unlike many of its competitors, this unit offers more versatility as it's capable of receiving and transmitting on AM, FM, SSB, CW, and other digital modes such as packet, RTTY, PSK31, and C4FM . It has a power output of 100W to ensure a solid power performance.
Another feature that sets it apart from its competitors is its advanced real-time spectrum scope, which enables you to effortlessly identify the location of your signals.
It also comes equipped with a DSP system, so you can receive clear and loud signals.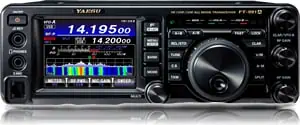 Besides that, it features a 3 kHz roofing filter, to further minimize interference and improve its performance remarkably. Thanks to the multiple-color waterfall display you can also check the strength of signals.
On the downside, this base ham station can be quite overwhelming to operate due to the many different knobs on the front panel.
However, this device has everything any beginner or professional ham operator might need for effective ham radio communication. The unit is compact and well-build, so you can expect it to serve you longer than most of the other models out there.
Yaesu FT-991A Operation Manual
Yaesu Original FT-991A Specifications
Transmit Output Power: 100 Watts
Tuner Technology: UHF
Modulation Type: CW, AM, LSB, USB, C4FM, FM
Warranty: 3 Years
Pros
Compact design allows for increased portability
Solid build quality for longevity
The touch-screen makes it easy to operate the device
It has an intuitive interface that's fast and easy to navigate
Fast spectrum scope makes finding weak signals super easy
Offers improved sound quality
Cons
It's expensive
You can face challenges rejecting QRM
Key Features
High quality build; compact for portability and rugged for durability
Comes with 101 memory channels for convenience
High performance DSP technique
Supports radio-teletype (RTTY) for wireless connection to multiple teleprinters
The ICOM 7300 is one of the best premium models out there, highly regarded for its outstanding quality and lots of useful features it provides.
One of the most notable features of this device is the RF Direct Sampling System, which ensures you enjoy quality audio with minimal noise. This feature works by digitizing RF signals and relaying them via the FPGA. This helps lower noise levels significantly while also making the circuit simpler.
Besides, it features an internal auto-tuner and a Continuous Wave (CW) function to cancel out unwanted noise. It also supports Single Side Band (SSB), meaning it makes use of the internal amplifier to improve the sound quality and volume.
Another impressive feature worth mentioning is the unit's 4.3 inches LCD waterfall touch screen, which makes operating the device effortless.
There is also an IP+ feature that enables the base station to receive weaker signals that are usually masked or overridden by stronger signals. This way, you get to eliminate signal interference, so you can hear even the weakest signals more clearly.

It is uniquely designed with a radio-teletype (RTTY), which allows you to wirelessly connect it to multiple teleprinters. Besides the RF Direct Sampling system, this unit also boasts up to 15 band-pass filters that work together to deliver superior performance.
One of the issues with this ham radio base station is its steep learning curve due to the many features included. It's also quite expensive.
In conclusion, if you're ready to spend a few extra dollars on a quality unit, then you can't go wrong with this ICOM 7300 ham radio base station.
ICOM 7300 Specifications
Transmit Output Power: 100 Watts
Frequency: 50 MHz
Receiver type: Direct sampling
WRX Frequencies: 030-74.800
Digital Mode Audio Input Output: USB or 13-pin DIN
Memory Channels: 101
Check Out How the Best Radios to Help in an Emergency:
7. Kenwood TS-480HX HF – Most Powerful Ham Radio Base Station
Pros
Rugged build quality ensures improved durability
Incredible reception with a low noise floor
Great feature set for the money
High power output provides reliable and solid performance
Compact design allows for better portability
Different filters ensure optimum performance and clearer signals
Cons
Lacks a quick split function key
Might need more than a 40 Amp power supply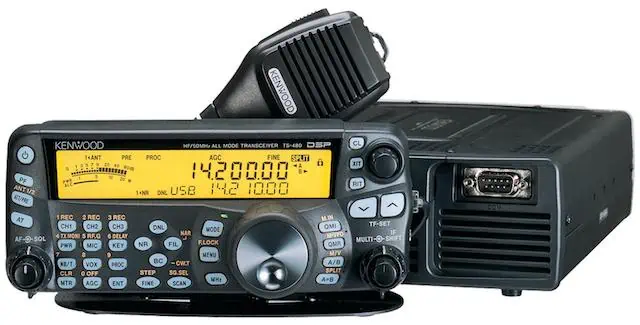 Kenwood TS-480HX is a high-end option best-known for its unrivaled performance and power.
At 12 x 4 x 6 inches, the Kenwood TS-480HX is a pretty compact unit and boasts a robust and rugged build quality, making it a great option for use on-the-go and outdoor expeditions.
It's one of the most powerful ham base stations with a power output of 200-watt.
This high-end unit also stands out for its performance as it offers incredible reception on the HF band and every other Amateur band. It also comes equipped with an endless list of amazing features and functions for improved user experience and overall performance.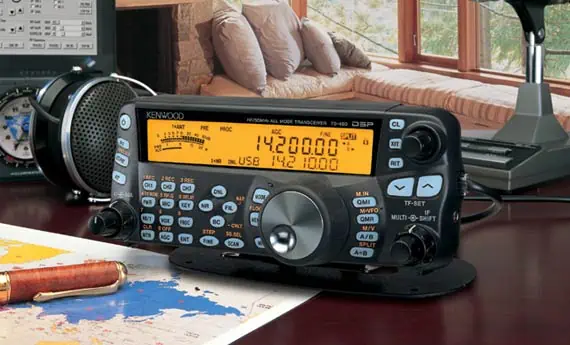 Key Features
Features 200W with DC 13,8V supply
Robust, rugged and powerful
Compact and lightweight for portability
Different filters for clear signals
Another notable features is its ability to monitor split frequency and the various filters included, which you can adjust to get the best performance with minimal noise. It also comes equipped with two coolers.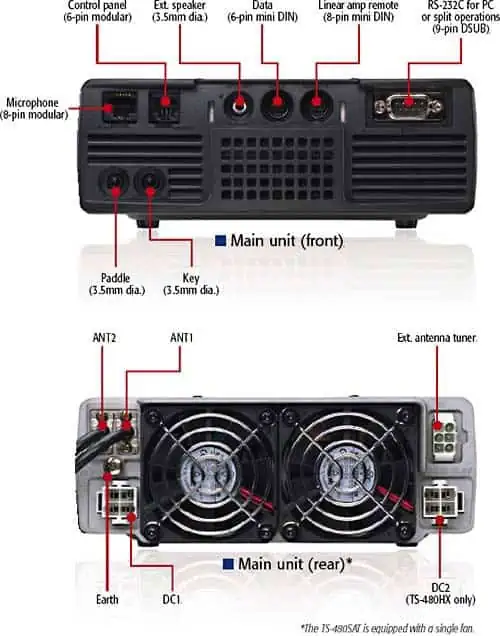 For the downside, this unit doesn't come with a quick split function key for added convenience and a 40 Amp power supply might not be enough.
Kenwood TS-480HX HF Operation Manual
Kenwood TS-480HX Specifications
Transmit Output Power: 200 Watts
Receiver Frequency Range: 5 – 30MHz, 50 – 54MHz
Operating Temperature: -20°C – +60°C
Microphone Impedance: 600 Ω
Modulation: SSB, FM, AM, Low Power
Want to Keep Your Kenwood TS at Full Power? Check This:
Pros
Boasts a compact design for improved portability
Has a solid build-quality for rugged durability
Has a DSP function, allowing faster signal receive
Provides utmost convenience with up to 101 memory channels
The device is affordably priced
Minimizes noises without compromising sound quality
Automatically adjusts volume levels for a better user experience
Cons
Doesn't have a convenient button for switching the keyer on and off
Lacks a second filter option, which can be problematic for SSB
Doesn't come with an automatic tuner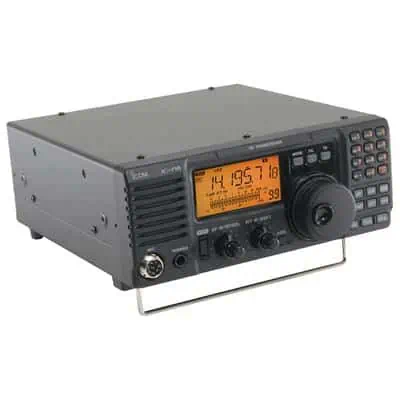 The ICOM IC-718 comes with a handful of features without costing an arm and leg. This amateur radio base station is highly regarded by many for its ease of use, making it a superb option particularly if you're new to ham radios.
One of the best features of the ICOM IC-718 is the adjustable noise blanker. With the auto notch filter, you can significantly reduce the noise levels without interfering with the receive audio.

It also boasts a Digital Signal Processing (DSP) function that allows you to receive faster and clearer signals irrespective of your location. In addition, it comes with an IF shift that lets you cancel out nearby interference.
Key Features
Rugged and robust construction for durability
Features compact and lightweight design
Adjustable power of up to 100 Watts for extended communication
Front Mounted Speaker
101 memory channels
Selectable antenna tuner
Another impressive feature is that it comes with an auto-adjust volume function. This unit's speaker is strategically fitted on the front panel, so you hear the sound loud and clear.
Additionally, it has large and well-spaced buttons that let you input your desired frequencies easily and conveniently. Plus it comes with an auto tuning step feature that allows you to tune a band up or down with ease.
The ICOM IC-718 provides up to 100 watts of adjustable power, so you can enjoy prolonged communication time. There is also a VOX feature and provides a total of 101 memory channels.
One of a few downsides is the the lack of a second filter, which cause issues for SSB.
All in all, the ICOM IC-718 base station is a great basic option with all the necessary functions and features to communicate using your ham radio effectively. The device is quite easy to operate, without the many bells and whistles that can be confusing for beginners.
Icom IC-718 Specifications
Transmit Output Power: 100 Watts
Modes of Operation: (No FM) USB, LSB, CW, RTTY (FSK), AM
Antenna Ports: 1
Digital Mode Audio Input/Output: 13-pin DIN
Memory channels: 1O1
Want More Options with VOX? Check These:
Pros
An affordable model loaded with amazing features
Lightweight and compact design allows easy portability
Comes with numerous noise and interference filters for better sound quality
Provides 200 memory channels to choose from
Designed to allow easy dialing of VHF repeater
Cons
The menu can be complicated for some users
The built-in speaker has poor sound quality
The screen easily gets damaged when exposed to direct sunlight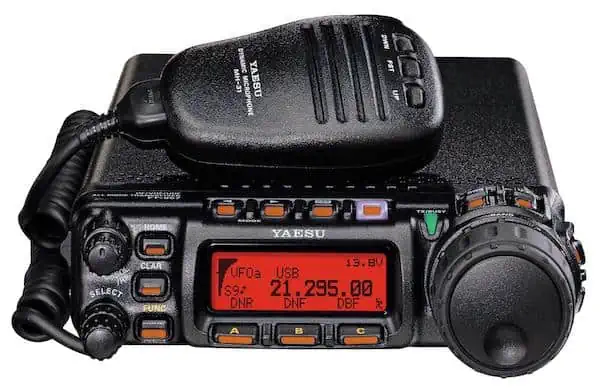 The Yaesu FT-857D is another exceptional, budget-friendly model and unarguably one of the smallest amateur transceivers you can find out there.
Measuring 2 X 9 x6 inches, this ham base station is incredibly small and compact. And due to its increased portability and versatility, the Yaesu FT-857D makes one of the most sought after models for outdoor use.
Despite its small size, the unit look and feels incredibly solid as it's made of a steel body. This makes it durable enough to withstand long-term heavy use.
The unit offers 100W of power output with HF/VHF/UHF modes and supports transmitter coverage for the HF, 50MHz, 144MHz, and 430MHz bands. Besides that, it gives you a receive coverage on 100kHz to 56MHz, 76MHz to 108MHz, 118 to 164 MHz, as well as 420 to 470MHz.
Key Features
Ultra compact design for increased portability
Comes with 200 memory channels for more freedom and choice
Noise reduction filters and multiple band-pass filters block unwanted interference
Comes with LCD display with 32 color options to choose from
With this base station, you get up to 200 memory channels that you can easily choose from. This gives you the option to uniquely name your favorite channels using an alpha-numeric label and even separate the memories into 10 groups with each having 20 channels.
What's more is that this device comes with multiple band-pass filters and noise reduction filters including a DSP noise remover.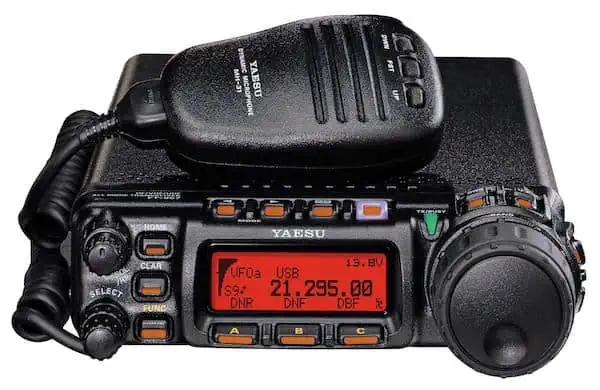 All the control functions on this device are ergonomic and nicely placed on the front panel. It also comes with a large LCD display with 32 colors and contrasts that you can play around with to achieve the perfect view in any light condition.
However, one of the things that you may not like is the poor sound quality of the internal speaker, which might force you to get an external speaker. Also, the menu can be quite a challenge to navigate for some users due to the numerous sub-menus.
While this unit has several minor downsides, it still makes a great purchase if you're looking for a high-performance, highly portable and versatile unit for your expeditions at a bargain price.
Yaesu FT-857D Operation Manual
Yaesu FT-857D Specification
Transmit Output Power: 100 Watts
Tuner Technology: HF, VHF, UHF
Antenna Impedance: 50 Ohms
Operating Temperature Range: -10C to 60C
Transceiver Input Voltage: 8 Vdc
Transceiver Maximum Current: 0 A
Looking for More Portable Outdoor Options? Check These Out:
Pros
Has a dedicated menu and user-friendly controllers for enhanced convenience and ease of use
Comes with mounting hardware, making the installation process quick and painless
Offers lots of channel options and freedom with 200 programmable channels
Provides optional power mode for a range of power uses
Lightweight design, allows improved portability
Allows monitoring of up to three different frequencies simultaneously
Cons
The small display screen makes it hard for users to read
Buttons aren't backlit, hindering use in dark areas
Next up is the BTECH Mobile UV-50X2, which is a complete 50W transceiver with up to 200 channels and multiple handy features, offering great value for money.
To begin with, the UV-50X2 ham radio base station separates itself from the other models on our list with its sleek LCD display that features up to nine color options.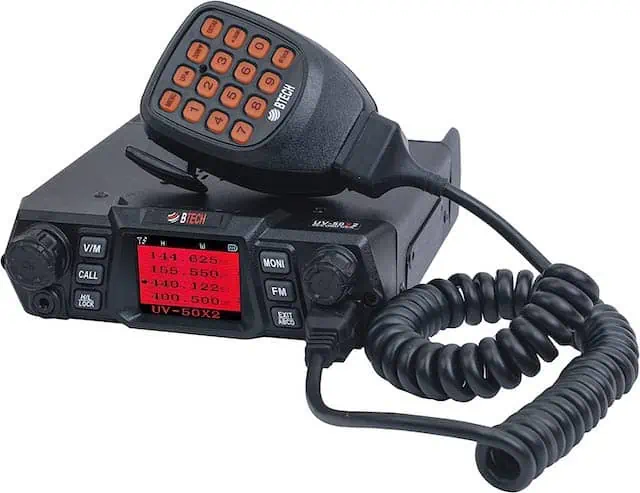 Its unique dual synchronize display mode, allows you to sync up to two channels and display their names and frequencies.
Additionally, this device boasts an auto power off, auto scan, variable frequency scanning, scanning resume, and many more convenient functions.
The UV-50X2 guarantees an incredible reception and transmission function with a frequency reception range of 65 to 108 MHz, UHF of 400 MHz to 520 MHz, and VHF of 136 to 174 MHz. This makes it a great option for both entry-level and professional users.
Key Features
High and low power settings (10 Watts or 50 Watts)
200 programmable memory channels for more choice and freedom
Comes with a number of user-friendly controls for convenience
Features mounting hardware for easy setup
Appealing LCD display with up to nine color options
Another unique feature of this ham base station is that you can adjust its microphone gain right from the menu of the radio. It comes with a DTMF microphone that features incredible sound clarity.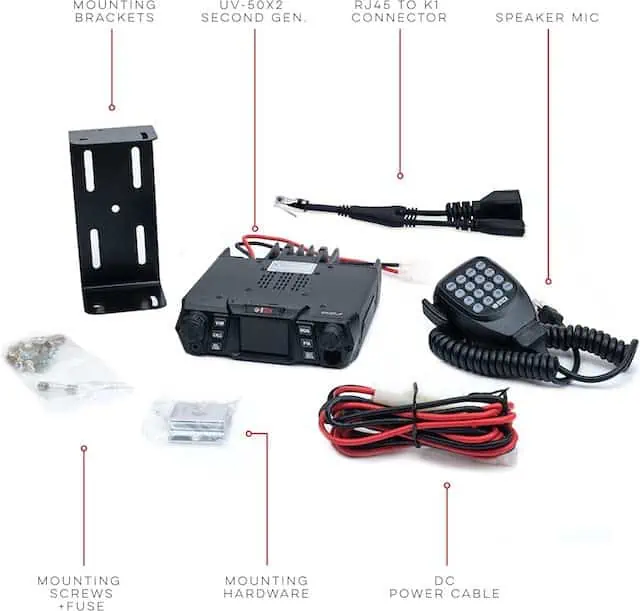 From the unit's dedicated menu, you can easily select your preferred scanning method for a simplified experience. On top of that, this ham radio base station can save your scanning settings, eliminating the need to set them again every time you reboot the device.
The speaker features 2W of power. This makes the BTECH Mobile UV-50X2 an ideal option for use even in noisy environments.
When it comes to ease of installation, this ham station comes equipped with everything you need to securely mount it including a mounting bracket and screws.
Moreover, the unit weighs only 2.6 pounds.
On the downside, the buttons are not backlight, which is not ideal in areas with poor lighting. The display screen is also a bit small, making it hard to read.
However, despite the few quibbles, the BTECH UV-50X2 makes a great option for anyone looking for a budget mobile HAM radio base station with all the required basic functions.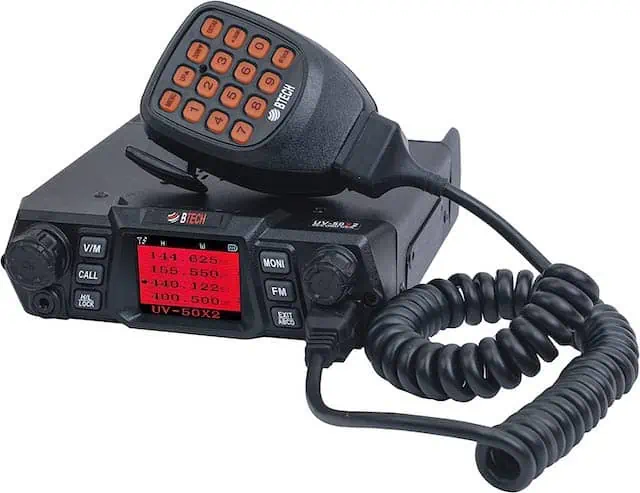 BTECH UV-50X2 Operation Manual
BTECH Mobile UV-50X2 Specifications
Transmit Output Power: 50 Watts
Tuner Technology: UHF, VHF
Channels: 200
Antenna Connector: SO-239
Frequency step: 5-25KHz Selectable
Curious About Other BTECH Options? Check These Out:
Best Ham Radio Base Station Buyers' Guide
The key factors you should consider when you're out shopping for the best Ham Radio Base Station are:
Filters
Power Output
Frequency Coverage
Display Type
Programmability
Memory channels
Type of broadcasting
Antenna and Antenna Tuner
Durability
Filters
Because a base station receives both distant and near signals, there will be unwanted signals interrupting communication. This is because the HF bands are a collection of mixed signals ranging from super strong to extremely weak.
That's why you need a filter to get rid of the unwanted signals. There are two main types of filters, electronic filters and Digital Signal Processing (DSP) filters.
Radios that use electronic filters have discrete filters for AM, SSB, AND FM. and you may have to include CW and RTTY filters to communicate on these modes.
On the other hand, DSP filters are software based and are inbuilt in the radio's microprocessor so you don't need discrete filters.
Power Output
Power output is another crucial factor when looking for the best ham radio base station. It determines the range such that the higher the output of the base station, the higher the range, and vice versa.
Most base stations offer around 100 watts, which is powerful enough to connect with other hams countrywide or using a more powerful antenna.
Frequency Coverage
Usually, low frequencies below 1GHZ are the most ideal since they have a short wavelength which can easily penetrate through towers, buildings and walls without loss of signal strength.
Your options when it comes to the frequency coverage include VHF and UHF bands, which is usually 2 meters to 23 cm. This means you can transit at between 1.8MHz and 28MHz frequency ranges, with some even allowing transmission on the 50MHz band.
Another option is an all-mode base station, which covers VHF and UHF bands plus FM, AM, CW, SSB, as well as digital modes. These base stations give you full control and broader frequency coverage, meaning you can effortlessly maintain communication with other units on the HF bands even several thousand miles away.
Display Type
There are two main display types you can choose from, an illuminated keypad or an alphanumerical LCD type.
The illuminated keypad makes a great option if you'll be using the station at night since you'll be able to see clearly.
Opt for a model with an alphanumerical LCD display if you need a simple, non-graphical interface.
Programmability
Before you buy a ham station, it's crucial that you decide whether you want a manually programmed station or a computer programmed station.
For a computer programmable model, you use software to program the base station, which not only makes the process easy and convenient for you but also helps save time. This makes computer programmable base stations more suitable for beginners.
Another great thing about computer- programmed stations is that most of them come with free software Chirp, making programming tasks more convenient while also cost-effective for you.
For manually programming, however, you manually program the various settings and channels using the different keys on the unit. While programming a station by hand can be quite challenging for beginners, most serious radio hobbyists and professionals prefer this way.
However, whether you choose a manually or computer programmed station, it's important to ensure that it comes with a well-detailed manual guide. This will help make it easier for you to operate your base station.
Memory channels
Base stations come with programmable memory channels also referred to as band-stacking registers. The memory channels are designed to save frequencies for immediate access.
As such, the higher the number of memory channels, the higher the number of frequencies you can save. Choosing a model with a higher number of memory channels can come handy especially in SHTF situations.
Type of broadcasting
Depending on the type of broadcasting used, ham radio stations can be categorized into digital, analog, and digital-and-analog.
To begin with, analog base stations employ mechanical systems to transmit signals. The good thing about analog models is that they're budget-friendly and have consistent power consumption.
Besides that, they are ideal for emergency situations in areas with inadequate power since they can operate for long periods of time even without switching to power-saving mode. On the flip side, analog models are susceptible to changing weather conditions.
Check This: Best Weather Radios
On the other hand, digital ham radio base stations are the most popular type due to their ability to easily adapt to varying weather condition.
These units are controlled using software that you can upgrade to the latest version, thus allowing versatility. Also, these models allow you to conduct multi-person talks from different areas worldwide and are not affected by harsh weather conditions. However, they are quite expensive.
For the digital-and-analog ham stations, they are a hybrid of both analog and digital models. The best thing about them is that they offer consistent signal coverage and hardly lose signal. On the downside, they are even more expensive.
Antenna and Antenna Tuner
When looking for the best ham radio base station it's crucial that you consider the type of antenna on your radio and whether it comes with an antenna tuner as this significantly influences the performance of your unit.
The main benefit of having an antenna tuner is to help tune and match the impedance of your radio to the feed line of the antenna for improved reception.
The good thing is that you can purchase an antenna separately if your base station doesn't come with one.
However, to ensure compatibility with your base station, it's best that you purchase the antenna together and the mount included into the package.
It's also important that you consider the type of feed line of your antenna.
The two main types of feed lines are open wire and coaxial. Coaxial feed lines offer greater convenience since they work even without an antenna tuner, but, usually lose more power with increased length.
On the contrary, open wire lines don't experience problems with power losses but usually require an antenna tuner to work.
Durability
We can all agree that no one wants to spend their hard-earned money to replace the same product after a very short time.
Base stations are relatively costly so you need to consider the product quality, the make and the functionalities it offers.
Besides, consider the warranty and the ease of repair whenever problems arise. This way, you will get value for your money.
Check Out Our Review of Best Long Range Two Way Radios
FAQ
Who is eligible to use a ham radio base station?
In order to operate a base station you must pass a test and get a license. This means anyone can use a ham radio base station regardless of your location, age, or profession as long as you have a license
Why are ham radio base transceivers different from the rest?
The main difference between base stations from mobile and handheld ham radios is the functionality and capabilities. Ham radio base stations are more powerful and effective. However, this makes them more technical when it comes to setting up and operating, plus they are more expensive.
What type of ham radio licenses do I need?
There are three types of licenses to choose from: technician license, general license, and amateur extra license.
The technician license is an entry-level license usually given to beginners. To attain the license, you must past one exam. With this license, you can reach a frequency of up to 30 MHz.
To attain a general license, you must have a technician license and pass an exam with 35 questions. With this license, you can freely communicate with anyone across the globe since you have unlimited access to all amateur radio operating modes and bands.
The amateur extra license is the highest license level that requires you to pass an extra difficult exam with 50 questions. However, before you sit for the exam you must have passed the previous exams. The best thing with attaining this license is that you get the privilege to operate on all bands and modes.