As an Amazon Influencer, we earn from qualifying purchases you might make if you click any of the links on this page.
Updated March 17, 2023
Most Powerful CB Radio Reviews 2023 – Best SSB CB Radio
What if you could get the best SSB CB radio in the market? The most powerful CB Radio?
Best SSB CB Radios In A Glimpse:
The perfect CB radio is three times more efficient and powers communication over long distances.
CB radio is designed for short-distance and local communications. However, the single-sideband mode makes it possible to effortlessly engage in long-distance communications.
But that's not all:
SSB mode is best for a clear audio sound which is a ticket for quality radio communications. For uniqueness and remarkable radio experience, you need the best SSB CB radio.
That's why I have compiled a review of the most powerful CB radios that you can choose from. You will also discover the factors you need to consider when making a CB radio buying decision.
So, let's jump in!
Most Powerful CB Radio Reviews – Best SSB CB Radios
Key Features:

40 channels; 7 weather channels
ANL filter
Preset 9/19 emergency channels
Multi-function LCD display
Digital S-meter
This is a 40 channel CB radio with both AM and SSB transceiver and weather channels. This makes it ideal for road users such as truck drivers, motorcyclists, and hobbyists such as hikers.
With up to seven weather channels, you rest assured of timely and up to date weather information. Therefore, in case there is a heavy storm, you can plan your schedules accordingly.
It features a colored multi-function LCD display that makes navigation and operation of the radio simpler. All the front panel control buttons have labels that indicate their function.
This makes the radio beginner-friendly and less strenuous to use. Besides, its LCD display makes it easy to see operations at a glance. This is important when driving as it helps you with maintaining focus.
Also, it has a digital S-meter scale that you can use to ensure you're operating the radio on the right standards. These include; SWR scale, power scale, percentage modulation scale, and sound meter scale.
This radio is great for clear and quality sound. This is possible as it features an automatic noise limiter that cuts out background noise. Thus, you can enjoy your conversations without missing a single word due to noise.
Its channels 9 and 19 are instant and come already preset when you get the radio. Therefore, you will not need to find these channels from the entire channel list.
This saves you time and you get timely emergency updates.
What to Like
Clear and crispy sound
Easy to operate
Instant emergency channels
Downside
Single LCD color may be monotonous
2. Galaxy DX-2547 – Best Premium SSB CB Radio
Galaxy DX-2547 is something of a rarity on the CB radio scene. It is amongst the last (if not the last) CB radio base stations with SSB. It has been around for more than a decade and its age shows in its design. However, its functioning and capabilities remain as solid as ever.
Since this transceiver works as a base station, it can afford to have a wider front with plenty of room for all the buttons, dials, and display. So let's get a closer look at where things are and how they work.
The speaker gets the top of the transceiver. It isn't very big, but it sounds clear and does its job well. But if you're running a base station, you'll likely want to attach external speakers.
The rear of the transceiver holds a ⅛ inch jack for external speakers. The "clarifier" knob at the front comes in handy to adjust and manage the audio quality from the speakers.
Also at the back of the transceiver is the AC power input, which is located just below the heat sink. For those who want more power options, there's also a spot for DC input, a fuse, and a small switch for moving between AC and DC.
The AC input and the built-in power supply for the transceiver are what make the difference between Galaxy DX-2547 base station CB radio and the Galaxy DX959 mobile CB radio. Both transceivers use the same circuit board and may seem like essentially the same radio.
However, the presence of the built-in power supply, the form factor, and the use of a six-digit frequency counter underlines the differences between these radios.
Despite the similarities, there are functional differences here. Galaxy DX-2547 tends to remain more stable in the face of frequency drift.
The front panel of the transceiver makes good use of the available real estate to better place the controls and buttons. The extreme left of the radio goes to power, talkback, 4-pin microphone connector, and headphone jack.
The talkback knob includes a volume control, allowing users to manage talkback volume without affecting system volume. It's a nice touch and promises to be useful.
Speaking of system volume, the extreme right of the radio holds the knob for volume control, and also for squelch and "normal". The latter is a quick switch for channels, allowing for normal use, or immediate switch to channel 9 or 19.
While there is a huge channel dial/knob at the center of the radio, the quick channel switch is useful. The oversized channel knob feels sturdy in use.
As you change the channels by moving the dial, a small LED display at the center of the radio shows the active channel.
On the right of the channel display is another LED display, and this works as a 6-digit frequency meter. The six digits allow for better frequency fine tuning when you're using SSB mode.
Then there's the difficult to miss analog meter to the left. It shows a lot of information like sound (dB), PWR, and most importantly, SWR. The presence of a built-in SWR meter makes the radio easier to manage.
Even better, Galaxy includes the no-calibrate automatic SWR setting in this base station. That way, the settings and changes can come into effect with ease, making the operation convenient for the user.
Overall, though dated, Galaxy DX-2547 is a solid CB base station and transceiver.
What to Like
CB base station
Very low frequency drift
Built-in power supply
Easy to use
Easy accessibility of all features.
Downside
Takes time to "warm up" for proper use
Minor quality control issues with build and finish.
Key Features:

Small fit and easy to mount
40 channel full spectrum CB operations.
Large multi-color display screen.
Noise-canceling microphone.
Compatible with a wireless microphone.
Instant channels 9/19
This is a 40 channels single-sideband CB radio with an inbuilt GPS function and is one of the most powerful CB radios in the market. It is ideal for long-distance drivers such as Truck drivers who have been using it for a long time now.
Owing to its exceptional performance over the years, it ranks among the best SSB CB radio for road users. So, what makes it a preference for many?
It features a large and easy to read display screen. Therefore, you don't need to strain when reading radio operations. Besides, you can see the operations at a glance and in different angles or body positions.
Still, the display screen has 7 color options that you can personalize according to your preference. This gives you multiple lighting options that will make your work easy in poorly lit areas.
The radio operates on the 40 CB radio channels and you can easily switch from one channel to another. Also, you should note that channels are designated for a specific use.
For instance, channels 9 and 19 are set aside for emergencies and truckers respectively. From channel 9, you will get emergency alerts of all sorts happening around you.
And if you're a truck driver, channel 19 is exclusively used by truck drivers to update one another concerning road events. Nevertheless, you can still use the other channels for emergency communication.
What to Like
Noise-canceling microphone reduces background noise
Easy to operate
Features a large display screen
Enabled weather and emergency-related updates
Downside
It may not be ideal for you if you prefer AM mode
Key Features:

Features AM/SSB and PA modes.
Large and easy to read 4 scale meter.
Variable power output control.
Variable dimmer control.
Noise blanker and automatic noise limiter circuits.
This is a 5 digit frequency counter mobile CB radio that operates on both AM and SSB modes. Besides, it supports the PA function and is mainly used by long-distance road users.
This radio has been in use for over 15 years and is thus known for its track record of solid performance.
Its control buttons are designed for specific functions which makes the radio easy to use both for experienced and newbies. Also, the buttons have labels hence giving you an easy time while keeping your focus on the road.
Also, the radio has a 4 scale meter that helps you to keep up with the radio standards by ensuring the right metrics. The first scale is a sound meter that reads up to 60 dB.
This helps you to maintain the right volumes so that you don't put your eardrums at risk. Its other scale is calibrated for SSB and AM modes. SSB mode should not exceed 12 watts while AM shouldn't exceed 4 watts.
Thus, this scale helps you to keep track of watts output for both modes. FCC regulations forbid exceeding these power limits. The other scales are the SWR scale, and the modulation percentage scale used by AM mode.
Furthermore, it features a noise blanker and an automatic noise limiter that helps in filtering out noise in the channels. In turn, you get a clear and crispy sound for easy communication with other users.
What to Like
Noise filter guarantees quality and clear sound for easy communication
4 scale meter enables you to keep up with the standards
It has a large display that makes operation easy
Downside
Channel digit color is limited to blue
*Check out our review on Best Mobile Ham Radio
Galaxy DX-979 is a compact, mobile CB radio with something of a retro look. It has been around for several years now, but the old-fashioned controls add to the look.
The design choice largely comes down to the tactile feel and use of knobs and switches, over the small buttons that rule the world of modern interfaces.
Additionally, the tactile feedback and dedicated knobs make it possible to use the radio without taking your eyes off the road.
I believe the retro look is a part of the charm here, the microphone takes away from the appearance and breaks the magic. It sports more of that awkward 70s look, which feels out of place rather than bringing a retro charm.
This is a simple 4-pin mic with a block-ish design. There are no controls on the mic, except the large PTT button that covers a big part of its side. Nothing much of note can be said of the microphone.
On the left of the radio there is an analog meter that shows SWR, amongst other features. The auto-calibrating SWR is the highlight for this radio, and makes things easier for the user.
Having a built-in SWR meter can help users troubleshoot any issues and better manage the radio. Auto-calibration allows management of these issues, so even the average, non-tech savvy user can handle this radio.
Another feature that Galaxy lights to highlight is the backlight, called the StarLite faceplate. The light gives a good aesthetic touch to the radio, though they can feel bright and disturbing at times. Thankfully, the company includes a dial/knob to manage the intensity of the light.
To the right side of the radio, there's a small digital display and a knob. The display shows the active channel. Switching channels is easy by simply turning the knob.
A talkback feature is available on a radio through a dial. You can set it to off, or move the knob to get the desired volume.
On that note, the volume knob shares its space with the squelch function, which is the most common approach for CB radios. Thanks to the separation of the controls, the talkback volume doesn't affect the system volume, and vice versa. They are managed independently.
Turning the volume knob all the way to the left will switch off the radio while moving it towards the right will switch the radio on, and then adjust its volume.
There are three switches on the transceiver to manage some aspects of its operation.
The first switch handles the mode for the analog meter, switching between SWR and PWR.
The next switch allows users to move from PA (public address), to normal mode, and finally to NB/ANL. The automatic noise limiter handles its job fairly well and makes a noticeable difference in signal quality.
Features that feel missing here are a frequency counter and roger beep. These features also form the key differences between the DX979 and DX959.
Interestingly, the DX979 comes pre-wired for compatibility with external frequency counters. It's possible to give the radio a quick mod to add roger beep as well. Some models in the series, like the DX979F, include a five digit frequency meter.
Overall, this is a well-built CB radio with SSB and shows a good range of features for a decent price.
What to Like
Easy intensity management for StarLite faceplate
Analog meter
Auto-calibrating SWR
Ease of use
Downside
StarLite faceplate sometimes feels too bright and distracting
Overly blocky design of the microphone.
Key Features:

Six digit frequency counter
AM/SSB and PA modes supported
Easy to read meter
Automatic noise limiter
Galaxy noise filter
This is a 6 digit frequency counter CB radio that operates on the AM, SSB, and PA modes. This makes it a better option for road users such as truck drivers and motorcyclists.
However, the frequency counter is not included in the package. Therefore, you have to get an alternative when you order for this radio.
It features a large and easy to read display meter. The meter has scales for functions such as modulation, power output, incoming signals, and SWR.
This will help you keep up with the right FCC standards on how you should be operating the radio.
Still, on its front panel, is a two-digit channel indicator display with a yellow color. Because the yellow shade is conspicuous, it makes channels reading and identification easy at a glance.
Also, it features the Galaxy noise filter that helps in cutting out background noise and strengthening weak signals. With this function, you can engage in clear conversations without strain or missing important information.
Moreover, other important functions are placed right on the front panel so that you access them with ease. When driving, this will help you to operate the radio while maintaining focus on the road.
What to Like
Clear and audio makes communications easy
Easy to operate
A clear two-digit channel indicator helps in minimizing destructions
It comes with a 2-year warranty
Downside
You will have to buy its frequency counter separately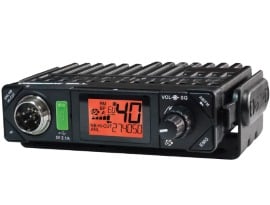 Key Features:

Up/down channel selector
40 channels on AM mode
Multi-function LCD display
Digital filter automatic noise limiter (ANL)
7 weather channels
This is a 40 channel and 7 multi-color display CB radio that operates on amplitude modulation (AM). Besides, it has 7 channels exclusively for weather updates making it ideal for hobbyists and auto drivers.
This is because timely weather updates are helpful in avoiding weather hazards such as storms or snow. You will also need this to help with the effective planning of your schedules.
It features channels up and down selector that makes it easy to access radio channels by the press of a button. This enhances channels selection efficiency and it saves you time taken to find certain channels.
Also, its display is large and multi-functional. You can see all the operations on the display at a glance. This makes it easy to operate the radio. And it also helps you with maintaining focus while driving.
This radio features a digital automatic noise limiter that helps with background noise cancellation. In turn, you will be able to engage in clear and straining-free communication with other CB radio users.
It is possible to program the radio for preset channels. By doing this, you enable instant access to specific favorite channels. In the end, you save time while increasing your operational efficiency.
What to Like
It's possible to program for instant channel access
The radio is easy to operate
Clear sounds make communication easy
Weather updates help to avoid deadly weather conditions
Key Features:

Operates on SSB, FM, AM, and PA modes
Can convert into an 11 meter CB radio of 40 channels
RF gain control
Squelch adjustable function
Large LCD display
This is a 10-meter Amateur radio that operates on the SSB, FM, AM, and PA modes. Besides, it has a high power output and is designed for truck drivers.
On this, its AM mode operates on a 12 watts, FM on 30 watts, and SSB on 30 watts peak envelope power (PEP). High power output means a higher operational efficiency thereby making the radio dependable.
It features a large LCD panel with a clear display of functions and operations as you input them. This makes the radio easy to operate both for first-timers and experienced users.
This radio has a default frequency range of 28.000-29.000 MHz. However, it is possible to expand this range to accommodate more channels.
If you need this, then, you have to send a request to the seller so that you get the frequency expansion instructions.
More importantly, you can convert this radio into an 11 meter CB radio of 40 channels so that you use it in your truck. The ability to convert helps you to attain all the benefits of a CB radio while operating a ham radio.
Moreover, it has an RF gain control that you can adjust accordingly to optimize for signal reception. This, in turn, helps in enhancing your ability to receive from weak signals.
What to Like
Noise filter makes it easy to communicate with other users
Weak signals booster enables stress-free connections
You can convert the radio to CB radio operations
It's easy to operate for both newbies and experienced users
Downside
Frequency expansion instructions don't come with the radio on purchase
---
Buyers Guide for Most Powerful CB Radio
Finding the best mobile CB radio for trucks or jeep or outdoor activities such as hiking and hunting requires diligence.
If your search is to materialize, then, you need to keep abreast of the factors to consider when buying the most powerful CB radio.
For success, below are some of the main considerations to put into perspective.
1. Noise Filter
Sometimes when in the field, it's impossible to avoid background noise. However, this kind of noise isn't fit for proper communication. For one, you will be straining to hear what the other person is saying.
And for two, you risk missing important information in the process. Therefore, your concern should be aiming for achieving coherence and rapport during the exchange.
This is the point where noise filter function comes in. It serves to filter background noise thereby enabling your radio to deliver crispy clear sound.
To achieve this level of efficiency, you should check and ensure that the radio has a squelch control function.
2. Signals Booster
Weak signals are notorious for hindering free radio communication. When you find yourself in such a scenario, you will be forced to strain so as to get what is being said from the other end.
This is always rampant when the signals are coming from far away. Along the way, they are hit by obstructions of various kinds. By the time they're getting to your radio, they are weak and unhelpful.
This is rarely avoidable due to unpredictable environmental conditions. However, a signal booster can help you decipher this problem. In turn, you get strengthened signals which makes communication easy.
This is the work of an RF gain function. Without it, a radio becomes incapable of transmitting or receiving weak signals. Moreover, it acts as a noise filter thereby reducing the effect of background noise.
3. Public Address (PA) Capability
This applies when you need a radio that you can use for public address. Therefore, you will also need to acquire a PA horn to fully use this function.
More importantly, the radio should be able to operate on the PA mode. This is the function that will allow you to use the radio's microphone as a transmitter for public address.
4. Noise Limiter
The automatic noise limiter (ANL) works in the same way as the squelch function. Therefore, it's meant to filter unnecessary background noise that can affect normal two-way communication.
Prevailing environmental conditions are unpredictable and unavoidable. Thus, the best way to keep safe from their effects is by having a radio that can filter background noise.
Together with the squelch function, the ANL function will enable you to have noise-free calls by limiting the effects of background noise.
5. Weather and Emergency Updates
Being a road user or a hobbyist requires proper planning of time and schedules. However, emergencies and uncalled for events can happen any time, thereby affecting your normal schedule.
To avoid such inconveniences, you need to use a radio with weather and related emergency updates. Moreover, the weather and emergency alerts functions need to be easily accessible and easy to use.
For the best mobile CB radio, it should have instant access to channels 9 and 19. Channels 9 is exclusively set aside for weather updates while channels 19 is specifically designed for truck drivers.
Since cellphones are an unreliable means of communication at certain times, you need a CB radio with emergency alerts for timely updates.
6. Night watch and/or Backlit Display
Occasionally, you will be forced to operate the radio in an area with poor lighting. More often than not, this will be during the nights.
For easy navigation and operation of the radio, it should have a display screen with backlight capabilities. This also applies to radio buttons and keyboards like in the case of a handheld CB radio.
7. Channel Access
The ability to access channels almost instantly should be a motivator when finding the best SSB CB radio. This is important for prompt communication and in response to emergency alerts.
The right radio has preprogrammed channels which you can easily access with the click of a button. The up and down buttons are always ideal for this kind of situation.
8. Single-Side Band Mode
Single-side band mode makes it possible to communicate over long distances. Normally, CB radio is designed for short-distance local communication.
However, SSB mode amplifies distance thereby making the radio three times more powerful. Besides, it makes it easy to have a clear sound which is necessary for quality communication.
Therefore, you need to check that the radio operates on SSB mode before making a buying decision.
---
Frequently Asked Questions
Q: How Can I Make My CB Radio More Powerful?
A: To make your CB radio more powerful, you need to check the type of antenna you're using. The best long-range CB radios operate on powerful antennas for optimum signals reception.
Therefore, to achieve maximum performance, you need to frequently tune the antenna. This exercise requires a professional technician. If your one, the better. Otherwise, you'll have to find one.
Proper tuning ensures the radio is tweaked for optimal performance. Also, you can use antennas that are specifically designed for CB radios. This is one sure way of making your radio powerful for signals reception.
Q: How Far Will a CB Radio Reach?
A: CB radio is designed for a short distance and local area communications. Therefore, a typical CB radio will cover between 3 to 20 miles.
Furthermore, this range is influenced by the level of obstructions such as concrete, wood, or metal.
Nevertheless, CB radios are made by different manufacturer's which can lead to different range coverage as per the interests of the manufactures.
Q: What is The Range of an SSB Radio?
A: The optimum performance of an SSB radio is dependent on choosing the right frequency which consequently affects the range.
For short distance conversations, SSB can support a range of between 25 miles and 250 miles. For intermediate distance communications, the furthest SSB can support is between 250 and 750 miles.
While for the widest range, SSB can cover up to 7,000 miles. For short-distance communication, lower frequencies are ideal with SSB mode.
Q: Do I Need SSB CB?
A: Yes…but again this depends on your reason for using the radio for communication.
Compared to other modes such as AM, SSB is way better as it enables background noise reduction, wide range coverage, and power consumption reduction.
Final Thoughts
The most powerful CB radio is what you need if you're a long-distance truck driver, a motorcyclist, a hunter, a hiker, or a fisher.
Unlike cellphones or other radios, CB radios are reliable and a sure way of keeping in touch with one another.
Moreover, they operate on SSB mode which increases their efficiency. Therefore, they can cover wider ranges, while guaranteeing quality audio sound.
With this complete CB radio reviews, you should be able to make an informed buying decision.
Now make it happen. The best SSB CB radio is within your reach.
You may like:-