Top 3 Best Galaxy CB Radios In 2023
Searching for the best Galaxy CB Radios?
If you're gearing up for a journey into the magnetic world of CB radios, you're in the right place. As someone who eats, sleeps, and breathes radio communications, I am thrilled to guide you through an authentic, detailed, and unbiased review of the creme de la creme offerings from a brand that has stood the test of time – Galaxy.
Join me as I delve into the distinctive features, aesthetics, and usability of these radios, guiding both seasoned enthusiasts and eager newbies to find their perfect match without breaking the bank. Ready to amplify your CB radio experience? Let's get started!
Our Top Picks
Galaxy DX-959B – Our Top Choice
Galaxy DX-2547 – Best Premium Galaxy CB Radio
Galaxy DX979 – Best Budget Galaxy CB Radio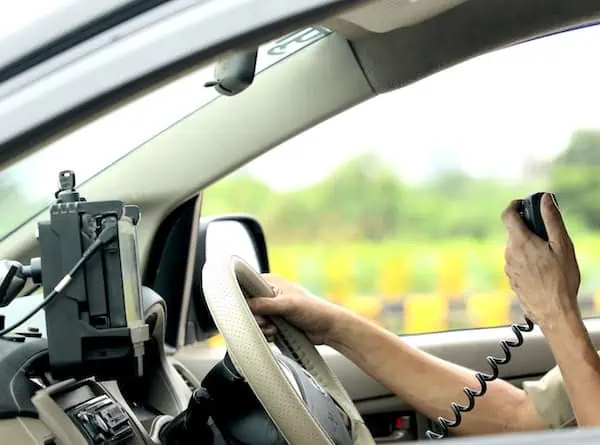 How I Choose the Best Galaxy CB Radios
Selecting the best Galaxy radios isn't just about ticking off a checklist. It's a nuanced process that takes several factors into account, aiming to match individual preferences and needs with the right unit. Here, I have expanded the criteria to make sure you're getting the absolute best:
1. Functionality and Features
I start by dissecting the core features that set each radio apart, making sure that they not only meet the basic standards but offer something extra that elevates the user experience. This includes evaluating:
Frequency Range and Modes: The ability to access various frequencies and modes is pivotal.
Built-in SWR Meter: A built-in SWR meter is a must for convenient and safe operation.
Noise Reduction Capabilities: Radios with excellent noise filtering capabilities promise clear communication.
Talkback Function: A good talkback function can enhance two-way communication considerably.
2. User-Friendliness
Ease of use can often be the deciding factor. My reviews always take into consideration:
Control Panel: I appreciate a control panel that's intuitive and not cluttered.
Display: A display that offers clear visibility under various lighting conditions gets a thumbs up.
Installation Process: A seamless installation process can save a lot of time and hassle.
Microphone Ergonomics: A comfortable and functional microphone is a significant plus.
3. Aesthetics and Build Quality
The look and feel of the radio can significantly influence user satisfaction. Here I assess:
Material Quality: Durable materials promise longevity and reliability.
Design Philosophy: I appreciate a design that balances modernity with a hint of retro charm.
Size and Portability: The radio should fit seamlessly into your available space without feeling cumbersome.
Backlighting Options: Adequate and adjustable backlighting adds to the aesthetic appeal and functionality.
4. Connectivity and Expansion Options
The ability to connect with other devices and expand functionality is another important criterion. I explore:
External Speaker Jacks: Availability of ports for external speakers can enhance sound quality.
Auxiliary Inputs: These can be handy for connecting additional devices or accessories.
Pre-wired for Upgrades: Radios that are pre-wired for certain upgrades offer flexibility for enthusiasts.
5. Value for Money
Value for money remains a key consideration in the selection process, encompassing:
Price Point: It's essential to evaluate if the features justify the price tag.
Warranty and Customer Support: Good customer support and a robust warranty are signs of a reliable product.
Resale Value: A radio that retains its value over time can be a wise investment.
I trust this extensive guide will lead you to a Galaxy radio that perfectly aligns with your preferences and requirements.
Want More CB Options? Check These:
Why Should You Trust Us?
At WhollyOutdoor, we're not just reviewers, we're enthusiasts, deeply ingrained in the world of outdoor adventures since 2018. Our founder, Paul Dudley, embodies this spirit, turning his passion for ham radios and fishing into a platform grounded in honesty, objectivity, and education.
Each review stems from deep research and a genuine desire to guide you in making the best choices for your outdoor pursuits. Trust us, because we're not just sharing reviews, we're sharing a part of our adventurous spirit with you, guiding you reliably through your outdoor ventures.
Best Galaxy CB Radios Reviews
Galaxy DX-959B is a 5 digit frequency counter mobile CB radio that operates on both AM and SSB modes. Besides, it supports the PA function and is mainly used by long-distance road users.
This radio has been in use for over 15 years and is thus known for its track record of solid performance.
Its control buttons are designed for specific functions which makes the radio easy to use both for experienced users and newbies. The buttons have labels hence giving you an easy time while keeping your focus on the road.
Also, the radio has a 4 scale meter that helps you to keep up with the radio standards by ensuring the right metrics. The first scale is a sound meter that reads up to 60 dB.
This helps you to maintain the right volumes so that you don't put your eardrums at risk. Its other scale is calibrated for SSB and AM modes. SSB mode should not exceed 12 watts while AM shouldn't exceed 4 watts.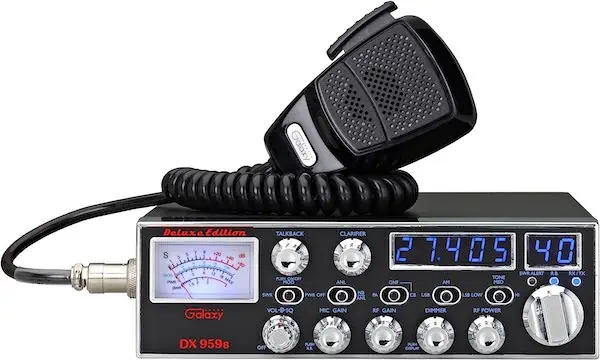 Thus, this scale helps you to keep track of watts output for both modes. Don't forget that FCC regulations forbid exceeding these power limits.
The other scales are the SWR scale, and the modulation percentage scale used by AM mode.
Furthermore, it features a noise blanker and an automatic noise limiter that helps in filtering out noise in the channels. In turn, you get a clear and crispy sound for easy communication with other users.
Overall if you are looking for a powerful premium cb radio and you don't have a limited budget this is one of the best cb radios you can have.
Want To See More CB Models? Check These:
2. Galaxy DX-2547 – Best Premium Galaxy CB Radio
Galaxy DX-2547 is something of a rarity on the CB radio scene. It is amongst the last (if not the last) CB radio base stations with SSB. It has been around for more than a decade and its age shows in its design. However, its functioning and capabilities remain as solid as ever.
Since this transceiver works as a base station, it can afford to have a wider front with plenty of room for all the buttons, dials, and display. So let's get a closer look at where things are and how they work.
The speaker gets the top of the transceiver. It isn't very big, but it sounds clear and does its job well. But if you're running a base station, you'll likely want to attach external speakers.
The rear of the transceiver holds a ⅛ inch jack for external speakers. The "clarifier" knob at the front comes in handy to adjust and manage the audio quality from the speakers.
Also at the back of the transceiver is the AC power input, which is located just below the heat sink. For those who want more power options, there's also a spot for DC input, a fuse, and a small switch for moving between AC and DC.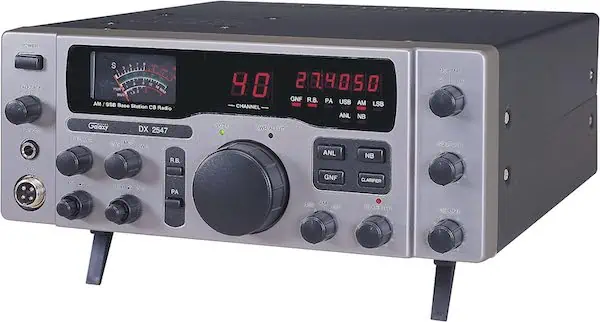 The AC input and the built-in power supply for the transceiver are what make the difference between Galaxy DX-2547 base station CB radio and the Galaxy DX959 mobile CB radio. Both transceivers use the same circuit board and may seem like essentially the same radio.
However, the presence of the built-in power supply, the form factor, and the use of a six-digit frequency counter underlines the differences between these radios.
Despite the similarities, there are functional differences here. Galaxy DX-2547 tends to remain more stable in the face of frequency drift.
The front panel of the transceiver makes good use of the available real estate to better place the controls and buttons. The extreme left of the radio goes to power, talkback, 4-pin microphone connector, and headphone jack.
The talkback knob includes a volume control, allowing users to manage talkback volume without affecting system volume. It's a nice touch and promises to be useful.
Speaking of system volume, the extreme right of the radio holds the knob for volume control, and also for squelch and "normal". The latter is a quick switch for channels, allowing for normal use, or immediate switch to channel 9 or 19.
While there is a huge channel dial/knob at the center of the radio, the quick channel switch is useful. The oversized channel knob feels sturdy in use.
As you change the channels by moving the dial, a small LED display at the center of the radio shows the active channel.
On the right of the channel display is another LED display, and this works as a 6-digit frequency meter. The six digits allow for better frequency fine tuning when you're using SSB mode.
Then there's the difficult to miss analog meter to the left. It shows a lot of information like sound (dB), PWR, and most importantly, SWR. The presence of a built-in SWR meter makes the radio easier to manage.
Even better, Galaxy includes the no-calibrate automatic SWR setting in this base station. That way, the settings and changes can come into effect with ease, making the operation convenient for the user.
Overall, though dated, Galaxy DX-2547 is a solid CB base station and transceiver.
Need CB Accessories? Check These:
3. Galaxy DX979 – Best Budget Galaxy CB Radio
Galaxy DX-979 is a compact, mobile CB radio with something of a retro look. It has been around for several years now, but the old-fashioned controls add to the look.
The design choice largely comes down to the tactile feel and use of knobs and switches, over the small buttons that rule the world of modern interfaces.
Additionally, the tactile feedback and dedicated knobs make it possible to use the radio without taking your eyes off the road.
I believe the retro look is a part of the charm here, the microphone takes away from the appearance and breaks the magic. It sports more of that awkward 70s look, which feels out of place rather than bringing a retro charm.
This is a simple 4-pin mic with a block-ish design. There are no controls on the mic, except the large PTT button that covers a big part of its side. Nothing much of note can be said of the microphone.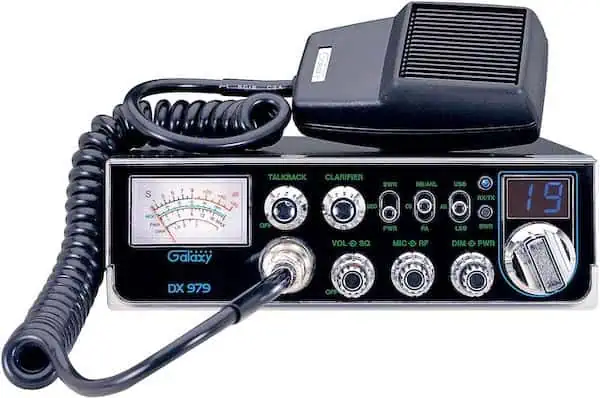 On the left of the radio there is an analog meter that shows SWR, amongst other features. The auto-calibrating SWR is the highlight for this radio, and makes things easier for the user.
Having a built-in SWR meter can help users troubleshoot any issues and better manage the radio. Auto-calibration allows management of these issues, so even the average, non-tech savvy user can handle this radio.
Another feature that Galaxy lights to highlight is the backlight, called the StarLite faceplate. The light gives a good aesthetic touch to the radio, though they can feel bright and disturbing at times. Thankfully, the company includes a dial/knob to manage the intensity of the light.
To the right side of the radio, there's a small digital display and a knob. The display shows the active channel. Switching channels is easy by simply turning the knob.
A talkback feature is available on a radio through a dial. You can set it to off, or move the knob to get the desired volume.
On that note, the volume knob shares its space with the squelch function, which is the most common approach for CB radios. Thanks to the separation of the controls, the talkback volume doesn't affect the system volume, and vice versa. They are managed independently.
Turning the volume knob all the way to the left will switch off the radio while moving it towards the right will switch the radio on, and then adjust its volume.
There are three switches on the transceiver to manage some aspects of its operation.
The first switch handles the mode for the analog meter, switching between SWR and PWR.
The next switch allows users to move from PA (public address), to normal mode, and finally to NB/ANL. The automatic noise limiter handles its job fairly well and makes a noticeable difference in signal quality.
Features that feel missing here are a frequency counter and roger beep. These features also form the key differences between the DX979 and DX959.
Interestingly, the DX979 comes pre-wired for compatibility with external frequency counters. It's possible to give the radio a quick mod to add roger beep as well. Some models in the series, like the DX979F, include a five digit frequency meter.
Overall, this is a well-built CB radio with SSB and shows a good range of features for a decent price.
Check Out Our Review: The Best Long Range Two Way Radios
Frequently Asked Questions (FAQs)
Can I connect external speakers to Galaxy CB radios?
Yes, most Galaxy CB radios have provisions for connecting external speakers, enhancing your audio experience, especially in noisy environments.
Are Galaxy radios suitable for beginners?
Absolutely, Galaxy CB radios are user-friendly with features that cater to both beginners and experienced users.
Do Galaxy CB radios support both AM and SSB modes?
Yes, Galaxy CB radios typically support both AM and SSB modes, allowing for versatile communication options.
What is the typical range I can expect from a Galaxy CB radio?
The range can vary depending upon various factors including terrain and antenna type, but generally, you can expect a range of 15-30 miles.
Is there a warranty on Galaxy CB radios?
Yes, Galaxy CB radios usually come with a warranty, but the duration might vary. Always check the product details or contact the manufacturer for specifics.
Can the backlight of the display be controlled in Galaxy CB radios?
Yes, you can control the backlight intensity on most Galaxy CB radios to suit different lighting conditions.
Can I use Galaxy CB radios for public address (PA) systems?
Yes, many Galaxy CB radios come with a PA functionality, allowing you to use them as a public address system when connected to an external PA horn.
Are these Galaxy CB radios compatible with external frequency counters?
Yes, many models come pre-wired for compatibility with external frequency counters, facilitating potential upgrades and modifications.
Is it possible to power Galaxy CB radios using both AC and DC sources?
Some models of Galaxy CB radios do offer the flexibility to be powered using either AC or DC sources, making them adaptable to various setups.