Top 3 Best Power Mics For CB Radio In 2023
Searching for the best power mics for CB radio on the market?
When we are talking about CB radios, the right power microphone can make all the difference. It's not just about amplifying your voice, but ensuring clarity, durability, and ease of use.
As a seasoned ham radio enthusiast, I've had my fair share of experiences with various mics. Today, I'll be diving deep the top contenders in the market.
Whether you're a seasoned CB radio user or just starting out, this guide is tailored for you. Let's dive into the nitty-gritty of what makes these mics stand out.
Our Top Picks
Astatic 302-10005 D104M6B – Our Top Choice
Delta M2 – Best Premium Power Mic For CB Radios
Cobra HG M75 – Best Budget Power Mic For CB Radios
Why Should You Trust Us?
At WhollyOutdoor, our commitment to objectivity, honesty, and education is unwavering. Since our inception in 2018, we've been dedicated to providing our readers with the most accurate and unbiased reviews in the outdoor realm.
Our founder and editor, Paul Dudley, brings his personal passion for ham radios and outdoor activities to the forefront of our content. His hands-on experience and genuine love for the outdoors ensure that every review and opinion you read is rooted in real-world expertise.
We're not just another review site; we're a community that values trust and authenticity. When we recommend a product, it's because we genuinely believe it's the best option for our readers. Your trust is paramount to us, and we work tirelessly to earn and maintain it.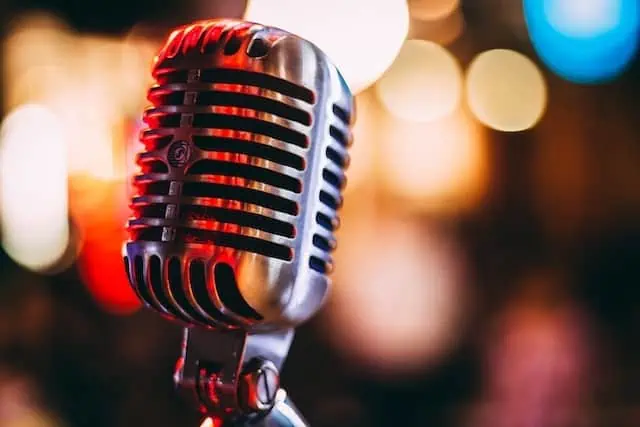 How We Choose the Best Power Mics For CB Radio
Selecting the best power microphones for CB radios isn't a task we take lightly. Our commitment is to provide you with accurate, unbiased, and valuable information. Here's a breakdown of our meticulous selection process:
Extensive Research: Before anything else, we dive deep into the world of CB radio microphones. We scour forums, user reviews, manufacturer websites, and industry publications to understand the latest trends and technologies.
Sound Quality: A microphone's primary job is to transmit sound. We assess the clarity, volume, and overall quality of the audio. Does it amplify without distortion? Is the voice clear even in noisy surroundings?
Build and Durability: CB radio users need equipment that can withstand the test of time. We evaluate the materials used, the quality of the construction, and the durability of the cord and connectors.
User Experience: From the placement of buttons to the feel of the microphone in hand, the user experience is paramount. We consider the design, weight, ergonomics, and ease of use.
Features and Functionality: We look at additional features like noise canceling, battery placement, and any other unique selling points that set the microphone apart.
Value for Money: Price is always a consideration. We weigh the features and quality of the microphone against its cost to determine if it offers good value for money.
Feedback from the Community: We're not just experts; we're also part of the ham radio community. We listen to feedback, suggestions, and opinions from fellow enthusiasts to ensure our recommendations resonate with real-world experiences.
Check These Radios to Help in an Emergency:
Table: Key Considerations for Choosing a Power Mic
| | |
| --- | --- |
| Criteria | Description |
| Sound Quality | Clarity, volume, and absence of distortion. |
| Build & Durability | Materials used, construction quality, and longevity. |
| User Experience | Ergonomics, design, and ease of use. |
| Features | Noise canceling, battery placement, and other unique features. |
| Value for Money | Quality and features in relation to the price. |
| Community Feedback | Opinions and experiences from fellow CB radio enthusiasts. |
In conclusion, our selection process is thorough and reader-centric. We aim to provide you with the best recommendations, ensuring you make informed decisions when choosing the perfect power microphone for your CB radio needs.
Want to Learn More About Handling Walkie Talkies? Check These:
Comparison Table
| | | | |
| --- | --- | --- | --- |
| Feature/Aspect | Astatic 302-10005 D104M6B | Delta M2 | Cobra HG M75 |
| | Our Top Choice | Premium Choice | Budget Choice |
| Build Material | ABS plastic, Chrome-plated grille | Desktop design, Large base | ABS plastic, Cobra style |
| Audio Clarity | Clear | Clear | Good |
| Temperature Performance | Works in various temperatures | Not mentioned | Not mentioned |
| Battery/Power | 9V battery, Back volume knob | Adapter or 9V battery | 9V battery (not included) |
| PTT Design | Small button | Large red button, Lock feature | Side placement |
| Cord Design | Soft, sturdy, 4-pin connector | Short | Flimsy, 9 feet stretched |
| Noise Canceling | No | No | No |
| Special Features | Ergonomic, Battery placement | Customizable base, VU meter, Tone & modulation dials | Unidirectional mic, Volume control |
| Main Drawbacks | Small PTT, No noise canceling | Short cord, No noise canceling | Flimsy cord, No battery |
| Functionality Rating | 8.5/10 | 9/10 | 7.5/10 |
| Voice Clarity Rating | 8.5/10 | 9/10 | 8/10 |
| Value for Money Rating | 9/10 | 8/10 | 9/10 |
| Overall Rating | 9/10 | 9/10 | 8/10 |
Best Power Mics For CB Radio Reviews
PROS
Good build quality
the Clear audio
Convenient placement for battery in the microphone
Ergonomic design
It works well in different temperatures and environments.
CONS
Small PTT button
No noise canceling.
For a long time now, Astatic microphones have been an incredibly popular choice for power microphones. So, it shouldn't be a surprise that the Astatic 302-10005 D104M6B is our top choice for power microphones.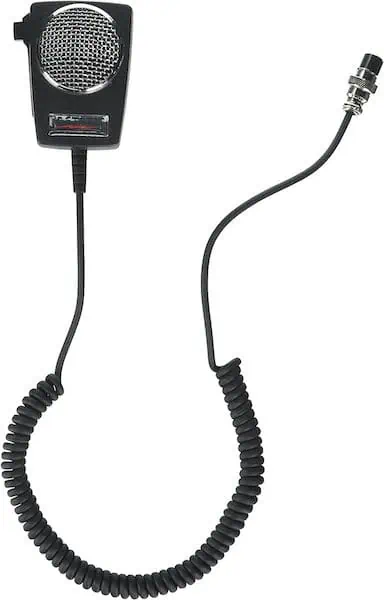 The microphone has a sturdy build, it features a robust ABS plastic casing, a chrome-plated metal grille, and a sturdy cord that culminates in a 4-pin connector.
Though sturdy, the cord is soft. It remains easily pliable even in the cold of winter. The same effect is visible for the PTT button and conventional use of the microphone. Astatic says that the microphone is designed for harsh mobile environments. It certainly appears to live up to the claim.
The PTT switch here is somewhat small, and almost something like a button. Still, it has that familiar and likable push with a good feel.
All things considered, the microphone has some heft and robustness to it, and feels pretty good in the hands.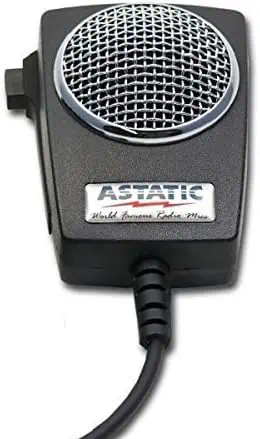 Quality has been a highlight of Astatic microphones for a long time. The build quality is good, so is the general circuitry and performance. The sound quality is clear and loud, even without getting the power aspect of the microphone involved.
If you choose to have some gain in volume, the dial is conveniently located at the back of the microphone. In most cases, users don't need to crank up the volume knob too far. It works pleasantly well even at lower settings.
Small screws for the battery compartment are visible very close to the volume knob. Removing the screws shows off the circuitry of the microphone and place for the 9V battery. It's something of a weird placement as the battery needs to be pushed against the circuit board. Being gentle and supporting the board is important, so as not to cause any damage to the circuits.
Amplification and general sound quality work pretty well for the Astatic 302 power microphone. However, there is no noise canceling here. The directional mic helps, but it can struggle in environments with substantial background noise.
Overall, this is a well-built power microphone with a good performance and a rather accessible price tag. It works well in most environments and remains convenient to handle.
Our Ratings
Functionality: 8.5/10
Voice Clarity: 8.5/10
Value for Money: 9/10
Overall Rating: 9/10
Looking into Ham Radio Models? Check These:
2. Delta M2 – Best Premium Power Mic For CB Radios
PROS
Remarkable build quality
the Clear audio
Room in base for customization
Works with adapter or 9V battery
Convenient to use.
CONS
The cord length is small
No noise canceling.
Delta M2 is one of the more expensive microphones available for use with a CB radio. It has a rather premium and posh look, but more importantly, it has the features and audio clarity one would expect from a mic in this price range.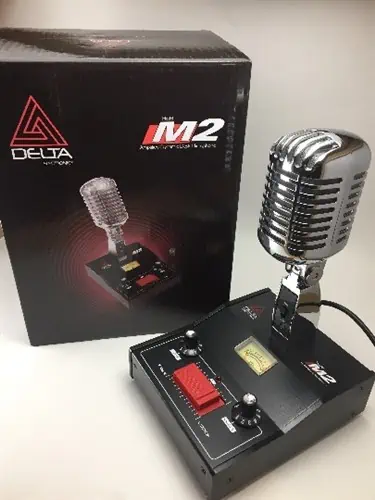 This is designed as a desktop microphone and it works great with a CB radio base station. You could put it in a vehicle, but the large microphone base makes it preferable for the radio to stay fixed in a spot. Its cord is also relatively short, so there is only so much room to maneuver the position of this microphone.
Having a large base has its advantages. There's plenty of room for the electronics of the device, or even modifications if you so prefer.
I like the analog VU meter on the base and it does a nice job representing the voice and signal from the microphone. It would have been perfect if the meter was backlit or had a light source. The lack of a light is annoying.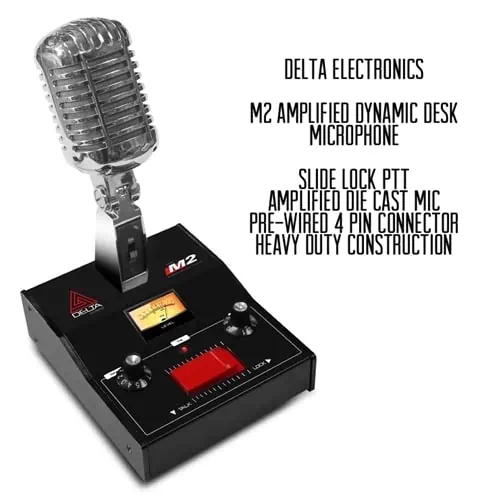 A little below the meter, you'll find two dials that handle tone and modulation for this power mic. They're quite easy to adjust to user preference. A small LED between these two dials lights up when the microphone is transmitting audio.
And then there's the big red button. Well, this is the PTT button, which is rather large, has a nice visual impact, and feels good to use. Of course, since this is a base mic, you may not want to press the PTT button every time you want to speak.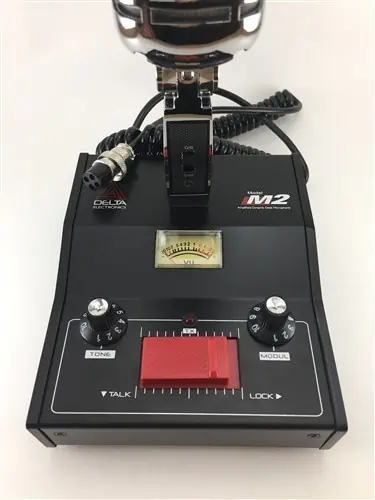 So, just press it and slide it into the "lock" position, so the button stays keyed. That tiny LED that comes into action to show that the microphone is transmitting is pretty useful in this scenario. It wouldn't do to forget that the PTT button is pressed and the radio is transmitting!
Of course, right on the top of the base, there's the mic. It looks quite elegant, somewhat retro, and has a power switch on the stem. More importantly, it does a remarkable job at catching sounds and transmitting them loud and clear. It's clean-sounding and fun to use.
This power microphone works with a 9V DC supply. An adapter is available in the package for use, though you can get the mic to work with a 9V battery.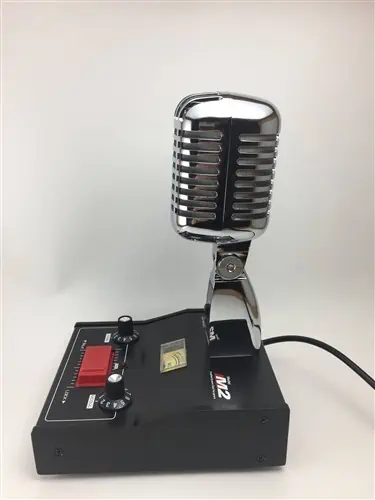 Overall, though expensive, Delta M2 is a high-quality power microphone with good looks, good design, and excellent audio quality. It helps that the mic is built like a tank and can be expected to last a long time!
Our Ratings
Functionality: 9/10
Voice Clarity: 9/10
Value for Money: 8/10
Overall Rating: 9/10
Check out our review of Best Long Range Two Way Radios
3. Cobra HG M75 – Best Budget Power Mic For CB Radios
PROS
Attractive pricing
Overall good build quality
Unidirectional mic for better sound quality
volume control for amplifier.
CONS
A sturdier cord would be better
No battery in package.
The simple design and attractive price tag of the Cobra HG M75 make it the microphone of choice for those on a budget. As appearance goes, the mic is in the conventional Cobra style with the logo at the base and a wire mesh grille at the top.
The PTT button finds its place conveniently to the side and has an overall nice feel to it. Cobra has placed the mic in a sturdy ABS plastic housing, which gives it a sturdy feel while giving it an ergonomic touch.
However, the same sturdy feel doesn't extend to the cord. It feels somewhat flimsy. While the four-pin chrome-plated connector itself is sturdy, the cord leading to it doesn't feel so sturdy.
There is a plastic protector towards the connector end of the cord to offer some support and solace. Although, as things are with this type of protector, it can come loose, thus bringing back the risk to the cord.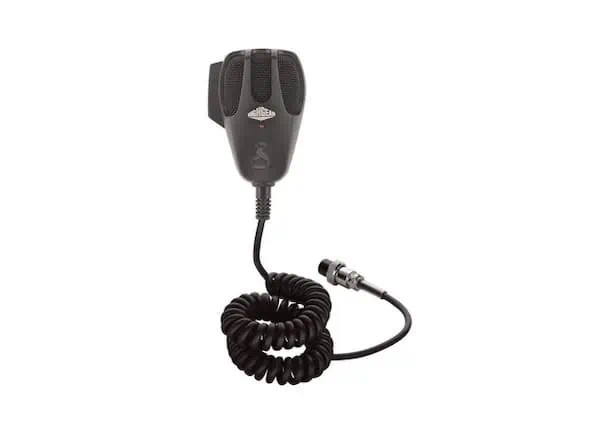 On the plus side, the cord offers a good length, going to almost 9 feet when fully stretched. Of course, practical usage will see it at a lower length, since no one's comfortable with fully stretching a coiled cord. Yet, the overall length remains convenient and keeps the microphone accessible.
A two transistor amplifier helps the microphone with its power duties. It's a simple enough design, but pretty useful for a basic powered microphone.
You'll need to place a 9V battery inside the microphone to get the amplification working. I'd have preferred the battery to be included with the packaging, just for the sake of simplicity and convenience.
As a powered microphone, Cobra HG M75 does a pretty good job at amplifying voice and making it sound clearer. On that note, it's worth pointing out that this power microphone uses a simple amplifier for sound. There is no noise canceling feature for this straightforward budget microphone.
That means if there is noise in the cabin, it will get amplified along with the voice. Adjusting the mic gain on the radio and the volume on the mic can help slightly with this problem.
Cobra does offer noise-canceling features for its power mics with the Cobra HG M77 model, but it's more expensive and I wouldn't exactly call it a budget option.
All things considered, Cobra HG M75 is a pretty good budget pick for a power mic. The microphone is well-built and the amplification works as desired. Plus, it feels good in the hand and has a nice heft to it.
Our Ratings
Functionality: 7.5/10
Voice Clarity: 8/10
Value for Money: 9/10
Overall Rating: 8/10
Trying to Keep Everything Charged on the Go? Check These:
Frequently Asked Questions (FAQs)
What is the main purpose of a power mic for CB radios? A power microphone amplifies the user's voice, ensuring clearer and louder transmissions, especially in noisy environments or over long distances.
Are all power mics compatible with any CB radio? Not necessarily. While many power mics come with universal connectors, it's essential to check the pin configuration and compatibility with your specific CB radio model.
How does a power mic differ from a regular CB microphone? A power mic has built-in amplification, enhancing the user's voice, whereas a regular CB microphone relies solely on the radio's power for transmission.
Do power mics require batteries? Most power mics need batteries to operate the amplification feature. The type and lifespan of the battery can vary between models.
Is there a significant difference between wired and wireless power mics? Wired mics tend to offer more consistent audio quality, while wireless mics provide greater mobility. However, wireless mics may be susceptible to interference and require charging or batteries.
How important is noise-canceling in a power mic? Noise-canceling is beneficial in reducing background noise, ensuring clearer transmissions, especially in loud environments.
Can I use a power mic for other devices besides CB radios? While primarily designed for CB radios, some power mics might be compatible with other devices, but it's crucial to check the manufacturer's specifications.
How do I maintain and clean my power mic? Regularly check for any wear and tear, especially on the cord. Clean the exterior with a soft, damp cloth, avoiding any liquid entering the mic.
Does the length of the cord affect the microphone's performance? No, the cord length won't impact the mic's performance, but a longer cord can offer more flexibility in positioning and movement.
Looking for Sustainable Power Sources to Power Your Radios? Check This: