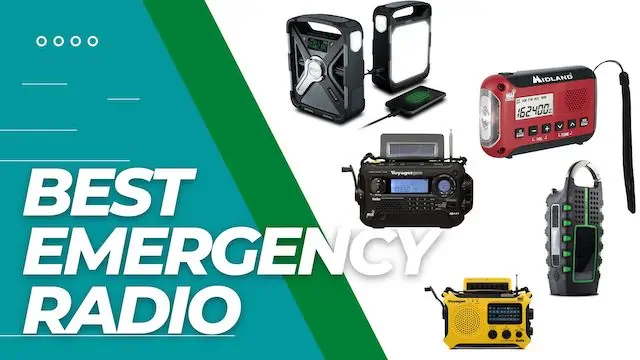 Top 11 Best Emergency Radios In 2023
Looking to find the best emergency radio for your outdoor needs? We have put together a detailed set of reviews so you can find the best possible option just for you!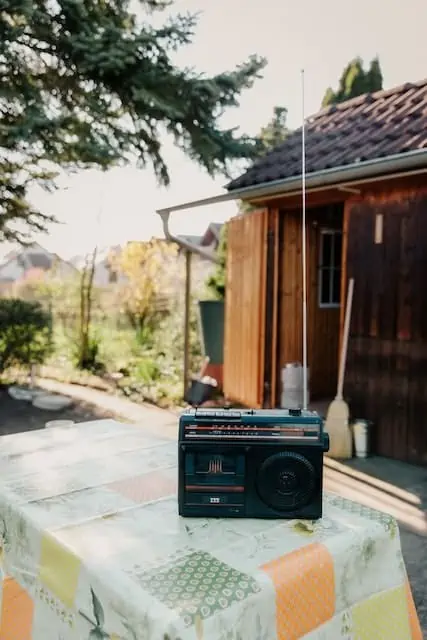 11 Best Emergency Radios
Pros
Good value for money.

Multiple power and charging options.

Telescopic antenna for better signal reception.

Easy to use.
Cons
Package doesn't include an AC power adapter.

Works in analog mode only.

Though it claims SW reception, it needs a separate antenna.
Kaito Voyager KA500 is an excellent mix of versatility and value. It is a NOAA-certified weather radio, can pick up a variety of signals, and carries an acceptable price tag.
One downside to the Kaito KA500 is that it uses an analog interface. A digital interface would have made this radio a very well-rounded product. Yet, the analog interface, like on an older CB radio, has its uses and is intuitive.
Kaito handles the digital touch with the next higher model, the Kaito Voyager KA600. Apart from conventional emergency radio features, this model also includes an alarm clock and digital display. The temperature and humidity display is a pretty nice touch, though they're missing in KA500.
However, the KA600 comes at a steeper price when compared to the KA500.
Voyager KA500 handles its analog interface elegantly. Half of the radio's face is dedicated to the speaker, while the remaining area shows some knobs and a prominent frequency display selector.
The first knob opens selection for one of the seven NOAA channels. Next comes the band selector – the radio works with FM, AM, SW1, SW2, and NOAA weather bands. Finally, there's the power selector, which includes the option to keep the radio on the weather alert setting.
Kaito KA500's weather alert works on PEAS (Public Emergency Alert System). It's a useful and adequate system, though I feel SAME (Specific Area Message Encoding) is a better choice for emergency radios.
On the right side of the radio is the frequency tuning dial, volume control knob, and an LED flashlight. Though tiny, the flashlight is strong. The use of an LED chip instead of lamps shines quite literally in this case.
While we're on the topic, all lights on the radio are functionally decent. The reading light has five LEDs that provide sufficient ambient light. A dimmer would have made these better, but the current function is acceptable too.
Then there's the red SOS beacon that blinks when activated. It should be sufficient to catch someone's attention (e.g. rescuers) should you find yourself in a fix. The SOS beacon and the reading light are located on the top of the radio.
The left side holds the hand crank to get the dynamo rolling.
At first glance, the crank and its attachment look flimsy – as if it would break once you start cranking this emergency radio. Thankfully, its working and connections are all solid. Cranking for 2-3 minutes charges the battery enough to last for 10-15 minutes.
Speaking of the battery, the radio features a rechargeable 600 mAh NiMH battery. It's adequate to run the radio and even charge your devices, like a mobile phone. Though, as you may have noticed, the battery capacity is low.
As such, the phone charging is very limited. You can probably nudge the battery indicator up by one or two percent when the phone battery is low. For an emergency, the charging should be enough to give you a minute or so of talktime.
Kaito Voyager KA500's versatility is partly due to the way this radio draws power. It's conventionally a four-way power radio, which means it can draw power from four different sources. However, it uses some modifications, which increase the options to keep the radio powered. These are:
Hand crank.

Solar panel.

AA batteries (three).

5V AC/DC input with power adapter.

5V USB input (e.g. from a power bank).
It's also possible to use a replacement NiMH battery. The well-secured battery compartment includes room for the rechargeable battery and the AA batteries. Right beside it is a protective rubber flap that covers many connectivity and charging options.
These include a headphone jack, micro USB jack, AC power adapter jack, and a USB jack. A tiny on/off switch controls power to the USB jack for easier handling. Though tiny, the on/off switch is notable and important. You shouldn't charge a device (like a mobile phone) while the radio is charging.
Overall, Kaito Voyager KA500 is a decently built emergency radio with a good range of features and versatile functions.
Ratings
Functionality: 8

Reliability: 9

Value for Money: 9

Battery: 8

Overall Rating: 9
Pros
Rugged and dependable construction.

Entertainment features like Bluetooth, auxiliary cable, headphone jack.

Useful ambient light with dimmer.

Bright LED and red SOS lights.

Powerful solar panels for charging.

Telescopic antenna for better signal reception.

Better targeted NOAA weather alerts with SAME signal.
Cons
Control buttons are small and can be difficult to manage.

The radio is barely water-resistant, let alone waterproof.
Eton Sidekick is an option that can be a sidekick to your adventurous self. This is an excellent emergency radio but it also packs small conveniences like Bluetooth, a reading light, and a remarkable speaker.
No wonder, this model is also called the Eton Ultimate Camping Radio. Incidentally, this is also the same radio as Eton FRX5, with the model number NFRX5SIDEKICK. I find it weird that they have these models with minimal to no variations.
Eton Sidekick shows clear benefits over comparable models like Eton FRX3 and FRX3+. These models are lower on the totem pole and miss some of the "luxury" features like Bluetooth, aux connectivity, and a USB port. Even though their designs are almost the same.
Admittedly, these features are optional for an emergency radio. But if you are carrying a radio along for camping and fun, might as well have all the cool features! The design language of Eton's FRX series is pretty cool, yet modern and utilitarian.
However, there is an annoying downside. Control buttons on the radio are tiny and placed right below the bar/covering on its top. This design choice makes those buttons somewhat difficult to read and access. It's especially annoying for those with thick fingers.
Thankfully, the radio more than makes up for these annoyances with its features and usability.
The crank seamlessly blends with the design of the radio, rather than sticking out. It's still easy to pull the crank into position and move it to charge the battery. Turning the crank for four minutes will charge it enough for 10 minutes of radio operation.
Solar panels for the Sidekick too are embedded neatly at the top of the radio. Place it in the sun, and the solar panels will completely charge the 2600 mAh lithium battery in about five hours.
Alternatively, plug in the micro USB with an AC wall adapter or power bank, and the radio will come to life. You can also charge your devices like a mobile phone through the radio by connecting to its USB port. You won't use it to build your own internet structure or anything, but it is nice to have the ability to connect devices.
The front of the radio holds its crank, speaker, display, and knobs for volume and tuning.
An ambient light with a dimmer that covers most of the radio's back. It's understandable why they call it the ambient light and not the usual lingo of "reading light".
The light is bright enough to light up a small space rather well. The presence of the dimmer gives a nice touch of control over the light intensity and thus, the ambiance.
Other lights on the radio include a bright LED flashlight and a red beacon for SOS signaling.
Eton Sidekick works with AM, FM, and NOAA weather channel signals. An excellent quality is the inclusion of SAME signals, which provide weather alerts more specific to your region, set by county.
For most users, SAME (Specific Area Message Encoding) is a better choice for receiving weather alerts over the PEAS system that most other radios employ. SAME alerts are better targeted and more relevant. Although, if you're driving or moving across counties, you will have to remember to keep the SAME codes on the radio updated.
SAME uses county-specific codes and this excellent emergency radio will do the rest. The alerts it issues are related to the county and the areas or counties in its neighborhood.
Ratings
Functionality: 9

Reliability: 9

Value for Money: 8

Battery: 9

Overall Rating: 9
3.
Midland ER10VP
– Best Budget Emergency Radio
Pros
The radio is very compact.

Long battery life on alert mode.

The radio is lightweight and very easy to carry.

Has a relatively long shelf-life and storage life.
Cons
The radio runs only on AA batteries.

Basic feature set makes its use more limited than competing emergency radios.
Though it takes the spot of a basic radio on a budget, Midland ER10VP is a very capable radio with remarkable features.
This is a tiny radio, smaller than the Midland ER-210 and the Midland ER-310.
In a way, this series trends towards fewer features when moving from the highest model to the lowest. The design language and the overall appearance retains some similarities. Midland ER210 is smaller than the ER310 and has a reduced feature set.
Similarly, Midland ER10VP gives up some features seen in the ER210 to take on a much more compact and lightweight form factor. The radio measures just about 5x3x1.5 inches and weighs only 8.8 ounces.
The low weight and compact dimensions make it more compatible for use for camping and by ultralight backpackers. This is the lightest emergency radio on this list and its compact dimensions make it more competent to take along for a hike.
Midland says the included wrist lanyard helps keep the radio with you at all times. It's a nice touch and fairly practical too. I wouldn't carry it along on the wrist, but tying it on the backpack or a carabiner sounds like a good idea.
Now that we've considered its usability, let's see what features this radio gives up to carve a niche for itself.
Midland ER10VP doesn't offer a rechargeable battery, hand crank, or solar panels as seen with most emergency radios. Instead, it solely relies on three AA batteries for power.
To some extent, this factor explains the reduction in cost, size, and weight of the radio.
In a way, the removal of these options is also a good choice for the consumer. You may not want the whole shebang of the multiple power options. Skipping the battery could also increase the lifespan of the radio and make it easier to store.
You no longer have to worry about the battery leaking, bloating, or doing similar weird things. So while it sacrifices a few features, it remains a competent emergency radio – and that's what it's supposed to do!
The simplified features also help with the radio's most important function – weather alerts. According to Midland, the radio's batteries will run for 26 days when in alert mode. Of course, they'll deplete faster if you choose to listen to AM, FM, or NOAA weather reports.
The LED flashlight in the radio includes options for high, low, and strobe lights. The strobe setting also works as an SOS signal.
Ratings
Functionality: 7

Reliability: 9

Value for Money: 9

Battery: NA

Overall Rating: 8
4.
Eton Scorpion II
– Best Rugged Radio For The Outdoors
Pros
Rugged body and build.

Includes a carabiner and bottle opener.

Straightforward controls.

Dependable with good voice quality.

Excellent.
Cons
The battery capacity is low for a modern radio.

As a rugged radio, it should be more water resistant.
Want a rugged emergency radio to take along for your next camping trip? Eton Scorpion II can fit the bill. This radio can take a beating in the outdoors and hold its own. The presence of an aluminum carabiner and the tough exteriors underline the expected use for the radio.
Eton Scorpion 2 is intended as an upgrade over the original Scorpion. And it delivers on the upgrade but limits it to specific areas. Scorpion II's 800 mAh Lithium battery is a significant upgrade over the 350 mAh NiMH battery from the previous version.
Technological upgrades also bring a better photovoltaic cell to the radio though its effects aren't as easily evident, especially with the larger battery. Other changes include an improved LED flashlight and the addition of a micro USB port for charging.
The micro USB port allows charging the radio through AC power (with an adapter). Alternatively, you can also use a power bank or a computer. Since this is an emergency radio, there are other options to draw power.
Alternative means to generate power include a hand crank and photovoltaic cells. For a rugged radio, the crank isn't very rugged and is often a point of failure.
I would not put my faith in the crank for this radio. And that's a bummer because turning the crank is a great way to get some power when you're outdoors or in a place or situation where electric power isn't available.
If you need an alternative source of power, you'll have to put your faith in photovoltaic (solar) cells. The solar cell does better and can charge the battery within 6-7 hours.
When charged, the radio can power other devices, like a mobile phone. Keep in mind, this won't fully charge your phone. Rather, it's meant to get in a few minutes of talktime in an emergency.
As for conventional radio functions, Eton Scorpion II can receive AM, FM, and NOAA weather band transmission. It can also listen to NOAA alerts and warnings.
One disappointing feature about this radio is its lack of waterproofing. I'd expect a radio built for the rugged outdoors to be waterproof. However, with an IPX4 rating, the Scorpion II emergency radio is barely capable of handling a few droplets of water.
Ratings
Functionality: 9

Reliability: 9

Value for Money: 8

Battery: 8

Overall Rating: 8.5
5.
Midland ER-21
0 – Best Radio For Preppers
Pros
Very small and compact emergency radio.

Very efficient crank.

Bright Cree LED chip for the flashlight.

Good build quality.
Cons
Can't work with AA batteries.
Good things come in small packages, or so says a philosophy. That seems to be true, at least in the case of Midland ER-210. This radio takes the path of being compact but doesn't give up any features for that role.
Midland ER-210 emergency radio can receive AM and FM transmission. It has NOAA certification and includes weather scan and alert, which will sound an alarm if there is a possibility of severe weather near you. And that is pretty much the bedrock of emergency radios.
As an emergency radio, this one includes multiple ways to draw power. You can charge its 2000 mAh battery through an included USB cable, though an adapter isn't included in the box. It will accept charge through a power bank or computer too.
If needed, you can turn the crank for power or let the radio bask in the sun so its solar panel can gather energy. The crank on the Midland ER-210 is one of the more efficient ones. A minute on the crank will let the radio run for more than 20 minutes.
The radio's functioning is digital and well-managed. Its display is small but clear. Buttons to operate the radio are located right under the display.
Continuing its streak of being impressive, the radio includes a 130 Lumens Cree LED chip for its flashlight. Its bright and focused light is pretty useful. The flashlight brightness can be changed from high to low if you'd like to conserve the battery. It definitely holds up against other brands in the emergency radio category, as well as even the best shortwave radios.
If you go camping often or have an interest in flashlights, you'd know that a Cree lamp is one of the better choices for flashlights. Acclaimed as these lamps are, it's a surprise so few emergency radios use them. In my opinion, Midland deserves a few extra points for going with this flashlight for the radio.
While most emergency radios have their SOS signal be a simple flashing light, Midland ER-210 takes it more seriously. Its beacon will flash the morse code of SOS in an emergency situation.
For any consideration, Midland ER-210 is a compact version of the Midland ER-310. As such, it skips on some features found in the larger 310 radio. These include the ability to draw power from AA batteries and an ultrasonic dog whistle. At 2600 mAh, the Midland ER-310 has a bigger battery than the ER210.
While the 210 loses on some features and battery power, it makes up for this in cost and its compact size. The dependable and small radio is easily a good choice for everyone, especially preppers.
Ratings
Functionality: 9

Reliability: 9

Value for Money: 8

Battery: 9

Overall Rating: 9
Pros
Good range of features including temperature and humidity measurement.

NOAA-certified emergency radio.

Good build quality.

Works on rechargeable NiMH battery, AA batteries, crank, and solar power.
Cons
Kaito brings a good range of features to the Pro KA-600. The most noticeable aspect is that this radio has gone digital, even though many of Kaitos popular offerings like the KA500 and KA340 take the analog route.
However, it's not all about digital tech and it has several features to make its mark. A small circular display towards the top right shows useful information, including the temperature and humidity. Both these are important metrics, whether you're outdoors or indoors.
A large display takes center stage on this radio, providing information on radio frequency, mode, battery status, and related information. The buttons to control the radio find their place below the display. Tuning and volume control knobs are placed on the right side of the radio.
Being mindful of its emergency radio duties, the Voyager Pro KA600 is NOAA certified. It can tune into NOAA weather channels and receives emergency alerts and RDS.
Additionally, it can receive conventional AM, FM, and SW frequencies as well. SW frequencies are very useful for remote or rural regions. And while this radio works with SW, you'll need to buy an additional antenna for best results.
An auxiliary input jack placed at the radio's back enables it to work with external audio devices.
There are multiple ways to power the Kaito Voyager Pro KA-600. It has a built-in 600 mAh NiMH battery, which charges through a micro USB connector. You can power it through an adapter, power bank, or a computer.
Other methods to power the radio include moving the crank or drawing solar power through the photovoltaic cells at its top. Although both these options leave something to be desired. Though the battery is only 600 mAh, it takes too long to charge it properly through solar power or even the crank.
Besides, though you can charge your mobile phone through the radio, there isn't much battery power for charging. Thankfully, it is enough for an emergency situation and you'll get a few minutes of talktime.
Other notable features on the radio include a flashlight and a reading lap. The flashlight is placed at the side of the radio while the reading light has its place at the radio's top.
Overall, this is a fairly decent emergency radio and offers excellent features and functions. Though it might appear that the radio falls short of its offering, especially when compared to its price tag.
Ratings
Functionality: 9

Reliability: 8

Value for Money: 7

Battery: 7

Overall Rating: 7.5
Pros
Eton FRX3+ has an endorsement from the American Red Cross.

Good mix of features and value

Good build quality.

Powerful 2600 mAh Li-ion battery.
Cons
Control buttons are awkwardly placed and difficult to read and reach.
A unique and careful design, reliability, and great features have contributed to the success of Eton's FRX series. The series includes popular products like Eton FRX5/Sidekick and Scorpion. Even the FRX3 and FRX3+ are hugely successful.
These radios also happen to be endorsed by the American Red Cross. Technically, that doesn't affect the radio, but it is reassuring to see a respectable organization backing the FRX3 and FRX3+.
So what's the difference between the FRX3 and FRX3+? The answer is technical changes that keep the radio competitive with the changing technology. Originally, the FRX3 had a 600 mAh NiMH battery.
That battery would be acceptable a decade ago but the modern world needs something more powerful. So, Eton replaced the NiMH battery with a Li-ion battery offering 2600 mAh. As an added benefit, the Li-ion battery makes the radio lighter and more dependable.
It's also useful for charging your mobile phone from the radio, should you need a boost for the phone battery.
Though the design is very similar to the Eton FRX5-BT and Sidekick, the FRX3+ misses out on some features like Bluetooth and auxiliary connection. The FRX3+ doesn't have a dimmer and lamp either.
The radio picks up AM and FM transmissions. It also tunes to the seven NOAA weather channels and can receive alerts in case of inclement weather. You can employ the included telescopic antenna for better signal clarity where necessary. You can also check out best CB radios for the same functions, but they aren't the best options in an emergency.
Eton FRX3+ is a digital radio with a small but clear display. Two knobs at the front manage the volume and tuning. Meanwhile, most of the control buttons are placed at the top, under the handle and solar panels.
As with other radios in the FRX series, the buttons can be tough to reach, especially for those of us with pudgy fingers. Having to struggle to get to the controls or even read them properly can be annoying.
As with most emergency radios, there are multiple ways to power the Eton FRX3+. The most common option is the micro USB connector for power from a computer, power bank, or AC wall adapter.
Then there's the hand crank at its front with the logo of the American Red Cross. Another option is the solar panel on top of the radio's handle. Let it soak in the sun for about six hours and the battery should be full or nearly there. Or, you could use 3 AAA batteries to get it going immediately.
Other features include an LED flashlight and a red flashing beacon for SOS to use in the event of an emergency.
Reasonably priced and reliable, the Eton FRX3+ Emergency Radio is a good choice for outdoor use or regular emergency preparedness.
Ratings
Functionality: 8

Reliability: 8

Value for Money: 8

Battery: 8

Overall Rating: 8
Pros
Attractive price point.

Robust construction.

Compact and lightweight.

Glow-in-the-dark locator around the flashlight.
Cons
Can't work with AA or AAA batteries.
Eton FRX2 is like the younger, tinier sibling of the other radios in the range, like the FRX3+ and Sidekick. It shows a different form, though it retains a similar design language as its siblings.
This one takes more of a rectangular shape, rather than the square-ish design of its siblings. Thankfully, though it takes on a compact shape, it doesn't sacrifice the important features for an emergency radio.
Its small size and low weight make the radio convenient to carry along. Preppers too can have it at hand without utilizing a lot of space.
At its front, Eton FRX2 shows a small digital screen, followed by two knobs and the speaker. The knob with the Eton logo serves to tune to the desired frequency, while the one below that manages the volume.
Working with these knobs, you can receive AM, FM, NOAA weather channels, and NOAA alerts on this radio.
A bright three LED flashlight is located at the top of the radio. On its side, there's the photovoltaic cell, while the back holds the crank.
A protective flap at the bottom of the radio hides the USB port for charging its 1000 mAh battery.
In a situation where you don't have access to power to charge the radio via USB, you can utilize the crank or the solar cell.
I'd compare it with the Midland ER-10VP, but it takes a rather different approach towards dealing with power and usability.
While the Midland ER-10VP runs exclusively on AA batteries, Eton FRX2 doesn't accept disposable batteries like AA or AAA.
Fortunately, the other ways to power the radio are adequate and quite useful. Besides, skipping the use of disposable batteries is a common technique to reduce the size and bulk of an emergency radio.
Its current battery is adequate, so the radio doesn't need to keep an empty space in the battery compartment, waiting for the time a user chooses to stick disposable batteries in there.
I consider the availability of multiple power options on emergency radios a big plus. But it is undeniable that everyone doesn't have similar requirements. Going compact and skipping some optional features is an acceptable way to go about things.
Ratings
Functionality: 7

Reliability: 8

Value for Money: 8

Battery: 7

Overall Rating: 7.5
9.
Kaito KA340
– Best Options For Connectivity
Pros
Good price point.

Includes mp3 player through microSD card.

Offers Bluetooth connectivity.

Multiple ways to power the radio.

Lightweight and compact.
Cons
Analog interface.

The crank is tight and takes time getting used to.
The tiny Kaito KA340 packs big on entertainment. Apart from conventional radio duties, it will happily do the job of an mp3 player and also connect to Bluetooth devices.
There's a microSD card slot at the front of the radio. Control buttons like play, pause, skip track, and more find a place on the radio. These make it work as a full-featured mp3 player.
It's worth noting that the radio will only play songs in mp3 format and will accept a microSD card of maximum 32 GB storage. That's not a bad deal, considering such a card can store thousands of songs and podcasts.
While it does its job, the speaker on this radio isn't even close to being remarkable. That's where the Bluetooth connectivity will come in handy.
As for its primary function, this emergency radio can listen to NOAA weather channels and weather alerts. It can receive AM, FM, and SW transmissions as well. The radio's operation is analog, which isn't as impressive as digital operations.
Given its analog roots, there's a knob to select the desired frequency. It also doubles its duty for picking NOAA channels. A bright LED flashlight covers one side of the radio, while an LED lantern calls the other side home.
Below the LED flashlight, you'll notice three slots. These are meant for the microSD card, a micro USB spot for DC 5V in, and a USB jack for 5V out.
The micro USB jack can connect to an AC power adapter to charge the 2,300 mAh Li-ion battery. Since this is an emergency radio, there are a few other ways to get the juice flowing. These options are a hand crank, solar panel, and 3 AA batteries.
You can use the radio to charge devices like mobile phones and tablets. Though it won't fully charge the phone, it's good enough to up the battery by a few percent.
Interestingly, Kaito KA340's batteries hold more power than some other higher radio models from the company. For example, the Kaito KA600 has a 600 mAh battery. This is largely due to the 340 running on Li-ion battery, while the KA600 uses NiMH batteries.
Even if the Kaito KA340 doesn't have the range of features that other radios offer, it's a winner in its use of technology. The mp3 player is a nice touch and something we've all but forgotten! Though once you're on the trail in the great outdoors, saving the battery on your phone can be important.
Ratings
Functionality: 7

Reliability: 7

Value for Money: 9

Battery: 8

Overall Rating: 7.5
Pros
Interestingly retro looks and design.

Good sound quality.

Bright LED flashlight.
Cons
Uses non-standard port for charging phones.

Needs special connectors to use USB ports.

Crank performance is underwhelming.
Crane CC Solar Observer looks like it came right out of some retro movie. Its design, style, and vibe are all reminiscent of the good old '70s.
Scratch the surface of that retro look, and this is an undeniably modern emergency radio. Well, except the part where this radio insists on staying analog!
A panel at the front shows the frequencies and the tuning dial is placed adjacent to it. Right below the panel is a toggle to switch between FM, AM, and Weather Channels from NOAA. Also available on the panel are the switches for volume, channel, and power.
There's the usual solar panel on the top of the radio. Additionally, the radio is compatible with three AA batteries. The crank takes its place on the right of the radio. The radio's other side houses an LED flashlight and ports for the headphone jack, power input, and phone charger.
Oddly enough, none of these is a USB or micro USB port. The radio comes with additional attachments to make these weird ports compatible with your phone.
I guess our first impression was correct – this radio hasn't really reached modern world technology yet!
For this price, we expect a radio to have dependable features. And having non-standard ports for USB and choosing to go analog is a terrible choice!
All of the USB-dependent features on this radio would be useless if the user lost those tiny compatibility adapters. And that is a ridiculous proposition because what device in this age doesn't have USB?
For comparison, the Midland ER-210 is cheaper than this radio. Yet, it does better on key metrics, including USB connectivity, battery, dependability, and even includes a digital radio! The saving grace for the Solar Observer, as we know, is its speaker and audio quality.
The radio runs off an unimpressive 600 mAh battery and doesn't include a wall charger. The only saving grace here is that the sound quality is good and the speaker does a decent job.
Ratings
Functionality: 6.5

Reliability: 8

Value for Money: 7

Battery: 7

Overall Rating: 7
11.
Esky ES-CR01
– Best Lightweight Emergency Radio
Pros
Attractive price point.

A good range of features and power options.

Bright LED flashlight.
Cons
Questionable longevity.

Analog radio.
In its form and shape, Esky ES-CR01 appears to be inspired by the Midland ER10VP. Heck, both these radios share a very similar price point as well!
However, there's more to the Esky ES-CR01 than meets the eye. Unlike the Midland ER10VP radio, Esky doesn't shun the battery, the crank, or the solar panel. Although it does give up on using AA batteries for power. I assume that's on account of there being no more space inside the body to accommodate the batteries.
Other features include an LED flashlight and an analog radio. The radio can receive AM, FM, and NOAA weather channels. It's also compatible with NOAA weather alerts, making it a great weather radio.
Speaking of the battery, this radio uses a 1000 mAh lithium battery. That's already a better choice than many of the bigger and more expensive radios available today.
As you can guess, the battery is chargeable through a USB port, solar power, or by turning the crank. It can get a decent charge for your phone battery to provide you with at least a few minutes of talktime.
While it is somewhat interesting that they managed to cramp so many components in such a tiny body, more isn't always good. The crank and the photovoltaic cell leave something to be desired.
Honestly, I half-expected the crank to be the weak link here. A mechanical crank on a cheap radio? Something's gotta give!
To my surprise (and satisfaction), the crank is one of the better-engineered parts of this radio. You can run it to get some power going to get the radio working or use it as a charger.
Oddly, the usual point of failure for this radio is the battery, which (in theory at least) is also its most desirable feature! The (supposedly) impressive battery has several customer reports of giving up way too early. It's questionable if the battery is even capable of retaining its avowed capacity.
To be clear, it's not all doom and gloom. For a low-cost and feature-rich radio, Esky ES-CR01 offers good functionality.
This is an interesting radio for those who believe they only need an emergency radio occasionally, like on the rare camping trip. However, more discerning users may find that the radio struggles with many of its functions and tends to have questionable longevity.
Ratings
Functionality: 7.5

Reliability: 7

Value for Money: 8

Battery: 8

Overall Rating: 7.5