Updated Jan 24, 2023
Best MURS Radio In 2023 – 6 Reviews & Buyers' Guide
Looking for the best MURS radio in the market? The best MURS radio for 2023?
Best MURS Radios at a Glance:
Best MURS Radios Comparison Table With Ratings
The Multi Use Radio Service (MURS) was established by the U.S. Federal Communications Commission (FCC) in 2000 and is one of several types of personal use radio services that enable two-way radio communication over short distances. So what makes it attractive as a form of two-way handheld communications?
MURS is similar to GMRS and FRS but has some important distinctions. It operates on 5 VHF frequencies and is available for business as well as personal use.
The power output of MURS radios is limited to 2 watts, though you are permitted to add external antennas to increase the range beyond the normal 0.5 to 3 miles. Note, however, that you're not allowed to use repeaters.
The result is you don't require a license to use MURS, as long as you use MURS compliant radios and abide by the FCC rules of use.
This makes it highly suited to localized business and personal operations that cover small areas like warehouses, factories, estates, compounds and small farms, or for coordinating group activities within a few miles, such as sporting events or outdoor trips. Best suited to outdoors and rural areas, you can have fun with them as a radio ham enthusiast too.
MURS equipment is designed for the US market and with US regulations in mind and given there are relatively few models on the market, the following review of MURS radios cover six of the best MURS radios on the market in 2023.
Review of the Best MURS Radios in 2023
#1. BTECH MURS-V1 – Best Overall MURS Radio
| Functionality | Range | Reliability | Price | Overall Rating | Battery |
| --- | --- | --- | --- | --- | --- |
| 9 | 7 | 8 | 8 | 8 | lithium ion |
Rated from 1 to 10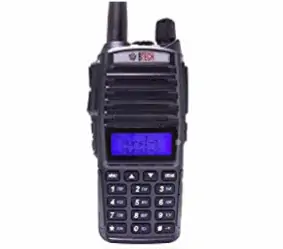 Key Features
License Free MURS Two-Way Radio
1 Lithium Ion Battery included
7.7 ounces
Includes Time Out Timer and Busy Channel Lock-Out
Includes built-in FM Radio 65.0MHz-108.0MHz and flashlight
Full kit includes battery, charger, and adapter, earpiece, wrist strap and belt clip
The BTECH V1 radio is an exceptionally affordable two-way radio transmitter given its functionality and well worth the price whether for business or personal use. It comes with extras you won't get as standard with other handheld MURS two-way radios in the same price range.
This radio comes with 50 CTCSS Tones as well as Digital Privacy Codes and full searching and scanning capability covering every available privacy code. The customization options enable you to tailor the two-way radio channels to your business or localized outdoor activities needs.
If you work in a busy or built-up area where short-range two-way radio use is common, the availability of privacy codes enables you to remove background noise and other two-way MURS radio chatter so you maintain clean, clear lines of communication with your own team.
Others can still tune in and listen to your radio conversation so assume anyone can hear your broadcasts. Better to make a call on your cell phone if you want to discuss sensitive information.
The radios do come pre-programmed, so they are ready to go out of the box. However, if you want to enter your own codes, this requires programming. This is not tricky and you can save your preferred settings for ongoing use.
This is the only MURS radio with a keypad so you can program it directly making this a really handy feature when on the go. Most other MURS radios require a cable to connect to your computer for programming.
This model is also one of the few radios to come with an LCD display screen and you can rename the channels you use to fit your purposes. The radio comes with a small LED flashlight, useful in variable lighting, if you're working overnight, or for night-time tasks on a camping trip.
The BTECH V1 is the only radio that comes with its own in-built FM radio, so is great for listening to when you're working alone but want to maintain constant communication with the rest of your team. Chatter from a two-way radio call will override the FM radio so you won't miss any important messages.
On the BTECH V1, you can listen to two MURS frequencies at once as the radio comes with a dual channel receiver capability, known as semi-duplex. The transceiver has two PTT switches, making it quick and easy to chat on either channel.
The 1800mAh battery is rechargeable and the radio has three power modes, on, off and standby, making it easier to prolong battery life. You can also switch between 2W and 0.5W to further prolong the battery, if you can stay within range on the lower power mode. It takes a few hours to recharge the battery.
Compared to more expensive MURS radios, the BTECH V1 may have more limited range and sound quality on a like-for-like basis. You can change the antenna to support further range with 2 watts in the right conditions.
Overall, the BTECH MURS V1 radio is a durable and easy to handle radio. It is mid-range weight-wise and with accessories like belt clips, easy enough to carry around while you're working or camping.
Some feedback suggests the accessories aren't as durable as the radio so make sure you maintain the extras so you get the most out of these radios.
PROS
One of the most affordable MURS radios on the market
Multi-functional with plenty of additional features not normally included on other MURS radios
Can listen to two MURS channel frequencies at once
Manage battery life with standby and power modes
Comes with FM radio and flashlight
CONS
More of a learning curve to get to grips with the range of functionality and programmability and sound quality is not as good as some of the other models
| Functionality | Range | Reliability | Price | Overall Rating | Battery |
| --- | --- | --- | --- | --- | --- |
| 8 | 9 | 9 | 5 | 7.75 | lithium ion |
Rated from 1 to 10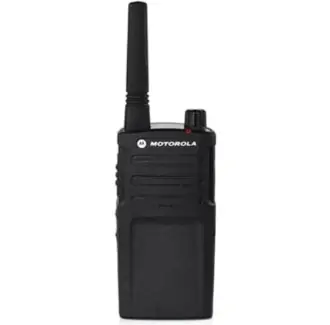 Key Features
License Free MURS Two-Way Radio
1 Lithium Ion Battery included
219 PL/DPL, including 6 customizable for clearer signals
1500 mW speaker for clear communication
8.6 ounces
Advanced Voice Activation to support hands-free operation
Programming available for Time Out Timer, Manager Lock, Reverse Burst and Radio Reporting
Antimicrobial coating
Motorola and Kenwood both used to manufacture two-way business radios for the old VHF business radio channels. The 5 MURS channels largely replaced these when introduced by the FCC in 2000.
The old business radio channels still exist and dedicated use by some businesses under license has been grandfathered.
Occasionally you may still hear them being used within the MURS frequencies but moving to a different MURS channel will reduce interference. The old Motorola and Kenwood business radios have largely been discontinued and replaced with FCC approved MURS radios.
The Motorola RMM2050 still calls itself a business radio (and comes with a business price tag too) but is designed for the 5 MURS VHF frequencies.
This handset is robust and has been subject to Motorola's exclusive and in-house Accelerated Life Testing, which puts it through five years' worth of assessment. It is considered military grade and can withstand a range of adverse conditions including dust, vibration and general throwing around, however it is not waterproof.
The casing comes with an antimicrobial coating which helps prevent germs and mold, a feature maybe more appreciated these days. It comes with a holster instead of a belt clip which seems slightly easier to use.
The 1500mW speaker used in the construction of the Motorola is considered a differentiator for clear audio quality and this radio is one of the better performers when it comes to range and clarity of communication.
In addition to the speaker, the radio comes with 219 PL/DPL, referring to the number of customizable sub-channels you can access.
PL and DPL are proprietary terms used by Motorola for privacy line and digital privacy lines but are essentially the same as CTCSS and DCS privacy codes, enabling a team in a busy area, like an industrial park, to filter out irrelevant chatter and overlapping channel users.
You can still be heard by others scanning the MURS frequencies, but your own communications between team members becomes clearer and crisper. Again, privacy here refers to clarity rather than encryption.
Programming requires extra cabling and connection to a computer is required to optimize the 16 channel memory slots designed to match up to most company departments.
Note that the programming cable connects to the charging station, not directly to the radio, which may be one of the design features that enables the handset to be so robust. Note that this radio does not come with an operating manual, however you can download the manual online.
A voice announcement when you turn on and switch between channels tells you which channel you are on. It is the only MURS radio with an advanced voice activation feature and this enables you to go hands free while the radio stays in the holster even if you want to check which channel you are on.
In addition to multiple sub-channel options, great speaker and voice activation, this radio also comes with tri-color LED display notifications.
Battery life seems reliably within the 8- to 15-hour range, though there don't appear to be any battery saving options to maximize duration. It comes with a charging cradle, but many of the accessories that come as standard with other MURS radios are absent here, such as an earpiece kit.
You can charge the battery in the charging cradle separately to the radio, which is useful if you have a back-up battery and this way you always have a charged battery ready to go.
Overall, a strong and well-designed radio, probably the best quality of the lot, but with a hefty price tag and missing some of the features you may get used to in the less expensive models.
PROS
Well-suited for business and commercial use
Well-built and one of the lighter options meaning it is barely noticeable to carry around
Able to be programmed to optimize clarity and meet your communication privacy needs
CONS
Built for rugged outdoor use, but not waterproof.
| Functionality | Range | Reliability | Price | Overall Rating | Battery |
| --- | --- | --- | --- | --- | --- |
| 7 | 8 | 6 | 8 | 7.25 | 6 X AA |
Rated from 1 to 10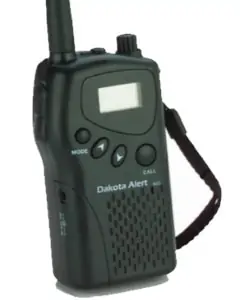 Key Features
License Free Two-Way Radio
6 AA batteries required (rechargeable batteries included)
Operates across the 5 VHF 151.820 – 154.600MHz radio frequencies
Each of the 5 MURS channels has 38 privacy sub-channels
8.6 ounces
Advanced Voice Activation to support hands-free operation
1.0 pound
A couple of features make the M538-HT unique among the MURS two-way radios. The Dakota Alert range was originally designed as a home or business security package, but the two-way handheld radios can work separately from the security products in addition to forming part of a security system.
Like other MURS radios it operates as a two-way handheld radio but is the only MURS radio on the market designed to use AA batteries. Rechargeable AA batteries are included with the purchase.
The 6 AA batteries required are reported to last up to 40 to 50 hours making it far more reliable during weather emergencies or prolonged power outages. In general, the AA batteries required, rechargeable or not, are also far easier to source and replace.
The range is reportedly good with this model, up to 2 miles with line of sight, though like the others, more reliably within 0.5 to 1 mile. The antenna is detachable so you can replace it to improve range though the connector is less common than on other models.
It operates on the 5 MURS frequencies, with access to 38 subchannels on each, enabling you to set privacy codes to meet your needs and gain clarity of communications according to your conditions. It comes with an earphone jack, though the earpiece is a separate purchase.
Dakota also makes MURS compliant Dakota Alert Base Stations which are designed as fixed, desktop transceivers, useful if you're coordinating teams, or the family, from within a large area or property.
Like the base station, the portable radios can be used for real-time monitoring, especially as they use very little battery to receive, though this will over time drain them.
Remember, as ever, that communications, even on the sub-channels is not private and anyone who uses, or tunes into, the same privacy code will be able to hear your conversations and other noises when you are transmitting. A cell phone is better for truly private conversations.
Dakota also makes MURS Alert Transmitters which are battery operated passive infrared motion sensors. These can detect movement up to around 80 feet away and are useful for monitoring security, animals and other activities around your home or business properties.
In addition to showing the frequency and channel, the LCD screen on the Dakota Alert 538-HT radio provides a visual alert as well as receiving pre-programmed voice or tone alert messages from the MURS Alert Transmitters or Base Station.
A US-based brand, the Dakota Alert M538-HT's key advantage, in addition to its convenient use of AA batteries, is its ability to become part of a home or business operation security system as well as leverage off the benefits of a central base station for communicating with family and teams.
PROS
Good battery life observed
Simple to use
Easy to source AA batteries
Combines well with other Dakota Alert products for enhanced security and communications
CONS
Limited CTCSS tone coverage so may struggle in busy commercial areas and the antenna connector is less common
#4. Tera TR-505 x5 – Best Dual Band Frequency MURS Radio
| Functionality | Range | Reliability | Price | Overall Rating | Battery |
| --- | --- | --- | --- | --- | --- |
| 8 | 8 | 8 | 5 | 7.25 | lithium ion |
Rated from 1 to 10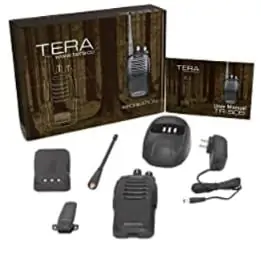 Key Features
Dual-Band MURS NOAA GMRS Two-Way Radio
1 Lithium Ion Battery included
Pre-programmed with 16 GMRS channels and option to install the 5 MURS channels
Certified for MURS use (subject to compliance with licensing conditions)
2 watt and 4 watt capability extends range and coverage
Unusually for a MURS device, this radio comes with both GMRS and MURS functionality making it more suited to ham radio enthusiasts than some of the more basic models. It also means businesses can use these radios without a license when programmed to MURS frequencies.
The General Mobile Radio Service (GMRS) has a higher power output, up to 4W, and operates within the UHF range. The FCC requires you to hold a GMRS license to operate a GMRS system.
However, you can download free MURS programming software and use the 5 MURS frequencies without a license. Note that you will need to purchase the USB programming cable as it doesn't come with the rest of the kit.
The advantage of having the functionality of both is greater coverage with possible range extended up to around 10 miles. However, you cannot have the handset programmed to GMRS and MURS at the same time. You must choose one or the other, and make sure you comply with the FCC conditions of use in each case.
One of the benefits of MURS is that currently the 5 MURS channels are less busy than some other radio frequencies, including GMRS frequencies. This means less chatter and overlay of conversations, one of the reasons MURS radios are so great for business use. Without a screen display, voice announcements will tell you which channel you are on.
The 16 GMRS channels are busier, so if you're using the handset to reach or hear other people, the GMRS functionality is an advantage. This is especially the case in natural disaster emergencies or when other forms of communication go down. This radio can also pick up NOAA radio frequencies, also useful in emergency situations.
Like most of the other MURS radios, the Tera TR-505 x5 uses a rechargeable battery with a similar battery life of 7-12 hours and recharge time of 3-4 hours. It has three modes, on, off and standby, enabling the battery life to be prolonged. It is one of the few MURS radios to come with a battery alert.
This is one of the more durable radios, and also one of the more expensive radios. Its robustness makes it well suited to outdoor use and adverse weather conditions.
Check This: Best Weather Radios
The range of these radios is greatly extended when using GMRS, but even on MURS, the detachable antennas give you the option to extend the range.
The additional programming to switch between bands makes it more suited to those experienced with ham radios. Once set up, and with a GMRS license, this sturdy handset provides flexibility and options in adverse events.
PROS
Dual band functionality gives further range/coverage than MURS alone
NOAA notifications make it especially well-suited to outdoor activities
Durable and weather-resistant
CONS
MURS and GMRS functionality at the same time is not possible.
#5. Retevis RT27V – Best Budget MURS Radio
| Functionality | Range | Reliability | Price | Overall Rating | Battery |
| --- | --- | --- | --- | --- | --- |
| 6 | 6 | 6 | 10 | 7 | lithium ion |
Rated from 1 to 10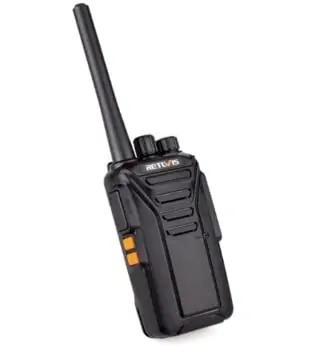 Key Features
License Free Two-Way Radio
2 Lithium Ion Batteries included
5 MURS channels with smooth communication
30.4 ounces (for 2)
Simple, easy to use, no programming required
The least expensive of the radios reviewed, the Retevis RT27V radios are almost half the cost of the next cheapest handset (the Retevis RT47V) on a per unit basis, making them a good option for beginners. There are plenty of deals available for multi pack offers.
At this price point, and with the quantity options, they make an ideal radio to take away on camping weekend, hikes, or for other outdoors based projects or work, though bear in mind they last about 8 hours before needing to be recharged.
The pair come with 2 lithium ion batteries, one for each handset, and like the rest of the radios, they come with a cradle charger. However, they also come with a USB plug and adaptor which means you can recharge them in your car, or almost anywhere in fact.
The battery life is robust, lasting a workday like most of the others, and you can prolong it by using the low power (0.5W) option when range permits.
These radios are sturdy, easy to use, and ready the minute you take them out of the box. If you find there is interference on the 5 MURS channel frequencies, free programming software is available to download so you can change the CTCSS code.
They don't have a display screen or keypad for operation, but voice notifications will tell you the handset is on and which channel you are tuned to.
Unlike many other two-way radios, the antennas are fixed and cannot be removed or replaced. If you're a ham radio technician hoping to tinker around or experiment with different ones, this model may be too basic.
If you want something relatively sturdy, inexpensive, easy to use and with relatively good range and sound quality, this is a decent option. It doesn't come with top-of-the-range quality like many of its more expensive counterparts, but it is great for beginners.
PROS
Easy to use so ideal for beginners
Battery charges relatively quickly
Affordable
CONS
Fixed antenna is not removable
#6. Retevis RT47V – Best Waterproof MURS Radio
| Functionality | Range | Reliability | Price | Overall Rating | Battery |
| --- | --- | --- | --- | --- | --- |
| 6 | 5 | 9 | 8 | 7 | lithium ion |
Rated from 1 to 10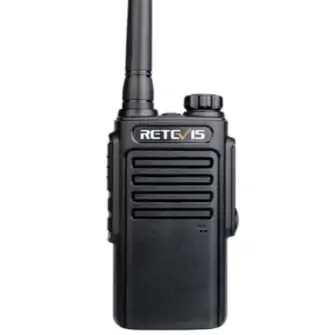 Key Features
License Free Two-Way Radio
2 Lithium Ion Batteries included
5 MURS channels with smooth communication
19.2 ounces
Simple, easy to use, no programming required
Waterproof
The Retevis RV47V is unique amongst MURS Radios for being waterproof. It achieves this at a fraction of the cost of the most reputedly robust handheld models.
MURS radios perform best outdoors and in rural areas, so it makes sense to expect them to operate well in atrocious weather.
Unlike its more basic counterpart, the Retevis RT27V, the Retevis RT47V antenna is not fixed and can be replaced. Range seems more limited on the Retevis RT47V than the other models reviewed, so a replaceable antenna is a key benefit.
The handset comes with a charging cradle and a range of other accessories, including an earpiece. While radio communications can be picked up by anyone tuning in with the right receiver, earpieces help reduce the noise of transmissions in the presence of passersby.
The pair of radios come with two lithium ion batteries, one for each. With the software and programming cable a few adjustments can be made to the basic functionality including switching between high and lower power to extend battery life as well as changing tone to improve clarity.
As a side note, the programming cable does not come as standard, so make sure you can source this if you plan on more than the most rudimentary out-of-the-box use.
Overall, it is robust, uniquely waterproof, and easy to use, despite being one of the lower priced MURS license free radios.
PROS
Waterproof, unlike many of the other MURS radios on the market
Easy to use
Rugged and durable, even though lighter than the Retevis RT27V
CONS
Standard antenna seems more suited for short-range than long-range and sourcing the programming cable isn't always easy
What is MURS Radio?
The Multi Use Radio Service (MURS) is one of several types of Personal Use Radio Service and doesn't require a license to use, as long as you use compliant equipment and abide by the rules of use. It is US based and was set up by the FCC in 2000, offering 5 dedicated frequencies in the VHF range.
MURS is licensed by rule partly due the maximum low power output of two watts and the shorter range of the radios. The limited range of the 5 channels means you are less likely to get interference or overlap with other nearby radio transmitters.
Depending on what model you buy, you can also access privacy codes which enable you to filter out chatter on your channel which may be helpful in busier areas like industrial work zones. In addition, compared to other radio bands like GMRS and FRS, MURS is generally less well known and less utilized meaning less interference and overlapping transmissions, for now anyway.
Buyers Guide – How to Choose the Best MURS Radio for You
Purpose
Your purchasing decision depends on whether you are purchasing MURS radios for fun, as a tool to use during outdoor activities, or for commercial use to coordinate your team's activities.
How technically capable do you feel?
Are you content to have something you can turn on straight out of box?
Do you want it to be easy enough for your kids to use, or clear enough to cut through multiple lines of communication in high radio-traffic zones?
Are you a ham radio enthusiast or a warehouse manager trying to keep your team cohesive?
Regardless of your purpose, always make sure you buy FCC compliant radios.
Note that MURS radios are compatible with other MURS radios regardless of brand and model.
Compliance with FCC rules
To operate MURS radios without a license, make sure you use FCC MURS Part 95 approved equipment. Be aware that using approved handsets that have been modified may mean you are not covered under the FCC's license by rule.
For the ham radio enthusiast this means you require the appropriate individual license before you start having fun with repeaters or the power output, though you can change antennas. If you're a representative of a foreign government, you will also need to check and obtain the required permission!
Functionality
Consider how durable you want or need your MURS radios to be, the audio and range quality, how often you want to use them, whether they will be used indoors or outdoors and the extent of your budget.
The equipment is generally inexpensive, light, portable, straightforward to use and easy to recharge. The shorter range means it is well-suited to individuals and businesses who want quick, clear communications over a relatively compact area, but don't expect too much beyond one to two miles of range.
MURS two-way radios work well across and within campuses, warehouses, factories, estates and some smaller farm enterprises and are better for outside rural use than inside or urban use.
Range
On 2W maximum power, expect the best radios to reach up to 3 miles in range with clear line of sight and in great conditions. However, this is tempered in hilly areas, built up areas and depending on the conditions of the day.
Expect a maximum normal range of about 1.5 miles and aim for a norm of around 0.5 miles and you won't be too disappointed.
Build and design impact range, so for the enthusiasts used to working with ham radios, consider how much you want to experiment with the equipment, as a detachable antenna will allow you extend range with bigger antennas.
If using for work purposes, is the area you want to cover, such as a warehouse, gold course or compound, small enough to get adequate coverage straight out of the box?
Battery
Most MURS radios use a rechargeable battery (normally lithium ion) which tend to last around an 8-hour day or slightly more. Charging cradles are handy for overnight recharging, and those with stand-by options will tend to last longer than those without.
Some do take AA batteries which are easier to source, though these have less durable recharging qualities over time.
The day-long duration makes them suitable for commercial operations where fresh handsets can be exchanged each shift, but if camping or hiking for several days, consider your plans for use and how to preserve the battery life, or recharge or replace the batteries.
Location
MURS radios operate on VHF frequencies so are best suited to outdoor, rural areas, though will work in urban, built up areas too over a shorter range.
Note that MURS is only present in the US and operates 5 dedicated frequencies within the VHF band (between 151.820 MHz and 154.600 MHz).
Outside the US, especially southern Canada, you may still be able to tap into communications on these frequencies though make sure you hold the appropriate licenses and comply with your local regulations to avoid unnecessary hassle.
Price Range
The price ranges approximately 10-fold between the least expensive and most expensive radios on a per unit basis. A starting price of around $US25 can be bettered if buying in bulk or when on sale, however, bear in mind that quality and durability generally increase with price.
Performance quality, use of durable materials, and good design are more assured towards the top of the price range, making more expensive MURS radios better suited to business use or when they are going to be used day after day.
Durability
Do you require the radios for indoor, warehouse use, or for rugged outdoor activities with friends or kids? Do you need them to work in an emergency or from remote locations? Are you likely to need them in wet-weather or dusty conditions?
Only one model claims to be waterproof, though some are weather resistant. Several MURS radios are incredibly robust but balance up the cost to replace compared to the outlay for a more premium model.
Comfort
MURS radios generally weigh one half of a pound to a pound and often slip easily into a pocket. Many come with belt clips and wrist straps. Some of the more expensive models have voice activation functionality enabling you to check them hands free.
Additional Features
Some MURS radios come with extra features like flashlights, FM radio or other radio channel access.
Frequently Asked Questions
Do I need to buy a MURS base station?
All two-way MURS radios work without a base station. You don't need to buy a MURS base station, but they can offer an extra convenience by being connected to a power source as a permanently-on monitoring and messaging point. This makes them suited to home-based communication systems and with for fixed location business operations.
What's the difference between CB radio and MURS radio?
The five MURS channels operate between 151.820MHz to 154.600MHz in the VHF range. CB radio operates across 40 channels in the HF range at around 27MHz.
Neither MURS nor CB radio operators require an FCC license to use their channels, though both must comply with the rules and regulations of use.
MURS range tends to be up to around 3 miles, while CB radios typically cover a range of 3 to 20 miles.
Can MURS communication be private?
MURS communications take place over 5 public channels within the range of 151.820MHz to 154.600MHz. Within each channel, you can access privacy codes and digital privacy codes, or subchannels.
You can tune all the radios to the same code for clearer, cleaner communication. However, anyone else tuning into the same frequency and code will also be able to hear your conversations and you can't exclude others from doing so. Therefore, regardless of whether others want to listen to you or not, always assume they can! Cell phones are better options for personal or sensitive conversations.
What are the MURS Frequencies?
The 5 MURS channels have frequencies and bandwidths respectively of:
151.820 MHz 11.25 Khz
151.880 MHz 11.25 Khz
151.940 MHz 11.25 Khz
154.570 MHz 20.00 Khz
154.600 MHz 20.00 Khz
Do You Need a License to Use MURS?
You don't need a license to use MURS, you are covered by the FCC license to rule and don't require an individual license. You cannot increase power beyond 2 watts or use repeaters without acquiring the appropriate ham radio or business FCC license. If your radio has the multi-band capability to use non-MURS frequencies, you do require the appropriate FCC license.
Who governs the use of MURS and what are the consequence of non-compliance?
The use of MURS is regulated by the Federal Communications Commission (FCC) in the US which is licensed by rule. FCC compliance requires use of approved radios that abides by the rules and regulation of Title 47, Part 95J of the Code of Federal Regulations. There is no age limit around use of MURS radios though representatives of foreign governments do require the appropriate permission/licenses.
Penalties for non-compliance include fines up to $US10,000 and/or imprisonment for up to a year.
What's the difference between MURS, FRS and GMRS?
MURS is the Multi Use Radio Service that operates in the VHF range on 5 MURS frequencies between 151.820MHz and 154.6MHz for license-free two-way communications. Maximum power output of MURS approved devices is limited to 2 watts.
FRS is the Family Radio Service that operates in the UHF range between 462MHz and 467MHz for license-free two-way communications over short distances. FRS approved devices are limited to 0.5 watts and 2 watts.
GMRS is the General Mobile Radio Service that operates in the UHF range across 16 channels between 462MHz and 467MHz. An FCC license is required for these 4-watt radios.
MURS operates in VHF, while FRS GMRS share the same frequency range in UHF. FRS has power output capped far lower, so its range is limited to a maximum of 2 miles while GMRS typically extends to 10 miles and much further if repeaters are used. MURS radios transmitters can reach up to about 3 miles.