Updated July 20, 2023
Best Long Range Two Way Radio Reviews (Updated 2023)
Long range two way radios have revolutionized camping, hunting and hiking. Thanks to these devices, the outdoor experience for most enthusiasts has become more comfortable and a lot safer.
What if you could get the best long range walkie talkie in the market? The best long range two way radio?
Best Long Range Walkie Talkies – Our Top Three Picks!
DEWALT DXFRS800 – Best Rugged Long-Range Walkie Talkie
BTECH GMRS-PRO – Best Premium
Motorola T800 – Best Digital Long-Range Walkie Talkie
Top 12 Best Long Range Two Way Radios
1. DEWALT DXFRS800 – Best Rugged Long-Range Walkie Talkie
Pros
Rugged build with shockproofing
Dustproof and waterproof radio
High-capacity Li-Po battery
High transmit power.
Cons
Expensive
No weather channels
Can feel somewhat bulky.
DeWalt DXFRS800 is a radio aimed at business users, though, of course, anyone can use them. The USP here becomes evident at first glance – it's a rugged radio that's built to last and handle rough usage.
Its antenna is short and stubby and the radio's body is covered with a coat of rubber. This rubberized coating provides some water and dust protection to the radio, though its most important use is shockproofing.
DeWALT800 will withstand a drop from 2 meters without breaking a sweat. 
Keep in mind, shock proofing isn't absolute and the radio still risks some damage with a fall. For example, the antenna could break or the screen could crack.
Yet, all things considered, this radio is more likely to survive a fall when compared to a radio with no protection.
Another feather in its cap for ruggedness is IP67 protection rating. This means the walkie-talkie is dustproof, waterproof, and can survive being submerged in water up to a depth of 1 meter for 30 minutes.
The radio comes with a 360˚ swivel holster and a charging cable. Carrying and moving the radio becomes a breeze with the holster and the swivel allows for customized placement.
Though its build is fantastic, as we come to the FRS qualities of this walkie-talkie, we find them to be average, or in some cases, below average. Even so, there are a few strokes of genius left in there.
As an FRS radio, it can transmit and receive over the conventional 22 channels. The radio supports 121 privacy codes, so there are plenty of options for a conversation without getting disturbed or interrupted.
You'd be hearing clear sound on account of two factors. For one, the radio's speaker and microphone are pretty good. And second, it can transmit at 2W, which is the maximum power allowed for FRS radios.
DeWALT envisions this radio for business and indoor use, even though they've built it to be tough! The company puts the range of the walkie-talkie at 300,000 sq. ft. or 25 floors. This should be enough for a building or office space, provided there isn't much clutter or obstructions.
For conventional use on the road or the outdoors, the range is under 2 miles. The distance can vary depending on the terrain, but don't expect the walkie-talkie to work over significantly larger distances.
For all its good qualities, the DeWalt DXFRS800 is expensive. You can give a shot to the cheaper model, the DeWalt DXFRS300. This one has the same build quality and design as the DXFRS800, but it sacrifices transmit power. The DXFRS300 has a maximum transmit power of 1W.
Another notable aspect in the long list of features for DeWALT DXFRS800 walkie talkie is its 2000 mAh Li-polymer battery. The battery has enough juice to keep the radio running for several hours without a hitch. It's quick to charge too.
Our Ratings
Functionality: 8/10
Reliability: 9/10
Value for Money: 8/10
Battery: 9/10
Overall Rating: 9/10
Curious About GMRS Options? Check These:
Pros
Good audio quality
IP67 waterproofing
Digital GMRS with texting and data
Built-in GPS
Large, color screen
The companion app is useful and easy to handle
Easy firmware updates
Easy programming through the radio and app.
Cons
Works best with similar model radios
Difficult to attach the belt clip (even with included screws and screwdriver)
High price tag
Battery has trouble keeping up with radio features.
If you want a new age GMRS radio, BTECH GMRS-PRO is a great pick. This GMRS radio is capable of digital data transmission and thus it has some very exciting features. It also has some regulatory aspects where it deviates from general GMRS radios, so they're worth a look too.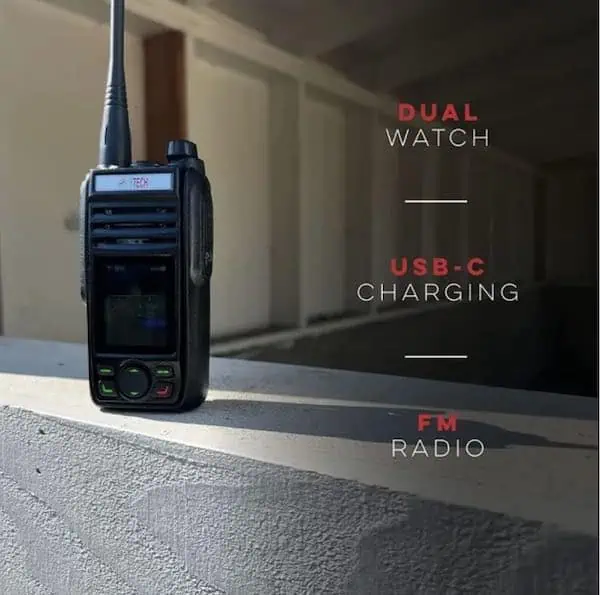 Before we go to the regulatory points, let's talk about this GMRS radio.
The first thing you'll notice about the radio is probably the large screen at its front. This is a color screen that shows information like the GMRS channels, transmit power, battery, and date and time. Depending on how you set it up, it can also show a digital compass, elevation, and GPS directions. Of course, the menu and texts also show up on this screen.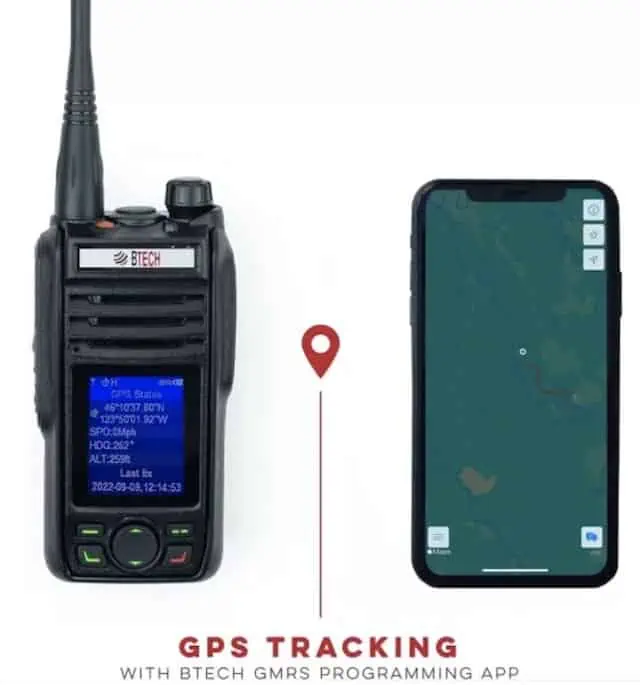 BTECH GMRS PRO comes with a companion app that's available for iOS and Android. Once you have the app installed on the smartphone, the GMRS radio and smartphone can connect and pair via Bluetooth.
The app is important here. A lot of the radio's functions are handled by this app or work with it. This includes settings, texting, setting up frequencies and groups, customizing buttons, and a lot more. Even firmware updates for the handheld radio are pushed through the app.
You can handle much of the programming requirements of the radio on the radio itself. However, it's much easier and convenient to do these via the app. Currently, it's not possible to program this radio with CHIRP or similar software. It's unclear if this option will be available in the future. That part is handled by the app, and it does so magnificently.
As you can guess, I like the app. It's clean, easy to use, and handles the features of the radio without a hitch. It's possible to download maps for offline use with the app, in case you're traveling somewhere with questionable network connectivity.
It's worth pointing out that the maps won't show up on the radio's screen, though its built-in GPS will show directions. To view maps, you will have to rely on the smartphone app.
The GMRS radio is very responsive to changes made through the app. Likewise, the app is quick to pick up on changes made through the radio. For example, if you change the frequency or group through the app, the radio will respond quickly. Similarly, if you change the frequency or group on the radio, the change will reflect in the app quickly.
There are six channel banks on the radio, each with 30 channels. The first channel bank is already filled with conventional GMRS frequencies and related channels. Users can customize the others to fit their own requirements.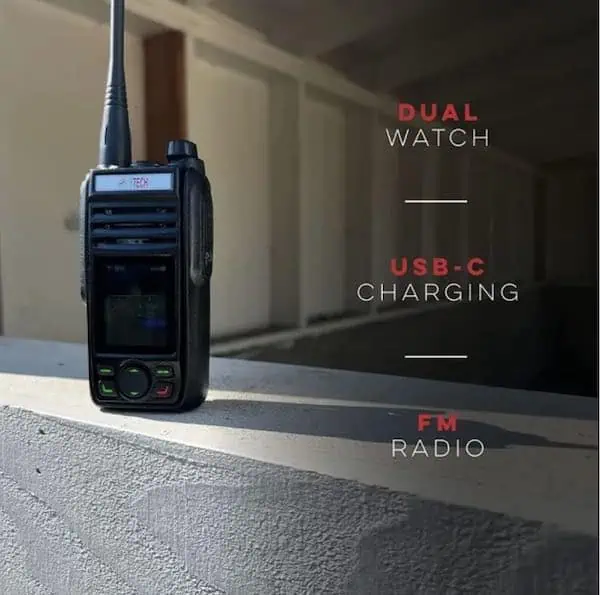 Interestingly, there is no roger beep here. Instead, the radio transmits a burst of data, which radio speakers pick up as noise (think old-school internet modems). In a way, this functions as roger beep.
Users can send texts through the radio (using GMRS data), even when there is no cellular network. Of course, this requires that the receiving radio be in the range of data communication. Conventionally, the data transmission range is lower than voice range.
Other notable features of this radio include IP67 waterproofing, USB-C charging, belt clip with screws, and a 2600 mAh battery. Thanks to USB-C compatibility, the radio is quick to charge. However, the 2600 mAh battery struggles to keep up with the GPS, Bluetooth, large screen, and conventional radio use. You might find it draining rather quickly.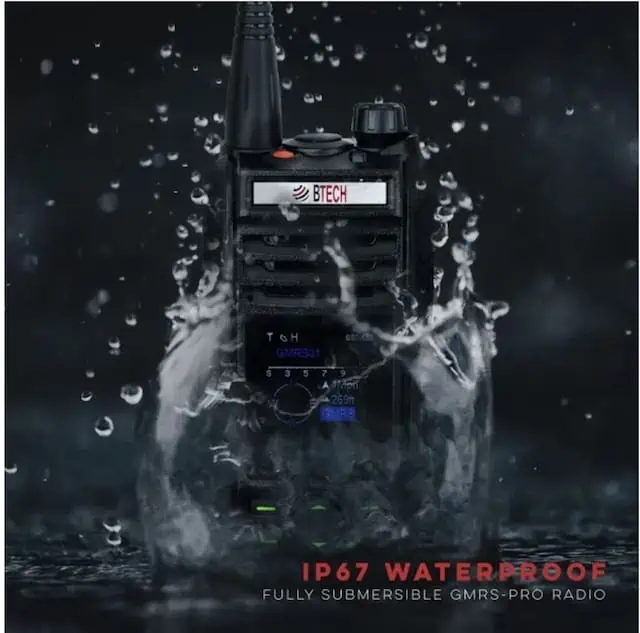 The FCC requires that GMRS radios with digital functions have fixed and integrated antennas. Additionally, when using GMRS for texts, you can't send several texts in a row. If you do, the app will ask you to wait and stop sending texts.
Overall, this is a fun and feature-rich radio. However, it works best with similar radios. So, if you intend to buy this radio, it makes sense if your friends/family, or people close by use it too.
Our Ratings
Features: 9.5/10
Reliability: 9/10
Value for Money: 8.5/10
Audio Clarity: 9/10
Display: 9.5/10
Overall Rating: 9.5/10
Looking into Ham Radio Models? Check These: 

3. Motorola T800 – Best Digital Long-Range Walkie Talkie
Pros
You can connect it with smartphones.
Sleek and clean design.
Allows Off-grid texting and data with Bluetooth.
Convenient features like offline maps with the app.
Weather alert feature.
Cons
Actual range is way lower than the claimed 35 miles.
Battery life could use an improvement.
Everybody carries mobile phones at pretty much all times. We occasionally carry along walkie-talkies as well. It makes perfect sense to have these two gadgets come together to create a more connected approach.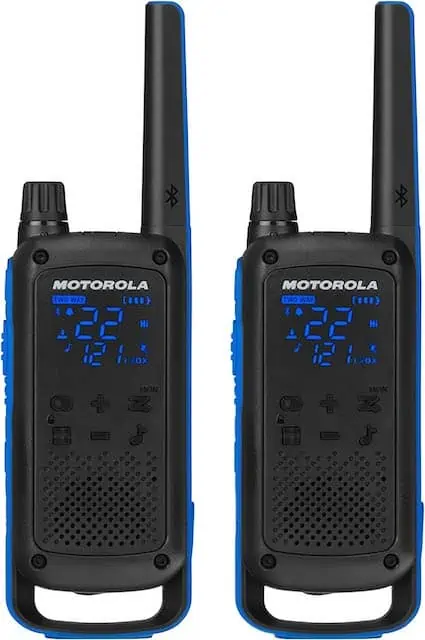 Motorola Talkabout T800 does exactly that. In standalone mode, it works as a conventional FRS walkie-talkie. Pair it with the Talkabout smartphone app via Bluetooth, and whole new possibilities emerge.
The walkie-talkie system works best in a group. If you're out with two or more people, each with their phone and Motorola T800 paired, you can utilize the full capabilities of this system.
Once paired with the phone, one phone or walkie-talkie within the group can be setup as the leader and others as members.

Once the leader is selected, the leader and members can "easy pair". This will cause all members to match the channel and sub-code of the leader radio. This way, communication becomes super easy.
It's worth pointing out that in analog mode, the T800 is compatible with all walkie-talkies. It's only in the digital mode where this walkie-talkie needs compatible devices for specific communication needs, like text and maps.
When paired, Motorola Talkabout T800 acts as a modem to facilitate communication. You can use texts, maps, and more to communicate with other members of your group. Of course, for this to work, the radios must be within line of sight range of each other.
This communication works even if you're off-grid. It isn't related to your phone signal and will continue uninterrupted.
Motorola Talkabout T800 itself is a very well-designed two-way radio. Its face is clean with no discernible screen. Motorola calls this the "hidden display".
Information on the near-invisible screen shows up when buttons are pressed. The display is bright, so it's no problem reading it even in sunlight. The control buttons are directly below the display and are raised slightly to provide some tactical feedback and to preserve the form factor. The walkie-talkie speaker is located right below these buttons.

Apart from these, the walkie-talkie body also includes a flashlight at the top and a loop at the bottom. The loop makes it possible to add a carabiner to the radio or simply tie or hold it in your hand. The downside to this approach is that the radio can no longer stand on its base.
On the side of the radio, you'll find buttons to activate the flashlight, two PTT buttons, and a Bluetooth button. The other side hosts a micro USB charging port. 
Motorola Talkabout T800 often gets compared to the Talkabout T801. The only difference between these models is that the Motorola Talkabout T801 has a green body, while the T800 is blue.
A better comparison perhaps would be Motorola Talkabout T800 vs T600. The latter is the next walkie-talkie in the Talkabout lineup. The form factor of the T600 is more of the conventional walkie-talkie. It shows off a nice screen, colors, and easy device management.
Motorola Talkabout T600 has no Bluetooth, is cheaper than T800, and it can float in water, so it's easy to retrieve if dropped. But what if it's dark out? Well, the T600 has a water-activated flashlight to give away its location!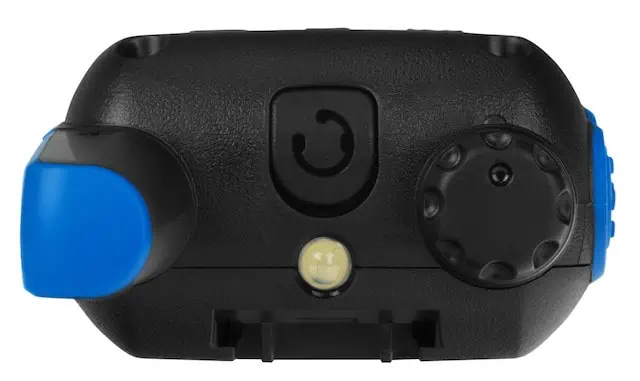 Additionally, while the T600 is waterproof, T800 is only IPX4 splashproof. This means that it can handle mild rain, but heavy rain or being submerged can spell doom for this two-way radio.
Motorola claims that the radio has a communication range of 35 miles on voice. The range on data is lower, limited to 20 miles. Remember, that these distances are under ideal conditions.
In a practical scenario, the available range is likely to be less than a mile, including for data. However, there are situations where a better range is possible, since the range of FRS radios relies on environmental factors and line of sight communication.
The radio is powered by a rechargeable NiMH battery. If necessary, you may choose to run it on two AA batteries. The choice of battery for the radio is old-fashioned and keeps it limited.
Another interesting feature of this radio is its ability to scan 11 weather channels, including 7 NOAA channels. Should a weather alert be issued, this walkie-talkie will catch it and set off an alarm.
Our Ratings
Functionality: 8/10
Reliability: 8/10
Value for Money: 7/10
Battery: 9.5/10
Overall Rating: 8.5/10
Check out our review of Best Long Range Two Way Radios
Pros
Waterproof.
Durable.
Keep information private and safe by locking out who it's not meant for.
It is lightweight
Cons
Transmissions beyond 2 watts require a license.
The Midland GXT1000VP4 is a must-have if you are adventurous as it is one of the best long range two way radio available in the market. It has been specifically designed to operate within a 36-mile radius. It has a number of features including over 300 privacy codes, vibrate alert and can accommodate up to 50 channels.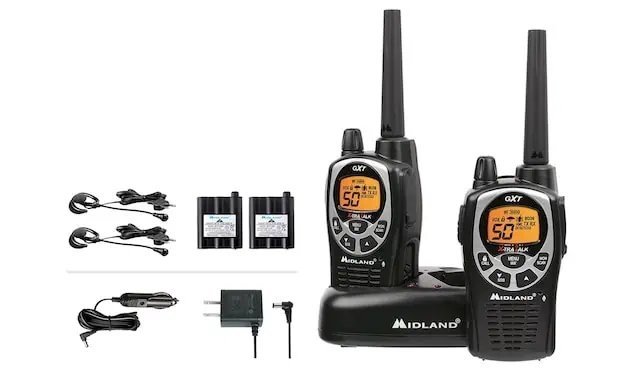 It can withstand rain or water splashing on it because of its waterproof feature and has an impeccable whisper function. The whisper function allows one to speak quietly and still be heard clearly by the recipient.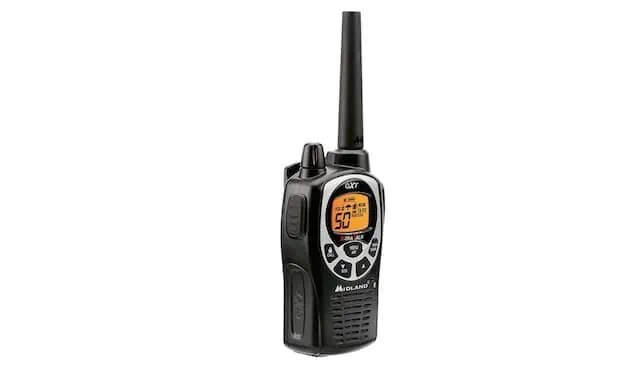 It is a long-range radio that comes in handy if you find yourself lost in the woods or in an emergency situation. It allows you to send a distress signal with ease. If you are a long-distance traveler, you will be able to enjoy and still stay safe because of its weather alert function. You'll receive weather alerts and will have ample time to prepare accordingly.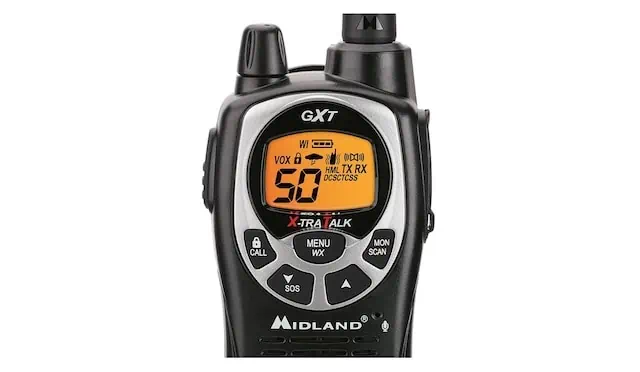 Lastly, it features an automatic channel search with a dual watch function. This means you do not have to manually search for channels that may be available in your locality and can monitor two channels at the same time. It also has a keypad lock. This keeps your settings safely locked in your radio.
This radio is also the best walkie talkie for hiking.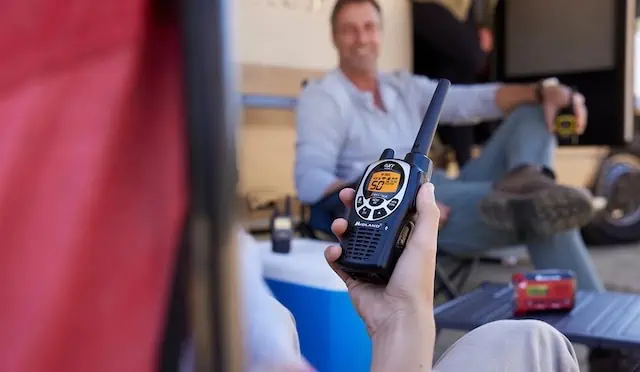 Main Features:
36-mile coverage
Whisper function
Dual Watch
Keypad lock
Channel scan
Vibrate alert
Looking for Sustainable Power Sources to Power Your Radios? Check This:
Midland GXT1000VP4 review video
Pros
Floats on water for easy retrieval.
Its SOS feature is handy during emergencies.
Covers a wide area coverage.
Has private codes for information privacy and safety.
Cons
Supports more GMRS channels than FRS.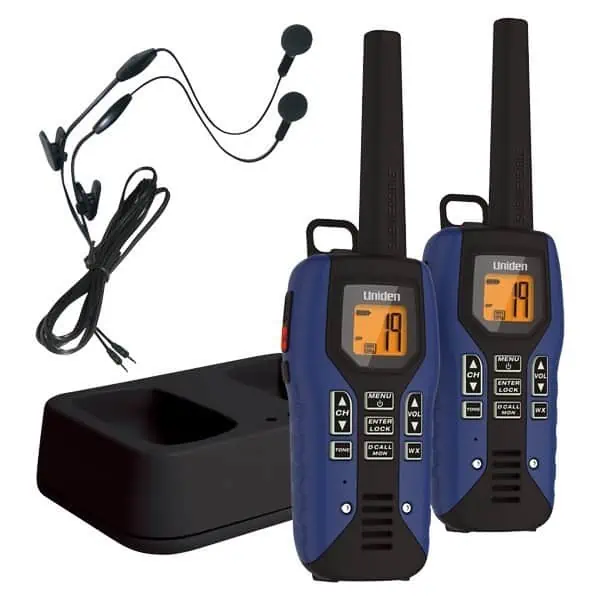 Uniden GMR5095-2CKHS is considered one of the best long range walkie talkie because of its ability to connect even in areas with no mobile phone signal. Not only is it waterproof, but submersible too, and can float if submerged in water for easy retrieval. As long as it is submerged under three feet of water for not more than 30 minutes, no damage will be done.
It is designed for extreme outdoor activities such as hunting, skiing, and hiking. With a range of 50 miles in normal conditions, some may say it is the best walkie talkie on the market today. It features more than 22 radio channels with about 284 privacy codes. It is equipped with both FRS and GMRS channels, ideal for both short and long distances.
Safety should always be your top priority, which is why the Uniden GMR5095 is a perfect choice. It comes with a weather broadcast mode that enables you to choose a weather channel and you get to hear weather alerts in real-time. Still, on safety, it has a built-in feature consisting of an LED flashlight that you can use to send a signal to alert others of your location.
Main Features:
It is waterproof and submersible to 3 feet for 30 minutes
Features 22 radio channels with 284 privacy codes
It has a 50-mile range
Access to NOAA weather alerts.
Backlit display
Want to Learn More About Handling Walkie Talkies? Check These:
Pros
Has an inbuilt flashlight for night operations.
Timely weather updates.
Has private channels for information privacy and safety.
Has a wide range coverage of 35 miles.
It has two powering options.
Cons
Its coverage distance is limited to 2 miles in densely built-up areas.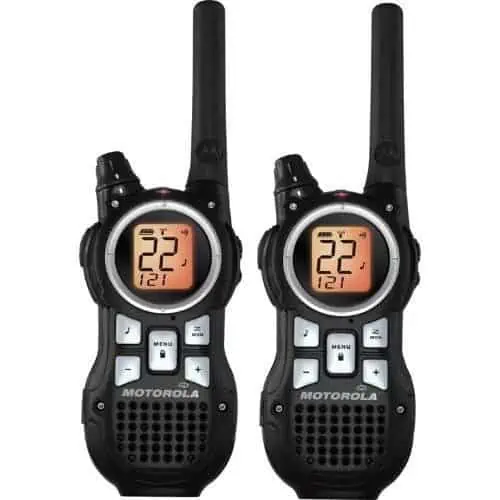 Motorola MR350R is ideal for camping during the cold weather. This is due to the buttons that are specifically designed to easily be controlled even when you are wearing gloves. It comes with an LED light that comes in handy at night and is strong enough to be used as a flashlight so that you can find your way back to camp or home in the dark.
It has a range of up to 35 miles with weather channel alerts and rechargeable batteries. It includes a total of 22 GMRS channels with 121 privacy channels. In case of emergencies, or find yourself in a tricky situation, you will only need a push of one button and you are safe. It can withstand harsh weather conditions too and that's why we consider it among the best two way radios.
Lastly, they are simple, lightweight and affordable, which makes them very popular among outdoor enthusiasts. Don't forget they are durable, reliable and user-friendly. There are possible alternative uses of this remarkable long range walkie talkie, such as a replacement for baby monitors. It is just a thought though, an idea that has not been implemented yet.
Main Features:
LED Light
Cost-effective
It has a 35-mile range
Strong battery life
Features weather channels through which you can receive alerts
Simple and easy to use
Need a Radio for Fun Outdoor Activities? Check This Out:
Pros
It's compatible with all GMRS and FRS radios.
It has a wide range of coverage.
It's water-resistant.
It's easy to use and has a clear sound.
You don't require a license to operate the radio.
Cons
Transmission is limited to 2 watts of power.
With over 36 channels and a 30-mile range, Midland LXT630VP3 is considered one of the best in the industry.  It comes heavily recommended by major players in the industry because of its multiple features including NOAA weather alerts for safety purposes, a strong battery power which is rechargeable with an option of choosing between high or low power settings hence conserving power when need be.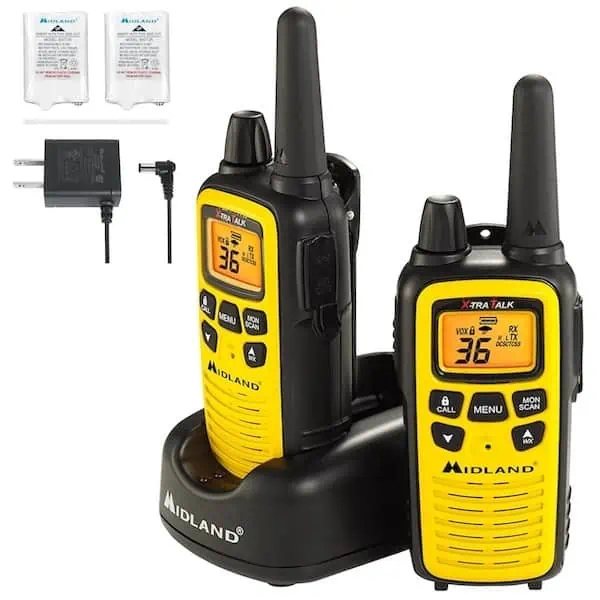 If we take a look at its build quality, Midland LXT630VP3 is a solid, lightweight device that comes with its own belt clip that enhances grip. Even though it is small, the audio quality is flawless under optimal conditions. It has a knob specifically used for adjusting the volume. This proves to be very convenient as you will not need to go through the menus.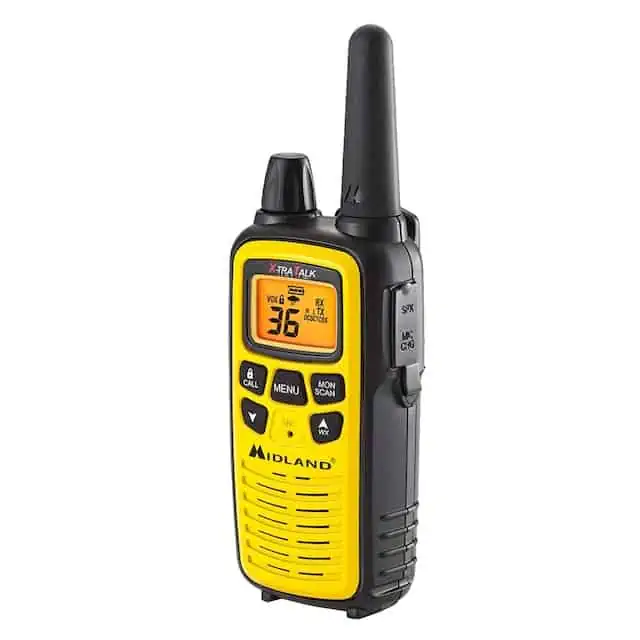 Some of the other exciting features of this magnificent walkie talkie include a keypad lock, which allows you to keep your personalized settings safe, a backlit LCD display for easy reading of the screen, and a battery life extender in the event of a situation where you have no access to power for a few hours.
For its size and price, it is a fantastic two way radio.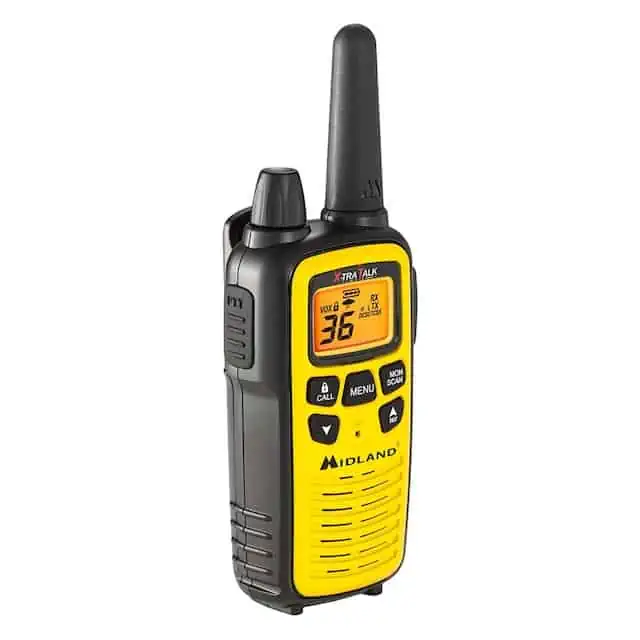 Main Features:
Headphone jacks
Channel scan
Comes with a charger cable
36 channels with 121 privacy codes
Weighs about 1.56 pounds
Looking For More Outdoor Radio Options? Check These Out:
Pros
Timely weather updates.
Has two sources of power options.
It supports hands-free communication.
It has a wide range of coverage.
External interference lockout for conversation safety.
Cons
Optimum range coverage is dependent on objects of obstruction.
Motorola MH230R has a range of 23 miles, which makes it a perfect tool to stay in touch with family and friends on a small hiking trail or camp. It is one of the most sought after two-way radio by outdoor enthusiasts. This easy to handle device, due to its lightweight, has quite a number of features that would put the bigger radios to shame.
Most of the essential features can be found in this device. First and foremost, the Motorolla MH230R comes with a total of 7 NOAA channels. They come in handy when you want up to date weather alerts and broadcasts. This helps to be prepared in advance of any incoming unfavorable weather conditions.
Motorola MH230R comes equipped with a capacity of 22 channels and 121 privacy codes. The privacy codes reduce the number of interruptions, making conversations through these radios a smooth affair. It is compatible with other versions of Motorolla radios. Thanks to the iVOX feature, you can speak hands-free. This allows you to engage in other activities that may keep your hands busy and still keep in touch.
Main Features:
7 NOAA channels and an additional 4 weather channels.
22 channels with 121 privacy codes.
It has a rechargeable battery which is easy to charge.
It has a range of 23 miles.
Hands-free communication
Pros
Ergonomic design and large buttons that allow for use with gloves.
There are high and low power options
The vibrate call notification feature eliminates sound from the radio.
It is compatible with many headsets
It is dust-protected & splash-proof
Incorporates a built-in LED penlight
40 miles range
Cons
When you switch from an FRS channel to a GMRS channel the radio fails to tell if you are a licensed operator. In case you are in an urban environment, it is possible that you might interfere with a licensed operator and get reported, but in the field, this is not an issue.
It is a bit heavy due to its rugged design.
It is a bit heavy due to its rugged design.
The Olympia R300 is a rugged two way radio ham radio designed for outdoor adventure that delivers high performance at an affordable price.
R300 has a communication signal range of up to 40 miles under optimum conditions and competes very well with others long range 2 way radios. The radio is resistant to water and rain splashes. It has 7 National Oceanic and Atmospheric Administration channels for local weather alerts and 50 preset channels with 121 code combinations that give numerous options to communicate with reduced noise interference. It has a micro USB charging cable and is compatible with many leading headsets. It is well designed for a snug fit in the palm of your hands and features larger buttons for enhanced ease of use.
Olympia R300 Rugged Waterproof Two-Way Radios is among the best long range 2 way radios with many amazing features as discussed above but the best feature and a good reason to buy this 2 way radio is its emergency button. You can press once on this button to broadcast continuously without having to hold down the transmit key; this is a savor if you get injured.
Check These Radios to Help in an Emergency:
Pros
It's lightweight and convenient to carry around.
It's easy to use.s
Low price
It offers guaranteed clear sound.
Removable belt clip
Has a flashlight
Water-resistant
Cons
Does not use AA batteries
Range coverage is limited to 5 miles.
Arcshell rechargeable long range two-way radios are one of the best long range walkie talkies. They radio come with multiple features as follows.
Signal Range: This walkie talkie has got a signal range of up to 5 miles in areas with little or no obstruction. It usually works best in commercial construction or around the house.
The Battery: Each radio comes with a 1500mAh rechargeable Li-ion battery that you can charge alone or charge the radio with battery installed. It takes about 2.5 hours to fully charge and the battery life is determined by transmitting time. The battery lasts around 8 to 96 hours on a single charge depending on how much you transmit.
Frequency Range: This walkie talkie has got a frequency range of UHF 400-470MHz with16 pre-programmed channels. The channel frequency is programmable within the frequency range.
Speakers: It has got a high-quality inbuilt speaker that provides loud and crystal clear sound. Each radio comes with a single-earbud style earpiece, when you plug in the earpiece, all sound goes to the earpiece and the radio speaker is silent this is a plus when you want to have a private talk.
If you are looking for the best and pocket-friendly walkie-talkie, Arschell long range 2 way radio is highly recommended as evident from the above features.
Looking For More Outdoor Options? Check These Out:
Pros
It has an in-built flashlight for ease of use in the dark or SOS emergency response.
It is lightweight.
Low price
It's possible to receive calls hands-free when you're occupied.
Cons
You need programming software to program the radio.
Short Range
Only 16channels
The Galwad 888S comes with a range of about 1 mile, with a channel capacity of 16. Its range makes this tool ideal for security guards; in addition, you get to talk in real-time. It is also suitable for use in construction areas, for the staff to keep in touch. You can also use this device to keep in touch with your family once they scatter in a shopping mall or amusement park.
If it gets dark, no need to panic if you have this tool in your pocket. It comes with torchlight and a 1500mAh battery which comes in handy if you are not close to a power outlet. To add to this, it features energy-saving capabilities to extend battery life. It also has battery alerts that notify and update you the present condition and performance of your battery.
The audio quality on this device in terms of voice transmission is top notch. It is easy to use for all ages and all kinds of people.
Main Features:
Torchlight
Long-lasting battery
3-mile range with a capacity of 16 channels
Low voltage alert
Power saving feature
Has an output power of less than 5W
Weighs a convenient 180g
Pros
It has selectable high and low power options.
It is easy to operate.
It has three scanning options.
Offers guarantee quality and clear sound.
It has an in-built flashlight
Cons
Some frequencies require a license before transmission.
As the name suggests, Retevis RT-5R outputs 5W on VHF and 4W on UHF. This basically means that it has a dual receiving feature. It can accommodate 128 channels in its memory with a frequency range of 136-174mHz on VHF and 400-480mHz on UHF. Equipped with a 1800mAh Li-ion battery and a power saving feature, it is arguably one of the best long range walkie talkies on the market presently.
You can be sure that with the Revetis RT-5R radio, your personal settings are secure because of the keypad lock function. It comes with a built-in torch that comes in handy in case it gets dark. You can also use it as a source of both entertainment and information thanks to its FM radio. Features an LCD display, which is also dual in nature.
You can never go wrong with this 2 way radio being part of your camping and hiking artillery.
Main Features:
LCD Display
Low battery alert
Power saving feature
Keypad lock function
1800mAh Li-ion battery
Best Long Range Two Way Radios Detailed Comparison Table
| MODELS | Midland GXT1000VP4 | Motorolla 22-channel | Uniden GMR5095-2CKHS | Motorola MR350R | LXT630VP3 | Motorola MH230R | Olympia R300 Rugged | Arcshell Two-way Radio | Galwad 888S Walkie Talkie | Retevis RT-5R 2 Way Radio 5W |
| --- | --- | --- | --- | --- | --- | --- | --- | --- | --- | --- |
| Dimensions: | 7.75 (L) x 2.5 (W) x 1.4 (H) inches. | 7.5 (L) x 2.3 (W) x 1.4 (H) inches. | 8.6 (L) x 13.39 (W) x 3.76 (H) inches | 7.60 x 2.30 x 1.14 inches | 7 (L) x 2 (W) x 1 (H) inches. | 6.21 x 2.14 x 1.15 inches | 8(L) x 2 (W) x 2.6(H) inches | 4.53 x 2.36 x 1.30 inches | 4.52 x 2.36 x 1.30 inches | 4.33 X 2.28 X1.26 inches |
| Weight: | 0.3 lbs. | 0.4lbs | 1.45 lbs | 0.40 lbs | 1 lbs | 0.29 lbs. | 0.30 lbs | 0.39 lbs | 1.59 lbs | 0.4 lbs |
| Radio Service: | GMRS, FRS. | GMRS, FRS | GMRS, FRS | GMRS, FRS | FRS | GMRS, FRS | GMRS, FRS | UHF 400-470MHz. | 400-470MHz. | UHF (400-520 MHz) and VHF (136-174 MHz). |
| Range: | 36 miles | 35 miles | 50 miles | 35 miles | 30 miles | 23miles | - | 5 miles. | 2.5 miles | 2 miles |
| Power source: | 4 AA batteries | 3 "AA" or NiMH batteries. | 4 AA or NiMH batteries. | 3 AA or NiMH batteries | 3 AAA or NiMH batteries | 3 AAA or NiMH batteries | 3 AAA or NiMH batteries | Rechargeable 1500mAh Li-on battery | 1500 mAh Li-ion battery | 1400 mAh Li-ion battery. |
| Power output: | 2 watts | - | 0.9 watts. | | | - | - | 3 watts. | <5W | 5 watts. |
| Channels: | 50 | 22 | 22 | 22 | 36 | 22 | 50 | 16 | 16 | 128 |
| Privacy codes: | 387 | 121 | - | 121 | 121 | 121 | 121 | 50 CTCSS/105 CDCSS | 50 CTCSS / 105 CDCSS. | 50 CTCSS and 105 DCS. |
| Weather Alert: | NOAA | NOAA | NOAA | NOAA | NOAA | NOAA | NOAA | - | - | |
| Waterproof rating: | JIS4 | IP54 | JIS7 | IP51 | water-resistant | IP51 | IP54 | - | - | NOAA |
Best Long Range 2 Way Radio Buyers' Guide
The following are factors to consider when buying a long range 2 way radio.
Range of Coverage
This refers to the size of the area the radio's signal can operate. Get a two way radio that has sufficient range for your needs. Depending on the conditions, the range is usually about 2 miles or less than the actual range. More powerful radio with big coverage requires a license which can be expensive.
Size, shape and weight
If you prefer a more convenient product, go for a lightweight device as opposed to a bulky tool. If you are a hiker or skier, go for a radio with an ergonomic shape, so that you can use it with gloves.
Channels and privacy codes
Privacy codes come in handy if you want your transmissions to not suffer interruptions. The channels play a role in tuning the frequency on which the radios communicate with one another. The number of channels most license-free two way radios have is 8.
Battery Life
This includes the type of battery that powers the radio and the mode of charging. Most radios are powered by regular alkaline batteries whereas others have rechargeable batteries. It is advisable to get a radio that takes regular batteries if you do not have access to power. It is, however, cost-effective to use a rechargeable battery as opposed to regular batteries. This is because, with regular batteries, you will need to replace them with new ones after a while.
Hands-free
This depends on the nature of activities you are engaged in. If you are involved in mountain climbing, skiing and motorbike riding then get yourself a device with VOX, also known as Voice Activated Transmit. With this feature, you will not need your hands to operate the device.
If you keep those few features in mind, then you will be ready to purchase your very own radio. Time to take a look at some of the best walkie talkie long range you might consider getting for yourself.
Related posts