Updated Jan 24, 2023
Best Handheld Ham Radios (Updated 2023)

Singling out the best handheld ham radios can be quite challenging, especially if you are a first-time buyer.
The market is flooded with high-quality radios that boast of advanced features and the latest technology.
If you are looking to buy a ham radio for an emergency or adventure, we are here to help you answer the question "what is the best handheld ham radio?" We have compiled a comprehensive list of what we believe are the best ham radios in the market to help you make an informed decision.
The idea of owning a ham radio in this digital era may sound far fetched. In fact, many people believe that ham radios are no longer in use, but that isn't the case at all.
These simple communication gadgets are still essential and can come in handy at the least expected time.
Comparison Table With Our Ratings
Comparison Table With Specifications -Best Handheld Ham Radios
Model
Yaesu FT-65
BaoFeng BF-F8HP
BaoFeng UV-5R
Yaesu FT-3DR
Yaesu FT2DR
TYT MD 380
Tri-band Yaesu VX-6R
BaoFeng UV-82C
Ailunce HD1
Output
5 Watt Max
8 Watt Max
4-5 Watt Max
5 Watt Max
5 Watt Max
5 Watt Max
5 Watt Max
5 Watt Max
10 Watt Max
Speaker Output
1000mW
700mw
700mw
700 mW
700 mW
1000mW
1000mW
1000mW
500mw
Frequency Range (MHz)
VHF (144-148), UHF (430-470)
VHF (136-174), UHF (400-520)
VHF (136-174), UHF (400-520)
0.5 – 800 MHz (Rx)
VHF (144-148)
UHF (430-470)
VHF (144)
VHF (144-148),
VHF(144/222)
VHF (136-174), UHF (400-520)
VHF (136-174), UHF (400-480)
Weight
3.8 ounces
10.1 ounces
15.8 ounces
10.0 ounces
10.9 ounces
9.1 ounces
2.8 ounces
8 ounces
13.3 ounces
Dimensions
2.01 x 1.2 x 4.1 inches
10.5 x 2 x 2 inches
7.01 x 4.29 x 4.02 inches
8.5 x 6 x 3 inches
1.28 x 2.44 x 4.33 inches
5.2 x 2.4 x 1.6 inches
5.2 x 3.5 x 2.3 inches
2.4 x 2.0 x 11.3 inches
9.04 x 7.04 x 4 inches
Battery
1950 mAh
2000 mAh
1800 mAh
2200 mAh
2200 mAh
2000 mAh
1400 mAh
1800 mAh
3200 mAh
User Manual
Basic and user-friendly, download programming instructions
Detailed but hard to understand
Detailed but hard to understand
Multiple manuals to cover different functions
Multiple manuals to cover different functions
Basic and sometimes unclear
Comprehensive manual
Detailed but hard to understand
Well written and nicely laid out
Price
Mid-range
Mid-range
Budget
Premium
Premium
Mid-range
Premium
Budget
Premium
Types of Ham Radios
There are 3 types of Ham radios i.e. handheld ham radio, mobile ham radio, and base-station ham radio
Handheld Ham Radio: They are small and lightweight. The handheld transceivers allow ham operators to communicate on the go; due to their low power output, handheld ham radios typically have a range of only 5 miles at the most; their range can be increased by a nearby ham radio repeater
Mobile Ham radio: Designed to be used from an operator's vehicle or a ham shack; their 200-mile range is mostly due to the increased power available through either a home wall connection or by a connection through a vehicle's battery via a 12-volt outlet or power adapter
Base station: The largest of ham radio setups, generally have a range of several thousand miles; typically powered by household current, through an outlet, or a special 12-volt battery connection; these ham radio types cover the whole spectrum of radio frequencies, though some are set up only to operate in the high-frequency ranges.
Top 9 Best Handheld Ham Radios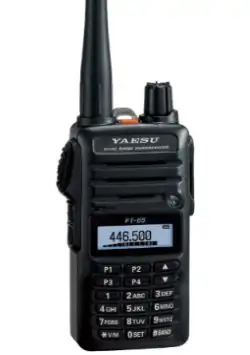 Key Features

Sturdy and comfortable to handle with commercial grade build including an IP54 rating
1950 mAh battery life of around 9 hrs upgradeable to 11 hrs operating time with the 2500 mAh option and comes with 3.5 hr rapid charger
Clear microphone and good audio quality 1 watt speaker
Programmable VFO as well as channel and weather scans
3 power settings of 5 W, 2.5 W and 0.5 W allow
Intuitive menu with 4 programmable keys to enable quick recall of most used settings
The Yaesu FT 65R is a less expensive version of the highly rated FT-60, and the features are more basic too on this more compact model. However, this dual band radio, which comes with weather alert and FM radio, is still a solid, comfortable handset of reasonably quality with an IP54 rating meaning it is relatively robust outdoors. It is one of the best handheld ham radios around.
The PTT button sticks out at a slight angle which may feel awkward to some but great to others, so this design feature comes down to personal preference. It has a 1-watt speaker with good audit quality and a clear, audible microphone.
You can extend the operating time by a few hours by upgrading the rechargeable 1950 mAh lithium ion battery to a 2500 mAh battery.
The transceiver is computer and keypad programmable, but the programming cable isn't included and has to be bought separately, however, once obtained, the handset can be programmed with a range of software. It comes with a basic but user-friendly manual though you have to download the more comprehensive programming instructions.
Menu navigation using the keypad is relatively straightforward and intuitive, and the keypad includes four programmable keys to quickly access to your most used settings, which is fairly unique among the ham radio handsets reviewed.
The back lit LED screen seems basic with a default display setting showing a single VFO and battery status, but it can be configured to a dual band display.
It has the standard VFO/programmable memories as well as weather scans and you can set it to auto turn-off after a set period of time to preserve the battery. It comes with a stout antenna which is interchangeable.
If you're tired of belt clips that snap or detach the battery from the handset, the transceiver comes with a sturdier belt clip design than many other models and the clip attaches to the body of the handset rather than a more standard attachment to the battery.
Overall, the functionality, reliability and quality compared to other models make it highly suited as a first ham radio for a ham radio operator starting out, as well as intuitive, easy-to-handle handset for the more experienced.
This dual band ham radio comes with VFO mode or you can scan by pre-programmed memory. Menu navigation and keypad programming is relatively intuitive, and the keypad includes 4 programmable keys for quick recall. Sturdy and compact, it is well suited to outdoors, especially with power saving features and the option to upgrade the battery.
Pros
It is inexpensive/affordable
It is commercial grade built and splashproof making it suited for outdoor use with less common PTT and belt clip design features
Good quality speaker
Manual keypad programming straightforward and intuitive
Cons
The programming cable doesn't come as standard so make sure you buy this if you want to use the programming software
The user manual is good but basic, meaning the programming manual has to be downloaded
Key Features

Most Powerful Ham Radio
Great price with many features
Great sound quality
Great Battery life
Squelch settings work
Transmit and monitor on all GMRS, FRS, Marine and Business bands
The Baofeng BF-F8HP is the editor's pick for the best handheld ham radio. It is also the best handheld ham radio for beginners due to its affordability, ease of use and popularity among beginners as well as experienced hams.
It is a powerful handheld radio as it boasts of three power levels i.e low- 1 watt, medium-4/5 watts, and high-7/8 watts.
With this radio, it is possible to monitor two channels simultaneously, thanks to its Dual watch receiver, also known as semi-duplex. You do not have to worry about not having enough power when you have the 2000Mah power battery as your back up.
Why get bored when you can listen to the radio while monitoring radio channels?
Thanks to its FM broadcast capability. The best thing about it is, it can accommodate a total of one hundred and twenty-eight channels that are programmable and can be put to memory. There is the option of adding or removing channels, hence you get to choose what you want to listen to.
In addition, incoming calls will always be given priority over the FM broadcast radio. This ensures that you do not miss any radio calls while on the radio.
This is a ham radio that even a beginner can comfortably use.
This Baofeng radio is frequently bought together with:-
Pros
Affordable, best ham radio for under $100
It has good sound quality, transmission power and reception is decent
Battery life is great
It is easy to use
Upgraded chipset
It comes with a better antenna
Cons
You may need a USB cable and computer to configure
Increased power output does not make a significant difference
*Check our review of theBest Mobile Ham Radios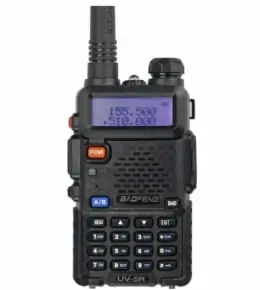 Key Features

Versatile radio for amateur use
Easy to use
Small size, just the size of an iPod
Good frequency range
Durable and extremely strong
High two colors LED definition display
Dual Watch Receiver
Group Tones supported
If you are looking to save some money this is the best budget ham radio. It is another Baofeng ham radio that can watch two channels at the same time.
It has a frequency range of 65-108mhz. Features high/low power settings of 4W/1W and contains a programmable radio. The FM broadcast radio can be used on amateur frequencies and can transmit on both the Narrowband (12.5 kHz) and wideband of about 25 kHz.
It has 128 programmable memory channels with the option of adding and removing at will. This gives you the option of customizing the channel names on the device. Not forgetting, its superior rechargeable battery.
The battery is 1800mAh Lithium-Ion with a power capacity of about 12 hours. When you are not in need of the power from the battery, it contains a save feature that saves power to be used when needed. It is one of the best cheap ham radio on the market.
Pros
A handy all-round radio that is durable and extremely strong
It has good frequency range – 5 to 15 miles depending on obstacles
High two colors LED definition display
It has Dual Watch Receiver
Group Tones supported
Rechargeable battery
Has an FM radio
Power saver feature
Cons
Programming not intuitive, manual programming could be a lot better
VFO function has no copy memory channel
Selecting channels is slow
Scanning is a little slow
No copy to the memory channel
No voice prompts
Key Features

Wide receiver coverage along and APRS capability
Simultaneous C4FM digital dual band (A and B) monitoring
High resolution, full colour touch screen display allows for easy menu option selection
5-watt high power output as well as medium (2.5 watt) and low (1 watt or 0.3 watt) power options
Bluetooth enabled
Option to add an SD card that will allow recording of conversations and carry a back up of saved channel settings
Small and compact
If you're a ham radio enthusiast who'd like a transceiver that utilises more of current technology, the Yaesu FT-3DR is a premium, and yes, more expensive, version of the Yaesu FT-2DR.
Its distinguishing upgrades compared to the Yaesu FT-2DR include a bright multi-colour screen, rather than monochrome, with touch screen capability meaning it is much easier to work your way around menu functions and switch between bands. The colour screen is slightly smaller than the FT-2DR which requires some deftness when using the touch screen. You'd think the more advanced screen would drain the battery faster, but the FT-3DR has proven to have excellent battery life (when not using Bluetooth).
This model is one of very few to come with Bluetooth capability meaning it can synchronise with the car and most headphones.
It has the option to be fitted with an SD card on which you can record inbound and outbound voice transmissions, and you can also use the SD card to save a back up of your preferred channel settings.
The compact size and built-in GPS leaves little space on the top of the handset, so it isn't as easy to interchange wider based antennas. One solution is to add a BNC connector to attach other antennas.
The handset is compact and comfortable to carry by hand, belt-clip or pocket if you're hiking and the GPS provides and gives access to real-time navigation. It is IPX5 water resistant so is suitable for outdoor activities. Combined with the navigation tools and decent battery life, you can make your way back to your start point if you get lost.
APRS capability seems a bit hit and miss, and the low sound capability may make it harder to receive some broadcasts and transmissions. Otherwise, this is a feature-rich premium ham radio and as this is an incremental upgrade you won't need to replace all the accessories if you have an earlier model.
This dual band ham radio comes with touchscreen capability, Bluetooth and GPS while becoming even more compact and tactile than earlier models. Sturdy and water resistant, it is well suited to outdoors, with the ability to track, record, receive and transmit voice, data and location information.
Pros
Touch screen functionality
High, medium and low power modes and long-lasting battery
Bluetooth capable so ideal for hands free and car use
Accessories of the FT 2DR are compatible with this model so no need to replace everything
Built in GPS and real-time navigation capability
Compact and tactile for comfortable handling
Cons
Recommend getting a BNC connector to allow antennas with a fatter base to be attached
Audio and sound quality and output is not much better than far less expensive models
Touch screen functionality can be tricky for those with thicker fingers/larger hands
Powered with an output of 5 watts, this Yaesu ham radio is one of the best handheld radio for beginners. Its battery boasts of a capacity of about 2200mAh which means that the user gets to enjoy more time working with it and less time charging it.
It has an in-built antenna with a magnificent GPS receiver. In case you get lost and you happen to have this radio, no need to worry. The GPS can, not only provide your location in real-time but also provides APRS information.
The FT-2DR comes with a navigation feature, which is considered smart due to its capability of performing in real-time. This makes it possible to constantly know exactly where you are at all times,  hence you get to enjoy your hike in the woods with no worries at all.
Last but not least is, there is the little camera located near the microphone. It is a small, handy piece of tool that can take a snapshot and the image is saved in a micro SD card for future reference.
Pros
Smart navigation
Built-in GPS
Compatible with system fusion
Wideband receiver
Cons
The audio can be a bit distorted
Yaesu Original FT-2DR Dual Band Handheld Transceiver User Manual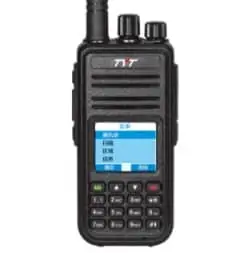 It has a single band coupled with a dual mode capability. The receiver in this radio is one of the most sensitive receivers we have on the market today. The quality of the audio is quite high compared to other similar gadgets with superb frequency response. The thing about the TYT MD 380 that makes it unique is its multi-color display with remarkable resolution.
The speaker is not only loud, but is clear enough too, and is powered by a 5-watt transmitter which is more than sufficient. Its programmable keys are located on the side. Their main purpose is to scan all available channels
Pros
The audio is of high quality
It is easy to use
Lightweight
Cons
It sometimes drains the battery
A bit difficult to program
First and foremost, it is easy to use. With an output of 5 watts and a total of 900 alphanumeric memory channels, it is no doubt one of the most sought after ham radios. It features a triple band and possesses wide receiver capabilities.
Other additional cool features include a severe weather alert system. This comes in handy when you come across harsh weather conditions. Features an Emergency Automatic ID. This proves to be very useful.  In case of an emergency and for one reason or another, you are unable to press the switch. This feature will identify you as the authorized user and you will be able to make your call.
Pros
The audio is of high quality
The battery performance is not so bad
It is easy to program
Cons
The speaker is not loud enough
The keypad is a bit too small
Key Features

Inexpensive
Light and compact.
The white LED is handy.
CHIRP programming
Can be used on FRMS and GMRS and monitor weather.
This is one of the best baofeng radio models. With a v-85 antenna for optimum performance, this is one of the best ham radios on the market today. It has a switch known as a PTT switch. This comes in handy when you opt to transmit on two frequencies.
It also comes with a dual push to talk button. In addition to this, it has the capability of receiving two frequencies at the same time, at different bands. This is made possible by a feature known as a dual watch receiver.
So why else do we consider it as one of the best portable radio? To start, it boasts of FM broadcasting capability with the incoming call given first priority. This comes with a total of 128 programmable channels that can be programmed via software or manually.
The software considered best for this is CHIRP. It may take a while to learn how it works. But once you get the hang of it, it is a piece of cake. You will need a USB programming cable to make this happen. This enables you to program alphanumerically if that is what you prefer through the use of this software.
Lastly, its power settings can either below (1W), medium (4W), and high (7W).
Pros
Affordable
Great battery life
Much better antenna
CHIRP programming
Enough power output
Cons
Alphanumeric programming only possible via the software
No clock
Baofeng-UV82C Dual Band Baofeng Ham Radio User Manual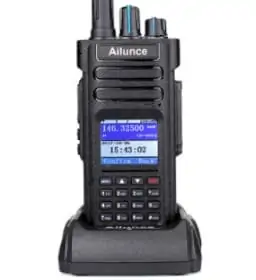 Key Features

Capacity to store 1,000 priority contacts for convenient access and up to 100,000 contacts overall
Up to 10 watt high power output as well as medium (5 or 4 watt) and low (1 watt) power options
Accurate GPS locator and tracker makes it ideal for position and tracking during outdoor activities
3200 mAh battery with a long standby time
Dust and waterproof to IP67 standards
The Ailunce HD1 DMR is a digital mobile radio built with radio ham operators in mind and is the first ham radio from Retevis. It has some features that set it apart from other ham radios including a larger 3200 mAh battery, higher wattage output and GPS functionality, but has some downsides that seem to be improving with firmware updates and hopefully future design improvements.
The 10-watt power outage gives it some extra range, and the large battery apparently lasts for days on standby, though the LCD display is effectively blank in this mode. However, with speaker output of 0.5 watts, the sound has a tendency to distort as the volume is turned up. In addition, the receiver sensitivity seems much lower to comparable handsets earning it a reputation as "deaf".
This largish handset is designed with a GPS locator and tracking capability, and has a waterproof rating, so you'd think it is suited to those ham radio operators who are outdoor enthusiasts as well. However, functionality issues such as poor receiver sensitivity, lags in responsiveness of the selector knobs, and distortion, pull down the reliability rating of this model. You may be better off with something like the Tri-band Yausu VX6R if you want something you can rely on in survival or emergency situations.
You can program using the keypad or via computer, however the programming cable does not have a standard connector and does not automatically come with purchase.
The software is similar to that of other radios but different enough to require a bit of a learning curve to get the hang of it. It is not compatible with that of other radios, so you have to set up from scratch if you want to replicate settings you have in other models. It has the capacity to store 100,000 contacts, which you can filter and select according to your requirements from the DMR database directory.
This is a nice-to-have addition to your ham radios if you are a DMR enthusiast. Be aware though, of the functionality issues if relying on this handset alone for ham radio communications or in an emergency situation, especially as it is pricier and more complex to program than many other models.
This DMR ham radio comes with VFO mode enabling you to program and save by frequency, which is handy if you're using it in analogue mode. It comes with a promiscuous mode, enabling you to listen and talk to multiple talk groups. Combined with GPS functionality and extended battery life, this waterproof handset is designed for outdoor use.
Pros
High, medium and low power modes
Ability to download and store DMR database contacts according to your preferences
Digital and analogue functionality, including messaging
Long battery life when using standby mode
Screen remains functional (doesn't freeze) during transmissions
Dust and Waterproof to a rating of IP67
Cons
Non-standard software for programming requires overcoming a learning curve and you must check you get the cable as it doesn't always come as standard
500 mW speaker may distort when turned up more than halfway
Receiver sensitivity and audio quality does not seem as good as other models
Buyer's Guide – Best Portable Ham Radio
Dual Band
This feature will give you the ability to monitor two different frequencies simultaneously. The dual-band function makes it easy for you to select the frequency you would like to transmit on. You should also be careful with the antenna that comes with the radio. A genuine antenna should have no problem, but the ones not bought with the radios are sometimes not compatible with the dual-band feature.
Programming
There are two questions you should ask yourself, can the radio be programmed manually as well as via the software. If it can be programmed via software, it is prudent to confirm that the programming cable is available and functioning. For a portable radio to be programmed manually, there needs to be a functional keyboard.
Rechargeable battery
After using the portable ham radio for a few hours, it should be recharged. It is paramount to confirm before making a purchase that it has an external DC connection. This will make the work of recharging easier and ensure that the radio has enough power for it to operate at all times.
A well-arranged user manual
In other words, find a handheld ham radio with a manual that is easy to understand. This comes in handy when you try to operate your device, but does not work in the manner you expected it to operate. When something like this happens, it is advisable you look for an easy manual that will help you get going in the shortest time possible.
Speaker quality
Sometimes the audio quality of the ham radio is directly affected by the nature of the environment. If you are trying to listen to your radio in the city or on a busy market, it might be difficult to understand whatever is said via the radio. This is why it is important you look for a device with a good speaker and an external earphone jack. If the outside world becomes too noisy, you just plug in the earphones and receive the information on the radio loud and clear.
Types of Licenses for Ham Radio Operators
There are three main types of licenses for ham radio operators.
a) The Technician License
This license is normally issued to beginners. It is considered an entry-level license and you only need to pass one exam to attain this license. Once you get this license, you gain access to a frequency above 30mHz hence can communicate locally.
b) General License
To attain, you will need to pass an exam with a total of 35 questions. Needless to say, you need to have attained a technician license or passed the Technician written examination. With this license, you will have access to all amateur radio bands and operating modes.
c) The Amateur Extra License
This is a higher-level license, therefore, it requires passing a more difficult exam with a total of 50 questions. Before sitting for this exam, one of the requirements is you must have passed previous license class written examinations. With this license, you get to enjoy all operating privileges on all bands and modes.
With those few points on what you should look for and need when getting the best ham radio, it is time to take a closer look at our handheld ham radio reviews. These are the best picks.
How Does a Ham Radio Work?
Typically, ham radios use a wide range of frequencies for communications. Non-hams can "listen in" to hams via radio scanners or their own receivers. Ham radio utilizes a variety of frequency bands across the entire radio spectrum. The frequencies are usually allocated by the Federal Communications Commission (FCC) and are only meant for amateur use. Many ham radios operate well in the frequency range just above the AM broadcast band.
Many ham bands are found in the radio frequency that ranges between 1.6MHz to 27MHz. During the day, 15MHz to 27MHz provides a good band for all long-distance communications. However, during the night, the band ranges between 1.6MHz and 15MHz offers a good band for long-distance ham radio communications. These bands are commonly referred to as short-wave radio bands.
Unlike the frequencies used by television stations and FM radio stations which are line-of-sight and limited to up to 50 miles, the short-waves usually bounce off the ionosphere from the transmitter antenna to the receiver antenna. Thus, the higher the frequency, the shorter the wavelength.
While some ham radios use the Morse code, other use voice. The Morse code signals are much more reliable since they can still get through even when voice transmission can't.  It is also good to note that these amateur radios use radio modems to communicate in various networks.
Frequently Asked Questions (FAQ)
Do you require a license to operate a ham radio?
A license is not required to purchase ham radio or listen/monitor to the many amateur (ham) radio frequencies. You will, however, require a license from  Federal Communications Commission (FCC) to transmit on amateur radio frequencies in the USA. There are 3 levels of licenses for amateur and one needs to pass simple multi-choice questions, no detailed "Morse" code kind of knowledge.
How long is a ham radio license good for?
In the US, a ham radio license is renewable after 10 yrs.
How much does it cost to get a ham radio?
The cost component of using a handheld ham radio is made up of two items:-
Fees to obtain a license which is set by and payable to the volunteer examiner coordinator. The amount is usually small. At times some VEC do not require a fee.
Cost to purchase the ham radio depending on budget and preference from as low as $23 for a BaoFeng UV-5R
CONCLUSION
To sum it all up, it is important to get the right best amateur ham radio for you. It should fit in your budget and at the same time meet your expectations, at least most of them. Take your time before making a decision on the type of radio you are going to buy. Most importantly, understand what you are buying with regard to its features and limitations. This will avoid a lot of frustrations in the future. –
Related posts:-
*Wholly Outdoor is a participant in the Amazon Services LLC Associates Program, an affiliate advertising program designed to provide a means for sites to earn advertising fees by advertising and linking to Amazon.com.