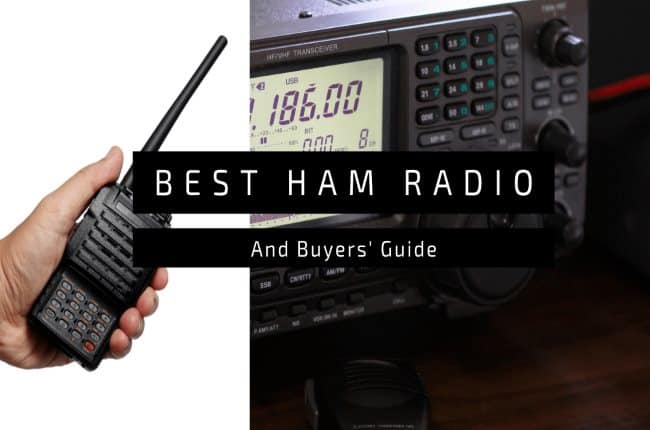 Updated Jan 4, 2022
Best Ham Radio For 2022 & Buyers' Guides
Looking for the best ham radio?
From the frequency range, the distance range, the audio quality, to the build quality, there's a lot to consider when deciding on the best ham radio to get.
After reviewing tens of ham radios on the market, we feel confident that the following are by far the best ham radios when it comes to performance, ease of operation, durability, and affordability.
So which is the best ham radio base station, the best handheld ham radio and the best mobile ham radio?
Best Ham Radios In A Glimpse
Types of Ham Radios
You have three options to chose from when looking for the best ham radio: base station, mobile, and handheld ham radios.
Base station ham radios are the ultimate ham radios when it comes to power and transmission distance. They require a wall outlet or a 12-volt battery connection for power supply.
Click here for the 9 best ham radio base stations
Handheld ham radios are small and lightweight battery-powered units designed for on the go use. Due to their limited output power (up to 5 watts or 8 watts for the most powerful units), usually they have a limited range of about five miles. They can transmit further with the help of a ham radio repeater and/or a powerful antenna.
Click here for the 8 best handheld ham radios.
Mobile ham radios can be operated from a ham shack or a vehicle. The power and range they provide are somewhere between the other 2 types of ham radios. As for power supply, they can be plugged into a wall socket or powered by a vehicle's battery.
Click here for the 10 best mobile ham radios.
3 Best Ham Radios
The reception is outstanding

Easy to operate in all conditions

(Best Base Station Ham Radio)

BaoFeng BF-F8HP Dual Band


Powerful but still budget-friendly

An impressive range of frequencies

Long lasting battery life

(Best Handheld Ham Radio)

Robust enough for off-road adventures

Easy to set up and operate
Best Base Station Ham Radio
Key Features

Best digital ham radio
FM, AM, USB, LSB, and CW modes
100 watts of output power
Integrated automatic antenna tuner
400 MHz IF DSP technology
300Hz / 500Hz / 2.4 kHz CW IF Filter
Check Price On Amazon
The Yaesu Original FT-450D is a state of the art base station amateur radio with digital features that make it a dream to operate.
It's good enough for DX chasers and contesters while still being affordable and user-friendly enough for entry level and casual radio operators. Finally, it's compact enough for mobile use.
The Reception
Out of all the base station units we reviewed, the Yaesu Original FT-450D has the most sensitive receiver.
The Continuous Wave (CW) and low interception filters minimize interference ensuring that signals come to you loud and clear.
Additionally, the antenna has in built-in automatic tuner that keeps the antenna tuned at a nice 3:1 to 1:1. You can further fine-tune the antenna for optimal reception.
Frequency Range
The range of frequencies supported is another impressive thing about the Yaesu FT 450D. This base amateur radio transmits in the 6-160M meter amateur band and has a continuous 30Khz to 54Mhz reception. SW, AM and FM bands are also covered.
Power and Speed
With a staggering 100-watt power output, the transmission range is impressive.
Thanks to the IF DSP (Digital Signal Processing) technology, there's no lag time for getting the signals.
Ease of Operation
Operating the radio is easy as the interface is intuitive, the knobs are decent sized, and the key, mic, and jacks are easily accessible on the front panel. The buttons are backlit so you can operate the radio even in pitch darkness.
Pros
An array of digital features
The reception is outstanding
Multi mode support
Blazing fast signal transmission
Small enough for mobile use
Easy to operate in all conditions
Cons
Although the knobs are a good size, we feel operation could be easier if they were a tad larger.
There's a learning curve for beginners using it as their first ham radio.
Verdict
There are quite a number of standout base station ham radios on the market but no other radio has a HF operation as good as the Yaesu Original FT-450D. With all the digital features included, it's worth more than it costs and one of the best value radios.
We feel it's the best home ham radio for intermediate users. It's also a good radio for beginners but be prepared to conquer a learning curve if you don't have prior experience operating an amateur radio.
Yaesu Original FT-450D Specs:
Frequency Range: 30kHz – 56 MHz Band
TX Frequency Range: 160 – 6m
Output Power: 100 Watts
Multi Mode: CW, AM, LSB,USB, FM
Mic: Dynamic MH-31A8J
Maximum Audio: 3 W
Yaesu FT-450D Operation Manual
Ham Radio Base Station Buyers' Guide
Compared to mobile and handheld Ham radios, base stations ham radios are way more powerful.
While this makes them the most effective amateur radios, it also means they are the most costly and technical to use and the least portable.
To make the right choice, keep the following factors in mind for the best ham radio base station to buy.
Power Output
A base station ham radio offering 100 watts of power gives you a countrywide reach. Pair it with a powerful aftermarket antenna and you can communicate thousands of miles away.
Filters
Filters are essential to eliminate unwanted signals and ensure crystal-clear reception. A radio equipped with Digital Signal Processing (DSP) filters is ideal because it doesn't require discrete filters.
On the other hand, a unit that makes use of electronic filters might require you to include RTTY and CW filters.
Frequency Coverage
The best ham transceiver has low frequencies under 1GHZ, as this enables it to transmit signals through obstructions.
As for coverage, you can opt for a base station with coverage for all modes: VHF, UHF, FM, SW, AM, SSB and digital or go for a unit designed to operate in the high frequency ranges only.
Display Type
The quality of the display is a very important consideration when it comes to ease of use.
An alphanumeric display is ideal if you prefer simplicity, while an illuminated keypad is essential for operation in low light situations.
Programmability
If this is your first base station ham radio, a computer programmed unit will be easier to setup. If you're an experienced ham, you may prefer to use the keypad to program the unit manually.
Number of memory channels
Do you want the ability to save as many channels as possible? Go for a unit that gives you a high number of memory channels. This is especially important if your unit is intended for SHTF use. A good unit should provide more than 100 memory channels.
Type of broadcasting
You have analog, digital, and hybrid units to choose from.
Analog broadcaster are affordable and energy efficient, which makes them great for emergency use. On the downside, they are the most sensitive to varied weather conditions.
Digital models are the most popular with ham radio enthusiasts, as they allow you to talk to multiple people and can adapt to changing weather conditions. Their disadvantage is that they don't come cheap.
Digi-analog units combine the best of analog and digital broadcasting to ensure strong and reliable signals in any weather condition. However, they are the most expensive of the three.
Check This: Best Weather Radios
Antenna and Antenna Tuner
A quality antenna is essential to make the most of your amateur radio. A radio that comes with an automatic antenna tuner is even better as it will improve the reception.
You can opt to get a unit with an antenna or purchase the antenna separately. If you opt to buy the antenna separately, pay attention to the feed line of the antenna.
The advantage of a coaxial feed line is that it works well without a tuner. The disadvantage is that it can lose power with length. An open wire line requires a tuner but isn't susceptible to losing power.
Durability
Last but certainly not least, don't forget to evaluate the build quality. Pay attention to the materials used in its construction and the warranty the manufacturer provides. Doing this will ensure you end up with a durable base ham unit and get the best value for your money.
Best Handheld Ham Radio
Key Features

8 watt maximum output power
Tri band support – VHF, UHF, and FM
128 memory channels
High Gain V-85 Antenna
2000 mAh Li ion battery
Robust hardened shell
Concierge and warranty support
Check Price On Amazon
The BaoFeng BF-F8HP is hands down the most powerful yet compact and affordable handheld ham radio we've come across.
It's no surprise that this third generation model of the Baofeng UV 5R is so popular with both seasoned ham radio enthusiasts and beginners.
Range and Reception
Thanks to the 8 watts of transmission power coupled with a high gain V-85 antenna, the range and reception are way better with the BF-F8HP than with the two previous generations of the Baofeng UV 5R.
But while this antenna is definitely better than what the Baofeng UV 5R came with, we recommend purchasing a more powerful aftermarket antenna such as the Nagoya NA-771 in order to realize the full potential of the radio especially during outdoor adventures.
Frequency Bands
You will be able to listen to any channel you want as this dual band two way radio operates in the 136 – 174 MHz VHF and 400 – 520 MHz UHF bands.
On top of this, it plays FM radio so you can tune in to your favorite radio station in between ham broadcasts. It boasts 128 channels allowing you to scan and save your favorite channels.
Build Quality
You can take the BaoFeng BF-F8HP into the great wilderness without worrying about it failing on you. It features a hardened shell that can better withstand the beatings a handheld ham radio is sure to get. You don't have to worry about accidental bumps and drops.
Battery Life
Since the high power output comes along with a more powerful 2000mAh battery, you will still enjoy a decent battery life. The battery offers up to 20 hours of runtime on the high setting.
You can extend the battery life by operating it on the medium (5W) or low (1W) settings. The medium settings yields 24 hours on a single charge.
User Experience
The user support with the BF-F8HP is also upgraded. First off, the included in-depth user manual does a very good job of walking you through the features and setup. You won't have a hard time even if this is your first use ham radio.
For ease of programming, we recommend using the PC03 FTDI programming cable. As with the second generation Baofeng BF-F8+, the BF-F8HP is compatible with all UV-5R accessories.
What's more? You even get a one year concierge service and warranty support. You can personalize the tri-color display to suit the viewing conditions and the integrated flashlight comes in handy in a pinch.
Portability
Despite all the power and robustness, you will still have an easy time bringing this ham radio wherever you go.
Measuring in at 10.5 x 2 x 2 inches and weighing a mere 10.08 ounces, it will fit comfortably in your hands and easily slip in a pocket. It also comes with a belt clip and wrist strap.
Pros
Powerful but still budget-friendly
You can monitor two channels at once
Has a good range and reception
An impressive range of frequencies
Long lasting battery life
Three power settings
Comes with a decent antenna
The user manual is comprehensive and clear
You get a one year concierge and warranty
Cons
The increase in power output, unfortunately, doesn't yield a big boost in range.
The included antenna is decent but not the best.
Some settings can only be programmed via software
Verdict
Even with the higher transmission power, we like that the BaoFeng BF-F8HP is still affordably priced and compact in size. This is why we've selected it as our pick of the best handheld ham radio out of all the other top contenders.
The only disappointment is that the increase in power output and the included advanced antenna don't up the range very much. This isn't a deal breaker, though, as you can make up for it by purchasing a more powerful after market antenna.
Frequency Range: VHF: 136-174 MHz(Rx/Tx), UHF: 400-520 MHz(Rx/Tx), FM: 68-108MHz
Channel Capacity: 128
Battery Capacity: 2000mAh, 7.4v
Output Power: 8W / 5W / 1W
Antenna: High Gain Dual Band 7″ Antenna
Speaker Output: 700mw
Push-to-Talk: Single, Dual, or Both: Single
Display: Tri-Color
Handheld Ham Radio Buyers' Guide
A handheld ham radio is a compact and lightweight ham radio designed for use on the go. If you're looking for a handheld portable radio, the following are the factors to have in mind as you shop.
Size
The most important consideration when buying a handheld, portable ham radio is the size and weight. You should be able to hold the radio in the palm of your of hand or slip it into a pocket without struggle.
Output Power
To go with the small size and off the grid use, the power output for handheld ham radios is significantly lower than that of mobile and base station units.
Most handheld ham radios have a power output of 5 watts while the most powerful handheld ham radios have up to 8 watts of transmission power.
Antenna
Since a compact ham radio with up to 8 watts of transmission power can only transmit and receive over a five miles range, a good antenna is crucial to increasing the range.
The best handheld ham radio should come with a decent antenna. If you opt to get an even better aftermarket antenna, make sure it will be compatible with the radio's features such as the dual-band feature.
Durability
It's inevitable that a handheld ham radio will get dropped occasionally. A rugged shell that shields the internal components is essential.
Look for a strong metal construction using a resilient material such as aluminum. This kind of construction will ensure the radio can withstand even hash weather elements.
Dual Band
A dual band handheld ham radio is ideal, as it will allow you to monitor two frequencies at the same time. It will also allow you to select the frequencies to receive and transmit signals on.
Programming
Most handheld ham radios can be programmed both manually and via software on PC. For easy manual programming, the radio should have an intuitive keypad with easy to press buttons.
For programming using software, find out what programming cable and software the radio requires and where you can get them.
Rechargeable battery
Since a handheld unit is meant for use on the go, a rechargeable li ion battery is the most convenient power supply.
A powerful battery of at least 2000mAh is essential to allow you to talk all day without having to plug in. The higher the battery capacity, the better.
Manual
A comprehensive and well-written manual that walks you through what the radio has to offer and how to set the radio up is very important for a pleasant user experience. This is especially important if you've never operated a ham radio before.
Speaker quality
With a handheld ham radio, a quality speaker is essential as you will be listening to the radio while outdoors.
An earphone jack comes handy in noisy environments. You can keep the radio in your pocket and use the earphone to get the signals loud and clear.
Display
Lastly, the radio display should be readable in all conditions. It should be easy to read in direct sunlight and illuminated for ease of operation in low light situations or at night. Some of the best handheld ham radios even allow you to personalize the display.
Best Mobile Ham Radio
Key Features

65 Watts of transmission power
Built to MIL-STD 810 standards
144-148 MHz MHz frequencies
200 memory channels
100 channels with memory name
Multiple scan capability
Front facing speaker
CTCSS/DTCS Encoder/Decoder
Weather Alert/RX
The Kenwood TM-281A is the ultimate single band mobile ham radio.
It's built to Mil specs, boasts 65 watts of output power, delivers high quality audio, and has a compact size. What more could you ask for in a 2 meter unit!
While it's no dual band, it's a very capable single band ham radio without having to shell out the cost of a dual band unit.
Power and Range
With a 65 watts output power, the TM-281A is powerful enough for use in the wilderness as well as a base unit. This is enough power to hit repeaters 65+ miles away.
Pair it with a top level antenna like the Nagoya 771 and you can easily hit repeaters as far as hundreds of miles away. You will also appreciate its efficiency in challenging environments.
Frequency Ranges
It operates on the 2 meter band with a 144-148 MHz frequency range. The memory scan is incredibly fast, and you get 200 memory channels or 100 channels if you use the memory name function to program radio frequencies for the different places you travel to.
Build Quality
When it comes to build quality, the Kenwood TM-281A is as tough as nails. Mil spec construction with strong aluminum makes it vibration, shock, and temperature resistant. It's tough enough for adventures on rugged terrain.
User Experience
Operation is easy anytime of day or night thanks to the adjustable and backlit multi-color LCD. Programming is easy with a programming cable and free software.
Pros
Powerful yet compact
Robust enough for off-road adventures
Sound quality is loud and clear
Vibration and shock resistant
Easy to set up and operate
Provides weather alerts
Comes with a decent antenna
Display is illuminated and customizable
Cons
It's only a single band 2 meter band ham radio.
The knob could be a bit bigger for ease of operation with one hand on the steering wheel.
Verdict
If you're looking for a great 2 meter mobile unit, it doesn't get better than the Kenwood TM-281A. The only other mobile radio that comes close is the ICOM 2300h 05 144mhz amateur radio but it's more expensive.
The only deal breaker is that this Kenwood radio is only a single band radio. If you're after a dual band or quad band mobile ham radio, you will need to consider another unit.
Kenwood TM-281A Specs:
Frequency Ranges: 144-148 MHz
Output Power: 65/25 watts
Memory Channels: 200
Display: Backlit LCD
Dimensions: 6.34 x 6.71 x 1.69 inches
Weight: 2.5 Pounds
Kenwood TM-281A Manual
Mobile Ham Radio Buyers' Guide
A mobile ham radio is the middle-ground of ham radios. It's powerful enough to be used as a base station but compact enough for mobile use. If this is what you're after, here are the points to consider when choosing.
Durability
Rough roads are hard on electronic devices and this applies to ham radios as well. You need a strong radio built to military specifications and made of a rugged aluminum material.
Such a radio can withstand vibrations, shocks, temperature fluctuations, and harsh weather elements. This makes it suitable for use in the great outdoors.
Output Power
A high output power is still important with a mobile unit. A wattage rating of about 65 watts will ensure efficient performance and a wide range spanning hundreds of miles. In addition to this, a radio with two or three power settings as well gives you flexibility in use.
Bands and Frequency
A single band mobile radio allows two-way communication, a dual band unit allows you to communicate on two different bands, while a quad-band radio allows you to communicate on as many as four bands.
Whether you opt for a single band, a dual band, or a quad band radio, the most important thing is that it should have a strong coverage of its frequency ranges. This will ensure that you get to receive and transmit effectively.
Programmable
The ease of programming the amateur is especially important with a mobile unit you will be using on the go. Make sure the radio you choose is easy to program and uses a cable and software you can find easily.
Lastly, make sure the number of memory channels offered is enough to meet your needs both at home and on the road.
Antenna
A good antenna can up your range and reception significantly. The ideal mobile ham radio should come with a high-quality stock antenna right out of the box.
If you find a radio you like but feel the antenna to be inadequate, you can always buy a more powerful aftermarket antenna to up the range and reception and make the most of your radio.
Conclusion
To sum it all up, Yaesu Original FT-450D is the best base station ham radio, the BaoFeng BF-F8HP is the best handheld ham radio, and the Kenwood TM-281A is the best mobile ham radio.
Paying attention to features such as the frequency range, the memory channels, the transmission power, and ease of operation will ensure you end up with the right unit for your needs.
No matter what type of amateur radio you opt for, remember that you will need a license in order to transmit. You can more about the ham radio license on the FCC website.