Top 3 Best Mobile DMR Radios In 2023
As an Amazon Influencer, we earn from qualifying purchases you might make if you click any of the links on this page.
Searching for the Best Mobile DMR Radio for Your Ham Radio Adventures?
Look no further! In this blog post, we will explore the top 3 mobile DMR radios currently available on the market. We'll dive deep into their features, performance, and value for money, ensuring you can find the ideal radio for your needs.
So whether you're an experienced ham or just starting out, you'll find a mobile DMR radio that's perfect for you!
How We Chose the Best Mobile DMR Radios
To figure out which are the best mobile DMR radios, we considered several factors.
First, we considered the price since everyone wants the best value for money. Next, we evaluated each radio's performance, focusing on output power, audio clarity, and build quality.
Features such as APRS functionality, GPS capabilities, contact lists, and compatibility were also crucial in our assessment. We wanted to ensure that the selected radios offered a good balance of capabilities and ease of use.
In addition, we paid close attention to user feedback and reviews.
So, without further ado, let's see which mobile DMR ham radios are best!
Best Mobile DMR Radio – Our Picks
Anytone AT-D578UV Pro DMR – Our Top Choice
Alinco DR-MD520T – Best High-End
Radioddity DB25-D Dual Band DMR Mobile Radio – Best Budget
Pros
Full APRS
Great build quality
DMR Repeater Roaming
High power output with multiple levels
Bluetooth functionality
External Bluetooth PTT button
Cons
Small contact list
No removable front/face plate
Anytone AT-D578UV Pro DMR, is our top choice for mobile DMR radios.
Now, I know you might be thinking, "There are so many Anytone models out there, how can I choose the right one?" Trust me, it can get confusing. Some models lack full APRS, while others don't have Bluetooth. One model that comes close to the AT-D578UV Pro is the AT-D578UVIII Plus Triband radio. It has more room for the contact list and works on three bands. But let's be real – it's significantly more expensive and maxes out at 5W Tx power on the 222-225 MHz band. So, in my opinion, the AT-D578UV Pro DMR offers the best bang for your buck.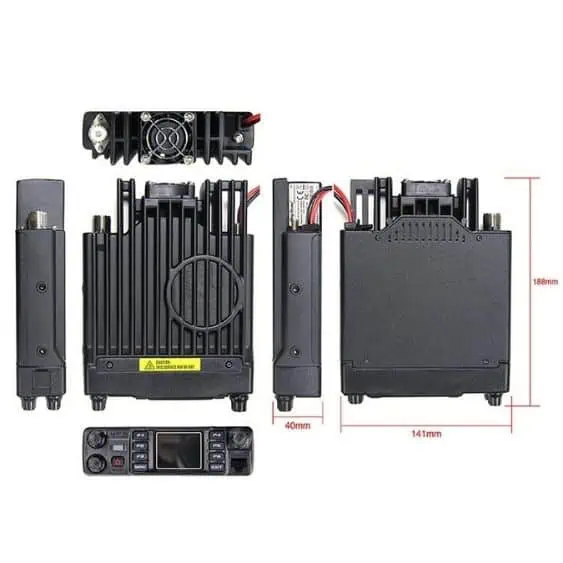 What makes this radio "pro"? It comes with Bluetooth and GPS capabilities, which are pretty darn useful. It even includes a Bluetooth PTT button. Now, Anytone says that its Bluetooth might not work with some devices, but they're actively working on improvements. And since they're pushing updates regularly, I trust they'll get it sorted.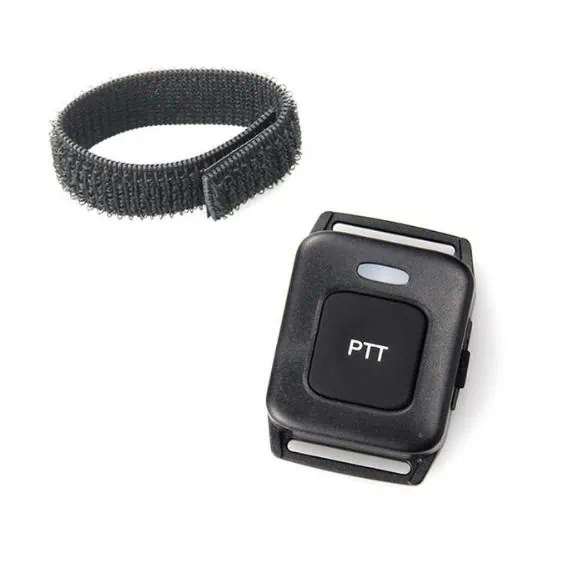 One of my favorite features is the built-in DMR Repeater Roaming, which ensures seamless conversations while driving. And speaking of driving, the radio comes with mounting brackets for easy installation in your vehicle. It's a solid unit that can handle some rough handling.
But, of course, there's always room for improvement. I wish the front face was removable for easier installation, and a larger display would be nice. The 1.77-inch color TFT does its job, but I think we can all agree that bigger is better.
Let's talk about the microphone. It has a full numeric keypad, connects to the radio via an RJ45 plug, and the audio quality is great. It feels nice in your hand, and the buttons are well-placed.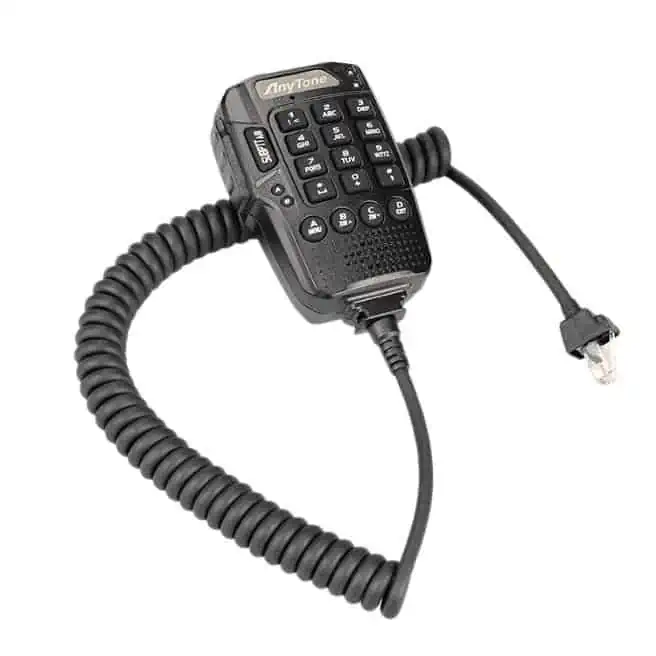 As a DMR radio, it can hold 4,000 channels, 10,000 talk groups, and has a 200,000 contacts list. It also comes with a programming cable for software updates and programming.
On the analog side, it has full duplex receive, volume controls, and four Tx output power options: 1W, 10W, 25W, and 50W (max 45W for UHF). Switching between analog and digital modes is a breeze, and the performance is fantastic in either mode.
Overall Anytone AT-D578UV Pro DMR is a fantastic mobile DMR radio with a lot to offer. It's not perfect, but it's definitely a top choice for its price and features.
Our Rating:
Features: 9/10
Reliability: 9/10
Value for Money: 9/10
Audio Clarity: 8/10
Overall Rating: 9/10
2. Alinco DR-MD520T – Best High-End Mobile DMR Radio
Pros
Full APRS functionality
Good build quality
Automatic repeater roaming
Large 500,000 contact list
Crossband and crossmode available
And compact size.
Cons
No Bluetooth
Expensive
Removable front/face plate would have made vehicle use easier
Alinco DR-MD520T, is our choice for the best high-end DMR mobile radio in the market today!
First off, the Alinco DR-MD520T is like the higher-powered cousin of the Anytone AT-D578UV Pro. It sports a similar look but with a more refined design. Yes, the price might seem a bit steep, but the features get a pretty sweet upgrade.
This bad boy is a very capable triband radio with analog compatibility and DMR Tier I and Tier II. It can transmit on frequencies ranging from 144MHz to 148MHz, 222MHz to 225MHz, and 420MHz to 450MHz.
The transmission power output has four levels: 1W, 10W, 25W, and a whopping 55W (40W for UHF). This works pretty well for the dual band setting, but for the third band, the 223 MHz band, it can work only on 1W or 5W power output.
Now let's talk about the design and setup. The DR-MD520T is a compact mobile radio, perfect for your vehicle. It comes with mounting brackets for the radio and the microphone. Unfortunately, the front panel isn't removable, which would have been a fantastic feature. But hey, you can't have it all, right?
The front of the transceiver sports a bright and colorful 1.77-inch LCD. Although, I must say, I would have loved a slightly larger screen. There are several function buttons on the side of the screen, and an RJ45 jack for connecting the microphone.
Now, let's talk about the microphone. It has many function buttons, including a full numeric keypad. You'll need to use the mic for several features, like entering frequencies, so it's great that it feels good in your hands and has a nice tactile feel. The PTT button is easily within reach and quite satisfying to use.
Moving on to DMR capabilities, the Alinco DR-MD520T has impressive specs, with 4000 channels, 250 zones, and a contact list that can hold 500,000 entries. It also has automatic repeater roaming, which works splendidly for a mobile radio.
To make programming a breeze, Alinco includes a USB A to micro USB programming cable in the box. I'm loving the move away from proprietary cables. Kudos, Alinco!
Now, let's not forget about the additional features this transceiver has to offer. It's packed with cool features like crossband and crossmode repeat, built-in GPS, full APRS (analog and digital), and communication recording in digital mode. The voice clarity is top-notch, and the extra features make it even more likable.
So, if you're in the market for a reliable and powerful high-end radio, the Alinco DR-MD520T could be the perfect fit for you. It's a fantastic addition, whether you're a seasoned amateur radio operator or just starting out in the hobby. Just make sure to weigh the pros and cons carefully before making your final decision.
Our Rating
Features: 9.5/10
Reliability: 9/10
Audio Clarity: 9/10
Value for Money: 8/10
Overall Rating: 9/10
Pros
Full APRS functionality
Attractive pricing
Solid build quality and compact design
Decent Tx and Rx quality
300,000 contact list
Seamless switching between analog and digital modes
Cons
Programming software has a learning curve
CPS can occasionally feel buggy
Only DMR Tier II compatibility
If you're on a budget and looking for a great mobile DMR, Radioddity DB25-D Dual Band DMR Mobile Radio is a fantastic budget-friendly option.
Let's start with the design. The front of the radio has a clean, minimalistic look with a 1.77-inch display and speaker taking center stage. The volume knob sits nicely at the top corner, right above the RJ45 connector for the microphone, making it easy to access while on the go.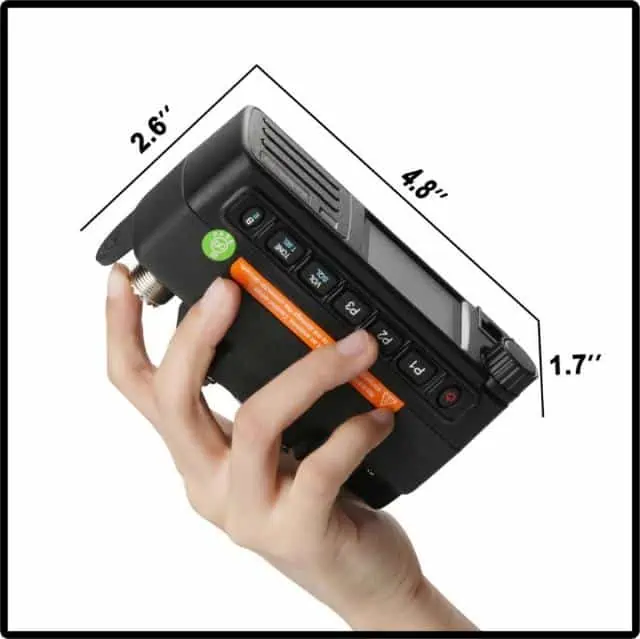 Now, I know what you're thinking: where are all the buttons? Well, they've cleverly placed them on the top of the radio, including the power button. In total, there are seven buttons, with three of them being programmable. But that's not all! The microphone comes with even more programmable buttons and a full numeric keypad, giving you complete control over your radio experience.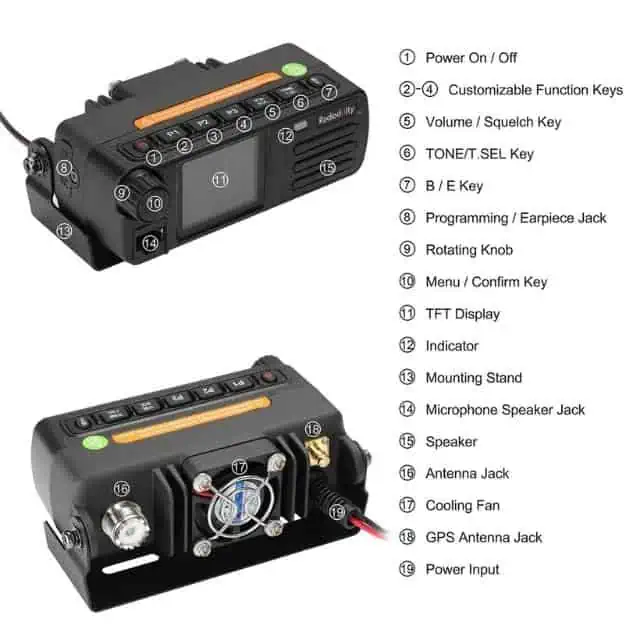 The microphone itself is worth mentioning. It's comfortable to hold, and the PTT button has a satisfying feel to it. The unique magnetic mount is an excellent touch, setting it apart from conventional mounts. It's a small detail, but it adds a little extra flair to the radio.
Now let's check out the back. It's packed with features, including a cooling fan, antenna jack, GPS antenna jack, and power input. The radio runs on 13.8V DC and even comes with a handy car cigarette lighter adapter, so you'll never be without power on the road.
When it comes to output power, the DB25-D has a maximum of 20W and a low-power mode at 5W. While it may not be as powerful as some 50W mobile transceivers, it's still pretty darn impressive for a budget radio! And let's be honest, for most situations, 20W is more than enough.
One of the standout features of this radio is its full APRS functionality. With built-in GPS that works in both digital and analog modes, you'll never lose your way. This is a fantastic feature that you wouldn't expect to find in a budget-friendly radio, making the DB25-D an even more attractive option.
In addition to APRS, the DB25-D boasts DMR Tier II compatibility, 198 hours of recording, 4000 channels, and a 300,000 contact list. It's also compatible with Mototrbo and easily switches between DMR and analog modes, giving you the best of both worlds.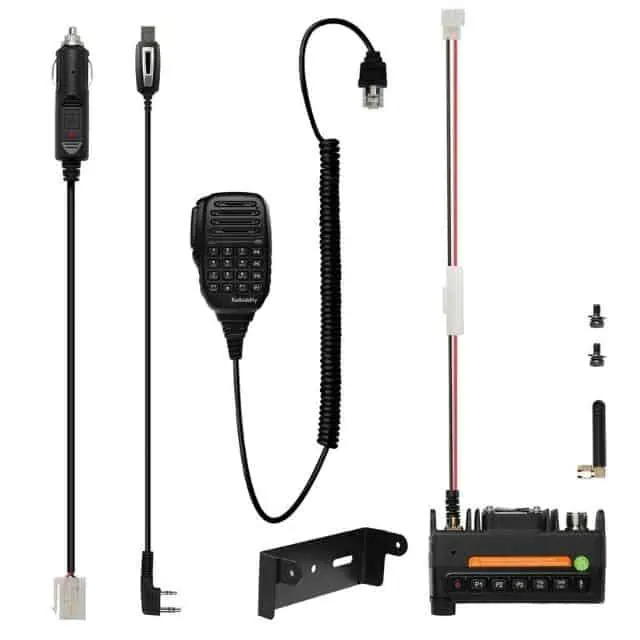 To make your life even easier, Radioddity offers free programming software on its website, which is well-maintained and regularly updated. The radio comes with a programming cable, and it requires a 2-pin Kenwood-style jack for programming and external audio connections.
So, there you have it! The Radioddity DB25-D is a fantastic budget mobile DMR with some excellent features. It's not perfect, but it packs a lot of value for the price.
Rating
Features: 8/10
Reliability: 8/10
Audio Clarity: 8/10
Value for Money: 9/10
Overall Rating: 8/10