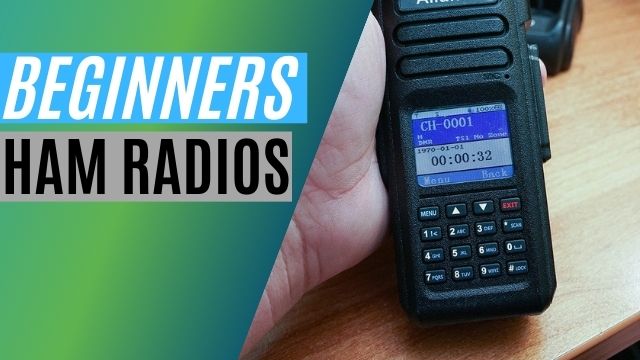 Best Ham Radio For Beginners
Looking for the best ham radio for beginners?
Ham radios aren't just a communication device, they are part of a fascinating hobby.
There are plenty of ham radios on the market, and that in part, is a reason things can get overwhelming for rookies. Should you buy a cheap entry-level ham radio? Or, is it okay to spend more on ham radio for beginners?
Ideally, we want a radio that is affordable but with easy setup and management. After all, ham radios range from affordable low-cost units to more sophisticated options that can easily run a bill of a few hundred bucks.
Unfortunately, it is rare for cheaper ham radios to be easy to set up. So, we put a greater focus on the ease of use and setup. This includes the following aspects:
The convenience with which new users can navigate the menu and reach the desired option(s).
Does the ham radio need additional software and is the software available easily and freely?
Availability of manuals or instruction booklets and the ease of following them.
The cost.
Many beginners may not be comfortable spending big bucks on their first radio. Given the differences in cost, the pricing alone can dictate the purchase of a seemingly good ham radio.
Best Ham Radios For Beginners In A Glimpse
Top Ham Radios To Get A Rookie Started
Pros
Includes detailed manual and guides for set up.
Well-priced radio with good features for entry-level users.
Programmable quick recall keys.
Cons
Limited power output results in a low range, though this is characteristic of most handhelds.
Only has an IP54 rating, which means the radio is fairly vulnerable to water.
Yaesu is amongst the best-known names in the ham radio world. Their skill and understanding of this niche shine through in their products, including the Yaesu Original FT-65 handheld ham radio. This compact handheld radio is a slight upgrade over Yaesu's lower model, Yaesu FT-60.
At first glance, both radios look similar, but the FT-60 has something of a dated look. Yaesu FT-65 itself has a somewhat conservative design, but it's a decidedly more contemporary look. A brilliant white backlight for the display helps with the overall look and better display for Yaesu FT-64 dual-band transceiver.
Other notable features include the placement of buttons and mic on the radio and a more capable battery for the FT-65.
This radio gets its power from a 7.4V 1950mAh Li-Ion battery pack. The battery is good enough to keep the radio running for about nine hours. Yaesu has included a fast charger in the box, so the radio returns to action in only two hours of charging.
The overall operation time for a single charge depends on the power setting for the radio. It has three output power levels, which are 0.5W, 2.5W, and 5W. Whether it is transmitting or receiving, the voice quality remains clear, which is a testament to Yaesu's quality.
A 1W internal speaker is placed at the upper front side of the transceiver and is fairly loud and clear with its audio. Should you desire a more private conversation, switch the radio to VOX mode. Though that will require the purchase of an earpiece.
Other notable features on this radio include an IP54 rating (splashproof, not waterproof) and four user-programmable quick recall keys.
Yaesu includes two manuals in the box to help users understand the radio setup and start with its programming. Even with the detailed guides, it can be a bit of a challenge to get this radio running.
This isn't the fault of this radio, but rather a good example of the effort that goes into getting a ham radio setup and ready to roll. It's best to use programming software rather than going the manual route and working through increased complexity.
Yaesu Original FT-65 is a well-priced radio with good features. It's an excellent choice for beginners looking to sink their teeth into the amateur radio community. As for power, the handheld has the max power output of 5W. Those interested in more functions and power should look at mobile ham radios and tabletop transceivers.
Pros
Remarkable voice clarity.
Two colors for the display with adjustable brightness.
The ergonomic microphone feels great in the hand.
High output power at 50W.
Removable front panel to discourage theft from the car.
Cons
Can be somewhat difficult to program.
The cooling fan is loud and can feel distracting.
Here's another famous name in ham radios. Kenwood Original TM-V71A Dual-Band Amateur Mobile Transceiver has been around for a while now and though its age shows, it remains one of the more impressive options.
Thanks to its age and popularity, there are countless tutorials and instructions available for this Kenwood radio. While the setup isn't exactly easy, beginners can rely on these tutorials and walkthroughs for information.
Coming back to the radio, its appearance is quite similar to the classic car radio (audio system). That is understandable since this is a mobile radio. Users can place it at home for use, or mount it in their vehicle. Kenwood includes a sturdy bracket to allow mounting it.
A large display dominates the front of this radio. Orange and green are available as two backlight color options here and it's possible to change its brightness.
Right below the screen is a series of buttons and knobs that handle the functioning of this unit. These include switching channels, volume control, squelch control, and the ability to move from one band (144 MHz) to the other (440 MHz).
This change is not without its fault. While the radio can monitor two bands, it seems to give up scanning the other band as soon as you start transmitting on one band. The included mic handles voice transmission well and feels pretty great in the hand.
Backlit control buttons are available on the mic, though there is no option for changing the light color here. And that's okay. The light is mild enough and the buttons here are easy to use and responsive. Alphanumeric keys on the mic are good for handling various functions on the mobile radio.
Since it connects to an external power source, the radio can afford to output higher power. Kenwood Original TM-V71A can transmit at 50W and has a rather impressive range to go along with it.
Kenwood includes another interesting piece of classic car radio wisdom for this unit. The front panel of this mobile ham radio is removable and you can carry it with you to discourage theft in the parked car!
Good alternatives to the Kenwood TM-V71A would be Yaesu FT-8800 and FT-8900. Yaesu's offerings are very similar to Kenwood and there are a few points where they do better, and some points where they're worse.
The good points are independent memory for each VFO, hyper memory, and more ways to set the output power. Meanwhile, Kenwood has a better managed front display, easier programming, and more programmable buttons. Yaesu also lacks customizable light colors for the display. Customizable lights might seem superficial but they are actually quite practical.
An old workhorse, Kenwood Original TM-V71A Dual-Band Amateur Mobile Transceiver delivers impressive power and voice clarity. Its setup is not the easiest, but there are plenty of freely available guides and tutorials to help beginners through the setup. As a downside, this is an old model. If you prefer to keep up with the times and more features, it's worthwhile to look at other radios.
3. BAOFENG UV-5R – Best Budget Ham Radio
Pros
Very attractive price point.
Dependable battery with about 8 hours of backup.
Includes features like VOX, FM radio, and dual-scanning.
Cons
Poor build quality.
Can be troublesome for beginners to set up.
It should be no surprise that a Baofeng radio is the pick for budget-conscious ham radio for beginners. Its low price point is its key strength and a driver of its popularity.
Baofeng has made a name for itself as a purveyor of low-cost ham radios. Baofeng UV-5R Dual Band Two Way Radio costs a fraction of the price of established brands.
Though the price point is low, Baofeng has included most features that you could expect in this radio. It's lowkey impressive how the company has managed to include all these features at such a low price point.
Baofeng offers more expensive models as well, though they too manage to undercut the competition quite comfortably. For example, there's the Baofeng BF-F8HP handheld ham radio. It offers better performance than the Baofeng UV-5R and could still fit a tight budget.
Unfortunately, once you stop talking about the price point, there isn't much that's going on for the Baofeng UV-5R. When you hold this radio in your hands, you cannot help but notice the flimsy build quality. The same idea applies across the board.
The voice quality on transmit or receive can best be described as acceptable. There is a VOX function but the included headset doesn't quite live up to its use. Well, you could buy a new better quality headset, but that would throw its low-pricing advantage to a spin.
To be fair to the Baofeng UV-5R Dual Band Two Way Radio, much of its criticism comes from the fact that this is a low-priced ham radio competing with established brands that offer expensive and feature-packed ham radios. But then again, the comparison is unavoidable when you want a decent radio.
Baofeng UV-5R draws its power from a lithium polymer battery. The battery is powerful enough to keep this dual-band radio in action for about eight hours. The LCD is backlit and offers three color options for customization to the user.
Speaking of the user, beginners might struggle in setting up this radio. The instructions in the manual are unclear and fail to get their point across. Using software might be the best option, though it takes some time getting used to.
Baofeng UV-5R is an impressive low-cost handheld ham radio that offers plenty of features usually seen in more expensive offerings. Its price point is an attractive proposition for beginners dipping their toes into the ham radio culture.
It clears the way for experimenting and learning without worrying about the cost. However, if you're looking for performance, good voice quality, and more features, this radio won't cut it.
Pros
Mobile ham radio with max 50W output power.
Works on 10m and 12m bands.
Excellent voice quality.
Convenient and ergonomic microphone.
Cons
Can feel intimidating to beginners when operating.
President Lincoln II Plus is an interesting ham radio. It works on 10m and 12m bands, boxing in the 11m citizens band frequencies. It's worth noting that the CB (citizens band) doesn't require a license to operate. However, 10m and 12m frequencies are for amateur radio and need a license.
Some people confuse Lincoln II Plus with CB radio but its frequency range is different from CB. And no, it can't transmit on CB because that would be a violation of FCC rules.
As the name implies, President Lincoln II Plus is an upgrade of President Lincoln II. The changes include the inclusion of the 12m band and higher output power for various modulation modes.
The use of these bands is interesting since 10m and 12m bands have opened up recently. So, there's comparatively less traffic and chatter on these bands, allowing rookies to spread their wings without worrying about others.
Several modulation modes are available to work with this radio, including AM, FM, USB, and LSB. Since it is a mobile ham radio and draws power from the vehicle, it can get impressive output power. The carrier power goes to 50W for AM and 35W for FM and USB-LSB.
There are quite a few buttons and features on this radio, which can feel challenging to the beginner. Once the initial hesitancy wears off, President Lincoln II Plus gets easier to use.
Apart from the novelty of its bands, the radio has some convenient features to show. These include three backlight colors with adjustable brightness, manual squelch control, RF gain, and SWR. Two preset emergency channels are available at the touch of a button.
President Lincoln II Plus is a powerful mobile ham radio working on the 10m and 12m bands. It's useful as a ham radio and can even work as a base station, though not an ideal one. Though it is easy to work with, some beginners might find the setup intimidating.
Pros
Dual band system works with digital and analog TX and RX.
Includes impressive GPS with information on location, bearing, speed, and altitude.
Powerful 3200 mAh battery.
Good voice clarity, especially over digital mode.
IP67 waterproofing.
FPP (Front Panel Programmable).
Cons
DMR technology has some cross-compatibility issues.
While an innovative technology, DMR has some differences from conventional ham radios.
DMR (Digital Mobile Radio) has made significant inroads into the conventional ham radio space. It's a relatively new technology and takes on the decades-old ham radio setup. Its use of digital systems provides some functional benefits, though the technology has yet to mature.
The potential of DMR shows wonderfully with the Ailunce HD1 DMR Radio. A combination of interesting features and digital technology can make it easier for some beginners. There is a viable overlap between mobile phones and their usability. While not necessary for hams, it is usually recommended that DMR register for a unique ID.
This ID is somewhat analogous to a cell phone number and can be used for direct contact or even sending (SMS) texts! Ailunce HD1 DMR can store 200,000 numbers and work with 3000 channels. Thanks to dual-band compatibility, it can transmit and receive on analog as well as digital frequencies.
With all these features, Ailunce HD1 DMR Radio is somewhat expensive but the pricing isn't really unheard of for ham radios or even DMRs. Its competitor, AnyTone AT-D878UVII Plus gets a higher price tag with a similar technology.
To be fair, the higher price tag does win the AnyTone AT-D878UVII Plus a few extra features, like a 500,000 storage for contact list and a 7W output power. Though AnyTone can be programmed through a computer or through the front panel (FFP), it's a bit more difficult to set up compared to the Ailunce HD1.
As a handheld radio, it has an impressive 3200 mAh battery that can last up to 16 hours in continuous use or 7 days in standby mode. The GPS on this device presents the location, but also altitude, bearing, and speed. This can come quite handy in several situations and is especially useful for emergencies.
Other notable features of this radio include FPP (Front Panel Programming) and IP67 waterproofing. FPP means users can access all functions of the radio through its keypad and can set or customize features. The IP67 waterproofing means it can survive being submerged in 1 meter of water for up to 30 minutes.
The dual-band function on the Ailunce HD1 DMR allows it to TX and RX on analog as well as digital frequencies. While the function is seamless, the digital approach of DMR is something of a departure from traditional hams.
It offers some convenience of learning to beginners, but that comes more as a familiarity with digital devices like mobile phones, rather than conventional ham radios.