BaoFeng UV-5R Review & Buyer Guide

With the BaoFeng UV-5R, BaoFeng sets the bar for affordable amateur ham radios. It's not only one of the most affordable ham radios on the market but also one of the most versatile amateur radios.
All these qualities have made it an incredibly popular amateur radio and a great starter ham radio for amateur operators. Without further ado, let's get started with our BaoFeng UV-5R review
UV-5R is an inexpensive and versatile dual-band two way (VHF/UHF) ham radio for amateur ham radio operators.
Dual watch, dual reception, and dual standby
Compact and lightweight handheld size
PC programmable using software and cable
FM Broadcast radio with 128 channels
A great 12+ hours battery life
Support for group tones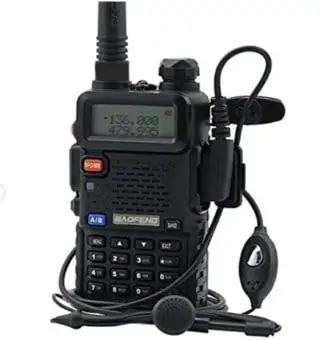 Main Features
Frequency Range: One of the reasons the Baofeng UV-5R is such a successful ham radio series is the wide frequency range that covers the ham radio frequencies and beyond.
It is a dual band two way radio that scans and transmits in the 136-174 MHz VHF frequency range and 400-520 MHz in the UHF band. Both bands work on both RX and TX and can transmit on narrow (12.5kHz) and wide (25kHz) bands.
Although it has one built-in receiver, it's a dual watch receiver that allows you to monitor two channels simultaneously. You can even monitor frequencies on different bands – VHF and UHF.
FM Radio Broadcast: In addition, the it is equipped with a 65-108Mhz receive band that broadcasts FM radio stations. It has 128 memory channels that you can program and name via the computer software.
This means that you can tune in to your favorite FM radio station as you wait for transmissions. Of course, priority is given to any incoming call so you can rest assured you won't miss an important transmission.
Check This: Best Baofeng Radios
Transmission Distance: With 1 up to 4-5 watts power settings, it is far from being the most powerful handheld ham radio. Despite this, the range of transmission is surprisingly good for such a small package.
Operating with a fully charged battery and set on the maximum power mode, it can transmit as far as 20km. The two power levels allow you to choose how far you would like to transmit. Beyond this, the radio is repeater capable.
Battery life. The included 1800mAh Li-Ion battery pack can power it for 12+ hours and you can extend this duration with the battery saving mode. The low battery mode lets you know when it's time to recharge the battery.
Audio and Clarity: Given that this is a budget ham radio, the clarity doesn't compare to more expensive models. That being said, the reception and speed are good enough and transmissions are loud and clear.
This is thanks to a 700mw speaker output, an audio processor that optimizes the audio quality in accordance with the reception conditions, and an anti-interference feature.
Group Tones Support: As for support for analog tones, this radio supports CTCSS, DCS, and DTMF calling methods. You can even set them to call by group tones. For tone calling, the UV-5R works with the latest standards. This means that you will be able to send Caller ID or remote commands that require DTMF tones.
Programming: Now, this BaoFeng radio is not exactly the easiest to program ham radio via the in-built keypad. The instructions are vague and the process requires a great deal of patience.
Thankfully, programming it from a computer with using a usb cable is a much more pleasant experience. All you have to do is download the free CHIRP software and purchase the PC03 FTDI programming cable. While at it, you will also be able to rename channels, boot the display, and accomplish other functions easily.
Ease of Use: Measuring in at 8.3 x 6.5 x 3.7 inches and weighing a mere 15.2 ounces, this radio is as compact as an iPod. It fits comfortably in the hand and easily fits in a pocket for on the go use.
Thanks to the voice-operated transmit (VOX) function, you can operate it hands-free while fishing or driving. The large display with backlight is easy to see and read even in low light conditions.
Build Quality and Extra Features: When it comes to construction quality, the this radio has a rugged build that can take a lot of abuse. You can take it hiking or camping with confidence that it can handle what the great outdoors will throw at it.
Extra features such as the emergency alert, LED flashlight, a belt clip and siren can come in handy in an emergency or survival situation. An integrated Kenwood 2 accessory connector bumps up the value this radio provides.
Finally, the UV-5R is an all-inclusive package that includes everything you will need to get started right out of the box.
Here is what you will get:
A rechargeable lithium Ion battery pack
a belt clip, a removable flexible antenna
a C-ring earpiece, a drop-in battery charger
an AC adapter
a wrist strap
user manual
one-year manufacturer warranty.
Pros
Inexpensively priced yet packed with an impressive feature set
The large LCD display is easy to read even in low light conditions
Versatile amateur ham radio with a wide frequency range and multiple functions
Dual band two way radio with dual display, reception, and standby. You will be able to monitor two channels at the same time
FM radio broadcast with 128 channels you can customize and name via the PC software and cable
Its led flashlight is quite useful
Cons
The instructions on the Baofeng UV-5R manual are vague, hard to understand, and not user friendly at all.
Programming the radio manually via the keypad is a very difficult and time-consuming exercise. Luckily, programming it via computer software and cable is a much more pleasant experience.
The included antenna has a basic 50-ohm load. You can use other SMA antennas but you will have to program them on the radio first.
Check This: Best handheld ham Radios
How Does UV-5R Compare To Other Ham Radios?
UV-5R VS BF-F8HP
The BaoFeng BF-F8HP is the third generation of the UV-5R radio. It's the most powerful BaoFeng ham radio you can get. It has an 8 watts maximum power output compared to 4-5 watts for the UV-5r and comes equipped with a 2000 Mah battery.
Even the user experience is superior as the shell is tougher and the package includes a high-performance V-85 antenna and a comprehensive manual. However, you will have to shell out way more money to enjoy these benefits. So if you are looking for a very cheap radio which is very satisfying for most users UV-5R is a great option. For something more advanced BF-F8HP is one of the best options on the market
UV-5R VS UV-9R
The UV-9R ham radio is certainly the more rugged of the two options. Unlike the UV-5R, it's rated waterproof and dustproof up to the IP67 standard. The UV-9R is also a walkie talkie radio equipped with three power settings (5W/4W/1W) and a telescopic antenna
UV-5R VS UV-82
The main thing that separates the BaoFeng UV-82 from the UV-5R is that the UV-82 has a dual push to talk button that allows you to transmit on two frequencies.
The 1-watt speaker on the UV-82 is also louder, the case more rugged, and a new chipset enables it to outperform the UV-5R in terms of accuracy, range, and output.
UV-5R VS UV-82HP
The BaoFeng UV-82HP is an even more powerful generation of the UV-82. The two advantages it offers over the UV-5R are three power settings with the high setting at 7/8W and the ability to choose between a dual and single push to talk button. Unlike the UV-5R, it comes with a detailed user manual and a high gain V-85 antenna.
Final Thoughts
Although the BaoFeng UV-5R is certainly not the most powerful ham radio on the market, its versatility, feature set, and performance are hard to beat in its price range. Thanks to its inexpensive pricing, versatility, and ease of use, it will serve you very well if you're just getting started in amateur ham radio.
Because of its compact but rugged design, it's also a great handheld ham radio for use on the go and during outdoor adventures. The best part is that you don't have to worry about it getting beaten up or damaged as it's inexpensive to replace.
Finally, its size, audio clarity, and frequency versatility make it perfect for use as a group. If you're an advanced user looking for a powerful ham radio, though, you should consider the more advanced options BaoFeng and other brands such as Kenwood have to offer.
Hopefully, this review has helped you make a decision on whether to get this handheld ham radio.
FAQ
How Far Can A Baofeng UV 5R Transmit?
The Baofeng UV 5r has a transmission range of 5 to 15 miles. When operating it on the high power setting and with the battery fully charged and the conditions ideal, it can transmit as far as 20km.
Is The Baofeng UV 5R Illegal?
The Baofeng UV 5r is legal for amateur use only. It's illegal to use it for transmission if you don't have a license. Even when you have a license, you should only transmit on amateur-only frequencies as it's illegal to use it to transmit beyond the amateur bands.
Do I Need A License To Operate A Baofeng UV 5R?
You don't need a license to use the Baofeng UV 5R for monitoring and receiving transmissions only. If you intend to use it to transmit as well, however, you will need a license.