Updated Dec 13, 2022
Baofeng Bf-F8HP Review – Worth It?
Baofeng Bf-F8HP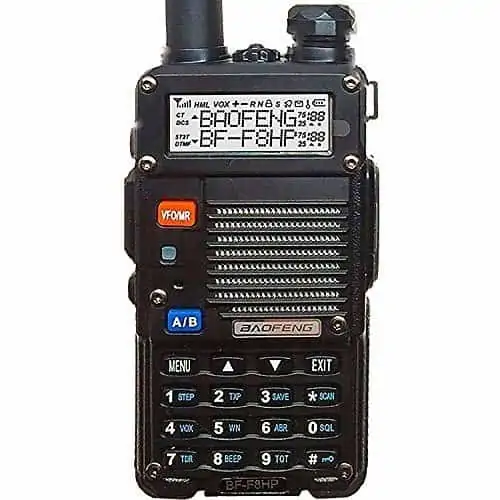 Top selling Baofeng Ham Radio
Most Powerful Ham Radio
Great price with many features/li>
Great sound quality
Great Battery life
Amazing range (over ten miles if minimal obstructions)
Squelch settings work
Transmit and monitor on all GMRS, FRS, Marine and Business bands
Finding the best Baofeng Ham radio can be frustrating. The market is full of several Ham radios and it can take forever to figure out what you want.
What you need is the Best Baofeng ham radio that can do the following;
Has higher battery power.

Transmit and receive signals over wider ranges.

Has a clear display with a backlit keyboard and is easy to use.

Has a high power output, and

It is easy to program.
Seriously, there is only one brand of Baofeng ham radio that meets these criteria. This is the Baofeng Bf-F8HP, a dual-band and two way handheld ham radio that improves on the UV-5R radio.
Baofeng BF-F8HP Specifications
Display:Tri-Color
Battery: 2000mAh, 7.4v, Li-ion
Frequency Range: 65-108MHz (FM Receive only) 136-174MHz and 400-520MHz (TX/RX)
Antenna: High Gain Dual Band Antenna 7″ Antenna
Mode of operation: Simple or semi-duplex
Transmitter Output power: 8W/5W / 1W (Max 8W)
Modulation Mode: 16k F3E / 11k F3E
Maximum deviation: 5kHz(Wide) / <2.5kHz(Narrow) CTCSS/DCS deviation: 0.5+/-0.1kHz(Wide) / 0.3+/-0.1kHz(Narrow)
Speaker/Audio output power: 700mW
Audio output: Jack 3.5 mm headphone
History of Baofeng Bf-F8HP from UV-5R
UV-5R ham radio was first introduced in 2012 as a dual-band radio with dual display. Since then, the radio has seen significant improvements. In particular are the firmware upgrades of 2013 and 2014 to BFB297 and N5R firmware respectively. This was the improvement and upgrade to the 2nd generation model.
Also, within this two year period, new variants to UV-5R were introduced to the market. These are; UV-5R V2+, UV-5RA, UV-5RE, UV-5R+, BF-F8+, GT-3, 997-S.
In fall 2014, UV-5R saw the introduction of its successor–BF-F8HP. This was the 3rd generation model with improved features and better performance.
Who Can Use Baofeng BF-F8HP?
This is pretty simple! One, this radio is designed for amateur use. Therefore, you can only use it for personal and non-commercial related activities. Second, you need to qualify as a user and as per the FCC regulations. What does this imply? You need to take and pass a licensing exam.
It's the licensing exams that qualify you as a ham radio user. There are three licensing levels. These are; Technician level, General level, and Amateur extra level.
The first two levels have restrictions in terms of how you can use the radio and some limitation on radio privileges. Therefore, you need to aim for the Amateur extra level license so that you enjoy using this ham radio.
Features – Baofeng BF-F8HP
This is it!
Let's delve deeper into Baofeng BF-F8HP and find out why it's the most powerful Baofeng radio.
1) Frequency
Baofeng BF-F8HP operates on three frequency capabilities. These are; frequency modulation (FM), very high frequency (VHF), and ultra-high frequency (UHF).
FM works on 65 and 108 MHz and is only meant for commercial radio reception. VHF works on 130.000 and 176.995 MHz while UHF works on 400.000 and 520.9995 MHz when programmed.
Ideally, UHF has a range of 400-479.995 MHz. However, you can learn how to expand the range of a Baofeng radio under UHF by using programming software and cable.
2) Power Output and Range
Baofeng BF-F8HP two way radio features three selectable power settings. Unlike its predecessors and other ham radios, it runs on the maximum power output of 8 watts. The other levels are low and mid at 1 and 4 watts respectively.
Owing to its high power output, it can cover up to a maximum Baofeng radio range of 20-25 miles depending on the level of obstructions.
3) The Display
The radio features a tri-color LCD display with selectable blue, orange, and purple colors. Furthermore, the display supports all alphanumeric characters such as letters, numbers, and special characters.
4) DTMF
This radio is Dual-tone multi-frequency signaling (DTMF) enabled. Therefore, it is possible to get the right DTMF tones A, B, C, and D with the press of its upper keyboard buttons.
5) The Receiver
The Baofeng BF-F8HP radio features a high gain V-85 antenna that is powerful and has high sensitivity and selectivity. This makes it possible to receive FM, VHF, and UHF signals.
6) The Transmitter
A standard transmitter operates at 4 W. However, the Baofeng BF-F8HP transmitter has three selectable power setting levels. In this, VHF transmits on a high of 8 W while UHF at 7 W.
7) Software
BF-F8HP CPS.rar is the BF-F8HP radio's factory software. However, you can still use CHIRP programming software that is versatile and makes it easy to program on Windows, Linux, and Mac computers.
8) Case Design
BF-F8HP radio resembles the previous models only with the exception of a bands button. Also, it's black in color, made of sturdy plastic material, weighs 214g, and measures 10.5*2*2 inches.
9) Weather Resistance and Durability
This radio is made of a strong plastic material that is waterproof, dustproof, and super durable. Thus, you can take with you the radio to any place and it will still work well.
10) Noise Filter
BF-F8HP radio features CTSS (Continuous Tone Coded Squelch System) and DCS (Digital Coded Squelch). These two systems are responsible for locking out unwanted transmissions from a channel.
11) Battery
Equipped with a 2000mAh battery, the BaoFeng BF-F8HP packs enough power to communicate all day without stopping to charge your unit. On top of this, you can operate the radio on high (8W), medium (5W), or low (1W) power settings.
The battery life is 20 hours on high power usage. If you use the radio on medium, you can extend the battery life to 24 hours. The package includes a CH-5 110V adapter and a CH-5 charger for replenishing the battery.
Ease of Use
This is a fact:
Not everyone is tech-savvy or has all the necessary skills to operate a radio. This is applicable when one is a newbie or when transitioning to new ham radio.
Clearly, you don't have to beat yourself up trying to be one. Baofeng understands this very well and made this radio user friendly and easy to operate.
Besides, it comes with a 76-page user manual. The detailed guide will show you step by step instructions on how you can customize the radio according to your preference. More importantly, the guide will show you all the capabilities of the radio.
The guide uses a simple language that's easy to understand. As if that's not enough, you'll have exclusive access to customer service help whenever necessary.
Value for Money
BF-F8HP radio is the best Baofeng radio and it offers great value. This is why it is the best-selling Baofeng radio in the market. It's not just an improved version of UV-5R, but it's packed with lots of benefits.
It has a larger battery with more power to last you for longer hours before taking it for a recharge
It operates on high wattage which increases its efficiency and maximum range coverage
It's easy to program and to use
It's dust and waterproof and durable. No need for frequent repairs or replacements
Customer support and service is fully available at any time
This Baofeng radio is frequently bought together with:
BaoFeng, BTECH BL-5L 3800mAh Li-ion Battery Pack. Baofeng standard batteries are decent but with this battery you can easily double the time you can use it before you have to charge it again.
BTECH PC03 FTDI Genuine USB Programming Cable. No Driver Issues, no old drivers needed, just plug and play
Authentic Genuine Nagoya NA-771 15.6-Inch Whip VHF/UHF (144/430Mhz) to extend its range. This is a must for outdoor and camping usage.
What Is Included In the Box
Baofeng BF-F8HP radio.

2000 mAh battery.

V-85 antenna.

Power adapter.

Earpiece.

Belt clip.

Hand strap.

Battery charger.

User manual.

1-year complimentary concierge service and warranty support.
Cons/Downside
Not water resistant
The display may be difficult to read with polarized sunglasses
The duplex and repeater use at times appears to be trial and error
You may need to use the USB cable and computer to configure.
BF-F8HP radio is top-performing and gives many brands a run for their money. This has seen the rise of counterfeit BF-F8HP radios in the market because they're in high demand.
Therefore, the only way to be safe is to buy from verified sellers. This will also help kick counterfeit radios out of the market.
BF-F8HP VS Other Ham Radios
Let's see now how this awesome ham radio compares to other popular radios.
BaoFeng BF-F8HP vs UV-5R
Being the third and final generation in the BaoFeng UV-5R series, the BF-F8HP retains all the beloved features of the original UV-5R and improves on all the quirks. With the ability to transmit at up to 8 watts, the BF-F8HP is the most powerful Baofeng handheld ham radio. The UV-5R, in contrast, can only transmit at a maximum of 5 watts.
Despite the higher output power, the BF-F8HP offers a longer battery life than the UV-5R. This is because it comes equipped with a 30% larger battery. The UV-5R lasts up to 18 hours on the high setting while the BF-F8HP can transmit for as long as 20 hours on high.
You will also receive a more advanced antenna with the BF-F8HP that provides double the performance of the stock antenna the UV-5R comes with.
Finally, the BF-F8HP comes with an upgraded user experience. The manual is incredibly detailed and helpful and you will get a warranty and concierge support for two years. If you own the UV-5R but have been frustrated with the limited power and other shortcomings, you can look forward to a way better experience with the BF-F8HP.
BaoFeng BF-F8HP vs BF-F8+
The BF-F8HP is a generation higher than the BF-F8+, and is thus the more powerful option. It can transmit at a maximum of 8 watts while the BF F8+ has up to 5 watts of transmit power. The BF F8+ comes equipped with a 1800mAh battery, compared to the 2000mAh battery the BF-F8HP runs on.
Another difference is that the BF F8+ has an inverted display for privacy while the BF-F8HP features a tri-color display. If you're wondering which of the two to get or whether to upgrade to the third generation, you will get more transmission power, distance reach, and battery life with the BF-F8HP.
BaoFeng BF-F8HP vs UV-9R
The BaoFeng UV-9R is more water and dust resistant than the BF-F8HP. This makes the UV-9R a better option for surface water sports like kayaking and fishing, and outdoor adventures such as hiking. The BF-F8HP, on the other hand, is more lightweight and compact and offers a higher output power and longer battery life.
It can transmit at a maximum of 8 watts, while the UV-9R can only transmit at a maximum of 5 watts. Additionally it is powered by a 2000mAh battery, while the UV-9R packs an 1800mAh battery.
As for the antenna, the BF-F8HP comes with a 7 inch high gain antenna while the UV-9R is provided with a telescopic antenna.
BaoFeng BF-F8HP vs UV-82HP
While both radios boast a maximum output power of 7/8 watts, the Baofeng UV-82HP is louder and offers more flexibility in use. It features a 1 watt speaker, while the Baofeng BF-F8HP uses a 700mW speaker.
Both radios also allow you to operate on two frequencies but the UV-82HP goes a step further and allows you to switch to a single Push to Talk switch if you wish. Furthermore, you will also be able to disable VFO frequency, which you can't do with the BF-F8HP.
When comparing build quality, both units are rugged but the UV-82HP sports larger buttons for ease of operation. However, the BF-F8HP packs a more powerful 2000mAh battery compared to the UV-82HP's 1800mAh.
Go for the UV-82HP if you want more flexibility in use and the ability to lock out the VFO frequency. The BF-F8HP is the better option when it comes to battery power.
BaoFeng BF-F8HP vs UV5X3
The BaoFeng UV5X3 covers three bands: VHF (130-179.99), 1.25M (222-225.99), and UHF (400-520.99). The BF-F8HP, on the other hand, is a dual band that covers the VHF and UHF bands. Unlike the BF-F8HP, the UV‑5X3 allows you to edit a channel without having to delete and recreate it. You can also add and remove channels from the scanning list via the keypad.
Additionally, the UV‑5X3 allows you to scan a specific frequency range or step. You can also synchronize the dual display so it shows both the frequency and name of the channel. You can even disable VFO frequency, and Stun, Kill, Revive, Inspect, and Monitor remotely. You cannot do any of these with the BF-F8HP.
Go for the UV‑5X3 if you want a more capable and user-friendly tri band radio. You're better off with the BF-F8HP when it comes to power. The 8 watts output power and 2000mAh battery of the BF-F8HP are more powerful than the 5 watts power and 1500mAh battery the UV‑5X3 packs. However, the speaker on the UV‑5X3 is louder and crispier than that of the BF-F8HP.
BaoFeng BF-F8HP vs Yaesu FT-60R
Even though the Yaesu FT-60R is more compact than the BaoFeng BF-F8HP, the FT-60R is the more capable ham radio when it comes to coverage and memory channels.
The BF-F8HP covers UHF, VHF, and FM bands but the FT-60R has a wide band reception between 108 -520 MHz and 700-999 MHz. Besides the 144 MHz and 430 MHz amateur bands, the FT-60R also monitors TV and AM bands and a range of safety frequencies.
The FT-60R comes with 1,000 memory channels, nine DTMF audio dialer memories, and 10 memory banks. You also can program two of the keypad's keys for quick access to frequently used functions. The BF-F8HP, on the other hand, only offers 128 memory channels.
Unlike the BF-F8HP, the FT-60R is geared towards survival situations. As such, it comes equipped with an Emergency Automatic Identification (EAI) system, Enhanced Paging and Code Squelch (EPCS), NOAA weather alerts, and a security password.
Once again, the BF-F8HP wins when it comes to power. It allows you to transmit at a maximum power of 8 watts and you get up to 24 hours of operation on a single charge. The FT-60R operates at a maximum 5 watt output power and its 1400 mAh battery can power operation for up to 12 hours .
Of the two, the Yaesu FT-60R is the best option for emergency and survival situations. You will also find the FT-60R more appealing if you want as many memory channels as possible. The Baofeng BF-F8HP is the less expensive option while still giving you plenty of transmission power and a longer battery life.
Baofeng BF-F8HP Review Final Verdict
Amateur radios are awesome for personal and emergency radio use. There are lots of Baofeng ham radios in the market, nevertheless, BF-F8HP radio remains the best Baofeng ham radio.
You get the idea. Right? So, are you ready to try the most powerful Baofeng radio?