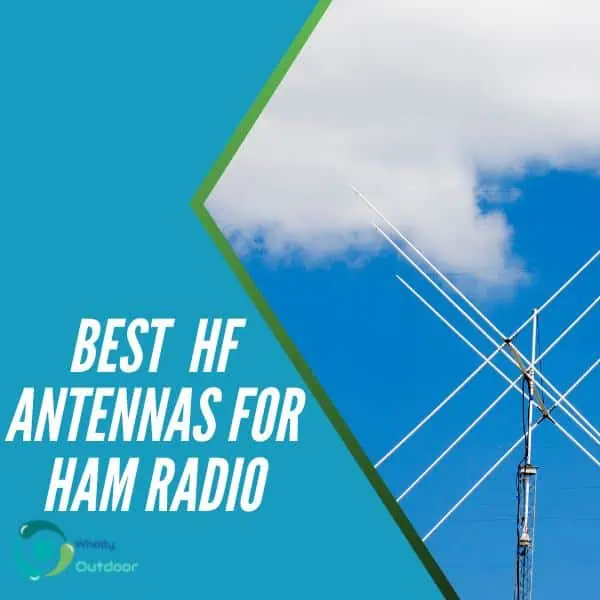 Top 3 Best HF Antennas For Ham Radios
As an Amazon Influencer, we earn from qualifying purchases you might make if you click any of the links on this page.
Searhing for the best HF antenna for ham radios?
The heart of any potent ham radio setup isn't just the radio itself—it's the antenna. While the market is flooded with options, not every HF antenna delivers the clarity, range, and reliability that true enthusiasts seek.
Whether you're setting up your first station or looking to upgrade, choosing the right antenna is pivotal.
I've done the research for you, narrowing down the vast choices to the absolute best. If you've been wondering which HF antenna to invest in, you're in for an enlightening read.
Why Should You Trust Me?
Navigating the expansive world of ham radios and outdoor gear can be daunting, but at WhollyOutdoor, we strive to simplify this journey with genuine expertise.
I'm Paul Dudley, Editor and Founder.
My passion for ham radios and outdoor adventures inspired the creation of this platform. Every review and recommendation is a reflection of our dedication to objectivity, honesty, and education.
It's not about pushing products; it's about offering valuable insights so you can make informed decisions. With WhollyOutdoor, you're getting more than just opinions—you're getting the benefit of true passion and commitment to authenticity.
How We Choose the Best HF Antennas For Ham Radios
Selecting the best HF antennas, especially for ham radios, is a task we take seriously at WhollyOutdoor. The process isn't as simple as picking the most popular or the most advertised. Our methodology is thorough and well-thought-out to ensure we provide recommendations that genuinely stand out. Here's our approach:
Research & Industry Trends: We begin by diving deep into current ham radio and antenna trends, ensuring that our recommendations align with the latest technological advancements and user needs.
User Reviews & Feedback: We pore over reviews from real users, paying special attention to common praises or concerns. This helps us gauge the actual performance and reliability of each antenna.
Technical Specifications: An HF antenna's specifications, such as frequency range, build quality, and weight, play a crucial role in its effectiveness. We meticulously examine these details to ensure our top picks excel in all categories.
Affordability vs. Value: While price is a factor, we're more concerned with value. An affordable antenna that underperforms isn't a bargain—it's a liability. We strive to recommend products that offer the best balance of cost and quality.
Ease of Installation & Documentation: We understand that not every ham radio enthusiast is an expert. As such, we factor in the ease of setup and the clarity of any accompanying documentation.
Durability & Build Quality: An antenna needs to withstand the test of time and various outdoor conditions. We prioritize antennas known for their resilience and robust construction.
Brand Reputation: While not a definitive factor, we do consider the reputation of the brand. Companies with a history of excellence and customer support often provide more reliable products.
By the end of this rigorous selection process, we're confident in our recommendations. Our goal is to guide you towards HF antennas that won't just meet, but exceed your expectations in 2023 and beyond.
3 Best HF Antenna For Ham Radios Reviews
1. DX Commander Signature 9 HF – Our Top Choice
The DX Commander line of antennas is pretty well-regarded for performance and quality. And that plays a big part in making this antenna our top choice.
This 9m or 29.53 feet tall antenna can work as a quarter wave antenna and receive 40m to 10m bands. It is possible to extend its use further to 80m, but that will need the addition of a horizontal inverted-L wire.
You could even use the 30m band in the same configuration, though that will require the use of an antenna tuner. However, for most users, the stock antenna will do the trick.
DX says that the new Signature 9 antenna builds on the success of the Commander Classic and Signature 12.4 antennas. And with such big shoes to fill, it makes a serious attempt at getting things right.
In some ways, that starts right from the appearance. The Signature 9 has an almost premium look. Well, the kind of premium look you can expect from a premium antenna.
The alloy plates are made from 5251 alloy, the spreader plates are marine-grade high-density polyethylene, and carefully crafted fiberglass poles.
Signature 9 works as a fan dipole and can accept four radial wires per connector, going all the way to 120 radials. The Driven Plate plays nicely into this, allowing the user to conveniently pick their choice of bands.
The way this antenna handles noise is nothing short of impressive. The signal quality is remarkable and with very low noise. There can be some trouble with the 10m band, but it's not bad and can be handled with some tuning.
Apart from the good signal quality and SWR, the antenna also lends itself well to power. It can go to a maximum of 1450W with SSB, or 375W when using digital signals.
The multi-band resonant antenna comes with the most necessities for a successful installation. It doesn't include an unun, but that's not a big issue. Instructions from DX are quite intensive and clear, which make setting up the antenna easier. Yet, some experience with setting up vertical antennas is useful.
Overall, DX Commander Signature 9 is an excellent antenna with premium build and great features. It is easy to use, though it can take some effort and knowledge to set up the antenna.
To sum up, what we like is the…
Remarkable build quality
Excellent signal quality
Low profile and good efficiency
Good and detailed documentation
Can handle power up to 1500W.
On the downside…
Can take some time to set up.
2. Hy-Gain AV-680 Patriot-Plus – Best Premium HF Antenna For Ham Radios
The simple to use, yet capable Hy-Gain AV-680 Patriot-Plus HF Vertical Antenna is my premium pick for HF antennas. This 9-band vertical antenna covers bands all the way from 6m to 80m. To top it off, it has decently good looks, good performance, and is fairly sturdy.
Hy-Gain AV-680 is generous with its use of aluminum, though it's carefully employed. So, the antenna retains its premium look and features, without feeling like a cheap antenna or causing one to question its quality.
Interestingly, it doesn't use radials or ground and instead relies on counterpoise for functioning. Similarly, the antenna has resonators in parallel, rather than in the conventional series configuration. The company claims that this setup is useful in reducing loss. The lower-HF bands are end-loading, which results in low SWR and efficient operation.
Each band can be tuned individually, and having an ATU at your disposal can really help move things along. Besides, the tuning can be a fun exercise unto itself.
And well, having nine bands to work with on a single antenna feels very fun and interesting but it can occasionally (or often) be troublesome. This includes very narrow resonant points for some bands, which can get very frustrating. Again, some time spent tuning and tinkering with the antenna can reduce these problems, even if they don't go away completely.
Setting up this antenna can be somewhat easy if you know your way around vertical antennas. The company also offers some documentation on going about this process, but it can get vague and difficult to follow at some points.
And that feels very out of place for an antenna with a high price tag.
As for the conventional specs, the antenna is 26-feet tall and has a maximum power rating of 1500W. The package includes all components necessary to set up this antenna, including the vertical mount and mounting clamps. The radial plate and radial wire are conspicuous by their absence, but that's to be expected since the antenna doesn't use them.
Overall, though on the expensive side, Hy-Gain AV-680 Patriot-Plus HF Vertical Antenna has great features like 9-bands, efficient operation, and low SWR.
To sum up, what I like is the…
Good build quality
Low SWR and noise
Individual tuning for each band
9-bands available
Can handle power up to 1500W.
On the downside…
The documentation can get confusing
Narrow resonant points for some bands.
3. Moonraker Ltd GPA-80 – Best Budget HF Antenna For Ham Radios
A small footprint paired with attractive pricing and decent performance make the Moonraker Ltd GPA-80 HF Vertical 80-6M Antenna my budget choice for HF antennas.
As the name implies, this is an 80m to 6m antenna. As such, the Tx frequency range goes from 3.5-54 MHz, while the Rx range is 2.0-90 MHz.
The antenna is relatively lightweight and doesn't need too much space, which might make it a suitable option for many amateurs. It's placed vertically, so the space requirement isn't as extensive as some classic dipoles favored by hams.
When installed, the antenna prefers to use the coaxial cable as the ground plane. This is also the preferred method for this antenna – otherwise, it tends to add some noise or show a noticeable drop in performance.
Adding a radial plate is effective as well, but the unun will need closer attention. If you're aiming for a similar setup, the radial plate and unun need to be purchased separately, though the antenna has a matched base. That said, some sellers and antenna packagings have a balun/unun in the box, which can come in pretty handy.
Moonraker recommends an external ATU for the antenna for best results. Many people have found that the internal ATU on their HF antenna works just as well, but the company continues to recommend the use of an external unit for better performance.
Some people see a drop in performance from this antenna after some time. In many cases, this problem can be dealt with and is generally related to the budget construction of the antenna. The GPA-80 uses aluminum for its mount material and it can feel a bit shoddy.
Additionally, some connections may not be handled well, which can cause the antenna to retain rainwater and lose performance.
One of the more troubling aspects is the lack of proper and detailed documentation of the antenna. While the more experienced and advanced users know their way around the setup, beginners or those new to antenna setups might struggle with a proper setup of this antenna.
Overall, the Moonraker GPA-80 HF antenna is a good choice for those who want a budget option and have limited space for the antenna. It is relatively easy to handle and quick to set up for experienced users. Although the lack of proper documentation also means that beginners can struggle with setting it up properly!
To sum up, what I like is the…
Attractive pricing
Easy to set up 
Lightweight and fairly sturdy
Can handle power up to 400W.
On the downside…
Lack of documentation
Not a great build quality
Frequently Asked Questions (FAQs)
What is an HF antenna's primary function in ham radios? An HF (High Frequency) antenna is designed to receive and transmit signals in the high-frequency range, typically from 3 to 30 MHz. For ham radios, this allows communication over long distances, often across continents.
Are all HF antennas compatible with all ham radios? Not necessarily. While many HF antennas are versatile, it's essential to ensure the antenna's frequency range matches that of your ham radio for optimal performance.
How does the length of an HF antenna affect its performance? Generally, a longer antenna can capture lower frequency signals more effectively. However, modern designs and materials can optimize shorter antennas to perform efficiently across various frequencies.
Do I need any special permits to install and operate an HF antenna? Depending on your region, you might need planning permission to install larger antennas. Additionally, operating a ham radio typically requires a license, which might dictate specific antenna usage or restrictions.
What's the difference between vertical and horizontal HF antennas? Vertical antennas stand upright and often require less space, making them suitable for smaller areas. Horizontal antennas, like dipoles, spread out laterally and might provide different propagation characteristics.
Can I install an HF antenna indoors? While it's possible, indoor installations can lead to reduced performance due to interference from building materials and electronic devices. Outdoor installations are generally recommended for optimal reception and transmission.
How often should I maintain or check my HF antenna? Regular checks, at least annually or after severe weather, are advisable. Look for any physical damages, wear and tear, or loose connections to ensure your antenna's longevity and performance.
Does weather affect the performance of an HF antenna? Severe weather conditions can impact the antenna's physical structure. However, atmospheric conditions, like ionospheric disturbances, can also influence signal propagation on the HF band.
Why might one HF antenna be more expensive than another? Pricing can reflect the build quality, materials used, brand reputation, and specific technological features of the antenna. It's crucial to weigh the cost against the value and performance it offers.
Can I build my own HF antenna? Absolutely! Many ham radio enthusiasts enjoy DIY projects. However, ensure you follow reliable blueprints and guidelines to create an effective and safe HF antenna.