Top 5 Best FRS Radios
As an Amazon Influencer, we earn from qualifying purchases you might make if you click any of the links on this page.
Looking for the best FRS radio? Let's take a look at some of the best options on the market right now. 
We have done an extensive review of the top 5 FRS radios and we discuss all their key features and what things to consider before you pick the best one for you.
First, let's talk about what an FRS Radio is. FRS stands for Family Radio Service. This is a short-distance communications and data service, that is generally private and two-way. Smaller, hand-held radios make up some of the best FRS radios.
What you should consider when shopping for your own best hand-held radio option should be a mix of several things. Budget, battery life, range, and quality are definitely going to be your top concerns. You can also look into added extras like being waterproof, or made from more durable materials.
No matter what your looking for in an FRS radio, whether you want to use them on all your summer camping trips, or on a road trip with family, we've got the best options just for you!
5.

Motorola T600
– Best Waterproof FRS Radio
Pros
Waterproof and dustproof

Floats on water rather than sinking

Flashlight and emergency mode

And the dual power mode with NiMH and AA batteries.
Cons
A bit on the expensive side

And the speaker could be better.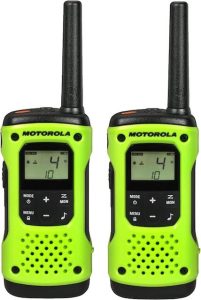 The name of the game with Motorola T600 Talkabout is waterproofing. This is a two-way radio with features designed to appeal to those who enjoy the great outdoors and watersports. Part of the reason Motorola calls these T600 H2O walkie-talkies is their skill on water.
The radio is rated IP67. This means it is dustproof and waterproof, even when submerged in water for up to 30 minutes and a depth of 1 meter. However, the waterproofing is more relevant to heavy rain, rather than the possibility of the walkie-talkie sinking to the bottom of a lake.
Why? Because it floats!
And that makes sense for a walkie-talkie you intend to take along for kayaking or fishing. Retrieving a radio that sinks to the bottom of water can be impossible. Getting hold of one that floats is easy!
Design and Extras
Motorola T600 two-way radios are brightly colored, which makes spotting them easier. They also have water-activated LEDs, which light up if the radio comes in contact with water. This makes it easier to spot the radio in low light conditions, excellent features for one of the best FRS radio brands.
In fact, the base of the radio is a flashlight. A bright, white LED is the centerpiece here and is bright enough to pass as a decent flashlight. It is flanked by blue and red lights. These come on when the radio comes in contact with water, or if the user activates the emergency mode.
While it shows great prowess on water, the feature list of Motorola T600 Talkabout as one of the best FRS radio is fairly standard.
It works on the 22 FRS channels and includes 121 privacy codes for easier communication. The LCD on the radio is small but it is crisp and clear. Following the screen are control buttons for volume, menu, switching channels, switching modes, and listening to NOAA weather channels.
On the side is the PTT button. When you hold the radio, your index finger will naturally come over this button. Right above the PTT button is the flashlight button, which is big enough to access easily.
However, the radio feels a little bulky and big in the hands. This might be because of the floating capability of the radio. It can be a fair trade depending on your requirements, but it is something to keep in mind.
Comparisons and Final Thoughts
If you want something sleeker, consider the next higher model in the Motorola Talkabout line, the Motorola T800. This radio also has the capability of supporting some digital communication through an accompanying smartphone app.
Although if waterproof is high on your agenda, the T800 isn't the right choice. That radio is barely water-resistant.
Motorola T600 runs on a NiMH battery that's good enough for about nine hours of regular use. If needed, you can also power it through three AA alkaline batteries. These will keep it running for just about shy of a full day.
This is an expensive radio but if you need one of the Best FRS Radio options for your watersports, this is an excellent choice. However, beyond this specific use, consider other walkie-talkies with better features and more attractive pricing.
Our Ratings
Functionality: 9/10
Reliability: 8/10
Value for Money: 8/10
Battery: 8/10
Overall Rating: 8/10
Pros
Rugged build with shockproofing

Dustproof and waterproof radio

High-capacity Li-Po battery

High transmit power.
Cons
Expensive

No weather channels

Can feel somewhat bulky.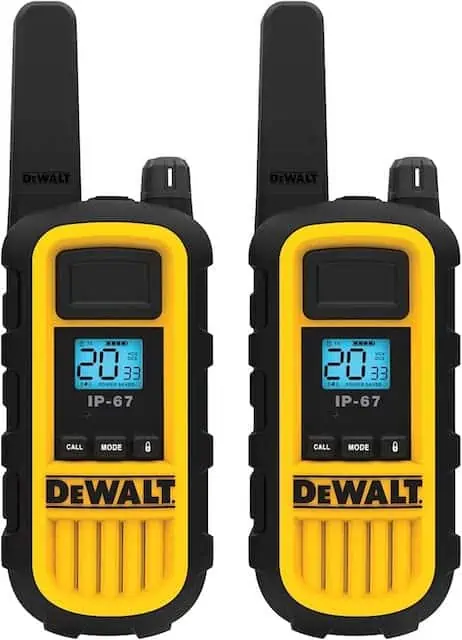 DeWalt DXFRS800 is a radio aimed at business users, though, of course, anyone can use them. The USP here becomes evident at first glance – it's a rugged radio that's built to last and handle rough usage.
Its antenna is short and stubby and the radio's body is covered with a coat of rubber. This rubberized coating provides some water and dust protection to the radio, though its most important use is shockproofing.
DeWALT800 will withstand a drop from 2 meters without breaking a sweat. Keep in mind, shock proofing isn't absolute and the radio still risks some damage with a fall. For example, the antenna could break or the screen could crack.
Yet, all things considered, this radio is more likely to survive a fall when compared to a radio with no protection.
Another feather in its cap for ruggedness is IP67 protection rating. This means the walkie-talkie is dustproof, waterproof, and can survive being submerged in water up to a depth of 1 meter for 30 minutes.
The radio comes with a 360˚ swivel holster and a charging cable. Carrying and moving the radio becomes a breeze with the holster and the swivel allows for customized placement.
Overall Use and Quality
Though its build is fantastic, as we come to the FRS qualities of this walkie-talkie, we find them to be average, or in some cases, below average. Even so, there are a few strokes of genius left in there.
As an FRS radio, it can transmit and receive over the conventional 22 channels. The radio supports 121 privacy codes, so there are plenty of options for a conversation without getting disturbed or interrupted.
You'd be hearing clear sound on account of two factors. For one, the radio's speaker and microphone are pretty good. And second, it can transmit at 2W, which is the maximum power allowed for FRS radios.
DeWALT envisions this radio for business and indoor use, even though they've built it to be tough! The company puts the range of the walkie-talkie at 300,000 sq. ft. or 25 floors. This should be enough for a building or office space, provided there isn't much clutter or obstructions.
Range and Final Thoughts
For conventional use on the road or the outdoors, the range is under 2 miles. The distance can vary depending on the terrain, but don't expect the walkie-talkie to work over significantly larger distances.
For all its good qualities, the DeWalt DXFRS800 is expensive. You can give a shot to the cheaper option, that doesn't make our list for one of the best FRS radio models, the DeWalt DXFRS300. This one has the same build quality and design as the DXFRS800, but it sacrifices transmit power. The DXFRS300 has a maximum transmit power of 1W.
Another notable aspect in the long list of features for DeWALT DXFRS800 walkie talkie is its 2000 mAh Li-polymer battery. The battery has enough juice to keep the radio running for several hours without a hitch. It's quick to charge too.
Our Rating
Functionality: 8/10
Reliability: 9/10
Value for Money: 8/10
Battery: 9/10
Overall Rating: 9/10
Pros
Attractive pricing

Easy to use.
Cons
Doesn't include rechargeable batteries

The battery meter is unreliable

Range can be very low.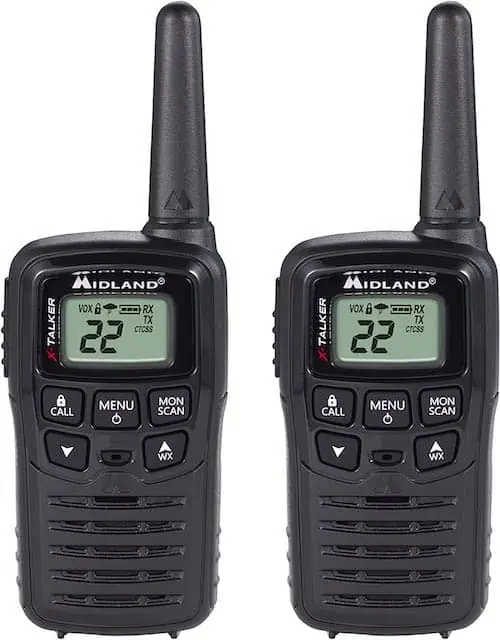 A good mix of value and features, Midland T10 X-Talker walkie-talkie is a decent option for buyers on a budget. This is a barebones, no-frills best FRS radio.
The walkie-talkie works on all 22 FRS channels. According to the FCC, FRS radios shouldn't transmit above a maximum power of 2W. That won't be a problem for this radio, since the maximum transmit power it has is limited to 0.5W.
The low power output affects range a bit, but it's not a deal-breaker. In most scenarios, you can expect the range on these two-way radios to be lower than a mile. Considering their low power, these radios can be more susceptible to the presence of obstacles when communicating, which will affect the range.
Still, the range is decent as long as you understand the limitations involved. Midland claims a range of 10 miles on this radio. As with most FRS radios, this range holds true only for ideal circumstances. In practical use, these radios hitting more than a mile would be impressive.
Ease of Use and Battery Life
Matching the low cost is the diminutive size of this radio. It's small, but ergonomic enough for easy use. An adult holding this walkie-talkie will find that it fits snugly in the hand. The control buttons remain easily accessible and the PTT feels decent.
Its display is small but clear. It shows the channel, Tx/Rx status, a battery meter, an icon for weather channels, and a few other bits of information. The battery meter leaves a lot to be desired – it's unreliable at best and can be wildly inaccurate.
Rather than showing the depletion of the battery, the meter tends to go from full to empty. There is no rechargeable battery in this radio. You'll have to power the Midland T10 X-Talker through three AAA batteries. The batteries usually last 2-4 hours when the radio is in active use, or around 10 hours on standby.
In case you prefer to have a chargeable battery for the two-way radio, consider the next higher model, the Midland X-Talker T31VP. In terms of features, this model is identical to the X-Talker T10.
There is a change in appearance though, as the T31VP takes on a dual-tone color look. However, the bigger change is the presence of chargeable 300 mAh NiMH batteries and the presence of a microUSB charging port. Although much like the T10, the T31 too can work on three AAA batteries.
Controls and Final Thoughts
The controls will let you move through the channels with ease, change volume, or scan the channels. Holding the "WX" button for a couple of seconds starts the radio on the NOAA weather channels. Users can change the weather channels to pick the one they want to listen to.
Midland X-Talker T10 includes 38 privacy codes. This number is lower than other, higher-priced walkie-talkies that offer 121 privacy codes. Yet, 38 can be sufficient for all the cool walkie-talkie lingo you would want to use! Working with the 22 channels, these can give you enough options to have a private conversation.
Overall, the USP of the Midland – T10 X-TALKER is its value. The low cost and decent audio quality make this a worthy pick for someone who needs one of the best FRS radio options occasionally.
Our Ratings
Functionality: 7/10
Reliability: 7/10
Value for Money: 9/10
Battery: 7/10
Overall Rating: 7.5/10
Pros
Good build quality

Convenient to use for outdoor sports and snowsports

Dustproof, waterproof, and resilient to snow accumulation

Excellent battery life.
Cons
Expensive

And the radio is much larger and heavier than comparable units.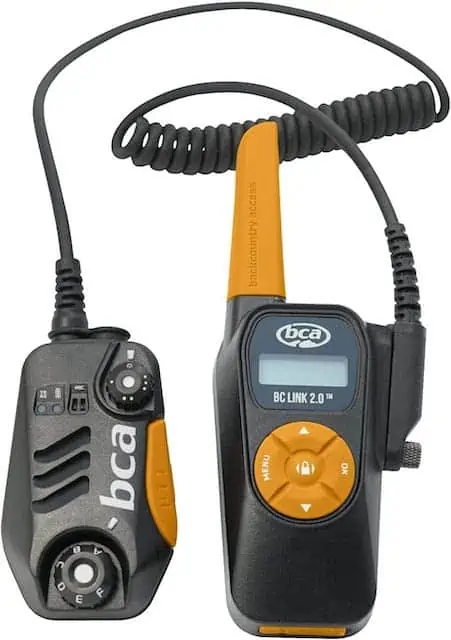 Backcountry Access BCA Link 2.0 is somewhat unique compared to other FRS two-way radios. It comes in two parts; the smart microphone and the radio unit. When put together, they form a functioning radio. They don't function independently.
To work on this radio, you attach the mic connector to the base unit and secure it in place with a screw. While this overall setup is unusual, it comes in handy for outdoor uses.
Basically, you could put the base unit in a backpack and place the microphone somewhere convenient like the shoulder. If you intend to use this two-way radio, remember that you'll need something to secure the base unit and the microphone.
BCA Link 2.0 is geared towards outdoor use. Apart from normal camping use, you could also use it for cycling, kayaking, and similar activities. However, the key focus of BCA Link 2.0 is winter sports like skiing and snowboarding.
To that end, this best FRS radio is resilient to snow. The microphone works pretty well even if there's some accumulation of snow. To work as intended in such a situation, the radio needs to be waterproof. BCA Link 2.0 is rated IP56. This rating implies it's dustproof and waterproof.
One of the notable changes from Backcountry Access Link 1 to the new model, the Backcountry Access Link 2.0 is that the microphone now hosts a better speaker. The mic itself is more resilient to snow in the newer model and works well even if there's snow accumulation on the microphone.
The speaker covers the bulk of the microphone. There's a large PTT button on the side and two knobs. One of these manages the volume and power, while the other provides quick access to preset channels.
There's also room for an earphone jack on the microphone, should you choose to use your own headset. Two LEDs on the smart mic deal with the transmit light and power light.
On the base unit, the small screen shows the channel, privacy code, and battery percentage. It also includes a few control buttons, antenna, and a microUSB port to charge the battery.
Backcountry Access BCA Link 2.0 FRS walkie-talkie draws its power from a 2300 mAh Li-ion battery.
Thanks to this battery, BCA Link 2.0 can stay active for several days on a full charge. The battery performs remarkably well even in cold temperatures, partly because this FRS radio is designed for use with snow sports.
The maximum transmit power output from this radio is 2W, which is also the maximum allowed by the FCC for FRS radios.
As for range, the company claims 40 miles. Of course, this isn't possible in most scenarios for this or any other best FRS radio brands. The practical range for FRS radios is about 2 miles – and even that's being generous.
This is an impressive radio in terms of voice clarity, ease of use, and build quality. Although its high cost does pose some questions on the value and on the wisdom of buying this walkie-talkie.
Our Ratings
Functionality: 8/10
Reliability: 9/10
Value for Money: 8/10
Battery: 9.5/10
Overall Rating: 9/10
Pros
Can pair with smartphones for enhanced features.
Sleek and clean design.
Allows Off-grid texting and data with Bluetooth.
Convenient features like offline maps with the app.
Weather alert feature.
Cons
Actual range is way lower than the claimed 35 miles.
Battery life could use an improvement.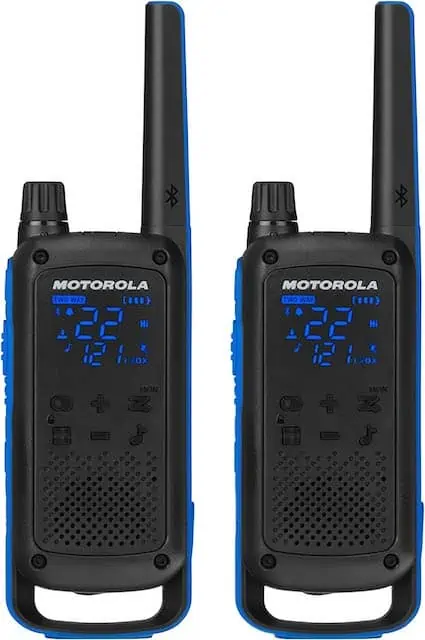 Everybody carries mobile phones at pretty much all times. We occasionally carry along walkie-talkies as well. It makes perfect sense to have these two gadgets come together to create a more connected approach.
Motorola Talkabout T800 does exactly that. In standalone mode, it works as a conventional FRS walkie-talkie. Pair it with the Talkabout smartphone app via Bluetooth, and whole new possibilities emerge.
The walkie-talkie system works best in a group. If you're out with two or more people, each with their phone and Motorola T800 paired, you can utilize the full capabilities of this system. Once paired with the phone, one phone or walkie-talkie within the group can be setup as the leader and others as members.
Once the leader is selected, the leader and members can "easy pair". This will cause all members to match the channel and sub-code of the leader radio. This way, communication becomes super easy.
Easy to Use
It's worth pointing out that in analog mode, the T800 is compatible with all walkie-talkies. It's only in the digital mode where this walkie-talkie needs compatible devices for specific communication needs, like text and maps.
When paired, Motorola Talkabout T800 acts as a modem to facilitate communication. You can use texts, maps, and more to communicate with other members of your group. Of course, for this to work, the radios must be within line of sight range of each other.
This communication works even if you're off-grid. It isn't related to your phone signal and will continue uninterrupted.
Motorola Talkabout T800 itself is a very well-designed two-way radio, and a great option for the best FRS radio. Its face is clean with no discernible screen. Motorola calls this the "hidden display".
Information on the near-invisible screen shows up when buttons are pressed. The display is bright, so it's no problem reading it even in sunlight. The control buttons are directly below the display and are raised slightly to provide some tactical feedback and to preserve the form factor. The walkie-talkie speaker is located right below these buttons.
Extra Features
Apart from these, the walkie-talkie body also includes a flashlight at the top and a loop at the bottom. The loop makes it possible to add a carabiner to the radio or simply tie or hold it in your hand. The downside to this approach is that the radio can no longer stand on its base.
On the side of the radio, you'll find buttons to activate the flashlight, two PTT buttons, and a Bluetooth button. The other side hosts a micro USB charging port.
Motorola Talkabout T800 often gets compared to the Talkabout T801. The only difference between these models is that the Motorola Talkabout T801 has a green body, while the T800 is blue.
A better comparison perhaps would be Motorola Talkabout T800 vs T600. The latter is the next walkie-talkie in the Talkabout lineup. The form factor of the T600 is more of the conventional walkie-talkie. It shows off a nice screen, colors, and easy device management.
Motorola Talkabout T600 has no Bluetooth, is cheaper than T800, and it can float in water, so it's easy to retrieve if dropped. But what if it's dark out? Well, the T600 has a water-activated flashlight to give away its location!
Additionally, while the T600 is waterproof, T800 is only IPX4 splashproof. This means that it can handle mild rain, but heavy rain or being submerged can spell doom for this two-way radio.
Range and Battery
Motorola claims that the radio has a communication range of 35 miles on voice. The range on data is lower, limited to 20 miles. Remember, that these distances are under idle conditions.
In a practical scenario, the available range is likely to be less than a mile, including for data, meaning it isn't the best long-range option. However, there are situations where a better range is possible, since the range of FRS radios relies on environmental factors and line of sight communication.
The radio is powered by a rechargeable NiMH battery. If necessary, you may choose to run it on two AA batteries. The choice of battery for the radio is old-fashioned and keeps it limited.
Another interesting feature of this radio is its ability to scan 11 weather channels, including 7 NOAA channels. Should a weather alert be issued, this walkie-talkie will catch it and set off an alarm. However, it's still one of the absolute best FRS radio brands on the market today!
Our Ratings
Functionality: 8/10
Reliability: 8/10
Value for Money: 7/10
Battery: 9.5/10
Overall Rating: 8.5/10