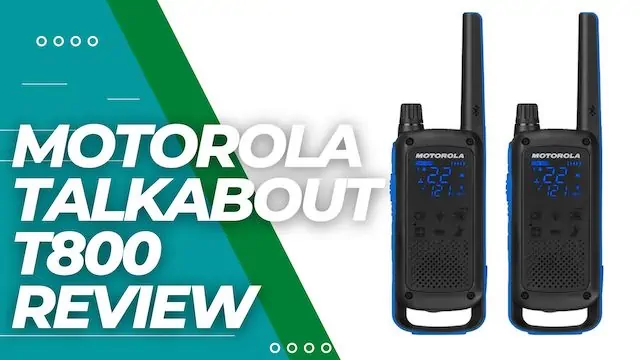 Motorola Talkabout T800 Review
As an Amazon Influencer, we earn from qualifying purchases you might make if you click any of the links on this page.
Pros
Can pair with smartphones for enhanced features.
Sleek and clean design.
Allows Off-grid texting and data with Bluetooth.
Convenient features like offline maps with the app.
Weather alert feature.
Cons
Actual range is way lower than the claimed 35 miles.
Battery life could use an improvement.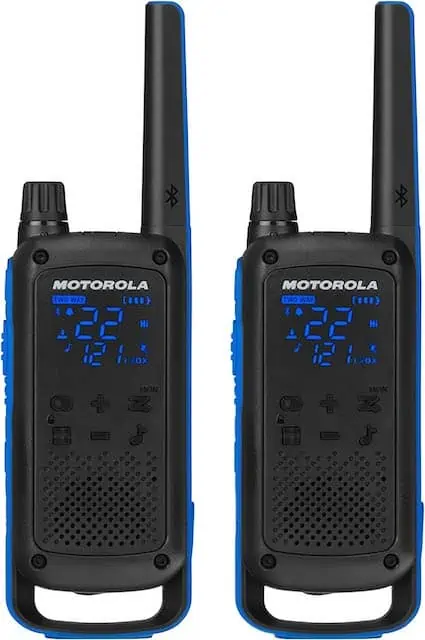 Motorola Talkabout T800 Details
Everybody carries mobile phones at pretty much all times. We occasionally carry along walkie-talkies as well. It makes perfect sense to have these two gadgets come together to create a more connected approach.
Motorola Talkabout T800 does exactly that. In standalone mode, it works as a conventional FRS walkie-talkie. Pair it with the Talkabout smartphone app via Bluetooth, and whole new possibilities emerge.
The walkie-talkie system works best in a group. If you're out with two or more people, each with their phone and Motorola T800 paired, you can utilize the full capabilities of this system. Once paired with the phone, one phone or walkie-talkie within the group can be setup as the leader and others as members.
Once the leader is selected, the leader and members can "easy pair". This will cause all members to match the channel and sub-code of the leader radio. This way, communication becomes super easy.
Easy to Use
It's worth pointing out that in analog mode, the T800 is compatible with all walkie-talkies. It's only in the digital mode where this walkie-talkie needs compatible devices for specific communication needs, like text and maps.
When paired, Motorola Talkabout T800 acts as a modem to facilitate communication. You can use texts, maps, and more to communicate with other members of your group. Of course, for this to work, the radios must be within line of sight range of each other.
This communication works even if you're off-grid. It isn't related to your phone signal and will continue uninterrupted.
Motorola Talkabout T800 itself is a very well-designed two-way radio. Its face is clean with no discernible screen. Motorola calls this the "hidden display".
Information on the near-invisible screen shows up when buttons are pressed. The display is bright, so it's no problem reading it even in sunlight. The control buttons are directly below the display and are raised slightly to provide some tactical feedback and to preserve the form factor. The walkie-talkie speaker is located right below these buttons.
Extra Features
Apart from these, the walkie-talkie body also includes a flashlight at the top and a loop at the bottom. The loop makes it possible to add a carabiner to the radio or simply tie or hold it in your hand. The downside to this approach is that the radio can no longer stand on its base.
On the side of the radio, you'll find buttons to activate the flashlight, two PTT buttons, and a Bluetooth button. The other side hosts a micro USB charging port.
Motorola Talkabout T800 often gets compared to the Talkabout T801. The only difference between these models is that the Motorola Talkabout T801 has a green body, while the T800 is blue.
A better comparison perhaps would be Motorola Talkabout T800 vs T600. The latter is the next walkie-talkie in the Talkabout lineup. The form factor of the T600 is more of the conventional walkie-talkie. It shows off a nice screen, colors, and easy device management.
Motorola Talkabout T600 has no Bluetooth, is cheaper than T800, and it can float in water, so it's easy to retrieve if dropped. But what if it's dark out? Well, the T600 has a water-activated flashlight to give away its location!
Additionally, while the T600 is waterproof, T800 is only IPX4 splashproof. This means that it can handle mild rain, but heavy rain or being submerged can spell doom for this two-way radio.
Range and Battery
Motorola claims that the radio has a communication range of 35 miles on voice. The range on data is lower, limited to 20 miles. Remember, that these distances are under idle conditions.
In a practical scenario, the available range is likely to be less than a mile, including for data, meaning it isn't the best long-range option. However, there are situations where a better range is possible, since the range of FRS radios relies on environmental factors and line of sight communication.
The radio is powered by a rechargeable NiMH battery. If necessary, you may choose to run it on two AA batteries. The choice of battery for the radio is old-fashioned and keeps it limited.
Another interesting feature of this radio is its ability to scan 11 weather channels, including 7 NOAA channels. Should a weather alert be issued, this walkie-talkie will catch it and set off an alarm.
Ratings
Functionality: 8
Reliability: 8
Value for Money: 7
Battery: 9.5
Overall Rating: 8.5