Top 5 Best Hand Crank Generators In 2023
Trying to find hand-crank reviews that will help you save time and money on your next purchase? Check out this helpful list of hand-crank models that will work for you.
There are a lot of hand-crank reviews out there that can only add to your frustration when trying to shop for a new hand-crank power source. However, our picks are broken down so that you know exactly what you are getting for each and every brand.
We have scoured through reviews and done our research on these brands so that you can easily make your purchase with confidence. From the best features, to budget friendly options and premium quality, and even great emergency and just for fun options, our top five products have everything you may be looking for in a hand-crank power option!
Pros
Attractive price point
Multiple ways to power the device – electricity, hand crank, solar
Capable flashlight
And the 10,000 mAh built-in battery.
Cons
Its longevity is questionable
No battery indicator
And its features are overstated.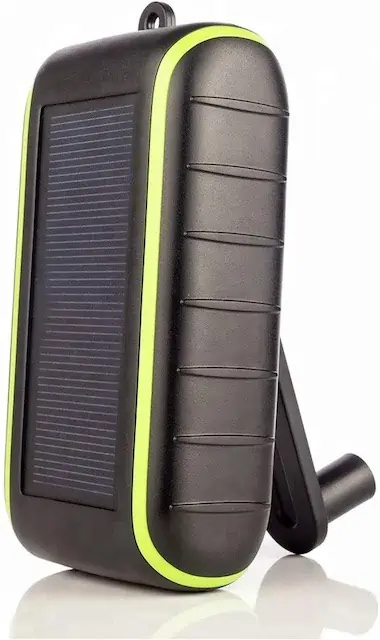 When alternate and mobile power sources are what you want, something like the Aytech Solar Charger Portable Hand-Crank can prove useful. This gadget can get its power through a solar panel or hand crank.
A very useful feature here is the presence of a built-in polymer battery. You could charge the 10000 mAh battery directly through a power outlet using USB. Alternate charging methods, of course, are the solar panel and hand crank.
I believe the presence of a battery is a useful addition to any hand crank device or emergency tool.
Maintaining a steady voltage while hand-cranking a machine can be difficult, to say the least. So, rather than the hand crank voltage going directly to a presumably expensive device like a smartphone, I prefer that the connection goes to a power bank battery.
Running the hand crank is useful for a quick power top-up. The crank is placed neatly at the back of the device and offers smooth movement and easy accessibility.
According to the manufacturer, it takes about 4-5 hours of running the dynamo to fully charge the power bank battery.
Practically, that means running the crank for a few minutes should deliver enough power to get some emergency charge into your device. Perhaps, just enough power to place a phone call.
I don't think anyone's going to rock the hand crank for five hours in an attempt to get a full charge.
I'm skeptical about whether the battery can charge fully using just the hand crank. While it's useful, the crank isn't well-built enough to excite confidence in it surviving a five-hour run.
The presence of the solar charger makes things slightly easier, as the photovoltaic cells will continuously generate energy when in the sunlight. The solar panel is rated 5-5.5V and 0.4W and the cells cover one side of the portable charger.
When you're outdoors or camping, simply walking around with the solar panel facing the sun should provide some energy. Although, the recommended method is to keep the device stationary, with the photovoltaic cells facing the sun.
There's a carabiner at the top of the Aytech Solar Charger Portable Hand-Crank. This makes it easier to attach it to the backpack and carry along when you're outdoors. At the bottom, you'll find two USB ports and an LED flashlight.
It offers dual USB ports, though they are questionable in their usability. Theoretically, the ports exist to charge two devices simultaneously. However, that is a tough call with practical use. The 10,000 mAh power bank can't really be expected to fully charge two mobile phones.
All things considered, this is an interesting gadget that could come useful in an emergency, thanks to the presence of a hand crank and photovoltaic cells. Though it overstates its capabilities, it can come in handy if you find yourself in a tight spot.
Our Ratings
Functionality: 8/10
Reliability: 7/10
Value for Money: 8/10
Overall Rating: 7.5/10
Pros
Large 22500 mAh battery capacity
Ports for USB Type C, USB 2.0, and micro USB
It can handle PD negotiation when charging
And the hand crank is powerful and conveniently placed.
Cons
Hand crank is made of plastic
And the overall build quality isn't all that durable.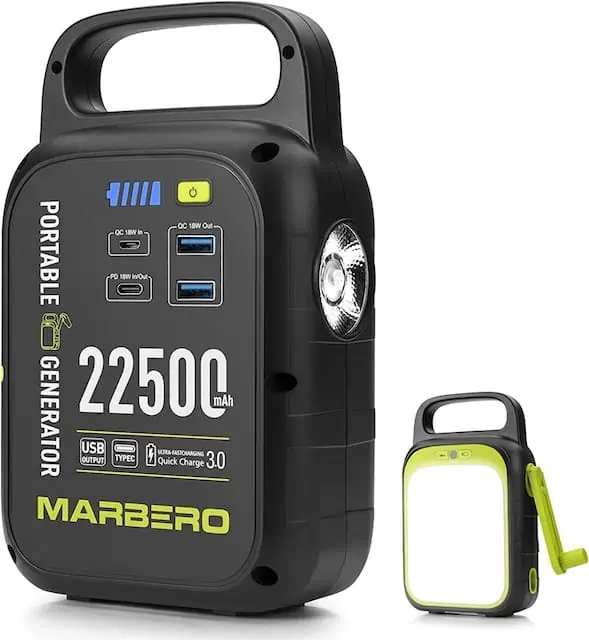 MARBERO Portable Charger is one of those rare hand crank portable chargers that have kept up with the times. It has a sturdy build, multiple output ports, good battery capacity, and a conveniently placed hand crank.
The available ports on this charger are a USB Type C, two USB 2.0, and one micro USB. It is also capable enough to check if the connected device supports fast charging, and can crank up its output voltage accordingly.
These ports support output power of up to 18W, making it possible to charge modern gadgets fairly quickly. While seemingly trivial, these little conveniences are what make a good experience.
Interestingly, though the device is capable of PD power negotiation, it seems the ports are all interconnected for the action.
Consider a scenario where you connect two gadgets to the charger. One of these supports fast charging and higher output voltage, while the other works only at 5V. In this situation, the Marbero charger will change the output voltage for both ports to 5V.
Of course, with all those power and energy requirements, this charger needs a strong battery. It is rated at 22500 mAh, making it sufficiently powerful for most modern devices.
The hand crank is attached to the side of this portable charger. It is capable of producing a maximum power of 5W when turned at 180 rpm. As an emergency-use hand crank, this power output is decent and somewhat sufficient.
Turning the hand crank, even at the optimal rpm won't fully charge the built-in battery. Considering the high capacity of the battery, as it charges, the resistance to the crank will increase.
Since the hand crank is made of plastic, I won't recommend pushing it once you encounter notable resistance. However, turning the crank for a few minutes should be sufficient to get some juice into the battery.
This should be enough to charge your devices for quick use or to turn on the lights on this portable charger. There are two lights on this MARBERO Portable Charger. A bright and strong LED flashlight finds its place on the side opposite the hand crank.
A large ambient light covers the face of the device. It's bright and can be used as an emergency light or for lighting outdoors while camping. It is located on the side opposite to the USB ports.
Overall, this charger works fantastically as a power bank and flashlight. Its hand crank is decent and generates enough power to be useful in a pinch. There is a drawback, because the hand crank is made out of plastic. A sturdier hand crank would make this absolutely fantastic.
Our Ratings
Functionality: 9/10
Reliability: 8/10
Value for Money: 9/10
Overall Rating: 9/10
Pros
Attractive price point
Capable and bright flashlight
And the power output is stabilized at 5V.
Cons
No built-in battery
Flimsy carabiner
And hand crank power is not enough to charge modern smartphones.

Eton American Red Cross Crank-Powered Clipray is a compact and straightforward hand crank device. All that's included in this small package is the hand crank, a flashlight, and a USB port for charging other devices.
Most of the body of this slim device is occupied by the hand crank mechanism. At its top, you'll find a plastic carabiner to make carrying it easy. The carabiner is made of plastic and is flimsy. I wouldn't recommend depending on this carabiner.
An LED flashlight finds its place at the other end. The flashlight has three LEDs and they are bright and provide a strong beam of light.
For ideal operation, the Eton Clipray should have a handle turning speed between 1-2 times per second. Turning the hand crank for about two minutes generates enough power to keep the LED flashlight running for about 10 minutes.
In practical use, the flashlight is at its brightest best while the crank is actively turning. There's a noticeable drop in brightness once you stop moving the crank. Its brightness continues to go down after that. After a few minutes, its use as a flashlight is compromised, even if some light is visible.
I'd say that while this is a good crank-powered flashlight, expect best results when you're moving the crank rather than depending on the generated power.
Although there is some power storage here that allows the juice to flow even after the crank stops, the Eton Clipray doesn't include a conventional battery. Perhaps this was a way to keep costs low. The Clipray is remarkably cheap.
However, the lack of a battery does bite. There's only so much power you can generate by turning the crank. Some units of Eton Clipray have a micro USB port near the output USB port. Generally, this would imply the presence of a charging option for the battery.
Unfortunately, the micro USB port appears to be redundant. It does nothing! Well, it occasionally lights up the tiny LED on the Clipray's body, but doesn't seem to have any discernible practical function.
Thankfully, the other USB port works and can be used for powering devices. The output from the Clipray appears to be limited to 5V and 0.5 amps. This is a safe level for charging modern gadgets like mobile phones, but it's a very limited option.
For most modern phones, you will likely find yourself struggling and turning the crank for several minutes before the charging moves by even a single percentage point.
A phone must have some battery before it can charge using the Clipray. This hand crank device simply doesn't produce enough power to start or power up a gadget that has shut down on account of its battery dying.
As a budget hand crank, Eton Clipray is fairly acceptable. It works best as a flashlight, so don't expect it to contribute much towards charging modern devices like smartphones. However, some smaller devices with low power requirements, like USB fans, could work.
Just remember, you'll have to keep moving the hand crank to keep any connected device powered!
Our Ratings
Functionality: 7/10
Reliability: 8/10
Value for Money: 9/10
Overall Rating: 8/10
Pros
Robust build quality
USB-PD negotiation and fast-charging compatible
Generates up to 63W, 20V, and 3A, as applicable
And a short amount of hand-cranking can sufficiently charge a phone to make a call.
Cons
It's expensive
And charging is limited only to USB-C And USB-A devices.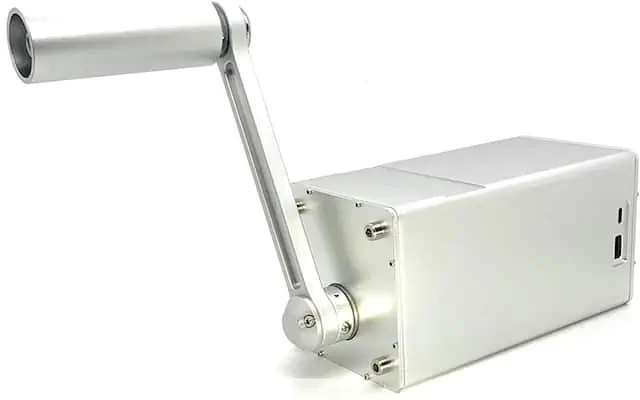 Zeus Dynamo Powerhouse Hand-Crank Fast Charger is a bit bigger, bulker, and more expensive than the other options on our list. Yet, its power-generating chops make this generator one of our top choices.
Most modern hand crank products are compact. The size makes it more convenient to carry them around, but that convenience comes at the cost of power. This means you'll be turning the crank for a while before any noticeable power is generated. And even that would necessarily be limited.
As we know, hand cranking is not a very efficient way of generating power. It is the way to generate power when you're off-grid or need some juice in an emergency. And a big hand crank like the Zeus Dynamo Powerhouse is going to be more useful than the compact options.
Zeus Dynamo Powerhouse Watt Hand-Crank Fast Charger is a robust device packed in a housing made of aluminum and steel. The package also includes steel clamps and non-slip silicone mounting pad to secure the generator in place while you turn the crank.
There are two power outputs on the Powerhouse; a USB-C and one USB-A. Both these outlets can handle fast-charging compatibility. For the A-type, this means a maximum of 18W, while the C-type can go all the way to 45W.
The USB-C output has USB-PD compatibility. This means it checks with the device if it can handle higher power and voltage. Once the power negotiation is complete, devices with fast-charging capability will receive higher voltage and power. The voltage can go from 5-20V, while the current is rated at 0.5-3A.
Similarly, for the USB-A connector, 5-12V, and 0.5-3A. It is compatible with Samsung and Apple device requirements and should work with pretty much all mobile gadgets.
The total rated power output is 63W (45+18 W), which allows both ports to work and charge two devices simultaneously.
According to the manufacturer, three minutes of cranking the Powerhouse should be enough to bring a dead smartphone back to life, and with enough charge to make a 5-minute phone call.
This puts it ahead of much of its competition. Most small hand cranks cannot charge a dead smartphone – it must have at least some battery for the phone to receive charge. Keeping this limitation of other hand cranks in mind, the Zeus Dynamo Powerhouse feels like a more useful option for preppers or general emergencies.
Its charging capabilities aren't limited to smartphones and similar devices. However, they are limited to devices that receive power through USB-C or USB-A connectors.
Overall, the Powerhouse is a sturdy and reliable hand-crank power generator. Apart from generating power, it also includes useful technologies like USB-PD and fast-charging to ensure the best use (and safety) of connected devices. Its robust build should allow this generator to last for a long time.
Our Ratings
Functionality: 9.5/10
Reliability: 9/10
Value for Money: 8/10
Overall Rating: 9/10
Pros
Robust build quality
The hand crank is well-placed and convenient to move
Multiple options for output voltage
And good output power rating.
Cons
No built-in battery
And the awkward placement of output plugs on a single cable (mini USB, two Φ 5.5 plugs).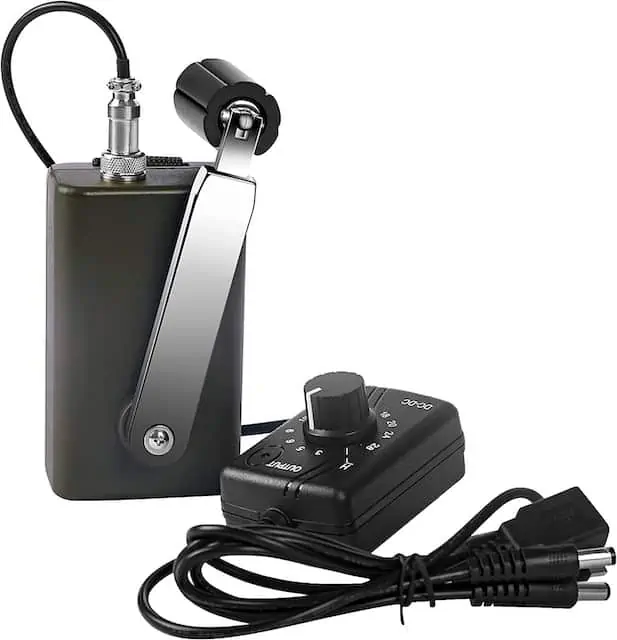 Huaban Hand Crank Generator is our top choice here. It's a dependable hand crank generator with the capability of working with modern gadgets, thanks to its innovative use of the generator/dynamo and the regulator.
The device is available as two blocks, both of which house major components. Its first block is the generator. This block houses the hand crank and works to generate the power.
The crank is made of metal and securely attached to the generator. It is possible to slightly extend the crank, thus making it easier to turn. At the side opposite of the crank, the generator has a buckle and strap attached.
Though seemingly insignificant, the buckle is a very useful addition here. You can use it to hold (or tie) the generator steadily in place. Or, better yet, run the strap around something sturdy (like a tree).
A Φ12 Aviation socket connects the generator to the next block, which is the regulator. This block has markings for voltage on it and a knob to select your desired output voltage. A small, red LED makes it known when the regulator gets power.
The options for output voltage vary all the way from 3V to 28V. That's quite something and opens up a whole lot of possibilities.
An output cable comes out of the regulator and divides into three plugs to accommodate Φ 5.5 plug, USB 2.0, and miniUSB connections. The kit also includes alligator clips, should you want greater variety and options.
Huaban Hand Crank Generator has some impressive numbers to brag about. Its rated maximum power is 30 Watts, output current goes from 0 to 3A, and the output voltage is from 0 to 28V.
The hand crank generates enough power to charge a modern smartphone and radios. Occasionally, Apple devices might see trouble and reject charging from this power source. In any case, the smarter move is to use this crank generator to charge something like a power bank.
It is much easier to use a power bank to charge your smartphones and other expensive devices. Note that though this device is powerful, don't expect it to fully charge your gadgets or power banks.
Modern devices have good power density and as they charge, you'll notice more resistance in turning the crank. Eventually, it will be tough to turn the crank, unless you put in a lot of effort. One option would be to turn the crank for a few minutes, until it has a decent charge.
Also, it's worth noting that if you feel the crank getting lighter, the device may have stopped charging. Your physical interaction with the crank gives you a good idea of the charge on the target device!
Our Ratings
Functionality: 9/10
Reliability: 8/10
Value for Money: 8/10
Overall Rating: 9/10