Top 3 Best Portable Power Stations In 2023
Looking for the best Portable Power Station? 
When it comes to power on-the-go, nothing beats a reliable, efficient, and portable power station. Whether you're hitting the trails for an adventurous camping trip, preparing for potential power outages, or simply want a reliable power source for your outdoor gatherings, a power station is a must-have.
In this guide we have the top portable power stations in 2023, meticulously chosen to ensure you find the perfect power companion.
We've analyzed them based on battery capacity, portability, added features, value for money, and more. From budget-friendly options to premium picks and our ultimate top choice, we've got you covered. Read on to discover your ideal portable power solution.
Our Top 3 Picks
BLUETTI EB3A – Our Top choice
Jackery Explorer 500 – Best Premium
Fanttik EVO 300 – Best Budget Portable Power Station
Why Should You Trust Us?
We understand that trust isn't something that's given—it's earned. So, here's why we believe we've earned that trust when it comes to recommending the best portable power stations for you.
Our team comprises experienced tech enthusiasts, outdoorsy types, and qualified professionals who are passionate about using and testing the latest tech gadgets. Over the years, we've personally tested numerous power stations under different conditions—camping trips, home use, emergency situations, and more—to bring you the most accurate, reliable, and practical information.
Our methodology is both rigorous and impartial. We don't accept sponsorships or freebies from manufacturers, ensuring our reviews and recommendations are free from bias. We also cross-verify our findings with numerous customer reviews and the experiences of other experts in the field.
Moreover, we continuously update our reviews to reflect new models, technology advancements, and user feedback. We believe in transparency and integrity, and we're committed to providing you with advice you can rely on.
When you read our reviews, you're not just getting a list of products—we're sharing knowledge gathered from countless hours of research, testing, and refinement. So, yes, we're confident in saying you can trust us to guide you to the best portable power station for your needs.
How We Choose the Best Portable Power Stations
In order to guide you to the best portable power station to suit your needs, we've applied an extensive selection process that involves rigorous analysis and testing. We've carefully considered several factors, so you can trust that our list represents the most competitive and high-quality power stations currently on the market.
Battery Capacity & Performance: The capacity of a power station's battery determines how long it can run and how much power it can supply. We measure this in watt-hours (Wh), with a higher number indicating a larger capacity. Battery performance also looks at the type of battery used (Li-ion vs. LiFePO4, for example), the number of charge cycles it can handle, and how efficiently it uses the stored power.
Portability: A power station's usefulness often depends on its ability to be easily moved and carried. We examine the unit's size, weight, and overall design to ensure it's compact and lightweight without compromising the essential features. Extras like built-in handles, sturdy casing, and robust construction contribute to its overall portability score.
Features: The best power stations come packed with useful features that increase their versatility. We look for a wide variety of power output options (including DC, AC, and USB), wireless charging capabilities, pass-through power, uninterrupted power supply (UPS) mode, and app connectivity for control and charging. Bonus features like built-in flashlights and SOS modes are also considered as they can be handy in emergency situations.
Value for Money: Not everyone has the same budget, so we ensure that our selection includes options that offer great value at different price points. We consider the price relative to the power station's performance, build quality, battery capacity, and additional features.
User Reviews & Reputation: We also take into account real-world user reviews and the reputation of the brand. This helps us understand the product's reliability and the company's customer service quality.
Charging Options: More charging options mean more flexibility. We evaluate the various ways the power station can be recharged, including AC (wall socket), DC (from another battery or car), and renewable sources (like solar panels).
Ease of Use: A good power station should be intuitive and user-friendly. We look at the design of the control panel, the clarity of the display, and how easy it is to access and use the different features.
The models we've selected, and subsequently ranked, have excelled in all these areas, setting themselves apart in a crowded market. Whether you're looking for a budget, premium, or overall top choice, you'll find a portable power station on our list that fits your requirements perfectly.
Best Portable Power Stations – Our Top Picks
BLUETTI EB3A – Our Top choice
Jackery Explorer 500 – Best Premium
Fanttik EVO 300 – Best Budget Portable Power Station
Pros
LiFePO4 battery
Lightweight and compact unit
Good range of AC and DC power output options
Pass-through power
Multiple options for charging
Uninterrupted power supply (UPS) mode
App connectivity for control and charging
Cons
Bluetooth connection is insecure and always on
Can make weird noises just before internal fans turn on
BLUETTI EB3A is our top choice for portable power stations. This impressive unit caught our attention for several reasons, including its easy portability, low weight, multiple ports, good charging options, and most importantly, the battery.
The LiFePO4 batteries in the Bluetti EB3A are among the best in the market, lasting longer and performing better than conventional Li-ion batteries. This means the power station will last a long time and retain its battery capacity for longer. The battery is rated for 2500+ charging cycles, but careful usage can significantly increase that number.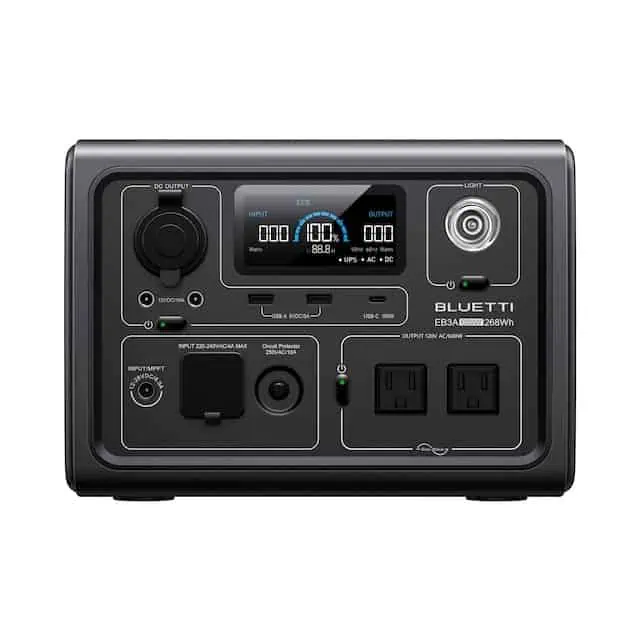 The power station weights just about 10.1 pounds and has a 268Wh battery capacity, making it reasonably compact and lightweight to carry, while still holding enough juice for decent power supply.
The power supply capabilities and ports on the EB3A are quite interesting. It has a wireless charger on top, a conventional 12V output, two 5521 barrel connections, two USB-A connectors, and a USB-C connector. The maximum power output for DC connections is 12V/10A. The USB-A maxes out at 5V/3A, which means no fast charging, but the USB-C can go up to a maximum of 100W.
The EB3A offers two DC sockets, capable of working at 120V, 60 Hz, and max power output at 600W. That power output is impressive for a battery this size. But keep in mind, if you draw the full 600W AC output, the battery will drain out in less than 30 minutes. For more reasonable uses, the battery can easily last for several hours, or even more than a day.
Individual switches are available for DC output, AC output, and the flashlight, allowing users to minimize potential loss through parasitic power and conserve the battery.
Charging the power station is convenient with a 12-28V DC input for charging through a DC source like another battery or solar panels, and a 120V AC input for wall socket charging.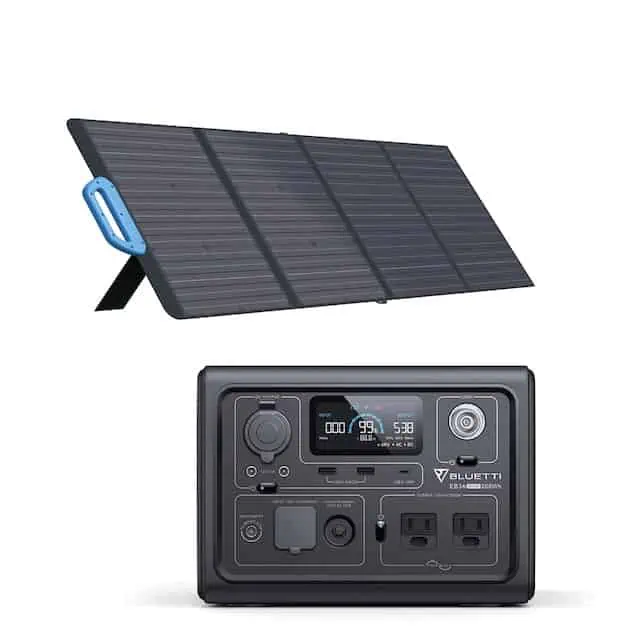 The device has a clear display showing power input, output, battery percentage, and operation mode. You can also access this information on your smartphone through the companion app. This app also lets you control the device within Bluetooth range. However, keep in mind that the Bluetooth connection is insecure, which is something Bluetti hopefully fixes in a future firmware update.
Pros
Lightweight and compact
Good battery capacity
Decent range of output power options
Pass-through power
Focus on efficiency
Good battery life
Cons
No USB-C port
No fast charge for USB-A ports
Jackery Explorer 500 is our top premium pick for portable power stations. This unit is lightweight and easily portable, weighing only 13.3 pounds, yet it packs a remarkable 518Wh Li-ion battery. The low weight and compact dimensions make it an absolute treat to carry around.
Now, I would've preferred a foldable carry handle at the top to be more space-efficient. But, on the other hand, I do appreciate the sturdy feel and confidence it brings when carrying or moving this power station.
The Jackery Explorer 500's design focuses on being a reliable unit that handles the basics, rather than offering unnecessary bells and whistles. The small LCD display is situated next to the power button, allowing you to conserve energy by only using it when necessary. It shows the current battery capacity percentage, input power, and output power.
When it comes to power output options, the Explorer 500 has a conventional 12V DC output, two 5521 barrel connections, and a maximum output of 12V/10A. If a device tries to pull more power than this level, the power station will simply cut it off.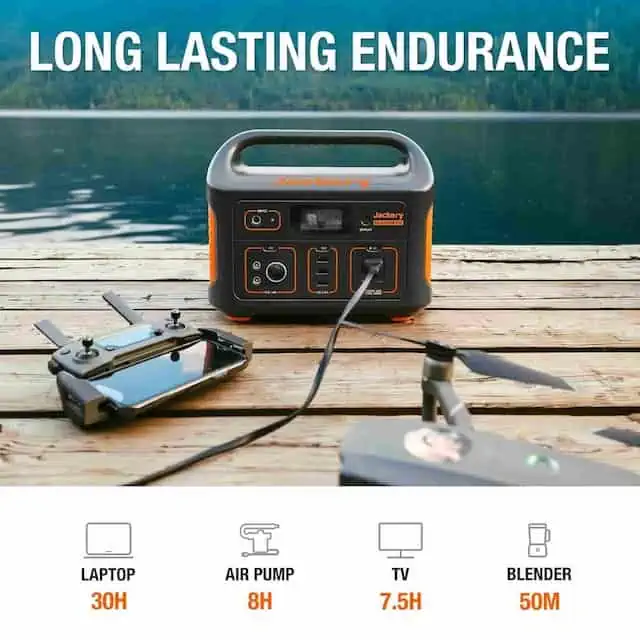 For USB needs, there are three 5V/2.4A USB-A outlets available. However, it's worth noting that there's no fast charging and, disappointingly, no USB-C connector. The unit also has a single 110V AC output rated for a maximum of 500W, which works nicely and maintains a steady output with a clean wave.
Each power output section (DC, AC, and USB) has a small switch at the top. Pressing the switch enables the corresponding section and a green LED indicates power flow. This helps prevent parasitic power loss and allows for better control over the battery.
A flashlight is located on the side of the unit, with a button next to it for turning it on and off. Charging the battery is convenient with a single socket that accepts DC input. You can charge the Explorer 500 through another battery, solar panels, or a suitable AC adapter. Charging via a wall outlet or car input takes about 5-6 hours to reach 80% capacity. While not the fastest, it's still decent.
If you prefer using solar panels, expect a 2-3 hour longer charging time. But, for outdoor use, investing in a 100W solar panel is an excellent choice.
In summary, the Jackery Explorer 500 is a reliable power station with low weight, good energy rating for the battery, and efficient performance.
3. Fanttik EVO 300 – Best Budget Portable Power Station
Pros
Attractive price point
Dual charging ports
Decent range of output power options
Pass-through power
Acceptable battery life.
Cons
Cooling fans can get a bit noisy
There is some parasitic energy loss
AC outputs may struggle to maintain power at times.
For our budget pick we have the Fanttik EVO 300. This little powerhouse offers attractive pricing, creative use of ports, and a modern design. Despite its small size, it packs a battery capable of handling 299Wh, which is generously distributed among its DC, USB, and AC outlets.
Looking at the front of the EVO 300, you'll find nine power output options dominating the lower half. Above these, there are three buttons for controlling the power to the DC outlets, AC outlets, and display. Speaking of the display, it's large and easy to read with basic info like battery percentage, input/output power, and estimated charge or backup times. The larger fonts make it even more user-friendly, especially for those who appreciate ease of readability.
Now, let's dive into the power output options. The EVO 300 has a smart layout, with all DC outputs in one section and AC outputs in another. There are two AC outputs, rated for a total of 300W at 110V and 60Hz. The output wave is clean, and it does a decent job of powering AC appliances. However, I wouldn't push it to its 600W surge limit, as it struggles a bit there. With the inverter kicking in to handle the AC power, there is some loss to parasitic energy, but the overall performance remains decent for up to 300W output.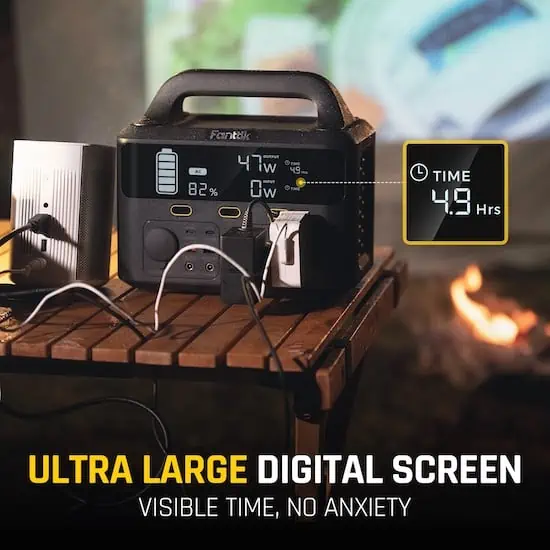 As for the DC outputs, there are seven in total, including:
One 12V/10A
Two 12V/5A 5521 barrel connectors
One USB-A 5V/2.4A
One QC 3.0
USB-C at 5V/3A
Another USB-C at 60W
At first glance, it may seem like there's a lot going on with the DC outputs, but the layout is actually well-managed and intuitive. The 60W USB-C port is bidirectional, meaning it can be used to charge your devices or the power station itself. This feature adds versatility and convenience to the EVO 300.
Speaking of charging, the EVO 300 has two charging ports that can work individually or simultaneously: the 60W USB-C at the front and a 90W AC adapter at the back. Charging with just the adapter takes about 4 hours, but using both options simultaneously will get you fully charged in just 2.5 hours. This flexibility in charging options makes the EVO 300 even more appealing, especially for those who need their power station ready to go quickly.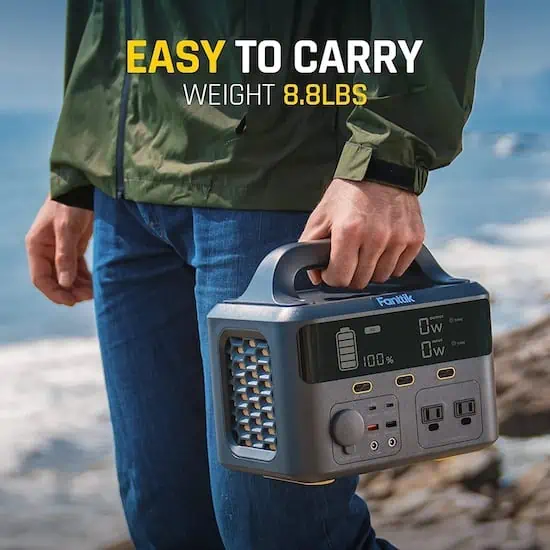 At the back of the EVO 300, there's also a handy LED flashlight, functioning more like an ambient light. It has several modes: on, high or brighter, SOS, and off. This added feature makes the EVO 300 an excellent companion for camping trips or emergencies, providing a source of light when needed.
So, to wrap it up, the Fanttik EVO 300 Portable Power Station is a fantastic budget choice.
Overall, I highly recommend this power station for those of you looking for a budget-friendly, well-built option that offers great value for your money.