Top 3 Best Solar Generators In 2023
Searching for the best solar generators?
Harnessing the sun's power is more than eco-friendly. It's a smart choice in a world where sustainable energy sources are essential. Solar generators have become key for adventurers, outdoor enthusiasts, and those needing power on-the-go.
In this guide, we review the 3 Best Solar Generators in 2023. Our meticulous evaluation considers factors such as power capacity, durability, portability, and more.
Whether you're budget-conscious or seeking a premium option, we've got something for you. Read on to discover the perfect solar generator for your unique needs.
Our Top 3 Picks
EF ECOFLOW Solar Generator DELTA2 – Our Top Choice
Jackery Solar Generator 2000 PRO – Best Premium Solar Generator
BLUETTI Portable Power Station EB70S – Best Budget Solar Generator
Why Should You Trust Us?
We're WhollyOutdoor, your reliable source for all things outdoors since 2018. Our commitment to objectivity, honesty, and education underpins every review. We're passionate about the outdoors, and it's this enthusiasm that fuels our work.
Our founder, Paul Dudley, is an outdoor enthusiast with a special fondness for ham radios and fishing. He's tested countless products, and his expertise is invaluable in our quest to bring you the best of the best. Trust us, when it comes to outdoor gear and in this case, solar generators, we're on a mission to ensure you're well-informed and ready for your next adventure.
How We Choose the Best Solar Generators
To give you the best possible recommendations, we put all solar generators through a rigorous and comprehensive review process. We examine a wide range of factors to ensure each product we endorse meets the highest standards. Here's a closer look at our criteria for picking the best solar generators:
Power Capacity and Efficiency: This is one of the most critical factors. A good solar generator should be able to provide enough power to meet your needs. We look at both the battery capacity and the wattage the power station can deliver. We also consider the efficiency of the solar panels and how quickly they can charge the power station.
Quality and Durability: We focus on products that are built to last. Solar generators must endure a variety of environments, from hot and sunny to cold and rainy. As such, the materials used in the construction, the design, and the build quality all play a part in our decision-making process. For example, we prefer products that are water-resistant or waterproof.
Portability: One of the main advantages of solar generators is that they can be used anywhere. Therefore, a good solar generator should be compact and lightweight enough to be easily transported. The design of the solar panels also plays a crucial role in portability, with foldable designs being favored for their ease of transportation.
Ease of Use: A great solar generator should not only be powerful and portable but also user-friendly. We assess the layout of controls and interfaces, the readability of displays, and how intuitive it is to use the power station and set up the solar panels.
Price: We understand that price is a key consideration for many people. Therefore, we strive to recommend products that provide excellent value for money. This means balancing performance and quality with cost. We have also included options for different budget levels, ensuring there is something for everyone.
Versatility: We favor solar generators that offer multiple charging and power options. This includes the ability to charge from AC or DC sources, in addition to solar, and a good selection of output ports for powering various devices.
Extra Features: Things like wireless charging, built-in flashlights, and app connectivity can significantly enhance the user experience, so we also consider these when choosing the best solar generators.
Through this detailed and comprehensive review process, we ensure that we only recommend the best solar generators on the market. We believe in the importance of providing accurate, trustworthy recommendations to help you make the best decision for your solar power needs.
Best Solar Generators Reviews
Pros
Good range of AC and DC power output options
LiFePO4 battery
Long battery life
Lightweight and waterproof solar panels
Pass-through power
Multiple charging options
Can use extendable batteries
App connectivity for control and charging
Cons
Fans can be a bit noisy
App connections aren't properly secured
Now, we have a champion on our hands: the EF ECOFLOW Solar Generator DELTA2. This solar generator, with its attractive features, competitive pricing, and dependable ecosystem, has clinched our top spot.
The kit includes the EcoFlow Delta 2 power station and a 220W solar panel. The solar panel folds into a handy size, and with an included carry case, it's quite portable. Unlike most solar panels with multiple stands, EcoFlow opts for a single adjustable kickstand. The wide, sturdy, and easily maneuverable kickstand allows for easy adjustment of the panels.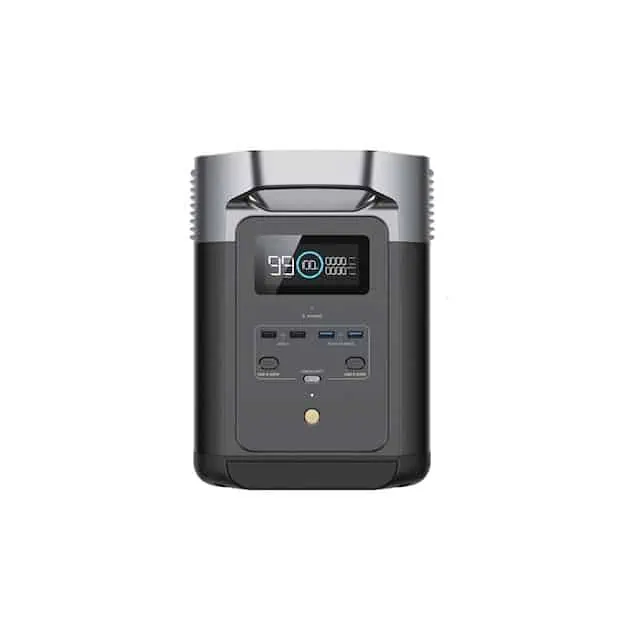 This unit uses a bifacial solar panel, producing 220W in regular usage. It also has a 155W mode to utilize ambient light, providing versatility in different scenarios. Not to mention, these panels are waterproof and rated IP68.
Under ideal conditions, the panels can charge the power station in about 6 hours. But let's be realistic, with inevitable losses and less than ideal conditions, it might take up to a day. The good news is you can speed up the charging process by using multiple solar panels.
The EcoFlow Delta2 comes with a 1024Wh and 1800W rated LiFePO4 (LFP) battery. This type of battery is known for its excellent charge retention and longevity. The power station also supports extendable batteries up to 3kWh, giving you additional flexibility.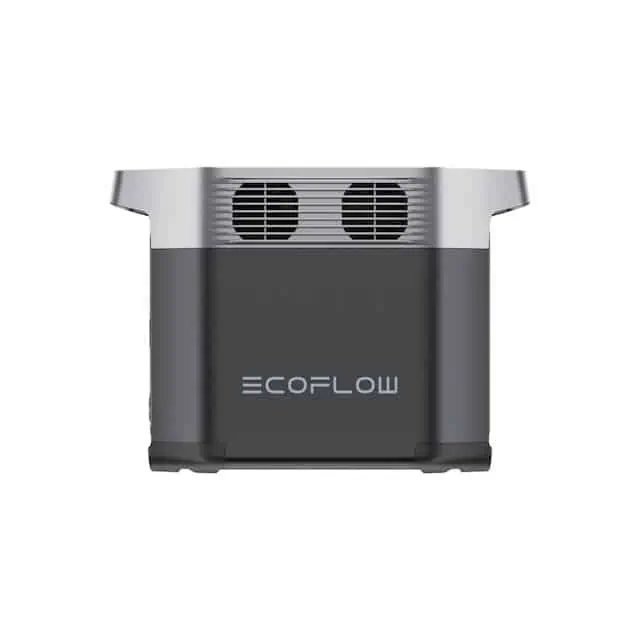 In terms of design, the EcoFlow Delta2 is rather distinctive. Its top panel is a different color, setting it apart from the rest of the unit. It's equipped with large fans that do a splendid job keeping the unit cool, albeit at the cost of some noise.
The device features six USB connectors on one of its smaller sides, including 2x USB-A (18W) fast charging, 2x USB-A, and 2x USB-C (100W). On the opposite side, under a flap, you'll find the DC and AC connectors for charging the battery. In addition to solar power, you can charge the battery using a DC output like a car battery or AC power for faster charging. In fact, using AC power, the battery can hit 80% in just 50 minutes!
Available outputs on this side include 6x AC with 1800W max (2200W with X-boost), 2x DC 5521 connectors (12V), and one cigarette lighter (car output) 12V. There are two power buttons, each controlling the AC and DC output sections.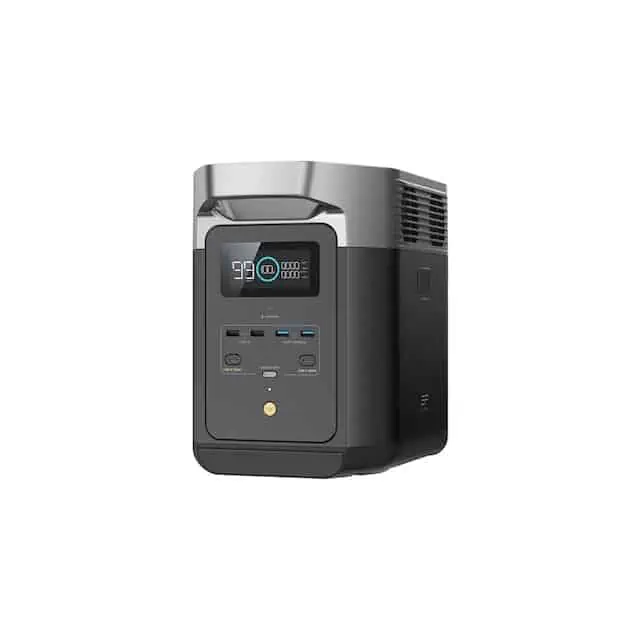 EcoFlow Delta2 is also app-compatible, giving you control of nearly all features through the companion app. You can connect your phone to the unit via Bluetooth or WiFi. However, a drawback is that EcoFlow lacks a secure connection, leaving your settings and power station potentially vulnerable to anyone in range.
Despite these minor inconveniences, the EF ECOFLOW Solar Generator DELTA2 is definitely our top choice for the best solar generator!
Pros
impressive battery capacity
good range of AC and DC power output options
lightweight, efficient and waterproof SolarSaga panel
pass-through power
multiple charging options
Cons
not recommended for UPS mode
use of proprietary connectors for the solar panels can limit your options
So, up next, folks, we've got our premium pick – the Jackery Solar Generator 2000 PRO. A powerhouse of performance, an impressive battery capacity, and a thoughtful design, this generator is a class act.
Let's see what's on offer. The Jackery 2000 PRO comes with a whopping 2160Wh (2200W) battery capacity. Alongside it, you get a SolarSaga 200W solar panel.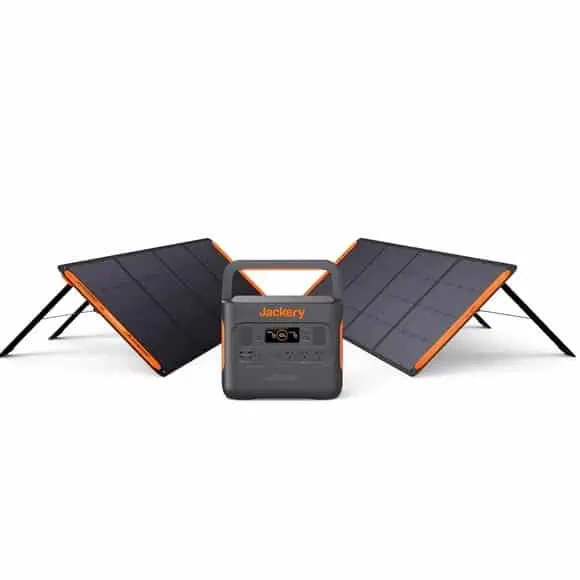 I must say, the solar panel caught my attention right away with its orange ends and magnetic connector. With four foldable sections, this thing is as portable as it gets. And kudos to Jackery for throwing in a waterproof carrying bag to amp up the portability.
On the bright sunny days, when everything's just perfect, the SolarSaga 200W panel is capable of delivering a full 200W of energy. However, in the real world, expect around 150-170W. A small tweak, like using the adjustable legs to angle the panel just right, can help keep the output high. And here's the kicker: this panel is rated IP67 waterproof. Rain or shine, you're covered!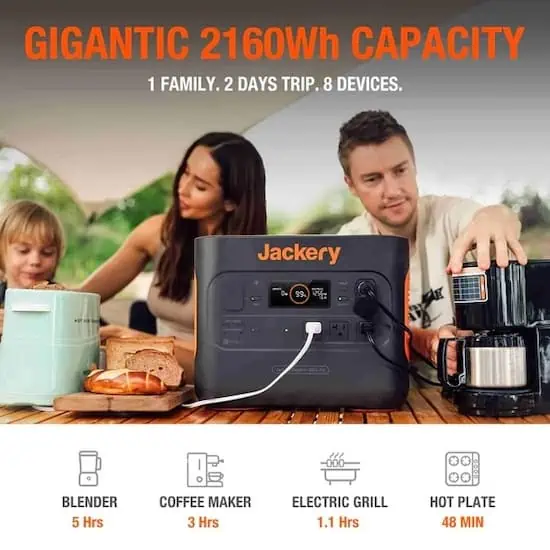 Now, onto the power station. With SolarSaga's peak output, it'll take about 15 hours to fully charge the Jackery 2000 Pro. But keep in mind, this power station's got a mammoth battery. Jackery recommends using more panels to quicken the charging process. The power station can handle six panels simultaneously and get juiced up in a mere 2.5 hours.
However, here's the catch. Jackery uses a proprietary connector, which makes using solar panels from other brands a bit tricky. But if you're not feeling the six-panel setup and still fancy quick charging, you've got other options. Charge it through a DC input from another battery, your vehicle, or use AC input to charge that beast up in just a couple of hours.
Let's talk about the power station design. Sleek and minimalistic, it features a new foldable handle replacing the fixed one from previous designs. The front is adorned with the Jackery branding and a bright display that shows all your crucial stats: battery and charging status, power output, and input. All power station sections have individual power buttons, each with a neat little LED indicating power draw.
Here's the power line-up:
Flashlight (under a sliding cover)
Display
A DC 12V/10A output – cigarette lighter/car output (under sliding cover)
USB outlets: 2x USB-A (18W), 2x USB-C (100W)
3 AC outlets, 100V, pure sine wave, delivering a max of 2200W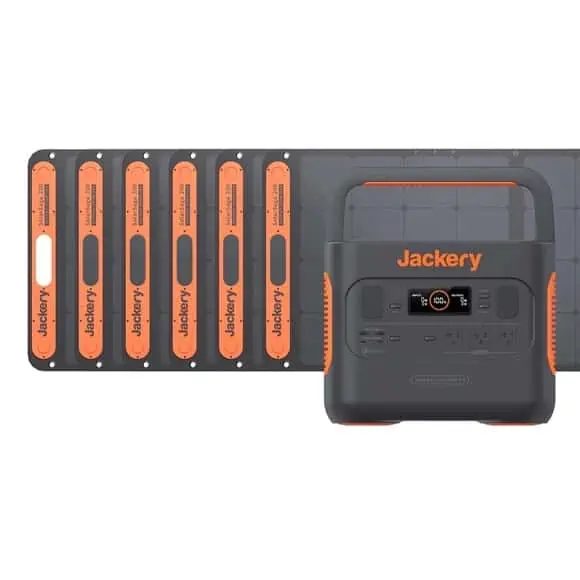 Overall despite some minor hiccups, the Jackery Solar Generator 2000 PRO is a stellar premium solar generator for your power needs in the great outdoors.
Pros
LiFePO4 battery
Attractive price
Lightweight and efficient solar panels
Good range of AC and DC power options
Pass-through power
Multiple charging options
Uninterrupted power supply mode
Cons
The AC adapter fan stays on and is pretty noisy,
Solar panels are only water-resistant, not waterproof
The BLUETTI Portable Power Station EB70S is known for its jaw-dropping features and a wallet-friendly price tag and this makes it out choice for the best budget solar generator.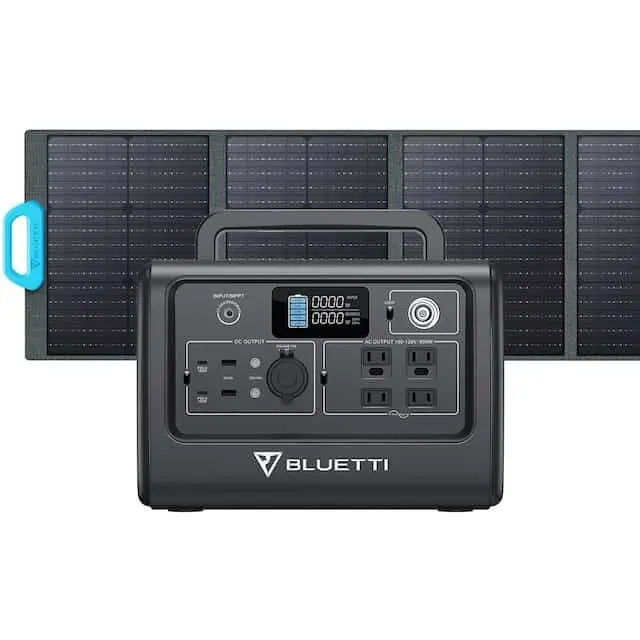 Here's the breakdown: The system comes with the EB70S power station packed with a 716Wh battery capacity and delivers 800W. Plus, it pairs up with the PV200 solar panels boasting a maximum output of 200W.
What caught my eye? These PV200 solar panels have a fabric-backed body. This means they're a breeze to lug around, despite weighing a hefty 16 pounds. The clever designers also threw in a zipper at the back to hold the cables – a sweet, thoughtful touch. And let's not forget those easy-adjust legs with their snazzy snap buttons and fabric loop design. There are three legs and four panels, which might feel a little precarious, but trust me, this rig holds its ground.
Now, listen up, folks. These panels are water-resistant – NOT waterproof. So, if you find yourself in the middle of a torrential downpour, you're going to want to cover them up or shift them somewhere safe. Once set up under the glorious sunshine, these panels can pump out a solid 200W. That's enough juice to power up your EB70S in just 4.5 hours, given ideal conditions, of course. More realistically, expect about six hours for a decent charge.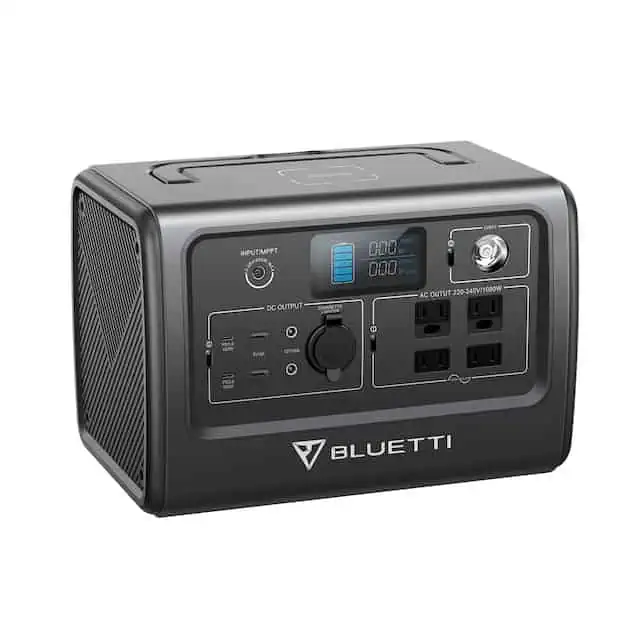 The EB70S is a versatile fellow. It accepts a 12-28V DC and max 200W input, can be charged through another DC source, or even your car battery. And if that wasn't enough, you also get an AC adapter in the box. But brace yourself for some background noise – both the adapter and power station fans don't mind humming their own tunes.
Let's peek at the power station itself now. At the top, you'll find a wireless charging station with a max power output of 15W. While I would've liked a bit more oomph here, it's still decent enough. The front of the station boasts a neat LCD showing the power input, output, and current battery capacity. Then, there are three power-button sections: a flashlight, DC output, and AC output. Each comes with a power button, which also lights up when in use – another cool feature.
The DC section has got quite a power line-up:
2 USB-C outputs each maxing out at 100W
2 USB-A outputs, each delivering 5V/3A
A car outlet
And, two barrel connectors
The AC section? It's got four 120V outputs with a max output of 800W.
All in all, the BLUETTI Portable Power Station EB70S packs a serious punch for the price. It's one heck of a solar generator.