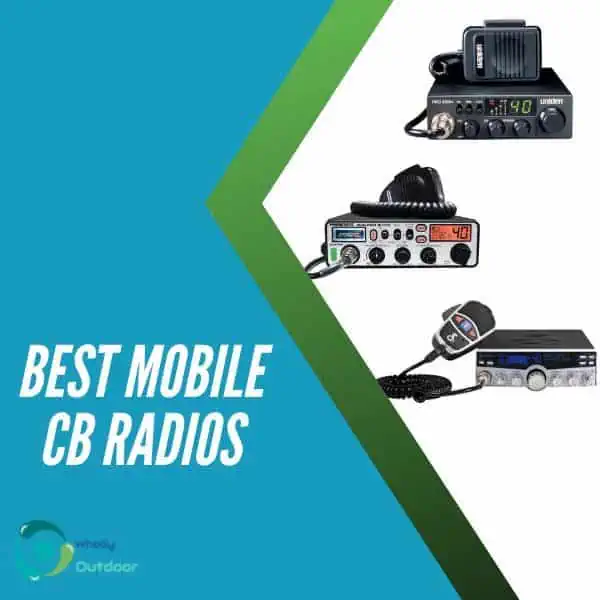 Top 3 Best Mobile CB Radios In 2023
Searching for the best mobile CB radios?
Whether you're a long-haul trucker, an off-roading enthusiast, or simply someone who cherishes communication without relying on cell towers, a dependable mobile CB radio can be a game-changer.
They're not just devices; they're lifelines that keep you connected, informed, and often entertained. As someone who's traversed the airwaves and fiddled with various knobs and dials, I've had my fair share of CB experiences.
Today, I'll be narrowing down the vast ocean of options to the top three mobile CB radios that stand out in 2023. You'll find a mix of budget-friendly models, premium offerings, and our top pick which balances functionality, aesthetics, and price.
As you journey through this review, you'll uncover which CB radio fits your needs. We'll discuss features, from the basics like volume control to advanced options like Bluetooth connectivity. Dive in and discover a world where clarity, functionality, and value come together harmoniously.
Our Top Picks
President Electronics WALKER III – Our Top Choice
Cobra 29LX Max – Best Premium Mobile CB Radio
Uniden PRO520XL – Best Budget Mobile CB Radio
How We Choose the Best Mobile CB Radios
Selecting the best mobile CB radios isn't merely a matter of personal preference or going by brand names. Our approach is systematic, thorough, and rooted in hands-on experience and rigorous research. Here's an inside look at how we separate the best from the rest:
Performance & Clarity: The primary purpose of any CB radio is communication. We prioritize radios that provide clear transmissions even in challenging environments. The radio's ability to pick up weak signals and its resistance to interference are vital metrics.
Build & Durability: The CB radio's construction matters, especially for users on the go. We assess the material quality, knob and dial durability, and overall sturdiness of each unit.
Features & Functions: Not all CB radios are built the same. Some come with basic functionalities, while others boast advanced features like Bluetooth connectivity or NOAA weather channels. We evaluate these based on their usability and practicality.
User Experience & Ergonomics: How user-friendly is the device? The layout of the buttons, ease of channel switching, and intuitiveness of the menu are considered. A device that confuses its user is no good, regardless of its advanced features.
Value for Money: Price is a factor, but not the only one. We weigh the cost of the radio against its offered features, performance, and durability to determine its true value.
Feedback & Reviews: We aren't just relying on our own experiences. We dive deep into user reviews, consider feedback from other ham radio enthusiasts, and consult other experts in the field.
Compatibility & Versatility: A top-notch CB radio should be compatible with various external devices, such as power mics or external speakers. It should also offer versatility in terms of mounting options and power sources.
Table: Criteria We Consider for CB Radio Evaluation
| | |
| --- | --- |
| Criteria | Importance |
| Performance & Clarity | Essential for effective communication |
| Build & Durability | Ensures long-term usage without frequent replacements |
| Features & Functions | Adds convenience and enhanced usability |
| User Experience | Directly impacts user satisfaction |
| Value for Money | Determines the worth of the investment |
| Feedback & Reviews | Offers diverse perspectives |
| Compatibility | Allows for a more rounded user experience |
Check This Out:
By employing this comprehensive evaluation approach, we're confident in presenting our top CB radio picks. Whether you're a seasoned radio enthusiast or someone looking to dip their toes into the CB world, our recommendations aim to guide you to a wise decision.
Why Should You Trust Us?
At WhollyOutdoor, our commitment has always been to deliver honest, objective, and thoroughly researched reviews to our readers. Since our inception in 2018, Paul Dudley, our founder and editor, has channeled his passion for ham radios, fishing, and outdoor adventures into creating content that not only educates but also aids in making informed decisions.
Our articles are a culmination of hands-on experiences, deep dives into product functionalities, and feedback from the outdoor community. When you read a review from us, know that it's backed by a genuine love for the great outdoors and an unwavering dedication to bringing you the very best.
Want Some Great Accessories for Your CB? Check These:
Comparison Table
| | | | |
| --- | --- | --- | --- |
| Feature / Rating | President Electronics WALKER III | Cobra 29LX Max | Uniden PRO520XL |
| | Our Top Choice | Best Premium Mobile CB Radio | Best Budget Mobile CB Radio |
| Good Build Quality | ✓ | ✓ | ✓ |
| SWR Meter with Auto/Manual Setup | ✓ | | |
| Easily Accessible Buttons and Dials | ✓ | ✓ | ✓ |
| Display Color Options | Multiple | Four | N/A |
| Bluetooth Connectivity | | ✓ | |
| Weather Channels | ✓ | ✓ | |
| Squelch | Could Work Better | Standard | Standard |
| Microphone Quality | Feels Cheap and Flimsy | Standard | Standard |
| Ratings | | | |
| Functionality | 9/10 | 9.5/10 | 8/10 |
| Voice Clarity | 8.5/10 | 9/10 | 8/10 |
| Value for Money | 9/10 | 9/10 | 9.5/10 |
| Overall Rating | 9/10 | 9/10 | 8.5/10 |
Check These:
Check out our review of Best Long Range Two Way Radios
3 Best Mobile CB Radios Reviews
PROS
Good build quality
SWR meter with auto and manual setup
Easily accessible buttons and dials
Multiple color options for display
Easy switch between AM and FM modes
Good range of features
Impressive audio quality.
CONS
Squelch could work better
Included mic feels cheap and flimsy.
President Electronics WALKER III is a well-built, conveniently priced CB radio with great features and remarkable audio quality. I particularly like the clean design and the large, easily accessible buttons and knobs. Off course all of this does takes away from the space for the display, but I'd say it's a good trade in this case.
The display finds itself on the top right corner of the radio. It is small, but shows information clearly. It also offers some customization with seven colors for the backlight and options to dim the backlight or change its intensity. This one can be very useful if you're driving at night and find the lights on the radio too distracting.
As a radio that lives by the FCC's rules, the Walker III puts out a maximum of 4W of Tx power. However, there is room enough to unlock and expand the radio to suit some requirements, though such changes are unlikely to be looked upon favorably by the FCC.
In fact, it's only this thin legal line that separates popular models like the Walker 3 and President Electronics Richard. The latter is a 10m ham radio, while the Walker is a CB radio. Both these radios have almost the same features and appearance, with the difference living in the frequency ranges they prefer.
Although, for many modifications and expansions, the line between these models becomes practically non-existent.
Another useful feature here is the presence of the SWR meter and the ability to tune it by audio. The SWR meter takes its place on the top left of the radio, though if you're in SWR mode, information is also displayed on the LCD for easier management.
There are three switches on the radio. The first handles switching between CB and PA modes, the second is a quick switch to two emergency channels (EMG1 and EMG2), while flipping the third starts off the Automatic Noise Limiter (ANL).
Interestingly, while most CB radios switch between channels 9 and 19, this one uses emergency 1 and 2, with customization for channels available to the user.
The knobs at the bottom row handle volume/squelch, RF power, and RF gain/Mic gain. The larger knob/dial at the right handles switching channels and menu options.
Though the appearance and design of the radio are essentially similar to the previous version, President Electronics Walker III undergoes a small change to accommodate the additional presence of FM modulation.
What used to be the "Talkback" button is now a quick way to switch between AM and FM modes for the transceiver. However, a longer press of the button will access the Talkback feature.
Other notable features on the radio include roger beep with customizable tones, VOX, talkback, and the ability to receive weather channels.
Overall, President Electronics Walker III is a great CB radio with good ergonomics that make it easy to use and it's a feature-rich device that banks on good user experience, while also offering remarkable performance.
Our Ratings
Functionality: 9/10
Voice Clarity: 8.5/10
Value for Money: 9/10
Overall Rating: 9/10
Check These Radios to Help in an Emergency:
2. Cobra 29LX Max – Best Premium Mobile CB Radio
The Cobra 29 LX MAX has good looks backed by impressive features. This radio has been around for a long time and earned its spot as one of the best CB radios.
It sports a large display similar to the Uniden Bearcat 980 SSB. However, Cobra 29 LX MAX has the display towards the top of the radio, flanked by buttons on either side.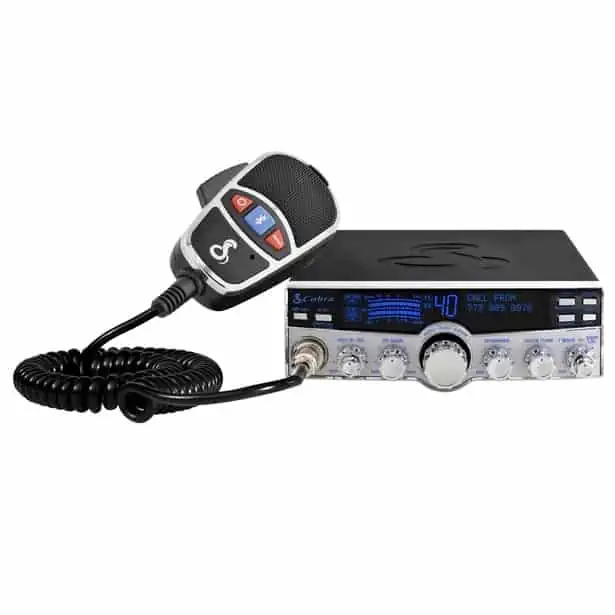 There are four color options for its display and backlight. Also, while the Uniden 980 SSB has several buttons for quick functions, Cobra 29 LX MAX uses fewer buttons and favors knobs and dials.
As with many CB radios, the knobs often have dual functions placed in inner and outer rings. Volume and squelch control share the same knob. A fine-tune option is available on the outer circle of the RF gain knob. Similar options are available with the Menu, Dynamike, and other knobs/dials.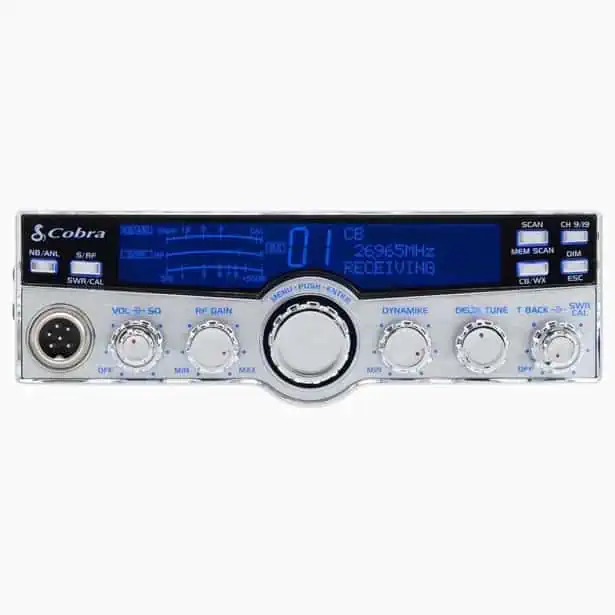 But the biggest feature and what often tips the scales in favor of the Cobra 29 is the easy use of Bluetooth connectivity. When using Bluetooth, the radio can connect to a smartphone using the iRadar app.
Once the phone and radio pair, users can make and receive calls through the CB radio. This makes for a legal way to make phone calls while on the road. Additionally, the app also supports reporting on-road hazards, speed traps, red-light cameras, and police alerts.
This reporting is crowdsourced from users of the iRadar app. So while useful, it may not always be effective.
Bluetooth on this radio allows the pairing of two smartphones to accommodate a team driver, if necessary. Access to these features is easy since the Bluetooth button is right on the microphone.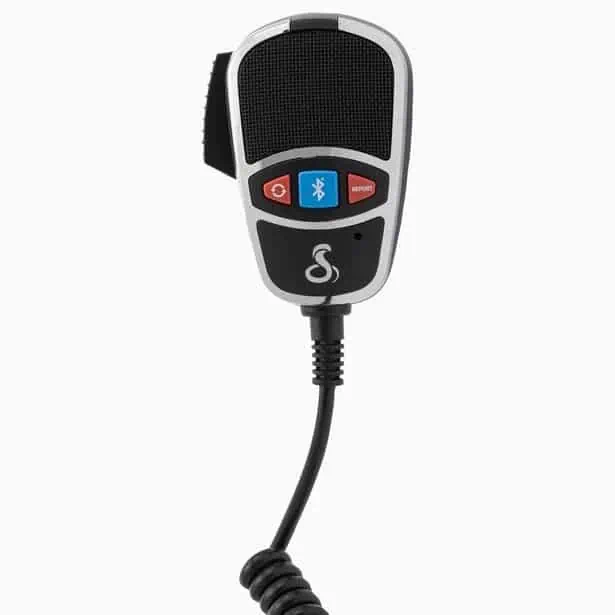 Also on the microphone is the Rewind-Say-Again button, which lets you listen to the last 10 seconds of any missed message. The microphone includes a built-in noise-canceling system, but it's nothing special.
If dealing with background noise or engine noise is a priority, getting a new mic would be better. Additionally, the radio can receive NOAA weather channels and updates for quick weather information.
Overall Cobra 29 LX Max is the best fit for any driver looking for a premium mobile CB radio. It has good voice clarity, is easy to use, and can work with external speakers without a problem. Features like a switchable noise blanker and heavy-duty microphone make it quite desirable.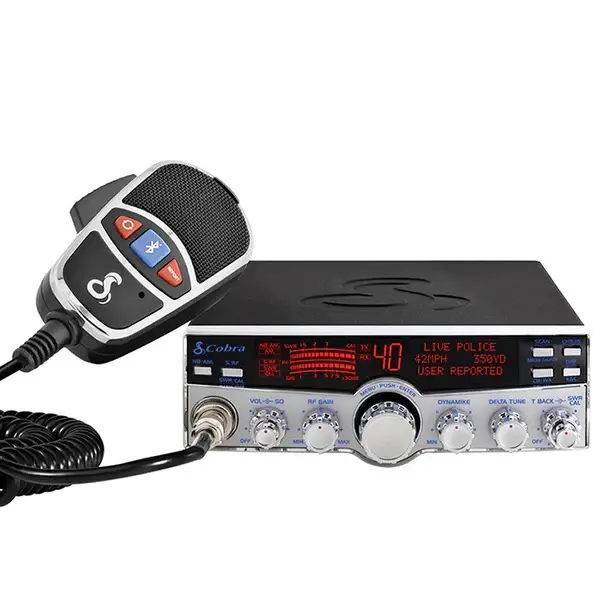 It gets an edge over most CB radios with Bluetooth connectivity to cell phones and being connected is convenient for hands-free cell phone use.
Our Rating
Functionality: 9.5/10
Voice Clarity: 9/10
Value for Money: 9/10
Overall Rating: 9/10
Want to Learn More About Handling Walkie Talkies? Check These:
3. Uniden PRO520XL – Best Budget Mobile CB Radio
Usually, when we hear "XL", we think extra large. Uniden PRO520XL beats that convention. This is a price-conscious, compact cb radio that stays on the no-frills route.
Though this radio stays on a budget, it includes some of the most desirable functions. These features include a PA option, Automatic Noise Limiter, quick switch to Channel 9, and RF gain. Of course, it also offers conventional features like volume, squelch control, and simple channel scanning.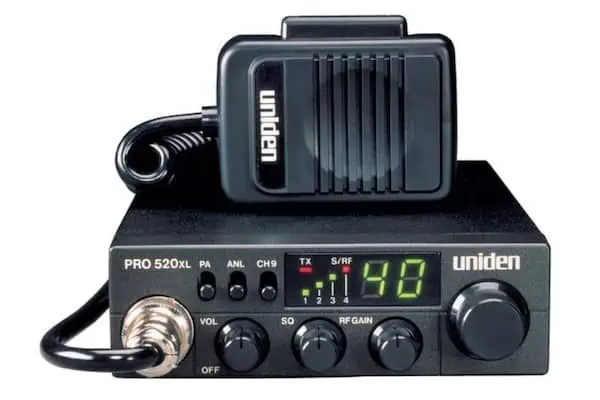 It is possible to find cheaper radios but that would involve going into the domain of bareboned options. For example, the slightly cheaper Uniden 510XL is quite similar to the 520XL, but the only convenience feature it offers is the ANL.
Slipping further on the price range, you'll find the Uniden PRO505XL. This radio has the basic volume, squelch, and channel switching features. The only additional feature here is a switch that shifts the radio between CB and PA.

All these radios are from the same series, so their user interface is very similar. For the most part, the difference is the switches or knobs for the included features. In that sense, Uniden PRO 520XL keeps the price low while maintaining several features.

Uniden PRO 520XL makes excellent use of the limited space available on this compact radio. The left side of the radio hosts the 4-pin connector for the microphone, while the right has a large dial to select channels. A small, backlit screen shows the channel, signal strength, and transmit indicator. It's a simple yet useful function.

Overall Uniden PRO520XL is a decent choice for the budget-conscious buyer. It skips the bells and whistles but manages to be one of the best mobile cb radios. It offers the most-desired features in a compact, pocket-friendly package.
Our Rating
Functionality: 8/10
Voice Clarity: 8/10
Value for Money: 9.5/10
Overall Rating: 8.5/10
Looking into Ham Radio Models Also? Check These:
Frequently Asked Questions (FAQs)
What features should I consider most when selecting the best mobile CB radio?
The key features to consider are range, clarity, build quality, and additional functionalities such as weather channels, noise reduction, and channel scanning.
How important is the antenna when determining the performance of a mobile CB radio?
Extremely important. A good antenna can significantly enhance the range and clarity of your CB radio. Investing in a high-quality antenna can sometimes make more of a difference than upgrading the radio itself.
What's the significance of the number of channels a CB radio has?
Most CB radios offer 40 channels, but how easy it is to switch between them and scan for active conversations can set the best radios apart from the rest.
Does size and weight matter when choosing the best mobile CB radio?
It depends on your vehicle's interior space and how you intend to mount the radio. If space is at a premium, look for compact models that don't compromise on essential features.
How can I determine the durability of a mobile CB radio?
Look for radios with rugged construction, positive user reviews mentioning build quality, and any mention of resistance to dust, shock, or moisture.
Is a backlit display essential?
For nighttime or low-light driving, a backlit display can be invaluable. It enhances visibility and ensures you can safely adjust settings without being distracted from the road.
How important is an automatic noise limiter (ANL) feature?
ANL can significantly improve the clarity of conversations by reducing static and interference. If you'll be using your CB radio in various conditions, an ANL can be very beneficial.
Do I need a CB radio with weather channels?
If you travel frequently or through areas with unpredictable weather, a CB radio with weather updates can be a lifesaver, keeping you informed of any upcoming severe conditions.
What's the difference between peak and average power output in CB radios?
Average power output refers to the consistent power a radio can produce, while peak power indicates the maximum power it can output in short bursts. Both are important, but ensure the radio you choose meets the FCC's power limits.
Should I consider brand reputation when choosing a mobile CB radio?
While features and specifications are essential, opting for a recognized and reputable brand can ensure quality, reliability, and better customer support.