Top 3 Best Cobra CB Radios In 2023
Searching for the best Cobra CB radios?
In the world of CB radios, Cobra has long been a name synonymous with quality, reliability, and innovation. Whether you're a seasoned trucker, an off-road enthusiast, or a casual user, Cobra's range of CB radios offers something for everyone. But with such a wide array of choices, how do you know which one is right for you?
In this blog post, we're taking a deep dive into the world of Cobra CB radios. We'll be exploring the unique features, pros, and cons of various models, and how they stack up against the competition. From the tactile feel of the knobs to the sound quality, from the built-in SWR meter to the quality of the microphone, we leave no stone unturned.
Whether you're a seasoned trucker, an off-road enthusiast, or a casual user, we'll guide you through the intricacies of Cobra CB radios. We'll help you understand what sets each model apart, so you can make an informed decision that suits your needs and budget.
So, buckle up and join us on this journey through the world of Cobra CB radios. You might just find the perfect companion for your next road trip or off-road adventure.
Our Top Picks
Cobra 29LTD – Our Top Choice
COBRA 29 LX MAX Smart Professional – Best Premium Cobra CB Radio
Cobra 19 MINI – Best Budget Cobra CB Radio
Why Should You Trust Us?
At WhollyOutdoor, we're not just enthusiasts; we're experts. Our founder and editor, Paul Dudley, has a deep-seated passion for ham radios and outdoor activities. This passion is the driving force behind our commitment to providing you with the most accurate, objective, and honest reviews.
Since our inception in 2018, we've dedicated ourselves to helping you navigate the vast world of outdoor gear, including CB radios. We understand that every piece of equipment can significantly impact your outdoor experience, and we take this responsibility seriously.
We test, analyze, and scrutinize each product, ensuring that our reviews are not just informative but also reliable. Trust us to guide you in your journey to finding the perfect Cobra CB radio.
Check This Out:
How We Choose the Best Cobra CB Radios
Choosing the best Cobra CB radios is no small feat. It involves a meticulous process that ensures we only recommend the top-performing models that meet our high standards. Here's a glimpse into our selection process:
Research: Our journey begins with extensive research. We delve into the vast world of Cobra CB radios, exploring the unique features, pros, and cons of each model. We also keep an eye on the latest technological advancements and trends in the CB radio industry.
User Reviews: We believe that the best way to gauge a product's performance is through the experiences of those who have used it. We scour the internet for user reviews, paying close attention to common praises and complaints.
Features: We evaluate each CB radio based on a set of key features. These include sound quality, ease of use, build quality, range, and additional features like Bluetooth connectivity or weather alert channels.
Value for Money: We understand that a good CB radio is an investment. That's why we consider the cost of each model and weigh it against its features and performance. We aim to recommend products that offer the best value for your money.
Testing: Whenever possible, we get our hands on the CB radios for some real-world testing. This allows us to assess their performance firsthand and provide you with the most accurate and reliable information.
Comparison: Finally, we compare the models against each other. This helps us determine which CB radios stand out in their respective categories – be it premium, budget, or overall performance.
Through this rigorous process, we ensure that our recommendations for the best Cobra CB radios in 2023 are well-researched, reliable, and most importantly, helpful for you, our reader.
Want Some Great Accessories for Your CB? Check These:
Comparison Table
Feature/Model
1. Cobra 29LTD
2. COBRA 29 LX MAX Smart Professional
3. Cobra 19 MINI
Our Top Choice
Best Premium
Best Budget
Pros
– Classic look and tactile feel
– Good sound quality
– Built-in SWR meter
– Simplicity of operation
– Installation is straightforward
– Hands-free calls/messages
– Weather alert channel
– Backlit control panel
– 4-Color LCD
– Attractive pricing
– Compact with good features
– Works with AM and FM
– Easy to use
Cons
– Knobs and switches aren't backlit
– Average microphone
Talkback function volume is low
– FM Tx and Rx aren't widely used
– Lacks a manual and instructions
Functionality
8.5/10
9.5/10
8/10
Reliability
8.5/10
9.5/10
8/10
Value for Money
8.5/10
9/10
9/10
Overall Rating
8.5/10
9.5/10
8.5/10
Bluetooth Connectivity
No
Yes
No
Weather Alert
No
Yes
No
Backlit Control Panel
No
Yes
No
Display
Analog
4-Color LCD
Small LCD
Power Output
4W
4W
4W
Modulation
AM
AM
AM and FM
Microphone Connector
4-pin
–
RJ-45
3 Best Cobra CB Radios Reviews
PROS
The classic look and tactile feel of the knobs and switches
Good sound quality
Built-in SWR meter
Simplicity of operation.

CONS
The knobs and switches aren't backlit
The microphone is average.
Classic looks and modern technology go hand-in-hand to make the Cobra 29LTD a successful radio. This CB radio has been around for a long time, perhaps because its classic looks can make it appear timeless.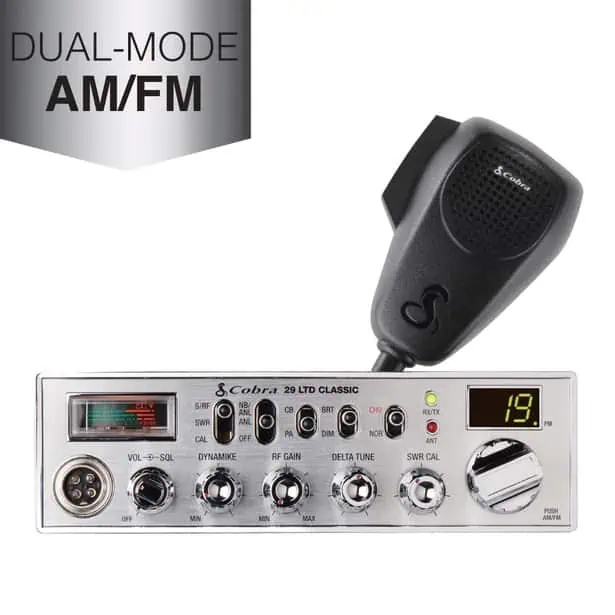 While the modern look with a large display and buttons is in vogue, the tactile feel of dials and knobs is tough to beat.
The face of the CB radio is dominated by knobs and switches. The largest knob towards the right side of the radio handles switching channels. On the smaller knobs, you'll find features like radio on/off, volume, squelch, microphone gain, RF gain, tuning, and SWR.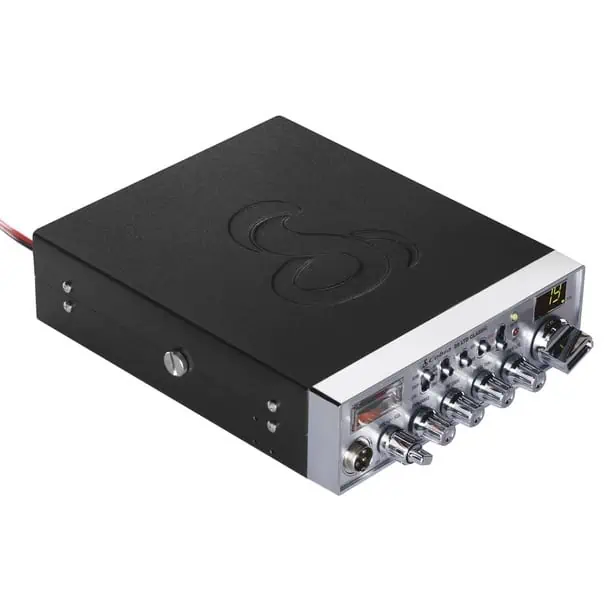 The presence of SWR function and calibration is quite useful. It makes setting up the radio and tuning it relatively easier, while also removing the need for a separate SWR meter. When calibrating for SWR, the analog meter on the top-left of the radio can be used as a means for tuning.
Calibration requires the use of associated switches located at the top of the radio. Other switches here allow switching the automatic noise limiter on or off, instant move to channel 9, shifting between CB radio and PA system, and controlling the brightness of the display.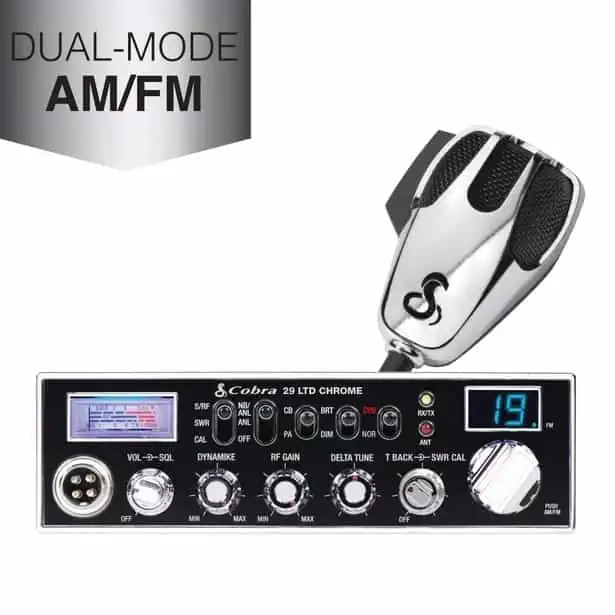 The brightness control has only two levels, which are bright and dim. While a more fine-tuned change in brightness would be appreciable, the options on the radio are decent.
A quick look at the radio will let you know what channel you're on and switching doesn't require a big focus on the display. Since the functions require moving a switch or knob, they provide tactile feedback and an experienced hand can work these without losing focus of the road.
Unfortunately, the lighting on the Cobra 29LTD doesn't extend to the switches and knobs. So if you're going to use it at night, you'd better know what you're doing!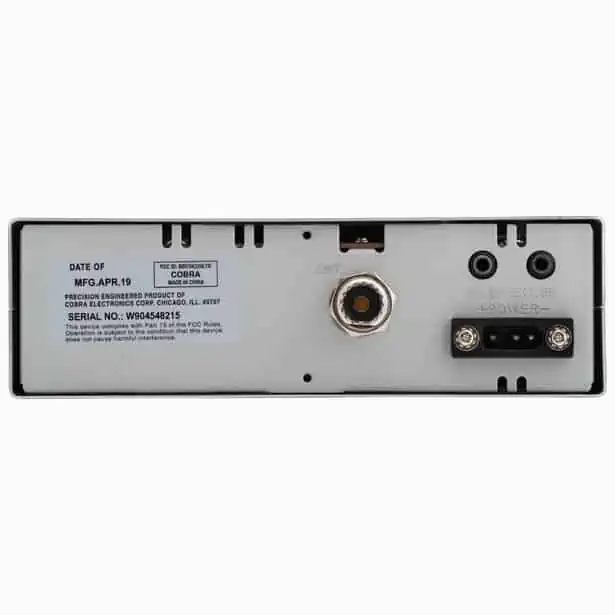 If the visibility of the knobs and switches is important to you, the Cobra 29NW model would be a better option. Functionally, both models are identical and the differences are cosmetic. On the Cobra 29NW, the radio's lighting includes the text around the knobs and switches, thus keeping them visible in the dark.
The microphone with the Cobra 29LTD comes with a standard 4-pin connector. It gets the job done, though don't expect any greatness from this one!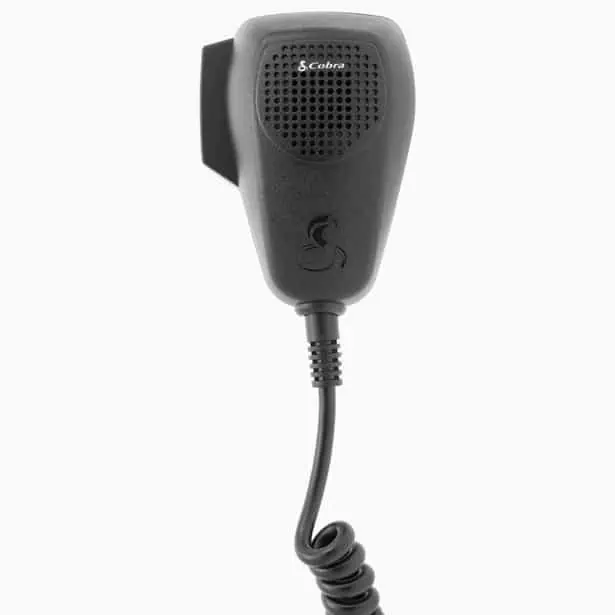 Using the Dynamike boost knob on the CB radio can increase the sensitivity and clarity of the microphone. Though the function is average in performance.
As for power, this radio puts out 4W output power. This is the maximum power output that the FCC allows for a CB radio. Pair it with a nice antenna and the range of this transceiver will be second to none.
The major competitor for the Cobra 29LTD is the Uniden PC78LTX CB radio. At a glance, you can see that both radios are identical in appearance. They have very similar features and functions as well.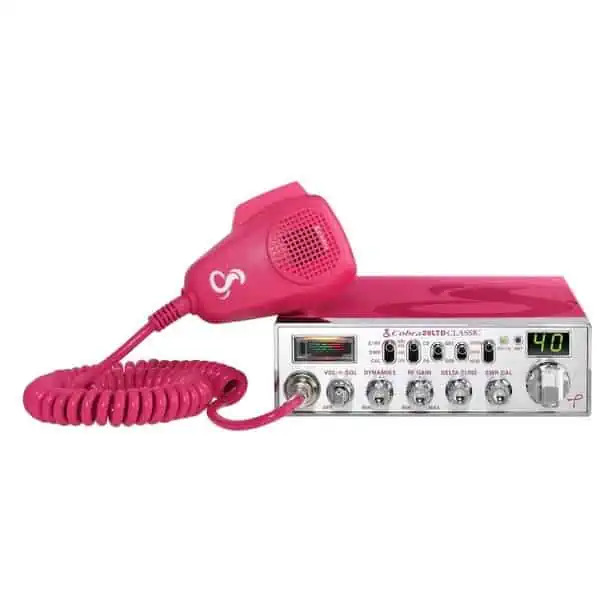 While the exteriors are identical, the innards on these radios are remarkably different. There is no objective way to pick the better one between these radios and people are often guided by their beliefs in the performance of either brand.
Our Ratings
Functionality: 8.5/10
Reliability: 8.5/10
Value for Money: 8.5/10
Overall Rating: 8.5/10
PROS
Installation is straightforward and takes a maximum of one hour.
You can make calls or send messages hands-free.
Weather alert channel for timely emergency updates.
Backlit control panel for easy navigation.
Easy-to-read 4-Color LCD.
CONS
Talkback function volume is pretty low.
Cobra 29 LX MAX Smart Professional has good looks backed by impressive features. This radio has been around for a long time and earned its spot as one of the best CB radios.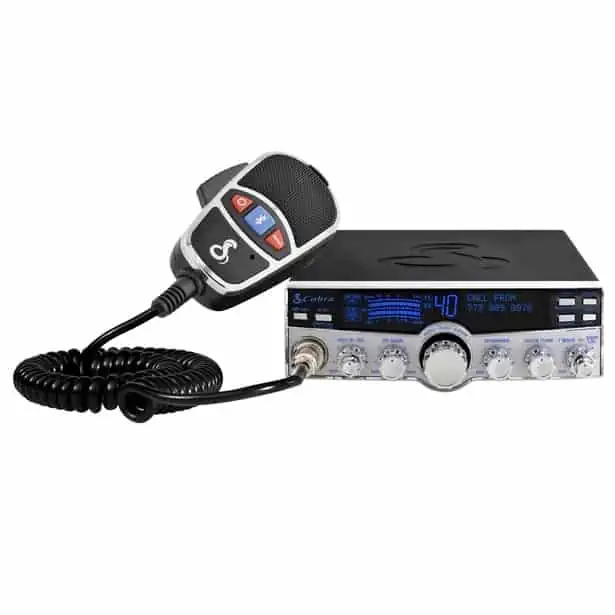 It sports a large display similar to the Uniden Bearcat 980 SSB. However, Cobra 29 LX MAX has the display towards the top of the radio, flanked by buttons on either side.
There are four color options for its display and backlight. Also, while the Uniden 980 SSB has several buttons for quick functions, Cobra 29 LX MAX uses fewer buttons and favors knobs and dials.
As with many CB radios, the knobs often have dual functions placed in inner and outer rings.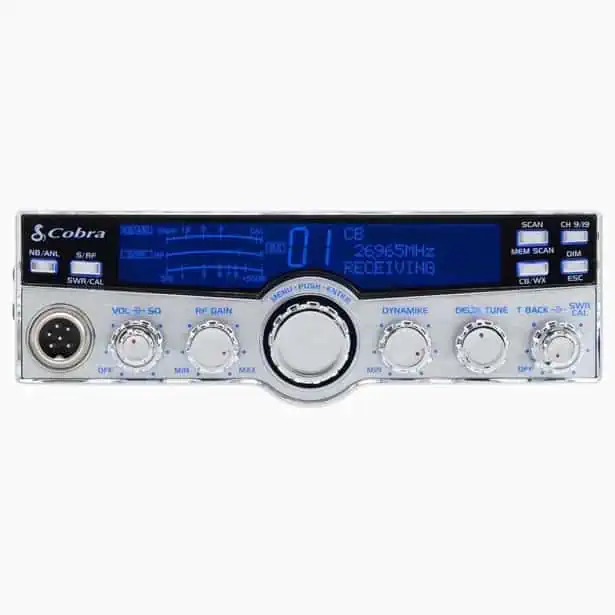 Volume and squelch control share the same knob. A fine-tune option is available on the outer circle of the RF gain knob. Similar options are available with the Menu, Dynamike, and other knobs/dials.
But the biggest feature and what often tips the scales in favor of the Cobra 29 is the easy use of Bluetooth connectivity. When using Bluetooth, the radio can connect to a smartphone using the iRadar app.
Once the phone and radio pair, users can make and receive calls through the CB radio. This makes for a legal way to make phone calls while on the road. Additionally, the app also supports reporting on-road hazards, speed traps, red-light cameras, and police alerts.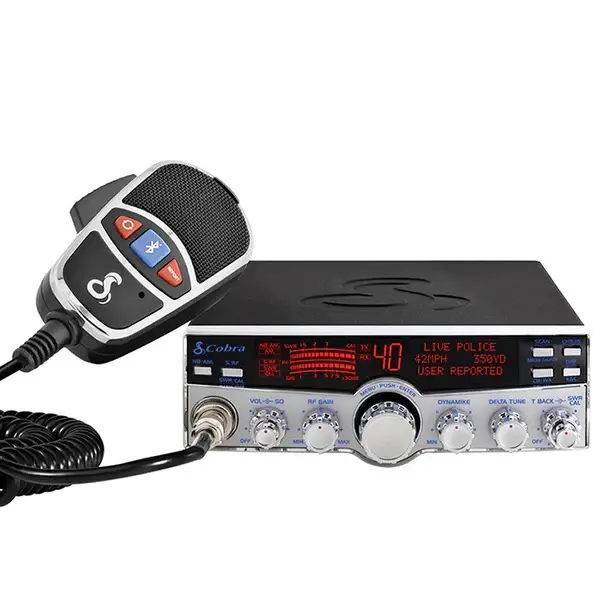 This reporting is crowdsourced from users of the iRadar app. So while useful, it may not always be effective.
Bluetooth on this radio allows the pairing of two smartphones to accommodate a team driver, if necessary. Access to these features is easy since the Bluetooth button is right on the microphone.
Also on the microphone is the Rewind-Say-Again button, which lets you listen to the last 10 seconds of any missed message. The microphone includes a built-in noise-canceling system, but it's nothing special.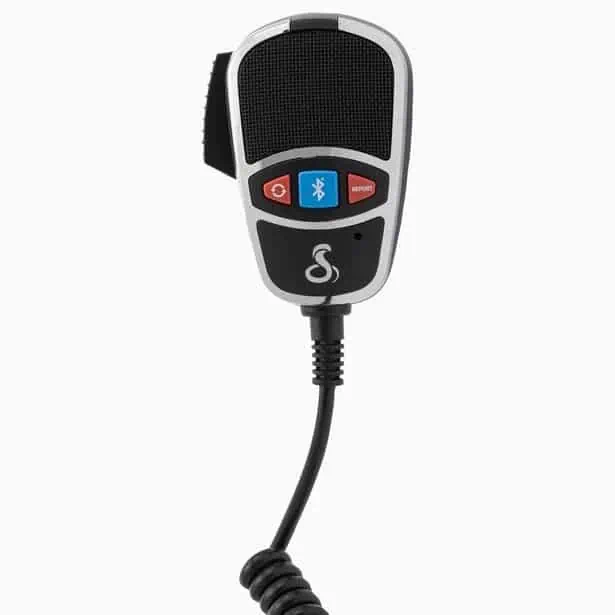 If dealing with background noise is a priority, getting a new mic would be better. Additionally, the radio can receive NOAA weather channels and updates for quick weather information.
Verdict
Cobra 29 LX MAX is a good, reliable radio. It has good voice clarity, is easy to use, and can work with external speakers without a problem. Features like a switchable noise blanker and heavy-duty microphone make it quite desirable.
It gets an edge over most CB radios with Bluetooth connectivity to your cell phone. Being connected is convenient for hands-free cell phone use.
However, the stock microphone isn't the best for sound quality. Yet, it is also the gatekeeper for features like Bluetooth. So, this radio isn't the best choice if you want to use a different mic.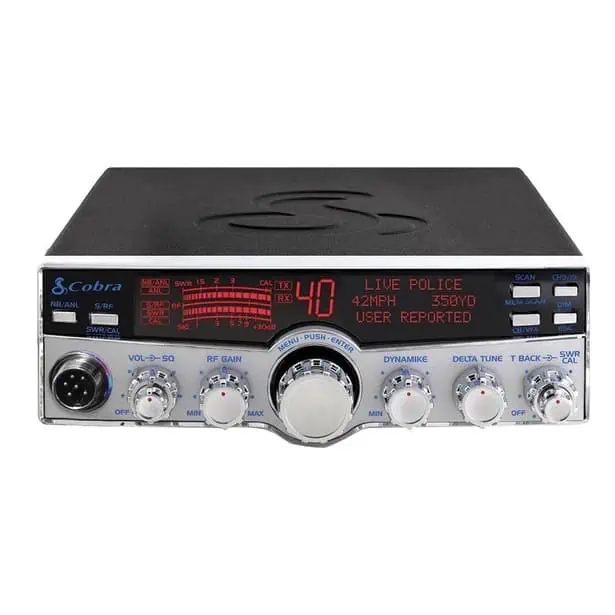 Our Ratings
Reliability: 9.5/10
Functionality: 9.5/10
Value for money: 9/10
Overall rating: 9.5/10
Check out our review of Best Long Range Two Way Radios
3. Cobra 19 MINI – Best Budget Cobra CB Radio
PROS
Attractive pricing
Compact CB radio with good features
Can work with AM and FM
Easy to use.
CONS
FM Tx and Rx aren't as widely used in CB radios
Lacks a manual and instructions.
Cobra 19 MINI Recreational CB Radio is a compact device with interesting features. In fact, this radio has a feature that might put it ahead of many other CB radios. It can handle AM as well as FM for Tx and Rx.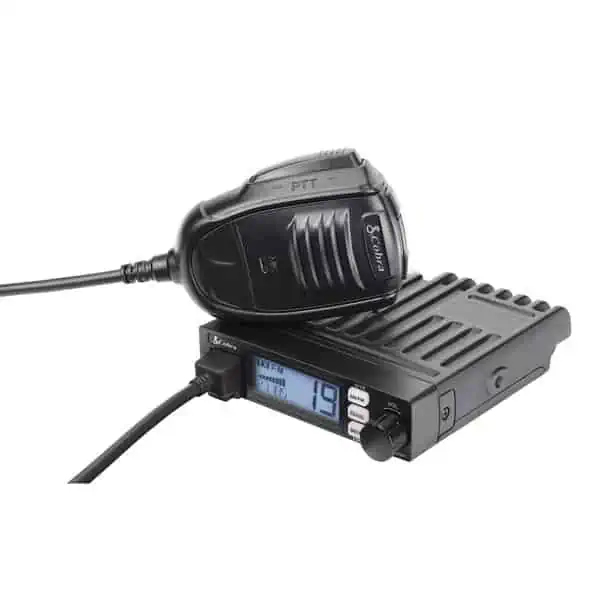 Traditionally, CB radios have functioned with AM and it has worked well. In September 2021, the FCC allowed CB radios to transmit and receive FM as well. Cobra was quick to accept the change, and many of their CB radio models now come with AM and FM options.
While most viewers who use CB radios already know this, it's worth clarifying that the AM and FM we're speaking of aren't the same as the frequency bands you see in the average car stereo. In our context, these are modulation technologies applied to signals in the citizens band.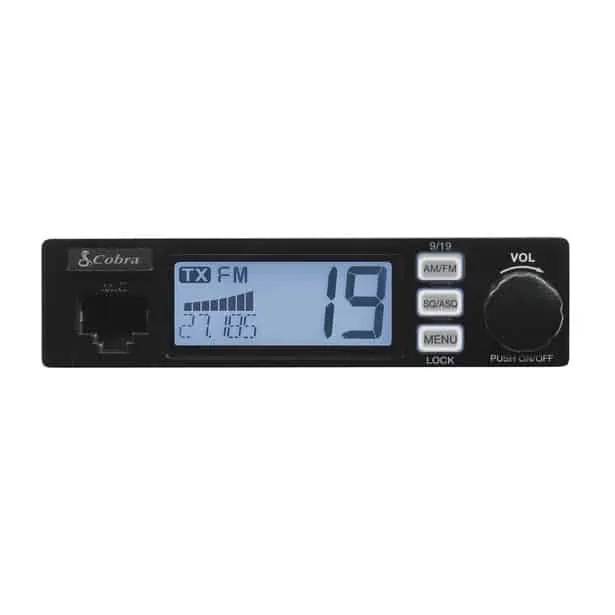 One of the advantages of using FM over AM is that the signal tends to be clear and might be able to travel further, adding (slightly) to the range of your communication.
While this will work fantastically for most uses, compatible radio receivers are necessary.
Conventional AM-based radios won't be able to pick up frequencies transmitted with FM. So, while this mode will work with two radios of similar tech, it's not suitable for everyone. However, as FM gains more use, it's bound to be more popular.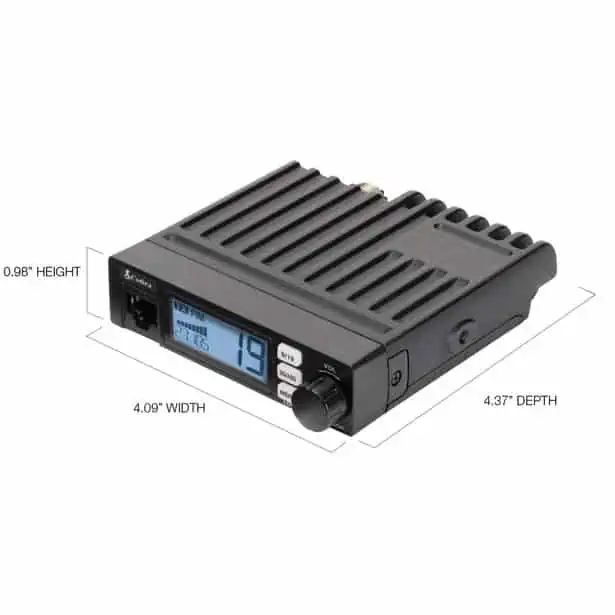 It's perhaps for these reasons that Cobra sells this radio in the AM-only variant as well as the AM/FM variant. The FM variant is understandably more expensive, though it does offer more value.
Apart from the AM/FM options, this radio package also includes a 12V cigarette lighter connector, unlike the conventional MINI radio, which only includes the wires.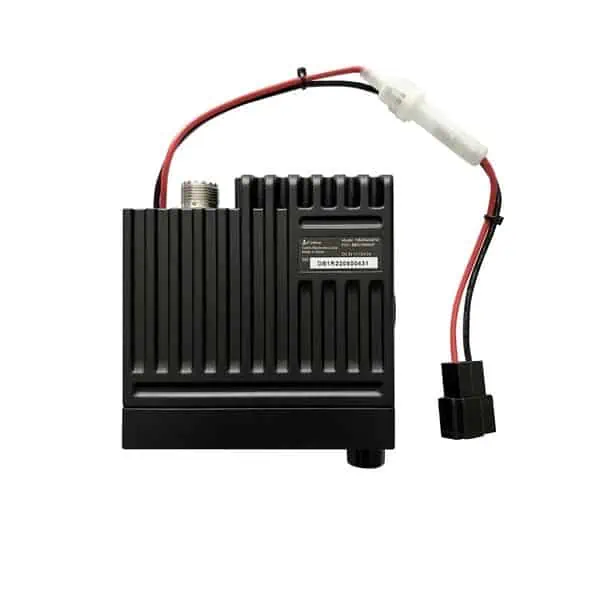 Additionally, this variant has a button to switch between AM/FM. This button can also double as a quick switch to channel 9/19. There are three buttons placed on the side of the backlit display.
The LCD is small, but crisp, making it easy to glean information at a glance. The radio's face also includes a volume knob and an RJ-45 connector for the microphone.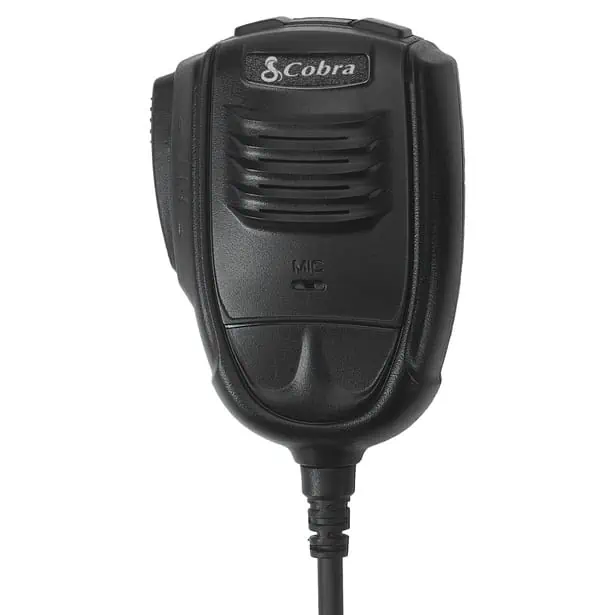 Cobra's mic is decent and feels ergonomic enough. It's not impressive, but feels good in the hands and the PTT button has a nice touch to it.
Overall, Cobra 19 MINI Recreational CB Radio is a compact radio that is easy to install and doesn't take up much space. The audio quality is fairly good, and the ability to transmit in AM and FM is a huge plus.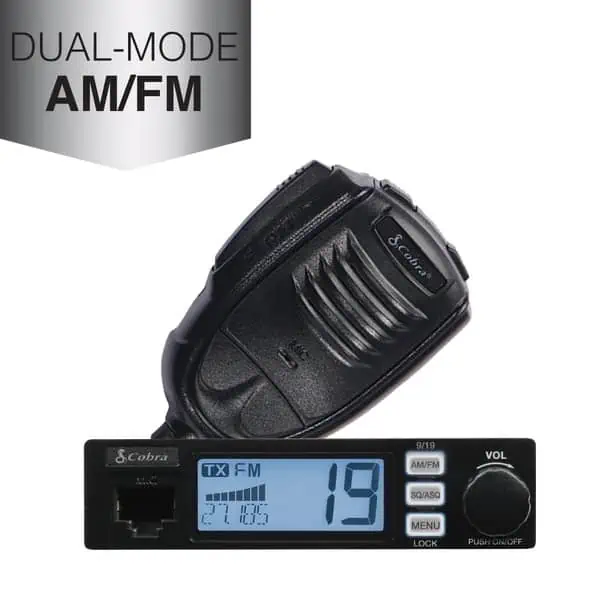 Our Ratings
Functionality: 8/10
Reliability: 8/10
Value for Money: 9/10
Overall Rating: 8.5/10
Need a Radio for Travel and Outdoor Activities? Check These Out:
Frequently Asked Questions (FAQs)
What features should I look for in a Cobra CB radio? Key features to consider include sound quality, ease of use, build quality, and range. Additional features like Bluetooth connectivity or weather alert channels can also be beneficial.
How does the range of a Cobra CB radio affect its performance? The range of a CB radio determines how far you can communicate. Most Cobra CB radios can reach up to 10-15 miles under optimal conditions. A longer range can be beneficial for off-road use or in remote areas.
Are there Cobra CB radios that allow for hands-free operation? Yes, some models like the Cobra 29 LX MAX offer Bluetooth connectivity, allowing you to connect your smartphone for hands-free use.
What is the importance of the SWR meter in a Cobra CB radio? The SWR (Standing Wave Ratio) meter measures the efficiency of the antenna system. A well-calibrated SWR meter ensures your radio is transmitting at its maximum power, improving its performance.
How does the warranty on a Cobra CB radio affect its value? A good warranty offers peace of mind and protection for your investment. Most Cobra CB radios come with a two-year warranty, but always check the specifics before buying.
Can I use a Cobra CB radio for emergency communication? Yes, all Cobra CB radios have access to channel 9, which is designated for emergency communications. This can be a crucial feature in case of emergencies on the road.
Does the size of a Cobra CB radio affect its installation and use? Yes, the size of the radio can impact where it can be installed in your vehicle or home. Compact models like the Cobra 19 MINI can be a good choice if space is a concern.
How does the price of a Cobra CB radio relate to its quality? While higher-priced models often come with more features and better build quality, Cobra also offers budget-friendly radios that don't compromise on performance. It's about finding the right balance between cost and features for your needs.
Do I need a license to operate a Cobra CB radio? No, you do not need a license to operate a Cobra CB radio in the United States. The FCC (Federal Communications Commission) does not require a license for CB radio use.