Top 3 Best Inflatable Boats In 2023
Top 3 Inflatable Boats:
Bestway Hydro Force Mirovia Pro – Our Top Choice
BRIS PVC 12.5 ft – Best Premium
Intex Excursion 5 – Best Budget
Looking for the best inflatable boat to make your water adventures even more thrilling?
You're in the right place.
In this comprehensive guide, we dive into the top three inflatable boats in 2023 that truly stand out from the crowd.
From budget-friendly options to premium picks, we've meticulously evaluated these boats based on material quality, construction, size, ease of use, included accessories, and value for money.
Whether you're a seasoned boater or a newbie just dipping your toes into the world of inflatable boats, our detailed review is designed to help you make the best choice based on your needs, preferences, and budget.
So, sit back, relax, and let's set sail into this exciting world of inflatable boats.
How We Choose the Best Inflatable Boats
When it comes to choosing the best inflatable boats, we don't just rely on marketing claims or brand reputation. Instead, our selection process is meticulous, thorough, and based on a series of crucial factors that determine the overall quality and performance of the boat. Let us walk you through our method.
1. Material Quality: The first thing we look at is the material of the boat. We prioritize boats that are made from high-quality, durable materials like PVC and aluminum. The boat needs to be tough, puncture-resistant, and able to withstand various weather conditions and rough usage.
2. Construction and Design: We pay close attention to the boat's construction and design. Things like the number of inflatable chambers, the quality of the seams, and the overall structure of the boat are key considerations. We look for features that enhance stability, performance, and safety.
3. Size and Capacity: The size of the boat and its capacity to accommodate people and gear is another important factor. We ensure to include options that cater to different needs, from smaller boats ideal for solo or couple outings to larger ones suitable for family adventures or group fishing trips.
4. Ease of Use and Setup: We understand that not everyone is a seasoned sailor. Hence, we value boats that are user-friendly, easy to set up, and pack away. We also appreciate the inclusion of clear instructions or online tutorials.
5. Accessories: We also look at the accessories that come with the boat. Useful additions such as oars, pumps, carry bags, and repair kits add value and convenience. We note the quality of these accessories and their effectiveness in enhancing the boat's functionality and ease of use.
6. Price: Last but not least, we consider the price. We aim to provide options that offer the best value for money, whether it's a budget pick or a premium choice. We believe that a good boat is an investment, and our selections reflect a balance of cost and quality.
Our selection process is comprehensive, but we also understand that every boater's needs are unique. That's why we consider a wide range of boats and highlight their strengths and weaknesses. This way, you can make an informed decision based on your specific needs and preferences.
After all, the best boat for you is the one that best suits your lifestyle, meets your requirements, and gives you the most satisfaction on the water. So, whether you're a fishing enthusiast, a weekend sailor, or a family looking for a fun, water-based outing, we've got you covered.
Why Should You Trust Us?
At WhollyOutdoor, we're not just writers but passionate outdoor enthusiasts who have been providing unbiased, honest, and educational reviews since our inception in 2018. Our founder and editor, Paul Dudley, a fervent fan of ham radios and fishing, leads our team in testing and evaluating a wide array of outdoor products, including inflatable boats.
This hands-on experience, combined with our commitment to objectivity, ensures that our reviews provide accurate and insightful guidance as you navigate the world of inflatable boats in 2023.
Moreover, our commitment to our readers is unwavering. We approach each review with an objective eye, prioritizing the facts and putting our personal biases aside. We strive to provide accurate, up-to-date information that will genuinely help you make the best choice for your boating needs.
We're here to guide you, not to sell you a product, so you can trust that our reviews are transparent, unbiased, and true to our experiences. With us, you're in good hands.
Now on to the best inflatable boats for you!
Best Inflatable Boats – Out Top 3 Picks
Bestway Hydro Force Mirovia Pro – Our Top Choice
BRIS PVC 12.5 ft – Best Premium
Intex Excursion 5 – Best Budget
Bestway Hydro Force Mirovia Pro is our top pick for the best inflatable boat out there. With its sturdy build and intelligent design, this boat truly embodies the phrase, "floats like a butterfly, stings like a bee."
Now, the manufacturers say this boat can comfortably accommodate five people. However, in our experience, it's ideal for about 3-4 people if you want to maintain a comfortable atmosphere onboard. Aluminum boards that come with the package serve as seats, making for a pretty durable setup.
The package also includes a sturdy carry bag, air pump, repair patch, and a pair of lightweight aluminum oars. While the carry bag feels robust enough to hold the 113-pound boat, expect to flex those muscles when you're moving it around or folding the boat back.
The oars that come with the boat are light and easy to use, with omnidirectional oarlocks providing convenient storage. Now, here's a point to consider – most users would likely prefer a motor with this boat. It can handle up to a 15 hp motor, but a 5-10 hp motor usually fits the bill just right. It gives you a good speed and maintains the boat's stability.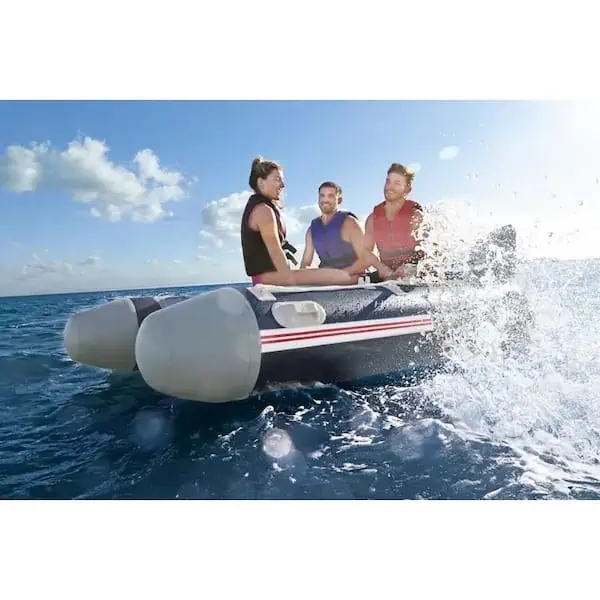 One major selling point of the Mirovia Pro is its use of TriTech materials, giving it an impressive sturdiness. This means the boat's fabric is composed of materials placed in three layers. The main player is PVC, but the additional materials lend support and enhance the durability of the boat.
The boat features three inflatable chambers, ensuring even inflation. The quick-inflation valves make the inflating or deflating process quite straightforward. The included pump can get the job done, but if you're looking to save some time and energy, an electric pump might be your best friend.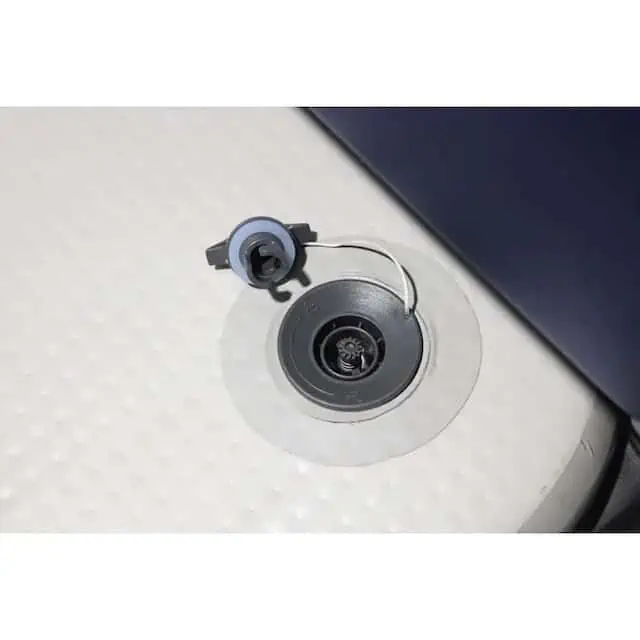 Once it's all pumped up, the boat is a breeze to handle. The flat floor keeps things comfy for passengers, and the aluminum benches offer decent seating. With a maximum weight capacity of 1411 lbs, this boat is well-made, stable, and offers great value for the price.
In a nutshell, we love the Mirovia Pro for its robust TriTech materials, multiple useful accessories, and good seating. But, keep in mind that with 5 people onboard, it might feel a bit snug, and there's a bit of a learning curve when it comes to setup. But hey, if you're looking for performance and value, this is one inflatable boat that's hard to beat!
2. BRIS PVC 12.5 ft – Best Premium Inflatable Boat
the BRIS PVC 12.5 ft Inflatable Boat is a real gem in the premium inflatable boat world. This boat doesn't just talk the talk; it walks the walk with its superior build and remarkable performance, earning it our award for the Best Premium Inflatable Boat.
So, what makes this boat stand out from the crowd? First off, let's talk about the material. Constructed from 2000 Denier 1.2mm PVC fabric, this boat is tougher than most out there. With an additional layer of fabric at the base of the tubes, this boat is designed to resist damage and keep you safe on the water.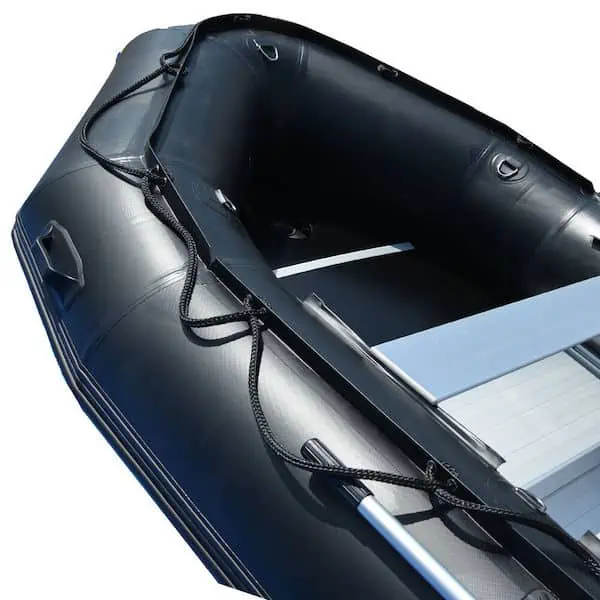 Now, the seams on this boat are heat welded, a detail that really showcases the overall build quality. This method ensures the seams won't be the boat's weak point, but rather as robust as the surrounding fabric. It's clear that every detail has been thought through to give you a top-notch experience on the water.
Now, with toughness comes weight. This boat tips the scales at 180 lbs, so expect a bit of a workout when folding and packing it into its canvas carry bag. Although the bag feels somewhat thin for such a hefty boat, it should hold up fine with careful handling.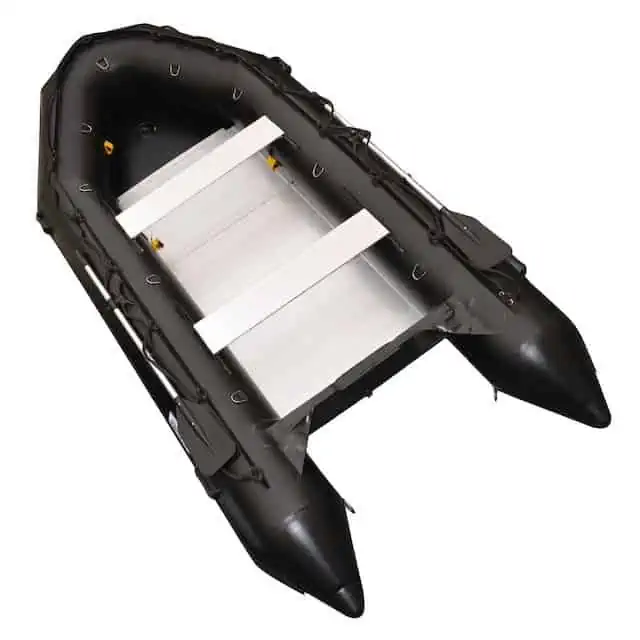 When it comes to carrying capacity, this boat can handle up to 1675 lbs. The manufacturer suggests it's suitable for six adults, but if comfort is your priority, you might want to limit your crew to 4-5.
The hull and body of this boat are made from PVC, while aluminum is utilized in the floor panels and bench seats. These aluminum panels not only provide protection but also lend the boat a premium feel. The seating may be a bit basic, but adding some cushioning or padding can easily enhance comfort.
The boat comes with a few handy accessories, including a repair kit, a set of aluminum oars, and a foot pump. The oars function well, and the inclusion of proper oarlocks keeps things convenient. Also, the boat features multiple transom "D" lifting rings on the tubes, bow, and rear tubes.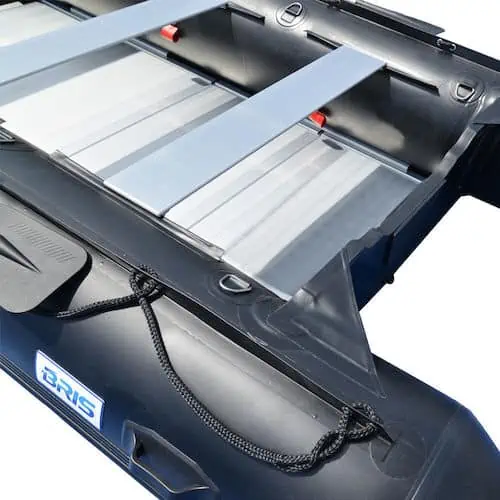 The foot pump does the job, but investing in an electric pump might be a smart move for a quicker setup. With three inflatable chambers, the boat delivers great support and performance. However, for your first setup, it might be useful to watch a few YouTube tutorials to get the hang of it.
In conclusion, the BRIS PVC 12.5 ft Inflatable Boat is a solid, dependable premium option that impresses with its build quality and performance. It offers relatively comfortable seating and a range of useful accessories, making it well worth the investment. But remember, it comes with a bit of a learning curve and requires some experience to set up. Nonetheless, if you're after a tough, premium-feel boat with a great setup for leisure, this one's a winner!
Let's dive straight into the action with the Intex Excursion 5, a boat that's been making waves as the Best Budget Inflatable Boat out there. It's got room for five, but trust me, you'll love the extra elbow space if you limit your crew to four.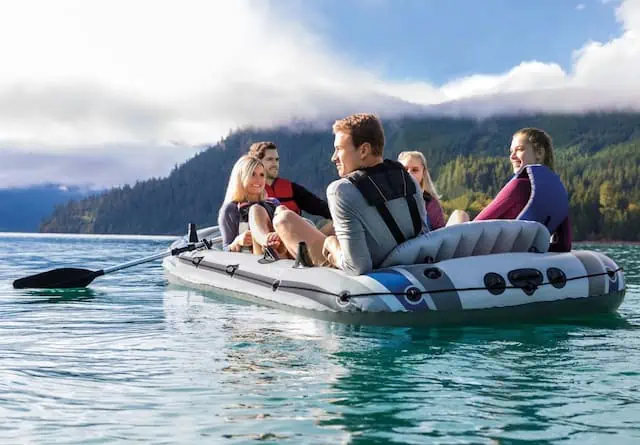 Now, this boat may be easy on your wallet, but that doesn't mean it skimps on features. Imagine yourself lounging on inflatable seats with backrests, a fishing rod in hand, and the open water as your playground. With built-in fishing rod mounts and a gear pouch, the Excursion 5 is all about making your leisure time a dream. If you're looking to kick back, you can even attach a trolling motor.
But, let's say you're in the mood for a workout. Well, the Excursion 5 is ready with two 54-inch aluminum oars. Rowing is made easy with the inclusion of welded oar locks. It's all about balance here, folks – leisure and exercise in one neat package.
Once fully inflated, the boat expands to a generous 10.4 feet x 5.5 feet x 1.5 feet. This process generally takes 15-20 minutes using the included pump. Although, from experience, investing in a decent electric air pump might be a wise move for a faster and less strenuous setup.
Sure, this is a budget boat, and there are some areas where that's a little more evident. The accessories might not be the strongest out there – the oars could be sturdier and the carry bag could be more robust. But hey, nothing's perfect, right? And the value you get for your buck with this boat is outstanding.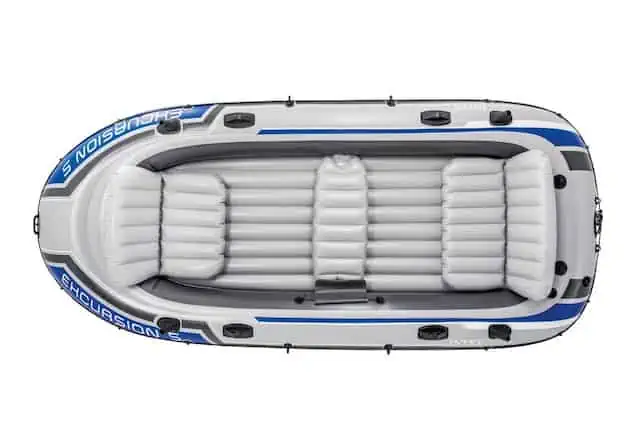 In terms of its build, the Excursion 5 really stands out. Its three inflatable chambers provide rigidity and proper inflation, and an internal auxiliary chamber adds an extra layer of buoyancy and safety. It's made from heavy-duty, puncture-resistant PVC – tough stuff for a tough boat. To top it off, an included repair kit can mend holes up to 0.5 inches, another testament to the boat's readiness for real-world use. Just remember to give it a once-over before you hit the water. After all, even the best of us have off days.
So, to sum it all up, the Intex Excursion 5 is a real champion in the budget boat league. It's got a price tag that'll make your wallet smile, seating that prioritizes comfort, and a set-up that's ready for fun. Sure, some of the accessories could be a bit sturdier, but when you look at the overall package, it's a small trade-off for a boat that delivers on so many fronts. In a nutshell, the Excursion 5 is a pocket-friendly, feature-packed boat that's ready for your next adventure.
The Best Inflatable Boats for You!
And that, my friends, is a wrap on our top three inflatable boat recommendations. From the budget-friendly Intex Excursion 5, to the premium BRIS PVC 12.5 ft, and ultimately our top pick, the Bestway Hydro Force Mirovia Pro, there's something here for every kind of boater.
Remember, the right boat for you will depend on your personal needs, preferences, and budget. But, we hope this guide helped shine a light on some of the top contenders out there.