Top 3 Best Cross Band Repeater Radios In 2023
The best cross band repeater radios can be difficult to find if you don't know where to start. Don't worry! Not only do we have the knowledge and experience to find the best options on the market, but we also have done all of the work for you.
We have poured over internet reviews, read in depth guides, and tested the best models out there. Making certain we have the best choices. It also means that our list of the best cross band repeater radios has something for everyone.
Our picks cover a wide range. From best premium option, to a great budget model, as well as our top pick. Check out our list to find your next cross band repeater radio!
Pros
It's Easy to use as cross band repeater
Good build quality
Max Tx output at 50W
it has a Large screen and clear display
And it's a feature rich radio.
Cons
Scanning gets slow as frequencies are saved
And speaker quality could be better.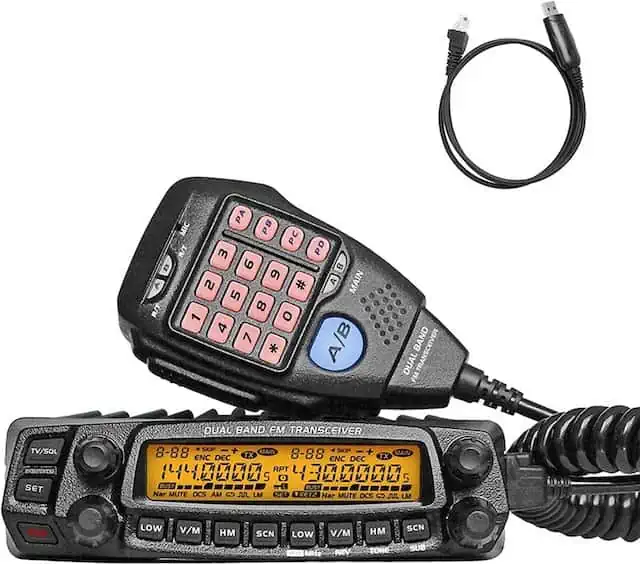 AnyTone AT-5888UV Mobile Transceiver is a solid radio and one of the most popular choices for use as a cross band repeater. Radios with this capability aren't exactly rare, but only a few advertise it as a key feature and provide easy access to the function.
This dual band radio likes to show off its cross band repeater mode. Not only is the function easy to use, the radio display also shows relevant frequencies and makes it known when repeater mode is on.
It can work with 2cm and 50cm bands and considering that the maximum output power is 50W (VHF) and 40W (UHF), it can provide a considerable range. Pair this radio with the right antenna, and you will find yourself impressed with its range and simplicity of use.
AnyTone also offers AnyTone AT-5888UV III, which is pretty much the same as radio. However, this one is a tri-band radio.
As a mobile transceiver, the device comes with a mounting bracket, screws, and a DC power cable with fuse holder. It's not possible to power the transceiver with 12V DC cigarette lighter output. It should be properly wired with the battery or cables to function the right way.
The front of the radio is fairly straightforward. It features a large screen flanked by a few buttons and knobs. The display is wide, backlit, and shows off a lot of information.
The backlight can be changed to three colors to suit user preferences. Though bright, it isn't a big distraction or disturbance while driving at night. During the day, the display is good enough to stay easily readable even if it's fairly bright outside.
Built-in speakers are present on the radio as well as the microphone. However, you'll want to use external speakers anyway. While sufficiently loud, I'd say the speaker quality is average at best. External speakers will make a world of difference to this radio.
Several buttons find a place on the microphone for easy control and management. You can handle several functions of the radio directly from the mic. It connects to an RJ-45 plug on the side of the radio near its face. It's decent enough for transmitting, but the reception is average.
AnyTone AT-5888UV Mobile Transceiver is a feature-rich device with a long list of options. These include a built-in cooling fan, squelch setup, CTCSS/DCS, ANI, DTMF, busy channel lockout, VFO, 758 channels, and a lot more.
Try not to save too many channels on the radio. The more channels it has, the slower the scanning gets. This is a natural effect of using several channels, but this mobile radio seems to go noticeably slower.
A programming cable is included in the package and you will want to use it. AnyTone offers free software for programming, but this transceiver is compatible with CHIRP and it works better.
Lastly it is a decently priced, feature-rich radio. It works as a cross band repeater easily and provides good range for communication. It does have a few faults, but the radio's overall performance makes them feel negligible.
Our Ratings
Features: 9.5/10
Value for Money: 9/10
Audio Clarity: 8/10
Overall Rating: 9/10
Pros
It Works in analog and digital mode
it Works well as cross band repeater
it Works with C4FM and APRS
Max Tx output at 50W
Bright and colored touchscreen
And it's feature rich radio.
Cons
There is No auto-dimming feature on the display
And wading through touch screen menus for simple functions can be annoying.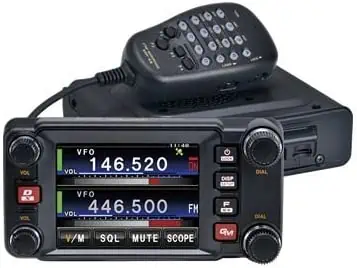 Yaesu Original FTM-400DR/XDR is a mobile radio with a large screen and excellent quality. The transceiver is a dual mode system that works on digital as well as analog modes. In analog mode, the radio works as a conventional radio.
When going digital, it uses Yeasu's C4FM technology, which promises excellent signal quality. However, C4FM is used only by Yaesu, so users might have trouble using the digital mode to communicate with people using other technologies like DMR and DSTAR. Overall, the radio works in 3 digital modes and 1 analog mode.
Yaesu Original FTM-400DR is a mobile radio and compact enough to fit into a car, hogging a lot of space. Even better, the front of the radio with the screen is detachable from the main body and this gives you more options for installing the radio.
You can install the main body anywhere you like and then run an extension cable to the front panel. This panel needs to be somewhere within easy reach because the transceiver utilizes a touch screen for controls and user input.
The front of the radio is dominated by a large touchscreen display, though there are a few buttons and knobs around it if you prefer a more hands-on approach.
As appearances and features go, Yaesu FTM-400DR is very similar to the newer, but lower Yaesu model, which is the FTM-300DR. Both radios have a removable front panel and function pretty much the same way.
The Yaesu FTM-400DR has a comparatively larger display. FTM-300DR directly supports Bluetooth, while the 400DR requires an additional module for Bluetooth.
FTM-400DR/XDR is all set to work as a cross band repeater, though it needs some work. To set it up as a cross band repeater, you'll need to press the GM, F, and DISP buttons and then give a quick press to the power button. The radio has a hot mic when in cross band repeat mode.
To disable cross band repeat, you'll have to turn off the radio, then repeat the process by pressing the same buttons. When the radio is powered on, the display will no longer show that it's on cross band repeat. Cross band works only on analog mode and will not accept C4FM.
Another interesting aspect of this transceiver is its microphone. The stock microphone with the radio includes several buttons that allow it to handle most functions without touching the screen. You could also get the optional camera microphone.
This one doesn't have many buttons, but there is a camera at the top of the mic. You could use this to capture photographs and store them in a microSD card placed inside the radio.
Overall, this is an excellent radio with plenty of features and is dependable. Its use of a touchscreen makes some menus difficult to access and the screen itself could be better. Although, the transceiver itself is pretty dependable in analog as well as digital modes.
Our Ratings
Features: 9.5/10
Value for Money: 8/10
Audio Clarity: 9/10
Overall Rating: 9/10
Pros
Remarkable build quality
it's Waterproof
Good audio quality
it's Easy to navigate menu
And quick switching to cross band repeater modes.
Cons
The display backlight and contrast leave something to be desired.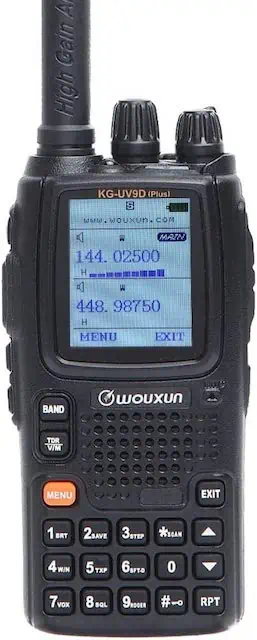 Wouxun KG-UV9D Plus would not usually count as a budget option. However, for radios that can offer good cross band repeat, this Handheld Transceiver is a viable option and one that does its job rather well.
The defining factor for Wouxun radios is their quality. This one's no different. Its build quality is stunning. Though it's all plastic and rubber, it feels great in your hands and appears capable of handling some impacts.
Wouxun KG-UV9D Plus is a handheld transceiver with a large digital display, followed by a speaker, and a keypad. The buttons are easy to work with, the backlit display shows relevant information, and the voice quality is amongst the best you'll find in an HT.
There is a problem with the display though. Eventhough it tries to show all information nicely and with plenty of detail. Unfortunately, it isn't all that clear and can be difficult to read in many situations. Even the smaller display of the similarly priced Yaesu FT-65R is a lot clearer than the Wouxun.
However, the way it shows information definitely puts Wouxun KG-UV9D Plus in the lead. The menu and various functions are very easy to access and intuitive. Even a new user could understand the functioning of this radio with relative ease.
Even moving to different modes, including cross band repeat is easy. In fact, the radio offers two options for cross band repeat. The relevant options are available under the TYPE-SET menu. These are:
Talkie: In this mode, the radio works as a conventional handheld transceiver.
DIR-RPT: The radio works as a directional cross band repeater. The display will indicate that the device is in repeater mode, and also that the speaker is disabled.
TW-RPT: With this selection, the HT works as a two-way cross band repeater. The display will indicate that the device is in repeater mode and that the speaker is active.
For most instances, just selecting the menu will work. However, it is necessary to setup cross band repeat before using it. To achieve this, you'll need to use the VFO made and set the desired frequencies for cross band in slot A and slot B, through the TYPE-SET menu.
The radio can receive transmissions on seven bands, though it transmits only on two bands. Users can set up some preferences and specific options by programming the radio, though the programming cable will need to be purchased separately.
It has a transmit power of 5W (high) and 1W (low) and it draws power from a 2000 mAh Li-ion battery that can be charged through the included cradle. Have in mind that there is some confusion due to some sellers suggesting that the radio battery is 3200 mAh. Nevertheless according to Wouxun's documentation, it is 2000 mAh.
Our Ratings
Features: 9/10
Value for Money: 9/10
Audio Clarity: 9/10
Overall Rating: 9/10