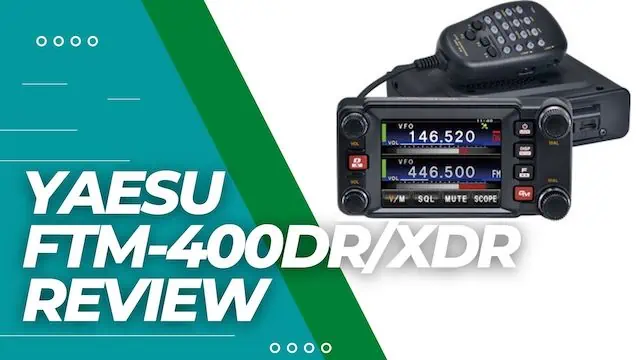 Yaesu FTM-400DR/XDR Honest Review
As an Amazon Influencer, we earn from qualifying purchases you might make if you click any of the links on this page.
As a passionate ham radio enthusiast, I've had the pleasure of testing various models, and I must say that the Yaesu FTM-400DR/XDR has undoubtedly captured my attention. In this comprehensive and opinionated review, I will discuss this radio's most impressive features, compare it to similar mobile ham radios, and offer my thoughts on the ideal buyer for this device.
Seamless Analog and Digital Operation
The Yaesu FTM-400DR/XDR excels as a premium mobile ham radio with its dual-mode system, offering both analog and digital capabilities. Its Automatic Mode Select (AMS) feature is a game-changer, ensuring smooth switching between modes depending on the signal strength. The radio utilizes Yaesu's C4FM technology for superior digital signal quality.
However, this can be a double-edged sword, as users might face compatibility issues with other digital technologies like DMR and DSTAR. In my opinion, this is a minor setback considering the overall quality and performance of the radio.
Cross-Band Repeater Capabilities on the Yaesu FTM-400DR/XDR
One of the most attractive features of the FTM-400DR/XDR is its ability to function as a cross-band repeater. Although the setup process is slightly cumbersome, the benefits of this functionality far outweigh the minor inconvenience. Do note that cross-band operations only work in analog mode and will not support C4FM. The hot mic feature is active during cross-band repeat mode, and disabling it follows a similar process as enabling it.
C4FM and APRS Integration
For operators who value digital modes, the FTM-400DR/XDR is an excellent choice. It boasts simultaneous Voice/Data (V/D) transmission mode, allowing for concurrent data and voice communication. The integration of an advanced GPS receiver speeds up telemetry and navigation functions while providing APRS support for ham operators interested in this aspect. In my opinion, this is a fantastic addition for those looking to explore APRS functionality within their ham radio experience.
Intuitive User Interface with Touchscreen
The FTM-400DR/XDR's bright, colored touchscreen sets it apart from other mobile ham radios. As a user, I found the interface to be incredibly intuitive. The detachable front panel allows for flexible installation options, giving users the freedom to place the radio in their preferred location. However, the screen has its drawbacks – it lacks an auto-dimming feature and can be challenging to navigate for simple functions. Additionally, an external speaker is recommended for mobile use due to the built-in speaker's low volume.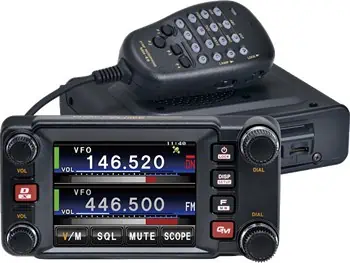 Comparing to Similar Mobile Ham Radios
When compared to the newer, yet lower-end Yaesu FTM-300DR, both radios share many similarities, such as the removable front panel and overall functionality. However, the FTM-400DR has a clear edge with a larger display. In my view, the Yaesu FTM-400DR/XDR is just a better radio with superior features and functionallity so it worths the higher price.
Who Should Buy and Who Shouldn't
The Yaesu FTM-400DR/XDR is an amazing mobile radio for ham radio enthusiasts who prioritize premium features, such as APRS integration and cross-band repeater capabilities. It is particularly suitable for those who prefer a touchscreen interface and are willing to overlook some of its quirks. As a ham radio operator myself, I can attest to the satisfaction and convenience that the FTM-400DR/XDR offers.
However, this radio might not be the best choice for those who require consistent compatibility with non-Yaesu digital technologies or who need a radio with a robust auto-dimming display feature. Additionally, those on a tighter budget may want to consider more affordable options, like the FTM-300DR, which still offers a solid set of features at a lower price point.
Additional Considerations
The stock microphone of the Yaesu FTM-400DR/XDR includes several buttons, allowing users to handle most functions without touching the screen if you are not a fan of touchscreens. It's also worth noting that the radio's heat dissipation is less-than-stellar, especially during 50W transmission. While this may not be a concern for most users, it's something to keep in mind for those planning to use the radio continuously at high transmit wattages in poorly-ventilated environments.
Our Ratings
Features: 9.5/10
Value for Money: 8/10
Audio Clarity: 9/10
Overall Rating: 9/10
Final Verdict on the Yaesu FTM-400DR/XDR
In conclusion, the Yaesu FTM-400DR/XDR is a feature-rich, high-end mobile ham radio that delivers outstanding performance in both analog and digital modes. Its flexible installation options, intuitive touchscreen interface, and unique features make it an attractive choice for ham radio enthusiasts looking for a premium experience.