Yaesu FT-60r Review

Despite being superseded by newer models with more advanced features, Yaesu FT-60R is still highly regarded by many for its robustness and reliability. This has earned it an enviable reputation among many enthusiasts especially, outdoor operators due to its rugged die-cast casing.
However, does it really perform as claimed? What features and technologies does it include? How easy is it to program and operate?
In this article, we're going to look at everything you need to know about the Yaesu FT-60R including a detailed review of the specific features, how it compares to other radios, and much more, so you can know whether it's the right radio for your unique needs.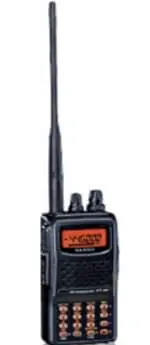 Weight: 0.82 Pounds
Size: 2.28 x 1.18 x 4.29 inches
RX Frequencies: 108-137 MHz (Air Band); 137-520 MHz (AM / FM); 700-999 MHz (FM)
TX Frequencies: 2 m and 70 cm Amateur Bands
Frequency Steps: 5, 10, 12.5, 15, 20, 25, 50, 100 kHz
Frequency Stability: +/- 5 ppm
Maximum Deviation: +/- 5 kHz
Repeater Shift: +/- 600 kHz (144 MHz)
Supply Voltage: 7.2 V DC
1000 memory storage channels with alpha-numeric labels
10 memory banks
9 DTMF Autodial memories
Summary of Yaesu FT-60R
Yaesu is a globally recognized manufacturer of amateur radios designed with the latest technology and features. One of their Yaesu's popular ham radio models is the ultra-rugged Yaesu FT-60R that was first introduced in 2004.
This handheld transceiver offers up to 5 watts of transmission power in the frequency range of 144 MHz and 430 MHz amateur Bands. It also provides a wideband receive coverage of the UHF/VHF TV bands, AM broadcast band, and a vast range of public safety frequencies.
Besides that, this dual band handheld transceiver also boasts several new features including an Emergency Automatic Identification (EAI) system, Enhanced Paging and Code Squelch (EPCS), and a security Password feature.
While this two-way radio isn't fully waterproof, its durable construction allows you to use it on nearly all types of environment without easily getting damaged. Many enthusiasts also praise it for offering clear reception and suggest it's a worthwhile investment for the price.
Review of Yaesu FT-60R
Design, Controls & Display
First off, the FT-60R is made of a rugged die-cast, water-resistant casing, making it incredibly durable and strong enough to allow for outdoor operations.
Weighing merely 0.82 pounds and 2.28 x 1.18 x 4.29 inches in dimensions, the FT-60R is pretty lightweight and compact enough for daily carry. It also comes with a robust belt clip for enhanced portability. However, this also means that the keypad is designed small in size with every key performing multiple functions and knobs close to each other, which can be a problem for some operators.
At the front panel, there is a speaker sandwiched between the display and keypad. On the left side, there are speaker connectors with a rubber flap that prevents water and dust from getting inside. At the top part, this ham radio is equipped with an antenna, frequency adjuster knob, and another knob for power and volume control.
The keypad is backlit, allowing you to see the keys well when you're using the ham radio in low light environments. The keypad includes 16 keys in total with the PTT button on the right side plus two other buttons. The top key is the monitor button. There is also a lamp button, which illuminates the backlight. There are two programmable keys, which allow quick access to frequently used setup options.
For the display, this ham radio features a large AlphaNumeric LCD display that contains lots of valuable operating status details. The LCD displays larger characters for ease of viewing.
Check This: Best handheld ham Radios
Setting Up
Setting up the FT-60R is a breeze as all you need to do is to screw the antenna in place and insert the battery and you're done.
To correctly insert the battery, you need to first raise the belt clip to create room for the battery's base. Then carefully slide the battery inside and secure it to the radio by releasing the latch.
After you've inserted the battery in position, you can switch it on using the power knob at the radio's top part. The radio usually produces three beeping sounds to confirm it's powered and ready for use. The display also shows the battery power voltage, which then displays the frequency after a few seconds.
Programming
The FT-60R is a dual-band UHF/VHF transceiver that boasts a vast range of programming capabilities. First off, this radio features 1,000 memory channels, nine DTMF audio dialer memories, and 10 memory banks.
Using the 10 memory banks, you can program your favorite channels in any of them. You can also save nine of your best channels in the DTMF auto dialer memories for added convenience and easy access.
You're also not limited to the number of channels you can scan and store in the DTMF memory bank, so that the radio can automatically dial them. You also can program two of the keypad's keys with functions that you frequently use for easy access.
Operating
This device comes with a user-friendly operating manual with simple step-by-step instructions to guide you with each process.
After charging the battery and powering the device, there are different ways you can select a frequency. As a beginner, you may go the easy way, which is simply using the front panel's keypad to input your desired frequency.
For instance, if you want to tune to 145.35 MHz you'll just need to key in 145350 and the radio will automatically choose a repeater offset that appropriate for your chosen frequency. The same goes for standard repeater splits within the 430 MHz band. Once your desired frequency is selected, you're set to get on air.
By pressing the F/W key, you gain access to the keypad's secondary functions where the large knob usually for frequency adjustments on the top lets you to choose the desired variable for the secondary function selected. It also allows you to connect to a local WIRES-X node with the press of one button.
Range
The FT-60R provides signal transmission coverage of between 122 – 148 MHz and the 430 – 520 MHz band under normal circumstances. It also offers a wide band reception between 108 -520 MHz and 700-900MHz.
Besides that, this device is also a dual-band UHF/VHF transceiver, meaning it offers coverage of UHF and VHF TV bands including a wide range of public safety and commercial frequencies as well as the VHF AM bands. This allows you to gain access to information you want, whenever you need it.
Battery
The FT-60R comes equipped with a 7.2V FNB-83 1400 mAh Ni-MH battery, which allows up to 12 hours of continuous operation. When flat, it will take about 4 hours of charging to get the battery fully charged using a drop-in rapid charger or up to 10 hours with an AC/DC slow charger.
Accessories
Some of the essential accessories supplied with the FT-60R include;
An overnight charger– The charger includes a port at the back where you plug in the adaptor and then inserted to the electricity mains.
A 1400mA Battery
An antenna and belt clip
SSM-17A Speaker Microphone
SSM-57A earbud speaker mic with PTT
CT-44 Microphone Adapter
CT-27A cloning cable
SBH-13 Desktop Rapid Charger
Other features
Emergency Automatic ID (EAI) – The EAI feature comes handy especially in emergency situations where you're unable to press the PTT-switch as it automatically sends out your callsign as well as activate your microphone.
Enhanced Paging and Code Squelch (EPCS) – This is another equally important feature that enables you to page a specific station and only receive calls from the paged station, which helps eliminate incoming transmissions that might compromise your reception.
NOAA weather channels – The FT-60R also provides NOAA weather alerts, which keeps you updated on the latest weather forecast.
For Whom is Yaesu FT 60r Best Suited For?
The Yaesu FT 60R could be an excellent option for those looking for a rugged yet inexpensive ham radio for operating in tough environments. It could also be a suitable choice for those who are just starting out on ham and want a portable transceiver that's easy to operate and program.
However, it might not be a good option for those looking for a radio with advanced features and special functions for professional use.
Yaesu FT 60r
Compared To Other Radios
Yaesu FT 60r vs FT-70dr
While both ham radios are durable and perform incredibly well, the FT-70dr receives from 108–580 MHz compared to the 108 to 999 MHz reception of the FT 60r. The ft-60r also offers longer battery life with the 1400 mAh Ni-MH battery unlike the high-discharge 1800 mAh Ni-MH battery of the FT-70DR. The ft-60r also supports AA batteries for emergency power.
The ft-70dr makes a great option if you're looking for a digital ham radio; however, you may want to choose the ft-60r if you want longer battery life for extended use.
Yaesu FT 60r vs FT-270r
Both radios provide 5W of power and come with 1400 mAh Ni-MH Battery Packs. However, the Yaesu ft-270r features an IPX7 rated construction, meaning it's completely waterproof unlike the die-cast, water-resistant body of the ft-60r. The ft-60r, however, offers more memory channels and is easier to operate than the ft-270r.
While both ham radios cost almost the same, you may choose the ft-270r for its rugged, waterproof construction and advanced features. On the other hand, opt for the ft-60r if you want a model with an easy learning curve, without the many bells and whistles.
Yaesu FT 60r vs Kenwood TH-F6a
Costing a lot more than the ft-60r, the Kenwood TH-F6A is a great option if you want a capable transceiver with tri-band function, that's packet-data ready and equipped with VOX and DTMF. The ft-60r, on the other hand can be an ideal option if you want a simple yet powerful ham radio without the extra bells and whistles of the Kenwood th-f6a.
Yaesu FT 60r vs Baofeng UV-5R
Compared to the ft-60r, the Baofeng UV-5R is smaller and lighter and fully charges 4 hours faster and lasts longer. However, the UV-5R has only 128 memory channels compared to the 1000 memory channels of the ft-60r. The ft-60r is also much easier to operate and program than the Baofeng UV-5R.
Costing much less than the ft-60r, the Baofeng UV-5R makes a superb option for those looking for an inexpensive ham radio that can give them up to 20km of range.
What are customers saying about Yaesu FT-60r
Many customers praise the Yaesu ft-60r for its rugged reliability, which allows them to use it in all types of environments without worrying about it getting damaged. First-time buyers particularly love that the ft-60r doesn't have lots of bells and whistles but have just enough features to get the job done.
They also love that it's super-easy to scan and program, great audio quality, and decent range, making it a great handheld radio for the price. Other customers, however, complain of the CMS antennae connector and say it would be better if Yaesu replaced it with a more reliable option such as the BNC connector.
Pros
Long-lasting rechargeable NiMH battery, which allows up to ten hours of operation before recharge
Wide range of reception and transmission
It can run off alkaline batteries, allowing you to continue using it in off-grid areas
It performs incredibly well in a wide range of temperature
Made of high-quality die-cast aluminum body, making it resistant to water and damage from falling
Lightweight and compact enough to fit nicely in one hand
Backlit keypad and LCD display, allows night use or in areas with poor lighting
Easy to setup, operate and to program
Comes with programmable keys for quick access
Cons
The radio isn't fully waterproof, so it's likely to get damaged in extremely wet environments
The stock antenna could be improved
Final Verdict
Overall, the Yaesu FT-60R is a reasonably priced transceiver that boasts an outstanding feature set to keep you connected wherever you are. The radio is well-built using high-quality materials for enhanced durability and will hold up pretty well even when used daily in outdoor environments.
It receives many positive feedback from users for how simple it is to program and operate, the clear reception it gives, and is highly recommended to any beginner looking for an outstanding entry-level ham radio at an affordable price.
FAQ
Is the Yaesu FT 60r waterproof?
The FT-60R is not waterproof, but it's resistant to water and shock. This means that it can withstand outdoor use without any problem.
How do I program a Yaesu FT 60r?
You can program your Yaesu ft-60r either manually using the front panel's controls or by cloning using a computer software (CHIRP).