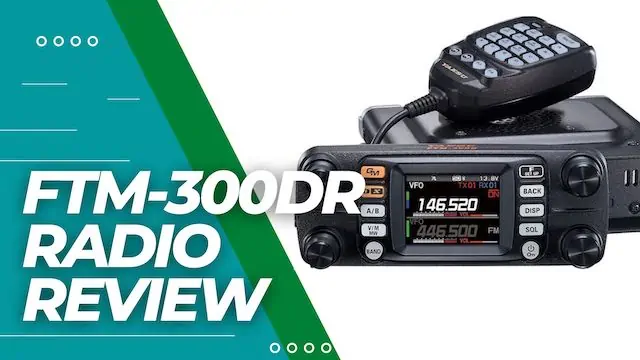 FTM-300DR Radio Review
FTM-300DR is one of the newer mobile transceivers from Yaesu. It launched in 2020, so while it's not exactly fresh, it's a new product as ham radio models go.
This is a feature-rich radio with good performance and power. It's a fairly compact unit with the radio about the same size as the FTM-100. It comes with a mounting bracket, which makes things a whole lot easier.
Apart from the conventional connectors and electronics, the radio also features a technology that Yaesu unironically calls FACC. Basically, this setup includes a heavy-duty heat sink that includes FACC (Funnel Air-Convection Conductor – Wind Tunnel) technology.
Despite its wonky name, this is a very efficient cooling system. You could run the radio at full 50W RF power for hours before allowing your mind to drift to concerns like overheating. As normal usage goes, FTM-300DR handles cooling so well, there's no cause to worry about overheating.
However, the radio head (or face) is a bit taller than the body's height. Although such an arrangement is fairly common these days, so it's not that big a deal.
The face has a brilliant 2-inch TFT color screen, which shows the channel, frequency, and other relevant information. On the left and right of the screen are the control buttons and beyond those, there are two knobs at each side.
Pros
Sharp and wide-angle display.

Includes digital features like C4FM and APRS.

Includes Wires-X.

Good sensitivity for RX and TX.

Good cooling with FACC.

Bluetooth-enabled.
Cons
The manual is complex.

The UI feels complex for a mobile radio.

Memory stations don't loop from end to start.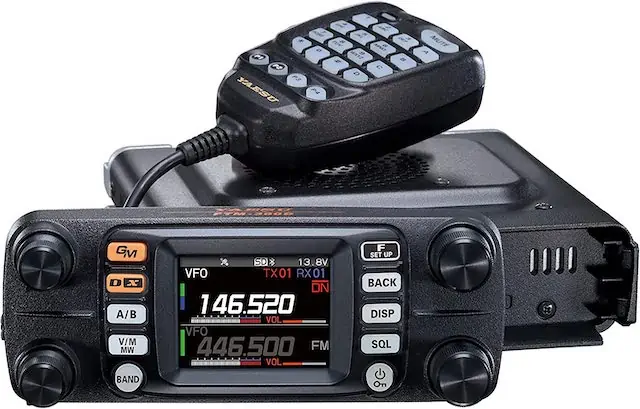 Set Up and Comparisons
The setup is fairly convenient and it's easy to handle most tasks like reaching the menu and handling most tasks. However, changing and selecting modes can take a while as you navigate inside menus. This isn't the most convenient option for a mobile radio, since it can be expected that the user would be driving.
In a way, this is also where the Yaesu FTM-400DR outshines the FTM-300DR.
To consider differences like these, it's worth comparing the Yaesu FTM-400DR to the FTM-300DR. The FTM-400DR is a higher, but older model.
Differences between the two are evident with a visual examination. Yaesu FTM-400DR has a bigger face, which accommodates a larger display. This is a full-color touchscreen, which makes it easier to manage settings and operate the radio.
Both radios also support Bluetooth. The FTM-300DR has Bluetooth built-in, while the FTM-400DR needs a module to make it work. Interestingly, the FTM-300DR has a better speaker, while the FTM-400DR fares better with the mic.
Additionally, the FTM-300DR works better with the B-band than the FTM-400DR. Other features are largely the same. We could say the FTM-400DR fares better on UI while FTM-300DR benefits from its more recent origins.
Updating Features
Saying Yaesu FTM-300DR needs a better UI would be an understatement. The feature-packed radio has a lot of menus and settings to navigate through. That can get annoying very quickly.
Yaesu usually has good documentation, though the FTM-300DR seems to be lacking at the moment. While there is a manual, several key features don't find their way into it. Users often have to look for additional documentation and manuals on the Yaesu website for these features.
Updating its firmware takes a bit of effort too, but it's not all that troublesome.
Yaesu FTM-300DR is a new radio off the company's fusion line, so it also gets some cool features including digital options. The radio works with C4FM, APRS, DG-ID (Digital ID), GPS, voice recording, snapshot function, and more.
Some features, like voice recording, need a microSD card to be inserted into the radio. It also supports Wire-X, but is known to occasionally struggle with it.
As we see, this radio has its faults. However, that doesn't take away the fact that Yaesu FTM-300DR is a very capable and impressive mobile radio. Especially put up against other shortwave or ham options. It's full of features and is a very dependable mobile ham radio.
Ratings
Functionality: 9.5/10
Reliability: 9/10
Value for Money: 9/10
Overall Rating: 9.5/10