Top 3 Best Fishing Rods In 2023
Searching for the best fishing rods?
Every fishing enthusiast knows that a good rod can make all the difference between a satisfying catch and a disappointing day by the water. But, with countless options flooding the market, how do you pick the right one?
Whether you're on a tight budget or ready to splurge for premium quality, I've got your back.
Dive into our in-depth reviews of three of the finest fishing rods out there. You'll discover their pros, cons, and the unique features that make them stand out.
Ready to find your next go-to fishing companion? Let's reel it in!
Our Top Picks
KastKing Zephyr 6′ 6″ Fast & Light Fishing Rod – Our Top Choice
St. Croix Rods Triumph Spinning Rod – Best Premium Fishing Rod
Ugly Stik GX2 Spinning Fishing Rod – Best Budget Fishing Rod
Why Should You Trust Us?
At WhollyOutdoor, our mission has always been to guide readers through the vast world of outdoor equipment, especially when it comes to fishing rods. Our editor and founder, Paul Dudley, isn't merely an outdoor enthusiast—he's an avid angler with years of experience.
This firsthand knowledge shapes our reviews, ensuring they resonate with both novice and seasoned fishers. Since our inception in 2018, we've anchored our reputation on honesty, objectivity, and a deep understanding of our readers' needs.
Every fishing rod recommendation we provide is based on comprehensive research, feedback from the fishing community, and insights from experts. When we vouch for a rod's performance, it's grounded in the trust and reliability WhollyOutdoor has cultivated over the years.
Need a Fish Finder? Check These:
How We Choose the Best Fishing Rods
Selecting the cream of the crop when it comes to fishing rods isn't a task we take lightly. With a plethora of options out there, we've meticulously refined our process to ensure our picks genuinely represent the best of 2023. So, how do we go about this? Here's our transparent methodology:
Material & Build Quality: First and foremost, we assess the core materials that go into the rod. High-quality components, such as graphite, fiberglass, or carbon composites, often hint at a rod's durability and performance.
User Feedback & Reviews: We dive deep into the ocean of reviews by fellow anglers. A fishing rod might look good on paper, but real-world feedback gives us invaluable insights into its strengths and weaknesses.
Versatility: Different fishers have varied needs. Whether it's fly fishing or spinning, we prioritize rods that cater to multiple styles, ensuring they're versatile enough for a broad range of users.
Cost vs. Value: While a premium price tag might indicate superior quality, it's essential to balance cost with actual value. Our picks offer the best bang for your buck, whether you're on a budget or looking for a high-end splurge.
Aesthetics: Let's be honest; nobody wants an 'ugly stick'! While performance is paramount, a rod's design and finish can enhance the overall fishing experience.
Warranty & Brand Reputation: A company that stands behind its product scores brownie points. Extended warranties often indicate trust in a product's longevity, and established brands tend to offer better customer support.
Specifications: Line and lure ratings, rod action (from ultra-light to heavy), and length all come into play. We ensure that the technical aspects align with what modern anglers expect and require.
| | |
| --- | --- |
| Key Consideration | Why It Matters |
| Material & Build Quality | Determines rod's durability and performance |
| User Feedback & Reviews | Provides real-world insights and potential issues |
| Versatility | Ensures suitability for various fishing styles |
| Cost vs. Value | Ensures you're getting worth for every penny spent |
| Aesthetics | Enhances the overall fishing experience |
| Warranty & Brand Reputation | Indicates product longevity and post-purchase support |
| Specifications | Ensures alignment with modern angling needs |
In a market teeming with options, our detailed approach guarantees that our top picks are not just popular choices but are genuinely reliable and worthwhile. Whether you're a newbie or a seasoned pro, our recommendations aim to guide you towards your perfect fishing companion. Happy casting!
Check These Out:
3 Best Fishing Rods Reviews
Pros
Good value and attractive price
Uses IM6 graphite to be lightweight and strong
Fairly versatile
Comfortable handle and butt with EVA foam.
Cons
The first joint can be a point of failure/breakage.
KastKing Zephyr fishing rod pulls a nice balancing act between cost and quality. The ergonomics of this rod is its strongest point. It is lightweight, fairly easy to use, and quite versatile.
The rod is lightweight and strong thanks to its multilevel carbon construction that uses a generous amount of IM6 graphite. This high modulus, high strain graphite keeps the rod lightweight, sensitive, and pretty strong.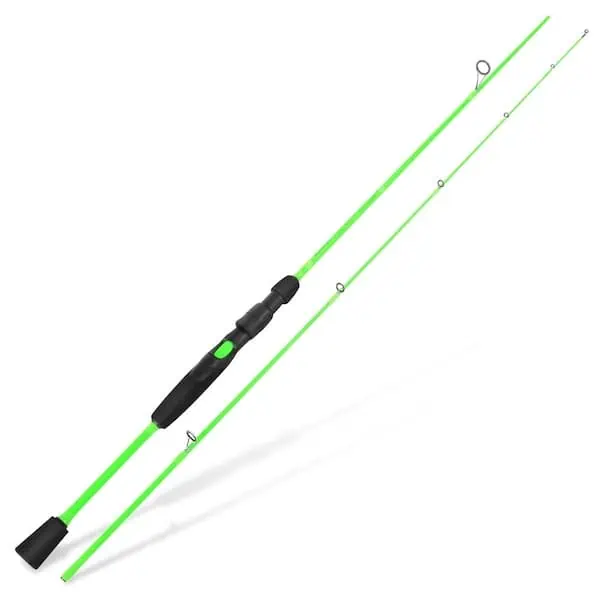 Zephyr fishing rod comes in two pieces for easier portability. When disassembled, the package isn't exactly small, but it is convenient for travel. When connected, the fishing rod remains strong and offers a good balance.
It pays to be careful when putting this rod together. Many people find that the joint is a point of failure. Thankfully, there are good reports of KastKing standing by its product and offering replacements where warranted.
A business standing by its product is always appreciable and speaks volumes about this fishing rod in general.
Apart from the rod, the other elements seem to be carefully constructed as well. Zephyr fishing rods use the ultra-thin, yet strong zirconium oxide guide rings with durable stainless steel guides.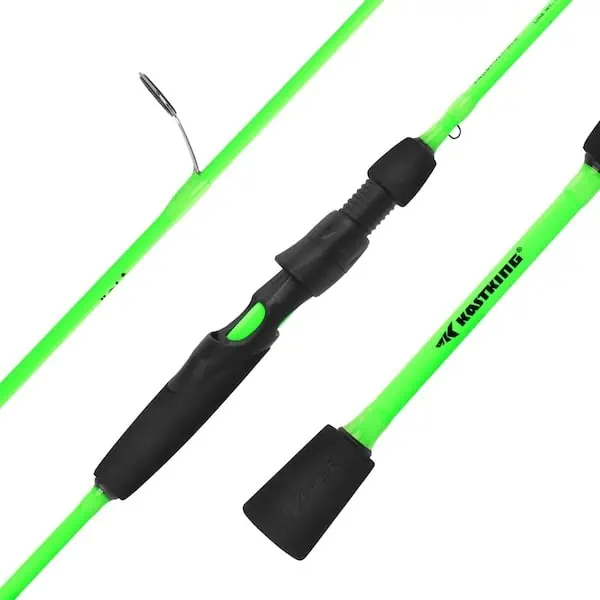 There is some comfort and quality for the handle as well, which is made from high-density EVA foam. The foam is present at the butt, foregrip, and handles of the fishing rod. It stays convenient to hold and provides some comfort and leverage if there's a need to apply force or pull the rod.
There's room enough for both hands on the fishing rod, with a split grip providing good balance and overall stability.
Interestingly, the company has chosen to go with a bright green color for the fishing rods. It looks great and has a nice feel to it. I like the choice from an aesthetic point of view. Yet, I don't quite buy their reasoning, which claims that the brightly-colored rod is a great way to attract fish.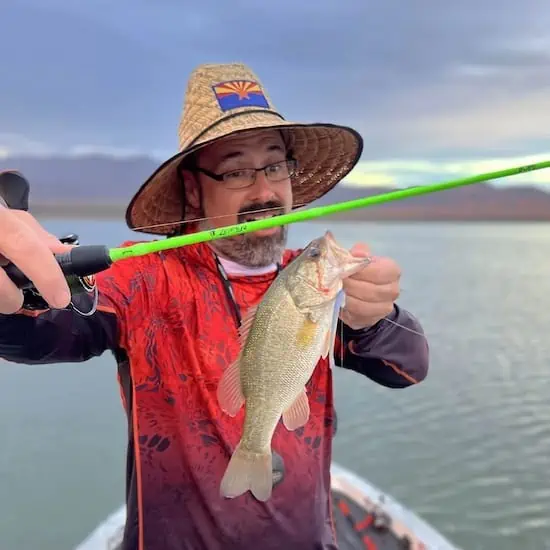 Unsubstantiated claims on the color aside, KastKing Zephyr does well in most categories where it matters the most. The fishing rod looks good, is strong, sensitive, and has an attractive price point.
Though there are some instances of the rod breaking, it is generally a steadfast and strong fishing rod. The use of IM6 graphite really stands out as a modern solution to making a fishing rod that's strong and lightweight.
Our Ratings
Functionality: 8.5/10
Value for Money: 8.5/10
Construction: 9/10
Overall Rating: 9/10
Check This: How to Read a Fish Finder Screen
Pros
Remarkable build quality
Great for casting
Good accuracy and usability
Portable
Comfortable cork handle.
Cons
Disassembling/reassembling the fishing rod isn't intuitive.
The crafting and design of the St. Croix Rods Triumph Spinning Rod wins praise, but what wins hearts is its remarkable performance. Measuring about 6'6" in length, the rod is made from SCIII carbon combined with the Fortified Resin System.

This combination gives this fishing rod a premium look and feel. More importantly, the combination adds to the durability of the rod, while also making it very strong. St. Croix says this rod is incredibly light, sensitive, and durable. I'm inclined to agree with their assessment.
The good length means casting with the rod is incredibly easy. It doesn't simply go far, it's also very accurate, which makes it a delightful companion on a fishing trip. Throw it where you want, and reel in your catch. It's almost as simple as that!
Its attention to detail continues on to the handle as well. It's made from cork and contoured to provide a better grip, being slip-resistant and comfortable. And it does feel comfortable in the hand. The cork base does a really good job of keeping the handle slip-resistant and comfortable.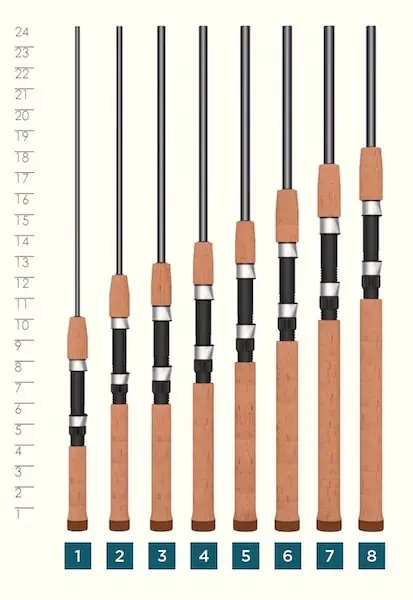 These little touches help solidify the fishing rod in its role as a premium, or better yet, a high-quality product. It's comfortable to hold, use, and even looks pretty good.
With all this going, St. Croix didn't miss the opportunity for portability either. If you intend to travel with this 78-inch fishing rod, you might desire a smaller package. Well, you can dismantle it into four pieces and fit it into a bag for easier portability.
While welcome, this feature is one aspect where the Triumph spinning rod struggles a bit. Disassembling the rod and then putting it back together feels almost like a chore. It's not intuitive and requires some effort.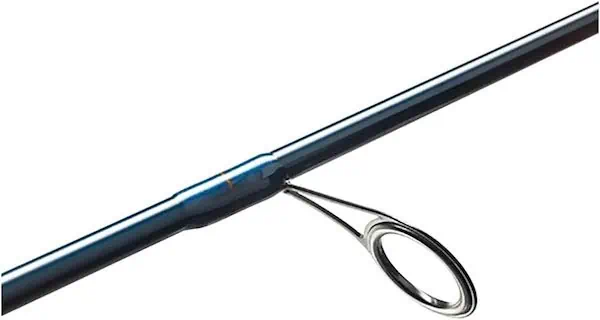 Overall, the St. Croix Rods Triumph Spinning Rod is a remarkable fishing rod that impresses with its build quality and usability. It's reliable, fun to use, and well-built. It struggles ever so slightly with portability and dismantling, but that's just a small hiccup in the grand scheme of the Triumph!
Our Ratings
Functionality: 9/10
Value for Money: 8.5/10
Construction: 9.5/10
Overall Rating: 9/10
Want a Good Smartphone to Take Pictures of Your Latest Catch? Check These:
Pros
Attractive pricing
Decent build quality
7-year warranty
versatile.
Cons
Casting distance suffers due to small rod
The handle is small.
If value for money is what you are looking for, you cannot go wrong with the Ugly Stik GX2 Spinning Fishing Rod. It's lightweight, cost-effective, yet very much capable of doing its job without a problem. Eventhough it's a bit small, it is strong and capable of enduring demanding use.
As a budget fishing rod, this one is made from a combination of graphite and fiberglass. The combination of these materials keeps the rod lightweight, without significantly compromising its structural capabilities.
That shows from the 7-year warranty you get. The company appears to really have faith in its design and construction. As in most cases, there are some limitations with the warranty, but overall, the warranty seems to be pretty reassuring.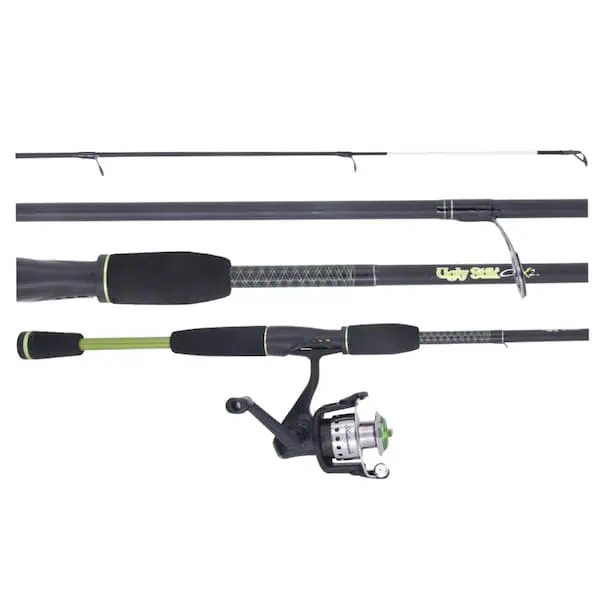 The line rating for the GX2 is 6-15 pounds. I think it can go a bit higher and the line certainly feels good enough for more, but it wouldn't be wise to push it beyond the listed rating.
The lure rating is 1/8-5/8 oz. And of course, despite the brand being named "Ugly Stik," the fishing rod isn't ugly to look at.
Well, it isn't winning beauty contests either, but it doesn't quite live up to the literal brand name, which is a relief!
The small fishing rod is sensitive and does a good job with different fishing styles, including dropping a hook or casting a lure. It uses stainless steel guides that are corrosion-resistant and helps increase the overall longevity of the fishing rod. Plus, the slip-resistant handle is a nice touch.
This budget rod however isn't without its limitations. Mostly, this comes down to the small size of the rod. Given the small size of the rod, the casting distance takes a hit.Similarly, though the handle is well-designed, it doesn't have enough room for using both hands.
You'll have to work with a single hand. While that's somewhat expected from a spinning rod, using both hands is often a necessity.
All things considered, the Ugly Stik GX2 Spinning Fishing Rod is a great buy if you're on a budget. It's well-built, decently durable, and fairly comfortable. The overall small size of the rod does present some problems, but they're not terrible options for this price.
Our Ratings
Functionality: 8/10
Value for Money: 9/10
Construction: 8/10
Overall Rating: 8/10
Check These:
Frequently Asked Questions (FAQs)
How long should my fishing rod be? A typical fishing rod length ranges from 6 to 12 feet. The best length for you largely depends on the type of fishing you're planning on and the location. For casting short distances in small streams, a 6-8 foot rod might be suitable, while for longer casts in larger bodies of water, a 9-12 foot rod would be ideal.
Can one rod handle all types of fishing? While some rods are versatile, no single rod is perfect for every type of fishing. It's essential to choose a rod based on the specific type of fishing you'll be doing most often.
What is the difference between casting and spinning rods? Casting rods are designed to hold baitcasting reels, which sit on top of the rod. Spinning rods, on the other hand, are built to hold spinning reels that hang beneath the rod. The type you choose is largely a matter of personal preference.
Why is the material of the fishing rod important? The rod's material affects its sensitivity, power, and flexibility. Most rods are made from graphite, fiberglass, or a composite of both. Graphite is more sensitive and lightweight, while fiberglass tends to be more robust and durable.
What is rod action and why does it matter? Rod action describes where a rod bends when you put pressure on the tip. Fast action rods bend in the top third, medium action in the top half, and slow action throughout the entire length. Your choice should align with your fishing style and the kind of lure or bait you intend to use.
How do I match my rod with the right reel? It's crucial to ensure that the rod and reel balance each other out. A heavy reel would make a lightweight rod tip-heavy and vice versa. When buying, always check the rod's line and lure weight recommendations to match them with a compatible reel.
Is a more expensive rod always better? Not necessarily. While pricier rods often offer high-quality materials and construction, there are plenty of budget-friendly options that deliver excellent performance. It's essential to assess your needs and research before making a purchase.
How can I maintain and care for my fishing rod? Regularly clean your rod with mild soap and freshwater, especially after fishing in saltwater. Store it in a cool, dry place, preferably in a rod rack, and always check for any signs of damage before use.
Does the rod's color influence fish attraction? While certain rod colors might be marketed as more "attractive" to fish, there's no scientific evidence to support this claim. The lure or bait's color and movement are more crucial for attracting fish.
Are telescopic fishing rods a good choice? Telescopic fishing rods can be an excellent choice for anglers on the go because of their portability. However, they may not offer the same level of performance as traditional rods. They're best for casual fishing or as a backup option.