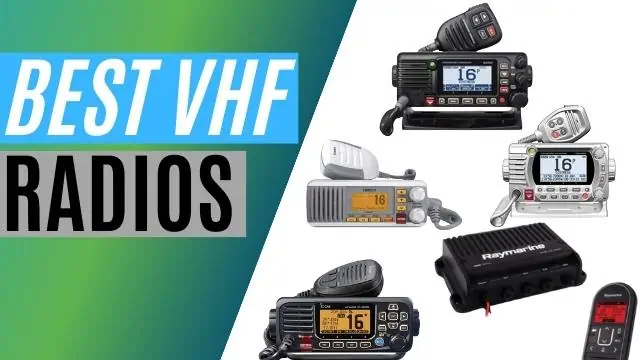 Best VHF Radio For Offshore Fishing in 2023
When leaving the shore, you want your boat to be equipped with the best VHF radio for offshore fishing. The radio makes it possible to connect to the coast guard, get information, or communicate with other boats.
Offshore fishing will often see anglers on water that can run 100 feet deep and more than 15 miles from the shore. In scenarios like these, it is sensible to have reliable communication equipment to connect with the Coast Guard or other boats in the area.
Marine radios run on VHF (Very High Frequency) and don't need a license to operate for recreational use. The law requires every boat over 65 feet to have a VHF marine radio. However, it makes sense for every boat to have a VHF radio onboard.
Let's take a look at the best options to buy before you head out to the waters next.
Top 3 Best VHF Radios For Offshore Fishing – Comparison Table
Best Premium VHF Marine Radio


Raymarine E70493 VHF Radio Ray 91


Best Budget VHF Marine Radio


active noise cancellation

Second station compatible

Commercial-grade build and electronics


Easy integration with other equipment
How We Picked The Best VHF Marine Radios
To pick the best VHF radios you want to take along for offshore fishing, we analyzed how they fare on necessary features, accessories, and general convenience for the marine environment.
Fixed mount VHF radios take preference over handheld VHF radios for offshore fishing. Considering the distance from the shore, a fixed mount radio is the better choice here. Handheld radios too have a purpose, but more as a means of quick communication between vessels, rather than with the shore.
Voice clarity is the backbone of any radio. VHF marine radios must exhibit excellent voice clarity to make it to this list. We prefer a proven track record of quality and the ability to sustain the initial clarity for the duration of a conversation. VHF radios with active noise cancellation gained preference for our list.
Moving on, even the most carefully handhled VHF marine radio can't escape contact with water forever. So waterproofing is a fundamentally important aspect. The list gives preference to VHF radios with a protection rating of IPX7 or higher. This way, we can be sure the radios survive contact with water.
Speaking of surviving water, handheld units that can float deserve more love. A marine radio may survive submersion but it may not be possible or convenient to retrieve one that sinks.
Another method we used for evaluating these radios is their ability to connect and work with additional accessories and functions. Handhelds with simple additions like a belt clip and wrist strap get more attention. NMEA interfacing, AIS, GPS, channel scanning, and DSC get a special mention for all VHF marine radios.
Safety features are a big part of the assessment. The law requires all fixed-mount radios to have a dedicated button for DSC (digital selective calling). Handheld VHF marine radios that include this feature are clearly reaching out for better features. Besides, the inclusion of better safety features is always advisable.
Features and accessories have their place but at the end of the day, the value for money makes or breaks a product. We analyzed whether a VHF marine radio and its features are worth the price tag.
Some features that got additional weightage are ease of use, easy setup, screen size and clarity, appearance and design, device weight, and dimensions. For fixed-mount radios, the ease of installation played a role too.
Check this: Best Garmin Fish Finders
Best VHF Radio For Offshore Fishing Reviews And Options
1. Standard Horizon VHF GX2400B – Editor's Choice
Type: Fixed-mount VHF radio | Waterproof: Yes, IPX8 | GPS: Built-in | Backlights: Display and keypad | Monitoring: Dual/triple watch function | Information: NOAA channels and alerts | Battery backup: – | Dimensions: 7.1W×3.1H×6D inches | Transmission Power: 1W up to Max 25W | Warranty: 3 years
Pros
Built-in 66 channel GPS receiver
Backlight for screen and keypad
Compact radio
IPX8 waterproofing
Compatible with NMEA2000 and NMEA0183
Active noise cancellation for transmitting and receiving
Second station compatible
Cons
Has a learning curve for those unfamiliar with this VHF marine radio
Users must separately buy an antenna compatible with VHF and AIS (no splitters)
The full setup and integration can get complicated
Standard Horizon has an impressive offering in the form of the GX2400. Its well-placed features and price tag make it our editor's choice as the best VHF radio for offshore fishing. This one's geared towards the recreational fishing segment and has just the right mix of features to be useful without going overboard on the pricing.
It's a compact fixed-mount unit and takes very little space. Yet, it sports a fairly large display with plenty of room for information. Large buttons flank the display and provide easy operation. The appearance is similar to other comparable models from the brand, including the GX2200 and GX2000.
On that note, I should point out that Standard Horizon GX2400 replaces the GX2200, which though an otherwise excellent unit, had some problems. Many GX2200 users complained about the trouble with managing alarms on the VHF radio.
That problem has been fixed on the GX2400. It also gets the option to go wireless with a second station and RAM4 units. The radio has room for wired connectors for this purpose. However, going wireless will require an additional purchase of the SCU-30 WiFi Module.
Whether you use a second station or the standalone unit, the voice quality remains impressive. The fixed VHF radio uses active noise cancellation technology to reduce background noises like engine noise and the sea. Even if the person transmitting doesn't have the best unit (or it's noisy there), you'll be able to get fairly good audio.
But modern marine radios do more than just transmit and receive audio. We need it to work with other gadgets on board as well! Playing with other equipment on-board comes easy for the Standard Horizon GX 2400 since it is NMEA 2000 and 0183 compatible. Being compatible with both standards gives it a wider range and use.
The compatibility comes in handy in practical settings too. Hook up this marine radio with a chartplotter and its AIS function (receive only) can display information on the larger screen. The AIS and Automatic MMSI Number Input features make the waters safer. If another boat gets uncomfortably close, the user can quickly contact them through the automatic MMSI input.
To keep communication convenient, the GX2400 transmits at a 1W power. If you need more, shift to 25W power for a longer range. The antenna will play a key role here and you need one that works with both VHF and AIS.
Other features include a 30W loud hailer with preprogrammed fog signals. Even with the hailer in use, the marine radio will continue to listen to one channel of your choice.
It can listen to NOAA weather channels and weather alerts. Also it is rated IPX8 waterproof, so it's fairly well protected against the elements.
On top of that it has a built-in GPS and in case the radio is mounted below deck or needs a more accurate signal, it can connect to an antenna.
Verdict
Standard Horizon GX2400 is a feature-rich and well-priced VHF marine radio. It checks most requirements for offshore fishing, but its setup will require a learning curve. This may not be the first choice for beginners.
Ratings
Transmit power: 9/10
Value for Money: 9/10
Functionality: 9/10
Waterproofing: 10/10
Overall: 9.25/10
2. Raymarine E70493 (Ray 91) – Best Premium VHF Marine Radio
Type: Fixed-mount VHF radio | Waterproof: Yes, IPX7 | GPS: Needs external GPS | Backlights: Yes, on handset only | Monitoring: Dual/tri watch function | Information: NOAA channels and alerts | Battery backup: – | Dimensions: 9.25W×2.48H×6.3 D | Transmission Power: 1W up to Max 25W | Warranty: 2 years
Pros
Excellent integration with other electronics, especially Raymarine Axiom line
High-quality build with unit housed in a solid aluminum box
Compact size
Compatible with NMEA2000 and NMEA0183
IPX7 waterproofing
Clear, good-quality audio
Second station compatible
Cons
No screen on the fixed-mount radio
Lacks GPS
The full accessories and setup set can get very expensive
Many people still call Raymarine by the Raytheon name, even though it has been nearly two decades since Raytheon sold the brand. What hasn't changed in all this time is the quality and the industry-leading innovation by the brand. Raymarine Ray 91 marine radio is a good example of this approach.
The radio comes packed with commercial-grade electronics that tout better performance and longevity. All of that is packed in a solid aluminum casing that makes the unit resistant to shock and vibrations, while also providing superior heat dissipation.
Raymarine Ray 91 is meant for use as an overhead unit. For that setup, it skips the display on the radio and instead includes a small screen on the handset. Simple buttons included on the handset make normal operations easy to handle.
Since the handsets hold control, they can monitor channels, send distress signals (DSC), and control the general operation of the marine radio. Meanwhile, the radio hides out of sight and saves space.
This setup, while interesting, isn't exactly novel. Raymarine's top competition (and perhaps better-known brand) Garmin too has competing options available. Garmin VHF 315 Marine Radio offers a similar setup at a lower price. The major difference between these two models is the build quality. Garmin's radio is packed in a conventional casing, which appears inexpensive as compared to Raymarine's aluminum body.
One aspect where Raymarine shines over its competition is the ease of integration of various offerings from the brand. While the Ray 91 will integrate with most compatible displays, it works like a charm with Raymarine's Axiom display.
Easy compatibility and setup make things easier for those more serious about offshore fishing. Convenient connectivity with systems like sonar, display, chartplotter, fish finder, radar, and VHF marine radio makes the offshore fishing experience a whole lot easier.
Raymarine's connectivity shows up admirably well in the Ray 91 as well. It is possible to build upon this system to cover a large ship.
The basic set includes the transceiver, a passive speaker, and the handset. You can set it up to be a multi-station intercom with wired or wireless connectivity, though additional accessories will need purchasing.
Ray 91 can support a speaker station and up to three wireless handsets. Each handset uses an induction-based DC charger to save space and for added convenience.
Many of the features of this radio depend on additional accessories. While the radio can receive AIS, it needs an MFD (multi-function display) to show the information. It has an onboard GPS, but it works best with the GA150 passive GPS antenna. The built-in loudhailer and fog signal generator work better with the optional hailing horn.
With such a focus on networking on connectivity, it's only natural that Ray 91 be compatible with NMEA2000 and NMEA0183.
Verdict
Raymarine Ray 91 offers commercial-grade electronics and build quality to recreational buyers. If you want a high-quality setup with good networking and compatibility, this radio is a great choice. However, its price tag and additional accessories might make you think twice.
Ratings
Transmit power: 10/10
Value for Money: 8.0/10
Functionality: 9.5/10
Waterproofing: 10/10
Overall: 9.5/10
3. Uniden UM385 – Best Budget VHF Radio For Offshore Fishing
Type: Fixed-mount VHF radio | Waterproof: IPX4 water-resistant | GPS: Requires external antenna | Backlights: Display and keypad | Monitoring: Triple watch | Information: NOAA channels and alerts | Battery backup: – | Dimensions: 6.4W×2.63H×5.12D (inches) | Transmission: 1W up to Max 25W | Warranty: Three years water protection warranty
Pros
Excellent price point
Simple to use
Good voice quality
Compact size
Backlight for screen and keypad
Cons
Only water-resistant, not waterproof (IPX4)
No automatic scanning for channels
If a low-cost, no-frills fixed-mount radio floats your boat, take a look at the Uniden UM385. This radio replaces a very similar model from the company, the Uniden UM380. Not much has changed between the two models, except that the UM385 gets a more contemporary look and has more compact dimensions.
To be precise, the height and depth have reduced, while the width has increased. So, the new model is more compact, if only ever-so-slightly. None of that is of much importance to this radio. All said and done, the biggest strength of this model is its low cost and the fact that it comes from a decent brand.
The domain of low-cost fixed-mount marine radios is pretty much in the hands of Uniden. The only viable competition to the value proposition for the UM385 would be the Uniden UM 435. Although the low price is an important asset for this VHF marine radio, Uniden UM385 is a fairly decent radio and a good one for offshore fishing.
It is capable of handling all major aspects of functionality and usage. For low transmit power, it starts at 1W, though if you need more juice, the power will go to 25W. Just be sure you've got the right antenna.
You'll also need an external input or GPS receiver. NMEA0183 compatibility makes it possible to connect or interface other devices with this radio.
Other notable features include NOAA weather scanning and alerts. A flashlight and emergency strobe light are built into the radio to deal with emergencies.
One troubling aspect of the Uniden UM385 VHF marine radio is the waterproofing or lack thereof. With a rating of IPX4, the device can handle a little splash of water or maybe a drizzle.
Depending on where they're installed, fixed-mount marine radios may not be at a big risk of getting drenched. Yet, there's always the risk of humidity, accidents (spillage), and several other factors when the boat is offshore. Better waterproofing is definitely desirable.
Verdict
Uniden UM385 is a decent, low-priced VHF marine radio that can work well with offshore fishing. The low cost also affects available features. The radio will need an external GPS receiver, there's no AIS, and the waterproofing leaves something to be desired.
Ratings
Transmit power: 9/10
Value for Money: 10/10
Functionality: 8/10
Waterproofing: 7/10
Overall: 8.5/10
4. Icom M330G 31 with GPS – Best Starter VHF Radio For Offshore Fishing
Type: Fixed mount VHF radio | Waterproof: Yes | GPS: Requires external antenna | Backlights: Display and keypad | Monitoring: Dual/tri watch function | Information: NOAA channels and alerts | Battery backup: – | Dimensions: 6.2W×2.6H×4.3 D | Transmission Power: 1W up to Max 25W
Pros
GPS receiver with external puck antenna for better accuracy
Backlight for screen and keypad
Good 25W transmitting power
Compact size
IPX7 waterproofing
Cons
Squelch and volume control are placed on a single knob, which can be confusing
Lacks man overboard function
Needs additional setup and antenna for GPS
When fishing offshore, you want a dependable and easy-to-use radio. Icom M330G 31 fits squarely into that space. This marine radio is compact, with dimensions of 6.2×2.6×4.3 inches (WxHxD), so it won't take up precious space while mounting.
Since it is a fixed mount unit, Icom M330G 31 Compact Basic VHF has access to a 25W transmitter. This allows the radio to have more reliable communication, which is beneficial when you're offshore. Backlight for the dot matrix LCD and the keypad means you can easily use the radio in low-light conditions.
Icom M330G is a successor to the M323G. Functionally, both models are nearly identical, though there are a few changes. M330G is more compact and has smaller dimensions. Also the mic/speaker has a dedicated button for Channel 16 and Icom M330G's display includes a quick note on the description of the channel it's currently on.
On the downside though the older M323G had a built-in GPS and M330G relies on an external puck antenna for GPS.
The interface has a simplified look through the use of soft keys and a directional keypad. This also includes a single knob handling volume, squelch, and power. In my opinion, that's a mixed bag. It can feel counterintuitive to handle the volume and squelch while working a single knob.
Other conventional features include access to NOAA weather channels and a dedicated Digital Selective Calling (DSC) switch for distress signals. The radio is IPX7 waterproof, thus it's capable of handling streams of water or being submerged. This is more than adequate for any radio, and more so for a fixed mount.
One feature I find especially interesting is the AquaQuake draining function. Using this feature sets off low-frequency sound waves near the speaker area. These waves can clear out water or moisture trapped in the speakers.
Verdict
Icom M330G offers reliable and remarkable features in an attractive, easy-to-use package and it's great especially for beginners. However, its GPS antenna has been designed for use with boats with steel or aluminum tops. If that's not your boat, you might be better off picking a unit with built-in GPS.
Ratings
Transmit power: 9/10
Value for Money: 8.5/10
Functionality: 9/10
Waterproofing: 10/10
Overall: 9.15/10
5. STANDARD HORIZON GX1850W – Best VHF Marine Radio For Easy Operation
Type: Fixed mount VHF radios | Waterproof: Yes, IPX8 | GPS: Built-in | Backlights: Display and keypad | Monitoring: Dual/tri watch function | Information: NOAA channels and alerts | Battery backup: – | Dimensions: 5.9W×2.6H×3.3D | Transmission: 1W up to Max 25W | Warranty: 3 years waterproof
Pros
Robust IPX8 waterproofing
Backlight for screen and keypad
Second station compatible
Compact size
Good voice quality
Noise-canceling microphone
Cons
Confusing setup with NMEA2000 and NMEA0183
No speaker on the mic
Standard Horizon GX1850G is a sibling of the GX2400, our editor's choice for the best VHF radio for offshore fishing. The similarity between both these marine radios is evident in their appearance and they do share several features even if the GX2400 takes the prize. Yet, the GX1850G is no slouch either.
GX1850 VHF radio replaces the Explorer Series models GX1600 and GX1700 from Standard Horizon's lineup. Although, to be clear the difference between these models is largely cosmetic. The new radio has better guts, updated software, and updated looks to match our contemporary style.
Although the style upgrade is the highlight, the radio continues with the stellar reputation of its predecessors. It's also well-placed compared to its competition, the GX2400 and Icom M330G.
Standard Horizon GX1850G is compact and yet, its dot matrix display is big enough to show a variety of information.
Now that we've discussed the design, let's talk about the features. Standard Horizon GX1850 radio is available in a few variants. Most commonly, there's the GX1850G or GX1850GPS. This simply denotes that the VHF marine radio has a built-in GPS.
The other variant doesn't have a built-in GPS and must rely entirely on external input. Although you can still use external GPS with the 1850G. Redundancy is a good thing!
For better voice quality, the microphone has noise canceling technology. Interestingly, there isn't a speaker on the microphone, so communication can feel a bit off.
Another weird aspect is its NMEA compatibility. The radio has connectivity with NMEA0183 and though it claims compatibility with NMEA2000, that part doesn't quite work well. Other than this little issue, the radio works pretty well and remains easy to operate for the average user.
Verdict
Standard Horizon GX1850G is a powerful, yet simple to use VHF marine radio. Its features make it a suitable choice for offshore fishing. However, if other gadgets on your boat (like GPS or MFD) work with NMEA2000, it might be better to look for a radio with better compatibility.
Ratings
Transmit power: 9/10
Value for Money: 9/10
Functionality: 8.5/10
Waterproofing: 10/10
Overall: 9.15/10
6. Uniden UM435BK Advanced Fixed Mount VHF Marine Radio
Type: Fixed mount VHF radios | Waterproof: Yes, IPX8 | GPS: No, needs external input | Backlights: Display and keypad | Monitoring: Dual/tri watch function | Information: NOAA channels and alerts | Battery backup: – | Dimensions: 6.58W×2.95H×5D | Transmitting Power: 1W up to Max 25W | Warranty: 3 years waterproof
Pros
Good value for money
Robust IPX8 waterproofing
Decent sound quality
Compact size
Simple to use
Cons
Numerous reports of quality control issues (backlights failing)
Possible issues with longevity
Uniden UM435BK is an excellent, compact fixed-mount VHF marine radio that offers great value. Much like its sibling (and in some ways competitor) Uniden UM385, the UM435BK offers excellent value for money in a no-frills setup. However, the UM435BK gets full IPX8 waterproofing, which is superior to the water-resistant UM385.
As features go, Uniden UM435BK is pretty much a run-of-the-mill VHF radio. It transmits at 1W low and 25W power for high and has convenient controls. The oversized knobs on the unit make it easy to manage volume and squelch. Well-placed buttons around the screen are easy to use and manipulate.
The VHF radio has a decent voice quality, though that also depends on the quality of the antenna on your boat. Apart from the voice, you will also need an antenna or another gadget to feed GPS information into the radio.
It doesn't have a built-in GPS, so it interfaces with another gadget to get the information. It is also NMEA0183 compatible with such interfacing and connections.
Tiny as the unit is, it will easily be at home in most boats, without being a space hog. Connectivity and handling of the radio are easy enough to even allow newbies to use it for communication.
The only troubling aspect about the Uniden UM435BK are the consistent complaints related to product quality and management.
Many buyers have found that their radios had no backlight right out of the box. While some say the backlight went out pretty soon. Corners might be cut to keep the price low, but failure in brand-new devices is disconcerting.
Verdict
Uniden UM435BK is a good VHF radio for offshore fishing. It is compact, has good value for money, and has a simplicity of use. However, there are persistent complaints that point towards poor quality control, or a design issue with the backlight.
Ratings
Transmit power: 9/10
Value for Money: 9/10
Functionality: 8.5/10
Waterproofing: 10/10
Overall: 9.15/10
7. ICOM M94D – Best Handheld VHF Radio For Offshore Fishing
Type: Handheld VHF radio | Waterproof: Yes | Floating: Yes | GPS: Built-in | Backlights: Display and keypad (adjustable)| Monitoring: Dual/tri watch function | Information: NOAA channels and alerts | Battery backup: Up to 10 hours | Dimensions: 2.4(W)×5.7(H)×1.7(D) in | Transmitting Power: 1W up to Max 6W | Warranty: 1 year
Pros
Includes AIS, even as a handheld unit
Excellent battery life
Active noise cancellation for transmission and receiving
Adjustable backlight for easy use
Floats on water and has IPX7 waterproofing
Cons
Icom M94D feels bulky and is almost twice as thick as conventional VHF marine radios
The included AIS can sometimes feel too basic or stripped down
Icom presents the M94D as "a world first." In a sense, this is true, mainly because this is the first handheld radio that includes Automatic Identification System (AIS). So far, AIS has been the domain of commercial shipping and is generally limited to fixed-mount radios.
Unfortunately, it's not all rainbows. The AIS on the handheld radio can feel a bit basic and may parse vessel names from their IDs.
Nevertheless it's an excellent technology that makes the waterways safer for everyone, so its inclusion in a handheld for the general consumer is worth some praise. The VHF radio also includes a dedicated distress button at its back, which activates DSC.
All these features put the Icom M94D ahead of its predecessor, the IC M93D marine VHF handheld. While the latter is an excellent handheld VHF marine radio, the new M94D does it better!
The M94D draws power from a 2400 mAh Li-ion battery for up to 10 hours of use. By comparison, the M93D has a 1570mAh Li-ion battery for up to 9 hours of use. Plus, the new model includes AIS, which is quite a feat.
More features play into making the Icom M94D the best handheld VHF radio for offshore fishing. Users can place up to 50 waypoints to mark fishing spots. This makes it very easy to return to your favorite spot for fishing. It's also possible to use these waypoints to send the man overboard distress signal.
Safety appears to be an important consideration for this handheld VHF radio and that's a welcome focus. The radio has a large easy-to-read screen that shows off information clearly. A backlight lights up the LCD and keypad for easier use. What's more, users can even adjust the backlight to match their preferences or account for the time of day.
Staying true to its premium feel, the radio brings greater clarity with the inclusion of active noise canceling. It will remove the background noise from any message you send and clear up the audio you receive.
Crystal clear communication makes a world of difference. It feels great to hear messages without straining ears or to speak without worrying that the background noise will drown out your own voice.
Other notable features include the AquaQuake and Float'n Flash. Should the radio fall off into the water, it will float on the surface. Additionally, its screen will flash to create the effect of a strobe light and make the handheld unit easier to locate. The light comes on even if the radio is switched off.
If you press the distress button while the Float'n Flash is active, the radio automatically sends off a MOB signal. Neat!
The default transmit power for this offshore fishing radio is 1W. But if you need more power, it can go up to 6W.
Ratings
Transmit power: 9/10
Value for Money: 8.5/10
Functionality: 10/10
Waterproofing: 10/10
Overall: 9.75/10
8. Cobra MR HH350 FLT – Best Entry-Level Handheld VHF Marine Radio
Type: Handheld VHF radio | Waterproof: Yes | Floating: Yes | GPS: None | Backlights: Display and keypad | Monitoring: Tri watch function | Information: NOAA weather channels and alerts | Battery backup: Up to 16 hours | Dimensions: 4.8H×2.4W×1.4D inch | Transmission: 1W, 3W, and 6W
Pros
Excellent price point
Works with rechargeable lithium-polymer (LiPo) batteries
Basic, easy to use radio for offshore fishing
Three power levels for transmitting
Excellent battery backup
Floats on water
Cons
Questionable longevity
The waterproofing struggles with reliability
Cobra MR HH350 FLT is a simple yet powerful handheld marine radio. Though priced competitively, it manages to have enough features and functionality to be one of the best VHF radios for offshore fishing. This compact radio has tiny dimensions and will easily fit into a pocket without weighing it down.
While I prefer the pocket, the VHF radio includes a belt clip and wrist strap for easier handling. The battery power of this radio feels remarkable. The lithium-polymer battery can go on for almost 16 hours.
As transmission power goes, Cobra MR HH350 FLT isn't impressive, but it's practical. It has three power modes; low at 1W, medium at 3W, and high transmits at 5W. Though the range of all VHF radios is constrained by line of sight, this one might sometimes fall short. It feels like seven miles is a more useful descriptor for its range.
Cobra has included a tri-watch feature to monitor various channels of communication. One of these is Channel 16 and the other two are customizable.
The cost of this radio is one of its biggest assets. This balancing of pricing and features makes it a great value proposition. Cobra pretty much has this price band held tight with a rather interesting range of handheld marine radios.
There's the cheaper Cobra MR HH150 and the more expensive (than HH350) Cobra MR HH 450 and HH500. Cobra MR HH150 is a small radio built with low pricing in mind. With Cobra MR HH350, the pricing and quality get in tandem and you get a fairly impressive unit. The specs get even better with the two higher-priced models.
Cobra MR HH350 FLT is a waterproof radio with IPX7 rating and it can float on water. Couple that with the bright orange core and it becomes easy to retrieve the radio should it fall into water. It doesn't quite have the water-activated strobe lights like the Icom M94D, but the bright color is a decent-enough indicator in the day.
The radio uses a noise reduction technology with the microphone to keep the transmitting voice quality at its best. This also involves drowning out (or blocking) background and engine noise.
Verdict
Cobra Marine Radio MR HH350 FLT is suitable for most requirements and has an attractive price tag. It's a great pick for recreational fishing, especially for groups traveling in two or more boats and wanting easy communication options. That said, the feature set of this radio leans towards entry-level and relatively new users. This isn't a powerful radio with high-end features (and it doesn't claim to be)!
Ratings
Transmit power: 9.5/10
Value for Money: 9.5/10
Functionality: 8/10
Waterproofing: 8/10
Overall: 8.5/10
9. STANDARD HORIZON HX890BK – Best Handheld VHF Radio For Voice Quality
Type: Handheld VHF radio | Waterproof: Yes, IPX8 | Floating: Yes | GPS: Built-in | Backlights: Display and keypad | Monitoring: Dual/tri watch function | Information: NOAA weather alerts | Battery backup: Up to 11 hours | Dimensions: 5.43H×2.6W×1.5D inches | Transmission Power: 1W, 2W, and Max 6W | Warranty: 3 years waterproof
Pros
Loud audio and noise canceling function
Rugged case built to military standards (MIL-STD-810F)
Excellent waterproofing (IPX8)
Floats on water
Built-in GPS receiver
Works with Li-ion battery or five AAA batteries
Three power levels for transmitting
Built-in distress signal (DSC)
Built-in scrambler system for better privacy
Cons
The radio is a bit bulky and heavy
Clunky and difficult to navigate interface
Seems to struggle with reception sometimes
A quick glance at the list of features, and you'll notice that the Standard Horizon HX890BK is jam-packed with features, options, and offerings. The radio tries to pack in a lot of things into a decently-priced package.
The portable marine radio comes with a full dot matrix display, built-in GPS, DSC, scrambler system, noise cancelation, and a lot more. Heck, they even threw in FM radio to bring some entertainment while you're on the water!
While the availability of FM radio during offshore fishing is debatable, anyone on a boat will get plenty of chances to tune into their favorite station. The transmission is as interesting with three power levels available. Users can transmit at 1, 2, or 6 Watts.
With this setup, it's easier to manage the distance your signal will travel. You can focus on the conversation you want to have, rather than adding to the general traffic of airwaves over a wide area.
The noise cancelation system makes sure that you transmit a clear signal. Unfortunately, it looks like the radio has a tough time handling reception. In some cases, a cheaper radio might be better at picking signals than this one!
I believe this is symptomatic of a problem with this VHF marine radio – it tries to do everything! While it has a long list of features, the interface feels clunky, slow, and overcrowded. There's also the fact that the Standard Horizon HX890BK tends to be on the bulkier side of marine radios.
While there are criticisms, the radio isn't short on redeeming qualities either. Should it fall into the water, the radio floats to aid with an easier recovery. Couple that with its IPX8 waterproofing, and you know the radio won't be damaged in the time taken to retrieve it.
Another impressive feature here is the battery life. Standard Horizon HX890 works off a lithium-ion battery that can provide juice for up to 11 hours and is quick to charge. Your radio doesn't need to be out of commission or tied to a charging dock once the battery power runs out. It can draw power from five AAA batteries and stay in action for several hours.
Verdict
Standard Horizon HX890 is a quality marine VHF handheld radio with a lot of features and excellent build quality. With all the features it carries, the radio seems to be less focused on its core qualities. The more discerning users might prefer something with more focus and a clean interface.
Ratings
Transmit power: 9.5/10
Value for Money: 9/10
Functionality: 9/10
Waterproofing: 10/10
Overall: 9.5/10
Buyers Guide: Choosing The Best VHF Radio For Offshore Fishing
With the wide range of options and features available, how do you choose the best VHF marine radios for offshore fishing? There are a few key features to look at and as long as you have a handle on them, you're on your way to picking the right option.
Let's get a closer look at the details.
Transmit Power For The VHF Radio
VHF stands for very high frequency electromagnetic waves. The radios function as transceivers, converting voice to waves during transmission and decoding waves back to sound during reception. As such, the transmitting power of the radio plays a key role in deciding how far this wave will travel.
Fixed radios typically have access to a higher transmit power and can go as high as 25W. Handheld marine radios usually offer limited power and top out at 6 Watts. On the other hand, handhelds allow freedom of movement.
While power is an important consideration, remember that marine radios will latch on to the most powerful signal they receive. In many cases, when the conversation is over a short distance, the recommended power setting is at 1W. All marine radios are capable of transmitting at this power.
But the power and range of even the best VHF marine radio aren't directly proportional and other factors will affect how far the signal travels. So let's look at the effective range for these radios.
Range Of The Marine VHF Radio And Line Of Sight Communication
By its very nature, VHF communication is limited to line of sight. The distance the waves travel will be affected by the presence of obstacles. Hence, the open water is a good place to use these radios. There is a distinct lack of obstacles blocking the signal, so it can travel to its maximum distance.
Often, we take advantage of the Earth's curvature to transmit the signal further. This can involve the use of a high-gain antenna with a higher transmit power on a good VHF radio (usually a fixed mount). The choice of the antenna varies as well:
Sailboat antennas are 3-foot or 4-foot with 3dB gain
Powerboat antennas are 8-foot with 6dB gain
Larger, long-range crafts can use a 16+ foot antenna with 9+ dB gain
That said, the VHF radio is best-suited for short-range communication. As a general rule, a good handheld marine radio will have a range of 5-10 miles. More powerful setups can hit about 20 miles. If your goal is to reach the coast guard, their high-powered setup might help move things along.
Speaking of the coast guard, it's time we talked about MMSI, distress calls (DSC), and GPS.
GPS And Distress Signals – The DSC Is Necessary For Safety
Practically all marine radios manufactured in the last few years include DSC (digital selective calling) for distress calls. It is legally mandatory for all fixed mount radios to include this function, though many handheld devices too include it.
When someone hits the DSC button, the information on the distress signal is carried to the coast guard. DSC transfers information digitally and is not limited to voice. For example, if a radio is connected to GPS, the coordinates will be automatically and digitally carried with the signal.
A DSC enabled device will retransmit any signals on the emergency channels. Therefore, the effective range of the signal goes beyond that of normal VHF communication. Of course, this assumes there's at least one more boat (rather, radio) in the vicinity that can receive and retransmit the information.
Encoded in the distress signal is the unique Maritime Mobile Service Identity (MMSI) number of a boat. This way, the coast guard knows which boat is in trouble, even if they receive a signal that has been retransmitted several times.
Note that the MMSI number identifies a boat, not a particular gadget. If your boat has a fixed-mount as well as a marine VHF handheld radio, they should all have the same MMSI.
Getting A Maritime Mobile Service Identity (MMSI) For Your Radio
MMSI numbers are generally issued to recreational boaters on a vessel less than 65' and who will remain within US waters. Recreational boaters requesting this number shouldn't be required by law to have an FCC Ship Station license.
Assuming these conditions are satisfied, recreational boaters can get an MMSI through approved organizations like BoatUS and US Power Squadrons.
FAQs Related To VHF Radio For Offshore Fishing
Do I Need A License For A Marine Radio?
Conventional marine VHF radios used for recreational purposes don't need a license from the FCC or any other organization. In fact, several gadgets used during recreational offshore fishing don't need a license. These include marine radios, EPIRB, radars, GPS, and depth finders.
How Far Can A 5 Watt VHF Radio Transmit?
Under normal circumstances, a 5 W VHF radio can transmit for roughly five nautical miles (5.7 miles). Usually, it is a handheld marine radio working at this power. Some handheld VHF marine radio units transmit at 6W. In this case, the transmit distance is about 6 nautical miles.
There is no absolute fixed range since the distance can depend on ambient conditions and other external factors (including antennas). Even the most careful VHF marine radio reviews can't come to an exact answer. So, as a general rule of thumb, it's expected a transmission will cover one nautical mile for every watt.