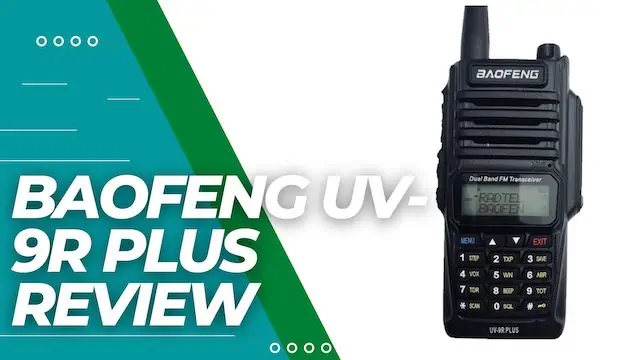 Baofeng UV-9R Plus Honest Review
Baofeng UV-9R Plus is an entry-level radio with rugged construction. The highlight here is the IP67 waterproofing, which means the radio can survive being submerged in water.
That's a rarity at this price point and adds another value element to this radio. As with most devices at this price range, Baofeng UV-9R Plus may not be the most resilient. However, at the very least, you won't have to worry about the radio getting bricked should you be caught in the rain.
Much like its price point, Baofeng UV-9R Plus has a fairly basic design. There's a large speaker at the top, followed by a small screen, with buttons rounding up the front. On its back, the radio has room for a 360° rotatable belt clip.
The sides are pretty well crafted and it's easy to get a good grip on the radio. On the top, you'll find the antenna, LED flashlight, and the dial to change channels. It's really easy to use no matter the situation.
The physical interface is fairly simple and conventional. Although, it is still well-proportioned and made in a way that the radio is easy to hold and manage in your hands.
Pros
Attractive pricing.

Decent sound quality.

Feels good in hands.

IP 67 waterproof.
Cons
Some misrepresentation of features and capabilities.

Requires specialized programming cable.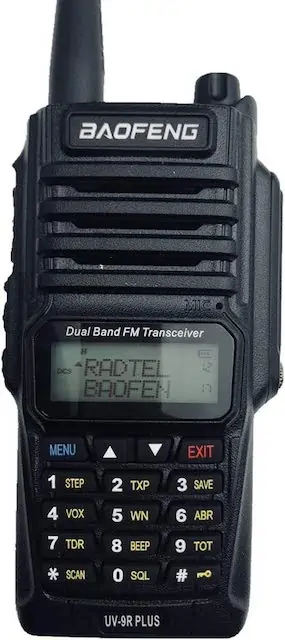 Comparing Features
Baofeng UV-9R often gets compared to the Baofeng UV-82. Both radios look rather similar and have high RF power.
The claimed output for both radios is 8W, with similar battery capacity. To be specific, the UV-9R Plus draws power from a 2200 mAh Li-ion battery, while the UV-82 is powered by a 2800 mAh battery.
Practically speaking, both radios are similar in how they work. The UV-82 has the edge because it uses Baofeng's standard programming cable, while the UV-9R Plus requires a special cable, which adds to its cost and usability.
One factor that tips the balance in favor of the UV-9R is its waterproofing. Baofeng UV-82 has no notable water resistance qualities.
Another point of comparison for the radios was the power output. Though both claim 8W RF output now, the claims used to be much higher (and taller) until about a year ago.
For example, in some cases, Baofeng UV-9R Plus was sometimes advertised with a claimed RF output of 18W and a battery of 8000 mAh. This was, and with some sellers, still continues to be, a misrepresentation of the capabilities of this radio.
Battery and Significant Functions
With the filing of this radio with the FCC, the power and battery claims became more reasonable. Although, it's still not exact.
Though the high power level is claimed as 8W, the RF output practically still hangs around 5W. In my opinion, the power output isn't the bad thing here. The problem lies with the exaggeration, even if it's been reduced to be more reasonable.
As such, the low and high power options available are 1W and 5W.
Baofeng UV-9R Plus is a dual band radio with dual display and dual standby functions. It can also work for relay forwarding. The sound quality for this radio is fairly decent and does justice to the large speaker area.
Its battery power is sufficient to keep this radio running for a day of work. Should the battery start running low, you can use a battery saving feature to stretch out the time by a little bit. Similarly, the presence of the low battery warning ensures your radio won't suddenly quit on you.
Other notable features include priority scan, VOX, and emergency alarm.
A very annoying feature is the event in which you'd like to program this radio. It needs an additional specialized programming cable to work with Chirp, which is an additional expense and a needless complexity.
Ratings
Functionality: 8
Reliability: 7.5
Value for Money: 8
Battery: 7.5
Overall Rating: 7.5