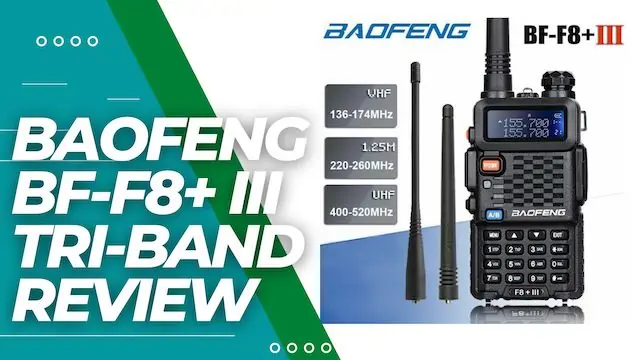 Baofeng Bf-F8+ III Tri-Band Honest Review
As appearances go, Baofeng Bf-F8+ III Tri-band looks very similar to the better known Baofeng UV-5R or even the Baofeng F8-HP. The difference though, lives in the change in its innards and in its antenna.
This radio doesn't use the same chipset as the Baofeng UV-5R. Instead, it goes with the more advanced chipset of the Baofeng UV-82. This small touch makes a notable difference in the overall performance of the radio.
Baofeng Bf-F8+ III tri-band radio is, as its name implies, a tri-band radio. It covers the VHF, UHF, and 220 MHz bands. And as with all low-cost tri-band radios, it presents the user with a unique problem – working with two antennas.
Pros
Attractive pricing.
High power RF output up to 8W.
water-resistant (splash proof).
Works well on all three bands.
Cons
Need to shift between 2 antennas for tri-band function.
Can be difficult to read the screen in sunlight.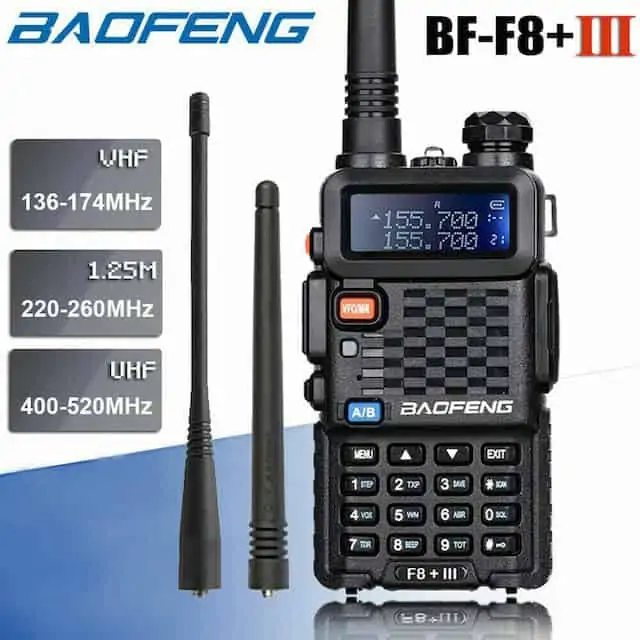 Antenna Functions
One antenna handles the VHF/UHF functions (dual-band). And if you'd like to transmit or receive on the 220 MHz band, you'll have to use a different antenna. Of course, this also means that when you're on the 220 MHz setup, the VHF/UHF bands are not available.
Well, that really takes the fun out of a tri-band radio. Switching antennas for switching bands is too much of a hassle and even impractical. A better solution is to use a tri-band antenna.
Baofeng Bf-F8+ III tri-band includes only the two antennas in the box. So, users will have to purchase a tri-band antenna by themselves. Baofeng conventionally utilizes the Abbree AR 771 tri-band antenna for this purpose.
However, if you're buying one, you might as well spend money on a better antenna. A Nagoya tri-band antenna would do just fine, even if it's more expensive than Abbree's offering. Keep in mind, tri-band antennas are significantly taller than conventional dual-band antennas.
In my opinion, this small jump in cost more than justifies itself with the more convenient use of the tri-band radio and better overall performance.
Evaluating Performance
When in use, the radio shows a remarkable similarity to the Baofeng UV-5R in features, setup, and programming. That shouldn't be a surprise considering that these radios have a lot in common and use the same menus, albeit suited for their specific models.
Moving beyond tri-bands, this radio has also managed to get some attention thanks to its claim of 8W output power. Baofeng Bf-F8+ III tri-band radio makes an attempt to hit this power output, but as with most radios in this category, the radio's RF output struggles to hit the advertised power.
The maximum power hovers around 6W, which is pretty decent. In its low mode, the radio works on 1W power.
As for battery capacity, Baofeng has placed an 1800 mAh battery within the Baofeng Bf-F8+ III Tri-Band. The battery is good enough to get the radio through the day. Though if you expect heavier use, it's a good idea to buy an extra battery, or for that matter, a battery with higher capacity.
The package also includes an earpiece and belt clip. The earpiece is nothing special and most users end up buying a new one to better suit their needs. As for the belt clip, it is fairly standard and does its job as expected.
Ratings
Functionality: 8/10
Reliability: 7.5/10
Value for Money: 8/10
Battery: 7/10
Overall Rating: 7.5/10