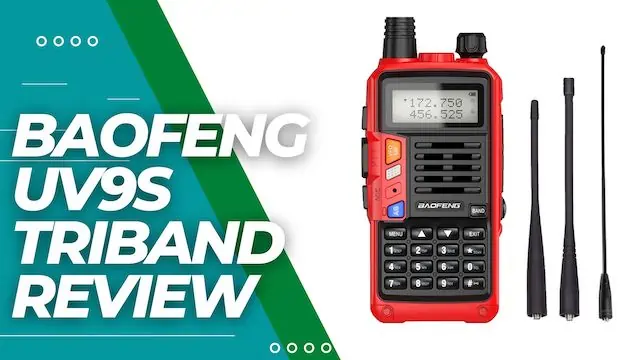 Baofeng UV9S Triband Honest Review
The Baofeng UV9S Triband is an excellent example of the messed-up model naming system of Baofeng. It is generally known as the Baofeng UV9S and occasionally as Baofeng UV-S9X3. The only difference between these two models appears to be that a tri-band antenna is included with the UV-S9X3.
Usually, there are two antennas included in the Baofeng UV9S package. So, if you're switching bands, you'd also have to switch antennas. One of the included antennas works on the 136-174 MHz and 400-520 Mhz frequency range. The other handles the third band of 220-225 MHz.
Several low-cost tri-band radios follow this approach, though it's usually recognized as being unhelpful. To that end, there are often specific packages like the Baofeng UV-S9X3, which include a third antenna to handle tri-band communication.
The tri-band antenna included with this radio is the Abbree AR 771 tri-band antenna. This antenna is Baofeng's preferred choice for its tri-bands.
That's likely because this antenna is cost-effective, even if it fails to impress with its performance. But as long as you're satisfied with an antenna that simply works with the three bands, it's as good a choice as any. If performance is the key, and you want a solid long-range option, look to another antenna.
Pros
Attractive pricing.
Decent sound quality.
Works well on all three bands.
Lightweight and convenient to carry.
Cons
Difficult to program.
Packaging doesn't include a programming cable.
Placing it in the charging cradle requires some effort.
Tri-band antenna included only with specific packages.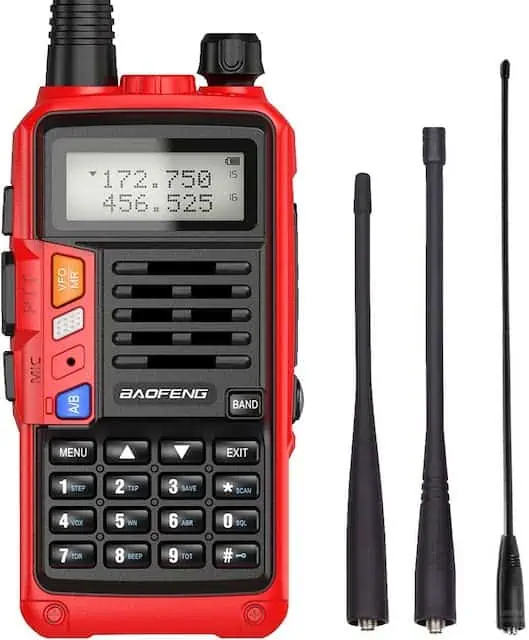 Programming and Performance
One pain point with this radio is its programming. The cable included in the packaging doesn't work out for programming, so you'll have to purchase another cable. But the problem doesn't end there.
Baofeng's software doesn't work with the Baofeng UV9S Triband. The programming for this radio should be handled with CHIRP. Even with chirp, you'll have to set it up as the Radioddity UV-5R Triband. In some ways, Baofeng UV9S is pretty much the same as Radioddity UV-5R triband, though in a different body.
As such, you might want to look at Baofeng x Radioddity UV-5RX3 Tri-band Radio if what you really want is a tri-band option. This radio has better tri-band performance and audio than the UV-9S.
On the downside, UV-5RX3 has a battery capacity of only 1500 mAh, which is significantly lower than the 2200 mAh on UV9S.
Another capable radio in this setup is the BTech (BaofengTech) UV-5X3. In appearance and basic features, it is the same as the Radioddity Uv-5Rx3. However, the Btech model has a few additional features.
Btech UV-5×3 can decode DTMF tones, scan frequency ranges in VFO mode, and can edit the memory for scanning using the keypad. Baofeng UV9S Triband doesn't have any of these features.
However, the Btech UV-5×3 is significantly more expensive than the UV-9S and Radioddity UV-5Rx3.
Battery and Connectivity
Basically, the only part where Baofeng UV9S Triband has an advantage over its competition is its larger battery capacity.
Its 2200 mAh battery is fairly quick to charge and can handle multiple charging options. These include using a wall adapter, power bank, USB connector, or using a cradle.
On that note, the cradle included with the package doesn't seem to be the right fit for Baofeng UV-9S. It often needs some tinkering to properly align the charging points on the radio with those on the cradle.
All things considered, Baofeng UV-9S Triband is a decent radio if you know what you're getting into. It's a cost-effective tri-band HT radio and that's all you should expect from it!
Ratings
Functionality: 7.5
Reliability: 7
Value for Money: 8
Battery: 7.5
Overall Rating: 7.5