Top 3 Best Mobile Network Radios In 2023
Looking for the best mobile network radios?
You've landed at the right spot! In this blog post, we'll delve into the top three mobile network radios available on the market, catering to a variety of needs and budgets.
We'll discuss everything from pricing to feature sets, enabling you to pinpoint the perfect device for your requirements. Whether you're an avid traveler, an off-grid explorer with a need for an emergency radio, or a long-distance truck driver, there's bound to be a mobile network radio tailored just for you!
Our Top 3 Picks
ANYSECU W2 Plus Network Radio N60 – Our Top Choice
Inrico TM-9 4G – Best Premium Mobile Network Radio
KSUN ZL50 – Best Budget Mobile Network Radio
Why Should You Trust Us?
At WhollyOutdoor, we pride ourselves on our commitment to providing honest, objective, and educational reviews. Our founder and editor, Paul Dudley, is an outdoor enthusiast with a passion for ham radios and fishing. His hands-on experience with outdoor gear, combined with our team's dedication to thorough research, ensures that our reviews are grounded in real-world use and comprehensive analysis.
Since our inception in 2018, we've been steadfast in our mission to guide our readers in making informed decisions about their outdoor gear. We understand that each individual has unique needs and budgets, and we strive to cater to this diversity in our reviews.
Our evaluation of mobile network radios is no exception. We've considered a wide range of factors, from pricing and reliability to user-friendliness and customer reviews, to bring you a well-rounded perspective on the best options available.
We value the trust you place in us and are committed to upholding the highest standards of integrity in our reviews. We hope you find our insights helpful and encourage you to reach out with any questions or comments. Your feedback helps us continually improve and serve you better.
Our Selection Criteria for the Best Mobile Network Radios
To identify the finest mobile network radios, we evaluated multiple factors. Firstly, we assessed the pricing, as nobody wishes to overspend on a device. Secondly, we scrutinized the reliability and audio clarity of each radio.
These attributes are vital as they ensure a consistently clear communication experience, even in challenging conditions.
We also considered the range of features provided by the devices, such as the operating system, connectivity capabilities, and any additional functions that enhance user experience.
Furthermore, we factored in ease of use, recognizing the importance of a user-friendly device that won't cause unnecessary complications. Lastly, we took into account customer reviews, as firsthand experiences offer invaluable insights into a product's performance.
With that said, let's dive into our carefully curated selection of the top three mobile network radios on the market.
Best Mobile Network Radios Reviews
Pros
Excellent build quality
Heft and convenience of the microphone
Ergonomic design
Good speaker quality
Large, fully-featured touchscreen
Ease of use.
Cons
A newer Android OS would be nice
The instruction manual isn't very helpful
The Android device could have better specs.
ANYSECU W2 Plus Network Radio N60, has won our hearts as the top choice for mobile network radios. So, let's dive into this incredible device and see what it has to offer!
First off, the build quality of the ANYSECU W2 Plus is exceptional. It feels sturdy and built to last, which is exactly what you want in a mobile network radio. The microphone also has a great heft to it, with a satisfying tactical feel on the PTT button, making it feel comfortable in your hand.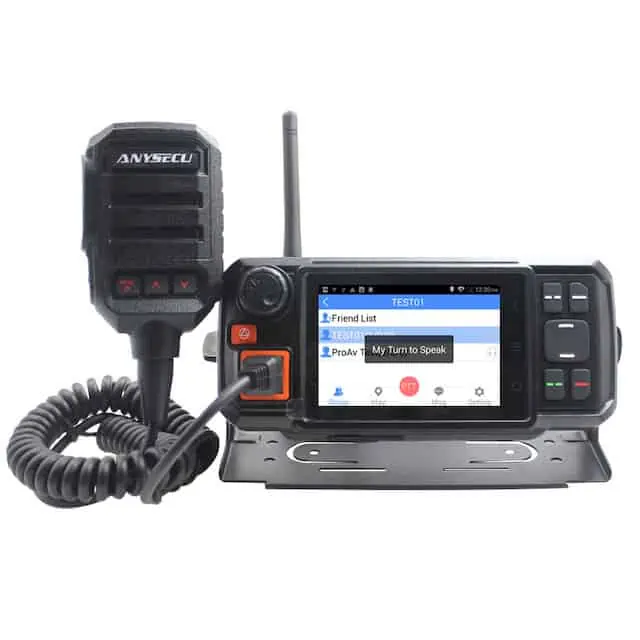 Now, since this is a mobile radio, it comes with mounting brackets for both the radio and the microphone, making it perfect for on-the-go use. Let's take a look at the overall design, starting with the back of the radio. We've got two antenna connectors here: one for the GPS antenna and another for the 4G/LTE antenna. Interestingly, the GPS antenna comes with a cable, while the 4G antenna connects directly to the unit.
The radio also has a covered USB port, headphone jack, and a DC power input at the back. The front of the radio features a large screen with buttons and knobs on either side. You've got the power and volume button/knob combo on the top left, and the RJ45 connector for the microphone right below it. On the right side, you'll find a collection of buttons, including the up/down button, disconnect/screen lock button, dial/PTT button, and the back and confirm buttons.
The mic also has most of these buttons, along with several numeric keys. You can use these buttons like a conventional radio, or take advantage of the touchscreen display and manage it like an Android device – because that's exactly what it is!
Speaking of Android, the ANYSECU W2 Plus runs on Android 7 (Nougat) with 1 GB RAM and 8 GB of storage. Now, these specs may be outdated for a smartphone, but they're more than enough for a network radio. Plus, there's a microSD card slot for extra storage if needed.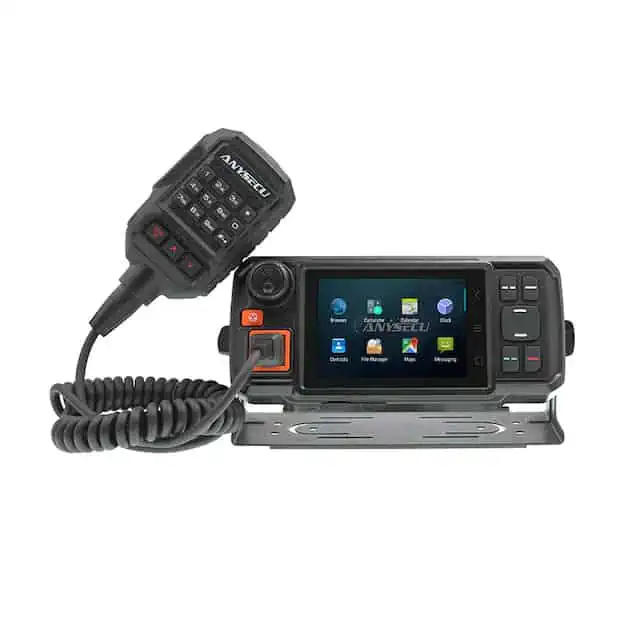 This radio comes pre-installed with Zello PTT and Real PTT apps, so you can choose your favorite. And if you're looking for other apps, just head on to the PlayStore and download what you need. The device is compatible with EchoLink, Peanut, and other similar apps that you may prefer.
Overall the ANYSECU W2 Plus is a fantastic mobile network radio with outstanding quality and features. If you're in the market for a new radio, this is definitely one to consider.
Our Ratings
Features: 9/10
Reliability: 9/10
Value for Money: 9/10
Audio Clarity: 9/10
Display: 9/10
Overall Rating: 9/10
Pros
Stellar build quality
Microphone compatibility with Motorola and other devices
Impressive speaker quality
Large, user-friendly touchscreen
DB25 port for additional accessories
Overall ease of use
Cons
Outdated Android OS and basic specs
No USB connectors
For our 2nd pick we have the Inrico TM-9 4G which is our choice as the best premium mobile network radio.
This bad boy is a perfect blend of top-notch build quality, a large touchscreen, and compatibility with a bunch of accessories.
So, let's dive right into our review. This radio merges the Android OS with a classic mobile radio, making it a powerful and versatile gadget.
When you look at it, the large touchscreen and speaker steal the show, while small buttons are neatly tucked to the right side of the screen. To the left, you'll find the power and volume knob combo, an SOS button, and a microphone connector that's compatible with Motorola and other RSM Interface palm mic style microphones.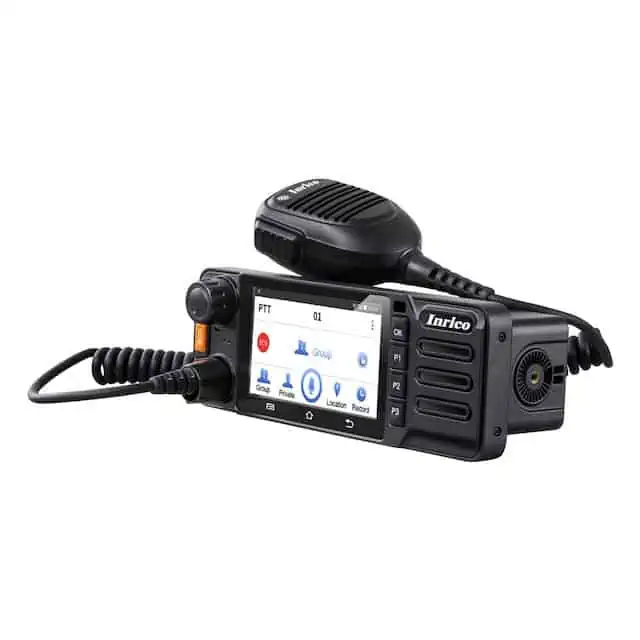 The 5-watt speaker on this baby is LOUD and CLEAR! The audio quality is top-notch, and while it works great on its own, you can always connect external speakers for that extra oomph.
Now, let's talk about the screen. The 4-inch touchscreen is bright and displays everything crisply. Android users, you'll feel right at home navigating through the settings and information on this screen.
The Inrico TM-9 runs on Android 7.1, meaning you can download apps from the Play Store or other Android-compatible marketplaces. The specs might not blow you away with 1GB RAM and 8GB storage, but hey, it's a network radio, and it gets the job done!
It comes pre-installed with the Zello PTT app, but you can add or remove apps as you please. For the radio enthusiasts out there, this radio's compatibility with the International Radio Network (IRN) is a real treat! Just remember that you'll need a ham radio license to access live ham radio repeaters.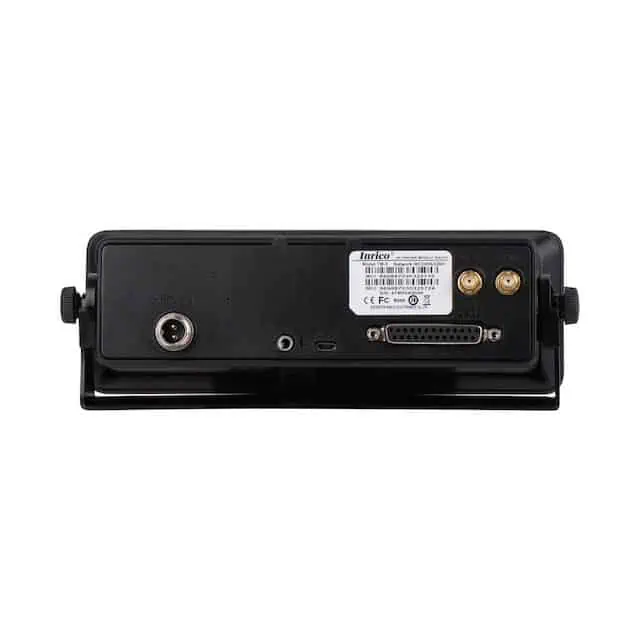 You can use any compatible sim card with this network radio, supporting 4G/LTE, 3G, and GSM. It even has a dual sim card slot and a TF card slot for added storage. No sim card? No problem! Connect to a WiFi hotspot on your mobile phone, and you're good to go. This radio also has Bluetooth for connecting additional accessories.
On the back, you'll find a DB25 port for external cameras, speakers, or an RJ45 adapter for a different microphone. There's also a DC power input and two antenna connectors – one for the external GPS antenna and the other for the mobile network antenna.
Overall this radio is a fantastic choice for anyone looking for a premium mobile network radio with loads of customization options.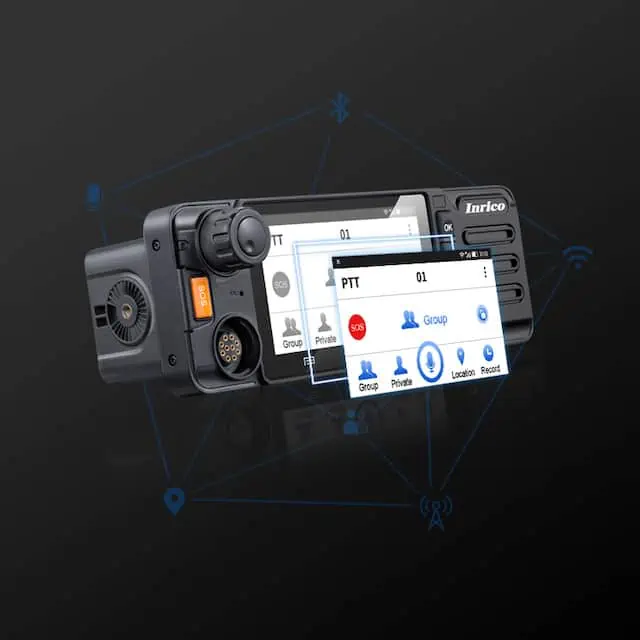 Our Ratings
Features: 9/10
Reliability: 9/10
Audio Clarity: 9.5/10
Display: 9/10
Value for Money: 8/10
Overall Rating: 8.75/10
Pros
Attractive pricing
Good speaker quality
And connectivity options via mobile network, WiFi and Bluetooth.
Cons
Outdated Android OS with basic specs on device
There are Compatibility issues with some PlayStore apps
And a bit of a learning curve for the initial setup.
KSUN ZL50 is a wallet-friendly mobile network radio with some decent features. That's why it's our choice as the best budget mobile network radio on the market.
It is a no-frills radio, perfect for those who want to keep it simple. At first glance, you'll notice its tiny 1.7-inch LCD display, which sadly doesn't have touchscreen functionality. But hey, it's a budget option, right? You'll have to rely on the buttons around the screen for navigation, which honestly feels a bit outdated, but it gets the job done.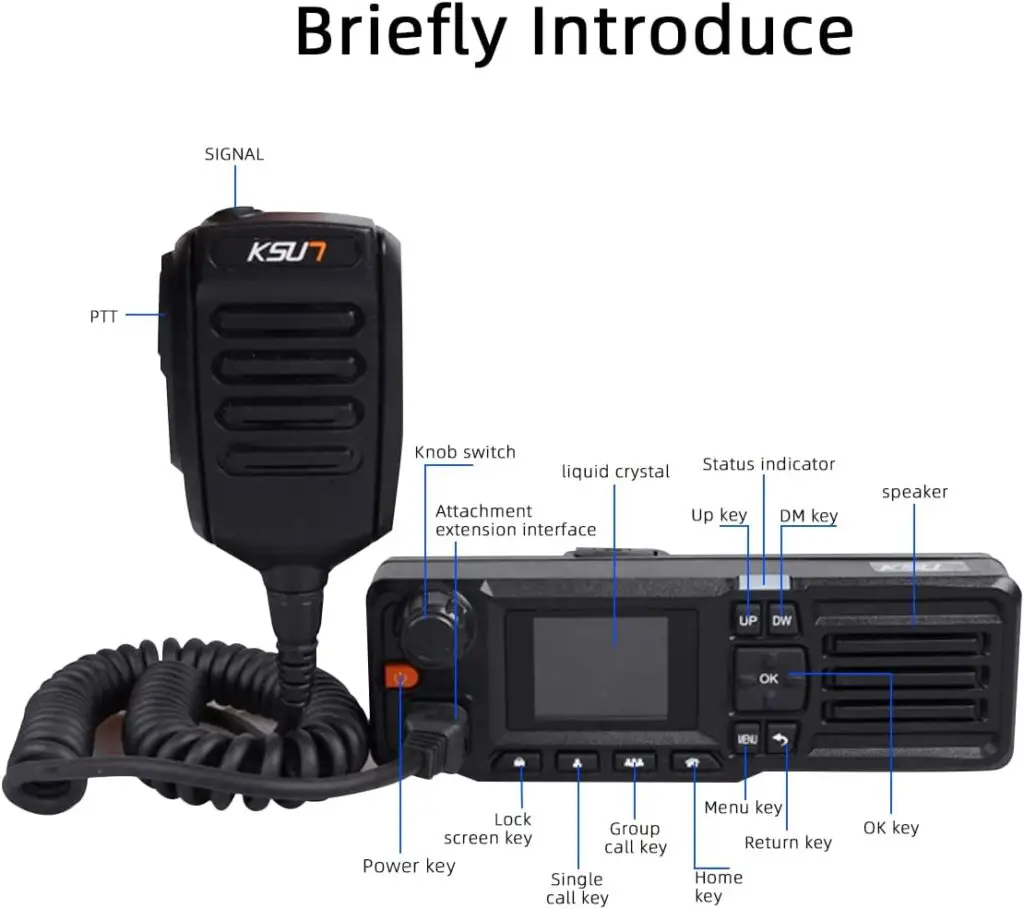 Now, the OS is Android 5 Lollipop, so it's not the latest and greatest, but it still works with the PlayStore. Keep in mind, though, with 4GB of usable memory and basic specs, you might struggle to install some apps. Custom APKs might be the way to go here, but you do get Zello PTT pre-installed, so that's a nice touch.
The KSUN ZL50 comes with a simple microphone that connects via an RJ45 connector. It's got just the PTT and signal buttons, and it sounds pretty good, too. Don't expect to use a more advanced mic, though, as this radio only seems to recognize PTT from the microphone.
As for connectivity, you can use a sim card for 4G and 3G networks, and it's got WiFi and Bluetooth support, so it works over a hotspot too. To use a sim card, make sure to connect the antennas at the back of the radio, one for GPS and the other for 4G/mobile networks.
The radio can be powered through a 12V DC input, so you can connect it to your car's battery or the cigarette lighter output. But here's something interesting: it doesn't use mounting brackets! Instead, it has a suction cup holder, which works fine, but I'd still prefer brackets, honestly.
So, the KSUN ZL50 is definitely a decent budget-friendly option. It's a bit underpowered, but it gets the job done. If you don't mind its limitations and simplicity, it's a solid pick.
Our Ratings
Features: 7/10
Reliability: 8/10
Audio Clarity: 8/10
Display: 7/10
Value for Money: 9/10
Overall Rating: 8/10
Frequently Asked Questions (FAQs)
What is a mobile network radio? A mobile network radio is a device that uses cellular data or Wi-Fi to communicate, similar to a traditional two-way radio. It often comes with a built-in Android system, allowing you to install various apps for communication, like Zello or Real PTT.
Why should I choose a mobile network radio over a traditional radio? Mobile network radios offer more flexibility as they can use cellular data or Wi-Fi for communication, making them ideal for areas with good network coverage. They also come with additional features like GPS, Bluetooth, and the ability to install various apps.
Can I use a mobile network radio without a SIM card? Yes, most mobile network radios can connect to Wi-Fi, allowing you to use them without a SIM card. However, a SIM card is necessary for communication in areas without Wi-Fi coverage.
What should I look for in a mobile network radio? Key features to consider include the operating system, connectivity capabilities, audio clarity, build quality, and ease of use. Also, consider the device's compatibility with your preferred communication apps.
Is a mobile network radio suitable for off-grid use? While mobile network radios rely on cellular data or Wi-Fi, some models also support traditional radio frequencies, making them suitable for off-grid use. However, always check the specifications before purchasing.
Do I need a license to operate a mobile network radio? No license is required for operating a mobile network radio over cellular data or Wi-Fi. However, if the device supports traditional radio frequencies, a license may be required depending on your local regulations.
Can I use my mobile network radio as a regular Android device? Yes, most mobile network radios come with a built-in Android system, allowing you to install and use Android apps, just like on a smartphone.
How do I install apps on my mobile network radio? You can install apps on your mobile network radio through the Google Play Store or other Android-compatible marketplaces, similar to a regular Android device.
What is the range of a mobile network radio? The range of a mobile network radio is essentially unlimited, as long as you have access to cellular data or Wi-Fi. This makes it ideal for long-distance communication.
Can I connect external accessories to my mobile network radio? Yes, many mobile network radios come with ports for external accessories like speakers, cameras, or different microphones. Always check the specifications for compatibility.