5 Best Yaesu Ham Radios In 2023
Looking for the best Yaesu Ham Radio?
Yaesu, a name synonymous with quality and innovation when it comes to ham radios, offers a variety of transceivers to suit different needs. From mobile rigs to tabletop stations, from HF wonders to tri-band beasts, there's a Yaesu for everyone. And while some swear by the classics, others are on the lookout for the latest releases.
But with such a plethora of options, how does one choose? That's where we come in.
Dive into our in-depth reviews to discover the features, pros, and cons of top Yaesu models, ensuring you make an informed choice.
Our Top Picks
Yaesu Original FT-891 – Best Yaesu Mobile Ham Radio
Yaesu FTDX10 – Best HF Yaesu Radio
Yaesu VX-6R – Best Yaesu Triband Radio
Why Should You Trust Us?
Trust in the world of online reviews is earned, not given. Here at WhollyOutdoor, our foundation has always been built on authenticity and a genuine passion for the great outdoors.
Since our establishment in 2018, we have consistently provided honest, objective, and well-researched content, striving to be your go-to source for outdoor insights.
Paul Dudley, our Editor and Founder, isn't just a figurehead; he's an enthusiast. With a keen interest in ham radios, fishing, and other outdoor pursuits, he ensures that each review is both knowledgeable and grounded in genuine experience.
When you leaf through our articles, you're receiving guidance from a team that doesn't just write about the outdoors – we live it.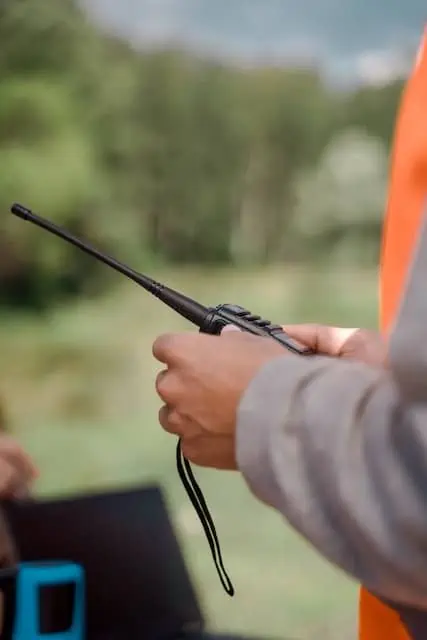 How We Choose the Best Yaesu Ham Radios
Selecting the best Yaesu ham radios is no simple task. With a plethora of models on the market, each boasting unique features and specifications, it can be overwhelming for the average user. But here at WhollyOutdoor, our method is rooted in a meticulous, yet straightforward approach that ensures our readers get the best recommendations. Here's a peek behind the curtain:
User Feedback & Reviews: We begin by scouring online forums, product review sections, and ham radio enthusiast groups. Listening to the experiences of real-world users provides invaluable insights into the durability, performance, and overall satisfaction of each radio model.
Technical Specifications: Ham radios are technical tools, and understanding their specs is paramount. We delve deep into the frequency range, power output, modes of operation, and other features to ascertain which models truly stand out.
Ease of Use: A great radio should be user-friendly, especially for beginners. We consider the intuitiveness of the interface, the clarity of the manual, and the ease with which one can program frequencies and channels.
Value for Money: While price isn't the only factor, it's undoubtedly significant. We weigh the features and performance of each radio against its price to determine which ones offer the best bang for your buck.
Field Tests: Whenever possible, we get our hands on these radios. Our team, led by Paul Dudley's expertise and passion for ham radios, tests them in various outdoor conditions to see how they fare in the real world.
Aesthetics and Build Quality: Lastly, we look at the physical attributes. A solid build, durability against the elements, and a design that's both functional and appealing are all factors we consider.
When you browse our list of the best Yaesu ham radios for 2023, you can rest assured that our recommendations are backed by rigorous research, hands-on testing, and a genuine love for the craft. We're here to ensure that your journey into the world of ham radios is a successful one.
Check These for Other Notable Yaesu Options:
Comparison Table
| | | | | | |
| --- | --- | --- | --- | --- | --- |
| Feature/Model | Yaesu Original FT-891 | Yaesu FTDX10 | Yaesu VX-6R | Yaesu FT-5DR | Yaesu FT-65R |
| Award | Best Yaesu Mobile Ham Radio | Best HF Yaesu Radio | Best Yaesu Triband Radio | Best Yaesu Digital Radio | Best Budget Yaesu Ham Radio |
| Type | Mobile HF | HF | Triband HT | Digital | Budget HT |
| Max Power Output | 100W | 5 – 100W (5 – 25W AM carrier) | 5W (2m & 70cm), 1.5W (220cm) | 5W | 5W |
| Display | Large screen with dial | Large touchscreen TFT | Compact display | Dual-band display with LED indicators | Backlit display |
| Build Quality | Good | Good | JIS 7 waterproof | IPX7 waterproofing | Splashproof (IP54) |
| Connectivity | Connects to computer | USB for digital modes | – | Bluetooth | – |
| Battery | – | – | 1400 mAh Li-ion | 2200 mAh Li-ion | 1950mAh Li-Ion |
| Special Features | 32-bit DSP audio quality | Waterfall display, Remote Control | Tri-band, Submersible | C4FM digital communication | Programmable quick recall keys |
| Cons | Gets hot, noisy fan, non-intuitive menus | Fast-disappearing panels, poor button placement | Expensive for its age, small buttons, learning curve | Larger than previous models, learning curve | Limited power output, IP54 rating |
| Overall Rating (out of 10) | 8.5 | 9 | 9 | 9.5 | 8.5 |
5 Best Yaesu Ham Radios Reviews
PROS
Attractive pricing for an High Frequency transceiver
Good build quality
Control head is removable from body
Good manual and additional data available from Yaesu and online
Can connect to a computer right out of the box
32-bit floating DSP for remarkable audio quality
100W transmit power for mobile radio.
CONS
Can get hot at higher Tx power
Cooling fan can get noisy
Menus are non-intuitive.
Yaesu Original FT-891 is a powerful mobile HF radio. It can be a decent base station, but for most users, it works better as a mobile rig. It's compact, feature-packed, and has plenty of options to work with.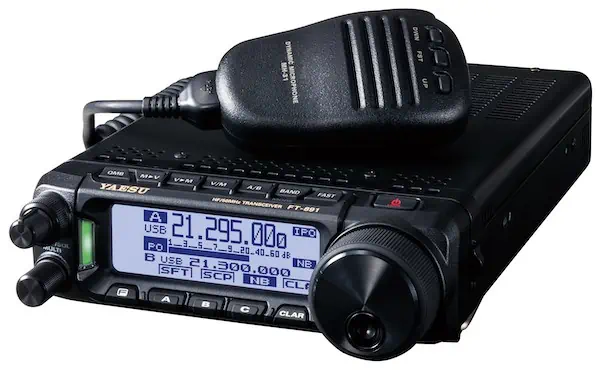 The face of the radio is dominated by a large screen and a large dial to its right. This large knob is quick to grab attention. Plus, Yaesu allows torque adjustment here, so you can have it as heavy (or light) as you want. Moving the dial does feel pretty good!
With the little real estate that's left here, Yaesu has managed to find enough room for various buttons and knobs, including a few buttons on top of the screen. This way, all the controls remain visible and easily accessible.
It helps, since the control head can be separated from the body for ease of installation, or even security and safety purposes. Separating them will require the purchase of Yaesu's kit, though the overall process is straightforward and fairly easy.
Interestingly, there is no visible room for the microphone's RJ45 connector on this transceiver. You have to slide the control head to find the connector for the microphone. This sounds like a hassle but it's quite an innovative use of real estate.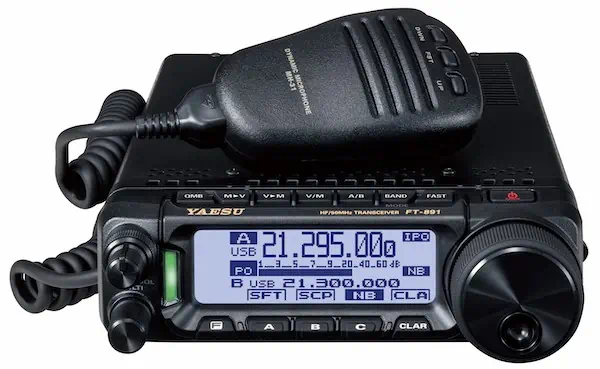 Yaesu Original FT-891 comes with a microphone with a plastic body. It has decent build quality and enough heft to feel good in the hands. The audio quality is good as well.
The transceiver has a sturdy casing and feels robust and durable. There's also a stand at its bottom, which makes it suitable for tabletop use. However, in this setup, you will have to consider spending more money on additional accessories like an external sound card and external tuner.
These additional costs dampen the use of the FT-891 as a tabletop rig, as they take away the initial price advantage it offers. As the price rises, it might be useful to consider more traditional High Frequency radios and base stations.
Its compact size can also be a slight problem here, though it works magnificently as a mobile setup. Working with higher power settings, like those at or around 100W will make the transceiver heat up quickly.
As the unit heats up, the cooling fan will get into action as it should. However, the problem is that the fan can be noisy and annoyingly loud.
In most cases, the loud fan doesn't become a problem up to 50W, or even 70W.
Another annoying aspect here is the way the menu is designed. It's not intuitive and it can be difficult and time-consuming to find desired settings.
Overall, there are some issues with this High Frequency transceiver, but it remains a high-quality, cost-effective unit with remarkable features.
Our Ratings
Features: 8/10
Reliability: 9/10
Value for Money: 9/10
Audio Clarity: 8/10
Overall Rating: 8.5/10
Check This: Best Ham Radio Base Stations
2. Yaesu FTDX10 – Best HF Yaesu Radio
PROS
Good looks and features
Beautiful LCD touchscreen and display
Good sound quality
And an overall feature-rich radio.
CONS
The fast-disappearing touchscreen panels are annoying
And popular buttons like "band" and "mode" should have been better placed.
Yaesu FTDX10 is an interesting HF radio, partially due to its origin and style. The company has placed this radio to compete with the ICOM IC7300, which is the most popular HF radio available at this moment.
However, rather than creating a brand new radio from the drawing table, Yaesu seems to have created a mini version of the more expensive and more capable FTDX101D.
This mashup in creation means that the Yaesu FTDX10 is remarkable in a few aspects and confusingly inadequate in some others.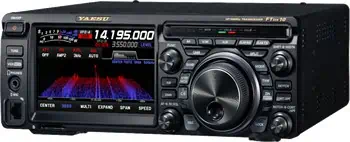 The appearance of the transceiver is dominated by a large screen and an oversized knob. The display is a touchscreen TFT that offers a lot of information related to the functioning of the radio. Amongst other things, you can see the frequency and the beautiful waterfall on the display.
Since it's a touchscreen, you can tap on specific frequencies on the waterfall and then change the operating frequency. You can also touch the screen to access several menus and functions.
Oddly enough, Yaesu appears to have chosen arbitrary timings for the panels on the radio.

Some panels will go away after 2 seconds, others might take something like 3.5 seconds, while some can stay on indefinitely.
And this timing is after Yaesu tried to fix the timing in response to complaints from users.
Perhaps the panels can stay on for longer, at least until the user makes a selection.
The right side of the radio features the large knob and several buttons. Most of the buttons are placed around this knob. Usually, I love prominent buttons and knobs, but in this case, I'd have preferred that the knob lose some weight and make room for the other buttons languishing around it.
One of the downsides of the current approach is that the commonly used keys like "Band" and "Mode" are trapped in tiny spaces without easy access. Reaching them can get a bit annoying and even frustrating if you hit a few wrong buttons on your way to reach these popular keys.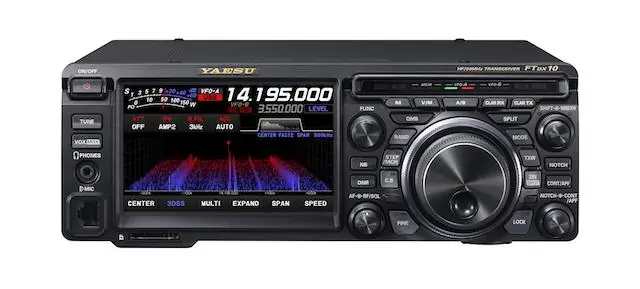 Though I have been critical of several aspects of this transceiver, I don't think it's all bad. This is a very decent radio with great features and plenty of useful aspects.
The waterfall and band scope often take the biggest pie of the discussion about this radio. The function is visually stunning and fun to use. If you want digital modes like FT8, just connect to a computer via USB. It's rather quick and painless to connect and works in this mode without a hitch.
With a Network Remote Control Software like the SCU-LAN10, it's possible to operate the transceiver remotely.
Given the functioning and placement of the transceiver, its comparisons with the ICOM IC7300 are unavoidable. Features like display, waterfall, and spectrum scope are very similar to what's available on the IC7300.
Yet, there is the benefit of technology on the side of the FTDX10. This model is roughly 5 years younger than the IC7300 and thus benefits from improved components and technology. It has better audio quality and dynamic range. However, it also carries a notably higher price tag, which might not be so easy to ignore!
Our Ratings
Functionality: 9/10
Reliability: 9/10
Value for Money: 8.5/10
Overall Rating: 9/10
Check This Out: Yaesu FTDX10 vs ICOM 7300: Which Wins?
3. Yaesu VX-6R – Best Yaesu Triband Radio
PROS
Remarkably good build quality
Rated JIS 7 waterproof
Good manual, plus plenty of information available online
Receive range of 0.5-999Mhz
Easy to program with CHIRP
Several programming options available on the panel.
CONS
Expensive for a decades-old model
Small buttons
Has a learning curve
Yaesu VX-6R TriBand HT is one of the company's old workhorses that continues to be strong. Launched way back in 2005, the VX-6R has continued to be a resilient and rugged HT with a fairly long life. So it's no surprise that the radio continues to be successful – no need to fix what isn't broken.

As a radio that's built for the outdoors, this is also rated JIS-7 waterproof. That means it can stay submerged in water for up to 30 minutes without facing damage.
In one of the radio's early demonstrations at Dayton Hamvention, Yaesu let a powered VX-6R sit under three feet of water for eight hours. Now that's impressive!
The solid build comes down to the use of compact polycarbonate resin and aluminum die-cast case and a carefully placed waterproofing seal.
Considering the model's age, its appearance can look a bit dated, especially the tiny buttons. However, it's easy to get used to and the simple elegance of the design kind of grows on you. And its features are still very much relevant and useful.
Also, thanks to its age and popularity, there's a lot of material and information available for this HT. And that's very welcome. Though the radio is easy to use, and the manual is helpful, it can have something of a learning curve.
As a tri-band radio, Yaesu VX-6R can transmit on 70 cm, 220 cm, and 2 meter bands. While working on the conventional 70cm and 2m bands, the max Tx output power is at 5W, with low power options at 2.5W, 1W, and 0.3W.

Things are a bit different on the 220cm band, where the max Tx power is 1.5W, with lower power levels at 1W, 0.5W, and 0.2W.
The Rx is similarly impressive, going all the way from 0.5-999 MHz.
Yaesu VX-6R is often compared to the Yaesu FT-60R, which is another workhorse model that has been around for roughly the same time as the VX-6R.
In a simple comparison of features, the VX-6R comes out on top. However, the FT-60R is more attractively priced, has a similar robust build, and its relatively limited number of features can make this dual-band radio easy to use and learn.
Overall, Yaesu VX-6R TriBand is a solid tri-band radio with great features and longevity. Its 1400 mAh Li-ion battery lasts a decent time, but it only comes with a slow charger. Getting a faster charger, a spare battery, or using an accessory for AA batteries might be desirable.
Our Ratings
Features: 8/10
Reliability: 9/10
Value for Money: 8/10
Audio Clarity: 8/10
Overall Rating: 9/10
Check These:
4. Yaesu FT-5DR – Best Yaesu Digital Radio
PROS
Voice quality is loud and clear.
Uses the same battery and accessories as other models in Yaesu's fusion series.
Works with C4FM digital communication.
Has IPX7 waterproofing.
Display is clear and crisp.
CONS
Larger and bulkier than previous fusion radios.
Has a learning curve, even for people well-acquainted with the use of ham radios.
Yaesu FT5DR is a competent addition to the company's fusion radio lineup. The dual-band ham radio can work with VHF and UHF bands, with the capability to listen to two frequencies simultaneously.
There are two independent receivers to work on these frequencies. Two LED indicators above the display present visual feedback for the working of the A Band and B Band.
As you look at the Yaesu FT5DR, it's impossible not to draw parallels with the lower model, the Yaesu FT3DR. Both radios have a similar design, features, and general functions. It's often said that Yaesu developed the FT5DR because the global chip shortage made it difficult to source the parts for the 3DR.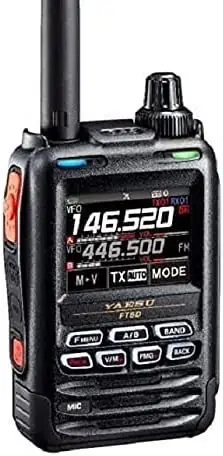 Thankfully, rather than throwing together a radio with what was available, Yaesu took the time to make improvements on the radio. Yaesu FT5DR has better voice clarity, works better with Bluetooth, and a relatively cleaner look.
It is slightly larger and bulkier than the FT3DR, but the 5DR has a cleaner profile. This is especially visible with the buttons on the side of the radios. The FT3DR has something of a bulge with the buttons, while the 5DR is sleeker. It's a small change but it works very well for the aesthetics.
Differences aside, both these radios belong to the fusion lineup and share overlapping features. Related accessories, including the battery, are compatible between these Models.
Speaking of the battery, while the 2200 mAh Li-ion battery looks sufficient, it's a good idea to get another battery pack. The charging times can be painfully long and it's usually better to swap batteries rather than waiting around for the pack to charge.

Though the battery takes its sweet time charging, it does a good job when it is in action. The battery can last a day even when transmitting at the maximum 5W output RF power. The 5W output is fairly standard for handheld ham radios like the FT5DR and this radio seems to handle it beautifully.
The received audio also appears better and louder due to the use of a powerful 1W speaker.
A key feature of the FT5DR is its implementation of digital communication, where it's worth comparing this radio to its close competitor, the Icom ID 52A.
Icom's offering is slightly longer and bulkier than the FT5DR, though it maintains a similar overall form. A quick difference between the two is that the Yaesu ham radio has a touchscreen, while Icom 52 does not.
The bigger question in choosing between these ham radios is whether you want fusion or D-STAR.
Yaesu's implementation of the digital amateur radio employs C4FM communication with APRS (Automatic Packet Reporting System). Icom uses D-STAR to accomplish the same.

This means both these ham radios transmit and receive data for information like GPS coordinates, texts, and images.
However, the APRS with Yaesu's implementation generally works better than Icom's D-STAR. Yaesu's use of C4FM also provides excellent features like Automatic Mode Select (AMS), Digital Group ID (DG-ID), and Smart Navigation.
When using features like Smart Navigation, users can track their location or route and save it to a micro SD memory card. Similarly, you could use the micro SD card to store pictures you intend to send or receive.
A lot of data can go into the memory card. Yaesu FT5DR will also accept software updates through its micro SD card. Since so many features find their place in this expensive package, we expect it to be strong and rugged. The FT5DR doesn't disappoint on these points. The ham radio has an impressive build quality. It's rated IPX7, which means it's waterproof and can spend a few minutes submerged without being damaged.
Though it does a lot of things right, this radio is not without its flaws. An important one is the learning curve for using this. If you haven't used a fusion radio before, it will take a while to get used to this ham radio.
OUR RATINGS
Functionality: 9.5
Reliability: 9
Value for Money: 9
Battery: 9
Overall Rating: 9.5
Looking for Sustainable Power Sources to Power Your Radios? Check This:
5. Yaesu FT-65R – Best Budget Yaesu Ham Radio
PROS
Includes detailed manual and guides for set up.
Well-priced radio with good features for entry-level users.
Programmable quick recall keys.
CONS
Limited power output results in a low range, though this is characteristic of most handhelds.
Only has an IP54 rating, which means the radio is fairly vulnerable to water.
Yaesu is amongst the best-known names in the ham radio world. Their skill and understanding of this niche shine through in their products, including the Yaesu Original FT-65 handheld ham radio. This compact handheld radio is a slight upgrade over Yaesu's lower model, Yaesu FT-60.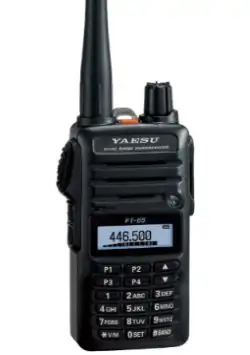 At first glance, both radios look similar, but the FT-60 has something of a dated look. Yaesu FT-65 itself has a somewhat conservative design, but it's a decidedly more contemporary look. A brilliant white backlight for the display helps with the overall look and better display for Yaesu FT-64 dual-band transceiver.
Other notable features include the placement of buttons and mic on the radio and a more capable battery for the FT-65.
This radio gets its power from a 7.4V 1950mAh Li-Ion battery pack. The battery is good enough to keep the radio running for about nine hours. Yaesu has included a fast charger in the box, so the radio returns to action in only two hours of charging.
The overall operation time for a single charge depends on the power setting for the radio. It has three output power levels, which are 0.5W, 2.5W, and 5W. Whether it is transmitting or receiving, the voice quality remains clear, which is a testament to Yaesu's quality.
A 1W internal speaker is placed at the upper front side of the transceiver and is fairly loud and clear with its audio. Should you desire a more private conversation, switch the radio to VOX mode. Though that will require the purchase of an earpiece.
Other notable features on this radio include an IP54 rating (splashproof, not waterproof) and four user-programmable quick recall keys.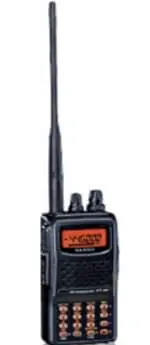 Yaesu includes two manuals in the box to help users understand the radio setup and start with its programming. Even with the detailed guides, it can be a bit of a challenge to get this radio running.
This isn't the fault of this radio, but rather a good example of the effort that goes into getting a ham radio setup and ready to roll. It's best to use programming software rather than going the manual route and working through increased complexity.
Yaesu Original FT-65 is a well-priced radio with good features. It's an excellent choice for beginners looking to sink their teeth into the amateur radio community. As for power, the handheld has the max power output of 5W. Those interested in more functions and power should look at mobile ham radios and tabletop transceivers.
Check out our review of Best Long Range Two Way Radios
Frequently Asked Questions (FAQs)
What makes Yaesu different from other ham radio brands?
Yaesu is renowned for its innovative features, durability, and commitment to quality. Their radios often showcase a blend of advanced tech with user-friendly interfaces, making them a favorite among both novices and experts.
Do I need a license to operate a Yaesu ham radio?
Yes, operating a ham radio, including Yaesu models, typically requires a license in most countries. It's crucial to check local regulations and obtain the necessary license before transmitting.
How long can I expect a Yaesu ham radio to last?
With proper care, Yaesu ham radios can last for several years, if not decades. Their build quality and design are crafted for longevity, especially if maintained correctly.
Can I use a Yaesu ham radio during emergencies?
Absolutely. Many users rely on ham radios, including Yaesu models, during emergencies when other communication methods fail. They can be instrumental in obtaining vital information and reaching out for help.
Is there a warranty on Yaesu ham radios?
Yes, most Yaesu ham radios come with a manufacturer's warranty, which typically covers defects and malfunctions. It's advisable to check the specific warranty terms for the model you're considering.
Do Yaesu radios support digital modes?
Many modern Yaesu radios support digital modes, allowing for clearer transmissions and expanded functionality. However, not all models have this feature, so it's essential to check the specifications.
How do I update the firmware on my Yaesu radio?
Most Yaesu models come with instructions on updating firmware. Typically, this involves downloading the update from the Yaesu website and transferring it to your radio, often using a USB connection.
Can I connect external antennas to a Yaesu ham radio?
Yes, most Yaesu ham radios have ports for external antennas, allowing users to boost their range and reception capabilities.
What power source do Yaesu radios use?
While many Yaesu radios use rechargeable batteries, some models can also be powered by external sources like car adapters or solar panels. Always check the model's specifications for power options.
Are there any mobile Yaesu models for on-the-go use?
Yes, Yaesu offers several mobile ham radio models designed for users who want to communicate while on the move. These are often more compact and come with features tailored to mobile use.