Top 3 Best Microphones for Ham Radios In 2023
As an Amazon Influencer, we earn from qualifying purchases you might make if you click any of the links on this page.
Are you looking for the best microphones for ham radio, but haven't found the brand you love yet? There's a lot to consider when trying to find the best option for your ham radio needs. Not to mention something that goes well with your top of the line ham base.
Regardless of what you need, we have put together a list that encompasses some of the best options on the market right now. We have everything from budget friendly mics, to the most premium microphones you can buy. Read on to find out more, and possibly find your next microphone for ham radio option.
Pros
Good size and convenient weight

Attractive pricing

Good noise cancellation.
Cons
Good voice quality needs speaking very close to mic

Noise cancellation can get overzealous.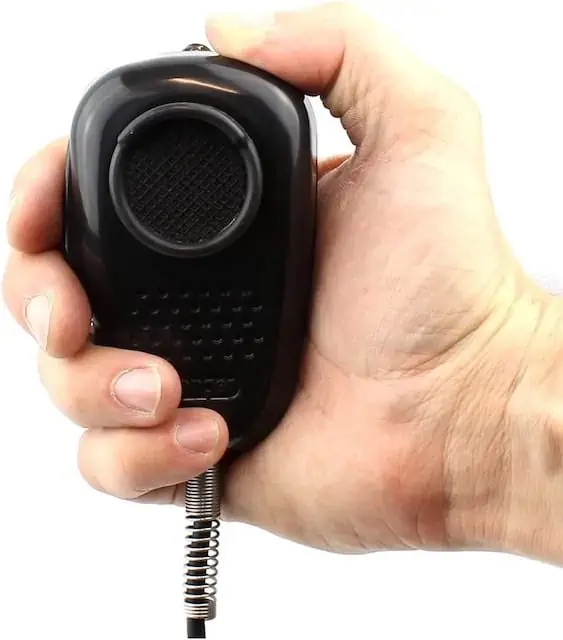 Ranger SRA-198 is a pick worthy to be e editor's choice. The combination of price, capability, and ergonomics makes this microphone our top choice.
The 4-pin microphone is best suited for use with a CB or mobile radio. It is priced to be affordable, though it has the feel and features to give a more premium outlook.
Noise cancellation is the star of the show here. Ranger SRA-198 manages to take out most background noise and the audio clarity is pretty good. If you're in a vehicle while using this microphone, it will remove much of the background and vehicle noise.
The tradeoff is that you have to speak very close to the microphone. At its launch, many users reported a problem with muffled audio. Ranger was quick to fix it and improve the mic's audio quality.
Usage and Build
Another factor in favor of this mic is how it feels in your hands. It is a bit heavy, but that's also the part that makes it convenient and comfortable to handle. It feels great in the hands and the weight feels just right.
Ranger SRA-198 achieves this weight largely thanks to the presence of a metal clump at the back of the microphone. The weight of the metal, combined with the weight of the components is good enough to give the mic a comfortable and weighty feel.
Overall, Ranger SRA-198 is a worthy choice that handles noise cancellation, general use, weight, and ergonomics nicely. It's also reasonably priced, which helps with the popularity of this mic.
Our Ratings
Functionality: 8/10
Reliability: 8.5/10
Value for Money: 9/10
Overall Rating: 9/10
Pros
Good voice quality
Convenient to operate
Room in base for custom additions
Heavy-duty construction.
Cons
Expensive
Small power cord.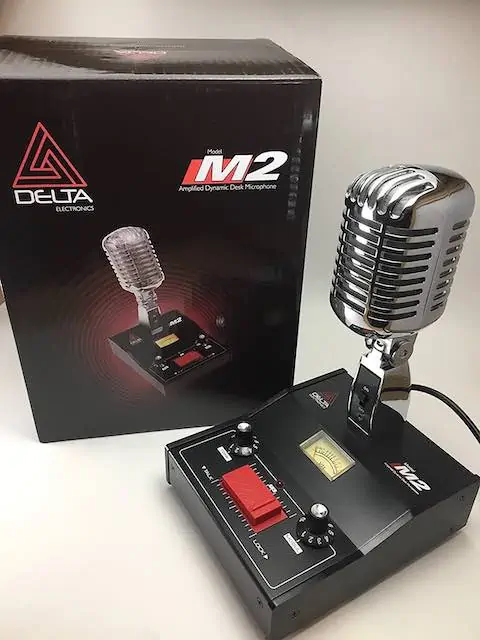 If voice clarity takes priority for you, Delta M2 Microphone is worth a look. This 4-pin microphone is generally suitable for CB radios and transceivers, though it can work with other devices too.
There is a premium feel to the entire setup. The chrome microphone has a good look and sits on a well-made base. There's plenty of room on and inside the base if you want to add modifications, though that's usually not necessary.
Features and Function
Delta M2 Microphone features a big red PTT button. Interestingly, you don't have to push the button every time you want to talk.
Instead, you can push the button and slide it into a locked position. Once locked, there's no need to press and hold the button manually. I think this makes good sense with a base microphone.
With a handheld unit, you can press the PTT button as convenient. The same can't be said for a base microphone where pressing and holding the PTT button throughout can feel awkward or inconvenient.
On either side of this button are knobs to adjust tone and modulation. A little above this button is a small analog meter that shows voice modulation. While the numbers it shows are useful, watching the meter turn is fun too.
Finally, there's a manual power switch near the bottom of the microphone where it connects to the base.
Sound Quality
The mic is pretty good and quick at picking up sounds. You could set it somewhere comfortably close and talk, and it will pick it up without a problem. It can also pick up any background chatter or noise, so that's something to be careful about.
For the aforementioned reason, this microphone isn't an ideal choice to use in cars. It will, however, do well in a setup with low background noise.
Our Ratings
Functionality: 9/10
Reliability: 9/10
Value for Money: 8/10
Overall Rating: 9/10
Pros
Rugged build
Kevlar-reinforced PU cable
Attractive price point.
Cons
Soft PTT button risks open mic situations
The omnidirectional mic struggles in noisy backgrounds.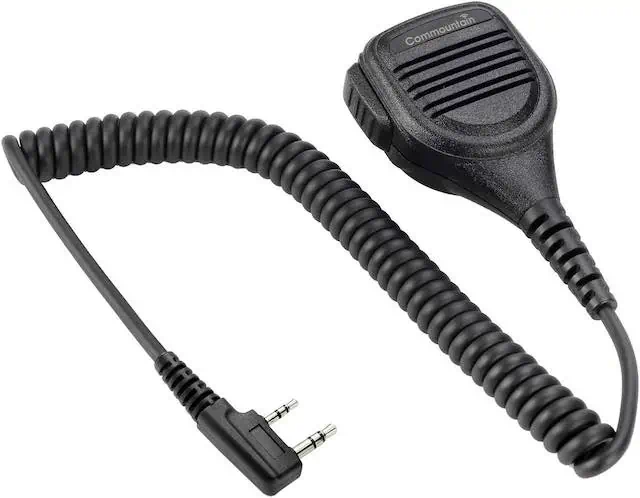 The unassuming Commountain Speaker Mic is a good pick when you want a mic on a budget. Designed as a shoulder microphone, this one has a 2-pin (K-type) connector with 3.5mm and 2.5mm pins.
Since this is a pretty common connector used in several types of radios, the mic is compatible for use with many devices. The connector leads to a PU cable reinforced by Kevlar fiber and has high tensile strength.
Though priced low, the mic has heavy-duty construction and looks like it can take a beating and hold up to any situation. Its body is made from High Impact Engineering Plastic, which gives it that rugged and tough look.
Setup and Sound
So, the body, the connector, and the wires are all made in a way that they can last and be usable for a long time. Well, that's at least true for the physical construction. The electronics, while acceptable, aren't anything to celebrate.
Commountain Speaker Microphone has an omnidirectional setup. The mic will pick up sounds from all around it. This is a useful feature since it is meant for use as a shoulder mic, but it will as easily welcome noise and disturb audio.
Noise Cancellation
The microphone is pretty good and speaking close to it will transmit the voice loud and clear. Although since there is no noise cancellation, expect noise when you use this mic. Speaking close to it can help reduce some of the ambient noise and provide better voice clarity.
One annoying aspect of this microphone is the placement and handling of the PTT button. The button is easy to press and takes little pressure. This can lead to situations where the button presses by itself with little pressure and leads to open-mic situations.
Our Ratings
Functionality: 8/10
Value for Money: 9/10
Voice Clarity: 9/10
Overall Rating: 9/10