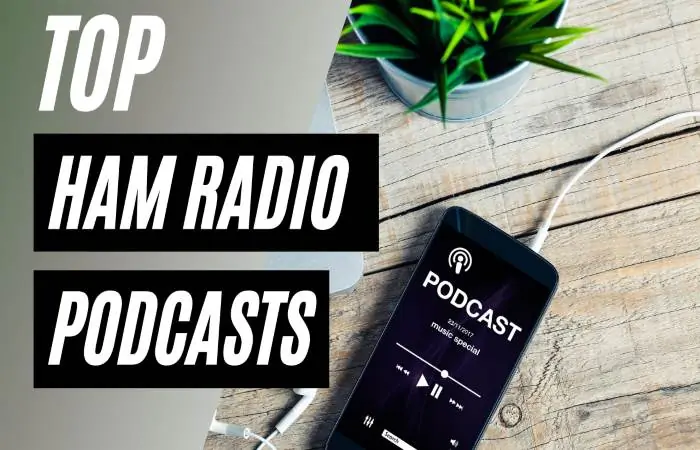 Top 5 Ham Radio Podcasts To Listen
As an Amazon Influencer, we earn from qualifying purchases you might make if you click any of the links on this page.
A quick online search reveals a plethora of amateur or ham radio podcasts to choose from, but it can feel hit and miss finding relevant ones you'll learn from and enjoy. We encourage you to find your own favorites but to get started, we researched the possible contenders for the top ham radio podcasts.
Looking across the most popular podcast services, we found five ham radio podcasts with consistently strong ratings which between them cover a wide spectrum of news, interviews, discussion, as well as amateur ham radio how-to and technology. We recommend the following to get you started:
"ARRL Audio News" for current ham radio news and events
"QSO Today Podcast" for conversations and interviews with amateur radio operators and about their ham radio experiences
"ICQ Amateur / Ham Radio Podcast" for magazine style delivery of news, discussions, and technical features relating to ham radio
"Foundations of Amateur Radio" for bite-size, succinct explanations of different aspects of ham radio
"Linux in the Ham Shack" for technical topics addressed in a humorous and informative way with a focus on open-source software and ham radio
How to choose a podcast
You can find loads of other great ham radio podcasts to suit your situation. Many are based on geographical region, like "San Diego Amateur Radio Podcast" or "Essex Ham Amateur Radio Podcast". Others dive deep into technical specialties, such as "DitDit.fm" that focuses on the CW operating mode. A multitude of archived shows remain interesting, even though they may no longer publish new episodes, such as "PARP" or "No Nonsense Amateur Radio Podcast".
In our search, we selected the best from English-speaking podcasts, available on multiple podcast platforms, with a regular episode schedule and at least 100+ episodes already available. For each podcast recommendation, we might have slipped in a few more suggestions in case this style of delivery and type of information appeals to you.
YouTube provides a useful visual dimension for ham radio explainers, and of course, amateur radio frequencies across the radio spectrum are a great source of discussion, information and updates. In the meantime, audio podcasts are great if you want something downloadable for audio listening during those times when you can't be near your radio (yeah, I know, right!).
I cover a few of them in more detail below.
1. ARRL Audio News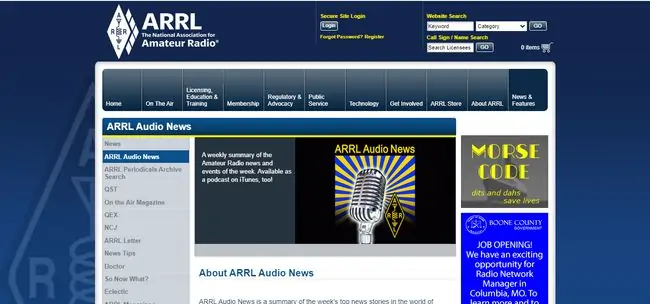 Frequency: Weekly since at least July 2014
Duration: Bite-size at under 15 minutes long
Website: http://www.arrl.org/arrl-audio-news/
Apple Podcast* Rating: 4.6 out of 5 from 96 ratings
About:
The American Radio Relay League (ARRL), is the US-based National Association for Amateur Radio, and provides succinct summaries of amateur radio news items and current events. These quick informative podcasts keep you up to date on FCC rules and regulations, public service announcements and how to use amateur radio within the community.
If you like this, you might also like:
"Amateur Radio Newsline": Over 2000 bulletins to date, issued weekly, around 20 minutes long covering worldwide news and events in ham radio (https://www.arnewsline.org/).
2. QSO Today Podcast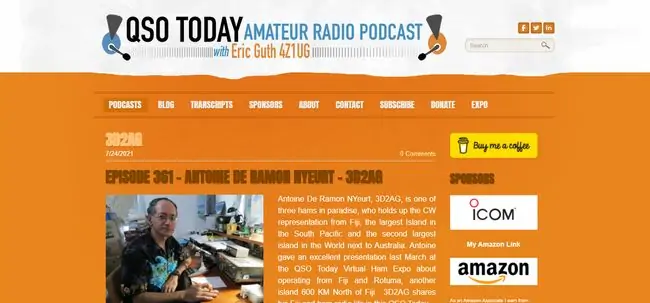 Frequency: Weekly since July 2014
Duration: Normally around 1 hour to 1 hour 15 minutes long
Website: https://www.qsotoday.com/
Apple Podcast* Rating: 4.7 out of 5 from 102 ratings
About:
Most of you already know QSO means "Can you communicate…?" so this highly rated podcast is aptly named. The host, Eric Guth, interviews leaders in amateur radio about their ham radio journey and how it has impacted their personal and professional lives. With over 350 episodes, his work today represents a significant record of the history of ham radio since the 1940s.
If you like this, you might also like:
"100 Watts and a Wire": Weekly episodes since June 2015, from 40 minutes to 2 hours long, hosted by Christian Cudnik and covering the intersection between life and ham radio. (https://100wattsandawire.com/)
3. ICQ Amateur / Ham Radio Podcast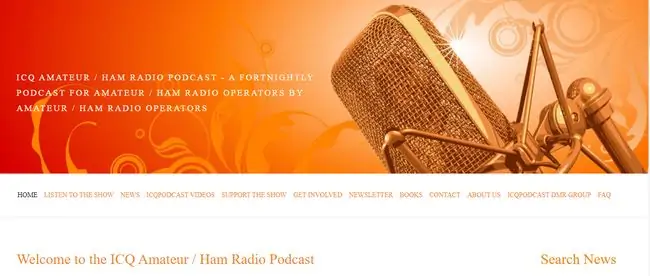 Frequency: Every two weeks since 2008
Duration: Vary in length, normally between one to three hours long
Website: https://www.icqpodcast.com/
Apple Podcast* Rating: 5 out of 5 from 3 ratings
About:
This magazine-style premier podcast discusses technical features of the amateur ham radio hobby, hears from listeners and experts around the world, and reviews current events. Originally set up by father and son team, Martin and Colin Butler, today a team of contributors cover everything from history to the latest ham gear.
If you like this, you might also like:
"This Week in Amateur Radio": 90 minutes to 3-hour long episodes every week since June 2005, this magazine style podcast covers North American based ham radio news and features (http://twiar.net/).
"Amateur Radio Roundtable": Episodes are normally two-hour long versions of their live Ham Radio video (though can be as short as 90 minutes and up to four hours). Issued every week in some webcast form or another since 2001, this award-winning ham radio podcast features guests, discussions and products (https://arroundtable.podbean.com/).
4. Foundations of Amateur Radio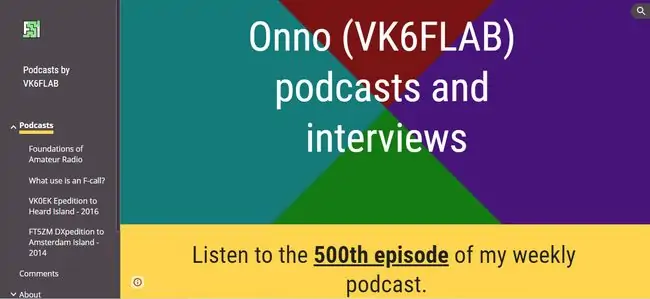 Frequency: Issued weekly since 2011 when it was first called "What use is an F-call?"
Duration: Normally three to seven minutes long
Website: https://podcasts.vk6flab.com/
Apple Podcast* Rating: 4.9 out of 5 from 7 ratings
About:
These laser-focused lessons give great advice about getting started with ham radio. Each episode is easy to understand and quick to digest. The podcasts are hosted by Onno Benschop, a professional technologist and experienced presenter and producer.
If you like this, you might also like:
"On the Air": This monthly podcast, normally under 20 minutes, is another podcast by ARRL and accompanies ARRL's magazine for beginner-to-intermediate ham radio operators (http://www.arrl.org/on-the-air-podcast/).
"Ham Radio Crash Course": 3- to 4-hours long these weekly episodes are hosted by Josh, an engineer and radio amateur who wants to get people involved in radio and help them keep learning (http://hamradiocrashcourse.com/).
5. Linux in the Ham Shack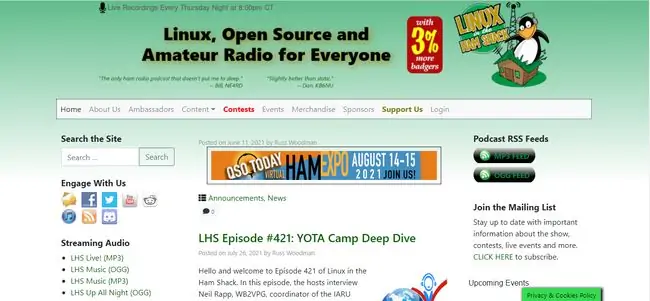 Frequency: Weekly since October 2008
Duration: Vary in length and are normally between 30 to 90 minutes long
Website: https://lhspodcast.info/
Apple Podcast* Rating: 4.4 out of 5 from 34 ratings
About:
This podcast comes with a purposeful philosophy around helping amateur ham radio enthusiasts utilize free open-source software to get the most out of their ham radio equipment. The team of hosts achieves this in a humorous and informative way. They combine Linux, open source and ham radio with a core aim of introducing free open-source software to ham radio, and vice versa.
If you like this, you might also like:
"AmateurLogic.TV": Episodes every two weeks since October 2005, from 50 minutes to 90 minutes long, covering practical amateur ham radio and technology hacks, modification and tricks (https://www.amateurlogic.tv/blog/).
"SolderSmokePodcast": 1+ hour long episodes every month or so since 2005, a more technically focused podcast, Bill N2CQR and Pete N6QW are two amateur radio experimenters who talk about building ham radio gear and other workbench radio projects (http://soldersmoke.blogspot.com/).
"DitDit.fm": Monthly episodes since May 2017, approximately 30 to 60 minutes long, with a focus on amateur ham radio interest in Continuous Wave and Morse Code and covers interviews, tips and interesting things about CW (https://www.ditdit.fm/).
*I used Apple Podcast ratings for like-for-like ratings from the widest general audience. We are not favoring or endorsing them as a podcast platform, but rather, aiming for a like for like comparison between different podcasts.