Top 3 Best Hiking Boots In 2023
Searching for the best hiking boots? 
It's a journey more challenging than the actual hike sometimes. With countless options in the market, it's essential to find that one pair that supports your adventures without compromising on comfort. My goal as a seasoned outdoors enthusiast and reviewer is to simplify this decision for you.
In this review, I'm diving deep into the features, comfort, and durability of three popular hiking boots. Whether you're looking for top-of-the-line luxury, a budget-friendly option, or something in between, I've got you covered.
Discover the details, weigh the pros and cons, and find the perfect pair that suits your hiking needs.
Our Top Picks
La Sportiva Mens Ultra Raptor II Mid GTX Hiking Boots – Our Top Choice
SALOMON Men's Quest 4 GTX High Rise Hiking Boots – Best Premium Hiking Boots
Merrell Men's Moab 3 Mid Waterproof Hiking Boots – Best Budget Hiking Boots
Why Should You Trust Us?
At WhollyOutdoor, our commitment goes beyond just presenting reviews. Founded by Paul Dudley, an avid enthusiast of ham radios, fishing, and a myriad of outdoor activities, our website thrives on passion and dedication.
Since 2018, we've worked tirelessly to cultivate a reputation built on objectivity, honesty, and education. Every review and opinion shared comes from hours of hands-on experience and genuine exploration.
We prioritize authentic and transparent feedback, ensuring that you get the most honest insights for your outdoor adventures. With Paul at the helm, and our devoted team alongside, we're here to be your trusted companion in your outdoor journey.
Taking Your Little Ones on the Trail? Check This:
How We Choose the Best Hiking Boots
Selecting the best hiking boots for 2023 wasn't a task we took lightly. At WhollyOutdoor, we follow a rigorous methodology to ensure you get nothing but the best advice, rooted in genuine experience and research. Here's our step-by-step process:
Field Testing: Our team members personally try on a myriad of boots, walking on diverse terrains – from rocky paths to muddy trails and even slippery slopes. This ensures firsthand feedback on comfort, grip, and durability.
Material Examination: We meticulously inspect the material used in each boot. This involves assessing the quality of leather, synthetics, and waterproof linings, all crucial for long-term durability and optimum performance.
Feedback Collection: We collect and collate reviews and ratings from real users. This vast repository of genuine experiences adds depth to our evaluations.
Features and Specifications: Each boot is weighed for its unique features, like breathability, ankle support, sole type, and lacing system. We then categorize boots based on their intended use, like day hiking or backpacking.
Value for Money: We understand that budget plays a significant role in purchasing decisions. Hence, we analyze the boots' pricing in relation to the features and benefits they offer, ensuring you get the best bang for your buck.
Trend Analysis: With the hiking community continuously evolving, we also consider current trends and emerging technologies in the footwear industry. This ensures our recommendations stay updated and relevant.
Our goal is to provide you with a comprehensive guide that's not just based on subjective opinions but on factual data, personal experiences, and genuine user feedback.
We're passionate about equipping you with the right gear for your next outdoor adventure. Whether you're a seasoned hiker or just starting out, trust that our reviews have been crafted with your best interests at heart.
Looking for More Fun Outdoor Activities? Check This Out:
Comparison Table
Boots
La Sportiva Mens Ultra Raptor II Mid GTX
SALOMON Men's Quest 4 GTX High Rise
Merrell Men's Moab 3 Mid Waterproof
Pros
– Lightweight
– Excellent comfort, support, flexibility
– Good build quality
– Remarkable traction
– No break-in
– Good waterproofing
– Good looks and design
– Good build quality
– Excellent comfort, support, flexibility
– No break-in
– Good waterproofing
– Attractive pricing
– Good build quality
– Excellent comfort and support
– Acceptable waterproofing
Cons
– Sizing runs small
– Narrow fit for wider toes
– The price tag
– Preferable sleeker, sportier appearance
– Can run warm for summer hikes
– Average traction
Weight
~2 pounds
2 pounds & 14.4 ounces
~2.3 pounds (size 10 US)
Waterproofing
Gore Tex
Gore-Tex
Merrell's in-house technique
Material
Synthetic material and ultramesh
Not specified
Combination of leather and mesh
Outsole
Frixion XF 2.0 rubber compound
Salomon's Contagrip TA rubber compound
Vibram TC5+
Midsole
Injection-molded
EnergyCell EVA foam
Not specified
Fit & Sizing
Runs small; consider buying one size up
True to size
True to size
Special Features
– High top boots
– Semi-rigid foam panels for support
– SensiFit and Ortholite Sockliner technologies
– Active Support wings for stability
– Almost no need to break-in
– Shallow lug pattern
Ratings
– Comfort: 9/10
– Support: 9/10
– Stability: 9.5/10
– Value for Money: 9/10
– Overall: 9/10
– Comfort: 9/10
– Support: 9.5/10
– Stability: 9.5/10
– Value for Money: 8/10
– Overall: 9/10
– Comfort: 8.5/10
– Support: 8.5/10
– Stability: 7.5/10
– Value for Money: 9/10
– Overall: 8/10
Price
Check Price on Amazon
Check Price on Amazon
Check Price on Amazon
3 Best Hiking Boots Reviews
PROS
Lightweight compared to the average hiking boots
Excellent comfort, support, and flexibility
Good build quality
Remarkable traction
Need no break-in
Good waterproofing.
CONS
Sizing runs small
Somewhat narrow fit especially for wider toes.
It's rare for a hiking boot to offer so much as the La Sportiva Ultra Raptor II does. These boots feel as convenient as conventional running shoes and yet they come with the support and stability of high top boots.
To be clear, these boots do go high and wrap nicely around the ankles. There's generous padding around here with a few semi-rigid foam panels that add support to the comfort of these shoes. Its injection-molded midsole adds to this feeling of comfort and support by cupping the heels and adding support for the foot arch.
With all this careful consideration to comfort, we would assume that the fitting works well too. Unfortunately, there is trouble in paradise on this account. La Sportiva Ultra Raptor II Mid GTX hiking boots tend to run small.
So, rather than your regular size, those with normal to large feet would be better served buying one size up, while those with smaller feet should consider going ½ size up. Though simple enough, this feels like an absolute chore. And when doubts about fit creep up, they can be rather difficult to put away.
Yet, the Raptor hasn't been held back, which is something of a testament to how good this boot actually is.
The body is built beautifully and looks sporty and fairly sleek. Both the body and the ultramesh are made almost entirely of synthetic material.
This combo works great for durability and also helps keep the weight of these boots surprisingly low. They weigh just about 2 pounds and are one of the lightest hiking boots available.
The presence of Gore Tex helps keep the boots waterproof while maintaining breathability. Considering the height of these boots, you could walk through rain or shallow streams without worrying about your feet getting wet.
Of course, if you were to even consider walking through streams or even moderately tough hikes, you'd want to be confident in the traction of these boots. On that count, the Raptor is perhaps the best among hiking boots.
The outsole made from Frixion XF 2.0 rubber compound is durable and provides excellent traction. The lugs here form a unique design, with a combination of narrow and wide lugs coming together to keep the shoe in position.
Overall, the boots work well for comfort, traction, stability, and support. The combination of low weight and a feature-rich design makes these desirable companions for a hiking trip.
Our Ratings
Comfort: 9/10
Support: 9/10
Stability: 9.5/10
Value for Money: 9/10
Overall Rating: 9/10
Check This for During and After Your Hike:
PROS
Good looks and attractive design
Good build quality
Excellent comfort, support, and flexibility
Need no break-in
Good waterproofing.
CONS
Salomon's premium Quest 4 GTX Hiking Boot is on its fourth iteration and continues to enjoy success. There have been upgrades in things like weight, chassis, and appearance from the previous iteration and still, the boot maintains its soul, which is what made it great in the first place.
The boots rise high from the ground. The thick sole contributes to that, but these boots are tall and go well beyond the ankle. And this height plays well into the overall support and comfort the boots offer.
Plenty of padding and soft lining cover the interior. Salomon uses SensiFit and Ortholite Sockliner technologies to reduce seams on the interior, add comfort, and reduce points of pressure and friction in the shoe.
The result of this approach is a delightfully comfortable shoe that needs virtually no break-in. It's comfortable right out of the box. Even wider toes will fit in nicely and remain comfortable in these boots. EnergyCell EVA foam midsole sits below the feat and provides nice cushioning, support, and comfort.
More stability and support come from the lacing system and its effects. This system goes all the way and above the ankle. When tied, the laces create the feeling of a snug fit. Their presence beyond the ankles also means there's greater support and stability for the foot.
Salomon has also given the Quest 4 boots Active Support wings. As the laces are drawn tight, these "wings" work as straps to go around the foot, adding more balance and stability.
As for traction, the outsoles do a wonderful job with Salomon's Contagrip TA rubber compound. The lug pattern is deep-set and carefully designed to provide good traction and stability. You'll find yourself at ease even when negotiating challenging inclines while wearing these boots.
With all these features going on, Salomon didn't forget water-resistance either! Since these boots take the premium route, they employ Gore-Tex for waterproofing. 
As a result, the shoes remain waterproof and you can negotiate some rain or even small streams without the fear of your feet getting wet. Since these are high tops, there's plenty of room for negotiating pools of water or mud.
Overall, these well-designed boots seem to have thought of everything. The boots perform well on almost all metrics worth considering. From easy terrains to tough hikes, these boots can handle almost everything.
The only downside here is perhaps the price. Although, if easier trails are more to your liking, it might be worthwhile to look at cheaper options.
Our Ratings
Comfort: 9/10
Support: 9.5/10
Stability: 9.5/10
Value for Money: 8/10
Overall Rating: 9/10
Want Some Quality Walkie Talkies for Your Hike? Check These:
Best Long Range Two Way Radios
PROS
Attractive pricing
Good build quality
Excellent comfort and good support
Acceptable waterproofing.
CONS
Sleeker, sportier appearance would be preferable
Can run warm for summer/sunny hikes
Average traction.
Merrell Men's Moab 3 is our top budget choice for its qualities and its price. This boot is attractively priced, has a good build quality, and is a good choice for beginners to backpacking, or even pros looking for a low-cost option.
It's not just the price that earns this boot a spot. It's the comfort and support that these boots offer that clinches the deal.
Merrell Moab 3 Mid boots go high enough to just barely cover the ankle and there's cushioning all around for support and comfort. The padding around the tongue and the collar is soft and comfortably thick. The padding is also comfortable and remains so even if you tie the boots tight.
This attention to comfort extends to the insoles, which are sculpted to support the heel and the arch of the foot. You get plenty of room for the toes as well, so average to wide toes fit in nicely. Overall, the fit feels rather snug and comfortable.
An advantage of this build is that the shoes are ready to accompany users on a hike right out of the box. There's almost no need to break-in the boots.
Similar attention to detail carries on to the outsole and the general build of the boots. The outsole is roughly an inch thick and is made from Vibram TC5+. The outsole has undergone some changes from the previous iterations of these boots, so it has a better grip, but still isn't all the way there.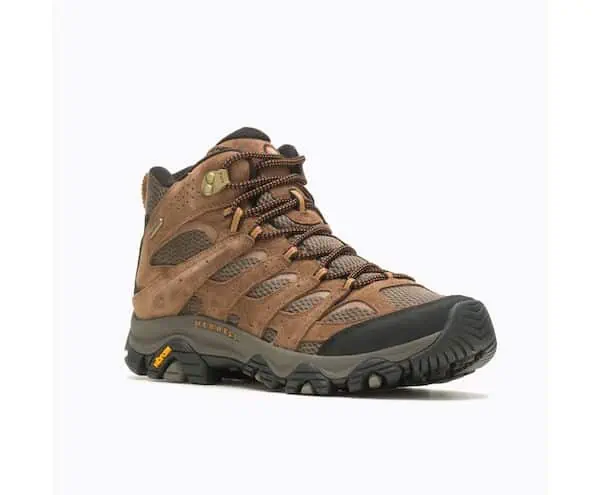 The lug pattern is shallow and spread out. Yet, there's enough room for the pattern to be clogged with mud, which means the boots might struggle with traction. To be clear, this isn't a lost cause. Rather, I'd say the boots provide average traction.
A similar story can be seen with the waterproofing. Since these are budget boots, they don't use Gore-Tex lining for waterproofing. They use Merrell's in-house technique, which works acceptably well, but has its faults.
Even though the boots don't let water in, the leather gets moist, which might eventually reach the foot. And it feels like it takes forever for the leather on the boots to dry up!
On that note, most of the exterior of the shoe is a combination of leather and mesh. It looks okay, but the appearance feels dated. A sleeker, sportier, and a more modern look would be more welcome.
Another factor to consider is weight. A pair of Merrell Men's Moab 3 weighs about 2.3 pounds for size 10 US. Eventhough they feel a bit heavy, they offer a pretty good combination of weight, stability, and comfort.
Our Ratings
Comfort: 8.5/10
Support: 8.5/10
Stability: 7.5/10
Value for Money: 9/10
Overall Rating: 8/10
Trying to Keep Everything Charged on the Go? Check These:
Frequently Asked Questions (FAQs)
How often should I replace my hiking boots?
Typically, hiking boots last for 500 to 1,000 miles, depending on the quality and usage. However, always monitor the sole condition and overall comfort. If they start feeling uncomfortable or you notice declining grip, it's time for a replacement.
Are hiking shoes and hiking boots the same?
No, hiking shoes are low-cut models with flexible midsoles, suitable for day hiking. Meanwhile, hiking boots often cover the ankle and are designed for longer hikes carrying heavier loads, providing better ankle support.
Do I need to break in my new hiking boots?
Yes, most hiking boots require a break-in period. Start by wearing them indoors, then take short walks, gradually increasing distance. This ensures comfort during longer hikes and reduces the chances of blisters.
How should a proper hiking boot fit?
Your toes should have a bit of wiggle room, and your heel should stay firmly in place without sliding. Also, make sure there are no pressure points when laced up, which can cause discomfort during hikes.
Are waterproof boots necessary?
While not always necessary, waterproof boots are beneficial for hiking in wet conditions or crossing occasional streams. However, if you're hiking in dry climates, you might prioritize breathability over waterproofing.
Can I use regular socks with hiking boots?
It's advisable to use hiking-specific socks, which wick moisture away, offer better cushioning, and reduce the risk of blisters compared to regular cotton socks.
Is it advisable to buy hiking boots online?
While buying online can offer more choices and better deals, it's crucial to know your size. If it's your first pair, consider trying them in-store first, then making a purchase online if desired.
How do I clean and maintain my hiking boots?
After each hike, remove dirt using a soft brush and rinse if necessary. For leather boots, consider using a conditioner. Always dry boots naturally, avoiding direct heat, and store them in a cool, dry place.
Are heavier boots better for hiking?
Not necessarily. The weight should align with the hike's purpose. Lighter boots are suitable for shorter hikes, while heavier, sturdier boots offer more support for multi-day treks carrying bigger loads.
Can I use hiking boots for winter or snowy conditions?
Some hiking boots can handle mild snowy conditions, especially if they're insulated and waterproof. However, for deep snow and colder climates, specialized winter boots are recommended.