Top 3 Best Rugged Smartphones In 2023
Searching for the best rugged smartphones?
Diving headfirst into the world of rugged smartphones, we're here to explore the best of the best in 2023. These aren't your average, everyday smartphones. These are the tough, the durable, the ones that can take a beating and keep on ticking. Whether you're an outdoor enthusiast, a construction worker, or just someone prone to dropping their phone, a rugged smartphone could be your perfect match.
We'll be diving into the pros and cons of each model, examining their build quality, features, and overall value for money. We'll also be looking at their reliability, because when it comes to rugged smartphones, durability is key. So, if you're ready to find out which rugged smartphone is the best fit for you, keep reading.
Our Top Picks
Nokia XR20 – Our Top Choice
SAMSUNG Galaxy XCover6 Pro 5G – Best Premium Rugged Smartphone
DOOGEE S61 – Best Budget Rugged Smartphone
Why Should You Trust Us?
At WhollyOutdoor, we're more than just reviewers – we're passionate outdoor enthusiasts. Our founder, Paul Dudley, has a deep-rooted love for ham radios and fishing, which fuels our dedication to providing honest, objective, and educational content. We've been on this journey since 2018, and our commitment to authenticity remains unwavering.
Our hands-on approach to reviews means we don't just list specs – we put these rugged smartphones through rigorous real-world testing. We're independent, so you can trust that our reviews are unbiased and genuine. We're here to guide you, our reader, to make the most informed buying decisions. Trust us, we take this responsibility to heart.
Check These:
How We Choose the Best Rugged Smartphones
Choosing the best rugged smartphones isn't a task we take lightly at WhollyOutdoor. Our selection process is meticulous and thorough, ensuring we provide you with the most reliable and comprehensive information.
Firstly, we delve into the world of rugged smartphones, researching the latest models and technologies. We look at the specifications, features, and the unique selling points of each model. We pay special attention to the build quality, durability, and the rugged certifications like IP68 and MIL-STD-810G, which indicate the phone's ability to withstand harsh conditions.
Next, we consider user reviews and feedback. We believe that real-world experiences provide invaluable insights into a smartphone's performance, reliability, and overall user satisfaction. We also take into account the brand's reputation and their commitment to providing software updates and customer support.
We then get hands-on with the phones, testing them in various conditions to assess their performance, durability, and usability. We drop them, submerge them in water, expose them to dust and extreme temperatures – all to see how they hold up.
Lastly, we evaluate the overall value for money. We consider the phone's price in relation to its features, performance, and build quality. We aim to recommend phones that offer the best balance between cost and quality.
This rigorous process helps us bring you the most reliable and trustworthy recommendations for the best rugged smartphones in 2023. We're committed to helping you make an informed decision that suits your needs and budget.
Check These for Your Next Outdoor Adventure:
3 Best Rugged Smartphones Reviews
PROS
Offers 5G connectivity
Good overall value
Minimal bloatware
Supports magnetic charging
One programmable button
Offers 3 OS upgrades and monthly security upgrades
Good build quality
Testing/certifications for IP68 and MIL-STD-810G
Display uses Corning Gorilla Glass Victus.
CONS
Doesn't work with Verizon
Fixed, non-programmable button for Google Assistant
Somewhat underwhelming cameras.
Countless memes and glowing recommendations have been written in honor of the so-called indestructible Nokia 3310. While the brand is way past the heyday of the 3310, it can still cook up a functionally useful and reliable rugged smartphone, as seen with the Nokia XR20. To be clear, this is the first smartphone from Nokia that's branded as rugged.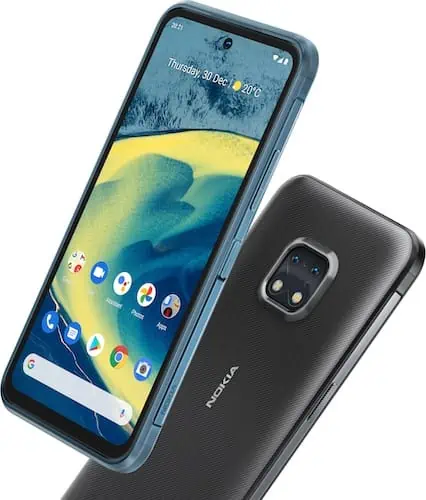 The phone takes a departure from conventional rugged phones and instead takes a more natural and regular look. Yet, that's just the appearance. Yet, it's still heavy and thick.
Nokia XR20 manages to keep that natural look with a rugged build thanks to careful design. The phone's edges are made from aluminum and the back is a polymer composite that sits on an aluminum core.
This design avoids taking the bloated appearance that many rugged smartphones take, but it keeps the phone reasonably tough. Taking things further, the phone uses Corning Gorilla Glass Victus for its screen, which is the company's toughest glass for smartphones.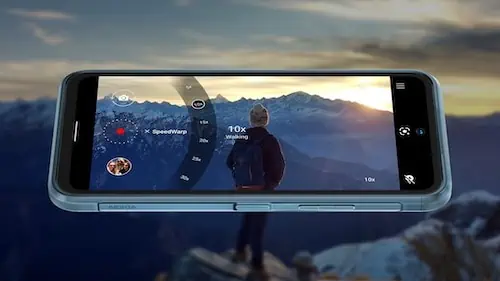 Pair all that up with IP68 dustproofing and waterproofing, and you've got yourself a reasonably solid and rugged smartphone.
You also have access to 5G connectivity and wireless charging, both of which are rare finds in rugged smartphones.
Impressive as the hardware is, the phone does a pretty good job on the software as well. It comes with Android 11, with a promise of three Android OS upgrades and monthly security upgrades.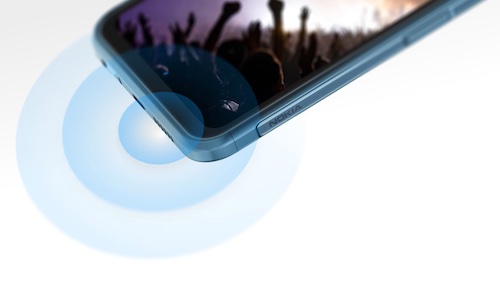 Something more likable about this phone is its avoidance of bloatware. Nokia has avoided the trend of filling phones with useless apps that nobody likes. Well, it still comes with some pre-installed apps like Amazon or Netflix (can vary between phones), but they remain easy to uninstall.
The phone offers dual sims, expandable storage, 3.5mm headphone jack, 4630 mAh battery, USB-C charging, and customizable buttons. Or to be specific, one customizable button at the top of the phone, which can be a very useful feature. There's another button on the phone, but that's dedicated for Google Assistant.
I see the usefulness of this button, but still, a programmable second button would have been a better choice than the fixed option.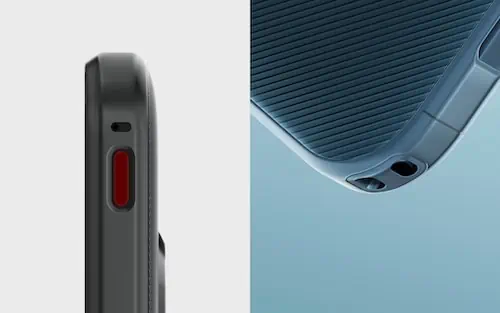 The camera, while not excellent, is acceptable. Nokia XR20 features a 48 MP rear camera with a 13 MP ultrawide lens. The front camera is 8 MP. 
Overall, the phone is well-built and can fulfill the requirements of a great rugged smartphone. Yet, Nokia XR20 keeps usability features high on the list, making it a decent phone for regular use as well.
Our Ratings
Features: 8.5/10
Build Quality: 9/10
Reliability: 9/10
Value for Money: 9/10
Overall Rating: 9/10
Keep Your Nokia Charged with These:
PROS
Offers 5G, Wi-Fi 6E, and is CBRS-ready
Removable back panel and replaceable battery
its Sensitive touchscreen can work with gloves
Two programmable buttons for easy access
Testing/certifications for IP68/IP69K and MIL-STD-810G
Good cameras.
CONS
Might have some issues with Verizon
Battery charging limited to 15W and can take long
The removable back panel may affect waterproofing and dustproofing.
Samsung Galaxy XCover6 Pro 5G comes with a big price tag, thankfully it also comes with some pretty big features. This is one of the rare rugged smartphones that offer 5G connectivity and a removable battery. These features also contribute to this phone's use as a regular phone, going beyond the simple rugged role.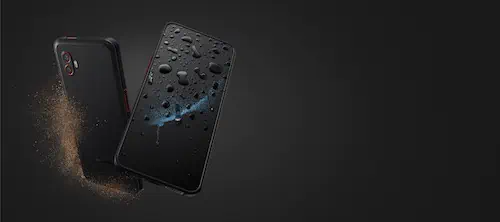 I suppose 5G connectivity will show up in more rugged phones with time, but currently, it's only a precious few like the XCover6 Pro that offer wideband 5G. Additionally, this phone also offers WiFi 6E and is CBRS-ready, making it pretty rich with connectivity options.
As for its rugged credentials, the phone comes with IP68 waterproof and dustproof rating, a 1.5m drop-test, military-grade testing for use in tough environments with MIL-STD-810H rating.
Another interesting feature here is the removable back cover, which gives you access to the battery. Users can quickly remove or change the battery if desired, which can be very useful in outdoor settings or situations where charging the phone might be a luxury.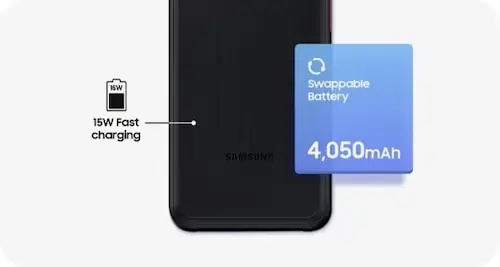 However, this also poses a problem. The removable case at the back of the phone isn't particularly sturdy and indeed risks some deformation when removed. In general use, this shouldn't be a problem, in fact, the removable battery is a very desirable feature.
On the other hand, this also means that the phone's body suffers a decline with its sealing. So, the phone's waterproof and dustproof features aren't as reliable as we would like them to be!
Again, it's the careful features that come ahead as redeeming qualities for this phone. I particularly like the two programmable buttons – one placed on the top and the other on the side.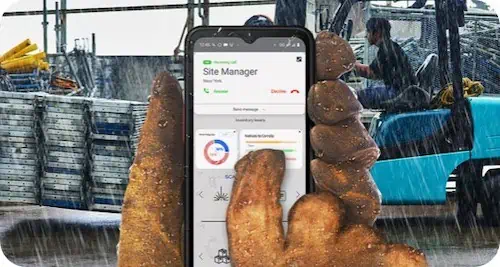 You can set these buttons up to whatever you like, but I like Samsung's idea of using a button for PTT with compatible apps. Push-to-talk feels so much more intuitive and convenient for use!
The phone boasts a "sensitive touchscreen." The screen remains usable even if you're wearing gloves up to 2mm thick. Working with gloves isn't flawless, but it's still miles ahead of having to remove gloves to work the phone.
Additional specs of the phone include a 3.5mm audio jack, dual sim (eSim and nano), 128 GB internal memory with room for 1000GB microSD card, 4050 mAh battery, USB-C charging, and Snapdragon 778G processor.
It also comes with Android 12 with Samsung's One UI 4.1, upgradable to Android 13 with One UI 5.0. It's pretty decent for photography with a 50 MP camera and an 8 MP ultrawide lens at the back. The front camera covers 13 MP. Both these options, while not mindblowing, are acceptable and fairly good for photography.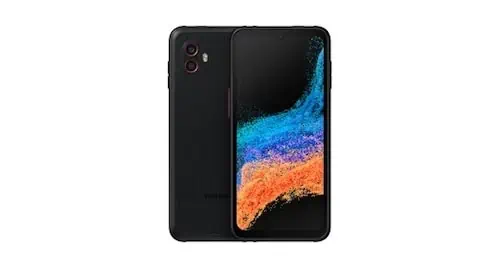 Overall, though expensive and with a few flaws, Samsung Galaxy XCover6 Pro comes with several desirable features that make this one of the very best rugged smartphones.
Our Ratings
Features: 9.5/10
Build Quality: 8/10
Reliability: 9/10
Value for Money: 8/10
Overall Rating: 9/10
Looking into Ham Radio Models? Check These:
3. DOOGEE S61 – Best Budget Rugged Smartphone
PROS
Attractive pricing
Tough build
Replaceable rear casing
Testing/certifications for IP68/IP69K and MIL-STD-810G
20 MP night vision camera.
CONS
Can get laggy even with normal long-term usage
Doogee S61 clearly has the look and feel you'd expect. The phone's body has a clear appearance of being tough and the casing appears somewhat armored.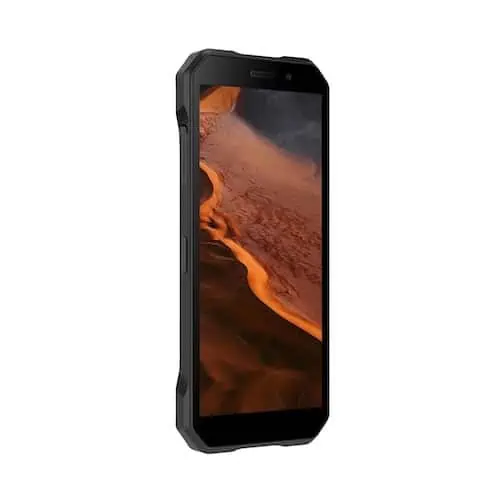 It's not all just for show. The phone's body is designed to be tough and is designed to be shockproof, dustproof, and waterproof. Adding all this protection has a cost, and the phone is distinctly heavier than most regular phones. It's also a bit on the thicker side of things.
Since this is a rugged phone, there must be something more than just a puffier body and higher weight! To prove its point, this phone carries a MIL-STD-810G rating, which signifies that it has undergone testing to military specifications in harsh conditions. Additionally, the phone is IP68/IP69K certified.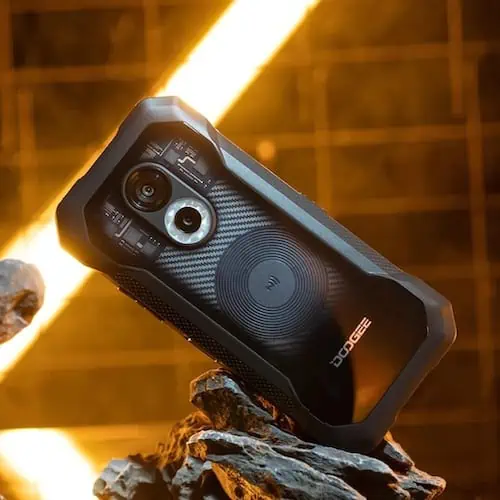 All these certifications mean that the phone can work in tough environments, survive a drop of six feet, and remain functional if submerged in up to 4 feet of water for up to 30 minutes. So, the phone's waterproofing and dustproofing game is on point, and it can work in harsh environments if you choose to take it along for a trip.
Although, keep in mind this is still a budget phone. So while it has a tough Corning Gorilla Glass screen, is shockproof, and rated to survive a drop of six feet, things may not always go as hoped!
While the screen is tough, it's not the toughest one out there and it runs the risk of scratching or cracking with falls. Although to be fair to the S61, even tough displays can be a wildcard when a phone is dropped!
As for the general specs, this phone offers Android 12, Helio G35 octa-core processor, 20MP rear camera, 20MP night vision camera, 8MP front camera, and 5180 mAh battery. Those are tolerably useful features and the phone does work quite nicely.
However, this phone is intended to last a fairly long time and handle tough outdoor conditions. It doesn't work quite as well if you intend on heavy gaming, browsing with several tabs, videos, and similar uses. In such cases, the phone can start lagging.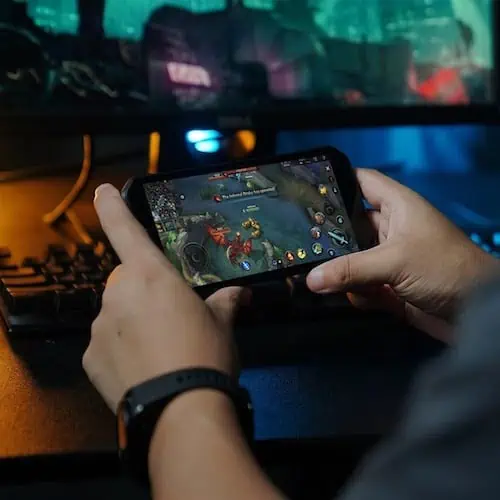 Similarly, the front and back cameras are average at best. But something really interesting and unique here is the night vision camera.
This is a "real" night vision camera and is flanked by four infrared LED lights to help the camera see better. It's fairly useful in the dark and will show you a clear view on the screen. Unfortunately, this camera only allows capturing stills and video recording isn't possible. Still, the ability to see in the dark can be quite useful for the outdoors.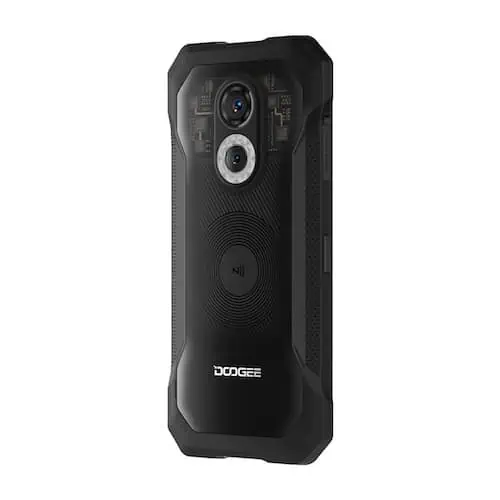 This is a dual sim phone that has room for two sim cards and an external microSD card. The charging port is USB-C and the phone also includes a 3.5mm audio jack.
Overall, this is a decently rugged phone with an attractive price tag. It's unlocked for all carriers, though you may want to check with your service provider before purchasing one. Doogee S61 isn't compatible with Verizon and AT&T networks.
Our Ratings
Features: 7.5/10
Build Quality: 8/10
Reliability: 8/10
Value for Money: 9/10
Overall Rating: 8/10
Check out our review of Best Long Range Two Way Radios
Frequently Asked Questions (FAQs)
What makes a smartphone rugged?
A rugged smartphone is designed to withstand harsh conditions. It often has a robust exterior, is water and dust resistant, and can survive drops and extreme temperatures. Certifications like IP68 and MIL-STD-810G are common indicators of a phone's ruggedness.
Are rugged smartphones only for outdoor enthusiasts?
Not at all. While outdoor enthusiasts may find rugged smartphones particularly useful, they're also great for anyone who wants a durable, long-lasting phone. They can be especially handy for those in construction, farming, or other industries where phones may be exposed to tough conditions.
Do rugged smartphones have good cameras?
While rugged smartphones prioritize durability, many models also offer decent cameras. However, they may not match the camera quality of high-end conventional smartphones. It's always best to check the camera specs before buying.
Can I use a rugged smartphone as my everyday phone?
Absolutely. Many rugged smartphones come with features and specifications similar to regular smartphones, including good processors, ample storage, and quality displays. They can handle everyday tasks like browsing, social media, and streaming, in addition to being extra durable.
Are rugged smartphones more expensive than regular ones?
Not necessarily. The price of a rugged smartphone can vary widely based on its features, brand, and level of ruggedness. There are budget-friendly rugged smartphones as well as premium ones.
Do all rugged smartphones offer 5G connectivity?
No, not all rugged smartphones offer 5G connectivity. While some newer models do, many still operate on 4G networks. If 5G is important to you, be sure to check the phone's specifications before purchasing.
Are rugged smartphones bulkier than regular ones?
Generally, rugged smartphones are a bit heavier and thicker due to their reinforced design and materials. However, some models manage to maintain a sleek design while still being durable.
Can I use any carrier with a rugged smartphone?
Most rugged smartphones are unlocked, meaning they can be used with any carrier. However, it's always a good idea to check compatibility with your specific carrier before purchasing.
Do rugged smartphones have good battery life?
Many rugged smartphones are designed with larger batteries, making them ideal for long days outdoors or in areas where charging might not be readily available. However, battery life can vary between models.
Are rugged smartphones user-friendly?
Yes, rugged smartphones are designed to be user-friendly. They run on popular operating systems like Android, and their user interfaces are typically straightforward and easy to navigate. Some even offer additional features like programmable buttons for added convenience.