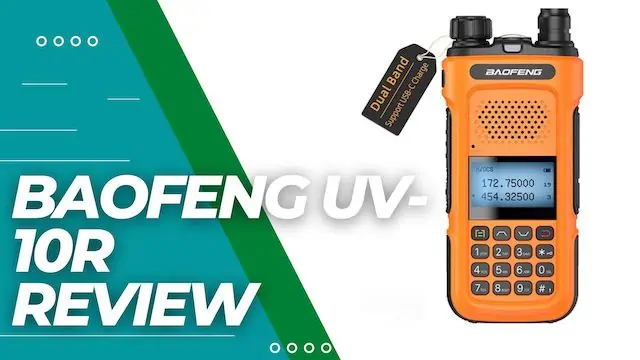 Baofeng UV-10R Review
Pros
Attractive price point.

Modern looks and simplified design.

Works with conventional and USB-C charging.
Cons
No USB-C cable in the box.

Minimal water resistance.

RF power output struggles in maintaining stability.

Misrepresentation of features and capabilities.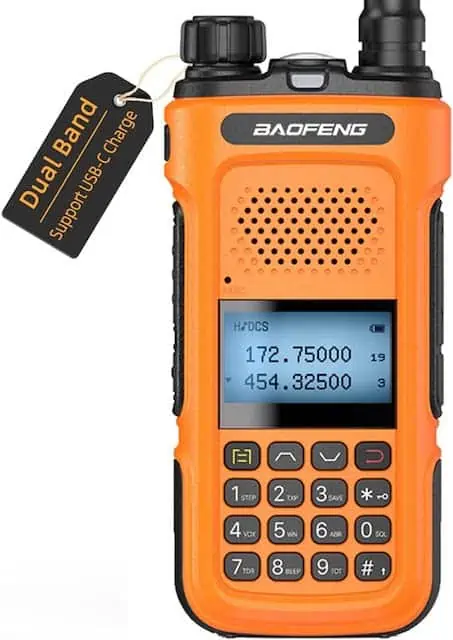 Facts and Functions
Baofeng UV-10R is a basic, entry-level ham radio. Since it comes from Baofeng, which is famous for its value-for-money radios, the UV-10R gets an attractive price tag.
The radio is sometimes also presented as an upgrade of the more famous and cheaper Baofeng UV-5R. There might be some truth to this claim. When the UV-10R first came out, it had a striking resemblance to the overall design and feel of the UV-5R.
With its facelift, Baofeng UV-10R has taken on an appearance more original for its use and it's a decidedly modern look. The facelift also provided the company with an opportunity to add more features to this radio.
Chief amongst these additions is the presence of a new USB-C port for charging. Useful as the Type C ports are, very few ham radios seem to have upgraded so far. So, this is definitely a huge point in the favor of the UV-10R.
However, the box for this ham radio doesn't include a USB-C cable or adapter plug. So, you'll have to buy them separately to use this feature. Or, you could stick with the older and conventional ways to charge the 1500 mAh battery.
Battery and Power Output
The battery is an interesting bit here. Since the launch of this model, there have been wild claims about the battery capacity. You might see battery capacity claims at 8800 mAh, 10000 mAh, or similar outlandish numbers.
Much of this misinformation comes from unscrupulous sellers or Wish, eBay, or similar platforms. Another notable factor is the claim to high RF output power, often in excess of 10W. As with the battery, these too are false claims.
Some sellers make claims of insane RF power, but it's usually in the range of about 4-6 Watts. This power range is fairly standard for handheld ham radios transmitting on the high setting. Or, more precisely, high power is usually 5 Watts.
Unfortunately, this Baofeng struggles in maintaining the right power output, which can sometimes change depending on the band of transmission. This can be a disappointment if you focus too much on the claims made by sellers.
With the facelift for the model, Baofeng appears to forgo the baggage of these previous claims. The claims for RF output and power have come down to believable levels and the same goes for the battery.
Baofeng UV-10R also has a registration and certification from the FCC. So, as long as you buy the radio from a reliable seller, the listed information and its capability to work in the USA shouldn't be a problem.
To be fair, it makes perfect sense for a handheld ham radio to have a power output around 5W. The higher power outputs, while they may seem attractive, aren't much useful for handheld ham radios.
All these claims aside, where functioning is concerned, this radio pretty much acts like the Baofeng UV-5R. The sound RX and TX quality is pretty much the same for both radios.
Performance Specifics
The menu, settings, and programming are the same as well. This part shouldn't be a surprise considering these radios are within the same price point. Besides, though the Baofeng UV-10R is presented as an upgrade to the UV-5R, both radios are very similar in operational aspects.
Other notable features include an LED light at the top that can function as a torch, VOX, and status LEDs. There are only 128 available channels, which is an unimpressive and low number. However, it might be acceptable for specific use cases or beginners.
The display on Baofeng UV-10R is clear and backlit. It's a bit difficult to read in the sun, but it remains easy to work with, especially in tough situations and normal usage.
Overall, this is a decent dual-band ham radio for those who want to experiment or dip their toes into the ham radio community. It's nothing impressive, but it gets the job done!
Ratings
Functionality: 8

/10

Reliability: 7.5

/10

Value for Money: 9

/10

Battery: 8

/10

Overall Rating: 8

/10