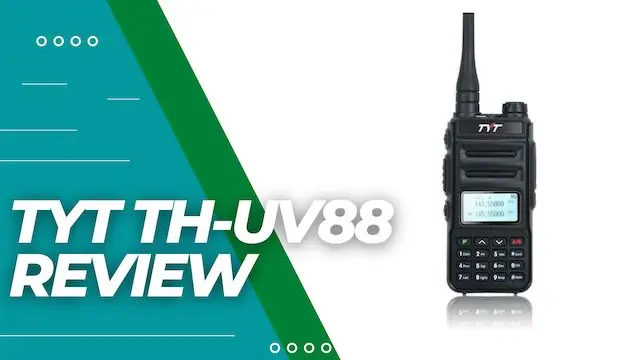 TYT TH-UV88 Honest Review
TYT TH-UV88 is a basic, entry-level ham radio. Yet, it's remarkable in the way it offers a whole range of features and options, going beyond its peers and competitors.
Speaking of the competition, the radio is obviously geared towards the current reigning champion of entry-level ham radios, the Baofeng UV-5R. TYT's radio offers several better choices than Baofeng's famous handheld ham radio.
Compared with the UV-5R, TYT TH-UV88 has a better build quality, a sharper display, and a better antenna setup. TYT also offers 200 channels as compared to the 128 on Baofeng UV-5R. Its audio output is also louder, though not necessarily better than the UV-5R.
Pros
-Attractive price point.
-Good build quality for the price.
-The voice quality is loud and clear.
-Display has adjustable brightness settings and is clear.
Cons
-The manual is barely helpful and difficult to understand.
-The radio interface can feel confusing.

Up Against the Competition
It's worth pointing out that the UV-5R is still cheaper than the TYT. So, if it's pricing that floats your boat, the small improvements that TYT offers may not give it the edge over the UV-5R.
Another competing ham radio and one more closely priced to the TYT TH-UV88 is the Retevis RT-85. This radio offers the same advantages over the UV-5R, though its overall appeal is very similar to the TYT TH-UV88.
To put it crudely, Retevis RT-85 is pretty much the same radio as TYT TH-UV88, though in a slightly different body.
It is these small changes with the build and quality that make TYT TH-UV88 such an interesting radio at this price point. The display on this radio won't knock you out, but it is still bright, clear, and easily readable. Especially if you're in a pinch.
Additional Features
The purple-ish backlight is not flattering, but it does its job. You can adjust the backlight in seven intensity settings to get to the right fit. Some manuals and literature from TYT refer to this as "colors". It's not color, but the brightness or intensity.
Mistakes like this are a big part of why the manual ends up being so confusing. Generally speaking, if you have the TYT TH-UV88 VHF/UHF radio, it might be better to look at the manual of the Retevis RT-85.
The radios are very similar, but the manual from Retevis is many times better than TYT's.
But not all is off-course with this radio. TYT TH-UV88 has more to offer. One interesting aspect is the included programming cable with the radio. It's a simple enough cable, but somehow the programming cable and radio work better than Baofeng UV-5R and its cable.
The data transfer is fast and reliable. TH-UV88 is compatible with other programming options and works well with TYT's own software as well as with CHIRP.
Antenna and Battery
Another good quality of this radio is the antenna. The radio uses an SMA antenna with a female connector. While it isn't special by itself, it is a rarity at this price range. This setup also opens doors for more possibilities.
You could easily connect a better antenna with this ham radio. People who are using the TYT TH-UV88 as a backup radio or have a better antenna available can benefit from this setup.
Finally, let's talk about the battery and power. UV88 runs on a 1400 mAh Li-ion battery. Though the battery is small, it is good enough for the radio's needs and can power it for a day. The maximum RF power output is 5W and a low power option is available as well. Switching between hi-lo power is as easy as the touch of a button.
Our RATING:
Functionality: 8/10
Reliability: 7/10
Battery: 7/10
Value for Money: 9/10
Overall Rating: 8/10