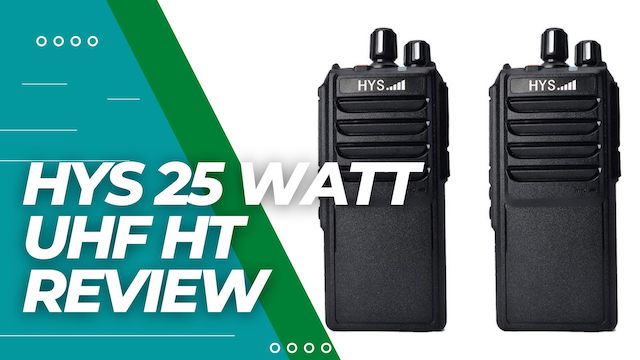 HYS 25 Watt UHF HT Honest Review
As an Amazon Influencer, we earn from qualifying purchases you might make if you click any of the links on this page.
Overkill is a word unknown to HYS 25 Watt UHF HT walkie-talkie. I say this considering that this walkie-talkie saw it fit to put out 25W power. The output is way higher than most walkie-talkies.
The company says that the higher power output gives the walkie-talkie a huge range. While it does have a higher range than your average walkie-talkie, it isn't something groundbreaking. Transmissions from walkie-talkies are still subject to line of sight communication.
With access to monstrous power, HYS 25 Watt UHF HT also shows off something that's unheard of with walkie-talkies or even handheld ham radios. There is a fan and cooling system in the HYS 25 Watt UHF HT.
Makes sense! If you are powering a radio at 25W, needing a convenient cooling option shouldn't be a surprise. Although there are detriments to the presence of a fan on a two-way radio.
In this case, the HYS 25 Watt UHF HT doesn't get any waterproofing or dustproofing because of the presence of a fan.
Pros
Walkie-talkie with 25W power.
Cooling fan to maintain the radio's temperature.
Large 4000 mAh battery.
Good voice clarity.
Cons
It is a bit bulky.
No waterproofing.
Doesn't work with CHIRP.
Difficult to connect and remove battery from walkie-talkie.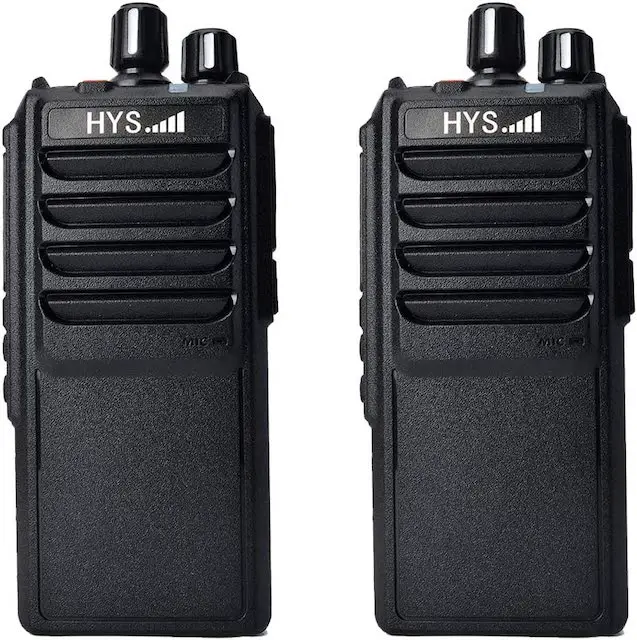 Battery Usage
Keeping a behemoth like this powered needs a massive battery. This walkie-talkie works off a massive 4000mAh battery. It takes a bit of effort to slide the battery into the gadget. Removing the battery from the walkie-talkie is far more difficult and takes some skill, power, and time.
HYS 25 Watt UHF HT can charge on its included dock when required. Or, you could remove the battery and charge it on the cradle/dock, while putting a backup battery in the walkie-talkie.
The battery is heavy, which is understood given its size. So is the walkie-talkie. HYS 25 Watt UHF HT has to be amongst the heaviest (if not the heaviest) walkie-talkies available.
To be clear, this radio isn't available to the general public, at least as far as FCC recommendations go. The FCC says that you need a business license to operate this radio.
Programing and Extras
But before you get to use the radio, you'll have to think of programming it. The company doesn't include a programming cable in the box, so that will have to be purchased separately. HYS 25 Watt UHF HT needs a K-Type programming cable.
This two-way radio isn't compatible with CHIRP, so it comes down to using the software recommended by the manufacturer. Programming the radio is a fairly simple process and doesn't take much time, even for beginners.
As you start using the radio, you'll notice it can last for almost the entire day. The battery drains rather quickly if you use the 25W mode, though it stays resilient on the low and medium power modes. The company claims that the massive battery can power the device for 30 hours under ideal conditions.
Since there is no such thing as ideal conditions in the real world, we can safely assume that the battery backup will be lower. Not very low, but perhaps something like a day with normal use.
HYS 25 Watt UHF HT is an impressively powerful walkie-talkie.
It works on 16 channels at the 70cm band and can offer impressive range. Obviously, much of that range is due to the brute force of the 25W Tx, But that doesn't change much. If you want a solid walkie-talkie with a decent range, this is one to look at.
Ratings
Functionality: 8
Reliability: 8
Value for Money: 7
Battery: 9.5
Overall Rating: 8.5