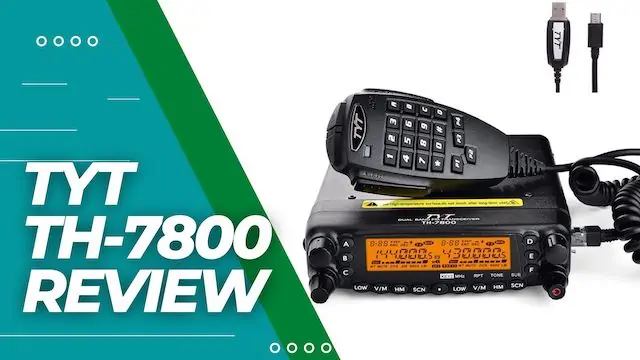 TYT TH-7800 Honest Review
A very competent mobile radio, TYT TH-7800 Mobile Transceiver is worth the attention it gets. It's been several years since the model first launched, and there were hiccups in the beginning. 
The mobile transceiver has received updates and a facelift since then and pretty much all wrinkles and problems have been ironed out.
Around the same time, many people found that any returns or repairs for the radio required shipping to China. That problem too has been resolved and the company now maintains a warehouse in California.
Pros
Cross band repeat function.
Includes a mounting bracket.
Good audio and signal quality.
Clear display.
Convenient and intuitive interface.
Cons
Included manual isn't thorough.
Questionable value when compared with competing models.
Layout and Programing
As of now, the TYT TH-7800 is a seasoned workhorse that's seen as a dependable and reliable mobile transceiver. It has a sleek design with rounded corners and rounded buttons. The face of the radio is symmetrical and dominated by a large and clear LCD.
On the left and right of the display, there are three buttons each flanked by two knobs. A few buttons get their place along the bottom of the display. And yes, everything is arranged in symmetry. It's not all that special, but symmetry has something of a pleasing effect.
TYT TH-7800 is relatively easier to program. You could use software like CHIRP to handle the job, or even do it by hand without much trouble. Once ready, the radio is good to transmit.
The maximum transmit power for this dual-band radio is 50W while the minimum is 5W. The power output is pretty much standard for mobile radios. Although the TH-7800 handles it so well, it's almost impressive.
The display shows the frequency, band, and other relevant information. Its backlight is bright and the display is clear enough to be legible even in bright light conditions.
An impressive feature here is that the TYT TH-7800 works fantastically as a cross band repeater. Set it to work, and even a low-power handheld ham radio could utilize the higher power output of the TYT mobile transceiver to transmit over an impressive distance.
The included mic is lightweight and easy to handle. The voice quality is good, though it tends to pick up a fair amount of background noise. This is a small annoyance and usually manageable. The mic feels good in the hand and fits comfortably. Its well-placed buttons make the mic easy to operate and manage.
Staying on Brand
It's fairly natural to compare the TYT TH-7800 with the next higher model in the series, the TYT TH-9800. Both radios have a similar appearance and form factor. However, the TH-9800 is a quad-band radio. The transceiver works with 10m, 6m, 2m, and 70 cm bands.
Both radios can also receive additional frequencies on AM and AirBand. Though a higher model, TYT TH-9800 is only slightly more expensive than the TH-7800. In most situations, it would seem more sensible to get the quad-band TH-9800 over the dual-band TYT TH-7800.
One category where TYT TH-7800 does better is in maintaining consistent power levels when transmitting on different bands and frequencies. The TH-9800 can sometimes struggle to maintain a consistent power output.
Even with the small hiccups, TH-9800 is a capable mobile transceiver. It's also the more popular model of ham radio, partially thanks to the value added as a quad-band radio. The identical design and setup of these two radios shows they're both capable and dependable radios
Ratings
Functionality: 9
Reliability: 9
Value for Money: 8
Overall Rating: 9