As an Amazon Influencer, we earn from qualifying purchases you might make if you click any of the links on this page.
Kenwood TH-D74A Review Updated 2022

KENWOOD has earned its reputation with the TH-D72A and now it takes it even further with the Kenwood TH-D74A. There are many ham radio brands and models that are good enough, but there are very few if any that can compare to this Kenwood radio. Especially if you are an advanced user then Kenwood TH-D74A might be the best option for you.
So let's start with our Kenwood TH-D74A review.
The Kenwood TH-D74A is a special type of radio full of advanced features, that you don't find on other handheld radios.
Durable build, made of high-quality materials
Simple operation in DR (D-STAR repeater) mode
Built-in APRS allows real-time two-way data exchange
High-performance DSP voice processing
Tough weatherproofing meeting IEC 529 IP-54/ 55 standards
Voice Recording (Files size up to microSD memory capacity)
Built-in GPS and Bluetooth support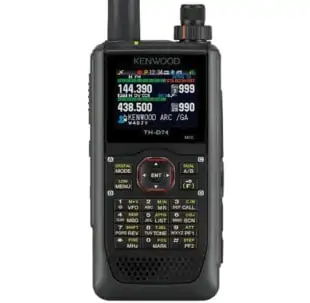 Main Features of Kenwood TH-D74A
This Kenwood has the advantage of a digital transceiver with many convenient features. First, it is compatible with D-STAR, this is an amateur radio communications network with voice and data mode. It utilizes operations including simplex, single repeater relay, and inter-repeater gateway communications both for local and international communications
It is compatible with the APRS communication protocol, which allows real-time two-way data transmission by using packet communications. Some of the other features are the sharing of GPS and local positional information plus message exchange.
The Kenwood TH-D74A features a color transflective TFT display that offers excellent visibility in day or night. It is quite user friendly with easily understandable pop up screens. It has an external Decode function (PC Decode 12kHz IF Output, BW: 15 kHz), a Command / Control Protocol, a CSV for data Import/Export, (Digital Repeater List, Call sign, Memory Channel). In addition, it has Four TX Power selections (5/2/0.5/0.05 W) and also tough Weatherproofing IP54/55 standards.
The built-in GPS enables use of external decoding software Bluetooth (SPP, HSP) and has an auto clock setting. Also it is compatible with Micro USB
Kenwood TH-D74A has a wide-band and multi-mode dual frequency reception with VxV, UxU, and VxU function with high performance DSP-based audio processing & voice recording. It includes IF filter for comfortable reception, a setting through the digital function menu, and a DV fast data mode.
Kenwood TH-D74A comes with a short user manual which is very helpful for setting up and operating this radio. It provides detailed instructions for all modes of operation like Scanning, DSP equalizer, IF filters, Multimode operation, Echo Link, GPS, D-STAR, APRS, Echo Link, TNC / KISS mode Packet, Wireless Remote Control, microSD card backup, Bluetooth and voice recording operations.
The mini-manual operating guide is durable and water resistance and it's small enough to fit in a pocket. So you can have it together with the radio all the time.
The Kenwood TH-D74A comes with different accessories:
SMC-32 Speaker Microphone, SMC-34 Remote Control Speaker Microphone and KMC-45D Speaker Microphone.
Earbud In-line PTT Headset.
Rapid Charger and DC Cable & Power Supply
Filtered Cigarette Lighter Cord.
Battery Case (6AAA Alkaline Batteries)*Recommended for Low/Economic Low power mode.
KNB-75L Li-ion Battery Pack (7.4V/ 1,800mAh) and KNB-74L Li-ion Battery Pack (7.4V/ 1,100mAh)
Pros
Battery life is great eventhough one needs to deactivate some of the advanced features such as the GPS and APRS stuff when not in use. For heavy GPS and APRS users, it's advisable to buy a couple extra batteries for field use. The supplied charger will not run the radio and charge the battery simultaneously.
The color display is large and easy to read. Everything displays very clearly, even in lighting conditions which are less than ideal. The LCD is rather visible without the backlight on.
It has ARS compatibility on the 220 MHz band unlike other HAM radios and this enables all kinds of great functionality such as sharing GPS data.
It works well both indoors and outdoors.
Its software is clean and easy to use to get the bulk of the programming and configurations done.
It is also weatherproofed with a rating of IP54/55 and is manufactured from high excellent quality materials.
Kenwood TH-D74A has the D-STAR feature which enables you to send a text message, check somebody's call sign, get online, and more.
Cons
The Kenwood TH-D74A is more expensive than some other models of handheld ham radios on the market but considering its features, it's a good value.
It is a little heavy and bulky than the average handheld radio.
The manufacturer/factory manual is not very clearly written and the information has some gaps which makes this radio a better option for intermediate and advanced users than beginners.
Its rubber duck antenna has mediocre transmit performance. A better alternative is swapping out the duck antenna for something like the Diamond SRH320A 144/220/440 MHz Tri-Band Handheld SMA Antenna and also change the Ant. Connector (menu 104, iirc) to external rather than the BAR setting.
Final Thoughts
The Kenwood TH-D74A maybe pricey than other models of handheld ham radios on the market, but for that extra price, you are getting a radio with special features that are not found in any other radio. Actually, you would need to buy 3 different radios if you wanted to have all these features otherwise.
To give you an idea it combines the features of the Kenwood TH-F6a (all mode HF receiver and 144, 220, and 440), the Kenwood TH-D72 (APRS functionality), and the ICOM ID 51 (DSTAR feature). On top of these, a digital recorder with extra data and audio cables to connect them all. So with Kenwood TH-D74A you might actually save money and space. Hope this Kenwood TH-D74A review has helped you make a decision on buying this advanced ham radio
Kenwood TH-D74A Review Video